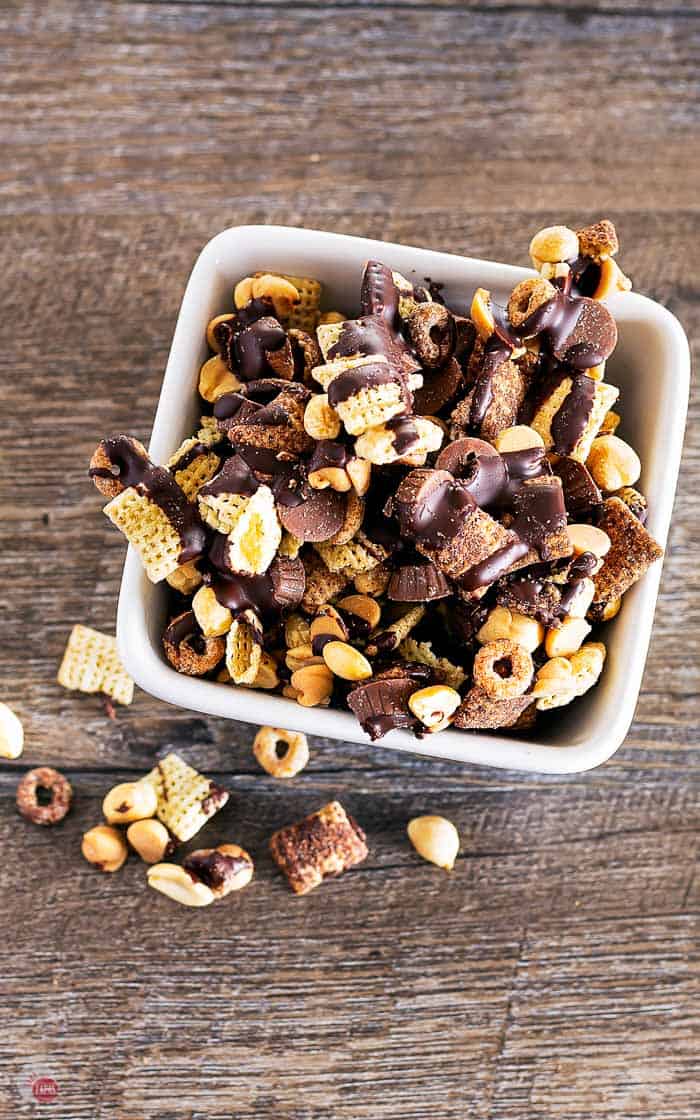 Buckeye Snack Mix is perfect if you love chocolate and peanut butter you won't be able to resist this Buckeye . Crunchy, creamy, salty, sweet, and so much chocolate and peanut butter!
Serve it along with these Bacon Crackers, this Frito Pie Dip, and wash it down with a German Chocolate Cake Shot.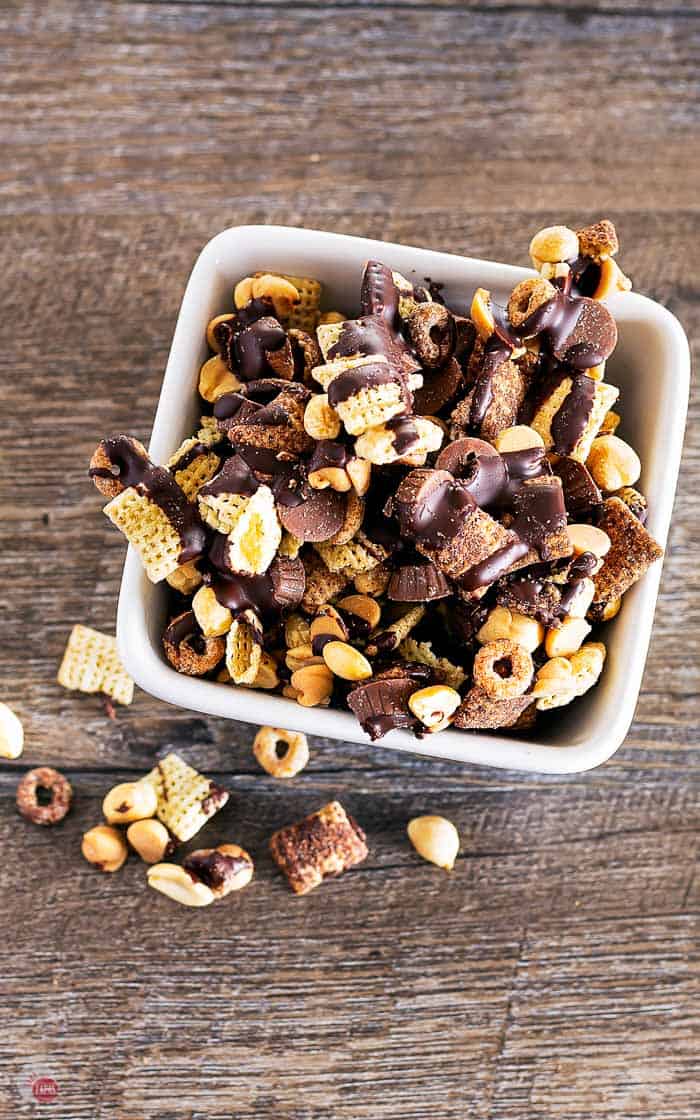 This sweet and salty Chex mix has all the chocolate and peanut butter flavors found in buckeye candy but with less work! Serve as a fun dessert, kid's treat, and makes a great gift for the foodie in your life!
A buckeye the Ohio State version of that ever popular chocolate coated peanut butter snack… only Ohio State buckeye fans get way more passionate about it. So don't get them confused or else you risk getting tackled on the 50 yard line.
What is a Buckeye?
If you have never had the snack version of a buckeye, you are totally missing out. Especially if you love the combination of chocolate and peanut butter!
A Buckeye may be a person that lives in or is from Ohio, but buckeye snacks make a delicious treat from peanut butter fudge and dipped in chocolate. It gets it's name because it looks like the nut of a buckeye tree.
The snack version buckeye is fantastic. You won't want to share buckeye snacks with any rivals anyway. Because, let's face it, chocolate and peanut butter is great but even better combined into a buckeye snack mix!
So how do we turn a candy into a snack mix? Read on my friends!!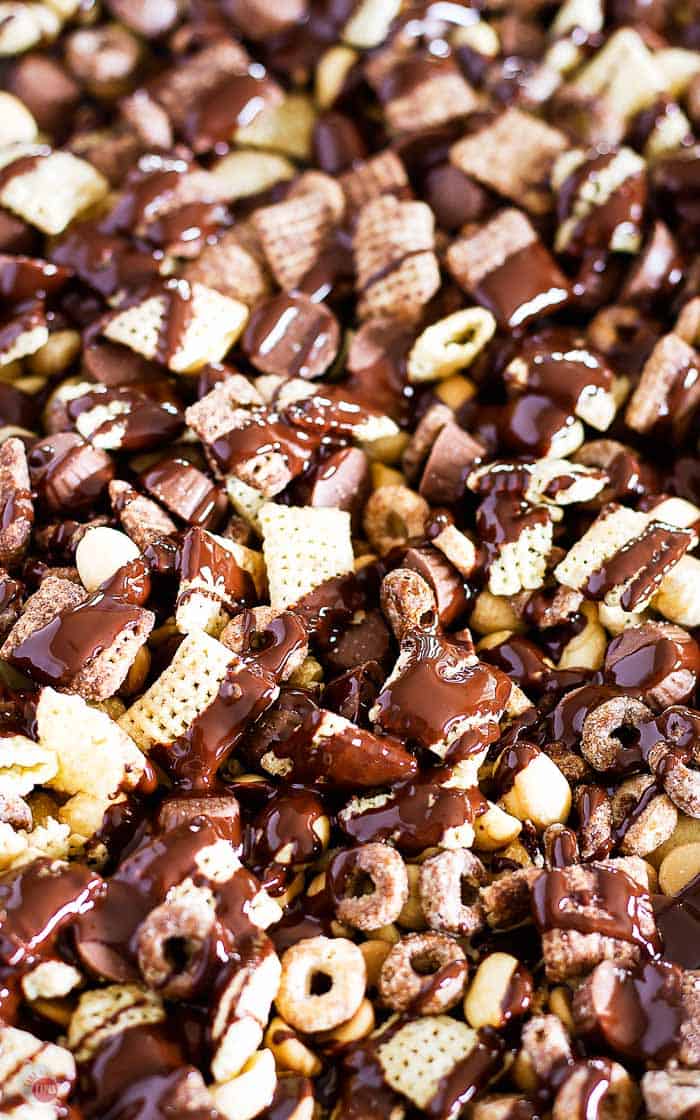 If you'd rather skip my (very helpful, I think) tips and tricks, essential cooking info, and similar recipe ideas – and get straight to this delicious easy Sweet Chex Mix Recipe – simply scroll to the bottom of the page where you can find the printable recipe card.
How do you make a sweet snack mix?
Typically you would start by making the peanut butter fudge center by combining peanut butter, powdered sugar, and butter. This batter is scooped, rolled into balls, chilled in the fridge, and then dipped in chocolate. That sounds like a long process doesn't it?!?
Instead of all that craziness, what if I showed you how to make a chocolate peanut butter snack mix that tastes like traditional buckeyes but easier, quicker, and with a little crunch too?
You all in?
Are you drooling yet?
I am so let's get started! You don't want me drooling buckeye juice all over you do you?
This post may contain affiliate links. As an Amazon Associate, I earn from qualifying purchases. Read my disclosure policy here.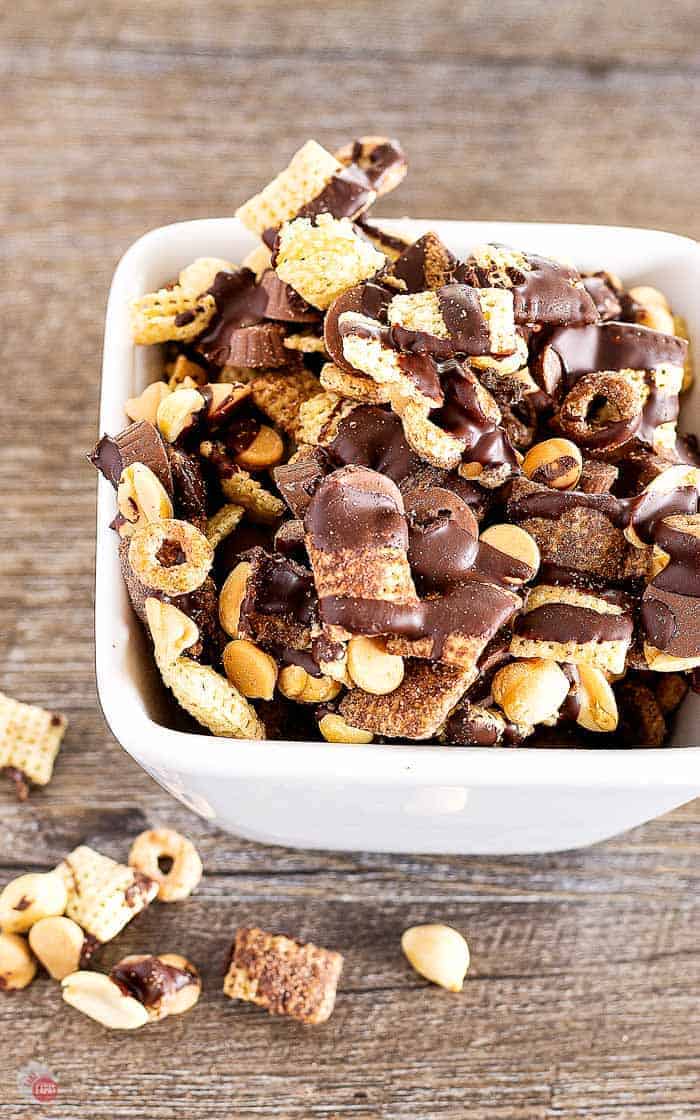 Chocolate Peanut Butter Chex Mix Snack
You can't start a great snack mix without some Chex cereal, and chex snacks are no different. Luckily they have a chocolate version so that's a great place to start.
The more chocolate the better so let's add some more chocolate with Cherrios. I found a chocolate version or Cheerios but while I was at the store, I also spotted a chocolate AND peanut butter version too. Even better!
With the Chex and Cheerios in a bowl, I add some peanut butter chips to even out the chocolate to peanut butter ratio. For more crunch, a handful of dry roasted peanuts is perfect and makes it feel like a healthy trail mix version of a buckeye snack. Bonus!
And it wouldn't be complete without throwing in some mini peanut butter cups for good measure! To finish the Buckeye Snack Mix, a drizzle of chocolate does the trick.
The melted chocolate binds the individual ingredients together so you get different tastes and textures all in one bite. It's no fun if all the peanuts or mini peanut butter cups fall to the bottom of the snack mix!
You won't confuse this version of the buckeye snack mix with a nut from a buckeye tree. So don't worry about eating something poisonous. Just worry about eating too much buckeye snack mix and not having room left over for dinner.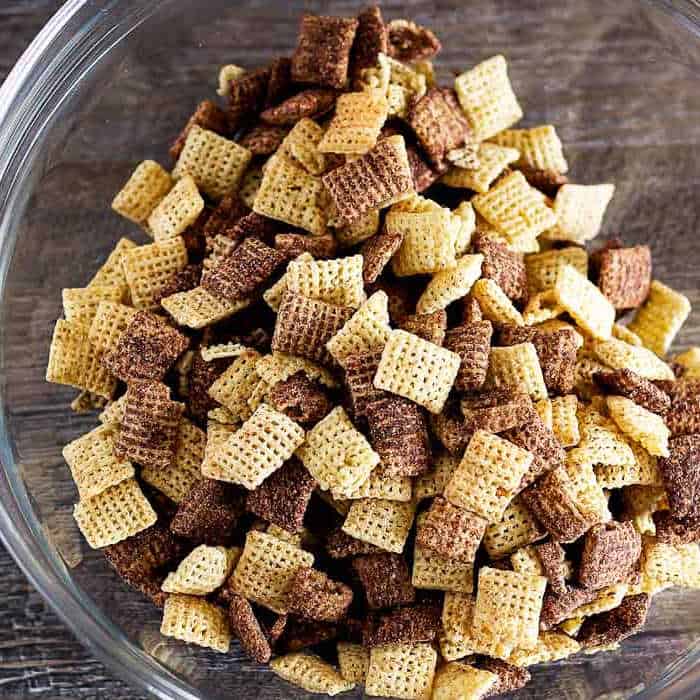 How to make Buckeye Snack Mix
Step One: Start with chocolate Chex cereal in a bowl. Add the chocolate peanut butter Cherrios cereal.
Step Two: Add peanut butter chips add dry roasted peanuts.
Step Three: Add the mini peanut butter cups and mix to combine.
Step Four: Drizzle with melted dark chocolate. Cool to let the chocolate set. Break into chunks and store.
Is the Buckeye Snack Mix gluten free?
The Chex cereal part is but the Cherrios are not certified gluten free as they are processed in a facility that isn't gluten free. Just be sure to check the individual ingredients to make your determination.
All the other ingredients I use in this recipe are considered gluten free but of course the snack mix is not peanut free so if you have a peanut allergy, this Buckeye snack mix is not for you.
How far in advance can I make this?
Buckeye Snack Mix can be made up to 2 weeks in advance, just be sure to store in an air-tight container.
If I can't find the mini peanut butter cups what can I use instead?
If you can't find them, I would suggest plain chocolate chips, or small chocolate candy bar pieces.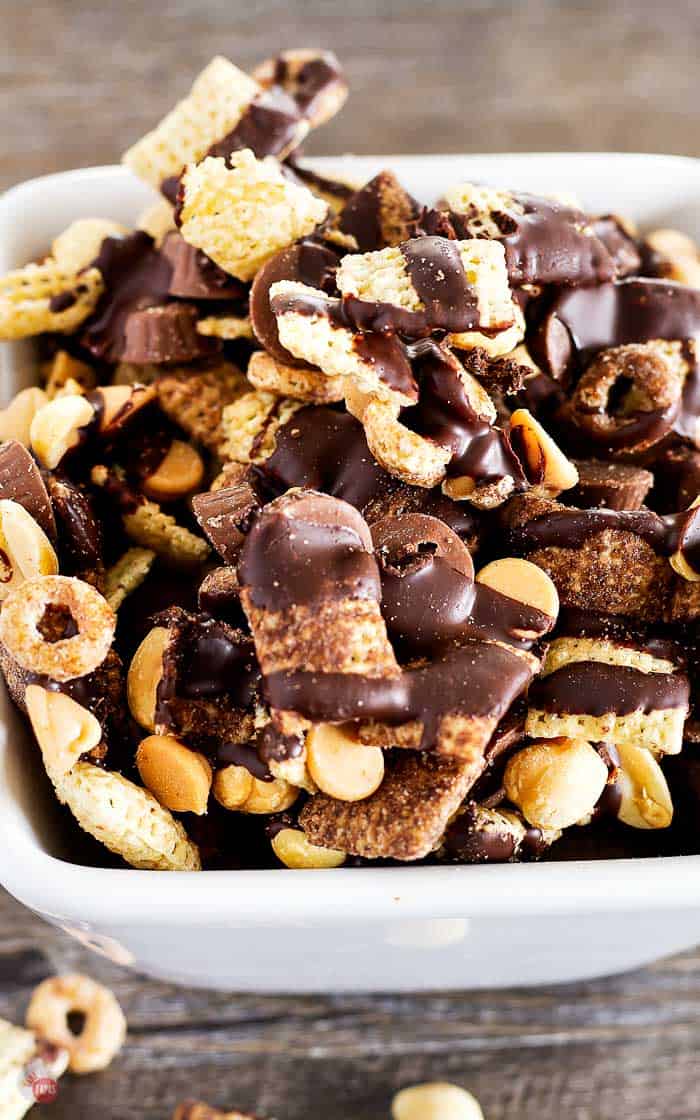 If you love this recipe as much as I do, please write a five-star review in the comment section below (or on Pinterest with the "tried it" button – you can now add pictures into reviews, too!), and be sure to help me share on facebook!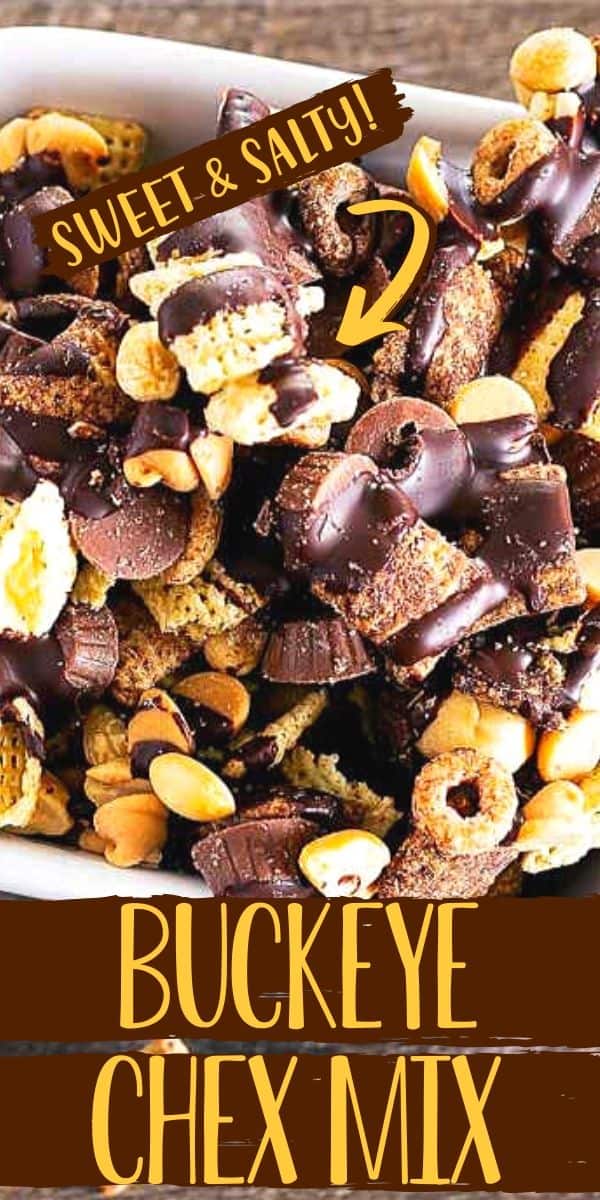 Other snack mixes to try:
Sweet and Salty Chex Mix Recipe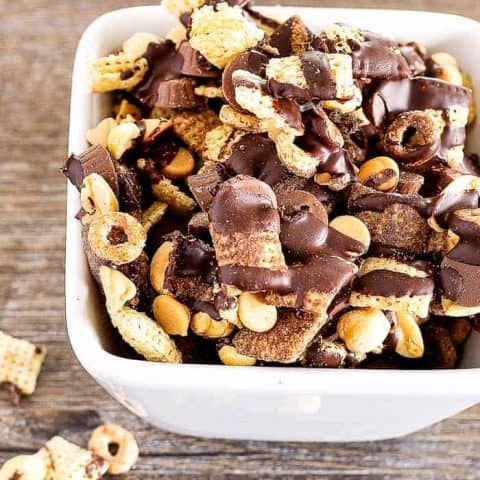 Sweet and Salty Buckeye Snack Mix
If you love chocolate and peanut butter you won't be able to resist this Buckeye Snack Mix. Crunchy, creamy, salty, sweet, and so much chocolate and peanut butter!
Ingredients
4 cups chocolate Chex cereal
2 cups chocolate peanut butter Cheerios cereal
1.5 cups dry roasted peanuts
1/2 cup peanut butter chips
1 cup mini peanut butter cups
2/3 cup dark chocolate chips
Instructions
In a large mixing bowl, combine the Chex cereal, Cheerios cereal, peanut butter chips, dry roasted peanuts, and mini peanut butter cups.
Stir to combine
Spread out on a baking sheet into a single layer.
Melt the chocolate in the microwave or over a double boiler.
Drizzle the chocolate over the Buckeye Chex mix getting chocolate on as many pieces as possible.
Chill for 15 minutes to set chocolate.
Break into pieces and store in an air-tight container for up to 2 weeks.
Enjoy!
Notes
* If you like this recipe, please leave me a comment and rate it with some stars. Thank you!
Nutrition Information:
Yield:

16
Serving Size:

1
Amount Per Serving:
Calories:

506
Total Fat:

40g
Saturated Fat:

16g
Trans Fat:

1g
Unsaturated Fat:

19g
Cholesterol:

46mg
Sodium:

388mg
Carbohydrates:

31g
Fiber:

4g
Sugar:

14g
Protein:

11g
This nutrition information was generated via a third party, Nutritionix, and can not be held liable for any discrepancies in the information provided.
@TakeTwoTapas.com. Content and photographs are copyright protected. Sharing of this recipe is both encouraged and appreciated. Copying and/or pasting full recipes to any social media is strictly prohibited.