These mini cinnamon roll bites are quickly made with the help of puff pastry. Sprinkled with brown sugar and baked until golden brown, they are crispy on the outside and flaky on the inside. Top them off with vanilla glaze for the perfect bite!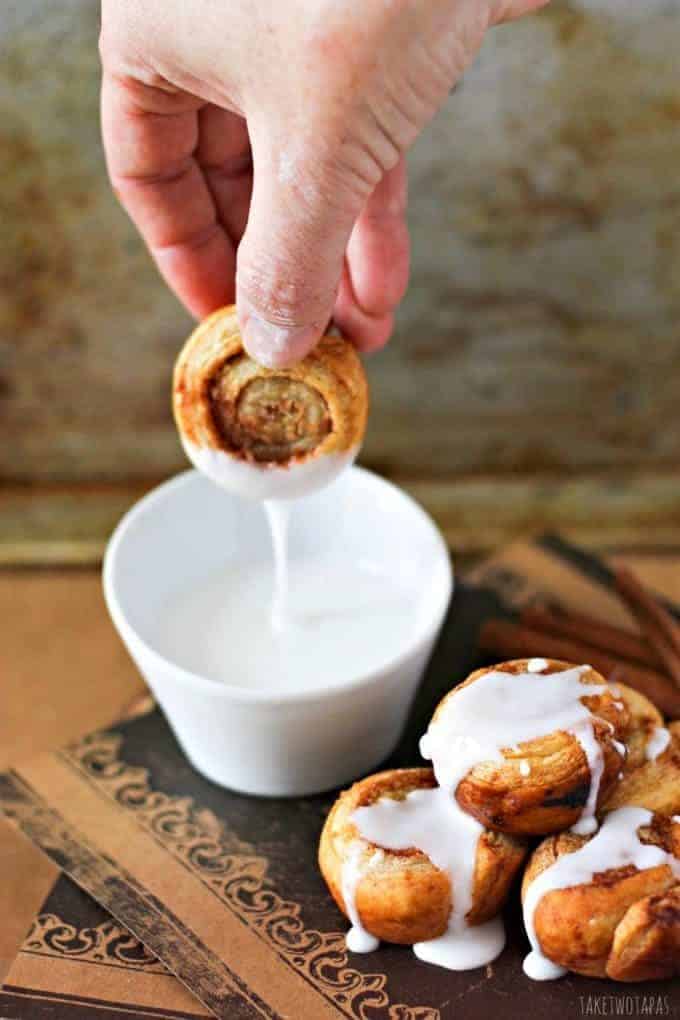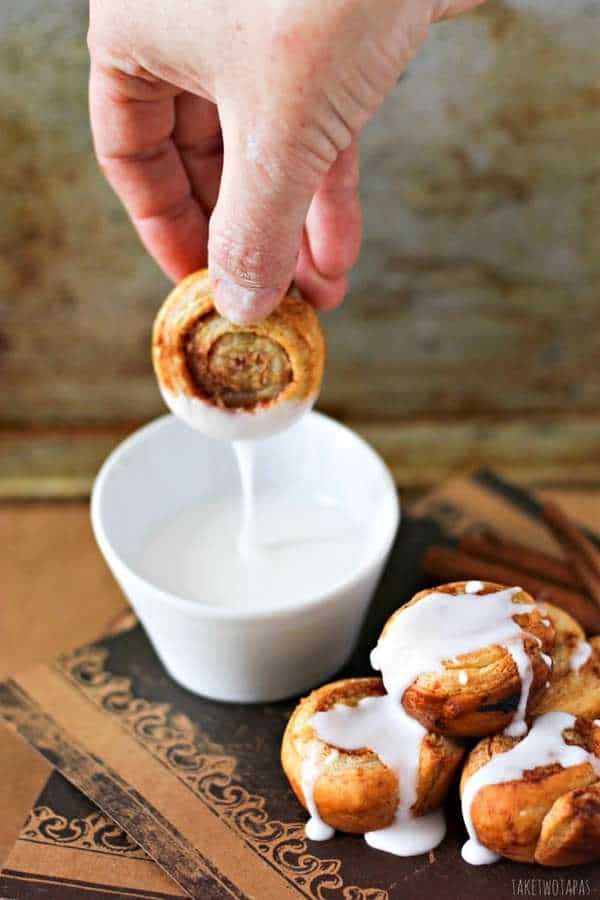 Love those large, soft, and gooey cinnamon rolls? I do too but can never finish the whole thing. Sometimes I just want a bite!
Puff Pastry Cinnamon Roll Bites
Ever been to the airport and run by the cinnamon roll shop? Tempted to eat one or three or seven? I am! My son is also a cinnamon roll freak!
There is a local cafe that serves great cinnamon rolls and he always eats one when we go. But just the center. He literally takes his fork and eats from the center out. He leaves the last two rings on the plate.
Guess who gets to eat that circle of crispy, sugary goodness? ME, ME, ME! I love that he shares with me. He's growing so fast he usually eats everything on the plate. He's still very picky about what he eats, but if he likes it, he eats ALL of it!
A few of the other things he eats all of are my Cinnamon Stars and my Fall Spiced Nuts. He can't keep his hands off either of these two and has me make them for his friends at school too!
This post may contain affiliate links. As an Amazon Associate, I earn from qualifying purchases. Read my disclosure policy here.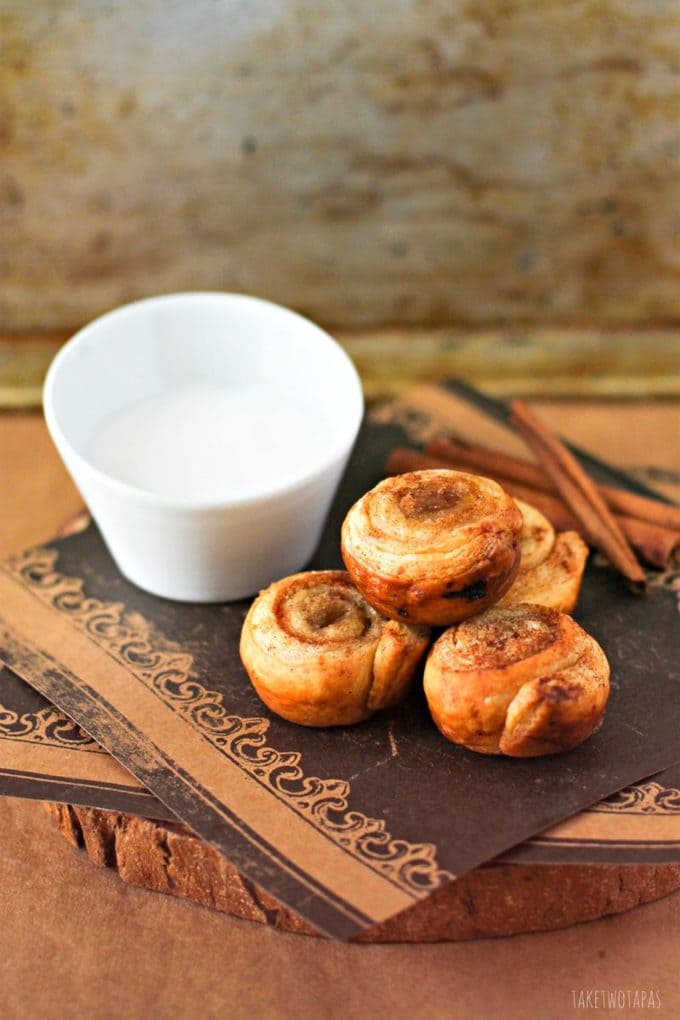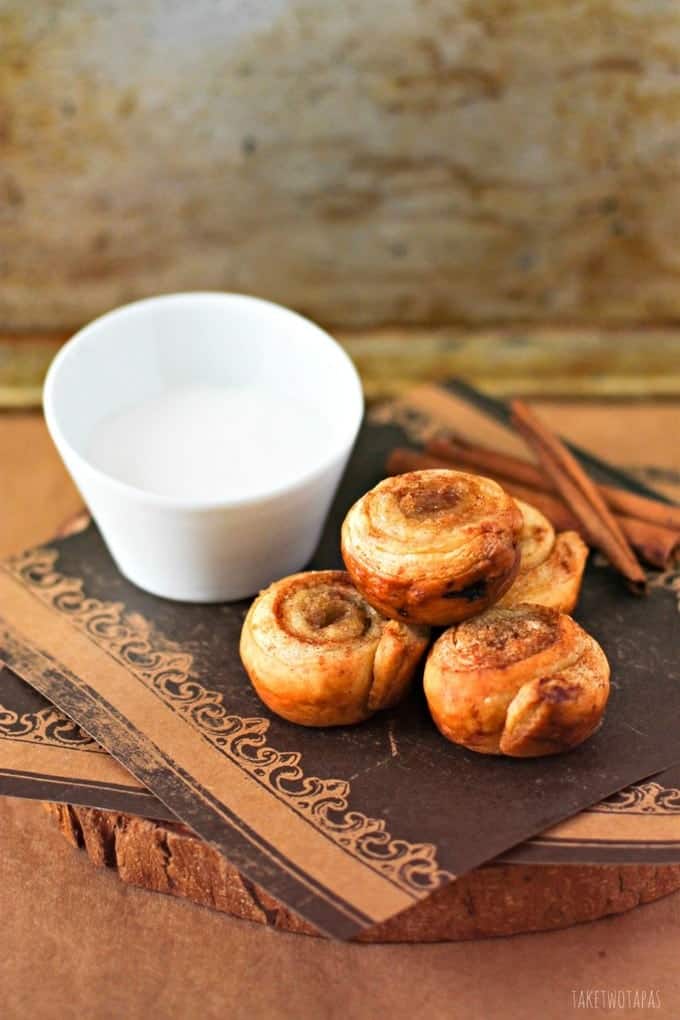 If you'd rather skip my (very helpful, I think) tips and tricks, essential cooking info, and similar recipe ideas – and get straight to this delicious easy Puff Pastry Cinnamon Roll Bites recipe – simply scroll to the bottom of the page where you can find the printable recipe card.
Making cinnamon rolls at home doesn't have to be hard
Back to those gooey cinnamon rolls. I have tried to make them from scratch but tend to get impatient, kneading and waiting for them to proof. Then you still have to bake them. Yes, they are a labor of love, but sometimes I just want the love, not the labor.
They even make a no-rise hot roll mix that you can use as a shortcut, but still not as good. I tried making them the night before, letting them slow proof in the fridge and then baking in the morning.
I'm sorry, but I am too hectic in the morning to worry about getting up 30 minutes earlier (because who wants to do that), doing a quick proof and then baking. Still too much trouble!!!
Why is puff pastry so great?
Enter the puff pastry! I just recently showed you how easy it was to use puff pastry in my Corned Beef and Swiss Pastry Sliders. I do love a great shortcut and I am no Julia Child. I figured that I could use this same great shortcut in making my cinnamon roll bites!
Defrosting a package of pastry in the fridge overnight makes for an easy morning. I haven't tried rolling the cinnamon rolls the night before and then slicing in the morning, so if you do, please comment and let me know how that goes.
Even with my hectic mornings, I have time to spread some cinnamon and brown sugar, and slice and bake these mini cinnamon roll bites. I will use the time they are baking to find my son's shoes that always seem to go missing as soon as we need to leave the house for school. Even when I put them by the door, they end up in the Bermuda Triangle of our house.
For more insider tips & tricks, and a candid behind the scenes look follow me on social media! Check use out on Pinterest, Facebook, Instagram, & Twitter (yes, people still use Twitter, LOL!)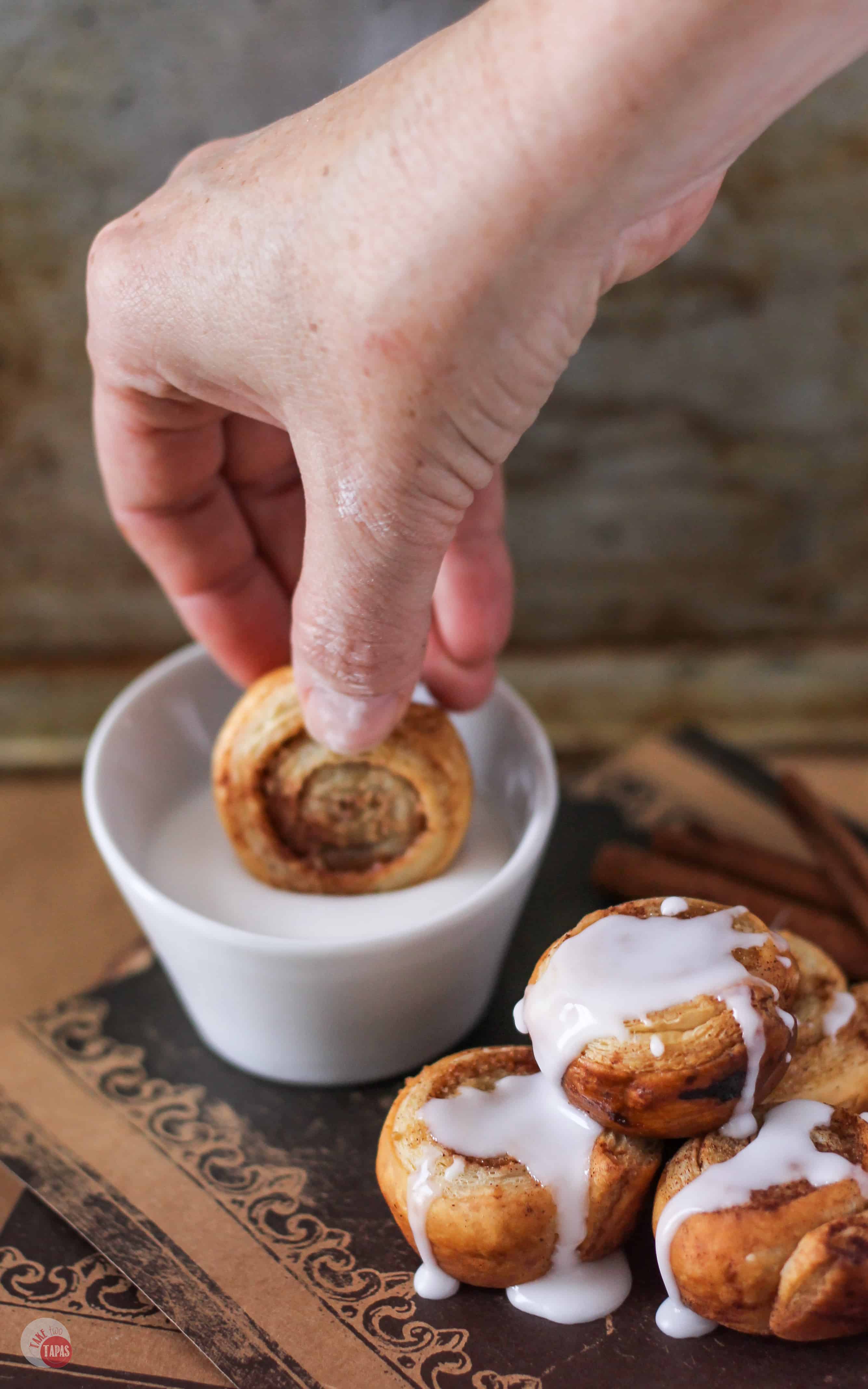 Are these cinnamon roll bites portable?
These cinnamon roll bites are also a perfectly portable breakfast! I can grab a few, toss them on a napkin or paper plate, and the kids can eat them in the car. Usually, because we are running late because we couldn't find our glasses or last night's homework.
Fresh out of the oven, they are crispy on the edges, buttery and cinnamony on the inside with a slightly chewy center. Drizzle them with the vanilla glaze, use it as a dipping sauce, or just leave them plain. The brown sugar can be sweet enough as it is.
Looking for other breakfast options for holiday parties or tailgating? Check out these fun and easy breakfast recipes that you can make ahead!
If you love this easy Puff Pastry Cinnamon Roll Bites Recipe as much as I do, please write a five-star review in the comment section below (or on Pinterest with the "tried it" button – you can now add pictures into reviews, too!), and be sure to help me share on facebook!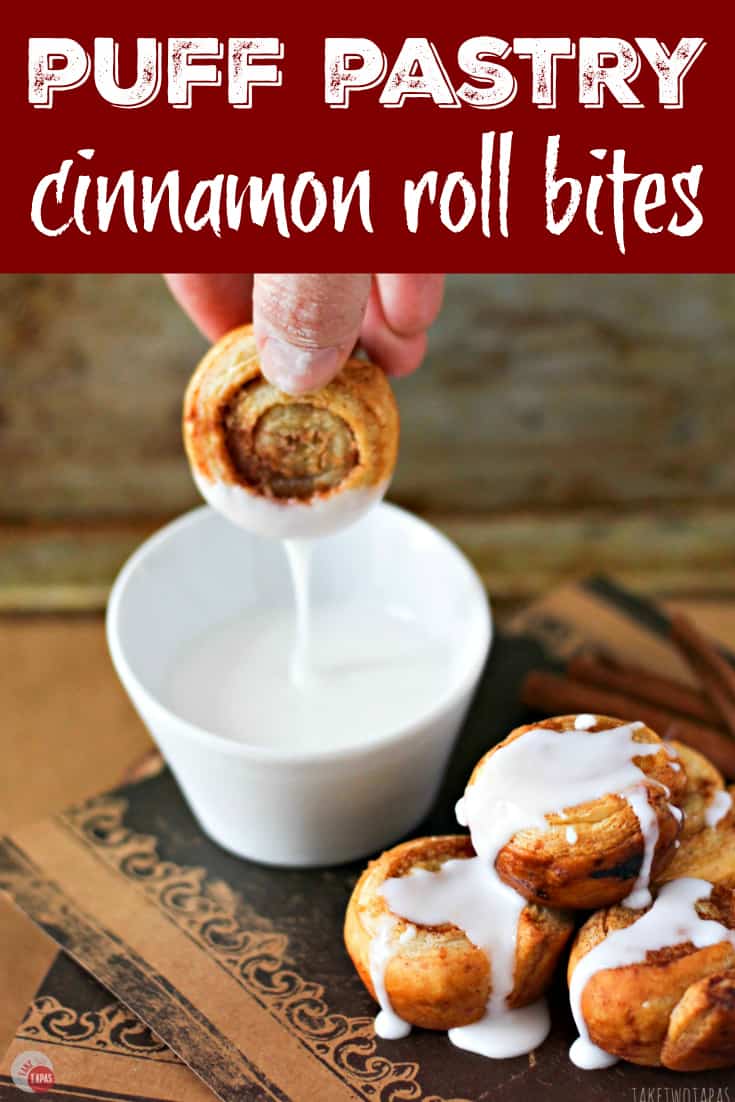 Other great Breakfast recipes to try!
Can these be made ahead of time?
Yes they can, but leave the glaze off and make sure they are sealed in an air-tight container. These are small and will dry out quickly.
This seems like a lot of cinnamon mixture?
I have had a few people mention that the cinnamon mixture is a lot and they are only using half of it. Feel free to make only half or make the full amount and save the other half for another batch!
Can you roll them out and cut them but not bake until the next day?
Yes you can, just make sure that when if you cut them and put them in a pan, that they are sealed tight and placed in the refrigerator.
Easy Puff Pastry Cinnamon Roll Bites Recipe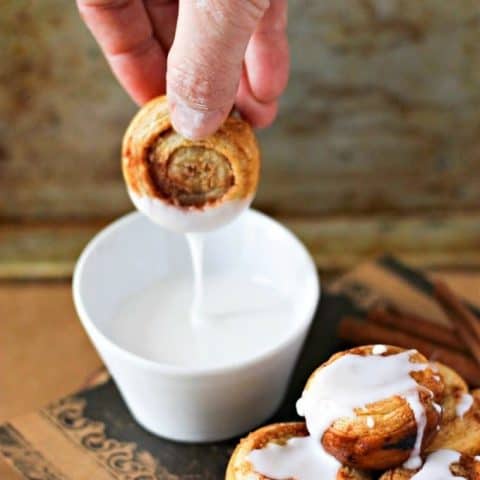 Mini Puff Pastry Cinnamon Rolls
These mini cinnamon roll bites are quickly made with the help of puff pastry. Sprinkled with brown sugar and baked until golden brown, they are crispy on the outside and flaky on the inside. Top them off with vanilla glaze for the perfect bite!
Ingredients
For the Cinnamon Roll Bites
2 sheets puff pastry (thawed)
6 tablespoons brown sugar
4 tablespoons cinnamon
For the Vanilla Glaze
1/2 cup powdered sugar
1 tablespoon milk or water
1/2 teaspoon vanilla
Instructions
Preheat oven to 400F.
Spray your mini muffin tins with non-stick spray.
Make the puff pastry rolls
Unfold one sheet of puff pastry, with the fold lines in an up and down direction.
Spread the puff pastry with 3 tablespoons brown sugar and 2 tablespoons cinnamon.
Spread to the edges with a brush or your hands.
Roll from the bottom up until you have a nice tight tube of cinnamon roll goodness.
Cut into 12 slices, using the fold lines as a guide if you need to.
Repeat with the other sheet of puff pastry.
Bake the puff pastry cinnamon roll bites
Place each slice in a muffin tin cavity, flat side up so you can see the swirl!
Bake for 15 minutes or until golden brown.
While the rolls are cooling, mix the glaze.
Serve warm with the glaze!
Notes
*If you like this recipe, please leave me a comment and rate it with some stars. Thank you!
Nutrition Information:
Yield:

24
Serving Size:

1
Amount Per Serving:
Calories:

36
Total Fat:

1g
Saturated Fat:

0g
Trans Fat:

0g
Unsaturated Fat:

1g
Cholesterol:

0mg
Sodium:

8mg
Carbohydrates:

7g
Fiber:

1g
Sugar:

5g
Protein:

0g
This nutrition information was generated via a third party, Nutritionix, and can not be held liable for any discrepancies in the information provided.
@TakeTwoTapas.com. Content and photographs are copyright protected. Sharing of this recipe is both encouraged and appreciated. Copying and/or pasting full recipes to any social media is strictly prohibited.