Last updated on October 16th, 2019 at 01:38 pm
This new twist on traditional buckeyes has them robed in dark chocolate, kissed with bourbon, and stuffed with a buttery, toasted pecan!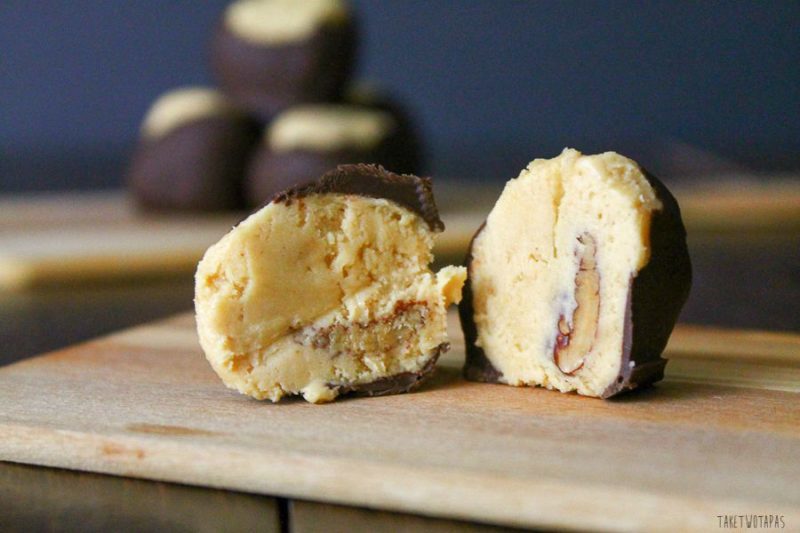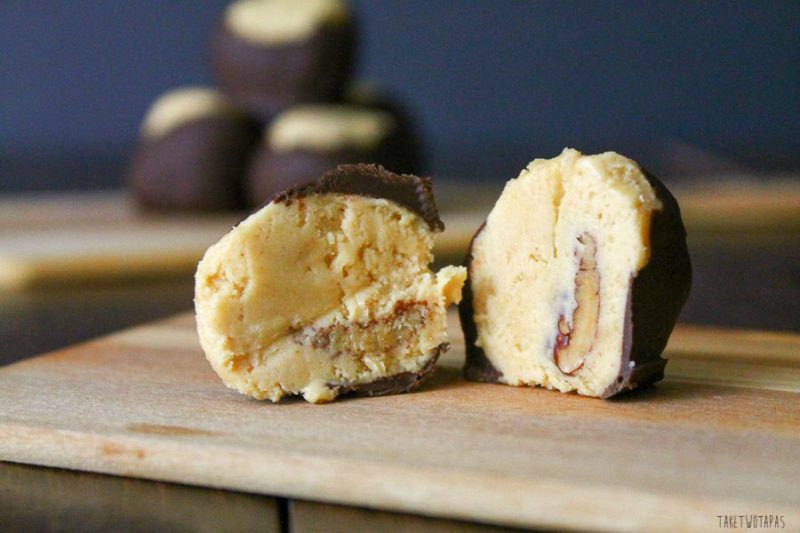 Buckeyes are for winners!
Getting a bit personal here.
I want to share a little bit of my past with you that I am not proud of, but I feel that you should know anyway. I didn't eat peanut butter cups for 12 years. The reason I gave up those delicious, creamy, satisfyingly perfect treats comes down to one unfortunate day in 11th-grade Physics class.
I used to fall asleep in Physics class all the time, not because it was boring for a science-loving nerd like me, but because it fell right in the middle of the morning. For someone who didn't eat a great breakfast, Pop-Tarts anyone, I usually had my sugar crash about this time and it was two more periods before I was allowed to eat a disgusting school lunch. It also didn't help that the teacher had a voice that could make an empty desk fall asleep.
One tired morning, while the teacher was going on and on about waves and sounds, I was on the verge of drooling on my desk when I looked down and saw a package of Reese's PB Cups. As a band geek/color guard twirler, I was forced to sell candy and other various foodstuffs to raise money. I had said box of foodstuffs at my feet! One box of unsold, PB cups, that were sending out "eat me now" messages through frequencies that no one else could here except me. I decided to eat one package, thinking that maybe that would bring me out of my catatonic state. I ate it, both cups, and instantly felt better.
This post may contain affiliate links. I earn a small commission for my endorsement, recommendation, testimonial, and/or link to any products or services from this website. Your purchase helps support this blog at no additional cost to you and allows me to continue bringing you delicious recipes and funny stories. For my entire disclosure policy click here.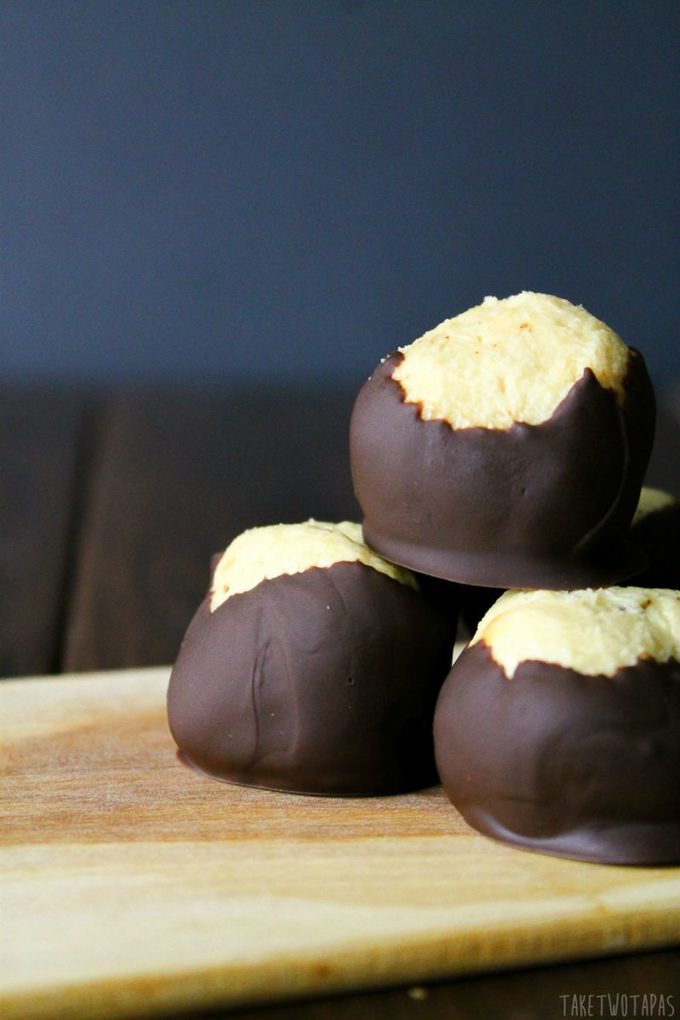 My hunger sensors kicked in when they received that first message that chocolate and PB were nearby. What's one more package? It would be like an appetizer and keep me awake during Shakespeare narration in the next class. Who doesn't need that? Trigonometry class is pretty boring to me too, so let's have another package for good measure… 12 packages later, that's 24 PB cups for those making little tally marks in their head, and I was ready to get up and do something.
I was teetering between running a marathon or puking my guts out. I managed to keep those sugar bombs down, but was wired to the gills! I think I marched faster than anyone in band practice that day and didn't sleep at all that night. After that day, I couldn't even look at another PB cup for a while. I also had to cough up the money for the 12 packages I ate and didn't sell. BOO!
Lesson learned!
Fast forward 12 years and my first taste of PB cups after the drought. I am in "like" again! I still can't eat more than 1 cup at a time but we are at least on speaking terms again. Can't say that for the Big Mac, but that is another story for another day.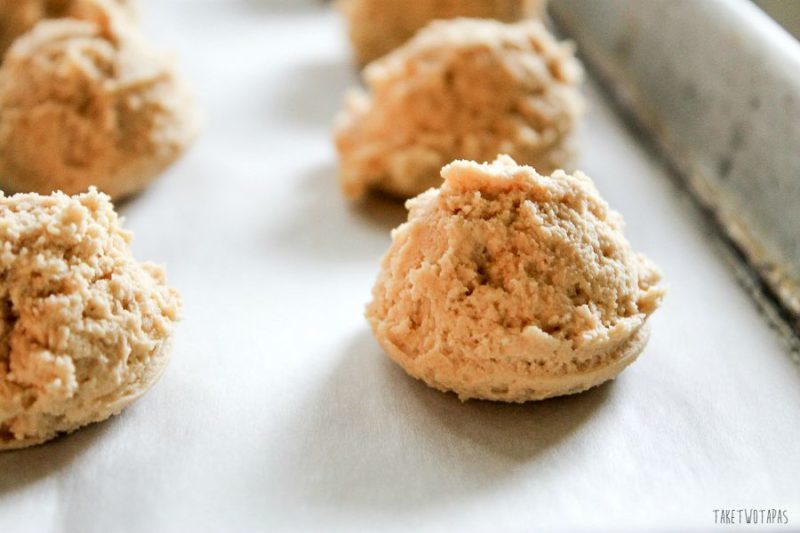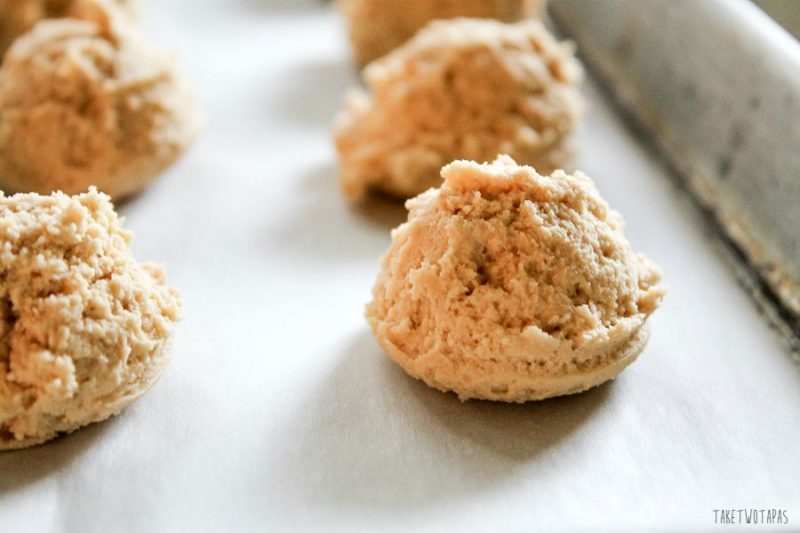 The best way to eat chocolate and peanut butter, besides a PB cup? A Buckeye! It's bigger, the ratio of PB to chocolate is much higher so it's "healthier" to eat, and they don't come in a wrapper that gets in your way of eating them! No need to waste time unwrapping and peeling back fluted cup wrappers that steal a small, thin layer of chocolate from the bottom of your cup and a piece of your soul at the same time.
I have only made buckeyes one other time and loved them of course, so I thought I might shake things up this time. Let's throw in some booze, use dark chocolate, and add a yummy surprise to the middle of them. Who doesn't love a surprise in their mouth?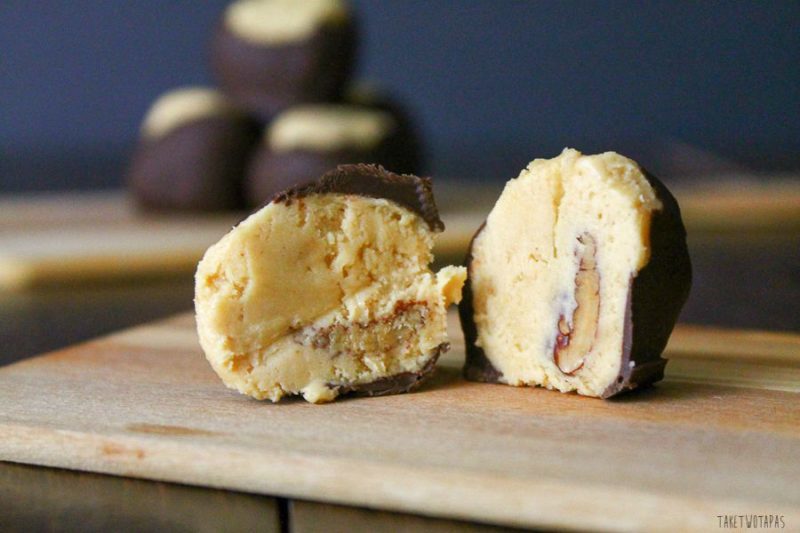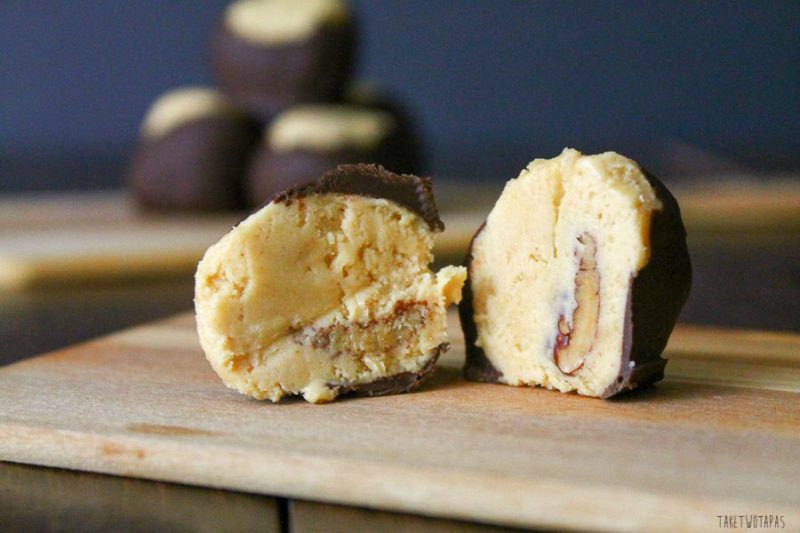 The surprise in the middle? A buttery, salted, toasted pecan! The saltiness cuts through the sweetness of the peanut butter mixture. The dark chocolate helps to keep it in balance. It also doesn't hurt that there is some bourbon in there too! Adults only, please. These are not cooked so all the alcohol is still present. It's not as overpowering as a rum ball but you can still smell it. I have a recipe for rum balls that my brother Brian makes that will get you drunk just pulling into his driveway. I eat a lot of those at Christmas:) That recipe might make an appearance this season.
These Bourbon Buckeyes are easy to make and fun to take to a party. Not too many people dislike the chocolate and peanut butter combo, unless you slip and have a tragic PB cup hoovering incident that might land you in PB cup addicts support group, so take a tray!
How many can you eat at one time?
*Take Two Tapas is not responsible for any actions taken by the consumer after eating these tasty Bourbon Buckeyes, but certainly wouldn't miss the chance to laugh at said antics*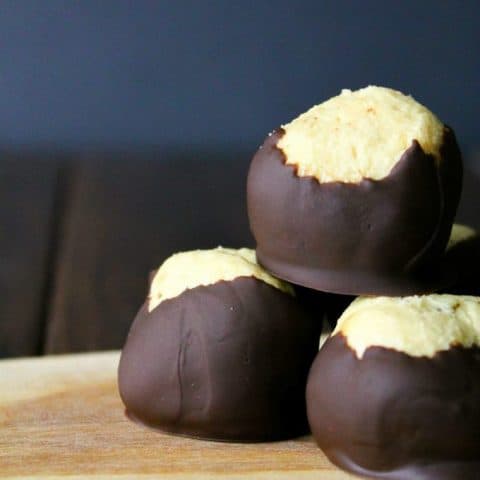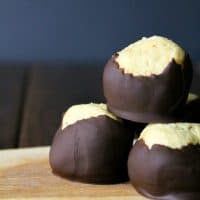 Bourbon Buckeyes with a Surprise Inside
Yield: 50 buckeyes

Prep Time: 10 minutes

Cook Time: 40 minutes

Total Time: 50 minutes

Classic Buckeyes are given a makeover with some dark chocolate, a hint of bourbon in the mix, and a salted, toasted pecan in the middle to make Bourbon Buckeyes!
Ingredients
For the peanut butter filling
1 1/2 cups creamy peanut butter
1 cup butter (softened)
1 teaspoon vanilla
1 teaspoon kosher salt
5 cups powdered sugar
1/4 cup bourbon
1 cup Perfectly Toasted Pecans
For the chocolate coating
Instructions
Make the peanut butter filling
Combine the peanut butter, butter, salt, and vanilla in a mixing bowl until fully incorporated.

Slowly add the powdered sugar.

When mixed in, add the bourbon.

Mix until combined.

Scoop into 1 inch balls (I use a mini ice cream scoop) and place on a parchment-lined baking sheet.

Chill for 10 minutes.

Remove and add a pecan half to the ball. I push the pecan in slightly and then roll the ball in the palm of my hand. The peanut butter will naturally move over the pecan and cover it.

Freeze balls for 30 minutes.
Coat your Bourbon Buckeyes
While the peanut butter balls are chilling, melt your chocolate chips.

I added my chocolate wafers and oil to a small metal bowl set on a pan of simmering water (double boiler method) but you can melt yours in a microwave at 30-second bursts.

When the balls are set, insert a toothpick (not deep because of the pecan hidden inside) and dip in chocolate.

Return the dipped balls to the lined baking sheet and put back into the freezer or refrigerator until chocolate is set.

Remove toothpick and smooth over the hole with a slightly wet finger.

Keep stored in the refrigerator until ready to serve.

Enjoy 1 week if they last that long.
Notes
*I keep my bourbon buckeyes in the freezer because my kitchen gets hotter than Satan's crotch so they melt faster.  Plus, I like them cold:)

*If you like this recipe, please leave me a comment and rate it with some stars.  Thank you!

If you like reading my posts and seeing my recipes, follow me on your favorite social media channel for behind the scenes photos and much, much more: Pinterest, Facebook, Instagram, and Twitter!
©TakeTwoTapas.com. Content and photographs are copyright protected. Sharing of this recipe is both encouraged and appreciated. Copying and/or pasting full recipes to any social media is strictly prohibited.