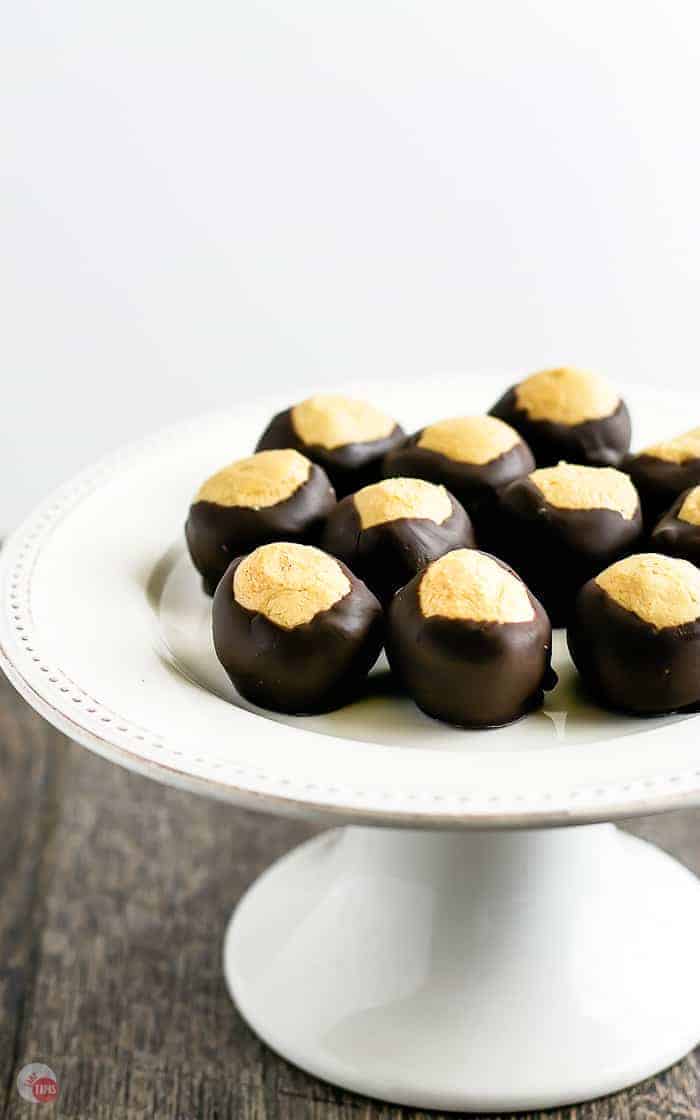 Traditional buckeyes are delicious peanut butter balls dipped in chocolate to form the perfect treat. I take it two steps more and add a touch of bourbon and stuff them with a buttery, toasted pecan!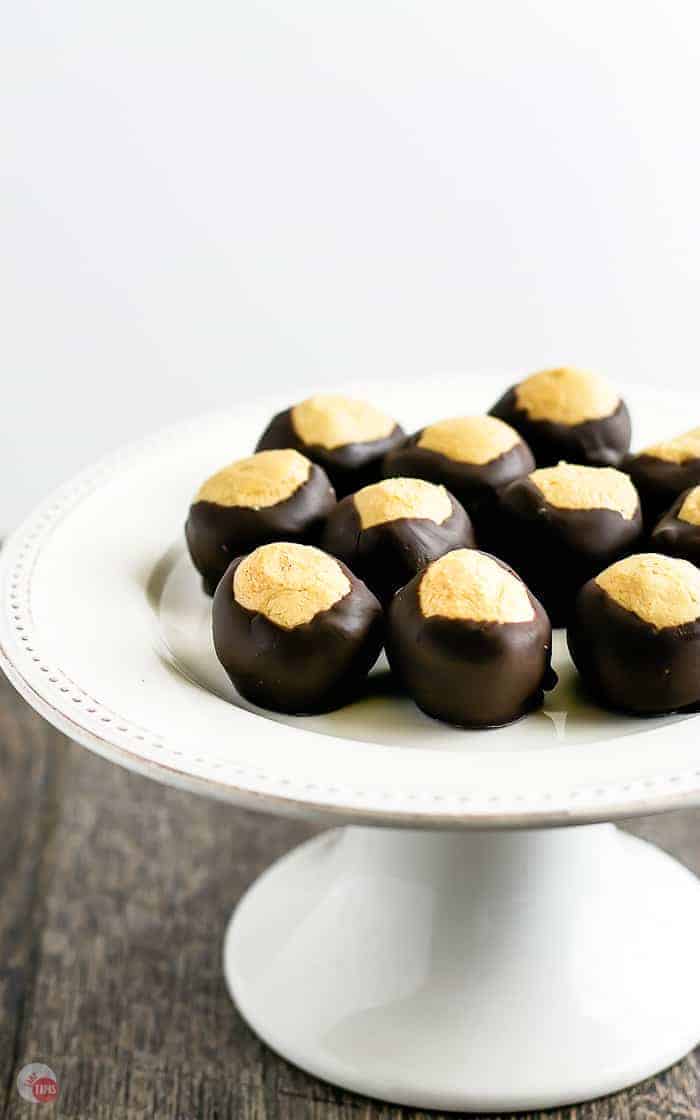 Buckeyes are for winners!
Buckeye Balls
I'm going to get a bit personal here.
I want to share a little bit of my past with you that I am not proud of, but I feel that you should know anyway. I didn't eat peanut butter cups for 12 years. The reason I gave up those delicious, creamy, satisfyingly perfect treats comes down to one unfortunate day in 11th-grade Physics class.
I used to fall asleep in Physics class all the time, not because it was boring for a science-loving nerd like me, but because it fell right in the middle of the morning.
To make a long story short, I ate 12 packages of Peanut Butter Cups (24 PB cups!) during that boring class because I had them available to me via school candy fundraisers.
Once I was able to eat chocolate and peanut butter at the same time, I still couldn't look at the cup form, but I did start drooling at the sight of chocolate peanut butter balls or Buckeye Balls.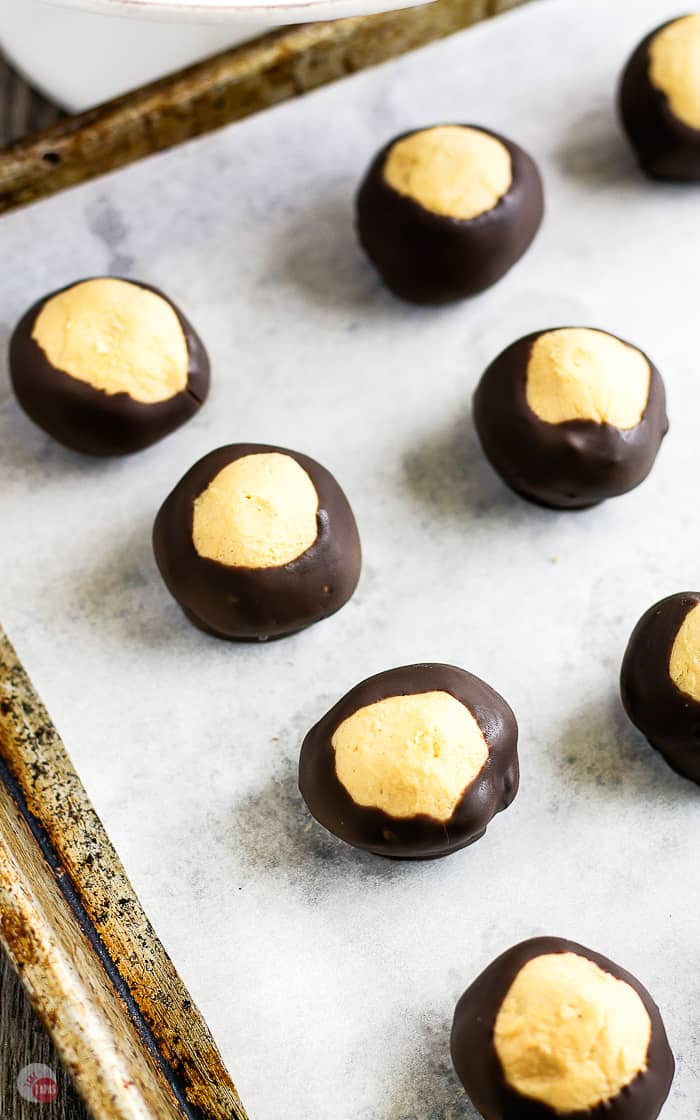 If you'd rather skip my (very helpful, I think) tips and tricks, essential cooking info, and similar recipe ideas – and get straight to this delicious recipe – simply scroll to the bottom of the page where you can find the printable recipe card.
Just take me to the easy buckeye candy recipe!
If you'd rather skip my (very helpful, I think) tips and tricks, essential cooking info, and similar recipe ideas – and get straight to this delicious easy chocolate peanut butter balls recipe – simply scroll to the bottom of the page where you can find the printable recipe card.
Buckeye Candy
Now that I am in "like" again with chocolate and peanut butter, I still can't eat more than 1 small portion at a time which is why Buckeyes are the perfect way to enjoy these flavors again.
These Peanut Butter Buckeyes are an addicting addition to a cookie or dessert tray because they are easy to make, perfectly sized, gluten free, and are absolutely adorable to look at! Especially if you are a fan of The Ohio State sports teams!
Why are they called Buckeye Balls?
The Buckeye tree produces a nut that is a dark, rich brown color with a light brown/tan circle on top. Much like a peanut butter ball that is mostly covered in chocolate!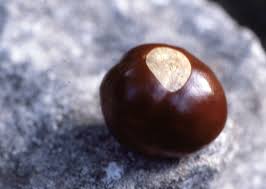 This post may contain affiliate links. As an Amazon Associate, I earn from qualifying purchases. Read my disclosure policy here.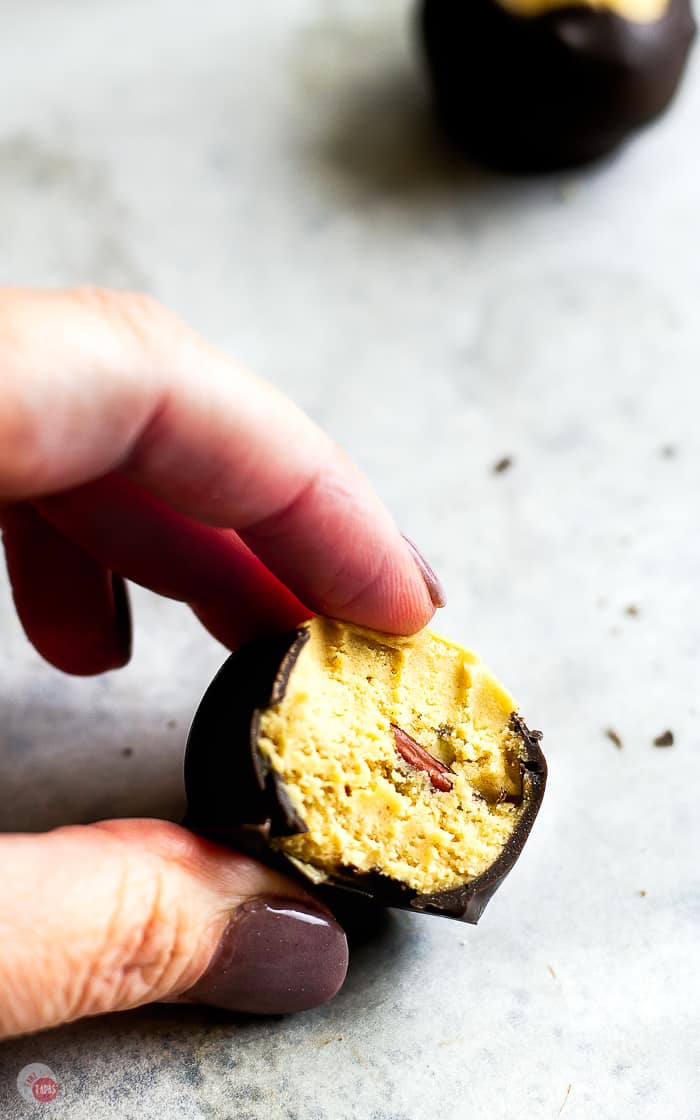 Buckeye Candy Ingredients
peanut butter
butter
powered sugar
vanilla
salt
chocolate (milk or semi-sweet)
dark chocolate *optional
bourbon *optional
toasted pecans *optional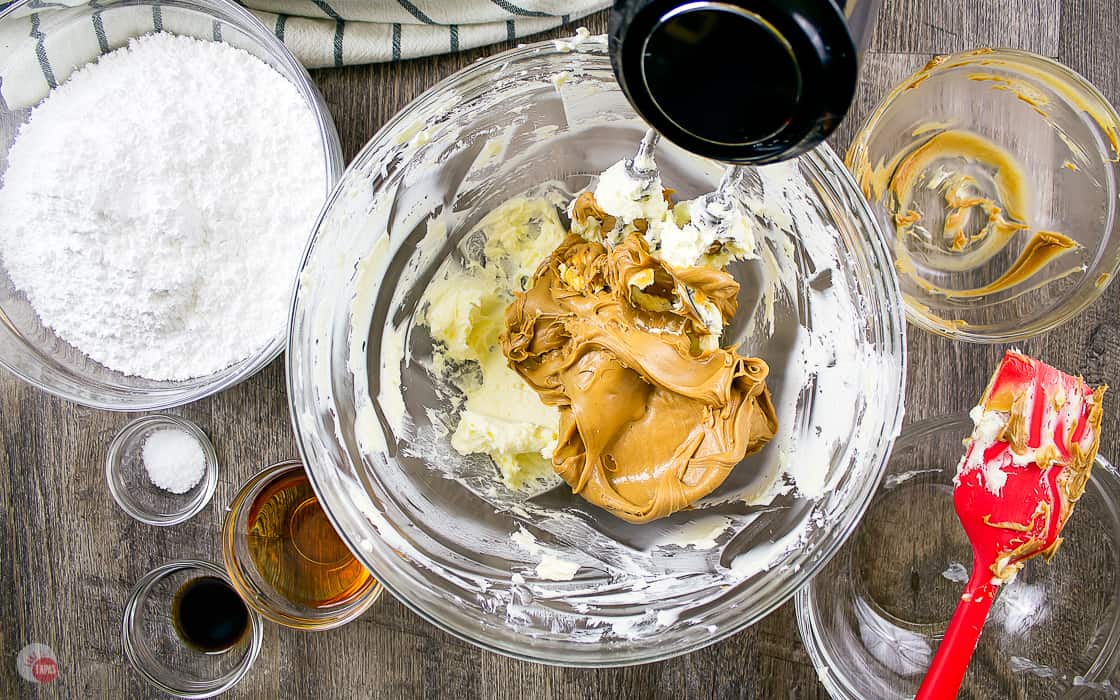 Buckeye Balls Recipe
What's the best way to eat chocolate and peanut butter, besides a PB cup? A Buckeye Ball! It's bigger, the ratio of PB to chocolate is much higher so it's "healthier" to eat, and they don't come in a wrapper that gets in your way of eating them!
All kidding aside, the buckeyes recipe is pretty straight-forward!
Start by making the peanut butter ball center by mixing butter, creamy peanut butter, vanilla, salt, and powdered sugar in a large bowl.
Scoop the mixture in balls, I like to use an ice cream scoop to keep them uniform, place on a parchment lined baking sheet, and chill for 10 minutes. While they are chilling, melt the chocolate coating.
What kind of chocolate do you use for buckeyes?
The best type of chocolate to use for dipping the peanut butter balls is one that melts easy, coats evenly, and hardens back with a nice glssy shine. I would stick with a good quality bar of chocolate or melting wafers.
I prefer dark chocolate to cut the sweetness but go with what you like.
Also, I wouldn't recommend using chocolate chips that you would use for cookies, muffins, or breads because they add stabilizers to the chips to help them keep their shape when baked.
You don't want them to stay the same shape you want them to melt and coat your buckeye ball.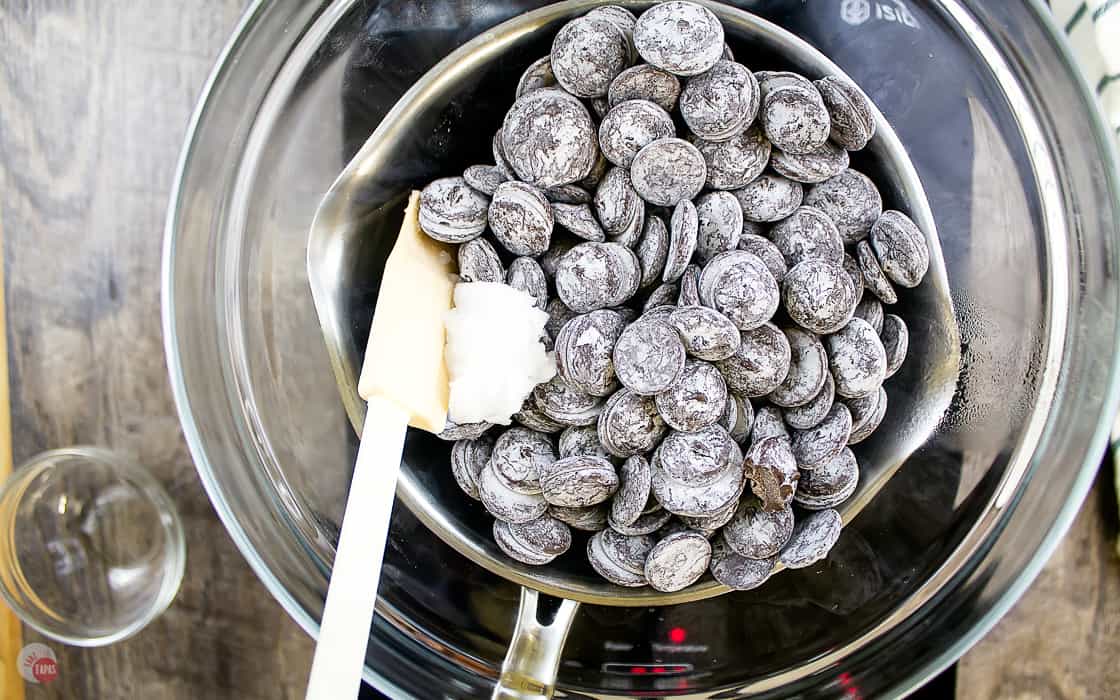 Tips for dipping Buckeye Balls
When you are ready to dip the peanut butter balls in the melted chocolate, start with a little prep.
Melt your chocolate in a bowl and keep over a pot of simmering water and stir occasionally to keep the chocolate smooth and easy to dip in.
Make sure your balls are chilled completely. This will make it easy to dip and allow the chocolate to start setting instead of running off.
Only remove a small batch of balls at a time to keep the peanut butter from warming up before getting dipped.
Insert a toothpick far enough in to keep the toothpick from sliding out from the weight of the chocolate.
Dip just once making sure to coat most of the peanut butter ball, leaving the small circle on the top open. Feel free to rotate the ball in the chocolate if the bowl is shallow.
Be sure to shake off the excess chocolate using a knife edge, or edge of the bowl, or by twirling the ball. Too much chocolate will run down the side and form a pool at the base of the buckeye messing up the "ball" shape.
Don't forget to return the coated Buckeye Balls to the refrigerator to chill for an additional 10 minutes to set the chocolate. Once they are set, store them in an airtight container.
Do buckeyes have to be refrigerated?
The buckeyes are stable at room temperature as long as the peanut butter is shelf stable. You can check by seeing if the peanut butter itself requires refrigeration after opening. Usually natural nut butters require refrigeration.
How long do buckeyes keep?
Jokingly, I would say not very long because they are so delicious. In all seriousness, they will keep for 2 weeks at room temperature or up to a month in the refrigerator.
Can you freeze buckeyes?
Once the chocolate is set on the final chill, you can transfer the buckeye balls to a zip-top bag or other airtight container and store in the freezer.
How long will buckeyes last in the freezer?
If stored correctly, the peanut butter balls will last for 3 months.
Once the center is mixed, formed into balls, and dipped in chocolate simply chill and enjoy. I take my buckeye candy three steps further by using dark chocolate instead of milk or semi-sweet, add a toasted pecan to the center, and BOURBON!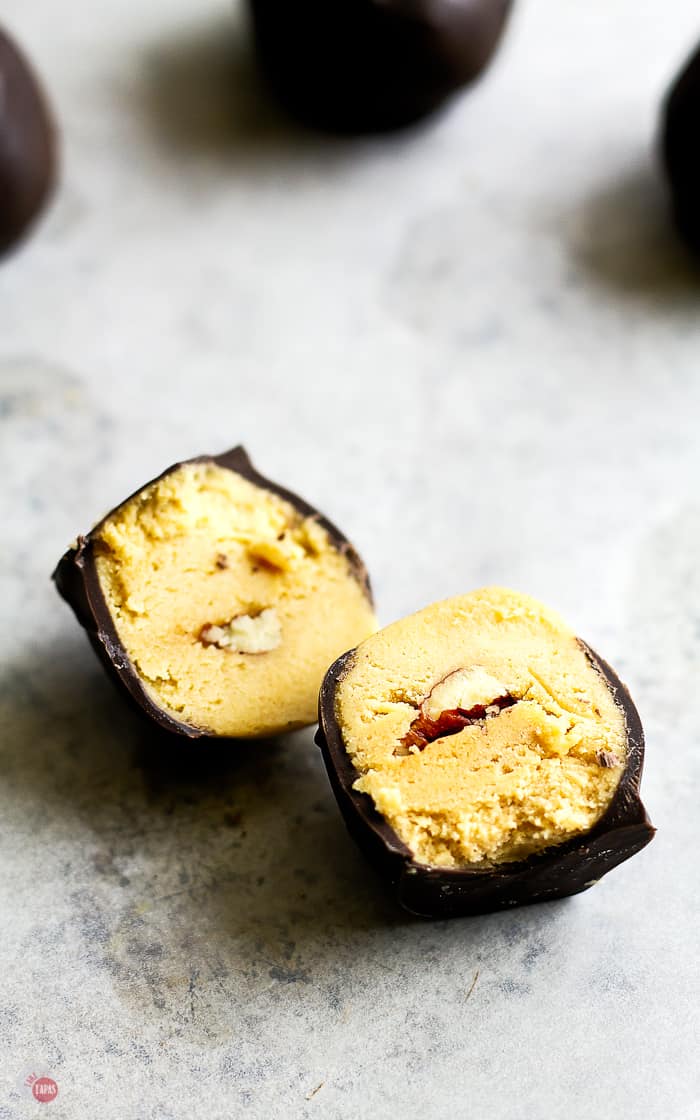 This buckeye candy recipe is a must make for the holiday season. For more holiday spirit they have Kentucky bourbon!
These are not cooked so all the alcohol is still present. It's not as overpowering as a rum ball but you can still smell it. I have a recipe for rum balls that my brother Brian makes that will get you drunk just pulling into his driveway. I eat a lot of those at Christmas:)
No need to waste time unwrapping and peeling back fluted cup wrappers that steal a small, thin layer of chocolate from the bottom of your cup and a piece of your soul at the same time. The buckeyes are easy to pop in your mouth.
Throw in some booze, use dark chocolate, and add a yummy surprise to the middle of them. Who doesn't love a surprise in their mouth?
If you love this recipe as much as I do, please write a five-star review in the comment section below (or on Pinterest with the "tried it" button – you can now add pictures into reviews, too!), and be sure to help me share on facebook!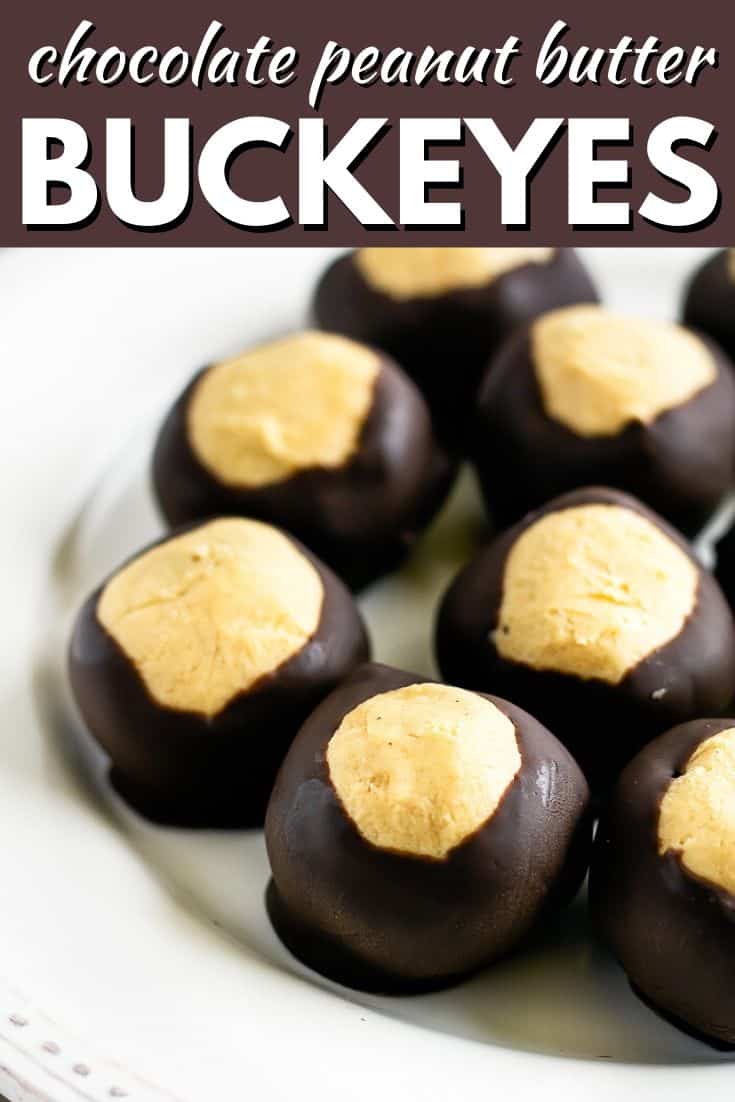 Finish off the party with these
Check out these other truffle recipes
These Bourbon Buckeyes are easy to make and fun to take to a party. Not too many people dislike the chocolate and peanut butter combo, unless you slip and have a tragic PB cup "hoovering" incident like me, that might land you in PB cup addicts support group, so take a tray!
*Take Two Tapas is not responsible for any actions taken by the consumer after eating these tasty Bourbon Buckeyes, but certainly wouldn't miss the chance to laugh at said antics*
How to make buckeyes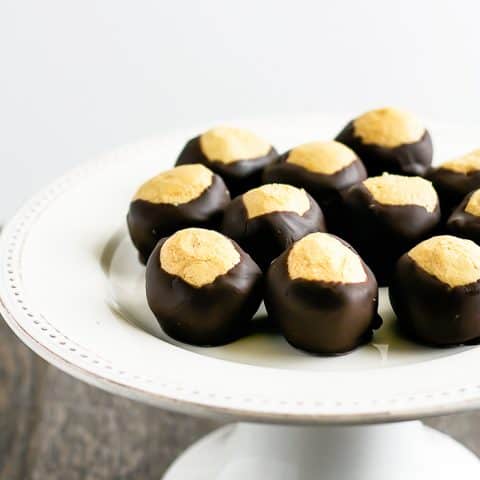 Bourbon Buckeyes
Classic Buckeyes are given a makeover with some dark chocolate, a hint of bourbon in the mix, and a salted, toasted pecan in the middle to make Bourbon Buckeyes!
Ingredients
For the peanut butter filling
1 1/2 cups creamy peanut butter
1 cup butter (softened)
1 teaspoon vanilla
1 teaspoon kosher salt
5 cups powdered sugar
1/4 cup bourbon
1 cup Perfectly Toasted Pecans
For the chocolate coating
Instructions
Make the peanut butter filling
Combine the peanut butter, butter, salt, and vanilla in a mixing bowl until fully incorporated.
Slowly add the powdered sugar.
When mixed in, add the bourbon.
Mix until combined.
Scoop into 1 inch balls (I use aI use a mini ice cream scoop) and place on a parchment-lined baking sheet.
Chill for 10 minutes.
Remove and add a pecan half to the ball. I push the pecan in slightly and then roll the ball in the palm of my hand. The peanut butter will naturally move over the pecan and cover it.
Freeze balls for 30 minutes.
Coat your Bourbon Buckeyes
While the peanut butter balls are chilling, melt your chocolate chips.
I added my chocolate wafers and oil to a small metal bowl set on a pan of simmering water (double boiler method) but you can melt yours in a microwave at 30-second bursts.
When the balls are set, insert a toothpick (not deep because of the pecan hidden inside) and dip in chocolate.
Return the dipped balls to the lined baking sheet and put back into the freezer or refrigerator until chocolate is set.
Remove toothpick and smooth over the hole with a slightly wet finger.
Keep stored in the refrigerator until ready to serve.
Enjoy for up to 1 month if they last that long.
Notes
*If you like this recipe, please leave me a comment and rate it with some stars. Thank you!
Nutrition Information:
Yield:

60
Serving Size:

1 buckeye
Amount Per Serving:
Calories:

303
Total Fat:

18g
Saturated Fat:

9g
Trans Fat:

0g
Unsaturated Fat:

7g
Cholesterol:

20mg
Sodium:

194mg
Carbohydrates:

31g
Fiber:

1g
Sugar:

27g
Protein:

4g
This nutrition information was generated via a third party, Nutritionix, and can not be held liable for any discrepancies in the information provided.
@TakeTwoTapas.com. Content and photographs are copyright protected. Sharing of this recipe is both encouraged and appreciated. Copying and/or pasting full recipes to any social media is strictly prohibited.
Update Notes: This recipe was originally published in August 2015. Updated and refreshed in November 2019 with more new photos, a video, and recipe tips.