Homemade Frozen Meatballs – Perfect to add to throw in your crock pot for a DELICIOUS appetizer and a great alternative for those that prefer HOMEMADE vs store bought frozen meatballs!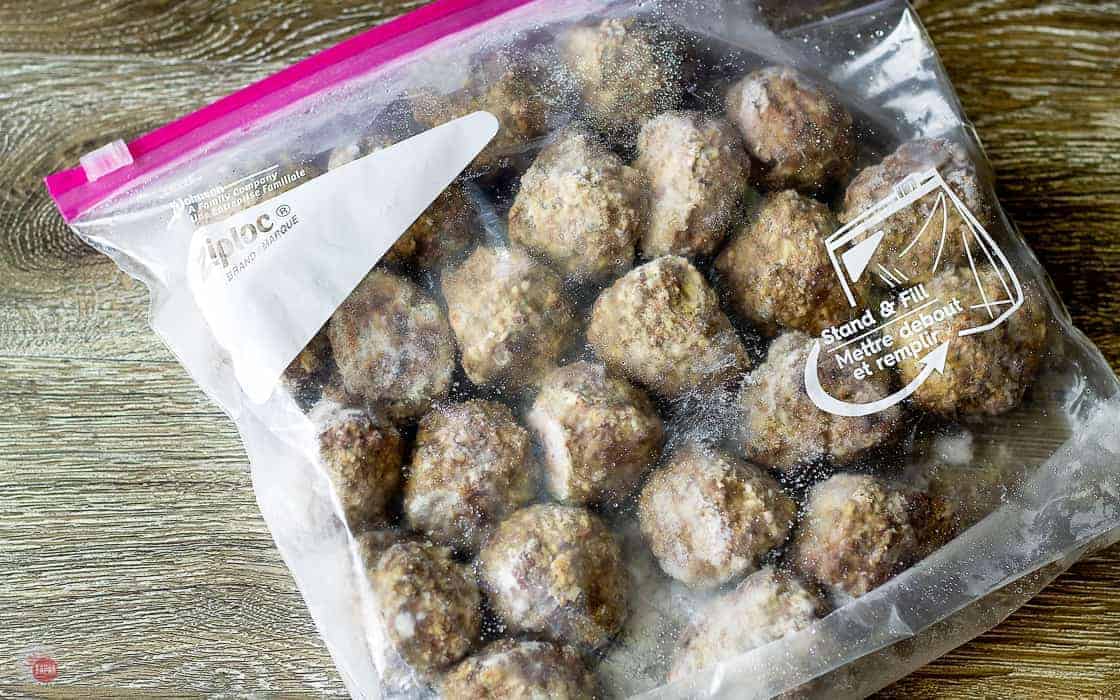 If you'd rather skip my essential cooking tips and tricks and get straight to this delicious recipe – simply scroll to the bottom of the page where you can find the printable recipe card.
BEST FROZEN MEATBALLS
Frozen meatballs give you so many options. The humble yet mighty meatball provides a foundation for countless dishes.
Every style of cuisine on the planet has a version of a meatball. So with easy freezer meatballs, you can essentially span a globe of flavors.
To start your globe-trotting, all you have to do is grab some of your frozen meatballs, and build a sauce or glaze.
Meatballs work for slow cooker appetizer or an entrée.
Everyone loves a good meatball. Except for vegans. But that just means more meatballs for the rest of us.
Also, making your own meatballs means you don't have to worry about all the additives found in most store bought freezer meatballs.
BONUS for no extra crap!
Seriously, some of those premade freezer ones don't really seem to be meat. They should be re-labeled bread balls.
This post may contain affiliate links. As an Amazon Associate, I earn from qualifying purchases. Read my disclosure policy here.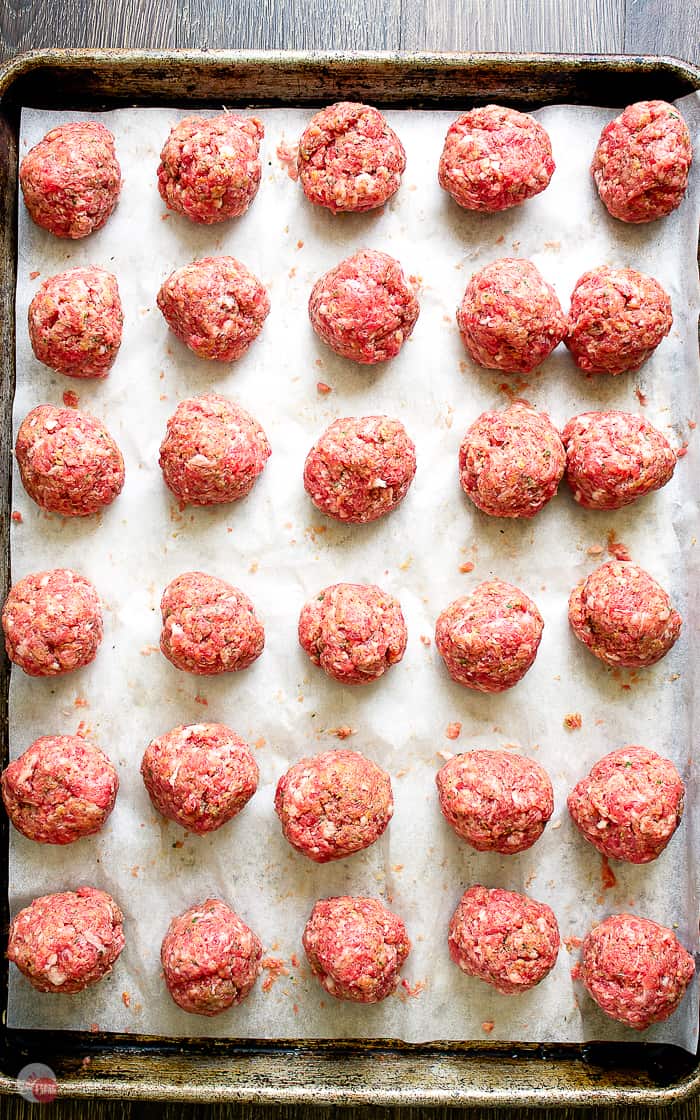 PREP AHEAD WITH FROZEN MEATBALLS FOR THE CROCKPOT
Making freeze meatballs means creating convenience. They come together with little effort. They don't take long to cook.
They keep in the freezer for a month or even more if they are well stored.
Who doesn't love convenience?!
The biggest consideration for making your own freezer meatballs? Choosing what style of meatball to go with.
In this case, the more simple you keep them, the more options you have for destinations to travel to with the sauce or glaze.
For this reason, not going any one particular direction with the meatball seasoning makes sense. For example, you certainly can add ingredients like cheese to the mix, but then you paint yourself into a corner.
Not many Asian themed recipes include parmesan cheese or cheese of any kind. A meatball stuffed with parmesan works great for Italian dishes though. But, I like having the most options possible if I am busting some out of the freezer.
So, season simply with salt and pepper and some onions. Maybe add a bit of red pepper flakes if you want some heat.
Otherwise, keep it very simple and use your sauce, gravy, or glaze to do the heavy lifting when it comes to flavoring or setting your travel plans or style of cuisine.
Looking for more ways to prep for a party? Try these homemade phyllo cups, homemade potato skins, how to roast nuts!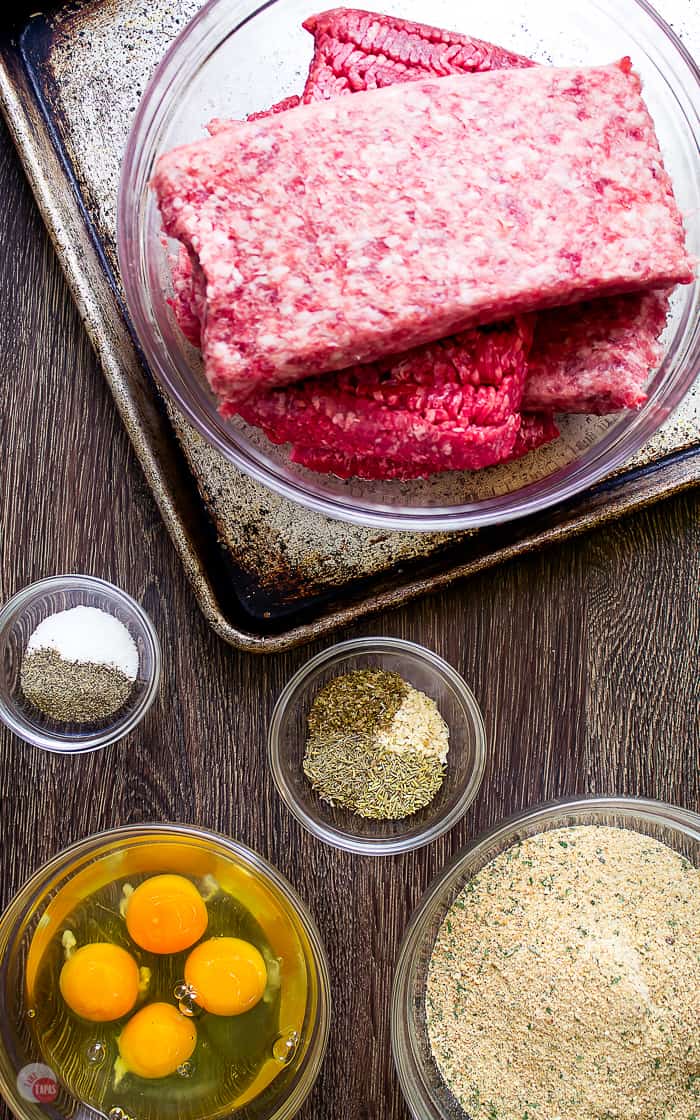 FREEZER MEATBALL RECIPE
The basic ingredients of meatballs are as follows:
meat (ground beef or ground pork)
binding agents
seasonings
size
thorough cooking
Starting with the meat, you literally can go with any type of ground meat. Beef, chicken, pork, veal, venison, alligator, whatever you like and have available works.
Meatballs are made with a combination of meat, some breadcrumbs, and beaten eggs and usually a bit of chopped onion and some salt and pepper at the very least.
The eggs and breadcrumbs help bind the meat and keep it from crumbling. Onions are found in every cuisine on the planet and onions act to bind too.
Only in this case, onions help bind all the seasons and flavors of the meat. Ever had lamb meatballs? If not, give them a try!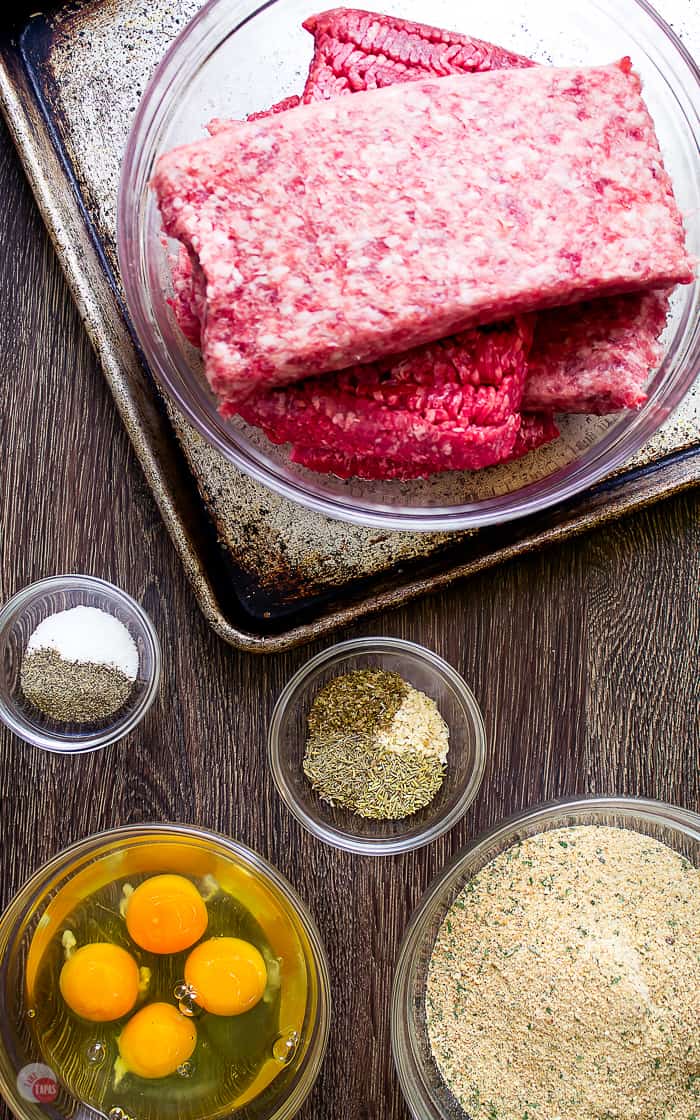 HOW TO MAKE HOMEMADE FROZEN MEATBALLS
So using onions in the them will not limit what you do when it comes time to cook them and decide whether you are going with European, Asian, or Polynesian for the meal.
With freezer meatballs, you definitely want to cook them all the way or at least until they are no longer pink inside. Sometimes cooking them on the stove top in a cast iron pan is fine.
However, for these, I recommend cooking a big batch which means the oven.
You want to be able to store a bunch to use when you want them. So, using cookie sheets and doing them in the oven works best in that case.
Start with higher heat in the oven, about 425F. Then reduce the temp to about 325F.
This will help seal in the moisture so you don't have a dry meatball when you are ready to eat them.
Make sure to let them cool completely before you add them to the freezer bags to store in the freezer.
I suggest freezer bags because it make portion sizes easier when it comes time to thaw them out. Also, it makes it easier to stack them in the freezer that way.
For more insider tips & tricks, and a candid behind the scenes look follow me on social media! Check use out on Pinterest, Facebook, Instagram, & Twitter (yes, people still use Twitter, LOL!)
TAPAS TIPS & TRICKS
Make sure you have some fat content in the meat. Too lean = dry balls!
Don't over mix or they will get tough so mix as little as possible to combine ingredients.
Bread crumbs help bind the meat together. Plain or seasoned is up to you!
Season your balls! Go as basic as possible for more options.
Make them uniform size for even baking. Use an ice cream scoop!
Cook thoroughly! Internal temperature should be 165F.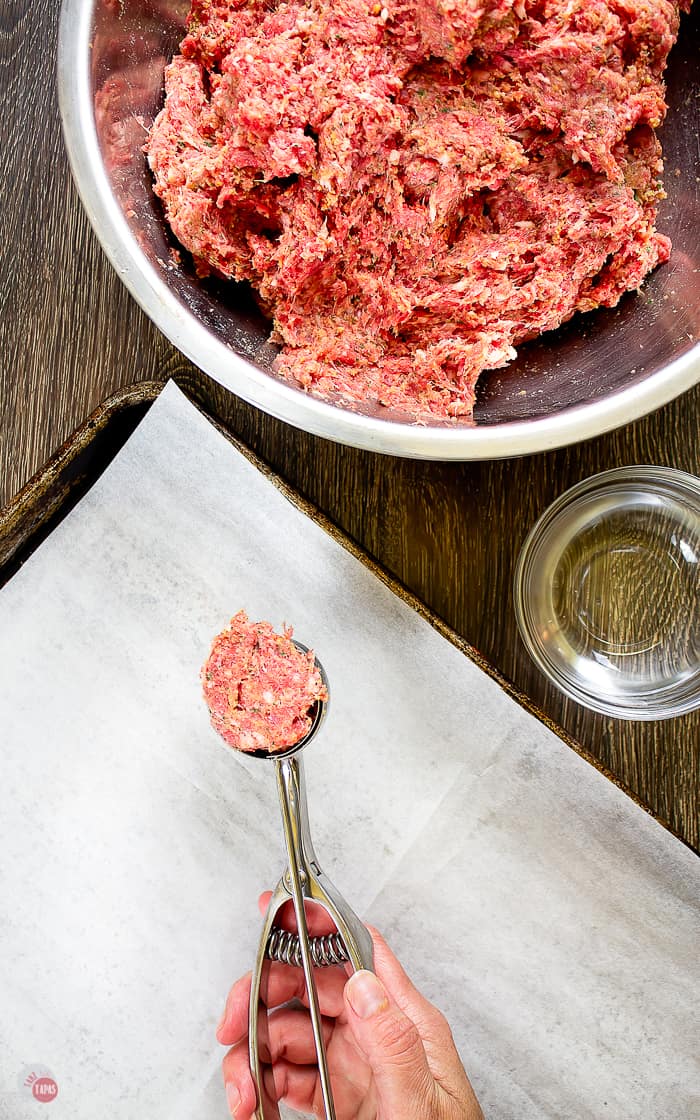 WHAT ARE SOME GOOD RECIPE THAT USE FROZEN MEATBALLS?
Meatballs are so wonderful. All manner of tasty appetizers come to mind first. You can use them on sandwiches. No one complains about them on pasta.
Want to pop them in soup? Nothing stopping you. Nothing weird about using them in a salad either.
You can make balls work with spicy, sweet and sour glazes, or marinara sauce. Or be a rebel and don't put any sauce on them at all.
The only limit is your imagination.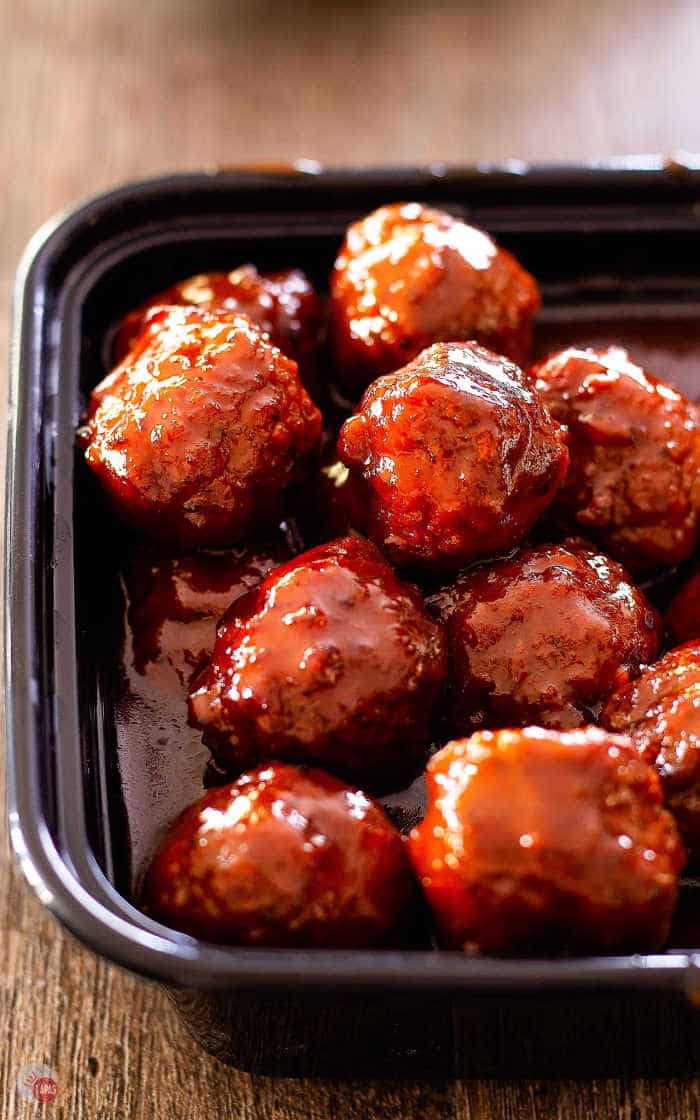 SHOULD I THAW MEATBALLS BEFORE PUTTING THEM IN THE CROCKPOT?
If your recipe has them cooking for at least 2 hours then you don't need to thaw them first.
Just heating something through? For a dish that was precooked, like soup, I would thaw them first just to be safe.
If you love this recipe as much as I do, please write a five-star review in the comment section below (or on Pinterest with the "tried it" button – you can now add pictures into reviews, too!), and be sure to help me share on facebook!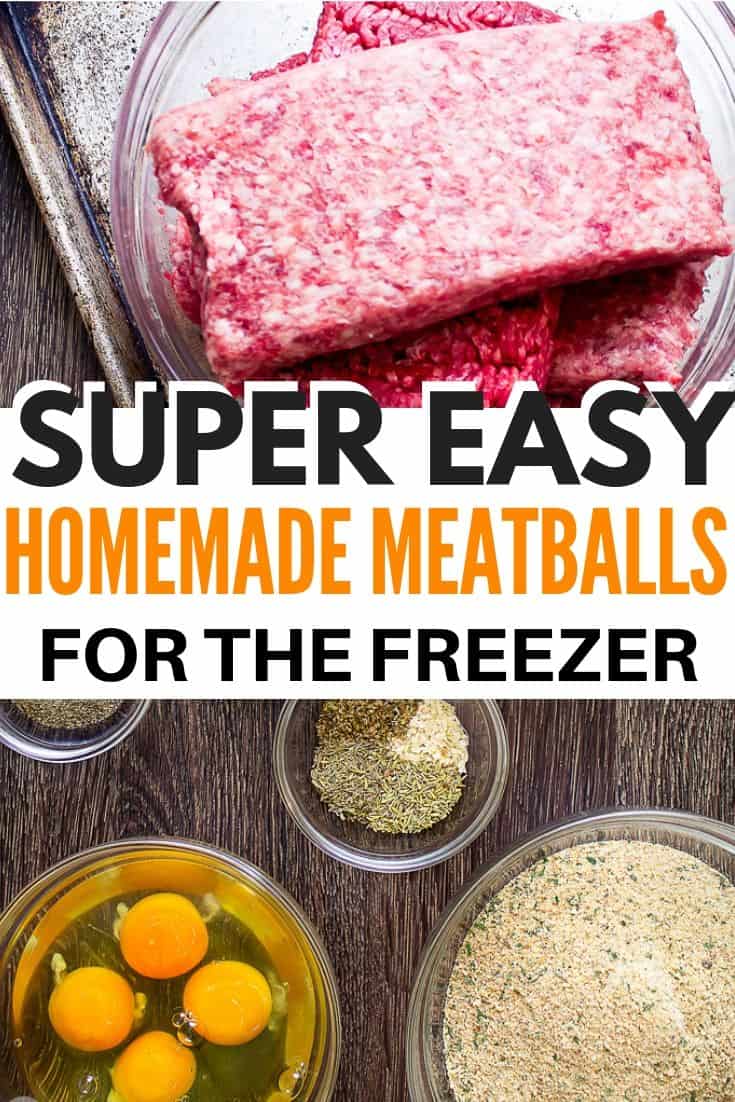 CROCKPOT MEATBALLS TO MAKE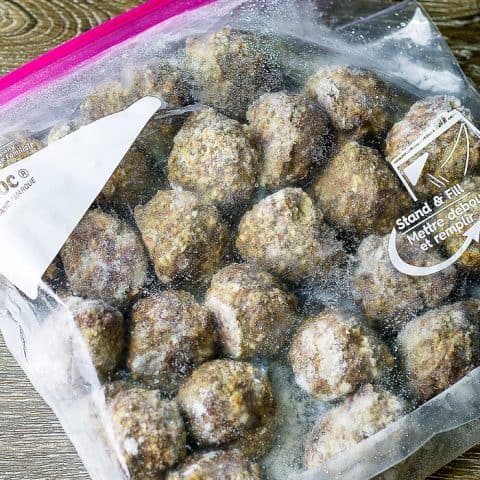 Homemade Freezer Meatballs
Total Time:
1 hour
35 minutes
Homemade Frozen Meatballs - Perfect to add to throw in your crock pot for a delicious appetizer and a great alternative to store-bought frozen meatballs!
Ingredients
2 pounds ground beef (93/7)
2 pounds ground pork
4 eggs, lightly beaten
2 cups breadcrumbs
1 teaspoon black pepper
1 tablespoon salt
1 teaspoon rosemary
1 teaspoon thyme
1 teaspoon oregano
Instructions
Prepare the meatball mixture
In a large bowl, gently combine the ground pork and ground beef.
Add the eggs and breadcrumbs.
Add the seasonings.
Gently combine until mixed.
Bake and store the meatballs
Scoop into 1-inch balls.
Place on a baking sheet (with a rim).
Bake at 425F for 5 minutes.
Reduce temperature to 325F and cook for 20 minutes or until the internal temperature reaches 165F.
Remove from the oven and let cool.
When the meatballs are cooled, portion out to recipes and freeze for up to 3 months.
Enjoy these homemade meatballs anytime you want to make crockpot party meatballs!
Notes
*If you like this recipe, please leave me a comment and rate it with some stars. Thank you!
Nutrition Information:
Yield:

15
Serving Size:

3 meatballs
Amount Per Serving:
Calories:

421
Total Fat:

25g
Saturated Fat:

9g
Trans Fat:

0g
Unsaturated Fat:

13g
Cholesterol:

160mg
Sodium:

647mg
Carbohydrates:

11g
Fiber:

1g
Sugar:

1g
Protein:

35g
This nutrition information was generated via a third party, Nutritionix, and can not be held liable for any discrepancies in the information provided.
©TakeTwoTapas.com. Content and photographs are copyright protected. Sharing of this recipe is both encouraged and appreciated. Copying and/or pasting full recipes to any social media is strictly prohibited.