Greek Seasoning is quick and easy to make at home and will add lots of flavor to your chicken, pork, steak, and vegetables. The best Greek spice blend is homemade, with simple spices, which means no MSG, low sodium, and gluten free!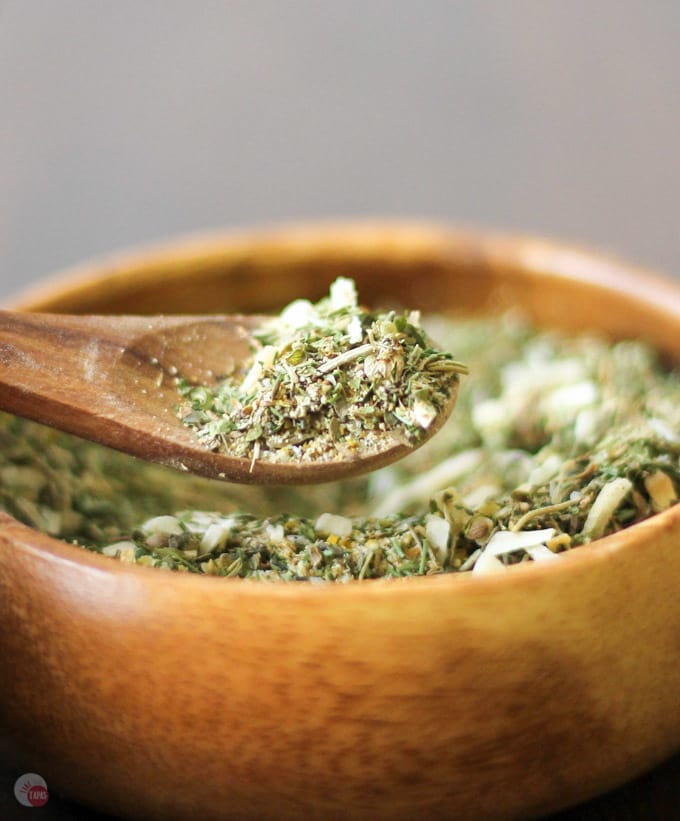 Need something to shake up your boring chicken dish and all you have are some spice bottles and an all-purpose seasoning blend?
Make this quick and easy Greek Seasoning Mix and enjoy the flavors of the Mediterranean while you are eating! I love making my own spice mixes. This one is perfect for Greek salad dressing on this chopped Greek Salad.
I used to buy them in the grocery store but limited by the choices of pre-made ones to about 5 different varieties such as Cavender's Greek Seasoning, in addition to the anti-caking agents and other chemicals in them, I decided to start making my own.
This recipe is way better than Cavender's for sure! TRUST ME! I even created my own hot spice mix when I hosted a "7 Deadly Sins" dinner as a party favor. I haven't posted that recipe but it is coming soon.
This post may contain affiliate links. As an Amazon Associate, I earn from qualifying purchases. Read my disclosure policy here.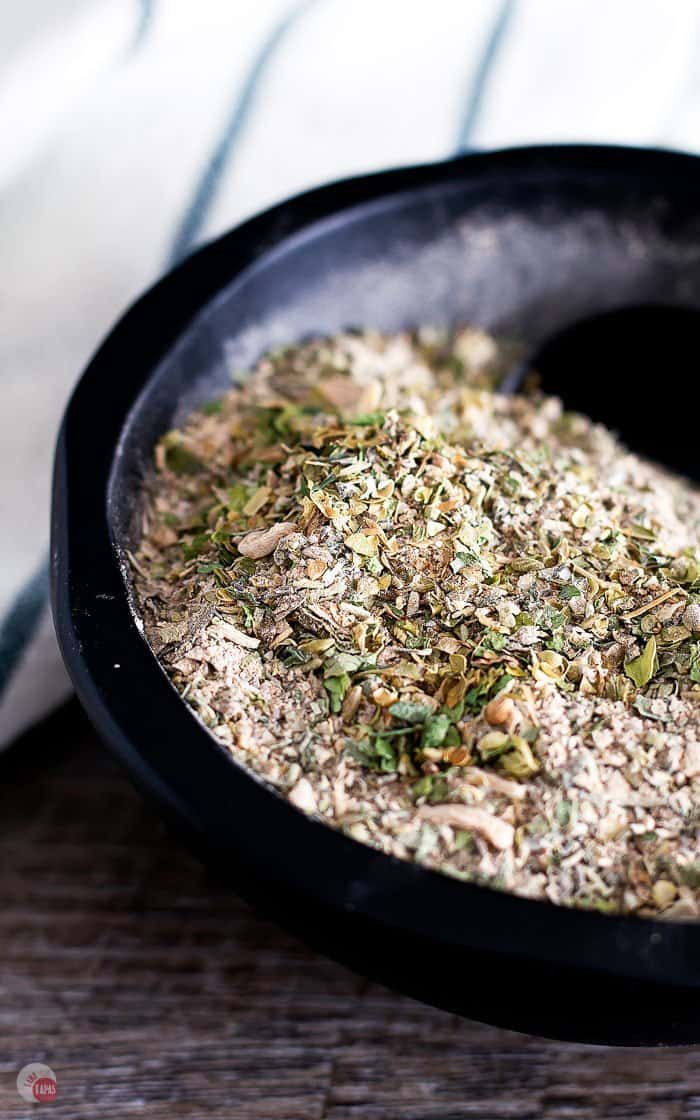 Why this Greek Seasoning Blend is Awesome
Whole 30, Paleo, and Keto compliant. It is also gluten-free!
It can be used for so many things! Including a steak and chicken dry rub, a dressing or bread dip, a dip for veggies and crackers, sprinkled on veggies for a flavorful side dish, sprinkled on potatoes for yummy French fries or baked potatoes, and even seasoning for gyros and these Gyro Nachos!
Shelf stable for up to six months.
Elevates the flavor of anything you add it to!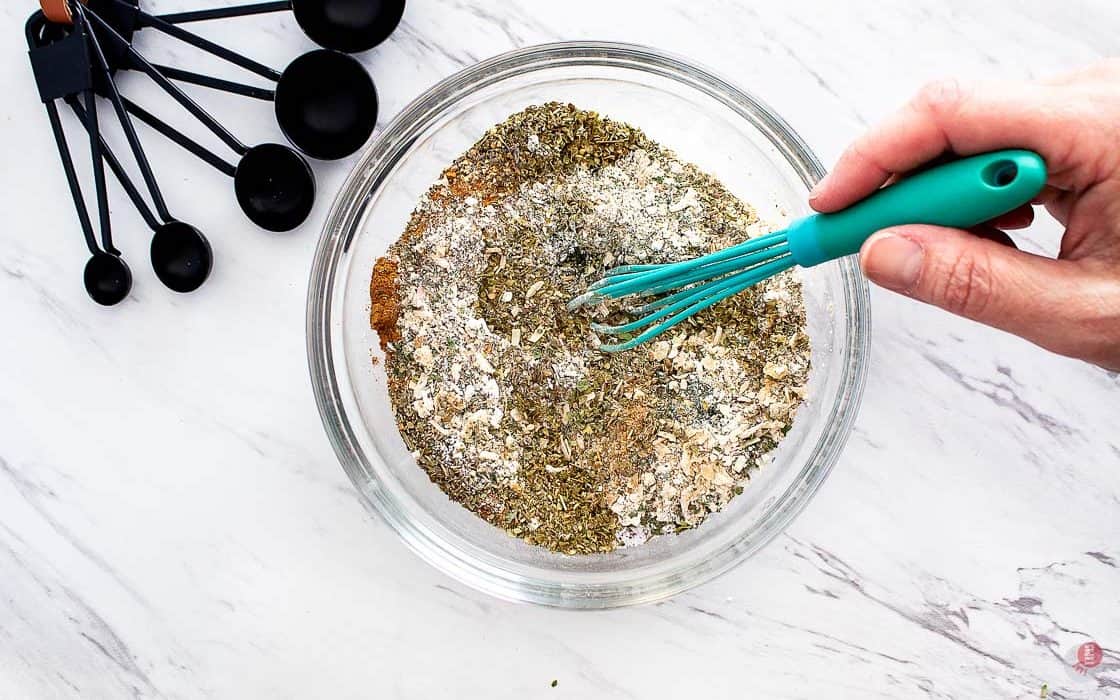 This Greek Seasoning Mix will take you on a vacation to the Mediterranean with all the flavors of oregano, thyme, and especially marjoram! Marjoram is included in every spice jar/spice rack that I buy, yet so rarely used on its own by home cooks.
Marjoram is woody and floral. It is mild and sweet, the perfect complement for nearly any spice blend. Oregano is closely related to marjoram and can be used as a swap.
Ingredients Needed
Basil – We use dried basil for this recipe. It has notes of mint and anise that really blend well with the rest of the flavors in this mix.
Dill – Just like when you think of dill pickles, dried dill is slightly pungent with notes of citrus and anise.
Garlic powder – I opt to use garlic powder rather than granulated garlic because it is finer, but you can use whatever you have on hand.
Onion flakes – If all you have is onion powder, that will work fine too. I just like the variety of texture the flakes provide.
Oregano – Oregano has a strong, slightly spicy flavor profile.
Parsley – Be sure to use dried parsley flakes, as fresh will not be shelf-stable and will cause your steak seasoning to clump together.
Rosemary – Rosemary has a woody and almost pine-like flavor.
Thyme – The flavor profile of thyme is both sweet and savory, with hints of peppermint, lemon and oregano.
Lemon pepper seasoning – Greek food is often paired with lemon flavors, so lemon pepper seasoning is a great way to bring that into our seasoning mix.
Marjoram – Marjoram tends to be more on the sweet side with floral scents.
Salt and pepper – Because we are already using a lemon pepper seasoning, feel free to leave the black pepper out. You can also leave the salt out for a lower sodium blend.
Cinnamon and nutmeg – Although mostly thought of as "sweet" spices, both cinnamon and nutmeg add to the spiciness and nuttiness of this seasoning blend.
How to make Greek Seasoning Mix
First: Mix all the ingredients together and store in a glass jar in a cool, dry place until ready to use.
Second: Add to your favorite chicken or steak dish or mix with olive oil for a dip when ready!
For the full recipe and detailed instructions, please refer to the recipe card at the bottom of the post.
FAQs
What is in Greek Seasoning and what are Greek spices?
I had to look it up and see why I add Oregano AND Marjoram. Mediterranean or Greek spices like Marjoram and oregano are both from the mint family.
Both of their leaves look a lot alike but their flavors and aromas are quite different. Oregano has a stronger, slightly spicy flavor profile while Marjoram tends to be more on the sweet side with floral scents. This gives it the authentic Greek flavor.
Both are perfect for sauces, marinades, and dressings but since Marjoram is "lighter" I would add it at the end of any cooking process to avoid destroying its flavor.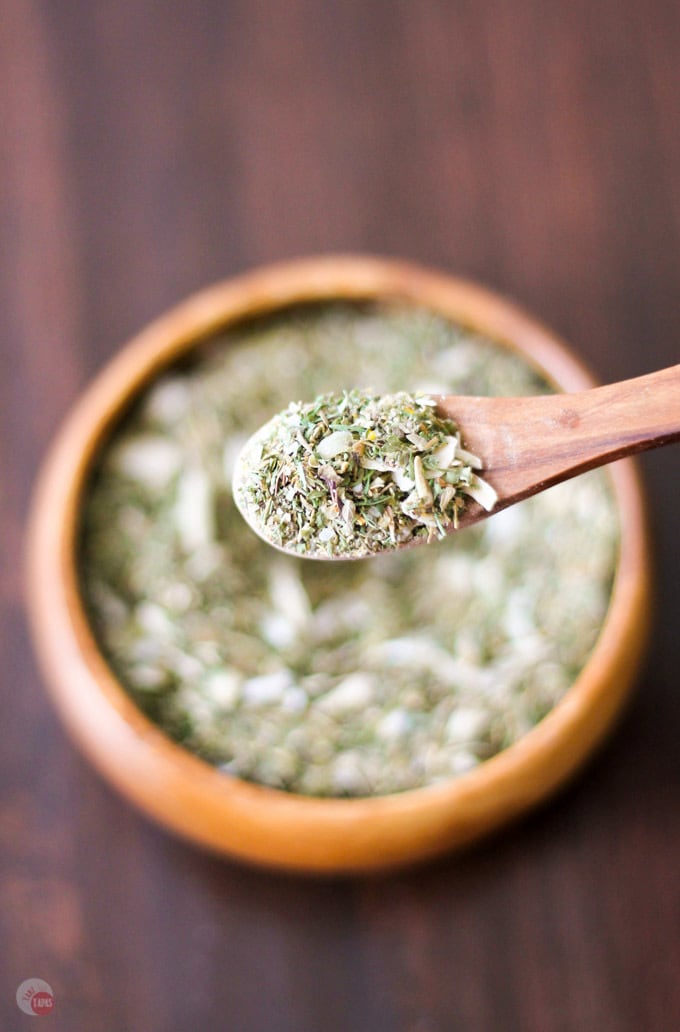 Is it gluten free, paleo, keto, or whole 30 compliant?
Yes, it is all three! And this homemade mix doesn't contain MSG! The best benefit of making your own spice blends.
Is Greek Seasoning the same thing as Mediterranean Seasoning?
They are basically the same only Mediterranean flavors usually include cloves and cardamom. Greek seasoning contains marjoram that is not usually found in Mediterranean seasoning.
For more insider tips & tricks, and a candid behind the scenes look follow me on social media! Check use out on Pinterest, Facebook, Instagram, & Twitter (yes, people still use Twitter, LOL!)
How do you store it?
The best way to store any of your spices or spice mixes is in a glass, airtight container, out of direct sunlight, and in a dark and cool place.
Not next to the stove, on the counter top, or under a window with full sun. Unless you are planning on using the entire batch in a week.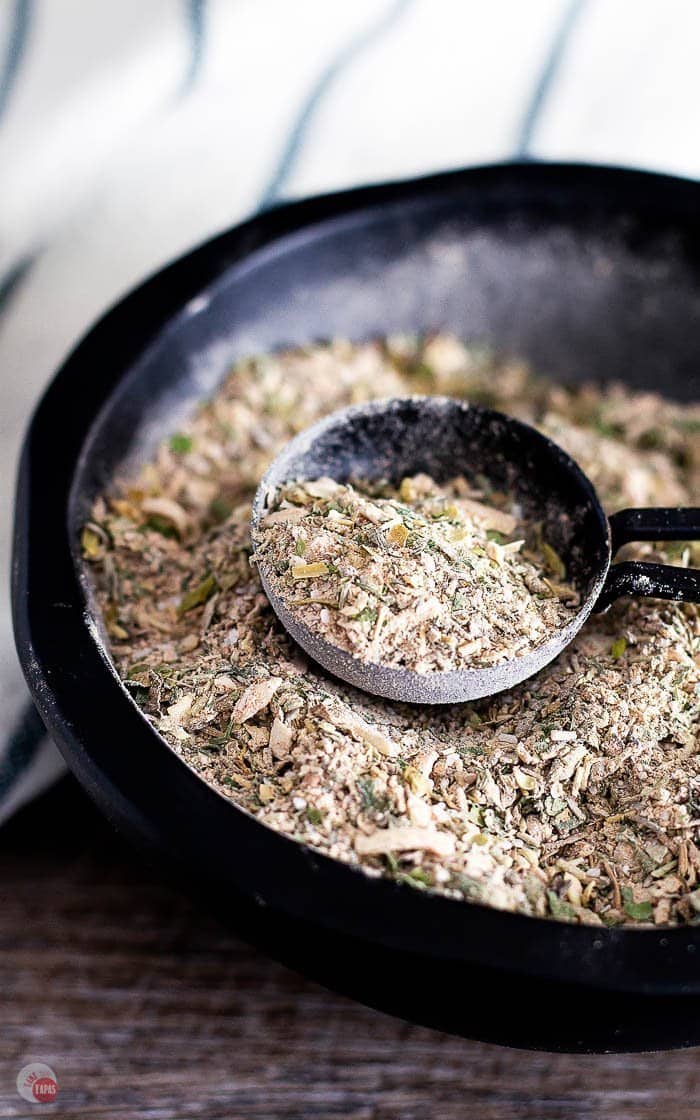 How long will it last?
When you store your Greek Seasoning as I talked about in the previous answer, it should last at least 6 months.
Other Homemade Seasoning Blends
If you love this recipe as much as I do, please write a five-star review in the comment section below (or on Pinterest with the "tried it" button – you can now add pictures into reviews, too!), and be sure to help me share on facebook!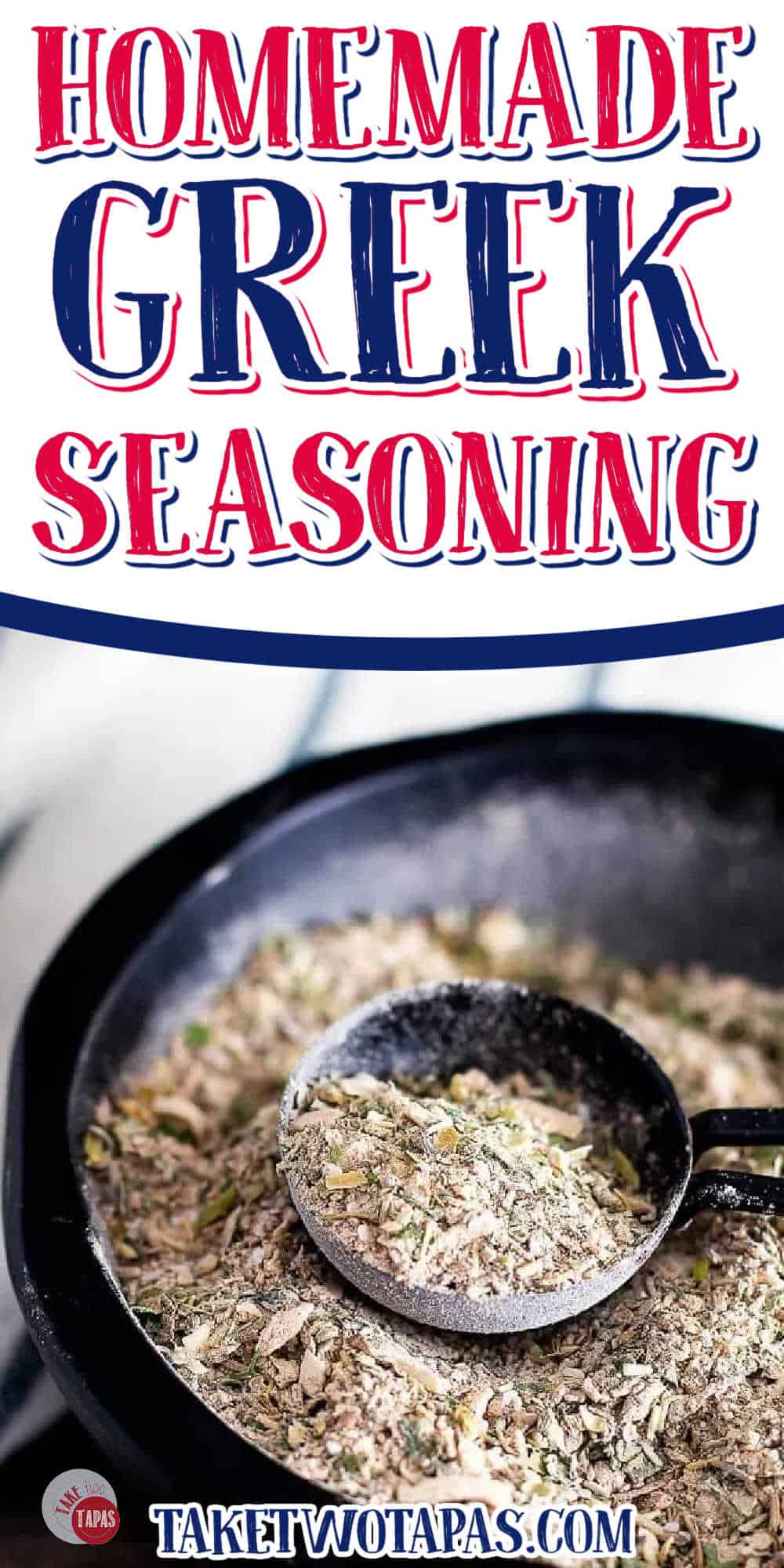 Tapas Tips & Tricks
You can make this Greek seasoning recipe low-sodium or even salt-free by just leaving out the salt. It will still taste great! using a coarse or sea salt will give all of the benefits of salt with a cleaner flavor.
Make it without the salt first and then decide on the amount of salt that works best for you.
I use about 2 tablespoons per pound of meat or vegetables.
Add it to some olive oil to make a great bread dip!
Package it up into nice bottles with a label and some pretty ribbon and give it out as gifts for the holidays or a housewarming.
Great for any Mediterranean cuisine
More Easy Recipes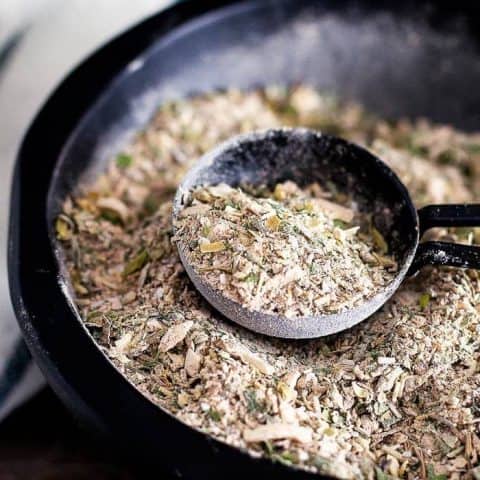 Greek Seasoning Mix
Want a new spice mix to dress up your chicken or steak? Try this Greek Seasoning Mix you can make at home!
Ingredients
1 tablespoons basil (dried)
1 tablespoons dill (dried)
2 tablespoons garlic powder
1 tablespoons onion flakes
2 tablespoons oregano
1 tablespoons parsley (dried)
1 tablespoons rosemary (dried)
1/2 tablespoon thyme
1 tablespoons lemon pepper seasoning
1/2 tablespoons marjoram
1 tablespoons salt
1/2 tablespoon black pepper
1/2 tablespoon cinnamon
1/2 tablespoon nutmeg
Instructions
Mix all together and add to your favorite chicken or steak dish!
Store in an air-tight container, preferably in a cool dark place.
Notes
*If you like this recipe, please leave me a comment and rate it with some stars. Thank you!
Nutrition Information:
Yield:

16
Serving Size:

1 tablespoon
Amount Per Serving:
Calories:

10
Total Fat:

0g
Saturated Fat:

0g
Trans Fat:

0g
Unsaturated Fat:

0g
Cholesterol:

0mg
Sodium:

566mg
Carbohydrates:

2g
Fiber:

1g
Sugar:

0g
Protein:

0g
This nutrition information was generated via a third party, Nutritionix, and can not be held liable for any discrepancies in the information provided.
TakeTwoTapas.com. Content and photographs are copyright protected. Sharing of this recipe is both encouraged and appreciated. Copying and/or pasting full recipes to any social media is strictly prohibited.