Bloody Mary shots are a great way to enjoy your favorite Brunch cocktail but in a smaller version! Rimmed with Applewood smoked salt that adds a great layer of flavor to the shot!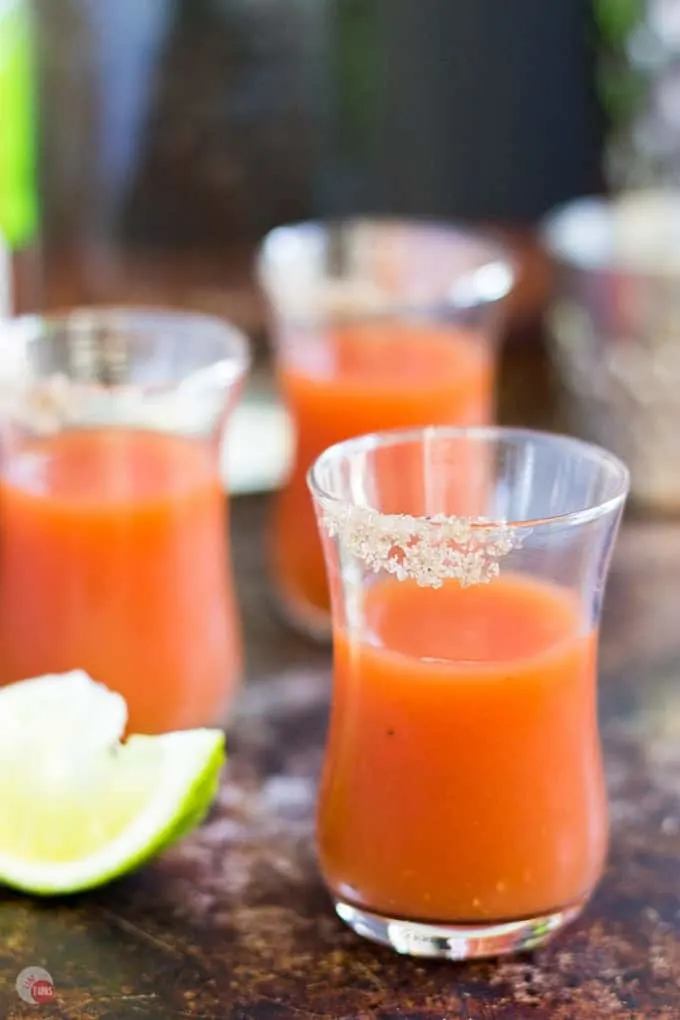 Thank you, Uncommon Goods for sharing with me a beautiful bamboo cabinet filled with artisanal salt shots! I'm in love already and they are perfect for my Bloody Mary Shots!
Bloody Marys are my most favorite breakfast/brunch cocktail. Mimosas are a close second but because of the bubbles, I am sticking with Bloody Marys. I also love tomatoes, so that tips the scales right there. I mean, who can turn down a savory cocktail?
The best one I have ever had the pleasure of drinking was in a restaurant in Savannah, Georgia. Even though it is a burger joint, they are great with cocktails.

Why am I so hooked on Bloody Marys?
Their legendary Bloody Mary starts with a house-made mix and is loaded with garlic and pepper. Then they use a hot pepper vodka and extra hot sauce.
To top it all off, they add an enormous salad arrangement on the top. The salad is anchored with a celery stalk that is ginormous, like it was grown near a nuclear power plant ginormous, and accompanied by pepperoncini, a few olives, a pearl onion, and an entire strip of crispy bacon.
Like I said, a salad. I was stupid enough to order a burger and onion rings when I ordered my drink and had to take it to-go because I ended up having a Bloody Mary and it's salad for lunch.
Ok, I had two of them. Can I mention that they are served in a Pilsner glass? You know that tall beer glass that they serve the "big" beers in? Yes, that one.
This post may contain affiliate links. As an Amazon Associate, I earn from qualifying purchases. Read my disclosure policy here.
For more insider tips & tricks, and a candid behind the scenes look follow me on social media! Check use out on Pinterest, Facebook, Instagram, & Twitter (yes, people still use Twitter, LOL!)
The best part of Bloody Mary Shots?
The one thing that the Bloody Mary Shots were missing is a salt rim. I love a good salt rim with my drinks. Being known as a salt stealer, because I steal salt from other people's cocktails when mine is gone and I still have some cocktail left in my glass, makes my point.
I usually do it while they are not looking and I do it with my clean fingers, not licking it directly for those germaphobes that will now never have drinks with me. Much like my Blueberry Margaritas, salt completes the cocktail.
Now people are used to using table salt. I grew up on Kosher salt because I have Jewish family members and because that is what we used in the restaurant. These days there are so many kinds of salts. Artisanal salts if you will. Mushroom salt, Himalayan Pink Salt, Fleur De Sel French Salt, and my personal favorite, Merlot Salt. Yes, that is WINE salt!!
Another good one is smoked salt. Like you are standing in front of a meat smoker and that wood-fired, charred smell that you love so much is in your salt! I know the perfect use for this salt, besides on my meat.
Bloody Mary Shots!
That crispy bacon that I had with my Bloody Mary and salad had a slightly smoky flavor to it that brought out the other flavors of the Bloody Mary mix, the olives, and even that huge-antic celery stalk. Smoked salt is the perfect way to rim my Bloody Mary. And if I am wanting a small one, since that other one is too big for all occasions, Bloody Mary Shots!
Speaking of shots, can I tell you about my collection of artisanal salts? They are packaged in, if you care to guess, shot glasses!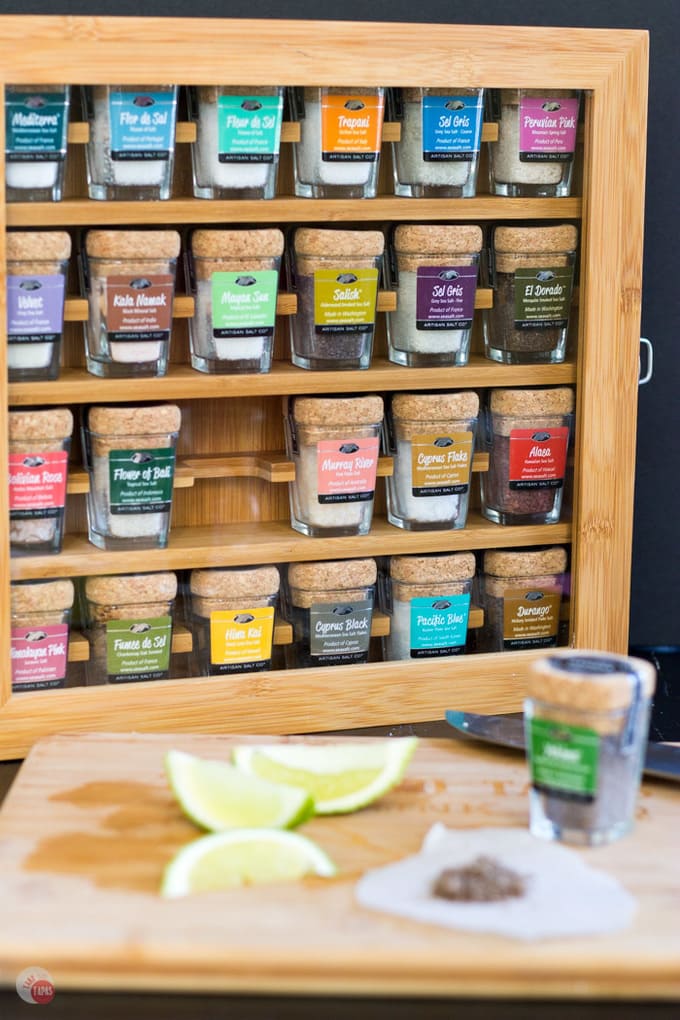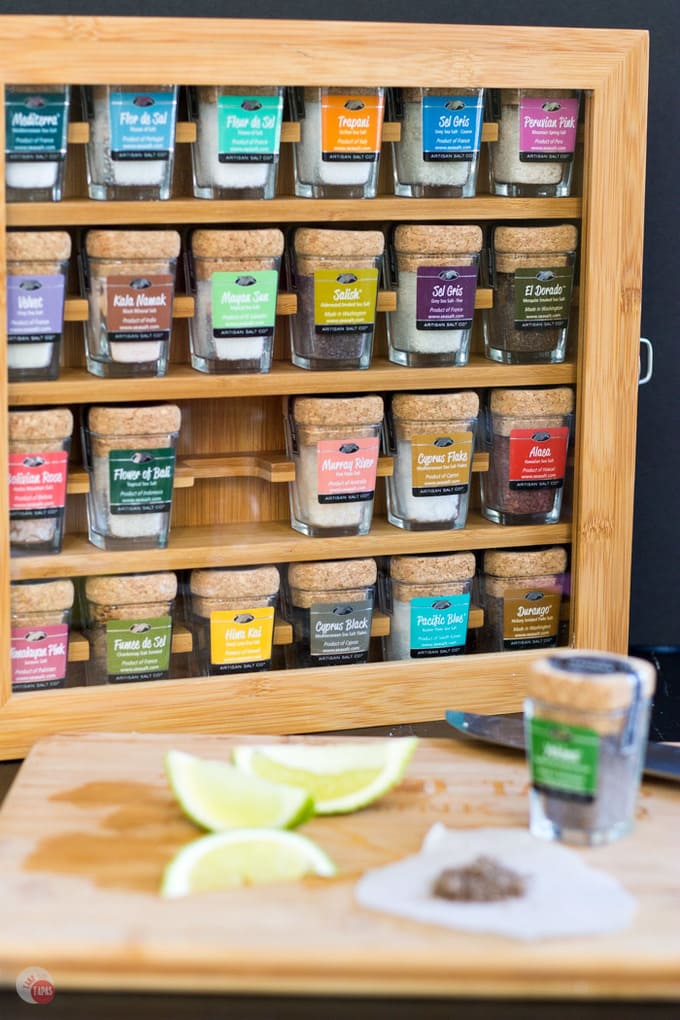 Where did I get my salt?
I have a cabinet of artisanal salts that I got from Uncommon Goods. Have you ever heard of them? They are an online gift catalog that likes to offer designer jewelry, decorations, and other household items that are made without harm to animals or the environment. Based out of Brooklyn, NY they have been awarded for their outstanding customer service every year since 2007.
In 2015 they introduced the Uncommon Collection which is where I found my amazing salt cabinet. To top things off, they work throughout NYC to end hunger by being involved in food rescue, distribution, and education. Now that is a company I can get behind.
Another good thing about Uncommon Goods is their Men's Collection. I have the hardest time finding gifts for my oh-so-picky husband and their collection of unique gifts for men will help me fill his stocking this Christmas!
I am planning on a series of shots on the blog in the next month, so look out for my shots that are going to be rimmed with other artisanal salts from this cabinet. Did I mention that it is made out of bamboo and it totally gorgeous? It makes a great kitchen decoration when I am not using it. Don't you just love a multi-tasking item?
Check out my Bloody Mary Shots and my other cocktails right now if you need a whole one. Tell me which one is your favorite!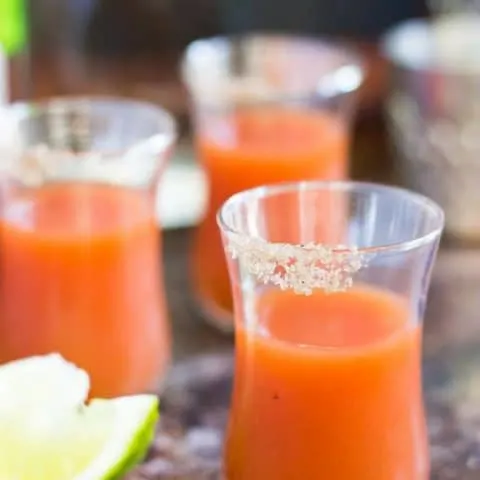 Bloody Mary Shots with Applewood Smoked Salt
Bloody Mary shots are a great way to enjoy your favorite Brunch cocktail but in a smaller version! Rimmed with Applewood smoked salt add a great layer of flavor to the shot!
Ingredients
Bloody Mary Shots
3/4 cup Bloody Mary Mix
3/4 cup Hot Pepper Vodka
6 tablespoons Fresh Lime Juice
3/4 teaspoon Celery Salt
3/4 teaspoon Worcestershire Sauce
3/4 teaspoon Tabasco (or other hot sauce)
Garnish
1 tablespoon Applewood Smoked Salt
Instructions
Gather your shot glasses.
Smear some fresh lime juice on a small section of the shot glass rim.
Dip the small section in Applewood Smoked Salt.
Make the Bloody Mary Shots
Combine all ingredients in a cocktail shaker or large measuring cup.
Stir to combine.
If you prefer a cold shot add a few ice cubes to the shaker and stir for 1 minute to chill.
Pour into shot glasses.
Toss your cocktail shot in your mouth!
Smile and make some more!
Notes
*If you like this recipe, please leave me a comment and rate it with some stars. Thank you!
Nutrition Information:
Yield:

10
Serving Size:

1
Amount Per Serving:
Calories:

31
Total Fat:

0g
Saturated Fat:

0g
Trans Fat:

0g
Unsaturated Fat:

0g
Cholesterol:

0mg
Sodium:

756mg
Carbohydrates:

3g
Fiber:

0g
Sugar:

1g
Protein:

0g
This nutrition information was generated via a third party, Nutritionix, and can not be held liable for any discrepancies in the information provided.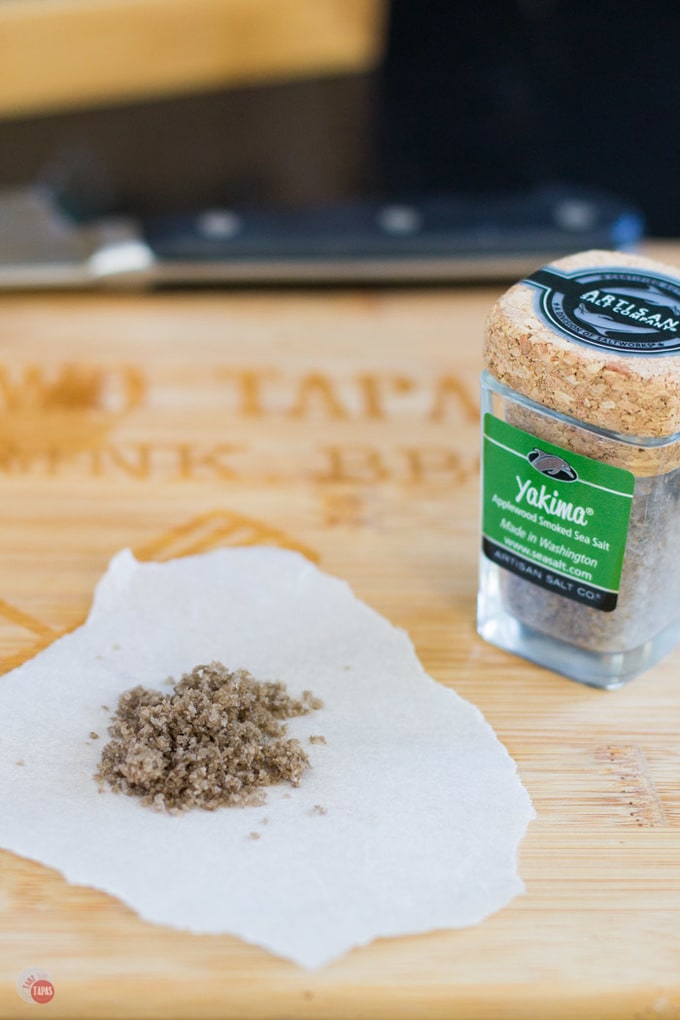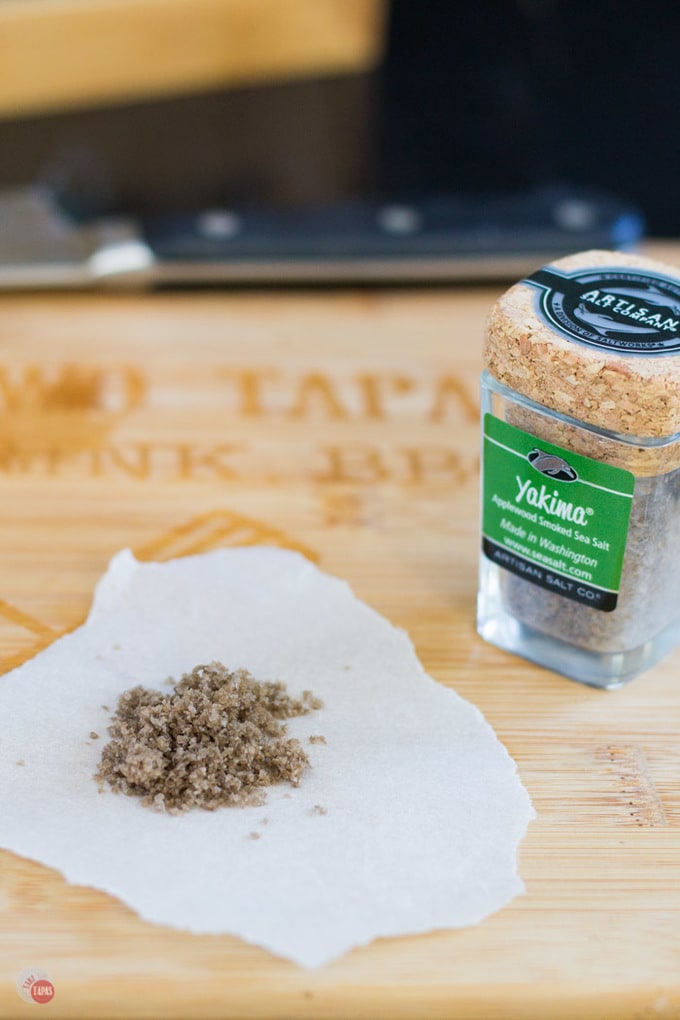 ©TakeTwoTapas.com. Content and photographs are copyright protected. Sharing of this recipe is both encouraged and appreciated. Copying and/or pasting full recipes to any social media is strictly prohibited.