This tart and flavorful Salty Dog Shot will remind you of a full cocktail but with the flavors of green grapes and much smaller!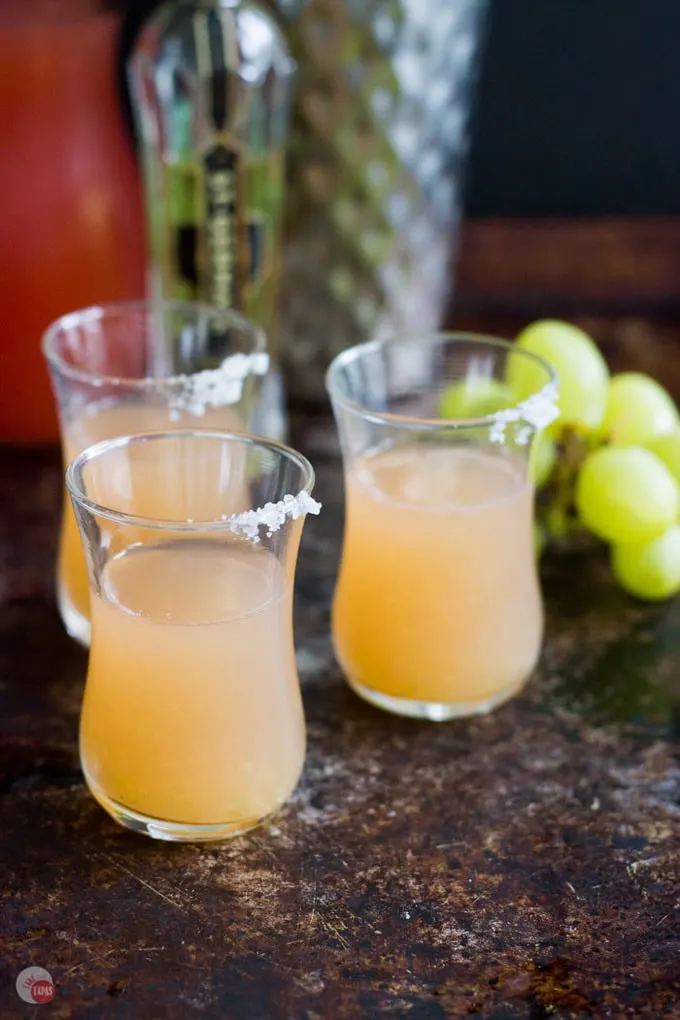 WHAT IS A SALTY DOG?
Do you know where the name of your cocktail come from? Who gets to name them? Do you have to create something completely unique or just give your own spin on a classic?
The salty dog is a cocktail that intrigues me. I imagine an old sea captain being a pain in the butt to the bartender who is just trying to get through their shift.
Or a dog that is the unofficial "first mate" of a boat because the captain drops a lot of food on the floor. Either way, it is pretty tasty.
The salty dog cocktail, if you have never heard of one, is a mix of gin and grapefruit juice and served in a highball glass, neat. In case you are not up on bar lingo, neat means no ice.
This drink is just like the greyhound but with a salt rim and that's why it's called a salty dog. Much better than my theory…
This post may contain affiliate links. As an Amazon Associate, I earn from qualifying purchases. Read my disclosure policy here.

WHAT'S IN A SALTY DOG?
I love looking for new cocktails to drink and while perusing Pinterest, I kept seeing the salty dog cocktail. Curious as I am about new recipes, I started clicking on all of them.
Vodka, or gin, and grapefruit juice. Pretty simple. Grapefruit is coming in season and this is perfect for fall and football watching.
Being that I like salt, as I explained in my Everything Bagel Seasoning Mix, any cocktail with the word salt in the name is perfect for me!
Rimming a glass with salt is heaven but you still need something to balance it out. With the Grapefruit being so tart, even the pink grapefruit, I still need something sweet.
The green grapes in my fridge just raised their hands!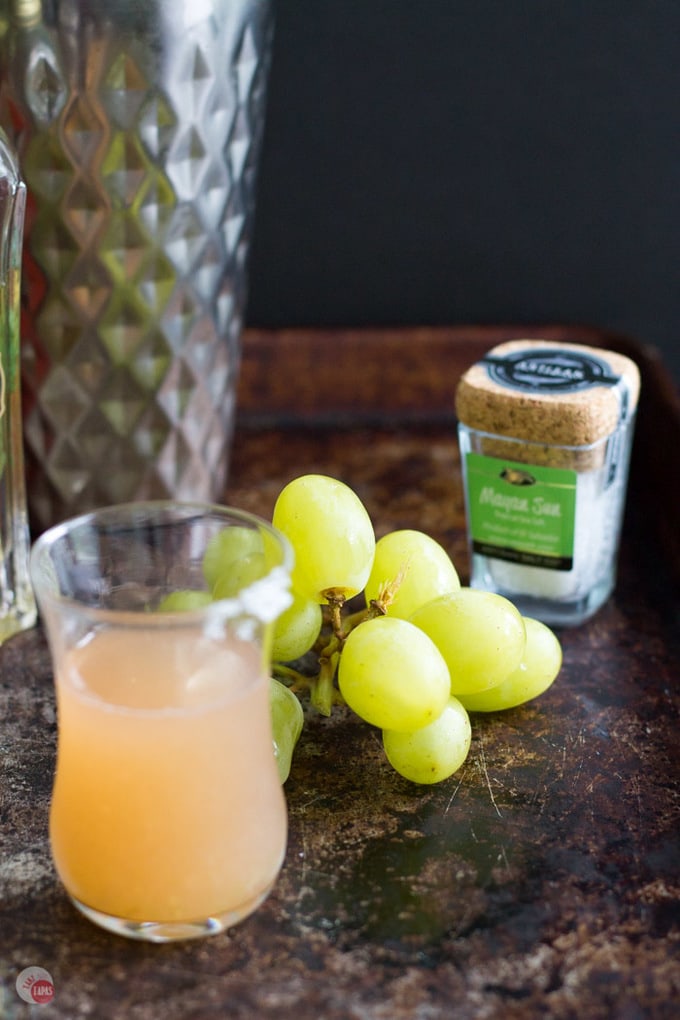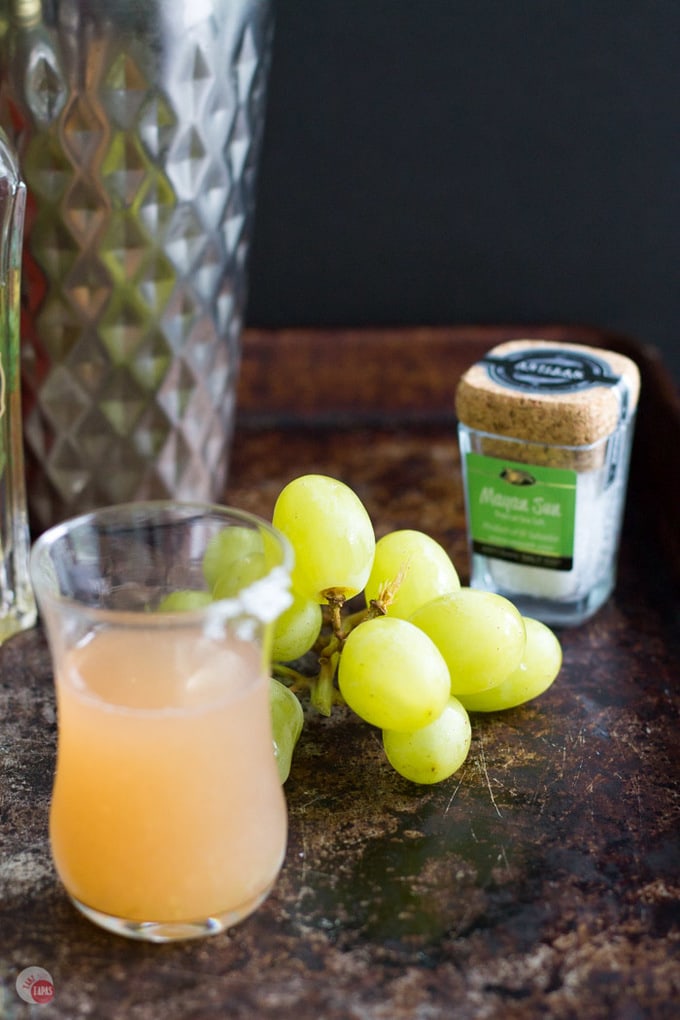 GRAPE SALTY DOG
I grabbed a handful of those plump, round globes of sweetness and started crushing them with my muddler. That ended up in a huge mess.
I ate the mistakes as not to waste good fruit, but decided to throw the rest of them in the blender for good measure.
No more mess. I added a little bit of water to help the process along and what I came up with was a wonderful puree of sweetness with a little bit of pulp for texture.
I think I might use this on ice cream and yogurt! Maybe even some spread on cream cheese for crackers would work too!!!
For more insider tips & tricks, and a candid behind the scenes look follow me on social media! Check use out on Pinterest, Facebook, Instagram, & Twitter (yes, people still use Twitter, LOL!)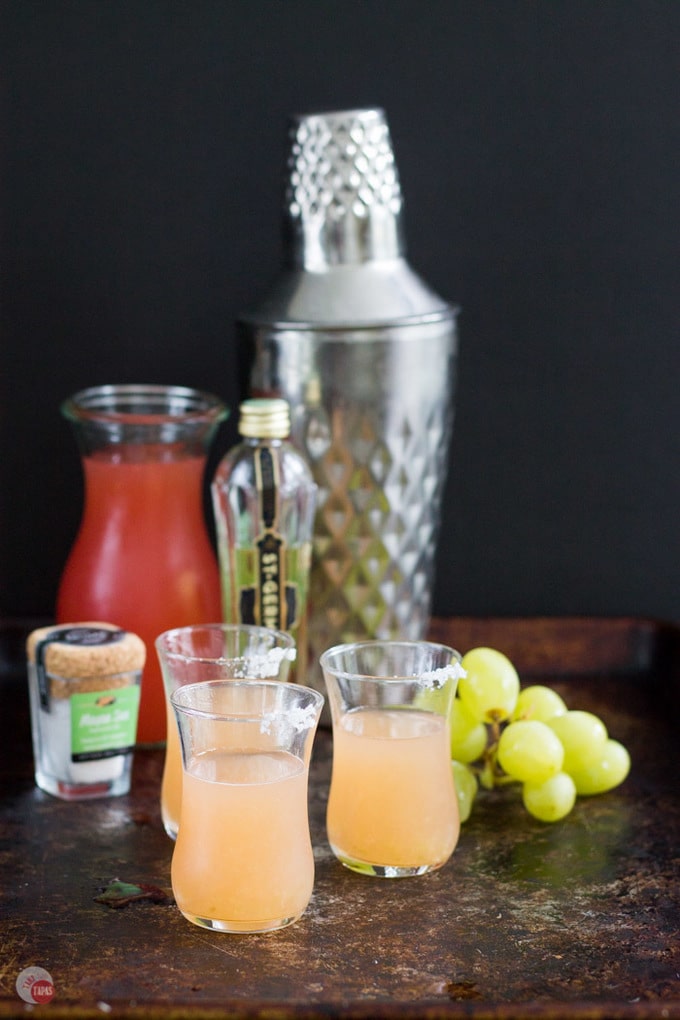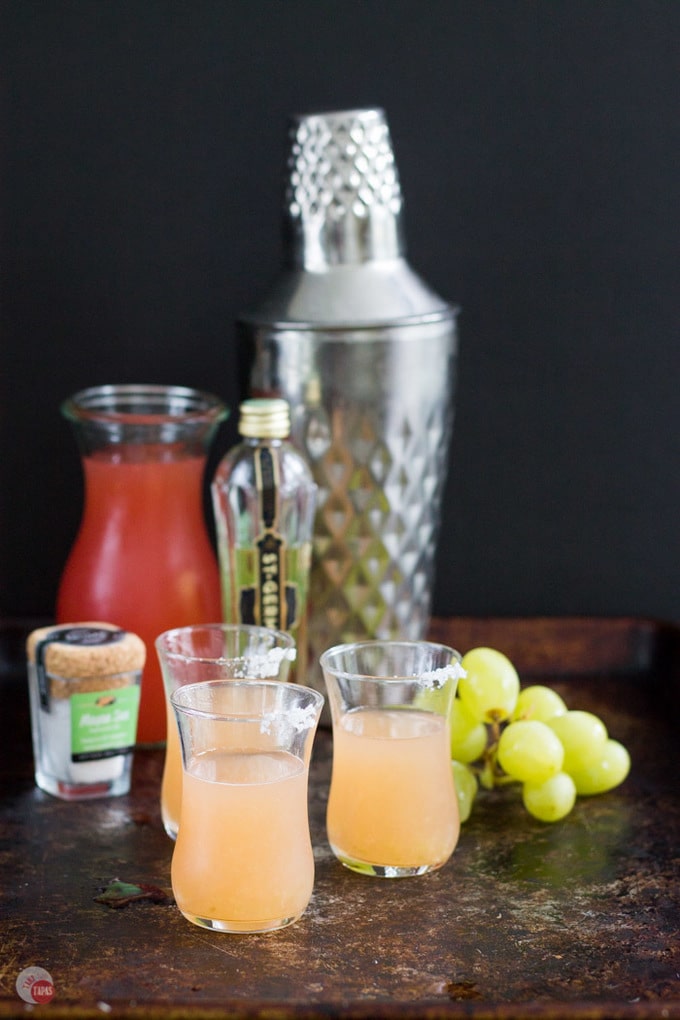 CLASSIC COCKTAIL SHOTS
I tossed some of this luscious puree in with my grapefruit juice and vodka to see how it tasted. I used vodka instead of the Gin because Gin has such a unique flavor that I didn't want it to interfere with the grapes.
A tad too tart still so I opted for a small bit of simple syrup to help things out.
To round out the flavors, I added a dash of Elderflower liqueur and a squeeze of lime to brighten it up!
I chose to use a tropical sea salt from my salt cabinet for the rim but feel free to use Himalayan Pink Salt because that is much easier to find.
Not wanting to drink too many of these I poured them into shot glasses to share! You should whip up a batch of these and share too!
My Pink Paloma and Mixed Berry Gin and Tonic shots are pretty good too!
MORE EASY PARTY FOODS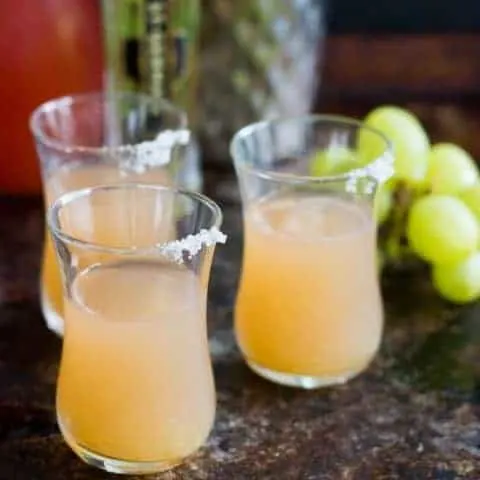 Salty Dog Shots with Green Grapes
This tart and flavorful Salty Dog Shot will remind you of a full cocktail but with the flavors of green grapes and much smaller!
Ingredients
For the Green Grape Puree
1 cup green grapes
2 tablespoons water
Green Grape Salty Dog shots
1/4 cup Green Grape Puree
1/4 cup Pink Grapefruit Juice
1/4 cup Vodka
2 tablespoons simple syrup
1 tablespoon Elderflower liqueur
1 tablespoon fresh lime juice
For the garnish
Mayan Tropical Salt or another rimming salt
Instructions
Make the green grape puree
Place grapes and water in a blender and pulse a few times to break up the grapes.
If you want to strain out the solids you can, but I kept them in there for the fiber:)
Store the puree in the fridge until ready to use for up to 3 days.
Make the Salty Dog shots
Combine the green grape puree, grapefruit juice, vodka, simple syrup, liqueur, and lime juice in a cocktail shaker or large mixing glass with a few ice cubes to chill it down.
You can also mix and then store in the fridge until cool.
Stir or shake before pouring shots.
Assemble the shots
Wipe a small amount of lime juice on the side of the shot glasses and dip it in the salt. Since it is a shot you don't need a full salt rim, just where you are going to put the shot glass to your lips.
Once all the shot glasses are rimmed, strain the Salty Dog Shot mixture into the shot glasses.
Enjoy with friends!
Notes
*If you like this recipe, please leave me a comment and rate it with some stars. Thank you!
Nutrition Information:
Yield:

10
Serving Size:

1
Amount Per Serving:
Calories:

33
Total Fat:

0g
Saturated Fat:

0g
Trans Fat:

0g
Unsaturated Fat:

0g
Cholesterol:

0mg
Sodium:

117mg
Carbohydrates:

4g
Fiber:

0g
Sugar:

3g
Protein:

0g
This nutrition information was generated via a third party, Nutritionix, and can not be held liable for any discrepancies in the information provided.
TakeTwoTapas.com. Content and photographs are copyright protected. Sharing of this recipe is both encouraged and appreciated. Copying and/or pasting full recipes to any social media is strictly prohibited.