Whether you prefer your wings breaded or plain, drumsticks or flats, any of these 50+ chicken wing sauces are the perfect way to dress them up or dip them in!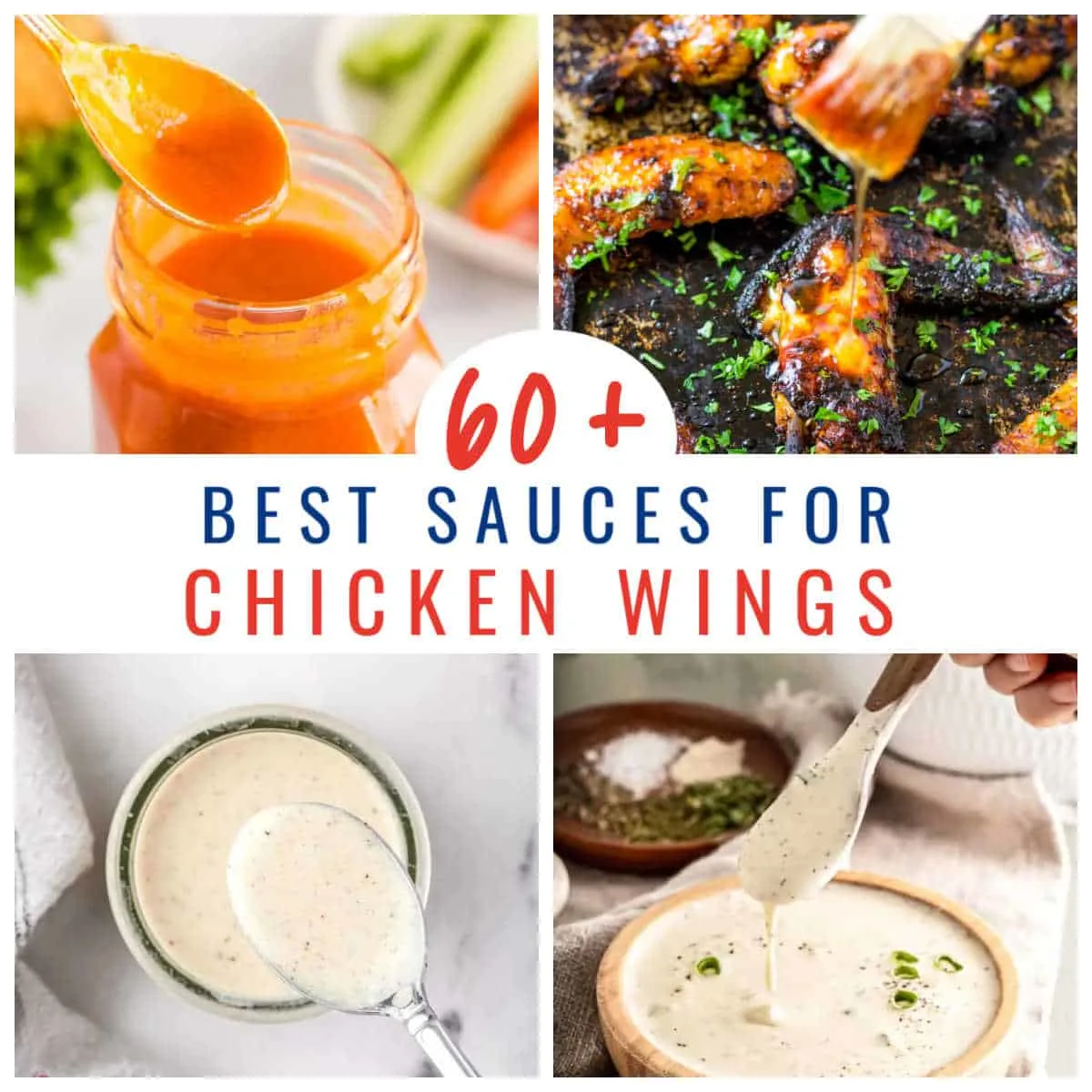 Chicken Wings are the most popular appetizer or pub food around. Once only enjoyed in a restaurant, more and more we are making them at home and enjoying them in new and exciting ways.
From deep fried (my favorite), to making them in a slow cooker, and the less messy baked chicken wings, we can all agree they you need something to partner them with.
This is where the wing sauce recipes come into play. You don't have to stick with the classic Buffalo sauce, you can switch it up and use a glaze or dipping sauce to add more flavor.
Ranch Dressing Variations
Ranch Dressing is the classic chicken wing dipping sauce. Whenever you order any kind of chicken wing, you are asked "Ranch or Blue Cheese?" I personally prefer ranch because it cools the heat of the buffalo sauce with its creamy texture. Here are some delicious variations on the classic Ranch Dressing.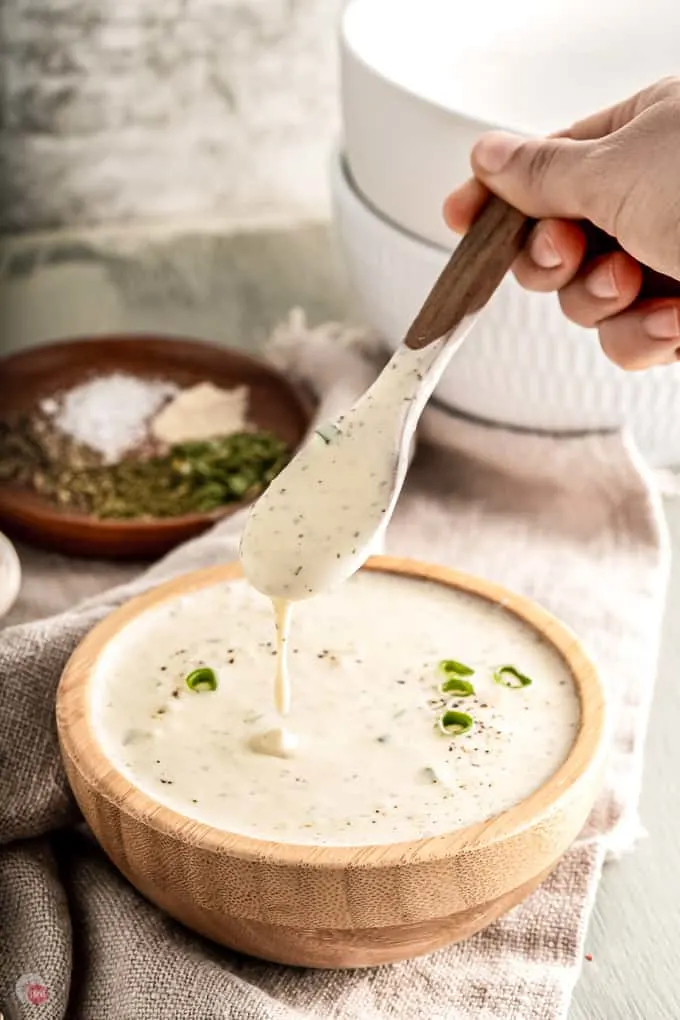 Making Homemade Ranch Dressing is far better than store-bought, and with this recipe you will never buy bottled dressing again!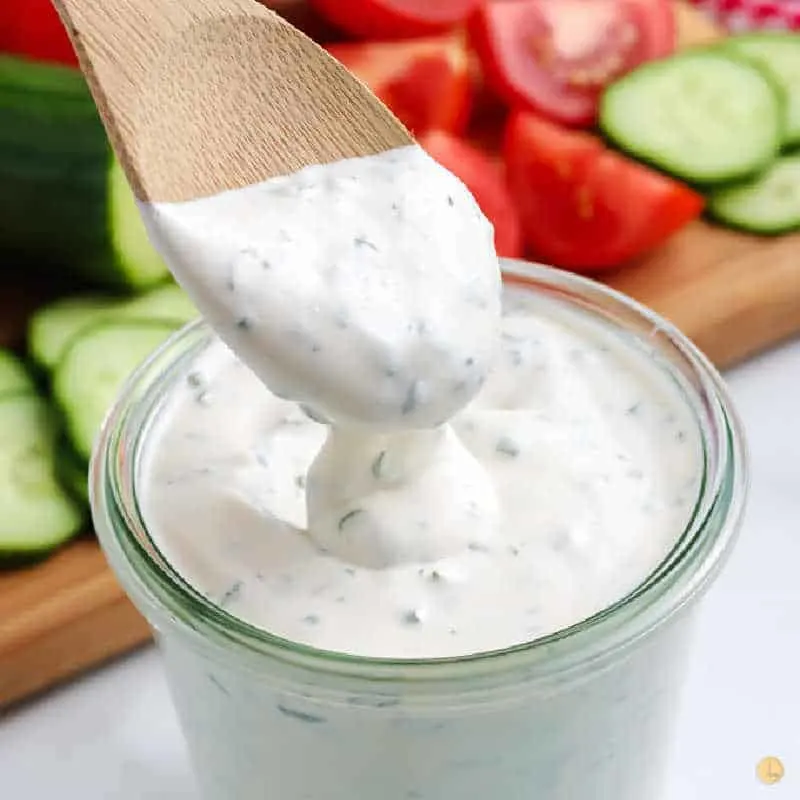 Try this homemade Buttermilk Ranch Dressing once and you will never use store-bought ranch dressing again, it just doesn't compare.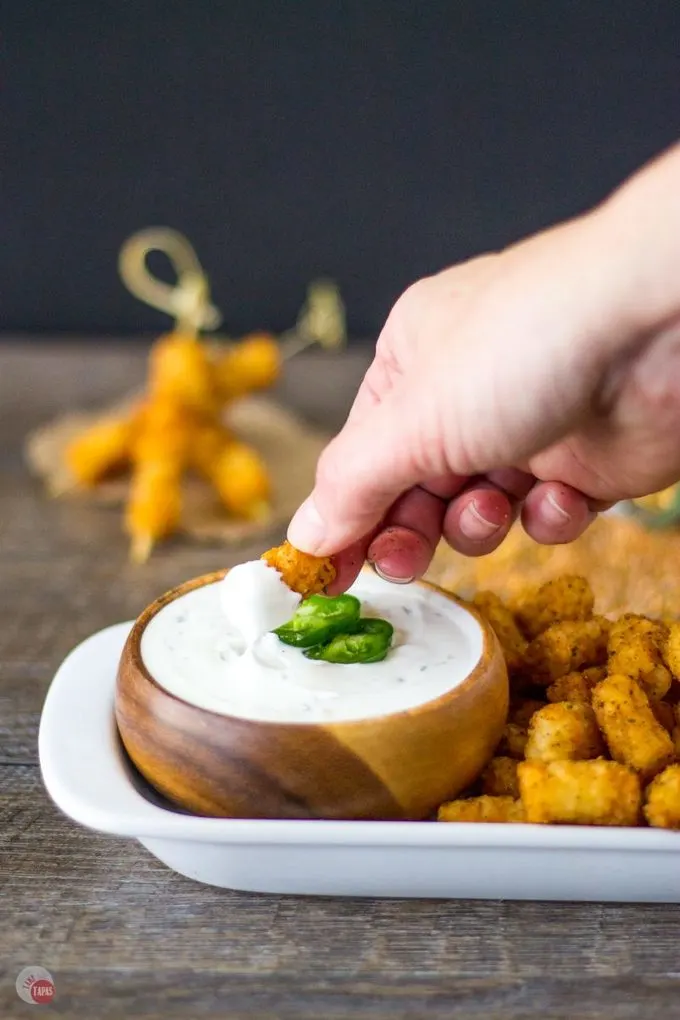 This kicked up version of the classic is perfect for chicken wings, tater tots, and especially french fries!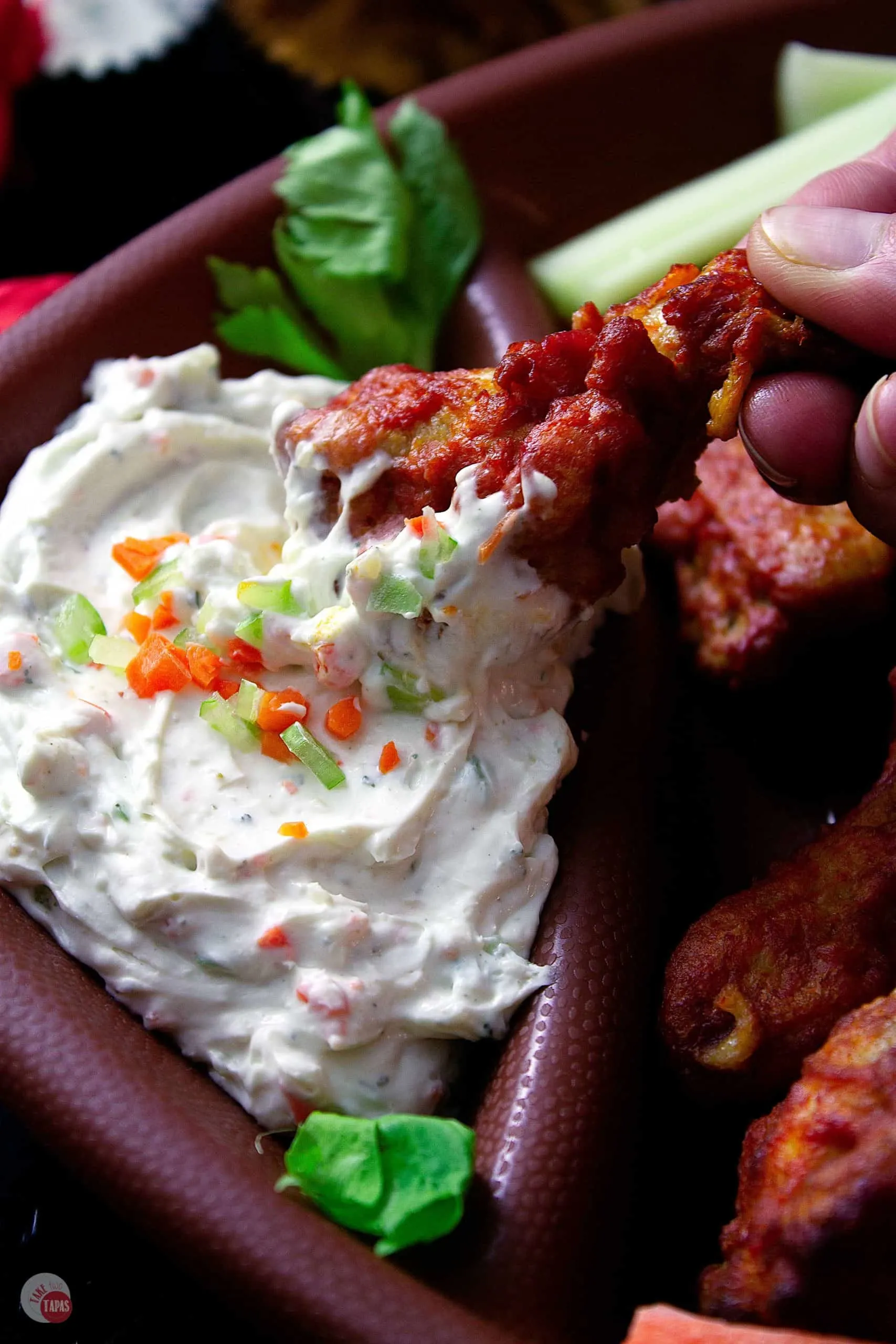 Bleu Cheese Ranch is the perfect combination of tangy blue cheese dressing and cool and creamy ranch! For those that can't decide which on is their favorite chicken wing dipping sauce.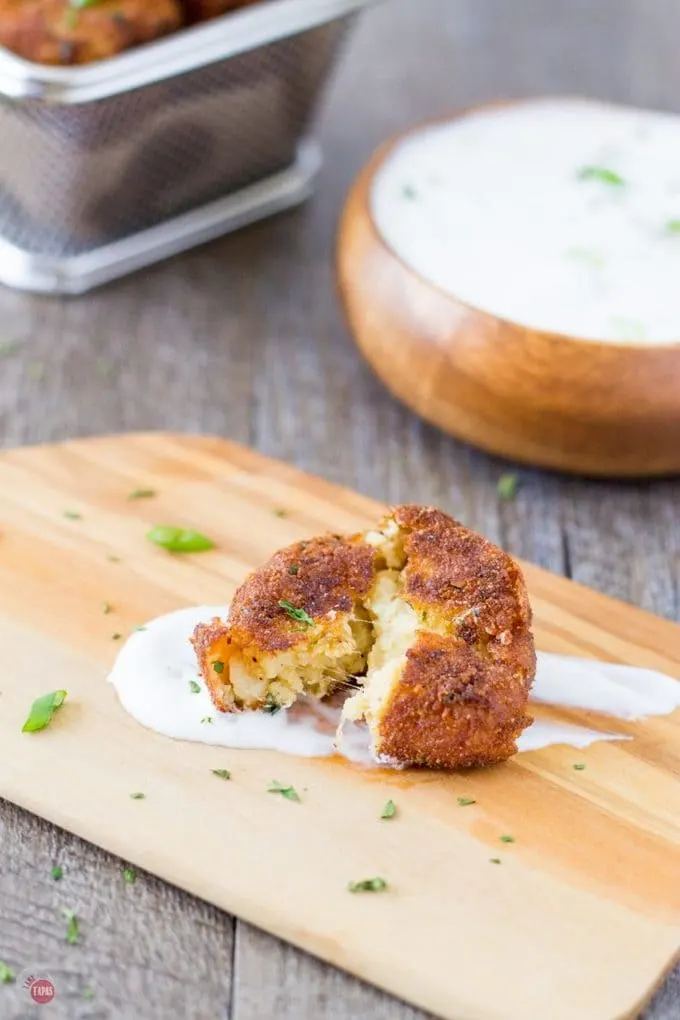 The addition of cool salsa verde and creamy ranch make an irresistible dip for chicken wings, chicken tenders, and french fries.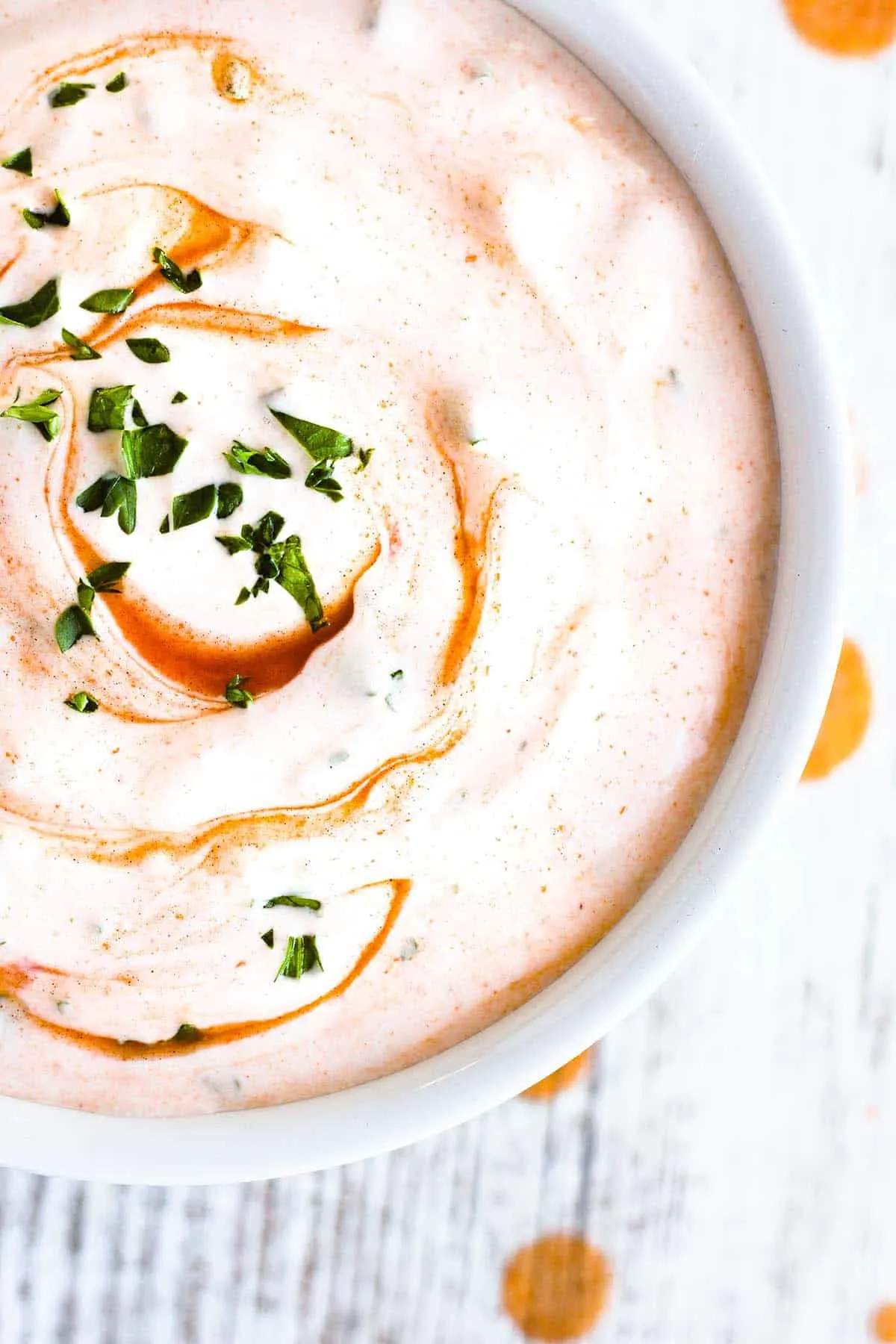 Get your buffalo sauce and ranch dressing fix all in one with this simple, five-minute buffalo ranch. It's great on salads, chicken, or as a dip for fries, pizza, and more. Naturally vegetarian and gluten-free.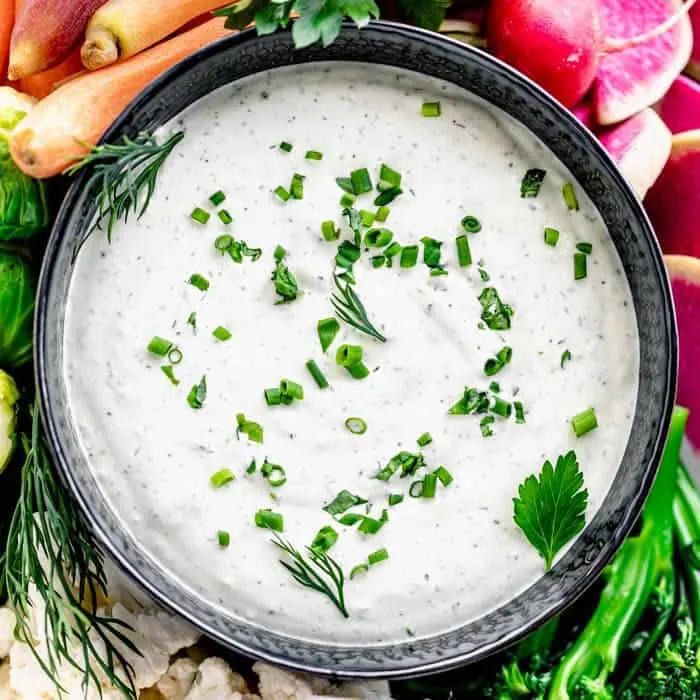 It is super easy and makes a quick crowd-pleasing appetizer and it is great for snack time! It's a bonus that it is only 43 calories per serving! You'd never know that it was secretly healthy.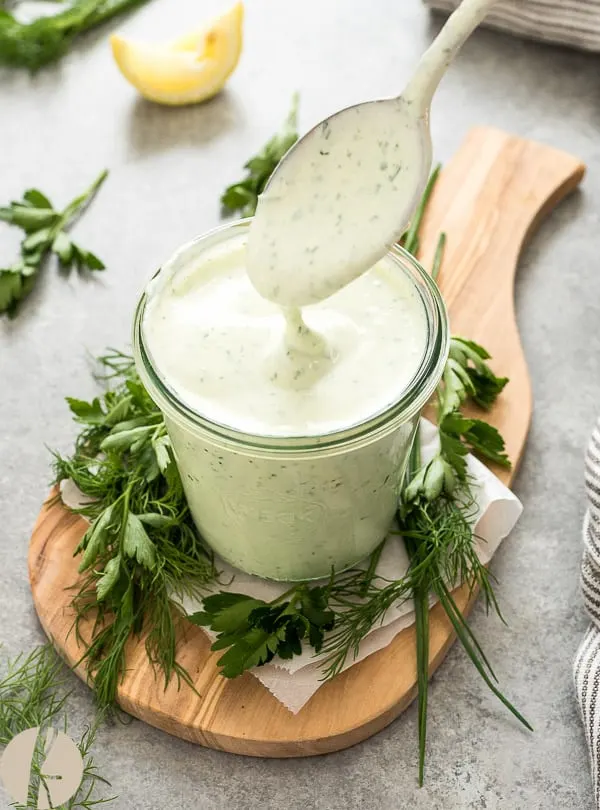 Homemade Greek Yogurt Ranch Dressing is the healthy way to enjoy ranch dressing! It's creamy, packed with protein and bursting with fresh flavor!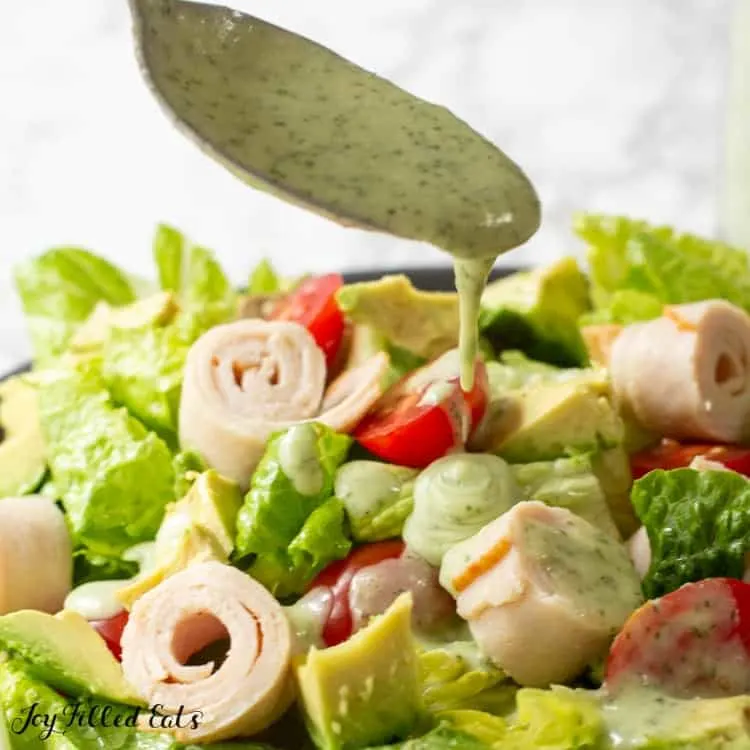 his Dairy-Free Ranch Dressing is full of the flavor of fresh dill, garlic, and green onions. It adds pizazz to your salad with every drop. Just 5 minutes to make, and it's so much better than store-bought.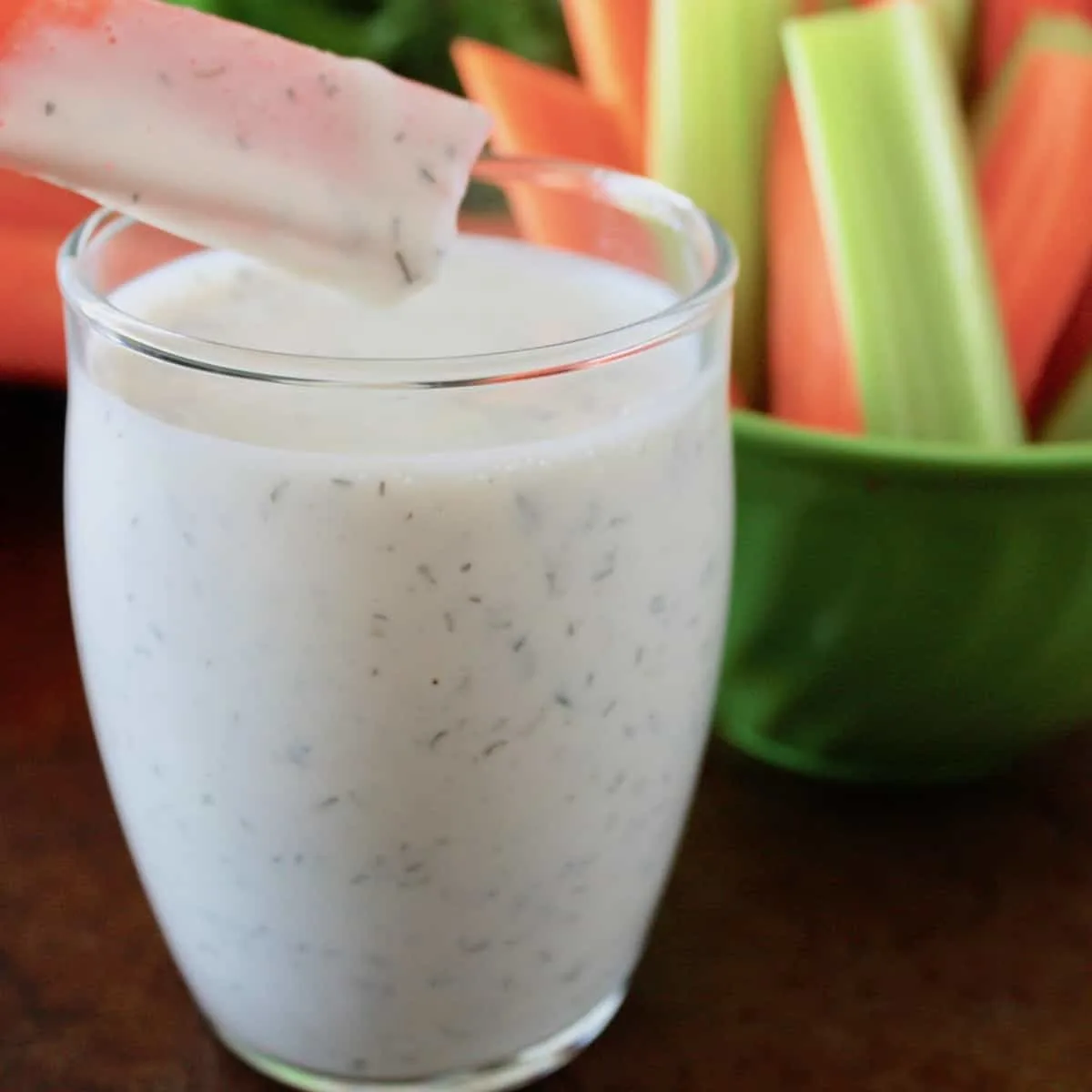 The creaminess of sour cream and the tang of buttermilk makes this ranch dressing amazing.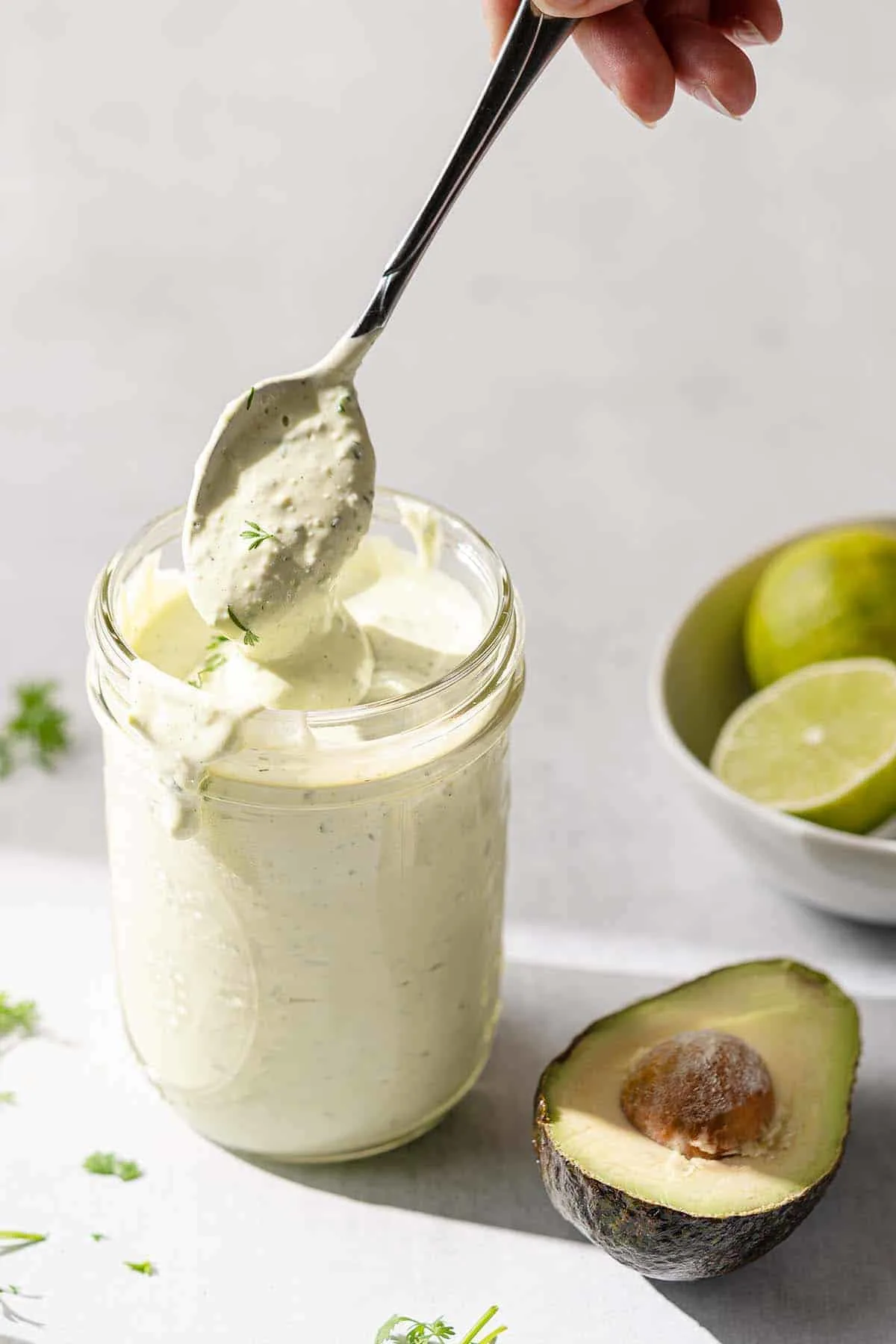 Avocado lime ranch dressing is the zippy salad topper of your dreams! It's packed full of flavor from garlic, herbs, lime juice and zest. And of course, it has a smooth, creamy texture and beautiful green color thanks to the addition of ripe avocado.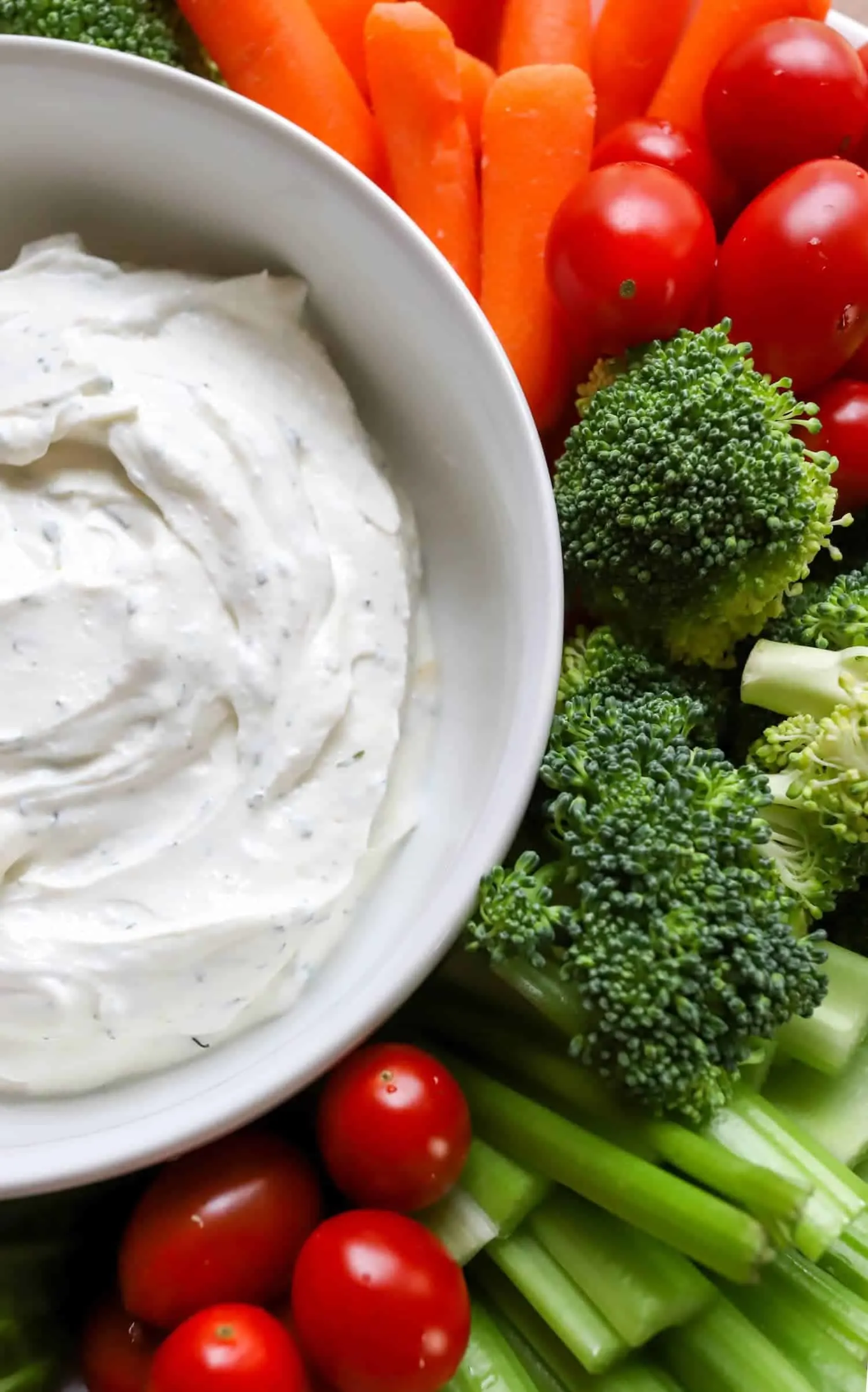 Homemade ranch dip in just 5 minutes! This version has lots of yummy dill flavor and uses dried spices – no chopping or messing up a ton of dishes!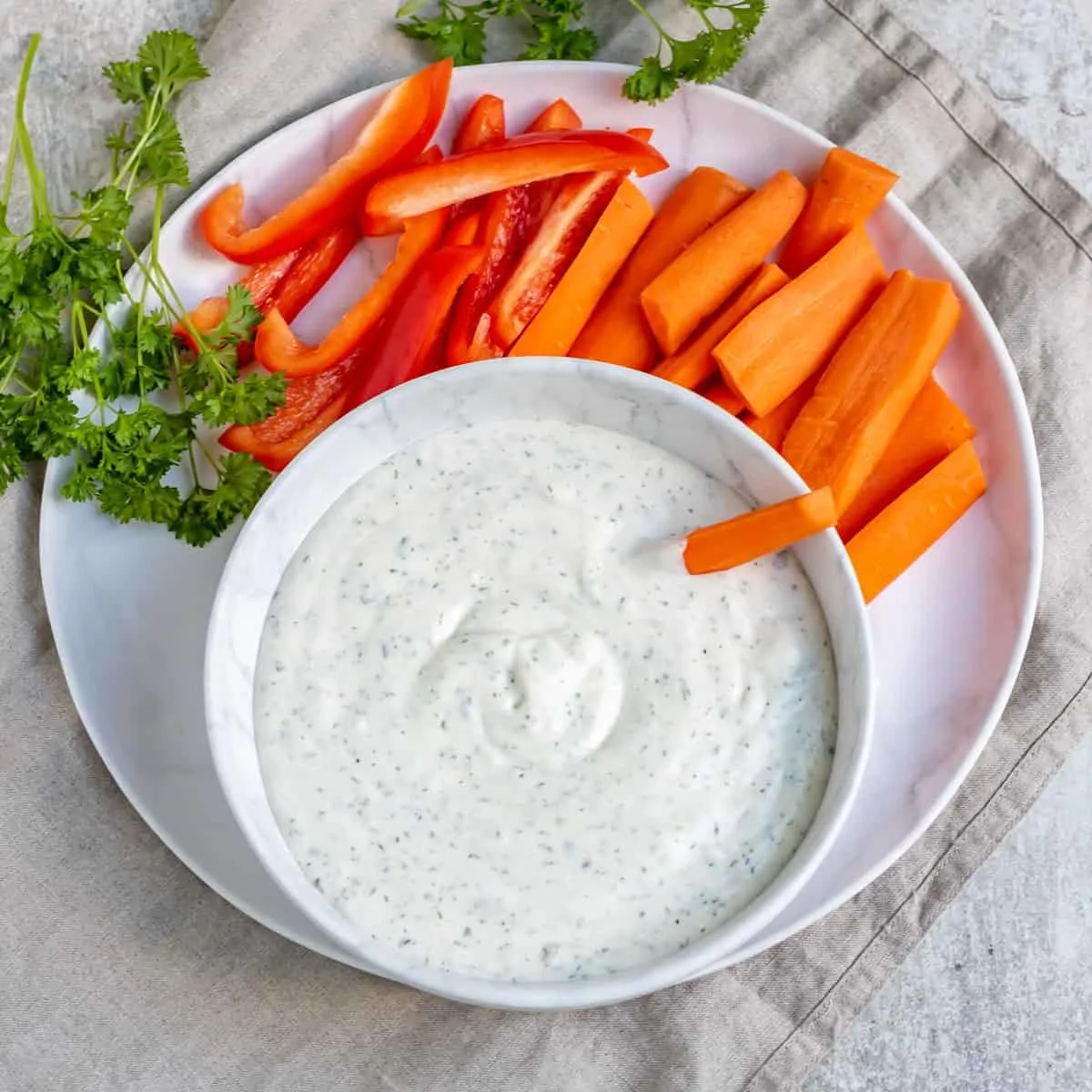 This easy Wingstop Ranch recipe shows you how to make the restaurant's famous sauce at home with just 4 simple ingredients. It's ready in minutes and tastes just like the Wingstop favorite. Use it as a dressing, sauce, or dip. Make a batch for a holiday party, game day, or to dress up your favorite salads.
Blue Cheese Dressing Variations
The other side of the chicken wing dipping sauce debate is blue cheese dressing. With its intense and tangy flavor, some shay away from it, where others make it the one and only dip to use. Whether you love it or tend to shy away from it, these variations on classic Bleu Cheese Dressing are worth a try!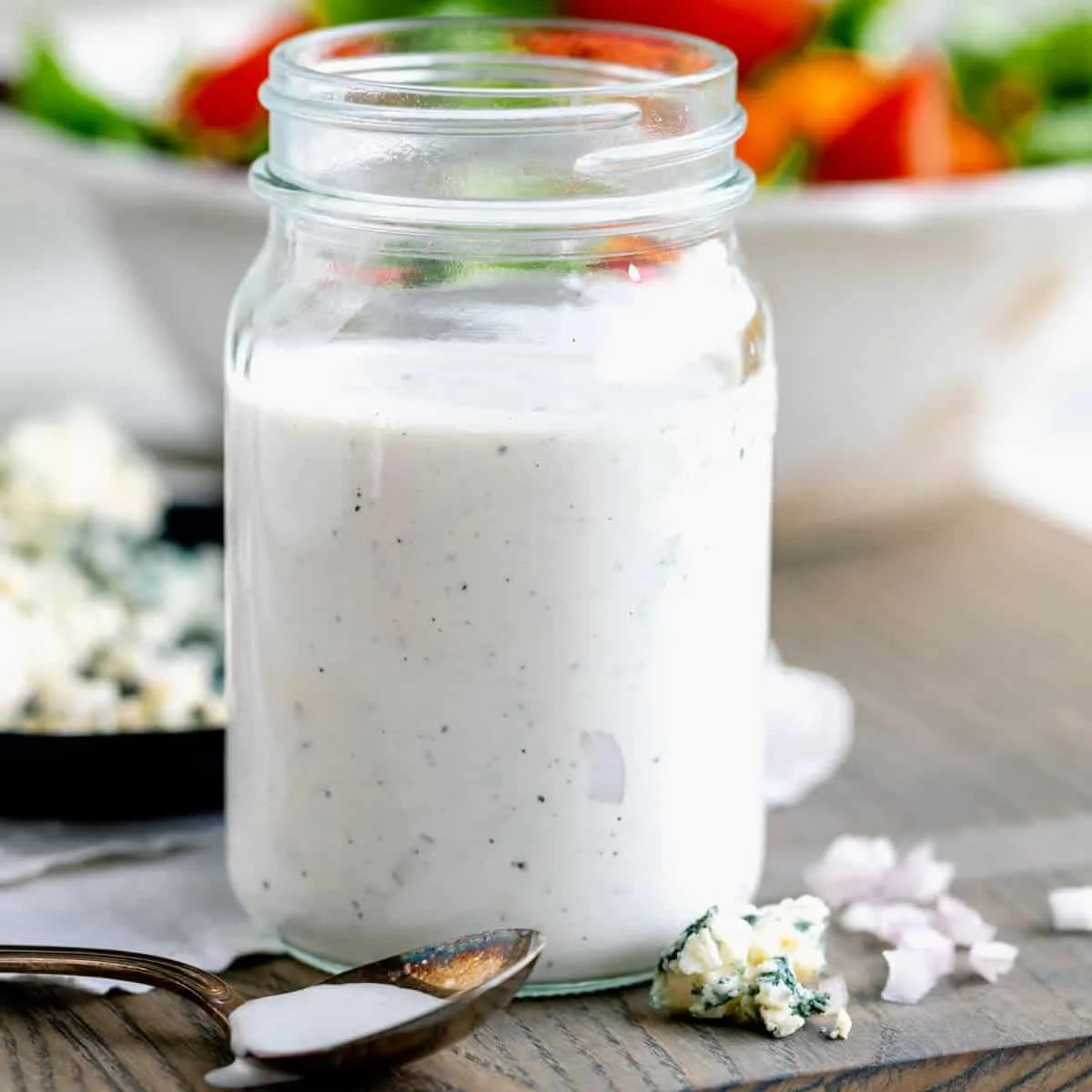 This amazing homemade Blue Cheese Dressing is creamy, a little chunky and loaded with awesome blue cheese flavor! We have made it more healthy by using Greek Yogurt in place of some of the mayonnaise and it is only 63 calories per serving! Serve it drizzled over a classic wedge salad or use it for dunking Buffalo Wings.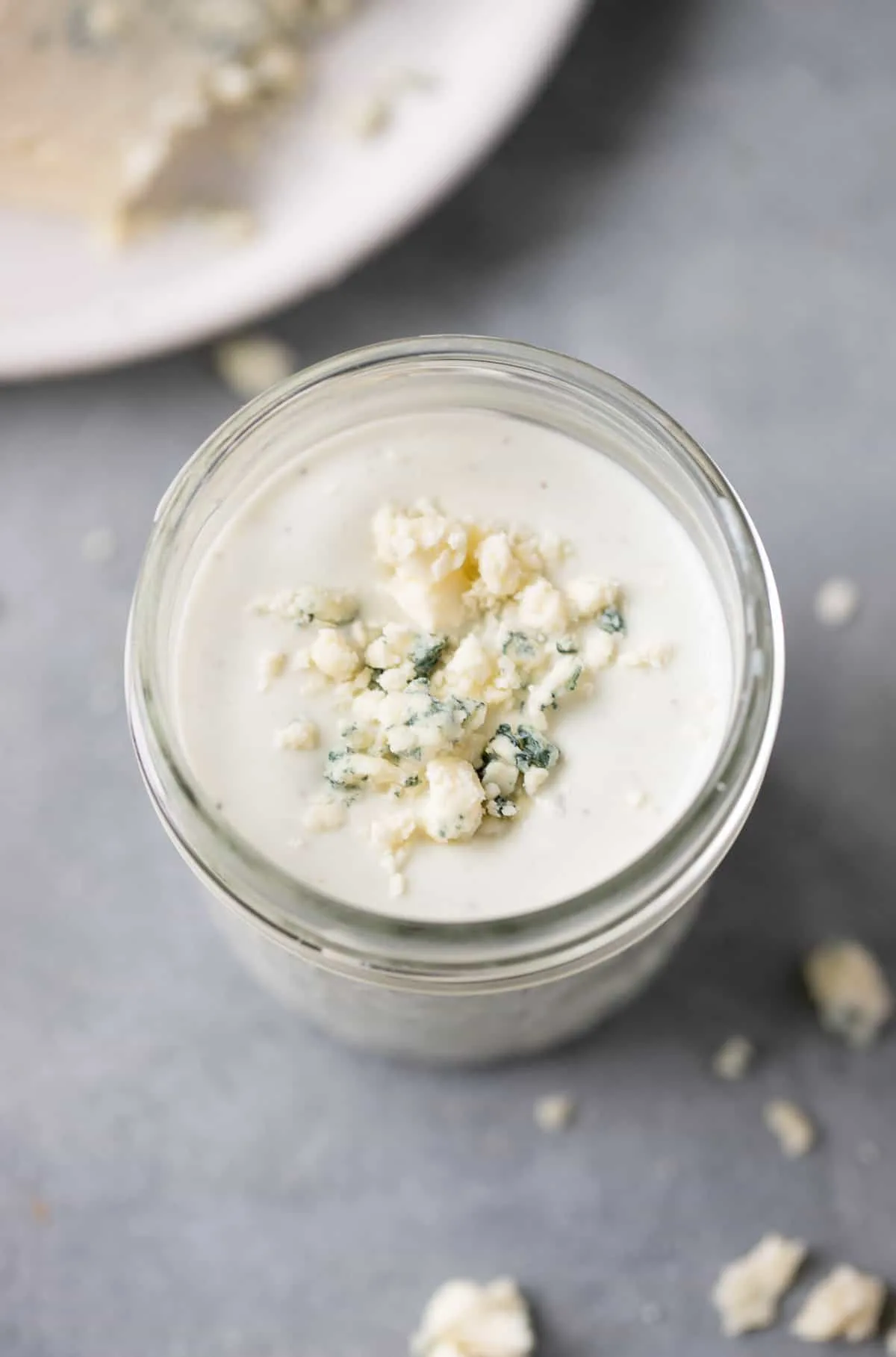 This Healthy Blue Cheese Dressing Recipe is SO easy to make. A Greek yogurt blue cheese that tastes just like the real thing!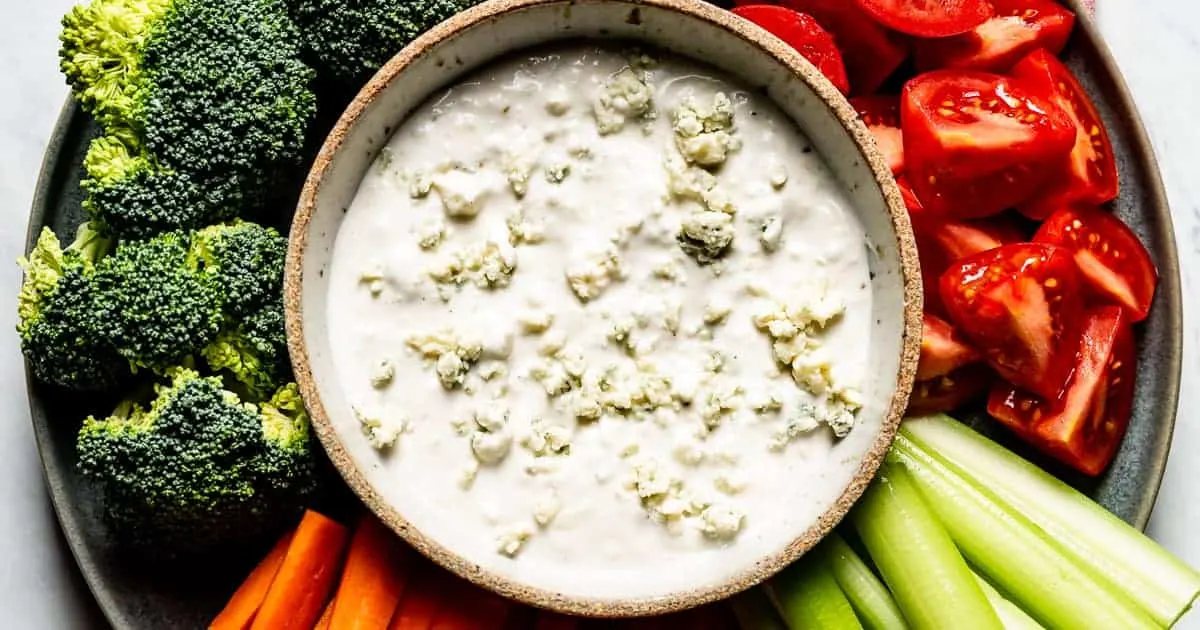 This Blue Cheese Dip without sour cream gets just the right amount of tang from yogurt and colorful blue cheese crumbles. All it takes is 8 ingredients and one bowl for a homemade dip recipe ready in less than 5 minutes.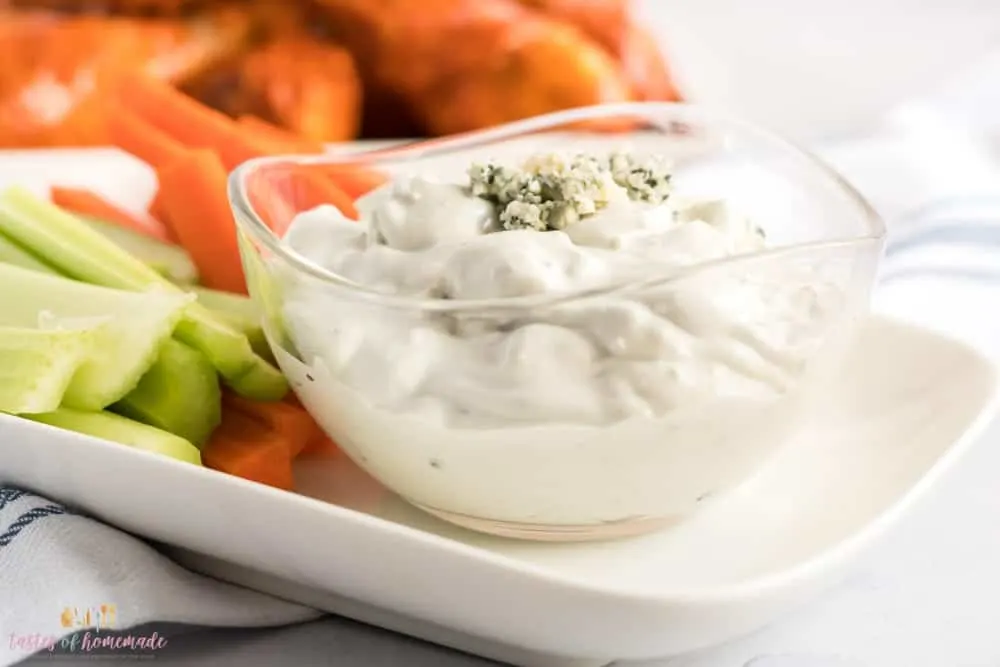 This homemade chunky blue cheese dip comes together quickly and easily with only 5 ingredients. Serve this with hot wings or your next veggie platter.
Garlicky Dips
If garlic is one of your favorite flavors and want to figure out a way to add it to your chicken wings, check out these dips that are extra garlicky and totally addicting!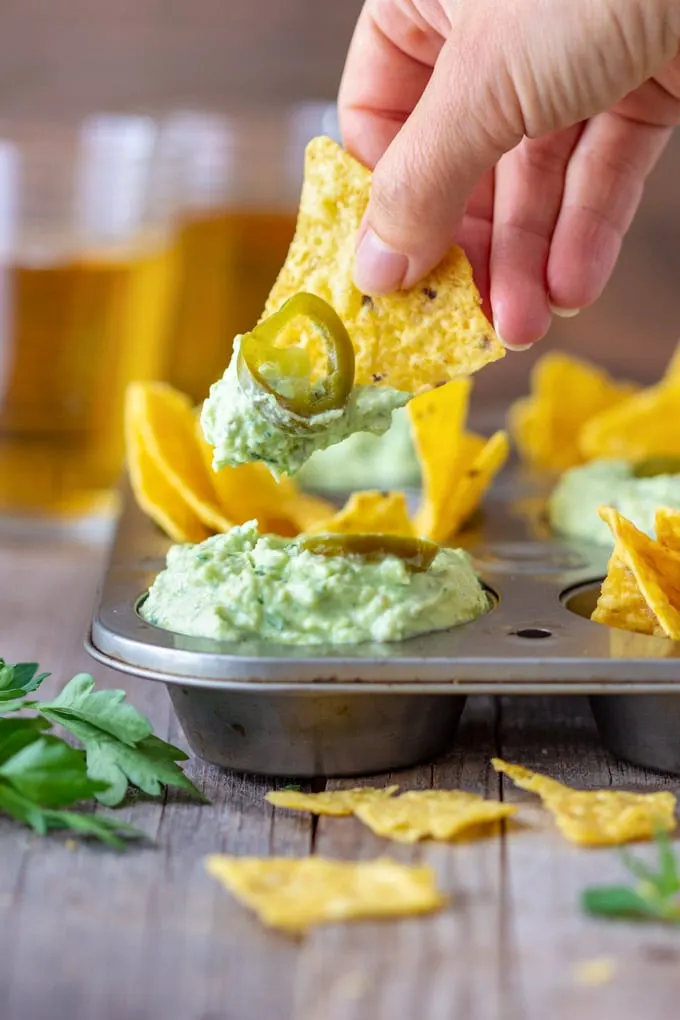 Roasted garlic jalapeno dip is a simple yet delicious party appetizer. Combine cream cheese, jalapenos, roasted garlic and Greek yogurt and you'll get this creamy dip!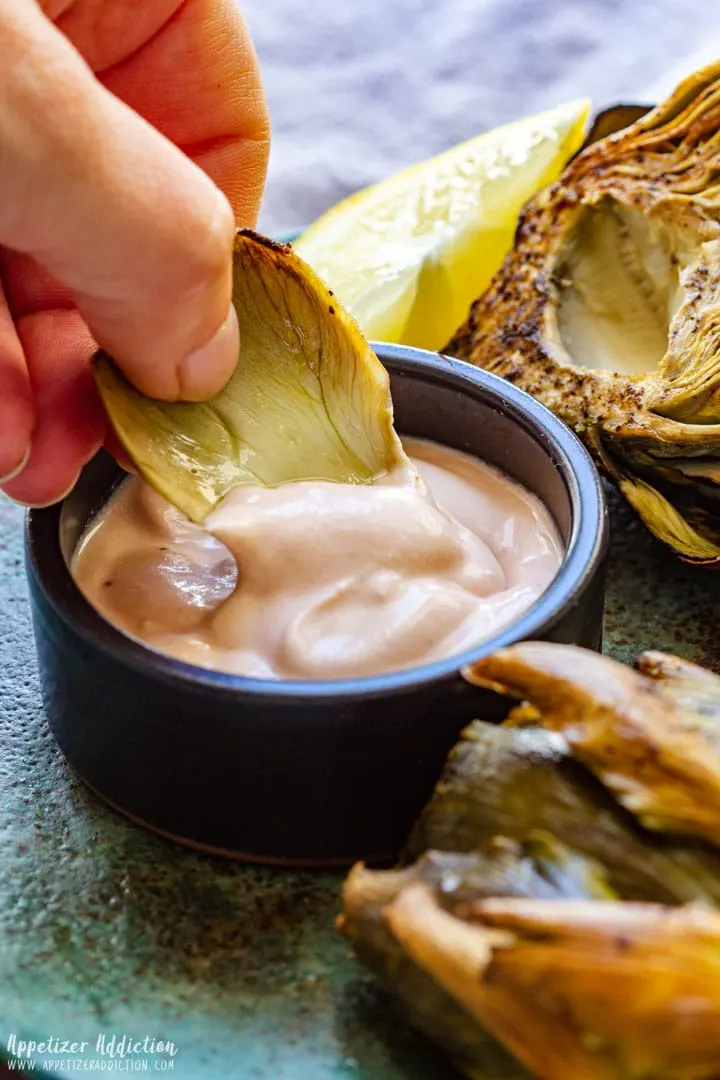 This is a recipe for an easy garlic dip without mayonnaise. This garlic sauce is a versatile condiment and can be used for steak, roasted veggies, burgers or as a dipping sauce for artichokes!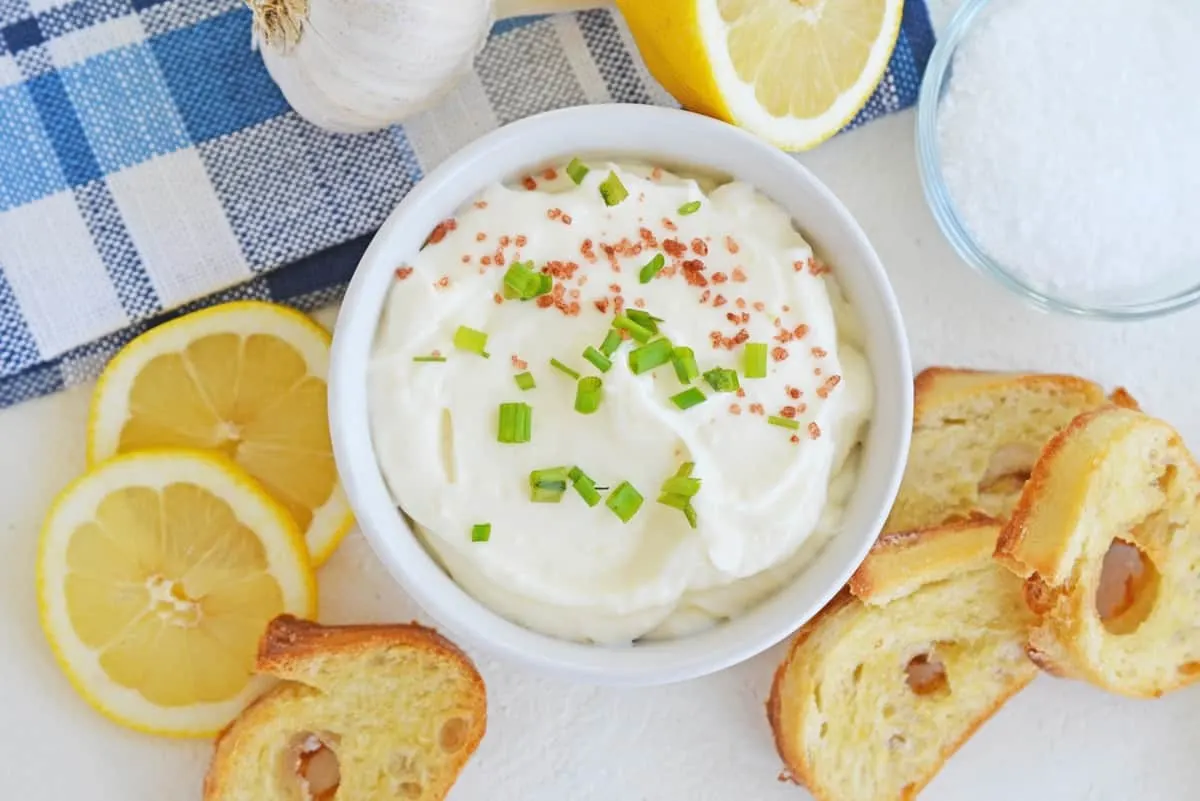 Quick Garlic Aioli is one of my favorite condiments. It is easy to prepare and really takes a meal from ho-hum to uber excellent. In fact, sauces are what commonly separate the most extravagant of chef prepared meals from those made in your home kitchen.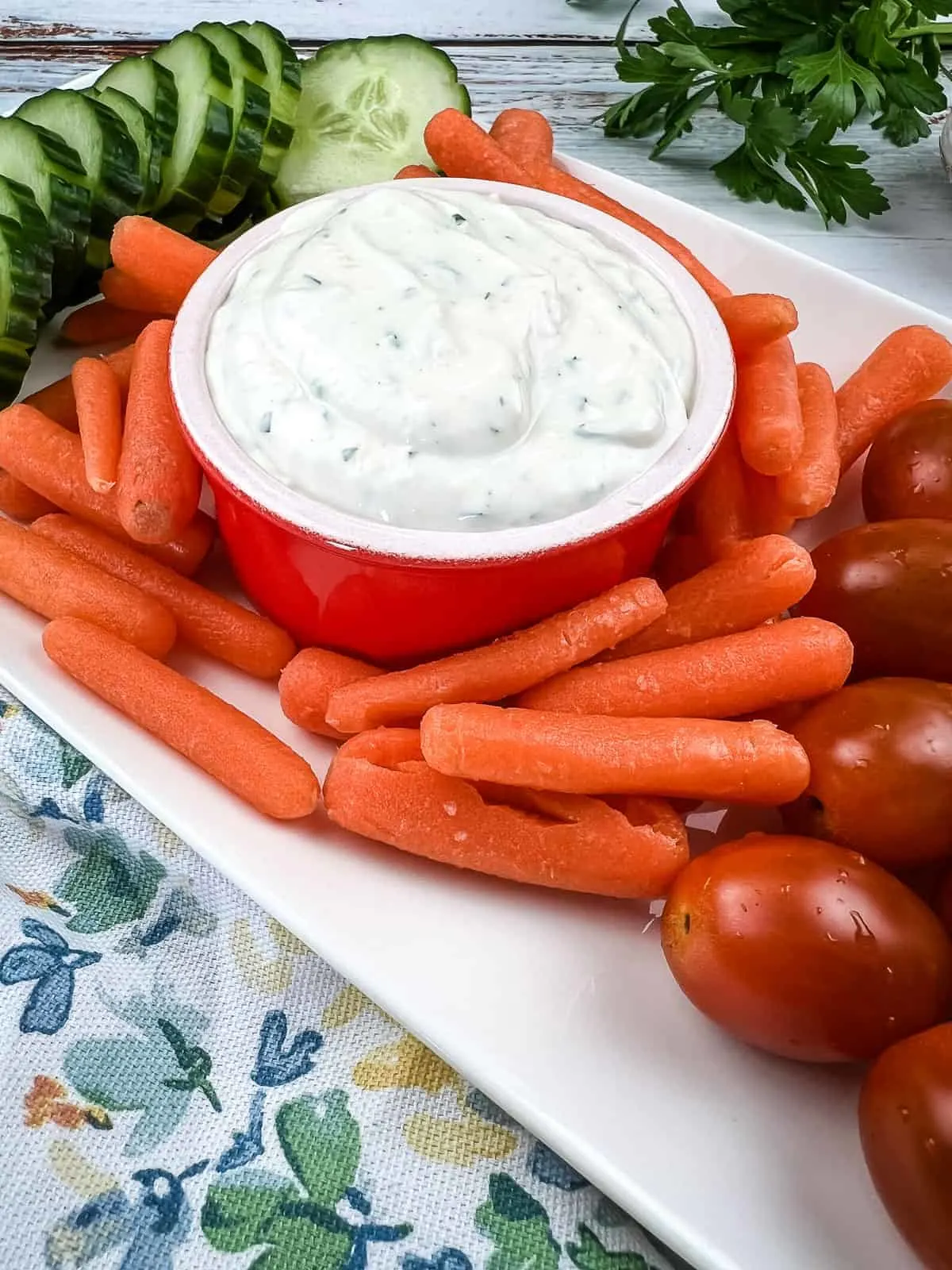 With a garlicky kick, fresh herbs, and plenty of flavor, this Garlic Dipping Sauce is the only sauce you need! I've never seen my kids devour veggies as much as when this easy garlic sauce is on the table! Quick, easy, and delish, add some flavor to your meal today!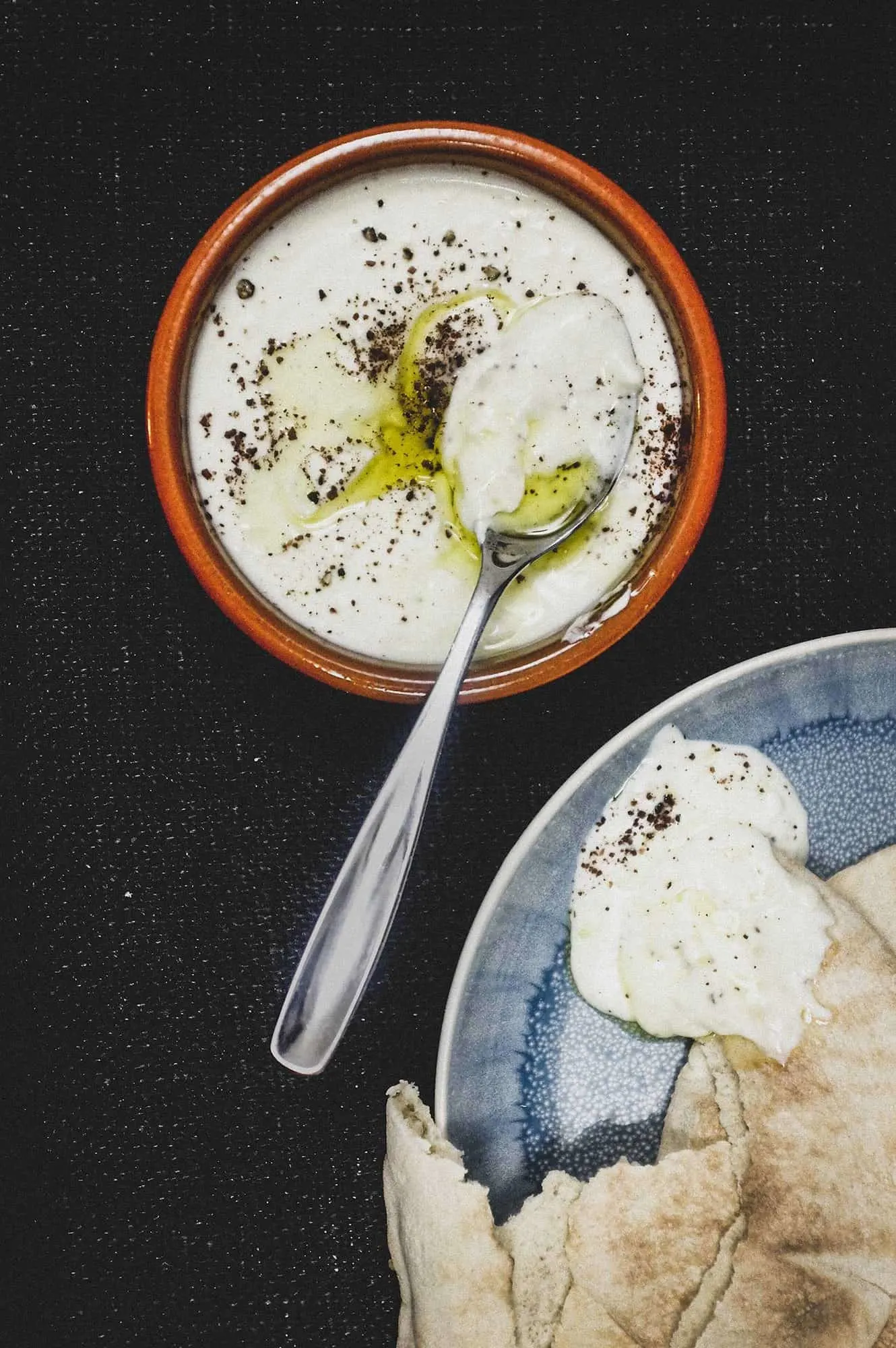 Sometimes the simplest things in life are the tastiest. This super-easy Turkish garlic yoghurt sauce is packed with flavor and perfect for drizzling over meats, fish or vegetables. It's the tasty of Turkey with every delicious spoonful.
Creamy Sauces
If you are enjoying your chicken wings with a spicy sauce on them, you might need something to cool the heat on your lips. These creamy dipping sauces are just the thing to balance out the heat so you can keep on eating!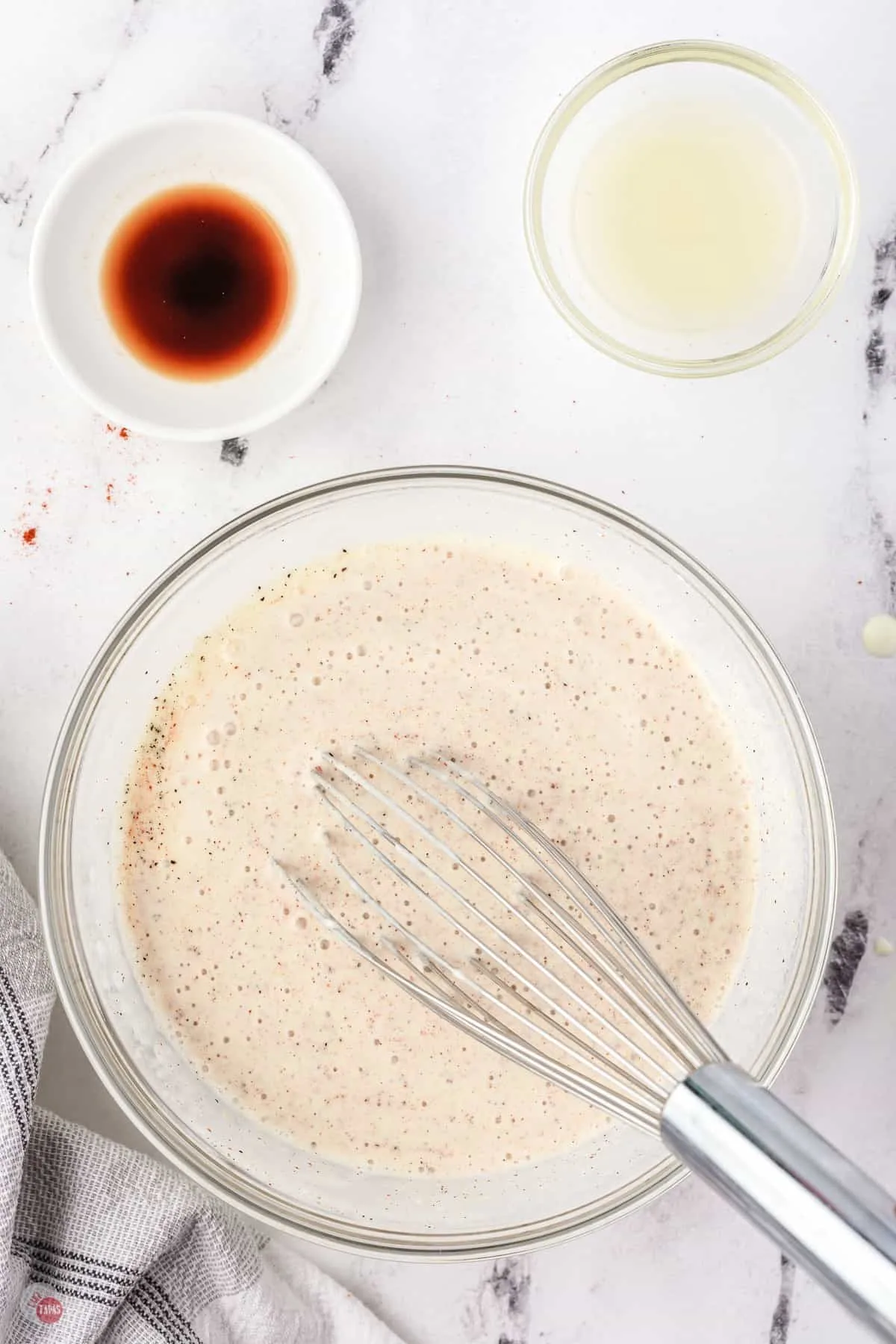 Alabama White Sauce is a zesty, tangy, creamy and all around better version of regular barbecue sauce that will have you licking your fingers clean. Try this white bbq sauce on smoked chicken, ribs, pork chops, and even as a dip for french fries!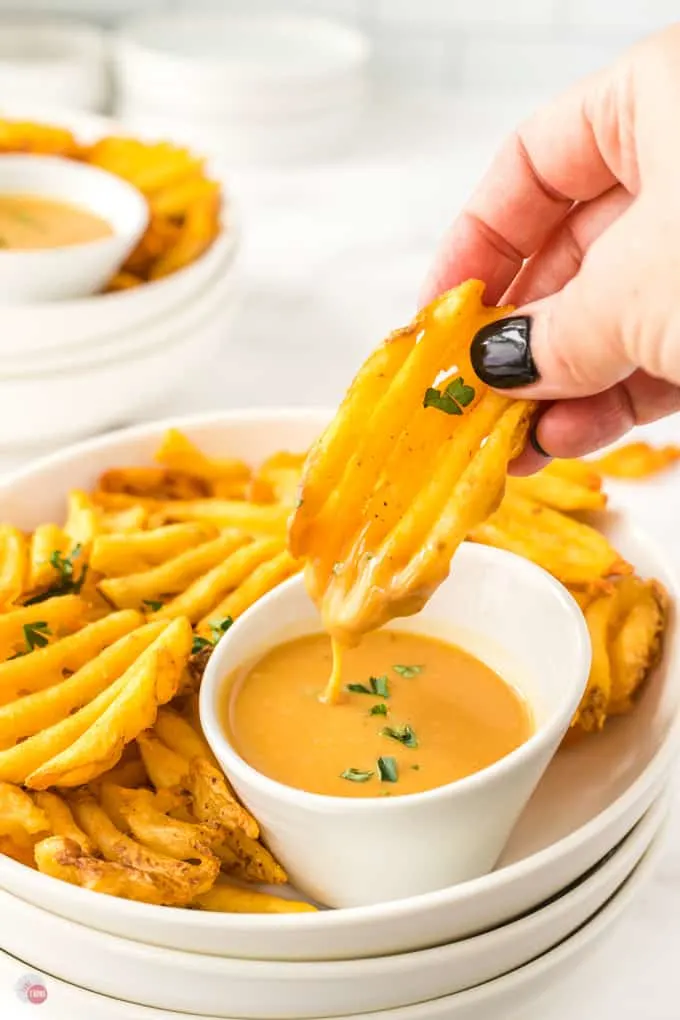 Chick Fil A Sauce, the signature sauce at everyone's favorite fast food joint, is creamy, slightly smoky, and balanced with the perfect hint of sweetness.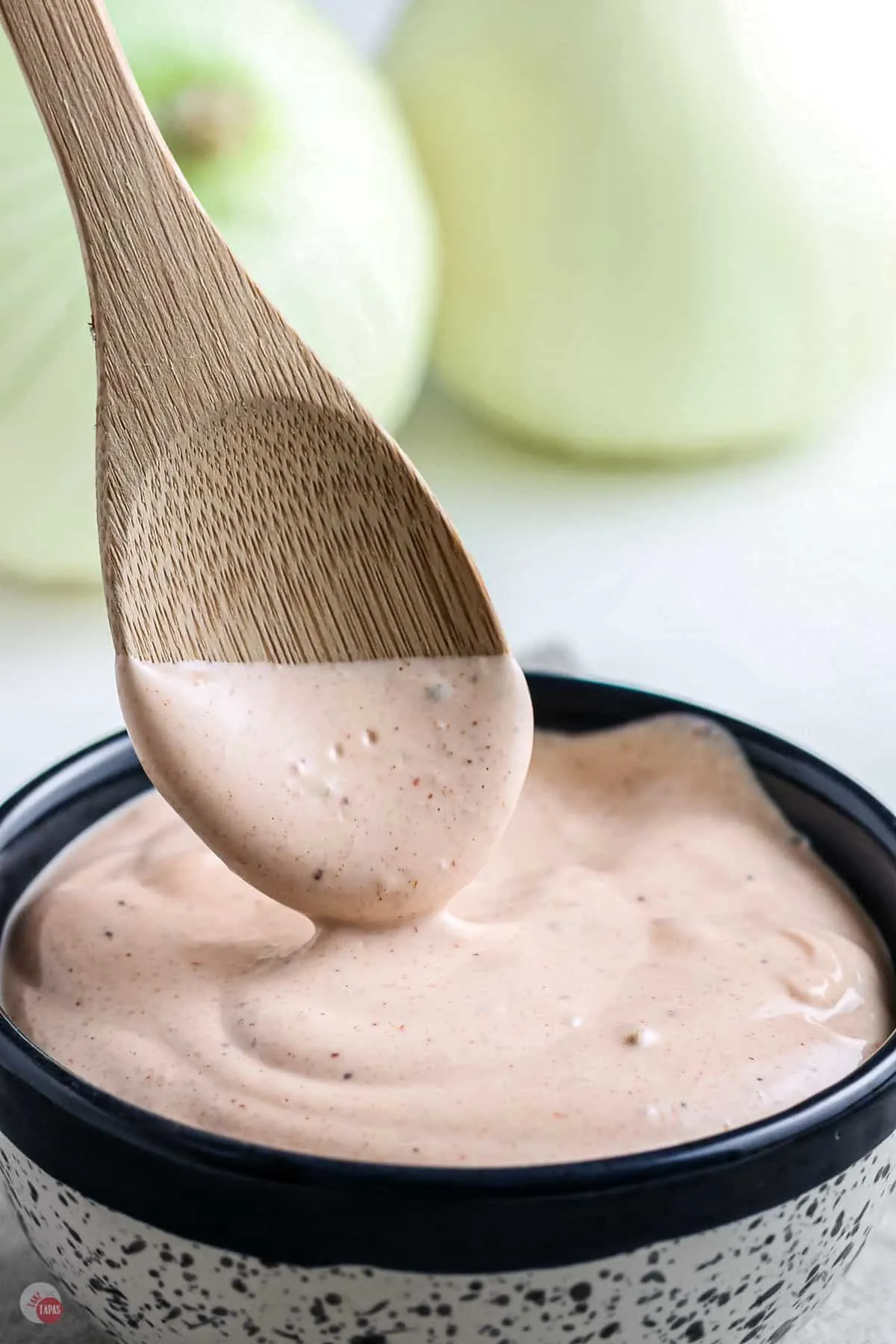 Blooming Onion dipping sauce is creamy with a hint of heat that is perfect for your blooming onion! Try it on onion rings, french fries, chicken wings, steak, and potato chips!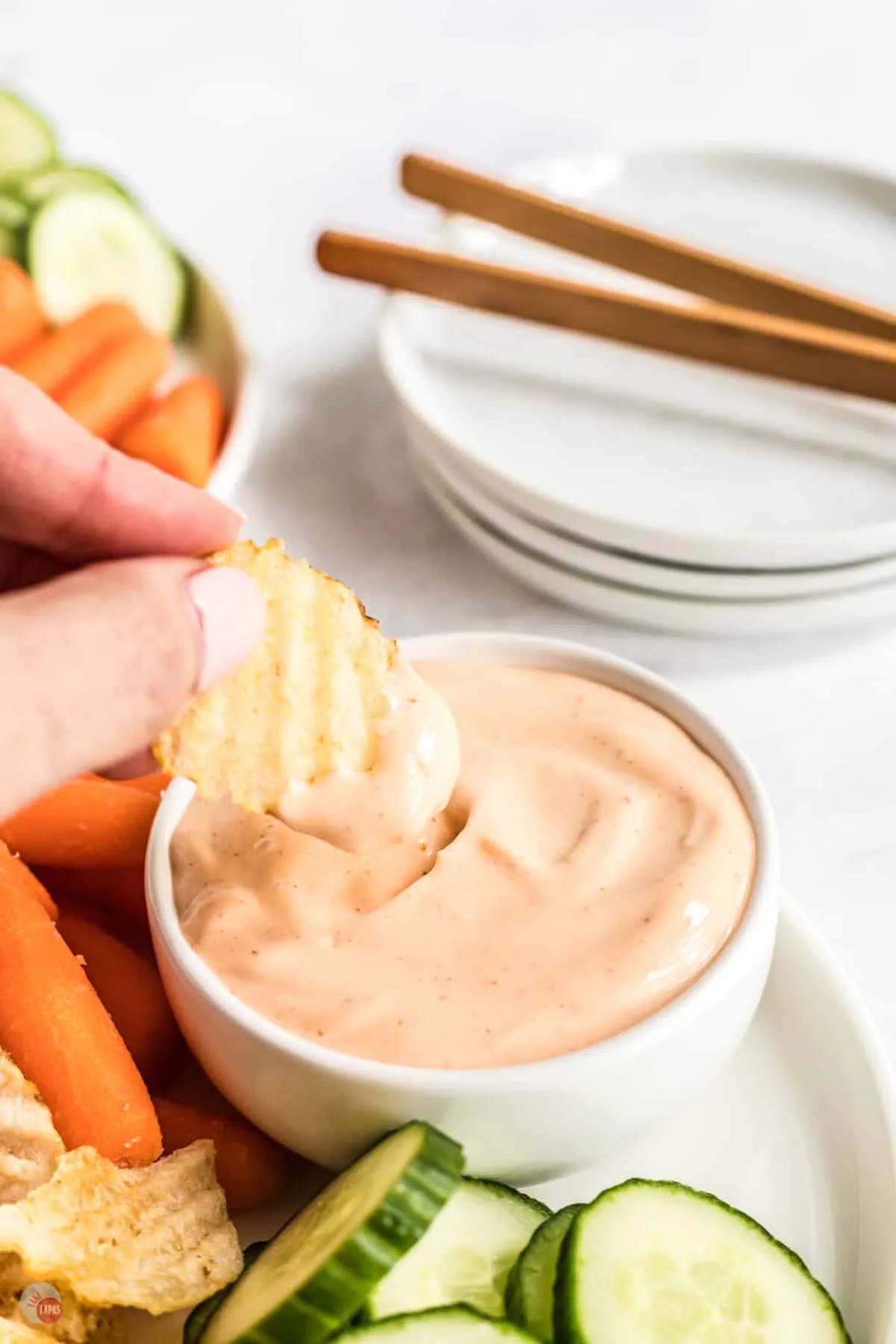 Spicy Aioli has a spicy sriracha flavor and is wonderfully creamy and tangy. It's the ideal sauce for sprucing up your BBQ or party food table! This sauce is great for last-minute preparation because it only has three ingredients that you probably already have to hand.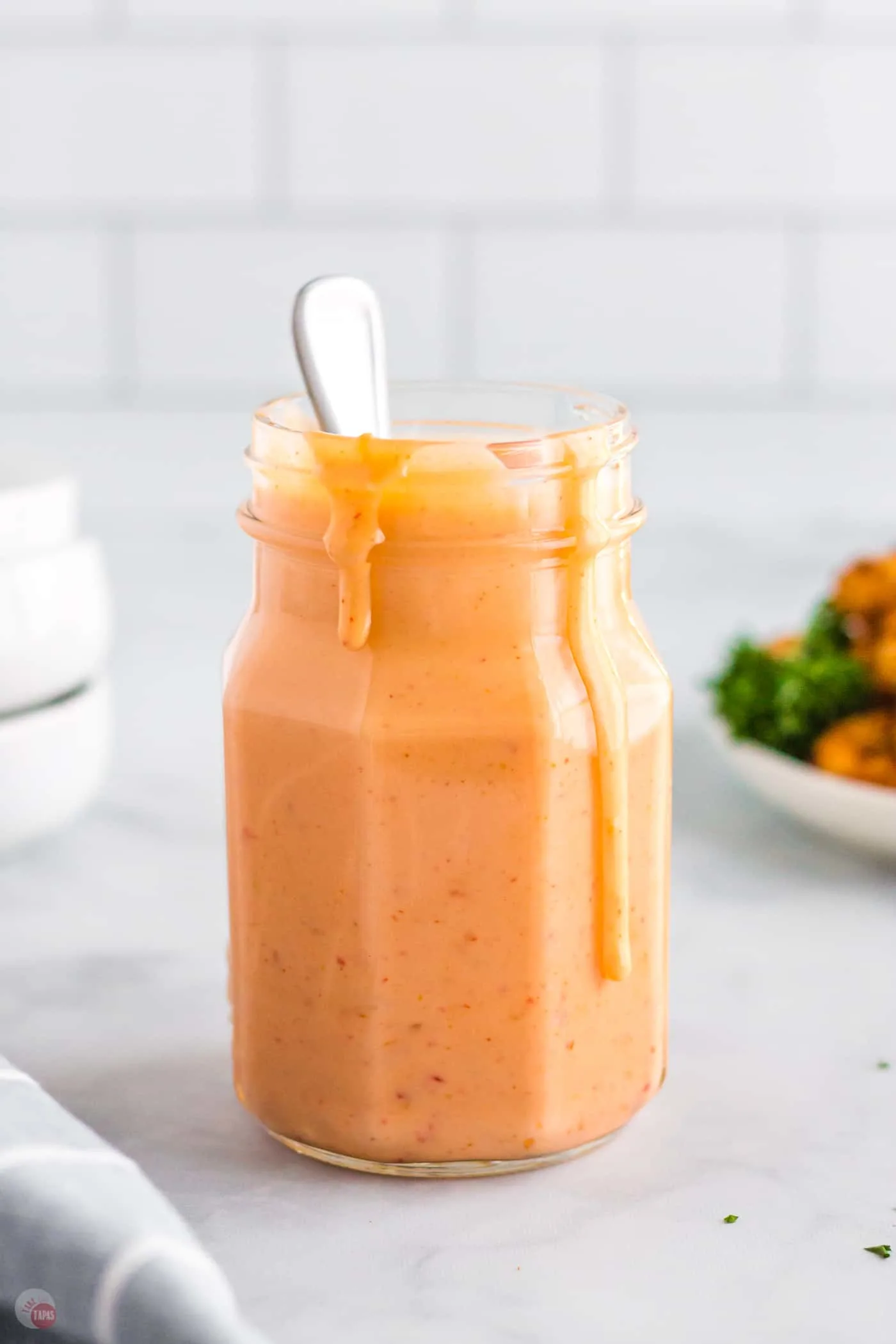 Homemade Bang Bang Sauce recipe offers a sweet and spicy flavor kick to any dish, especially crispy shrimp! Just 3 ingredients are all you need to make this easy dipping sauce.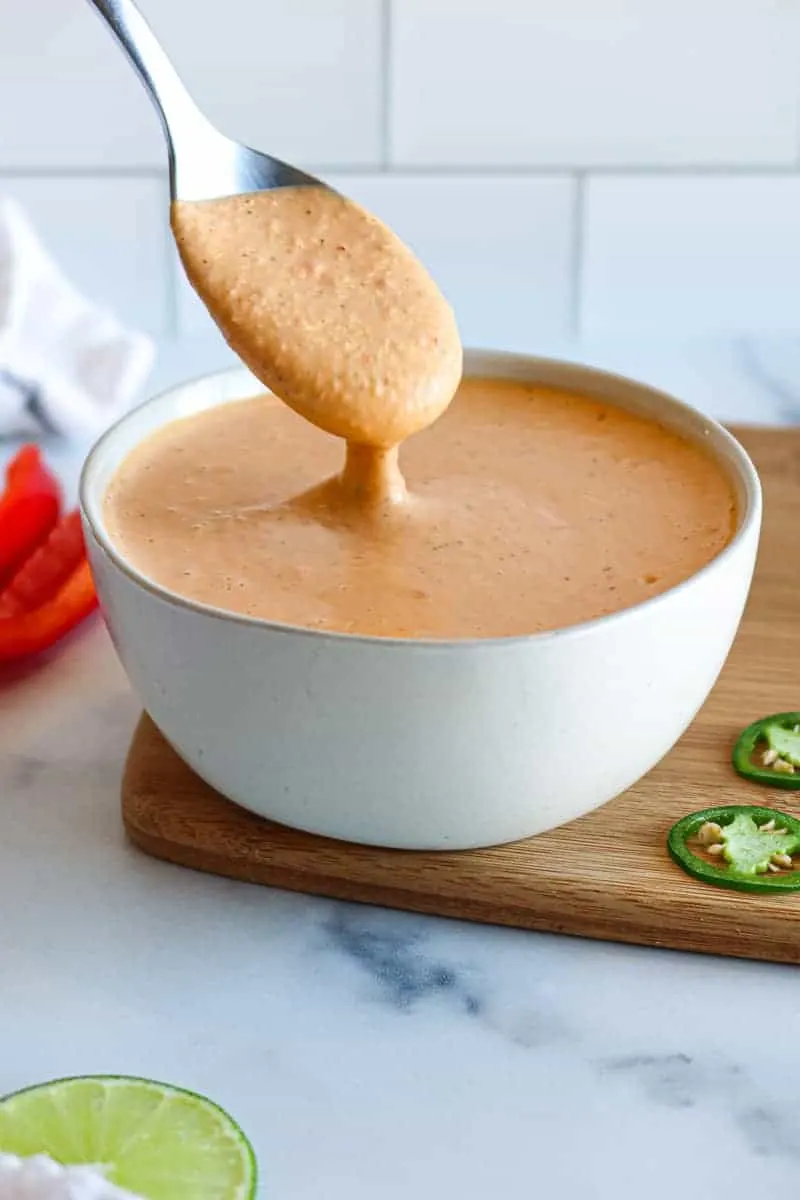 Baja cream sauce is an incredibly delicious condiment and it's perfect way to add lots of zesty flavor to so many of your favorite foods. It's most famously known for being a tasty addition to fish and shrimp tacos (but don't let that limit you, trust me)!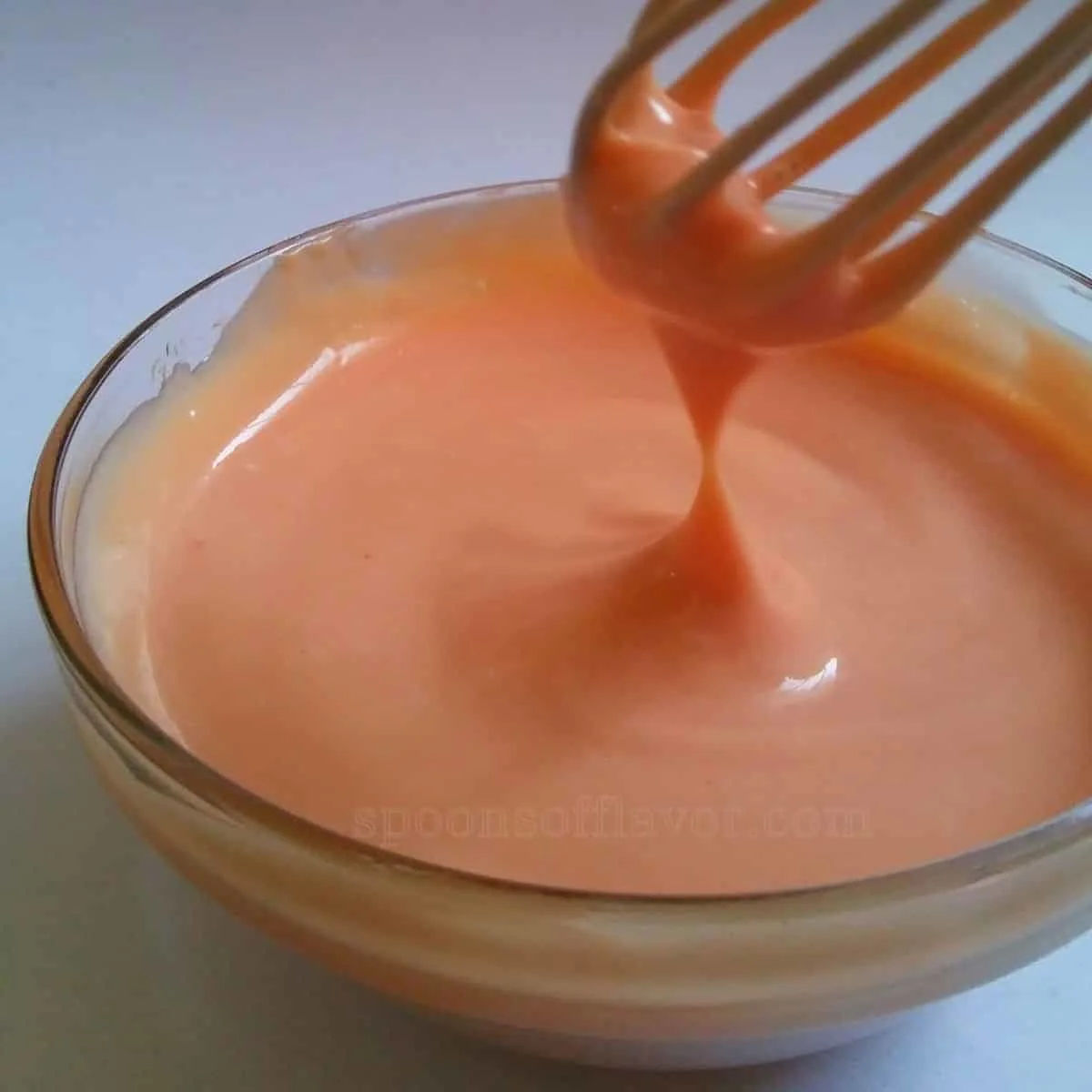 Mayo ketchup sauce is a delicious match with a variety of food. Made with just 3 ingredients and it's beyond easy.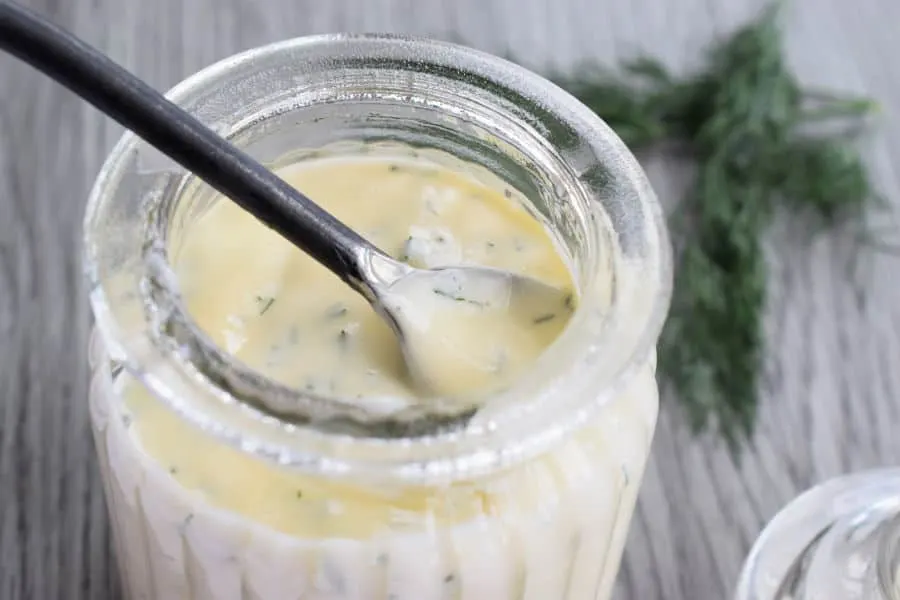 This simple homemade honey-dill dipping sauce takes only 5 minutes to prepare and is perfect for dipping your chicken fingers and fries.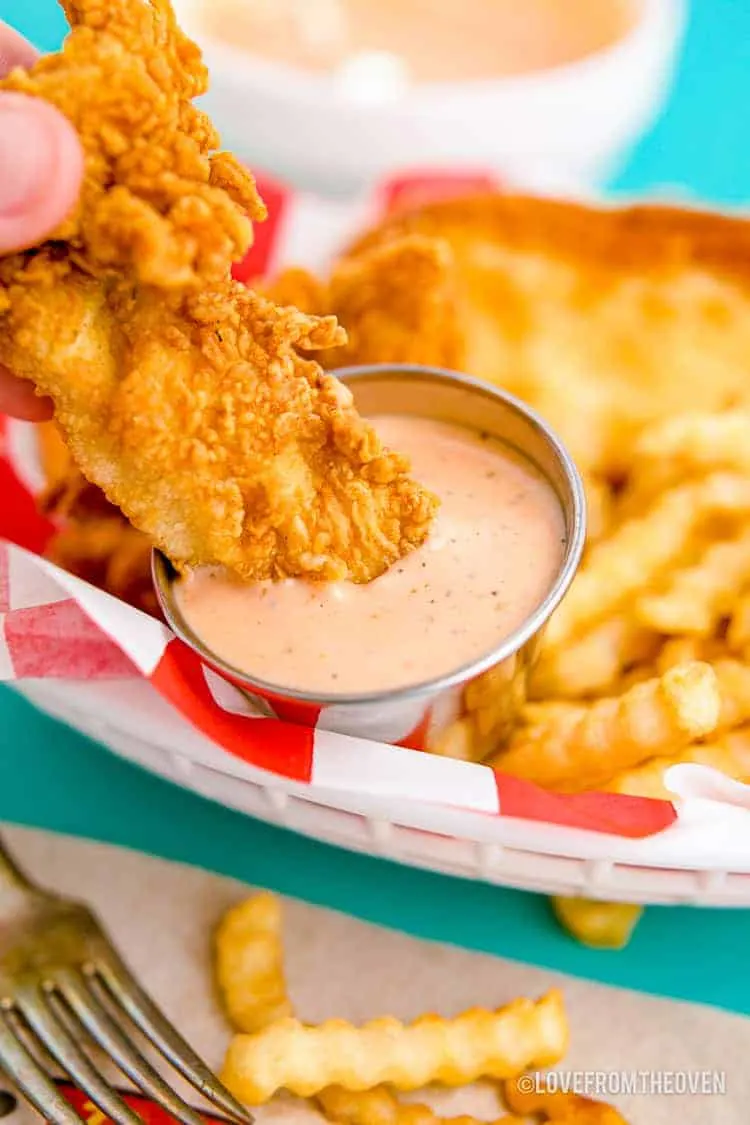 Cane's Sauce is creamy, tangy and packed full of flavor, with just the right amount of spice. This incredible dipping sauce is a must have item whenever enjoying Raising Cane's Chicken. If you can't get enough of this unique and delicious sauce, make your own at home!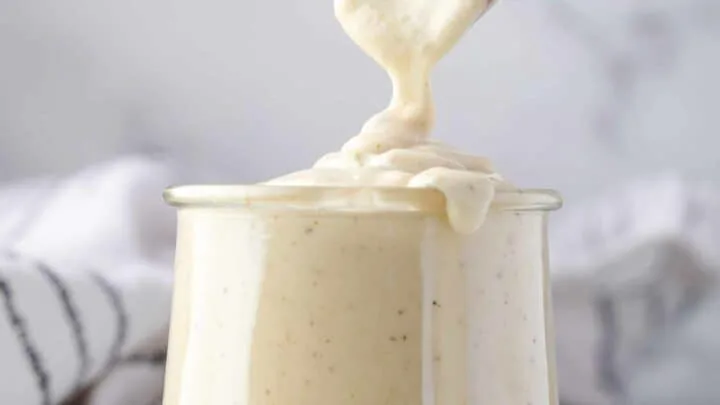 This easy Sour Cream Sauce recipe is a simple sauce that is fresh, creamy, and full of flavor. It is the star ingredient in sour cream chicken enchiladas, and since it is such a simple recipe (and so delicious) you will find yourself using it for all kinds of things, like as a dipping sauce for chicken tenders, or drizzled over tacos!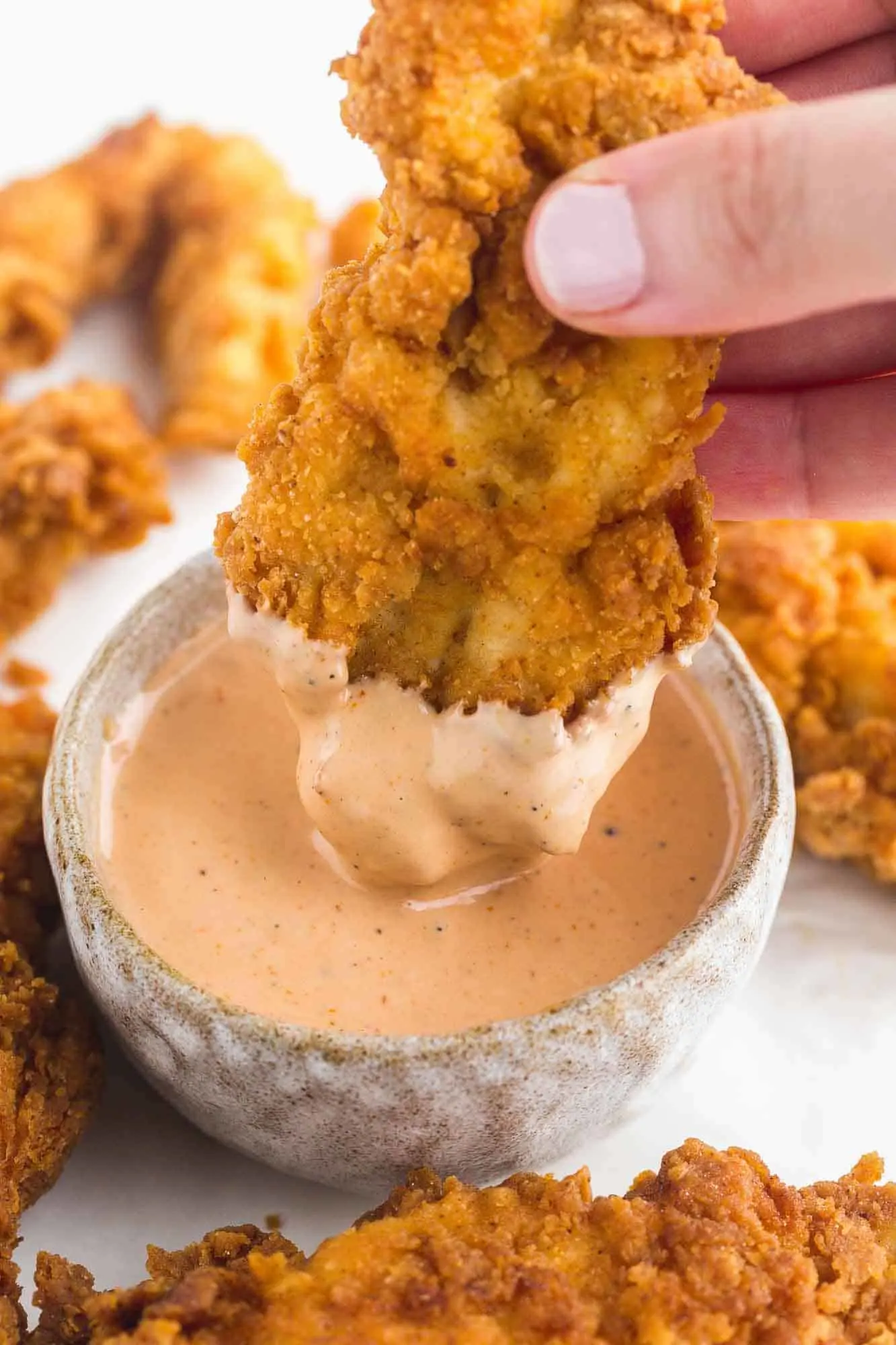 Learn how to make the ridiculously addicting and delicious Cane's Sauce at Home! It's simple to mix up and perfect for dipping all of your favorite things.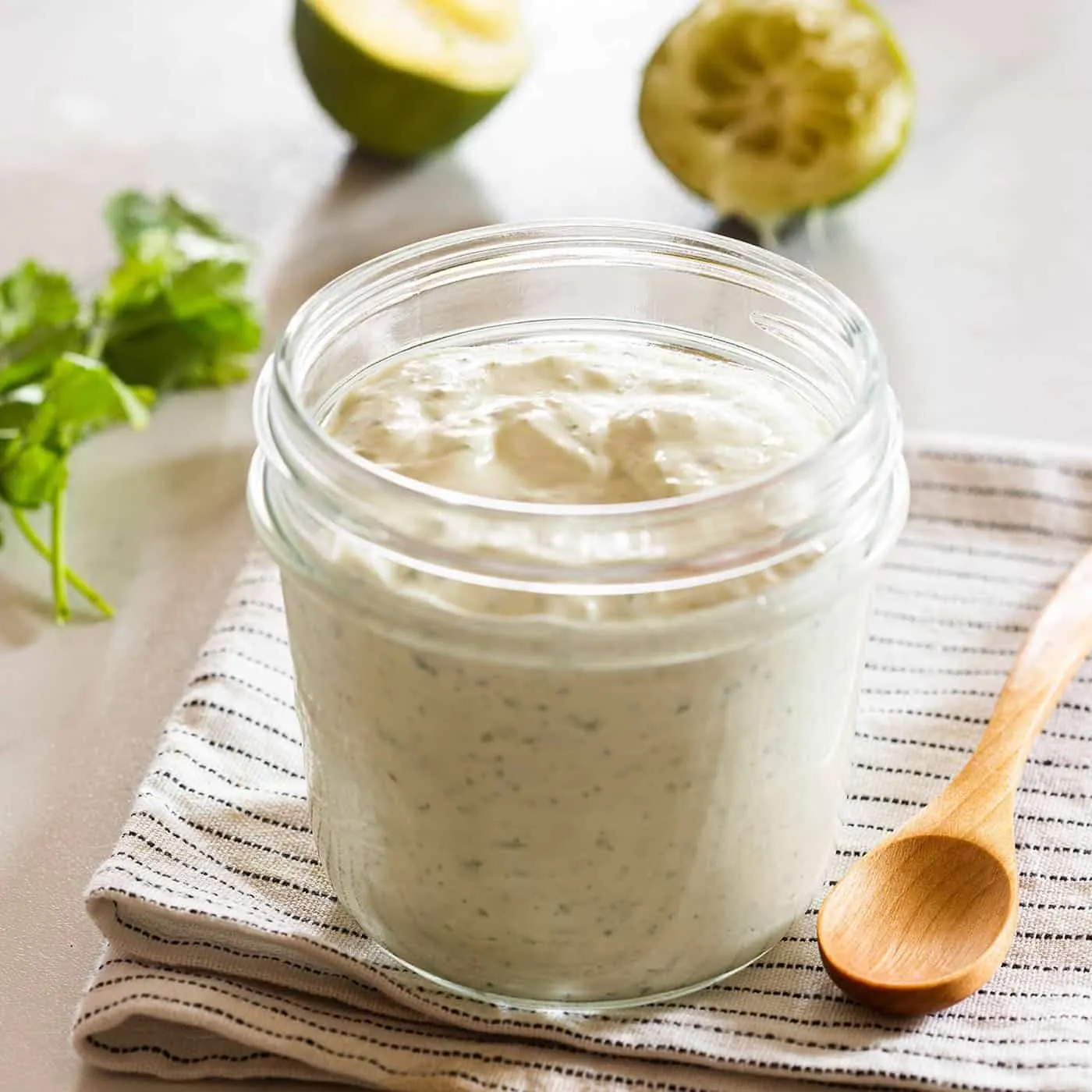 Cilantro lime cream sauce will become one of your favorite salsas to eat with tacos, nachos, or burritos. This recipe is made in just 5 minutes with a bunch of fresh ingredients and can be adapted to your preferences.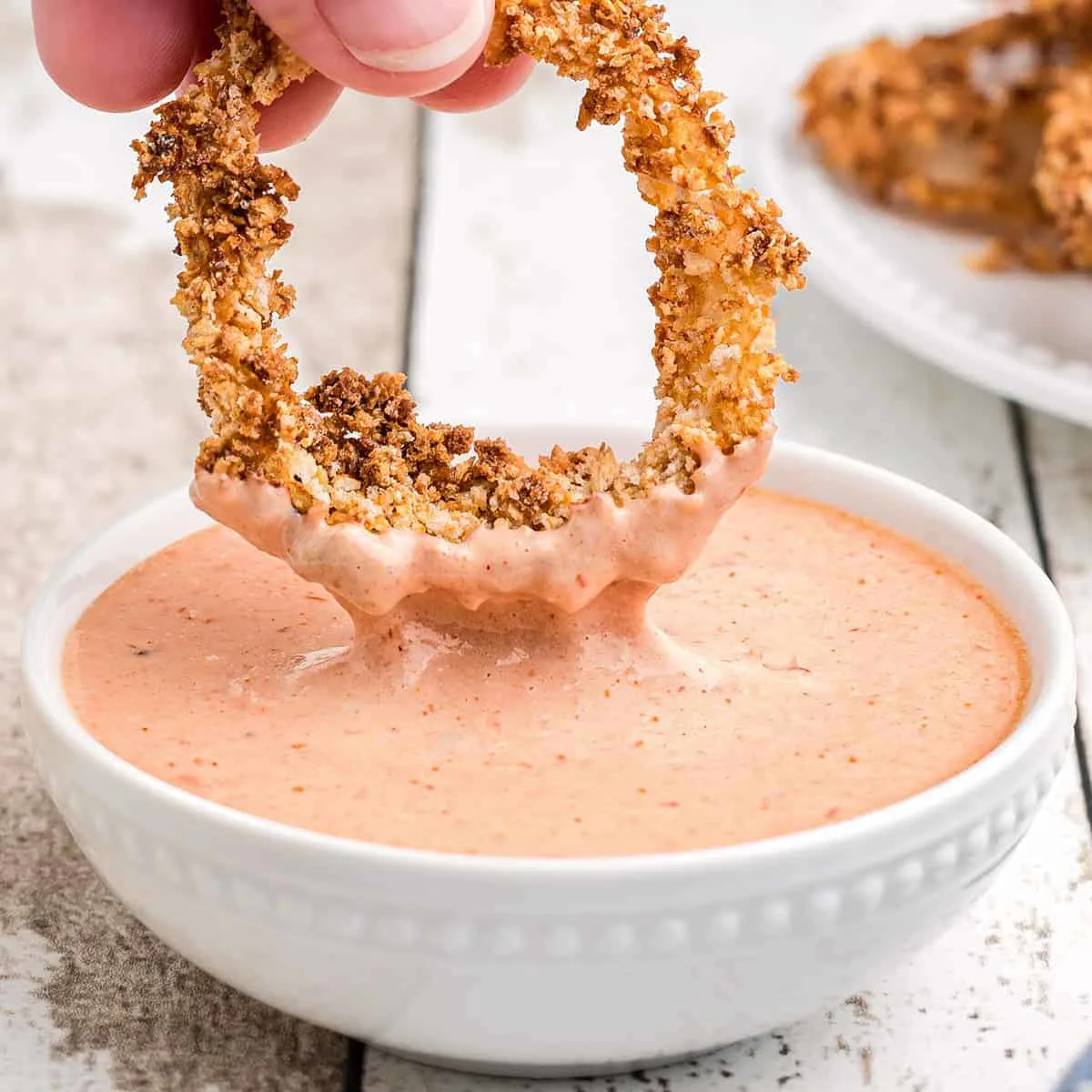 What's the most perfect dipping sauce ever invented? Without a doubt, it's Comeback Sauce! We use it for everything from chicken fingers to onion rings and fries to sandwiches. Once you try it, you'll use this stuff on everything, too!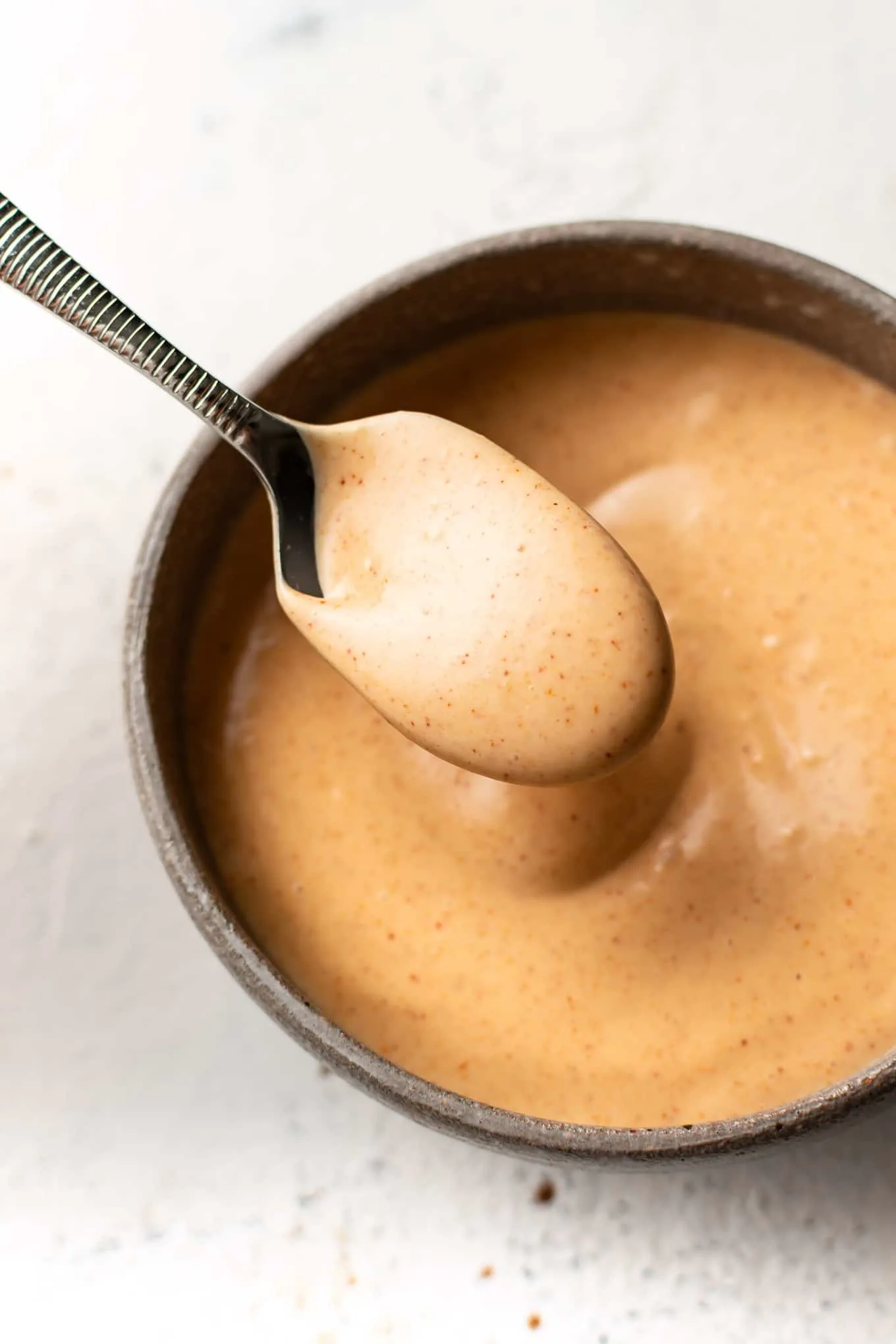 This insanely tasty yum yum sauce recipe is like you'd find at a Japanese steakhouse, but it's simple to make at home with less than 10 minutes of prep time! It's really versatile and pairs with so many things.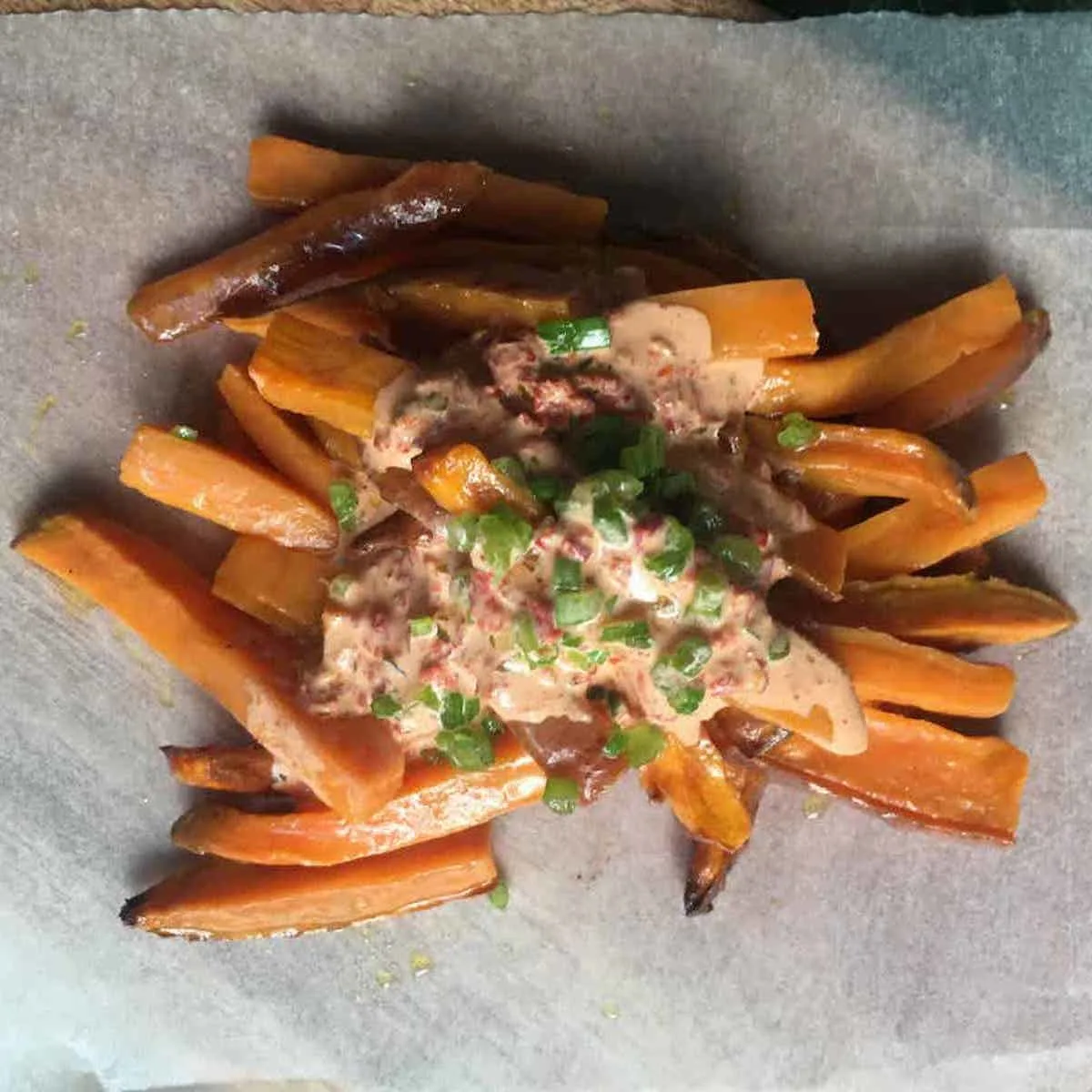 A spicy sambal mayo sauce that is great as a dipping sauce for french fries, wedges, fried shrimp, chicken nuggets or slathered on grilled corn.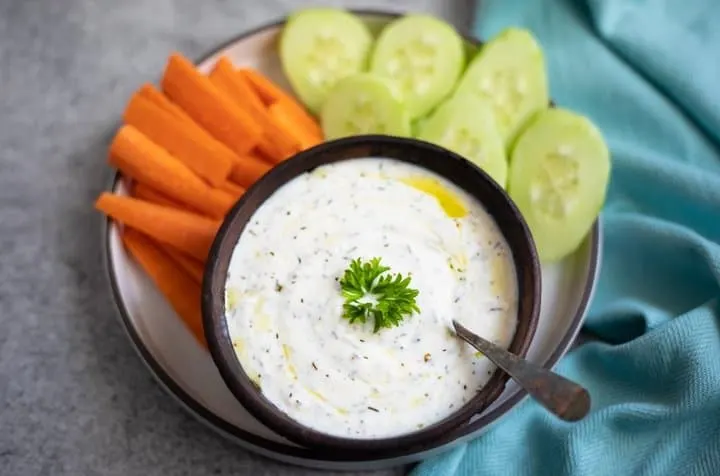 This easy Yogurt Dip is made with a few ingredients and can be put together in just 5 minutes. It is fresh, creamy and flavorful, perfect to enjoy with veggies, fries or as a topping for kebabs.
BBQ Sauces
Not a typical sauce for chicken wings, BBQ sauce is often used for grilled chicken in the summer. I love it year round so why not try it on my wings. Even in the winter! Try any of these delicious barbecue sauce recipes with your next batch of wings.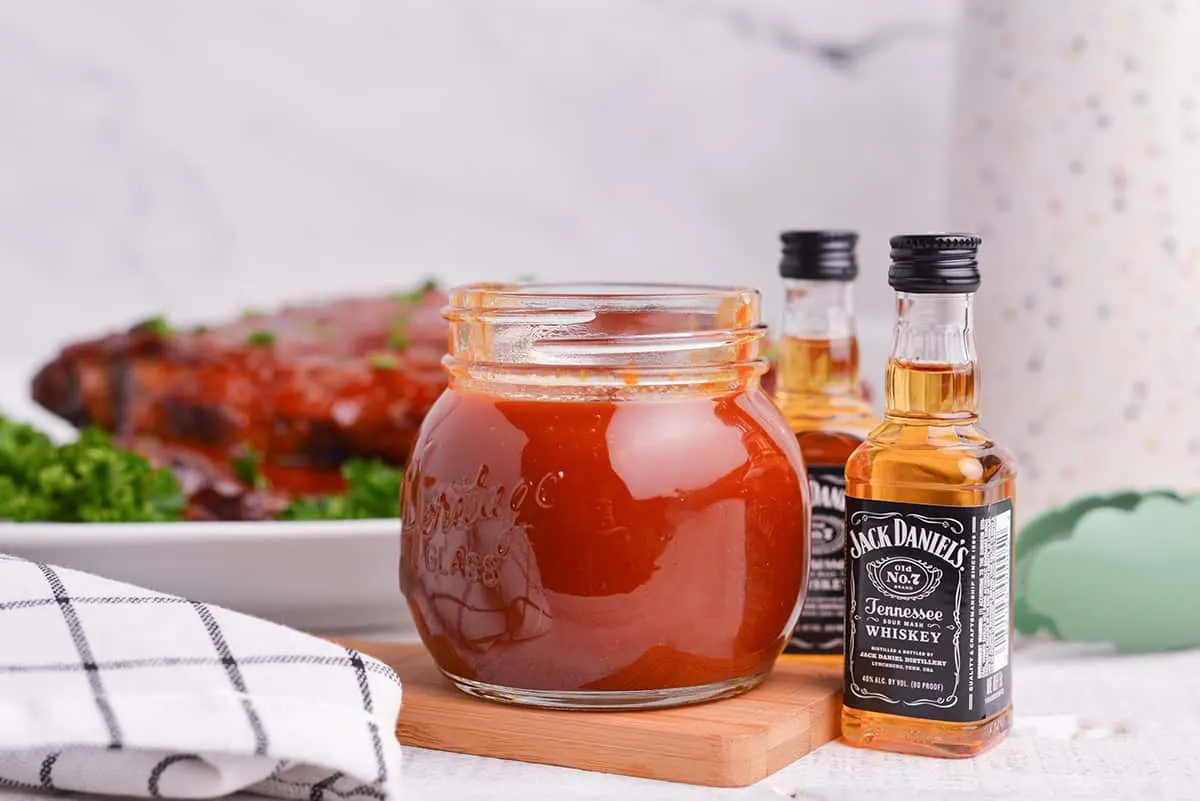 Jack Daniel's BBQ sauce is a heady sauce that is more tangy than it is spicy. The sugars and fruit make it sticky and sweet. The flavors tend to stick around on your tongue for a while.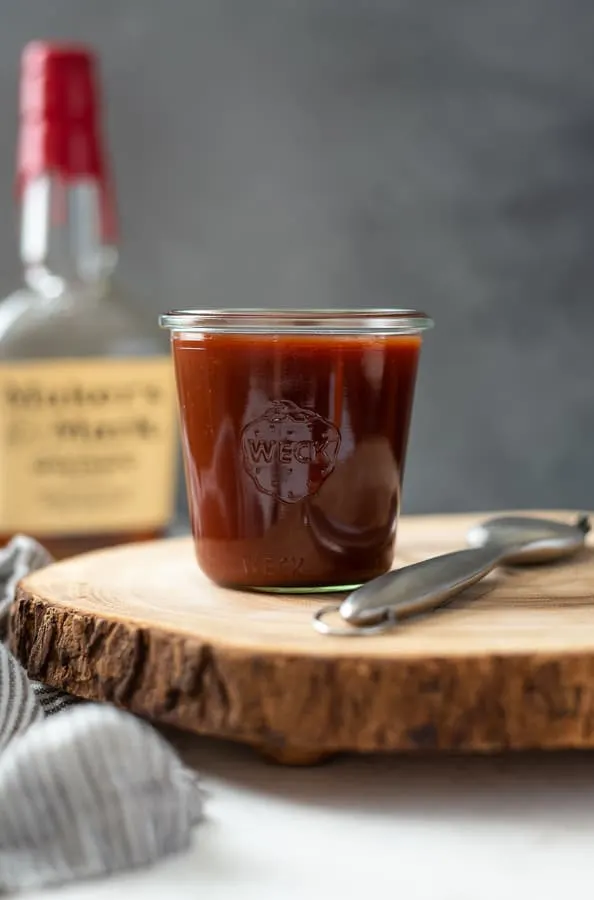 Homemade Bourbon BBQ Sauce is an easy homemade bbq sauce recipe that's sweet and smoky with no refined sugar and big bourbon flavor!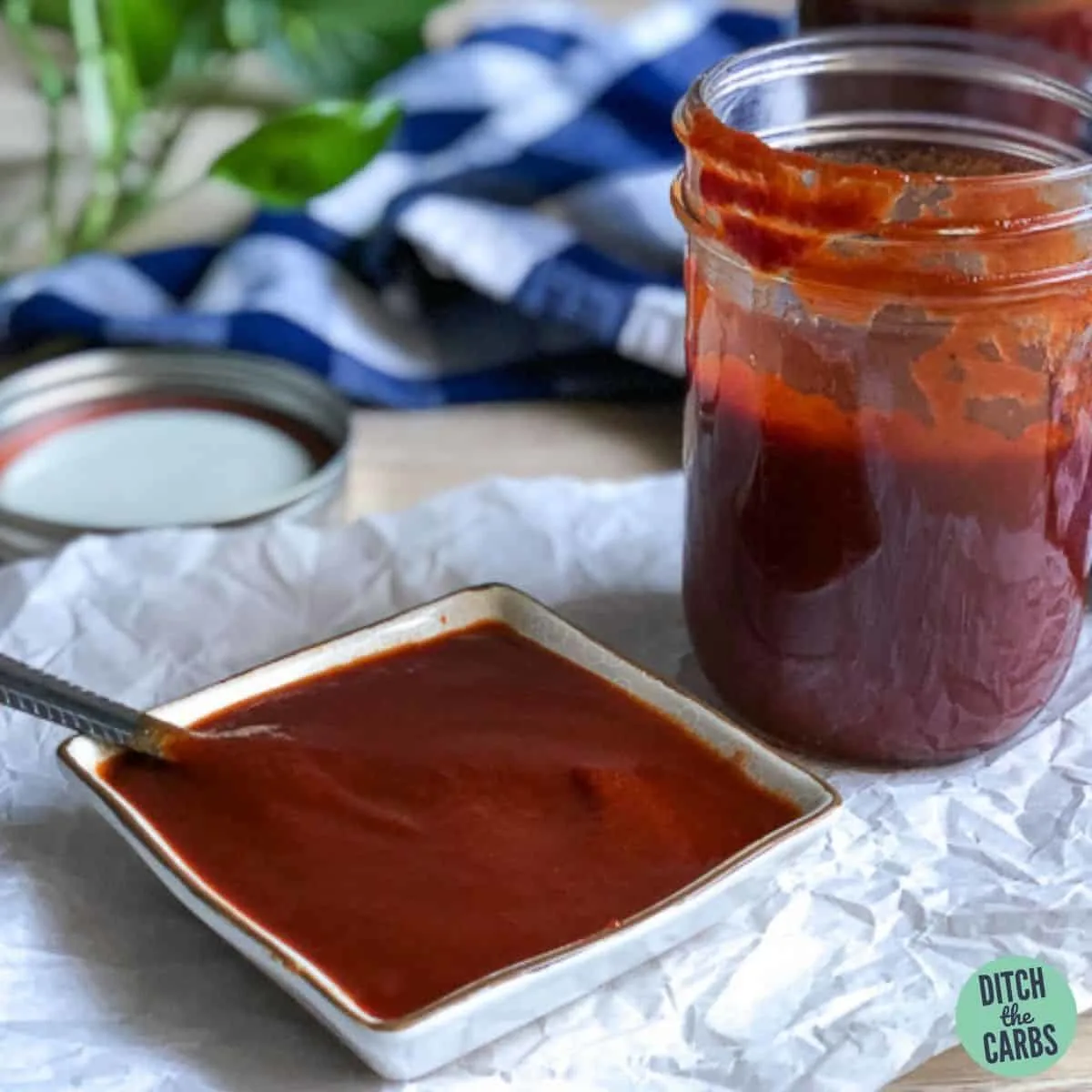 Tangy Keto BBQ Sauce will surprise you with how delicious and easy it is to make! Sweet, spicy, smokey, and tangy. At only 1g net carb per 2 tablespoons, you will soon be adding this easy homemade sauce to many of your family meals.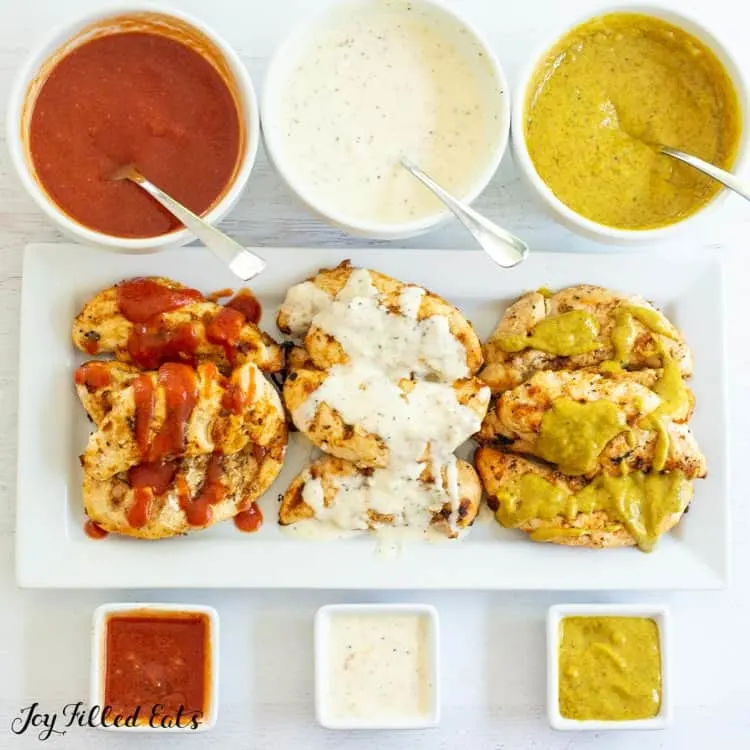 Make homemade low carb Keto Barbecue Sauce three different ways in just 5 minutes! All of these are delicious spooned over your favorite meat, used as a dip, or grilled on chicken, steak, or pork. There is no wrong way to serve these incredible keto bbq sauce recipes. They are all gluten-free, grain-free, dairy-free, and sugar-free too!
This tangy Root Beer BBQ Sauce is the perfect sauce for any barbecue meat. It is gluten, dairy and top 8 free.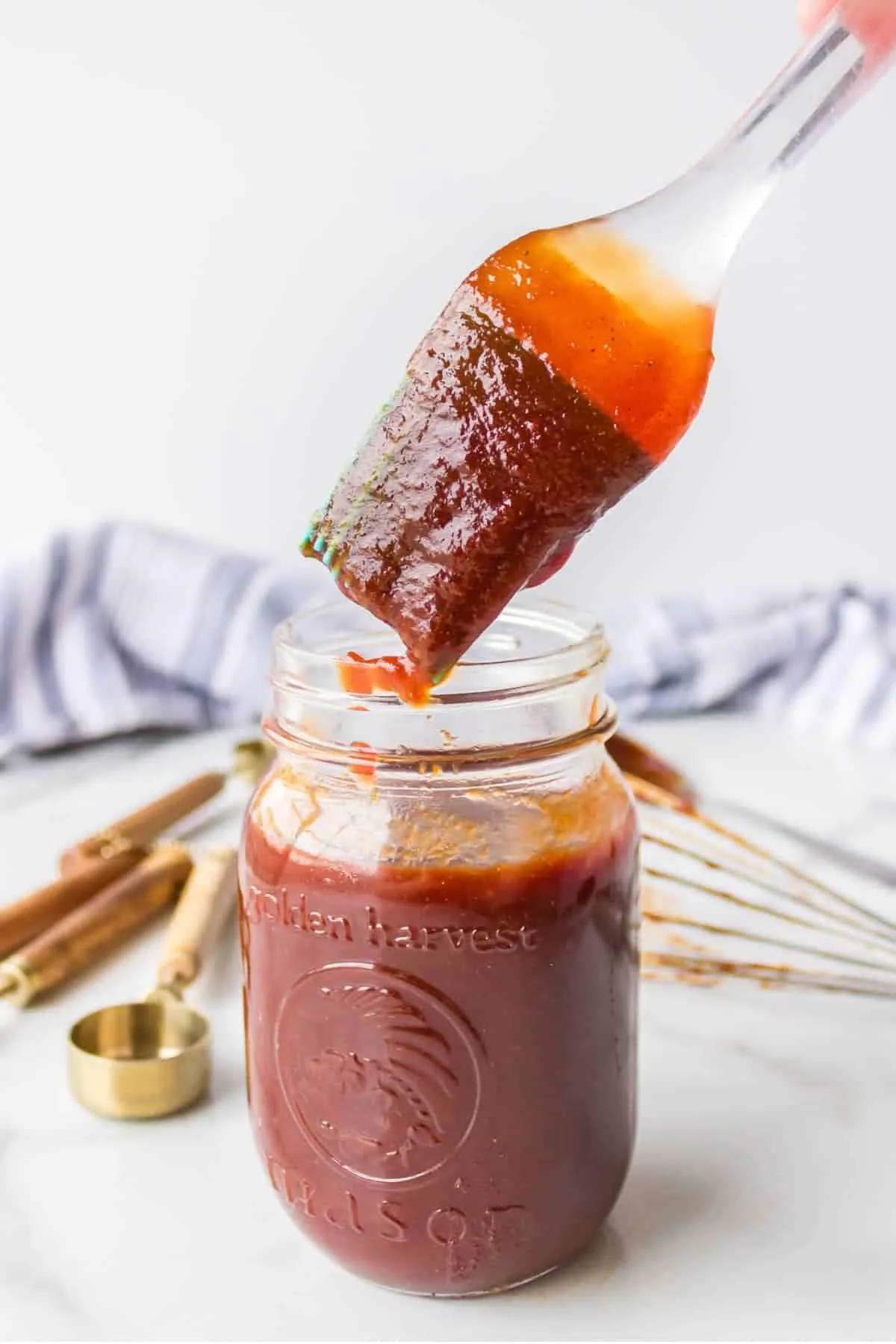 Homemade Kansas City style bbq sauce recipe makes a thick, sweet and tangy, tomato-based barbecue sauce that's perfect with ribs, beef, chicken, burgers, and more!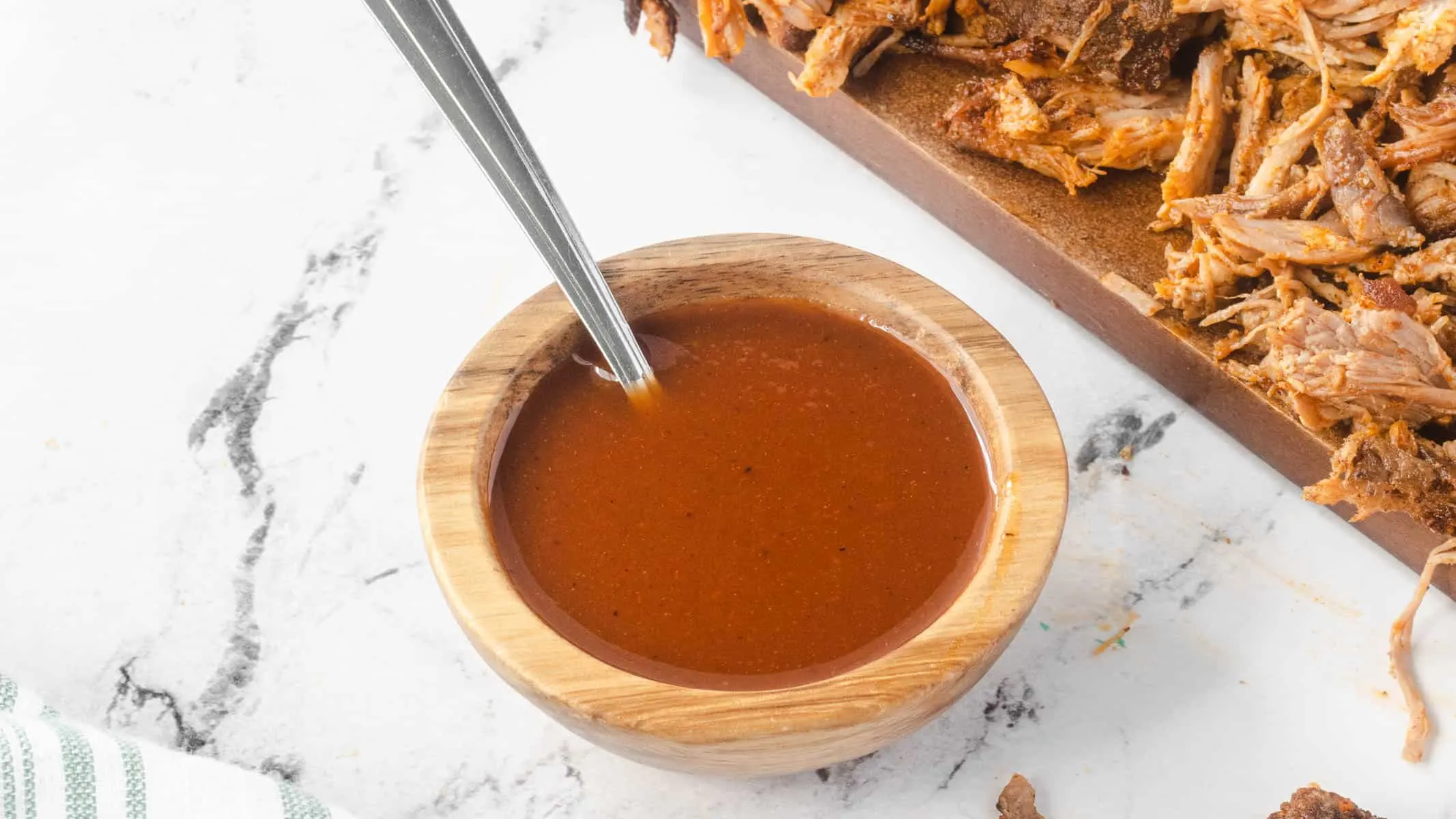 Western North Carolina BBQ Sauce is a vinegar-based tangy sauce that is balanced with the sweetness of ketchup. It is easy to make your own sauce, with only 1 recipe step, and less than 20 minutes of cooking time!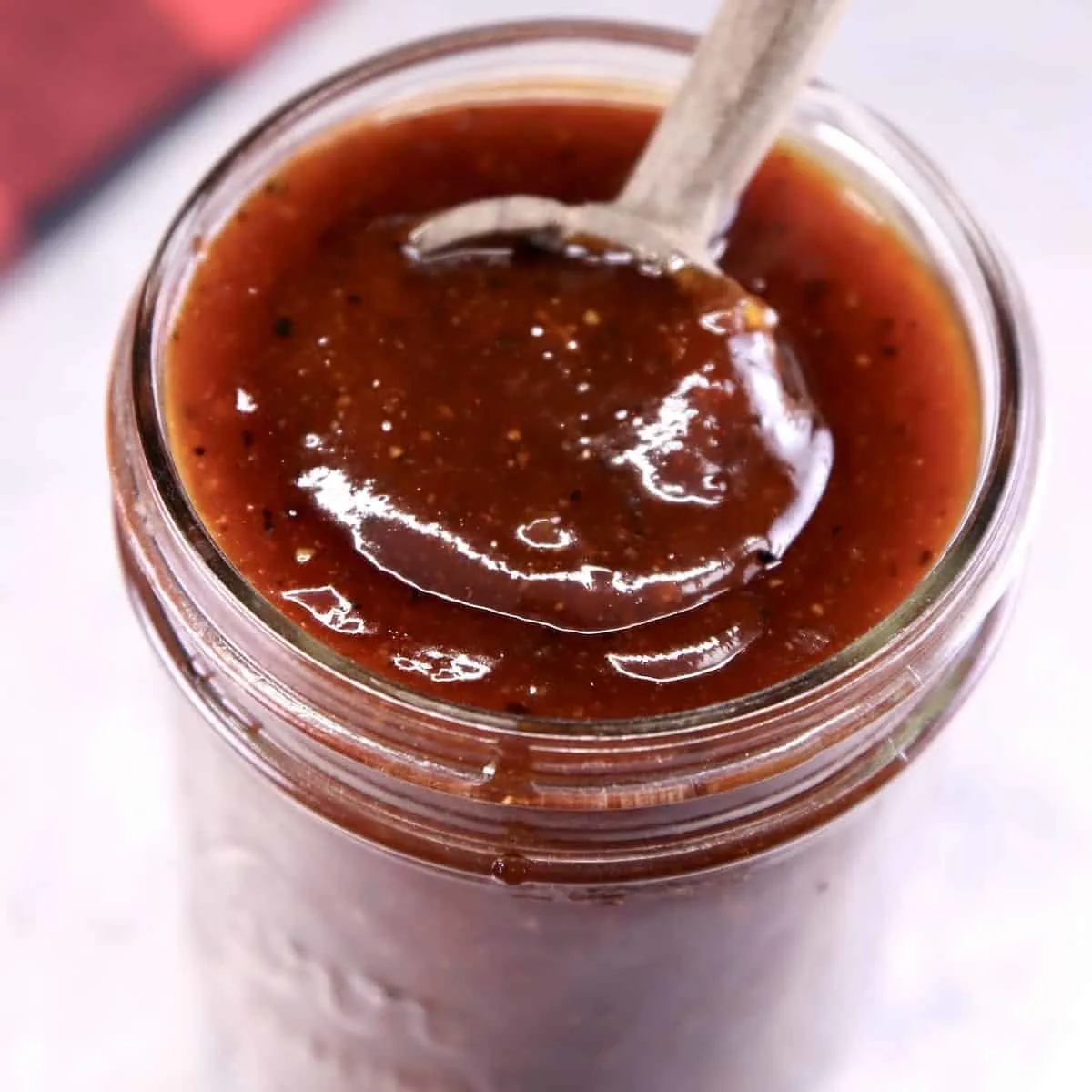 Sweet and Tangy BBQ Sauce is a quick and easy homemade sauce for grilling or dipping. It's thick and rich with tons of garlic, molasses and a tangy apple cider vinegar kick.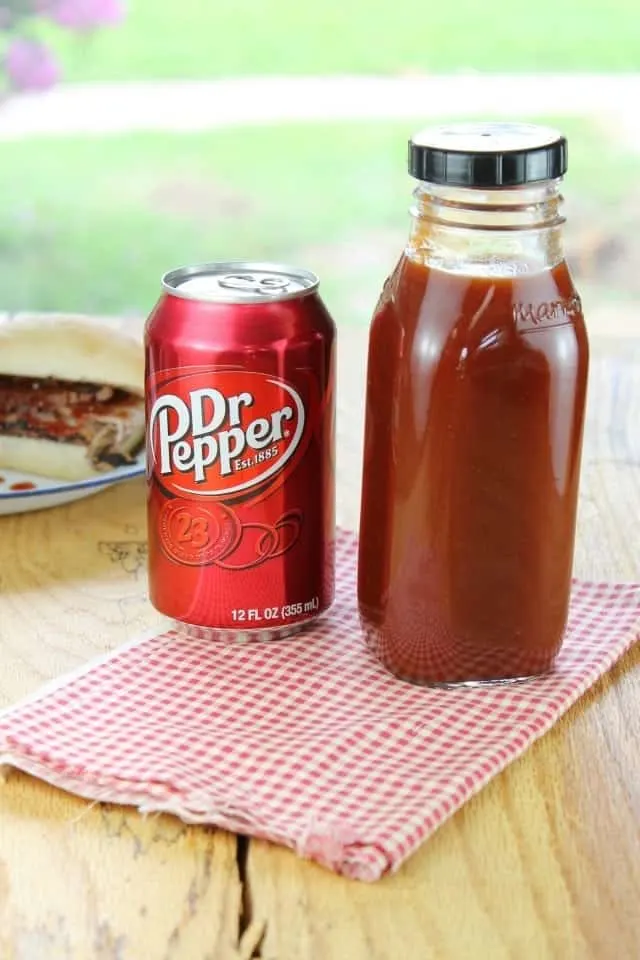 Dr Pepper Barbecue Sauce is the answer for a quick and easy homemade barbecue sauce that is great for grilling!
Honey Sauces
If you love the combination of sweet and salty, then these honey based sauces are just what you need. The savory, salty flavors mix perfectly with the sweet honey to create a perfectly balanced sauce for your chicken wings.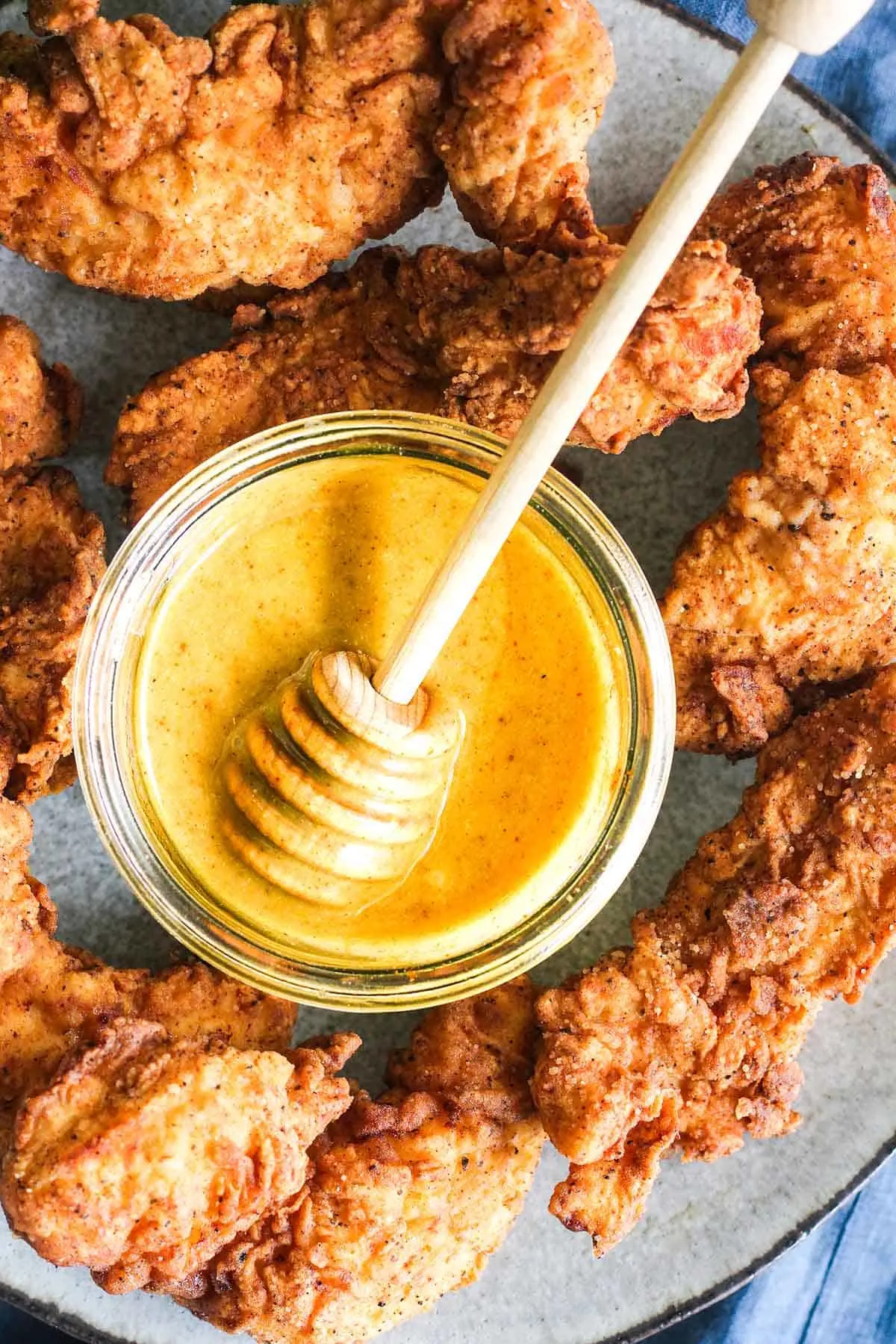 Whip up this six-ingredient spicy honey mustard in less than five minutes, adjust to taste, and dig in! This kickin' honey mustard can be enjoyed as a dip, sauce, or dressing. Naturally gluten-free, dairy-free, and vegetarian.
Honey infused with red chili pepper flakes to create a sweet and spicy glaze for pizza, chicken wings, ice cream, roasted veggies, salads and so much more!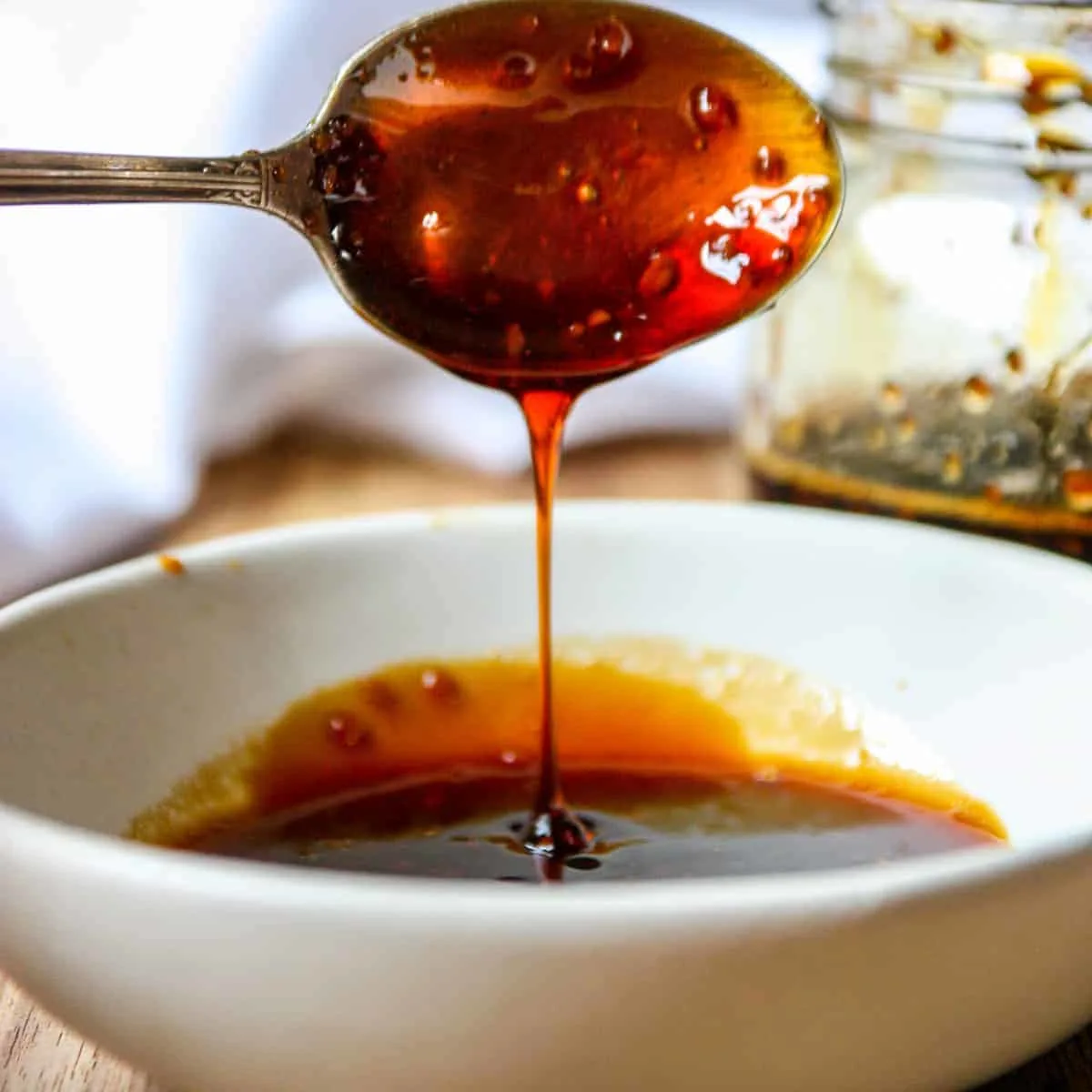 Homemade sauces and condiments always taste better than store bought, and this delicious Honey Teriyaki Sauce is no exception. And you won't believe how easy it is to make!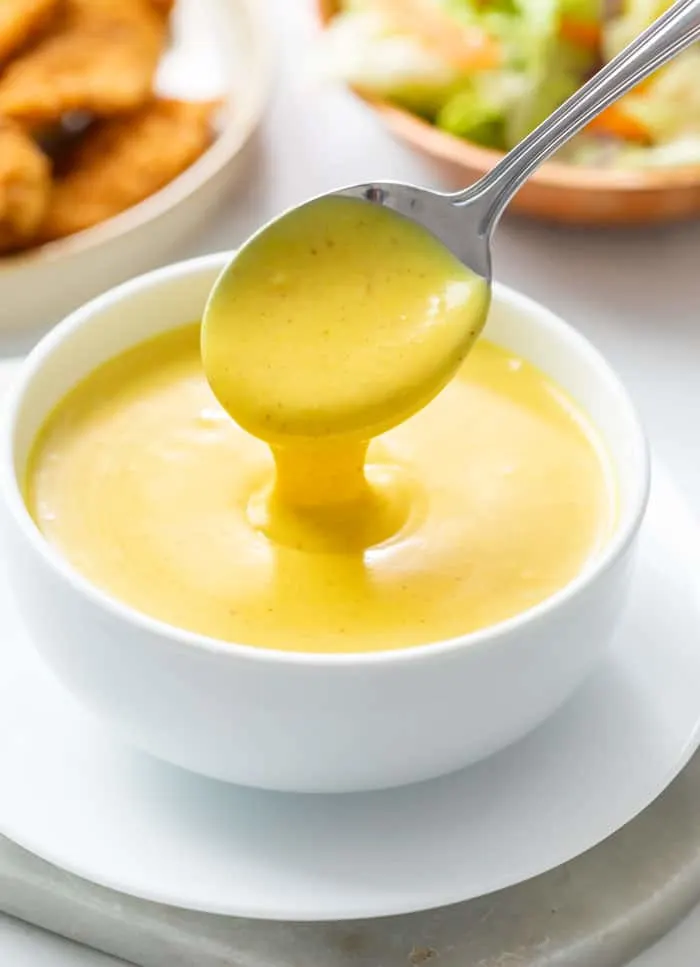 This creamy honey mustard makes a perfect dipping sauce, salad dressing, or addition to pork and chicken! It takes minutes to make and has the perfect balance of simple flavors.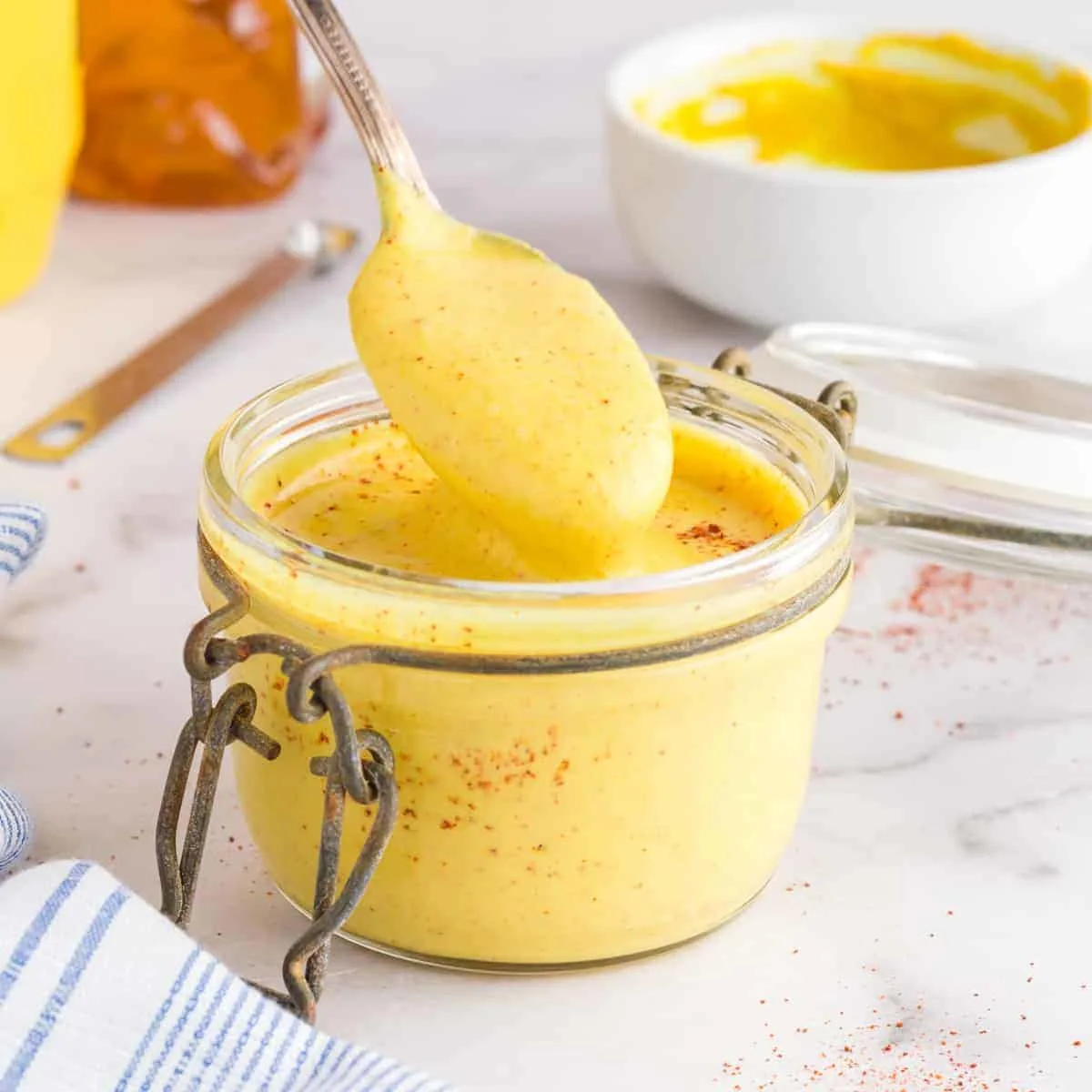 Spicy Honey Mustard Dipping Sauce is the perfect combination of sweet, tang and spice! It's delicious with chicken strips, fries, raw veggies, and so much more. The recipe is also as easy as it gets.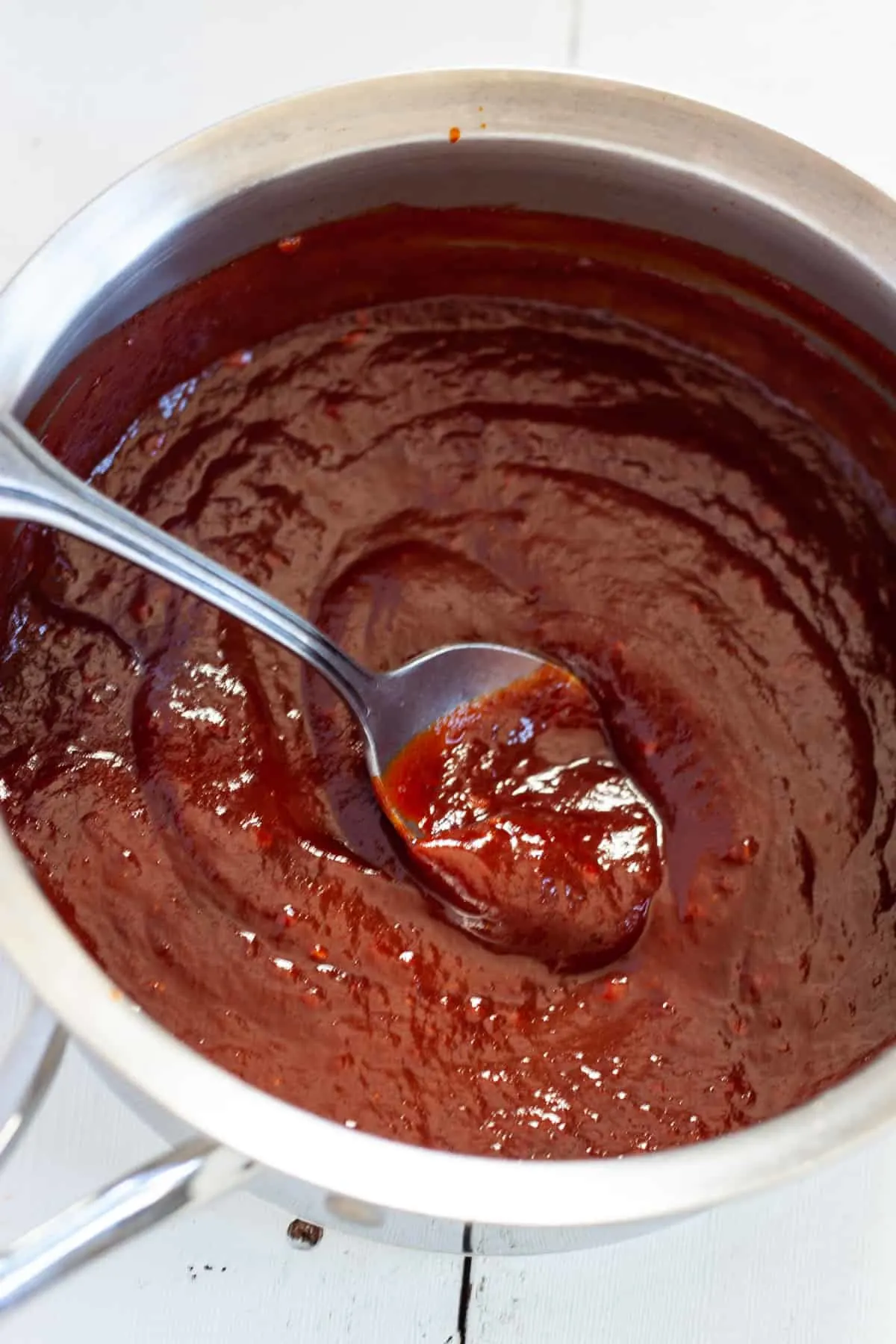 Sweet, smoky, tangy, and fiery, this super Easy Honey Chipotle Sauce is perfect for everything from coating chicken wings to topping a cream cheese appetizer.
Additional sauces
Outside of the traditional dipping sauces you might use for your chicken wings, there are sauces that you can use as a glaze for the wings so they are not dry or sauceless. These are also great for use with dry rub wings or grilled chicken wings.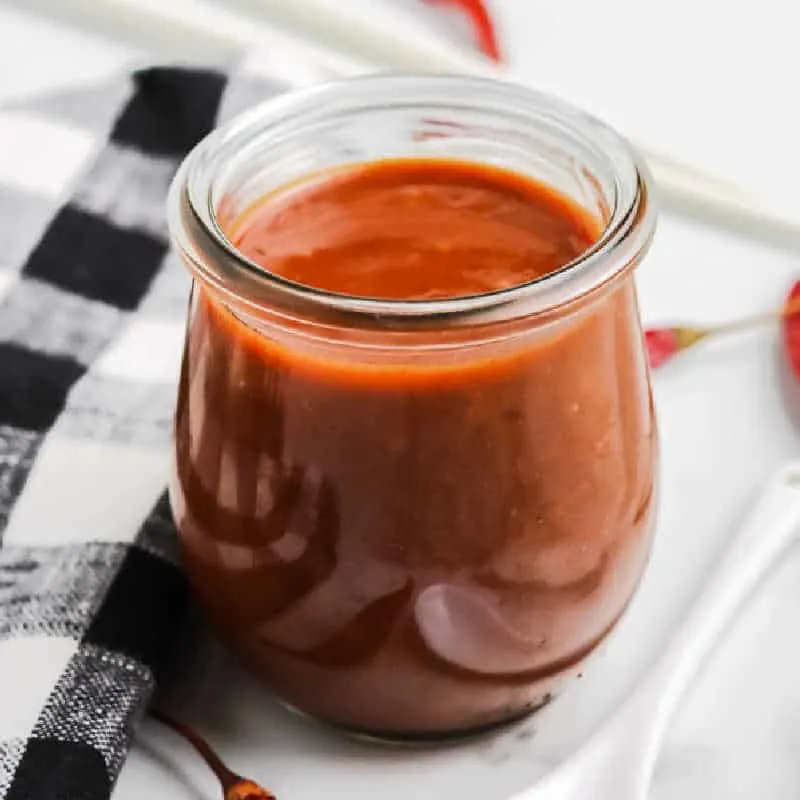 Making authentic Asian recipes requires an authentic homemade Hoisin Sauce, and now you can make it at home quick and easy!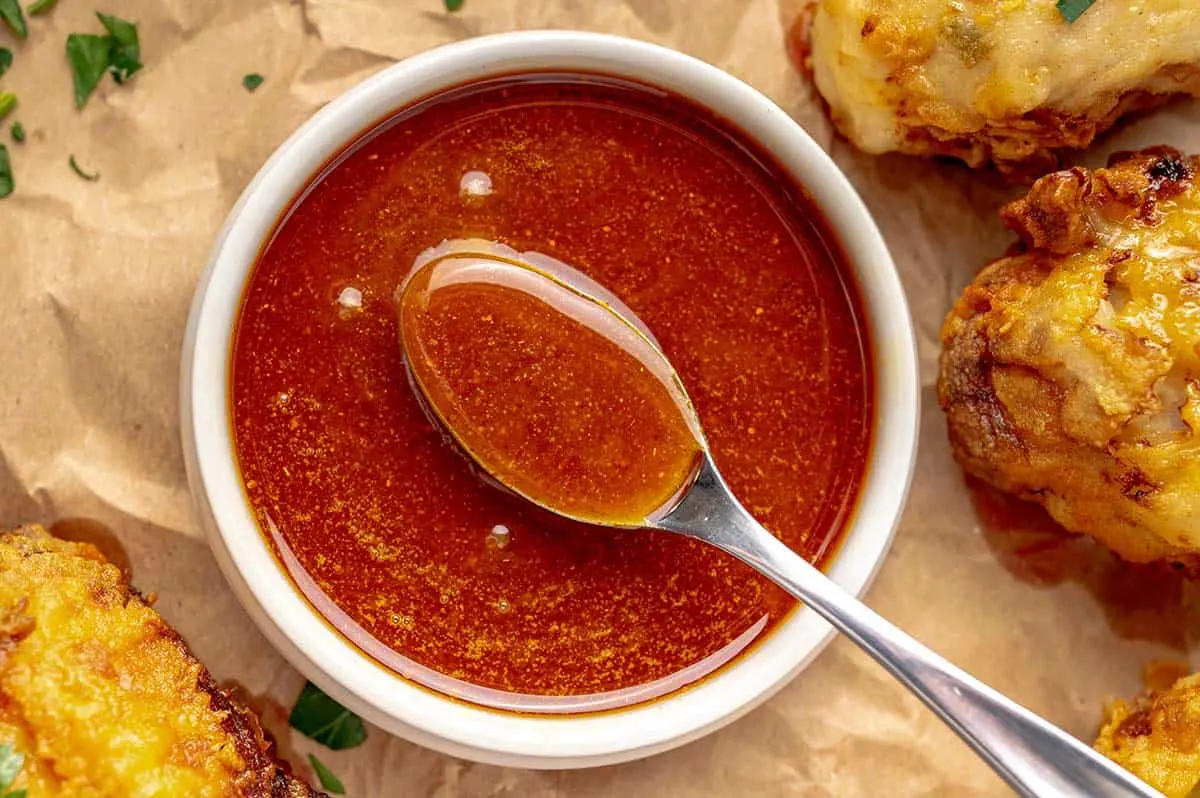 Nashville Hot Sauce is a regional hot sauce made from cayenne pepper, other spices and brown sugar. Served on fried chicken to make Nashville Hot Chicken.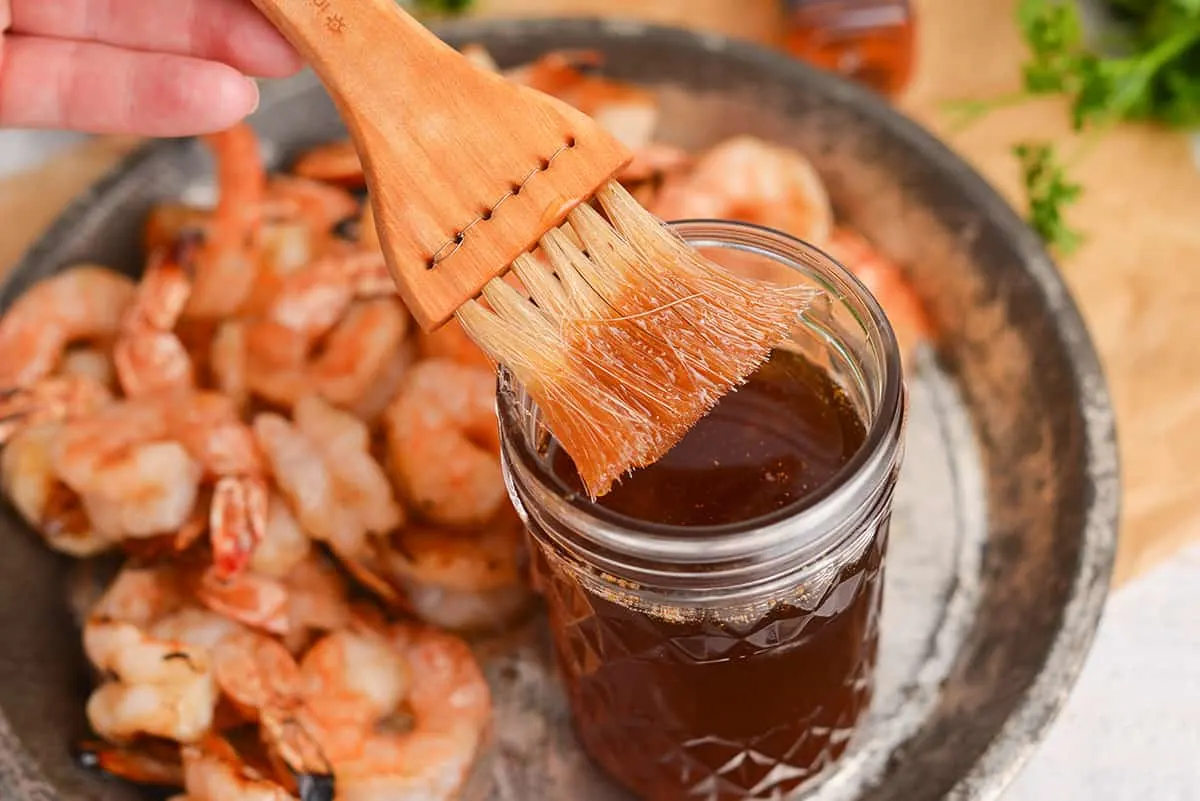 Formerly known as TGI Fridays Jack Daniel's Sauce, it is commonly confused with Jack Daniel's BBQ Sauce. The class Whiskey Glaze has been discontinued from commercial sales, but is still available at the restaurant… and now at your home!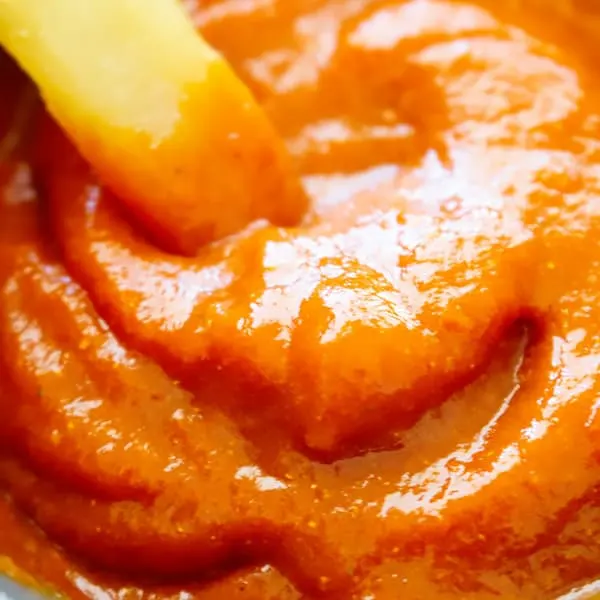 Quick flavored curry ketchup is a spiced-up version of our world's favorite condiment.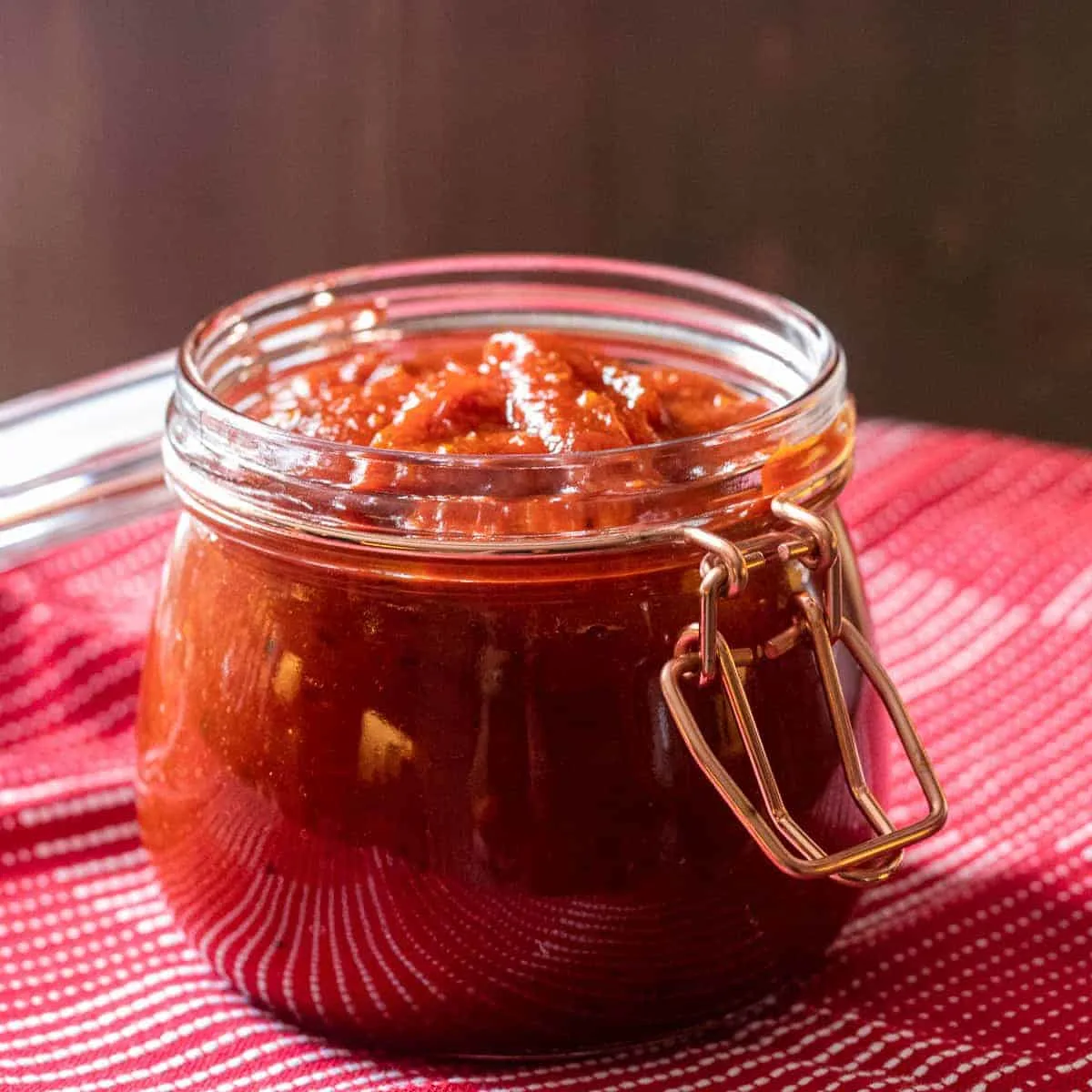 This sweet and spicy Thai style chilli jam is very easy to make at home as long as you have a food processor and a saucepan! It is a fuss-free type of recipe that you can put together in less than 10 minutes and forget about it for a couple of hours. All you need to do is to blitz the mixture to a smooth sauce at the end of the cooking process.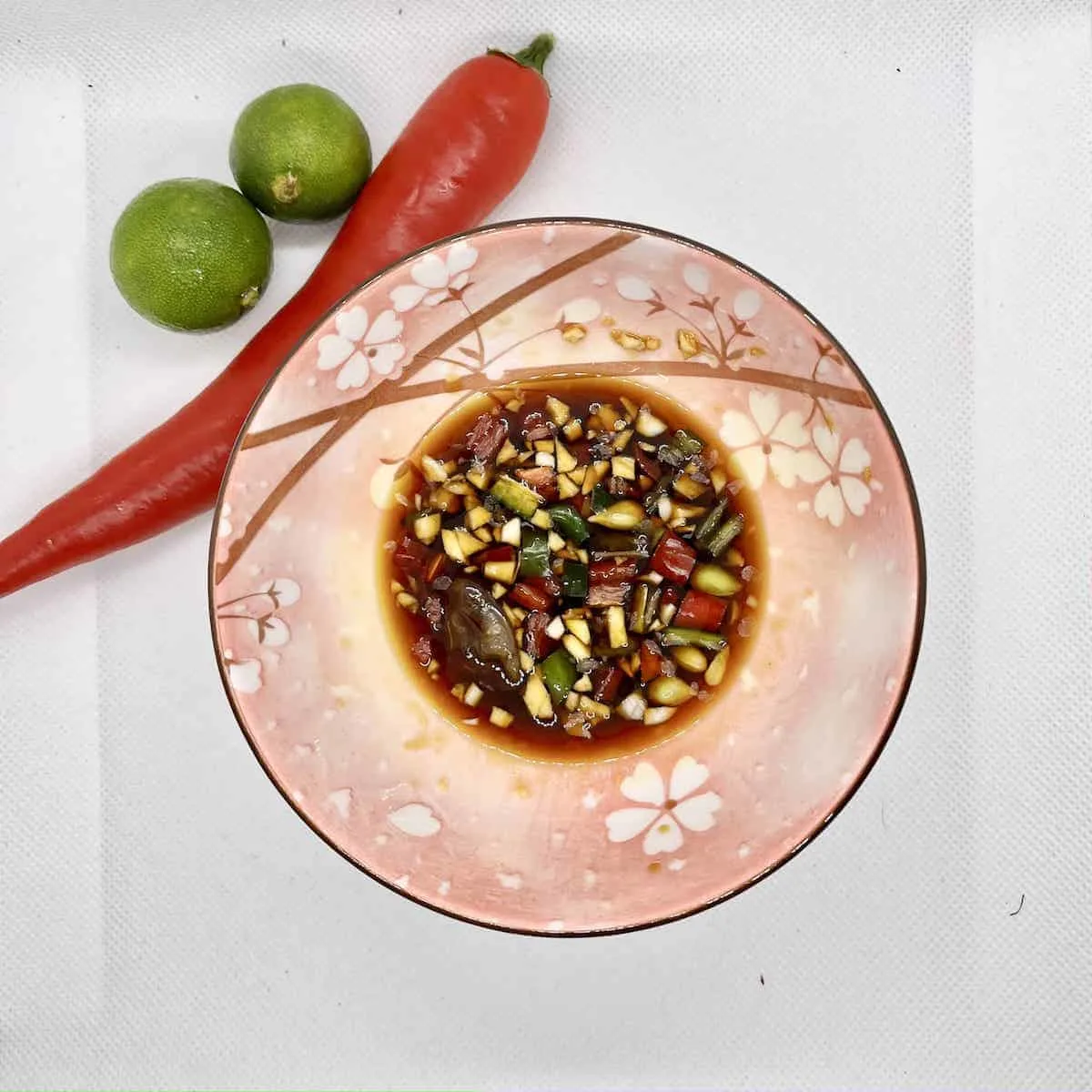 Toyomansi sauce is a classic Filippino dipping sauce (also known as Sawsawan), often used for Siomai or as a marinade for chicken, fish, pork adobo and even beef, that is deliciously tangy but ever so easy to make. you only need 3-4 main ingredients, and 5 minutes!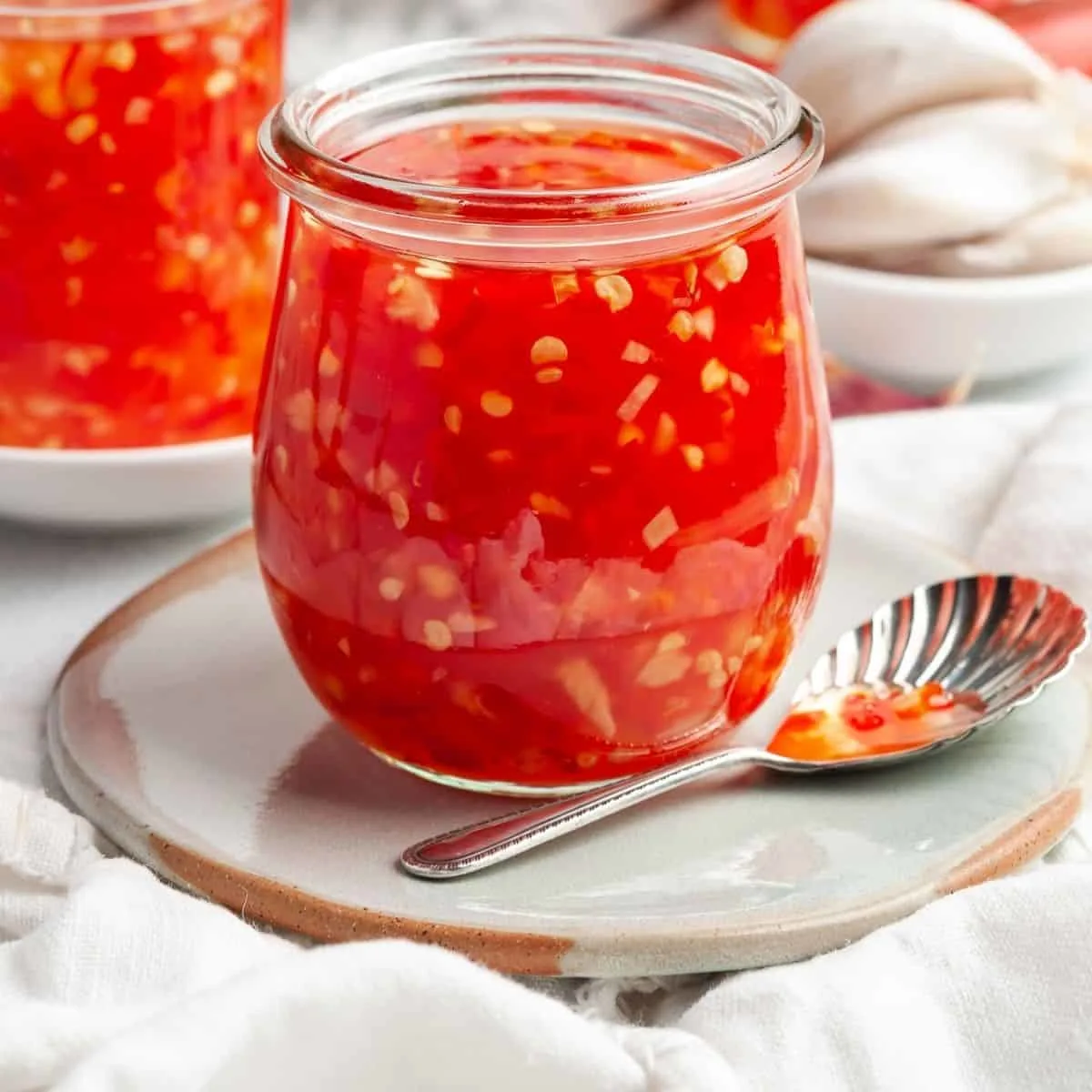 You will find many ways in which to enjoy my homemade Sweet Chilli Sauce and you will be pleasantly surprised how easy it is to make. It is made from ingredients that are readily available and, as with all foods that we make ourselves, we can control the quality of the ingredients which we use. It is certain to become a staple condiment in your home!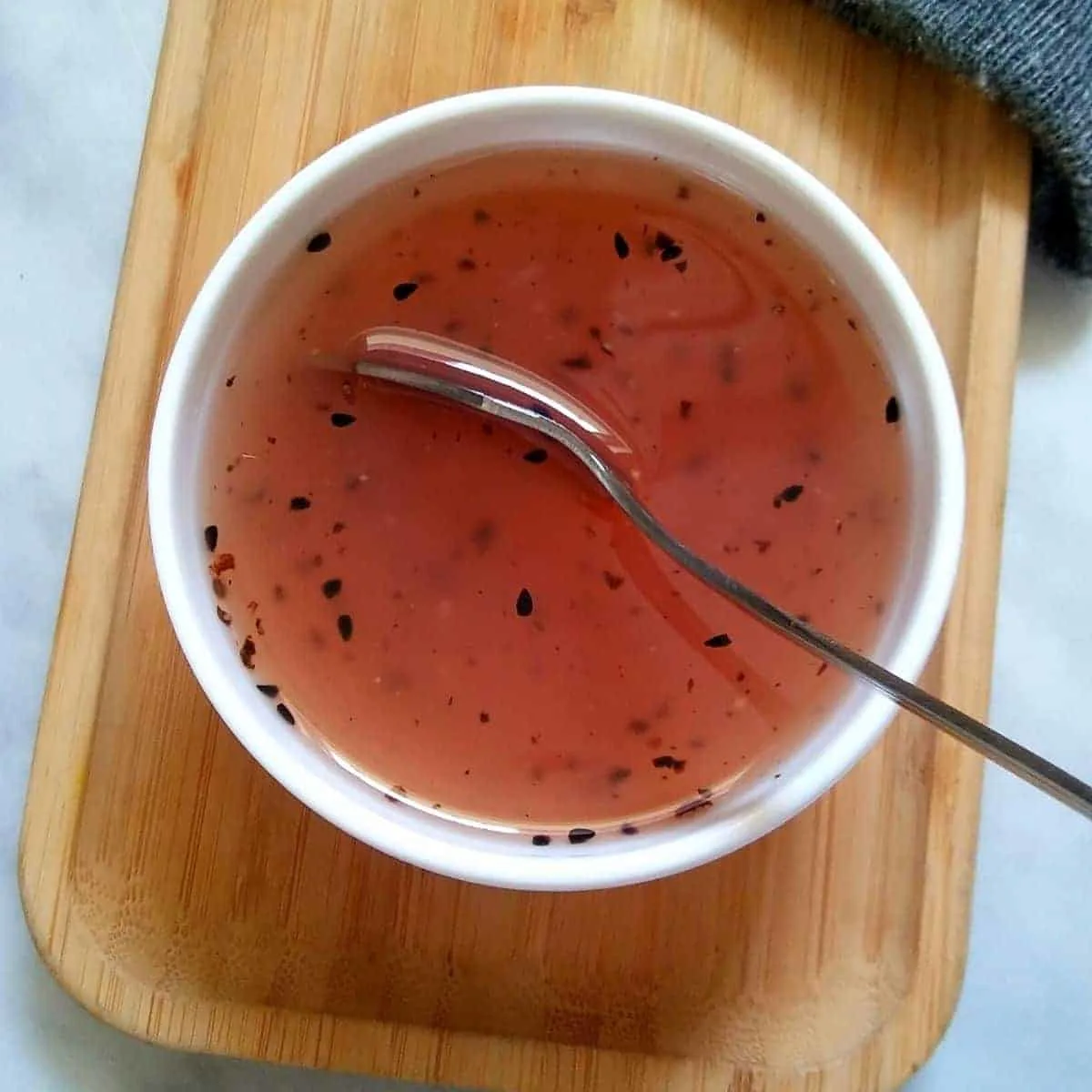 Easy Subway sweet onion sauce recipe made from scratch within 15 minutes. If you love sweet onion sauce at Subway, this recipe is for you!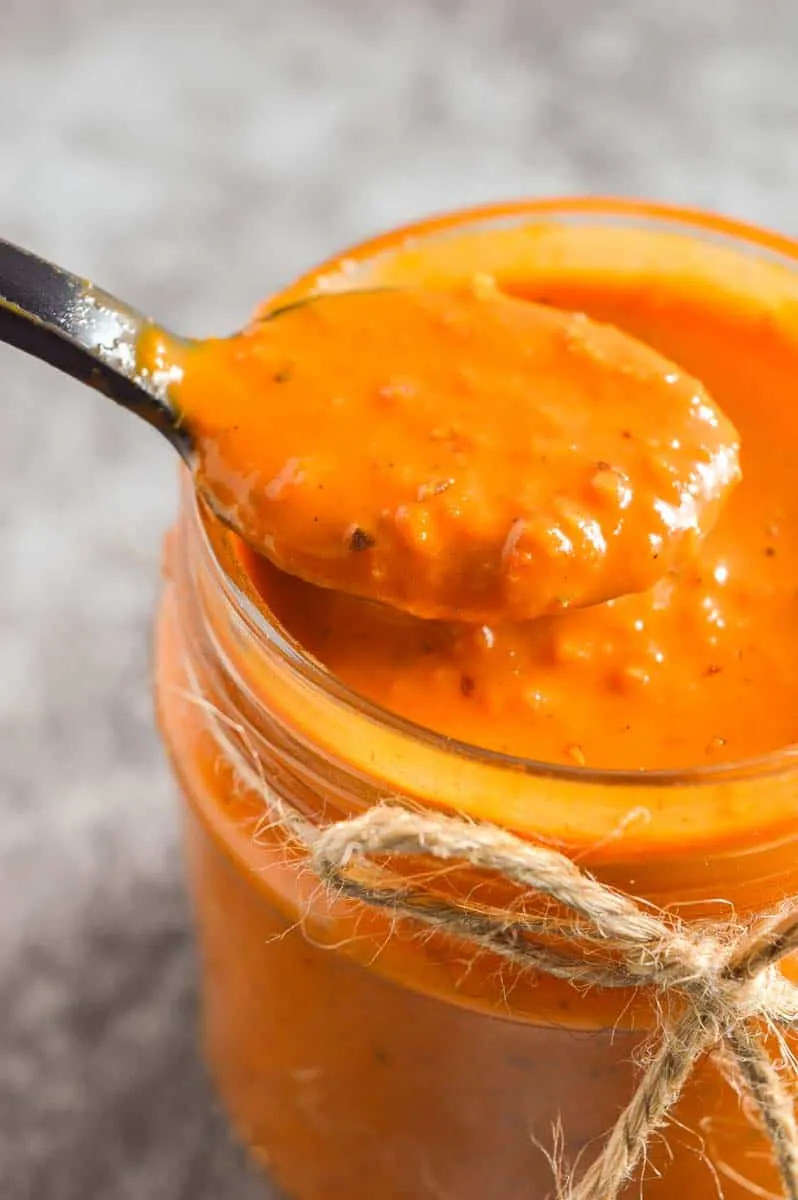 This spicy thick tangy peri peri sauce recipe is delicious, easy to make, dairy-free, and egg-free. Red bell pepper, ground black pepper, a fresh chili pepper, smoked paprika and a handful of other simple ingredients are all you'll need, ready in just 15 minutes!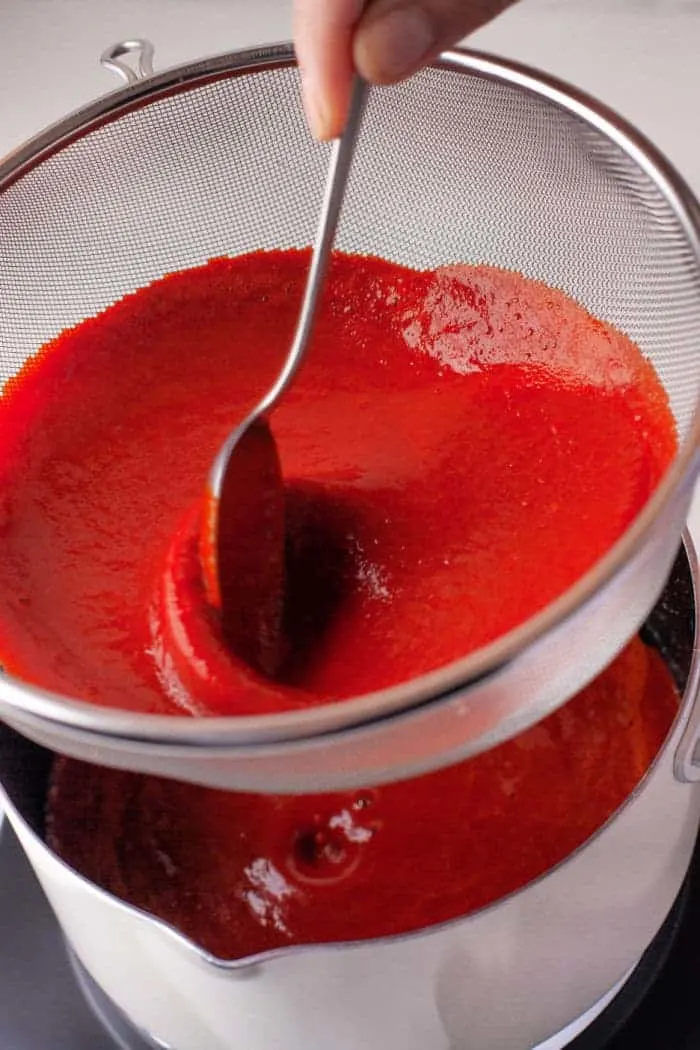 Homemade Asian chicken wing sauce can be as spicy as you want, or mild. Give your air fry wings or baked wings a kick of flavor with this. Skip the plain soy sauce!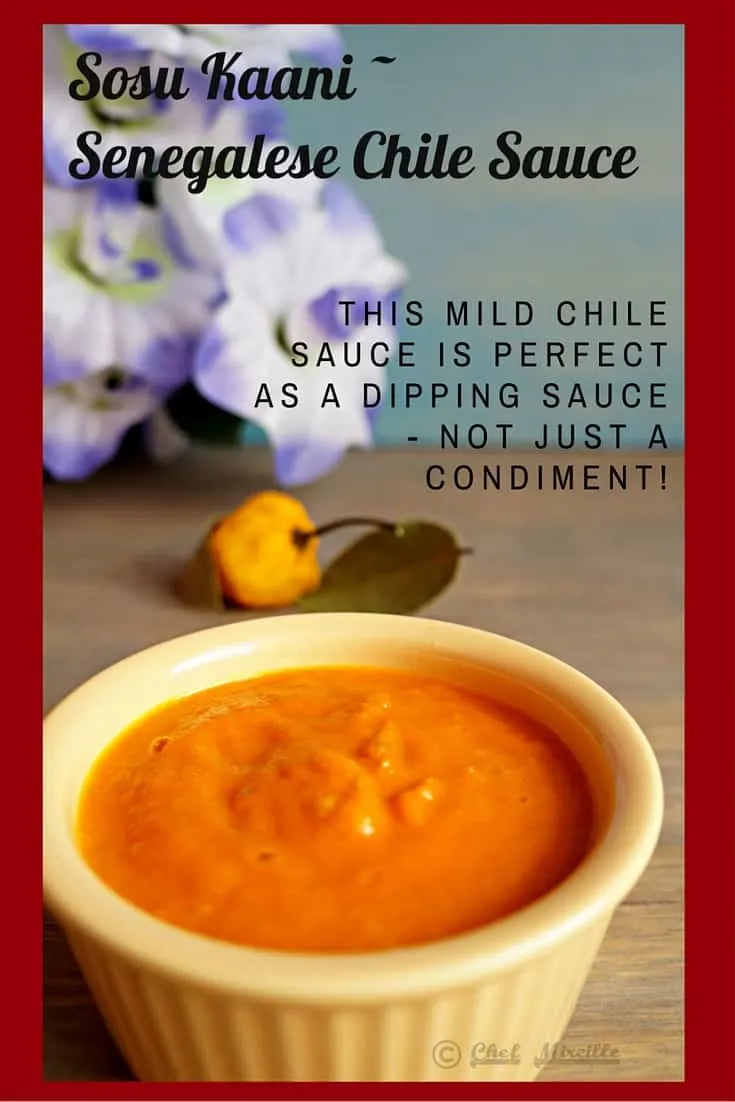 Sosu Kaani – Senegalese Chile Sauce is a mild hot sauce that is perfect to dip your fried foods into.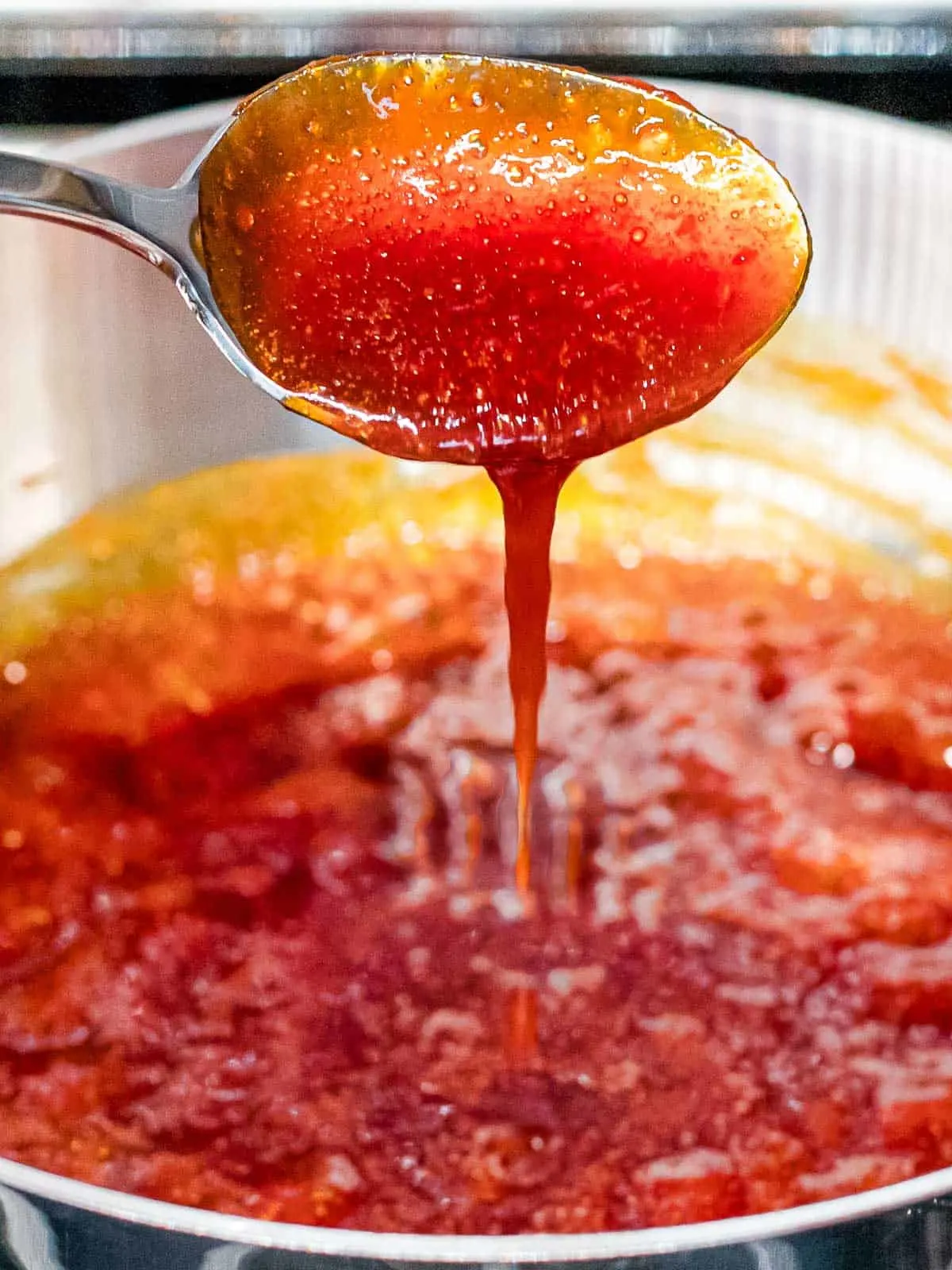 This gochujang sauce is sweet, spicy, and perfect as a Korean fried chicken sauce (yangnyeom sauce) or as a glaze to brush on protein! Use it on Korean fried chicken, pork, seafood, beef or even tofu and vegetables!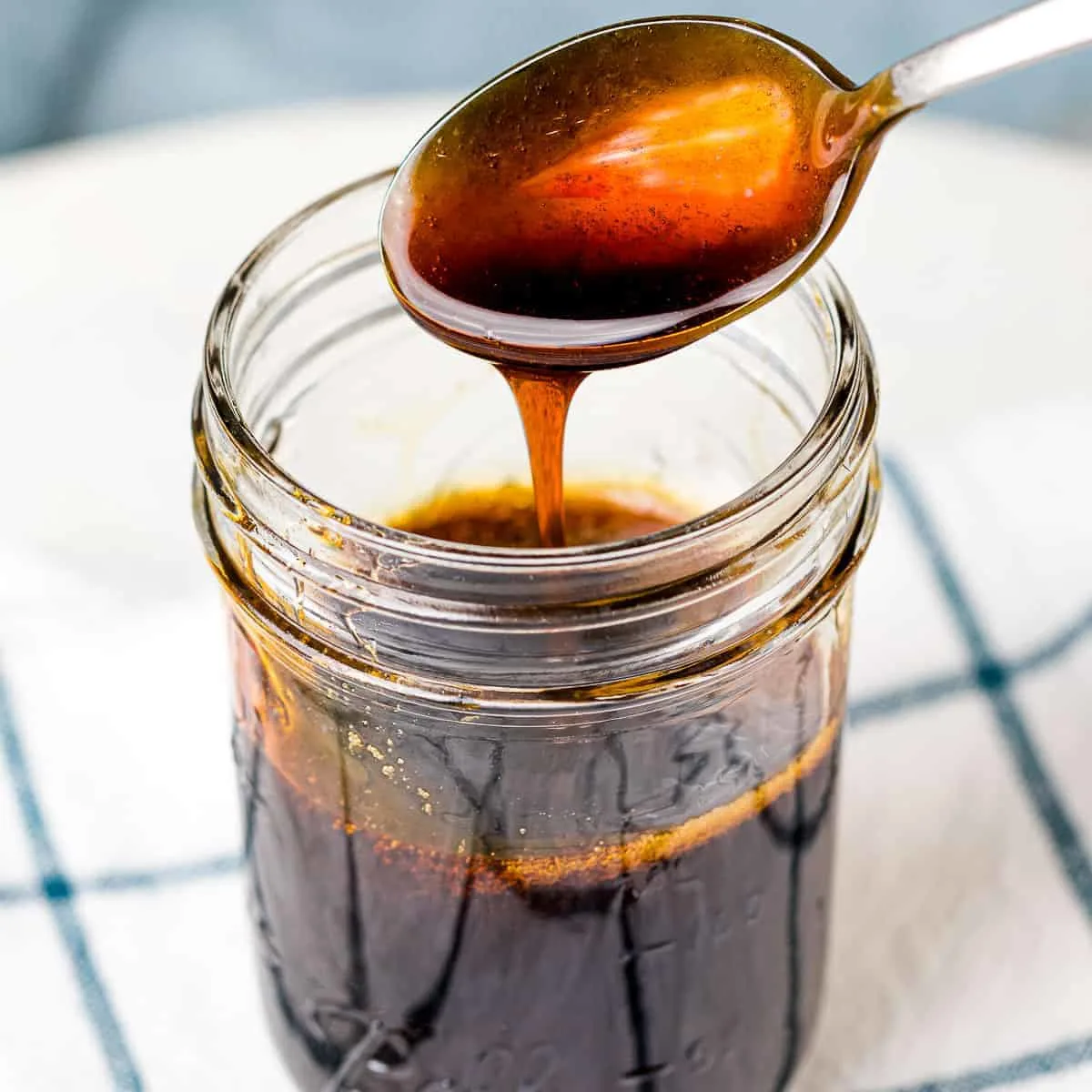 This easy homemade teriyaki sauce is made with just three ingredients and is ready in only 10 minutes! Pair this simple Japanese teriyaki sauce in stir fries with any protein and vegetable or use as a marinade, dip, or glaze!
Homemade buffalo sauce is rich and tangy with a little kick. Brought together in less than 5 minutes and so many uses, make a batch to keep in your fridge!
If you love this recipe as much as I do, please write a five-star review in the comment section below (or on Pinterest with the "tried it" button – you can now add pictures into reviews, too!), and be sure to help me share on facebook!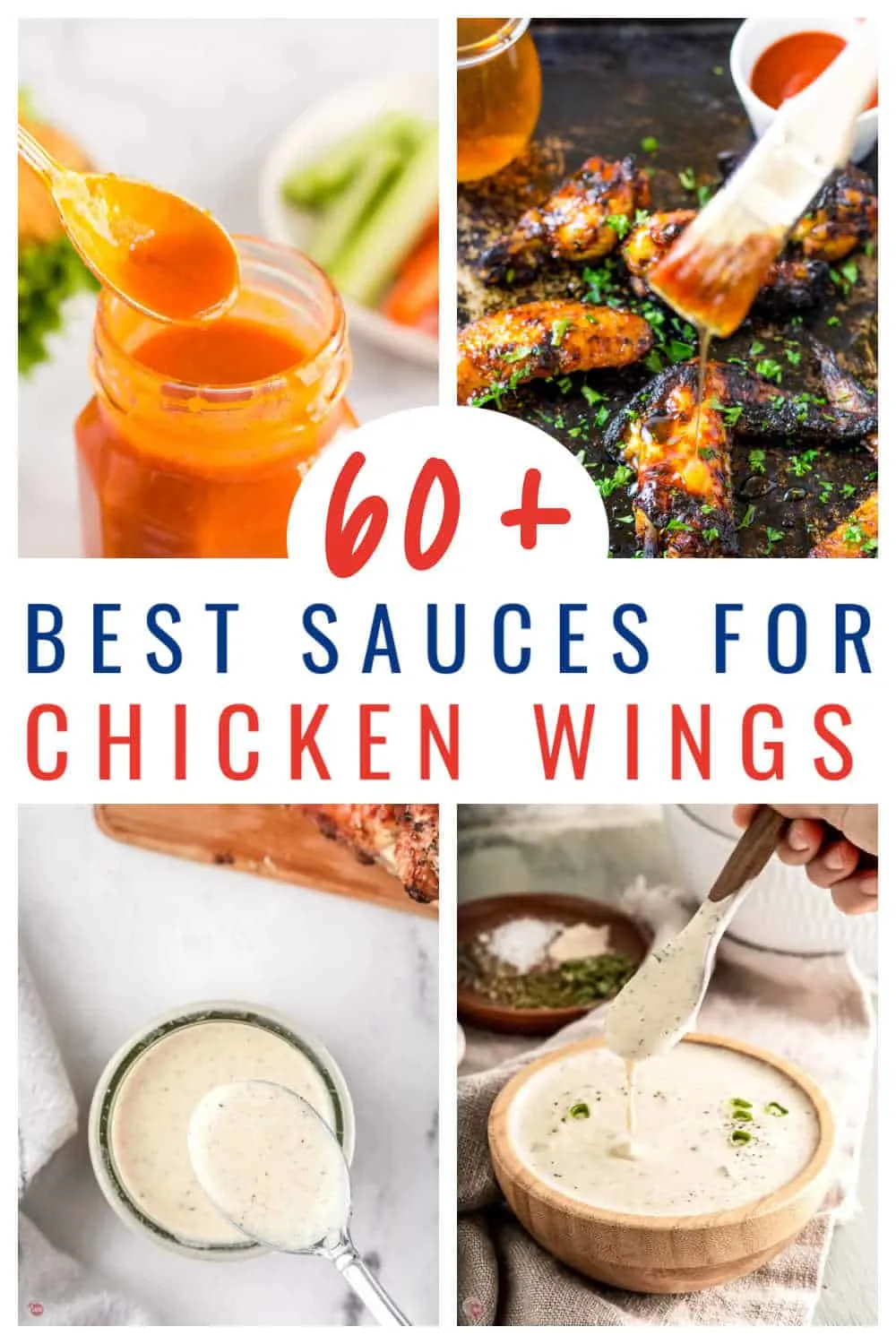 These delicious chicken wings sauces are sure to be a hit on any of your favorite wings!
Chicken Wing Recipes
TakeTwoTapas.com. Content and photographs are copyright protected. Sharing of this recipe is both encouraged and appreciated. Copying and/or pasting full recipes to any social media is strictly prohibited.