Warm and spicy steakhouse tater tots have the right amount of kick with my homemade steak seasoning. Take them for a cool dip in jalapeno ranch for an awesome snack!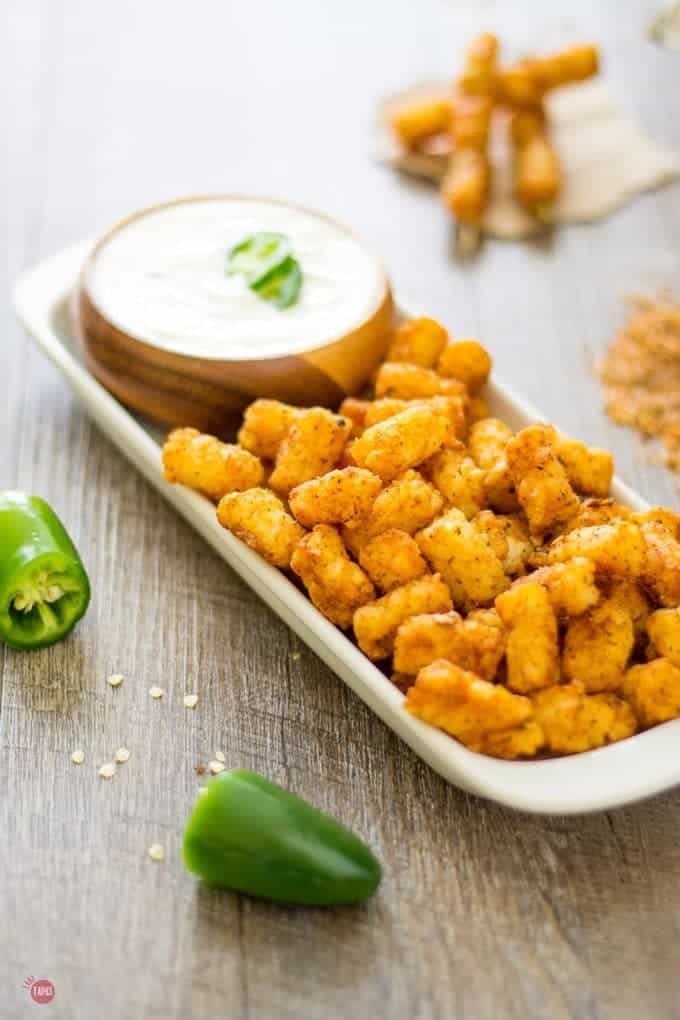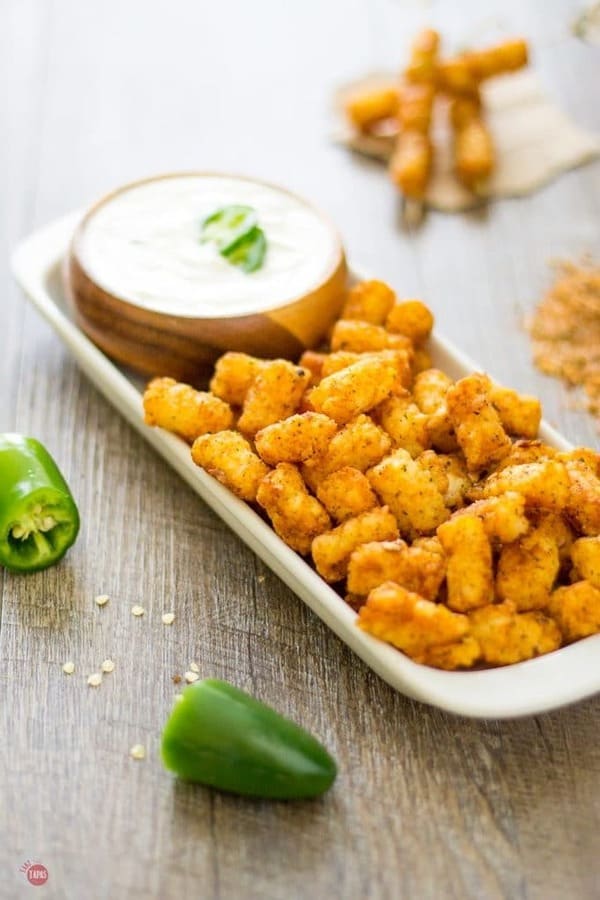 Tater tots are funny little spuds, aren't they? I always feel like a redneck when I say "tater." Did you hear my accent when you read it? I always think of inexpensive meals and foods when I hear the words tater tots. How can we make these simple baby spuds seem more elegant?
Insert the meat and potatoes crowd that is gathered at their Fru-Fru steakhouses eating expensive cuts of meat and perfectly salted baked potatoes or potatoes mashed with roasted garlic.
What do you think the would say when the server brought a plate of tater tots? I know what they would say! Give me more of those Steakhouse Tater Tots!
Know why they are saying it? Because my Steakhouse Tater Tots are the bomb!! Or you can say in general that potatoes are the pretty freaking awesome.
In that post, I mentioned that my oldest son received a t-shirt for Christmas that has a dancing potato on the front stating that "Potatoes gonna po-tate!" He still wears it!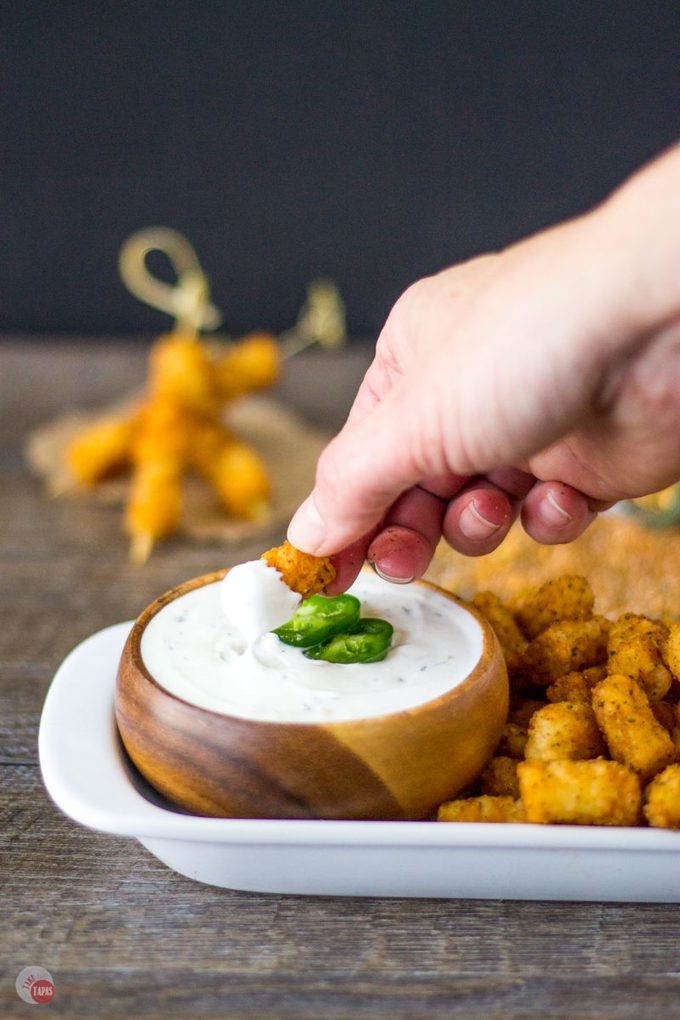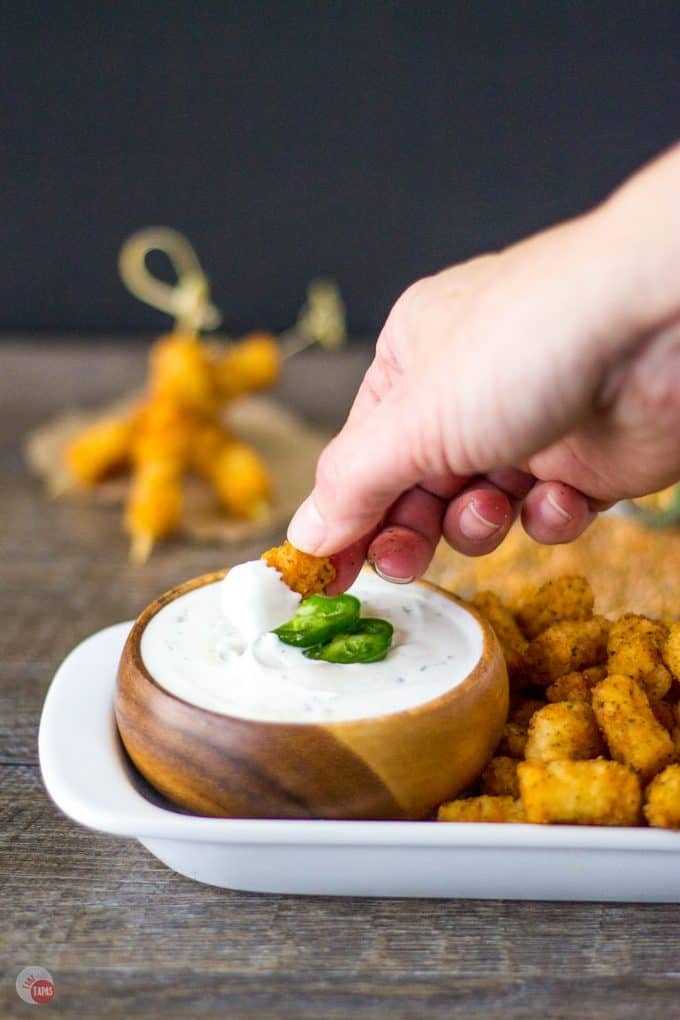 I saw one funnier than that the other day on Pinterest that said," Potatoes give us chips, fries, and vodka. Get your Stuff together every other vegetable!" I fully agree with this statement. We need more vegetables to step up to the plate like potatoes. Even in the humble status as a tater tot, the potato is majestic!
I am elevating the humble tater tots to Steakhouse status with a simple homemade seasoning and a cool and spicy dip. Come with me on my tater tot adventure!
My favorite way to eat potatoes is in mashed form with peas and butter stirred in. My second favorite way is a french fry. A big, thick, meaty steak fry that I can coat with a thin layer of salt and dip in ketchup.
I am really surprised that I have not had a heart attack with the amount of salt I have eaten while attached to a potato.
This post may contain affiliate links. As an Amazon Associate, I earn from qualifying purchases. Read my disclosure policy here.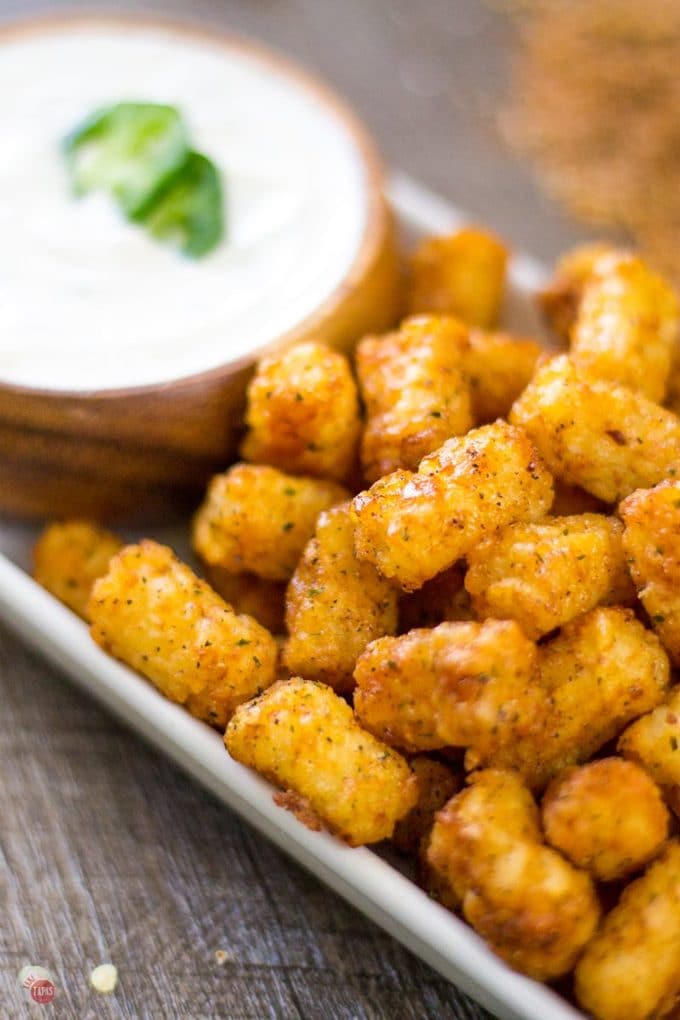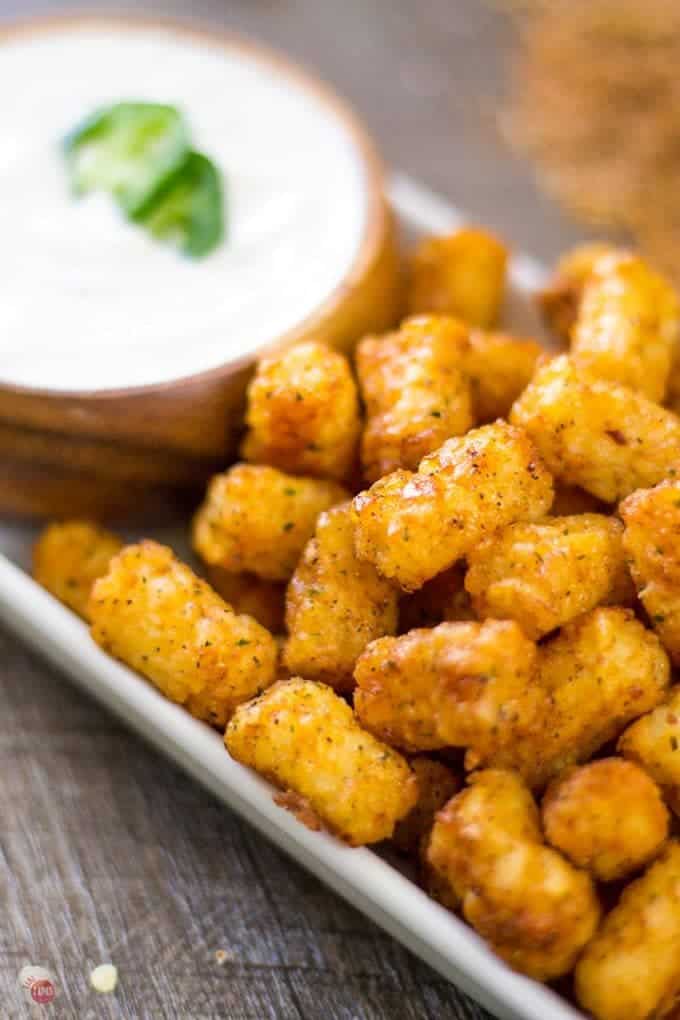 Perfect for the big game or any steakhouse tater tots craving!
At the store this last time, I wandered through the frozen foods section and found myself in the potato section, grabbing a bag of steak fries.
Right next to them, a bag of tater tots. MINI ONES!! Tater tots are already small compared to whole potatoes but to come in a mini version, makes me overly excited! I mean, smaller foods are my middle name!
Actually, it is Ann, but we will stick with smaller foods. Grabbing that bag and tossing it in my cart, my mind started thinking of all the fun things I can make with these tiny potatoes.
Tater tot casserole didn't seem to do them justice.
Smashing them in the waffle iron makes them super crispy but not really finger food.
I even like topping them with sandwich ingredients like my Cuban Totchos. Today, I think I am going to keep it simple and just give them a spicy dusting with my All-Purpose Steak Seasoning.
A spicy kick of pepper, garlic, and other tasty flavors, this seasoning is not just for topping steak. I am using my Steakhouse Seasoning to spice up my roasted veggies, my chili, chicken breasts, and even my french fries.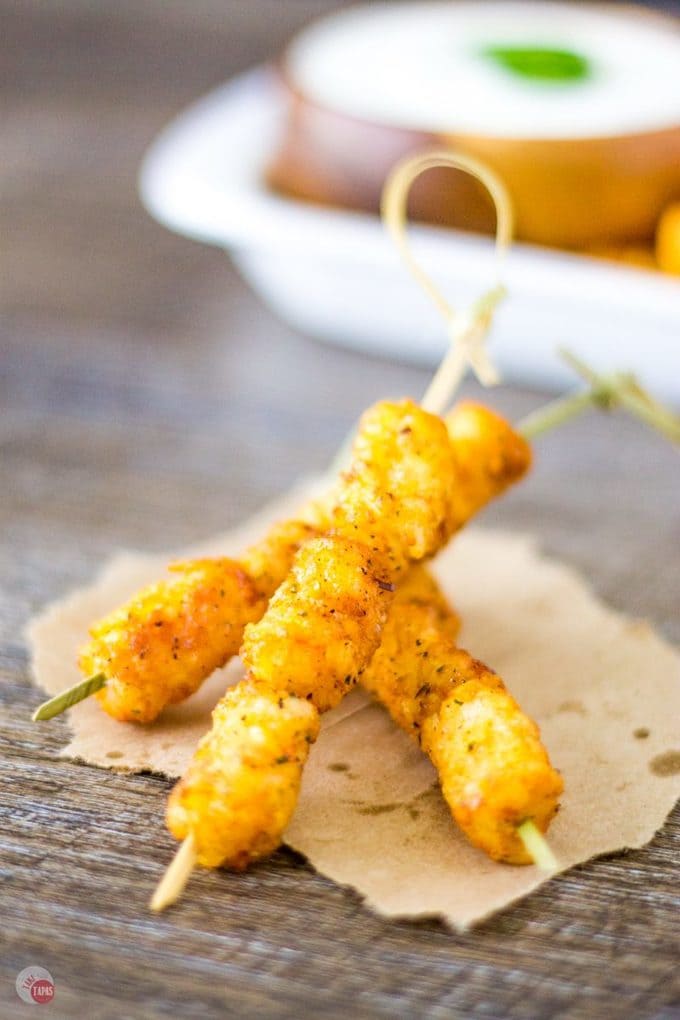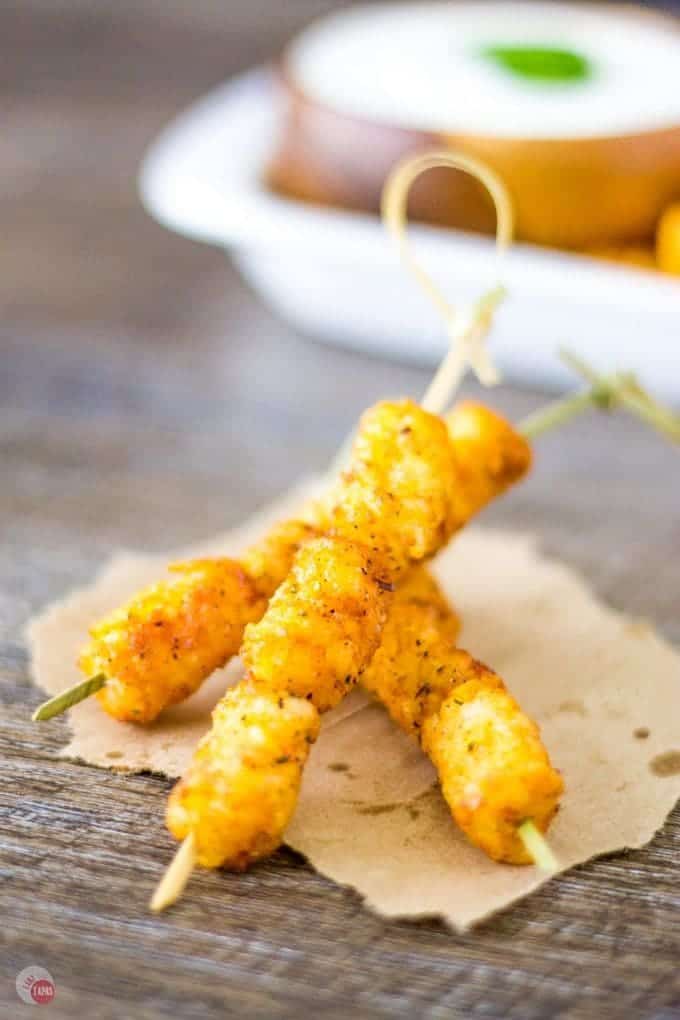 How to make spicy Steakhouse Tater Tots
Frozen tater tots come out of the bag like little tiny stones, rock hard with an icy exterior. Take advantage of this small snippet of time to grab your seasoning.
Sprinkle it all over the tater tots and as the ice starts to melt it will allow the Steakhouse Seasoning to stick to the exterior of the tater tot. Perfect! Toss the tater tots in the oven and bake until crispy.
The middles stay warm and soft while their outsides get a nice "crust" on them. This also helps hold them together if you are sticking them with a skewer like these pretty appetizers above.
For more insider tips & tricks, and a candid behind the scenes look follow me on social media! Check use out on Pinterest, Facebook, Instagram, & Twitter (yes, people still use Twitter, LOL!)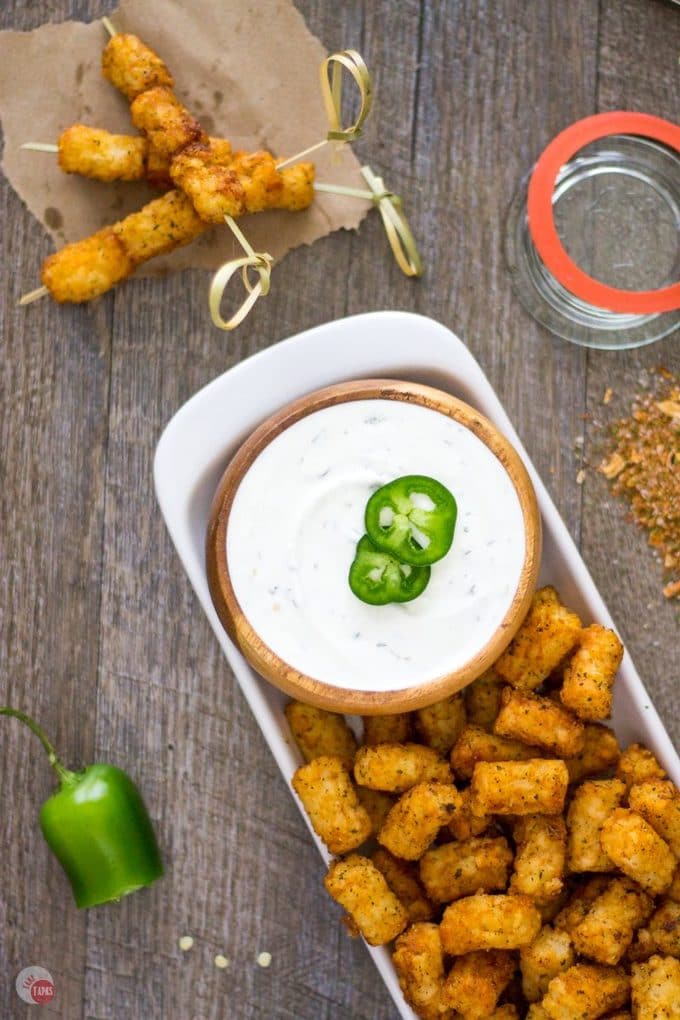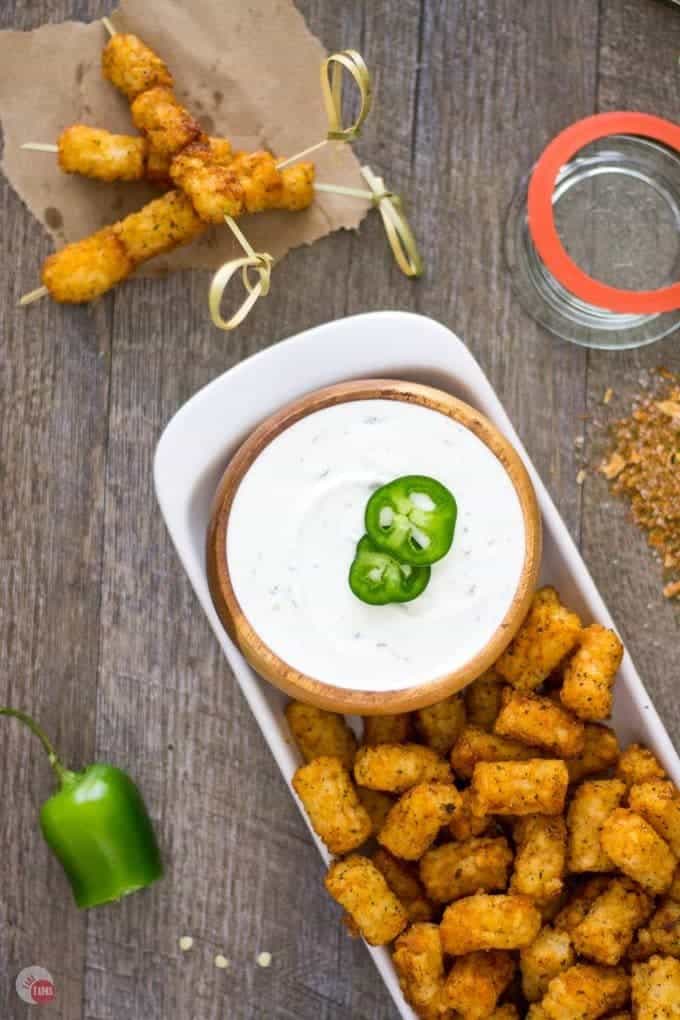 If you are not wanting to get fancy with toothpicks and skewers, just pile them up on a plate next to the dipping sauce. A mix of sour cream and my Homemade Ranch Dip Mix and you are ready to go.
I added some fresh chopped jalapeno to mine because I am a glutton for punishment when it comes to spice. The Steakhouse seasoning is calmed a bit by the tater tots themselves, but this Jalapeno Ranch Dip will bring the spice and the flavor factor, way up!!
These Steakhouse Tater Tots are a great appetizer for game day (imagine tossing them into your friend's mouth during the commercial breaks) and make a great side dish for chicken or a steak. I'm even thinking of making myself a batch for breakfast! I'll just throw an egg on top.
Do you have a potato fetish? If so, I want to hear about it. Tell me your favorite way to eat potatoes or tater tots!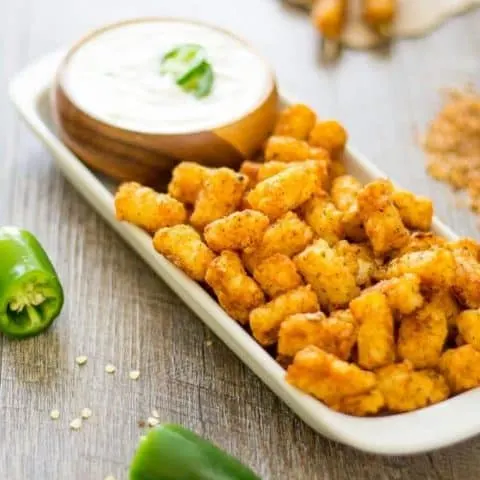 Steakhouse Tater Tots With Jalapeno Ranch Dip
Warm and spicy steakhouse tater tots have the right amount of kick with my homemade steak seasoning. Take them for a cool dip in jalapeno ranch for a snack!
Instructions
Take the tater tots out of the freezer and place in a bowl.
Wait 5 minutes to start defrosting.
Sprinkle 1/2 tablespoon of the All Purpose Steak Seasoning over the tater tots and toss to coat evenly.
Spread on a foil-lined baking sheet.
Bake at 450 for 15 minutes or until brown and crispy.
Remove from oven and sprinkle with more All-Purpose Steak Seasoning if you want them a little spicier.
Make the Jalapeño Ranch Dip while the tots are cooking.
Combine the sour cream, Homemade Ranch Seasoning, and chopped jalapeno.
Mix to combine.
Dip your Steakhouse Tater Tots in the Jalapeno Ranch dip and enjoy!
Notes
*If you like this recipe, please leave me a comment and rate it with some stars. Thank you!
Nutrition Information:
Yield:

6
Serving Size:

1
Amount Per Serving:
Calories:

250
Total Fat:

17g
Saturated Fat:

6g
Trans Fat:

0g
Unsaturated Fat:

9g
Cholesterol:

26mg
Sodium:

408mg
Carbohydrates:

23g
Fiber:

2g
Sugar:

2g
Protein:

3g
This nutrition information was generated via a third party, Nutritionix, and can not be held liable for any discrepancies in the information provided.
TakeTwoTapas.com. Content and photographs are copyright protected. Sharing of this recipe is both encouraged and appreciated. Copying and/or pasting full recipes to any social media is strictly prohibited.