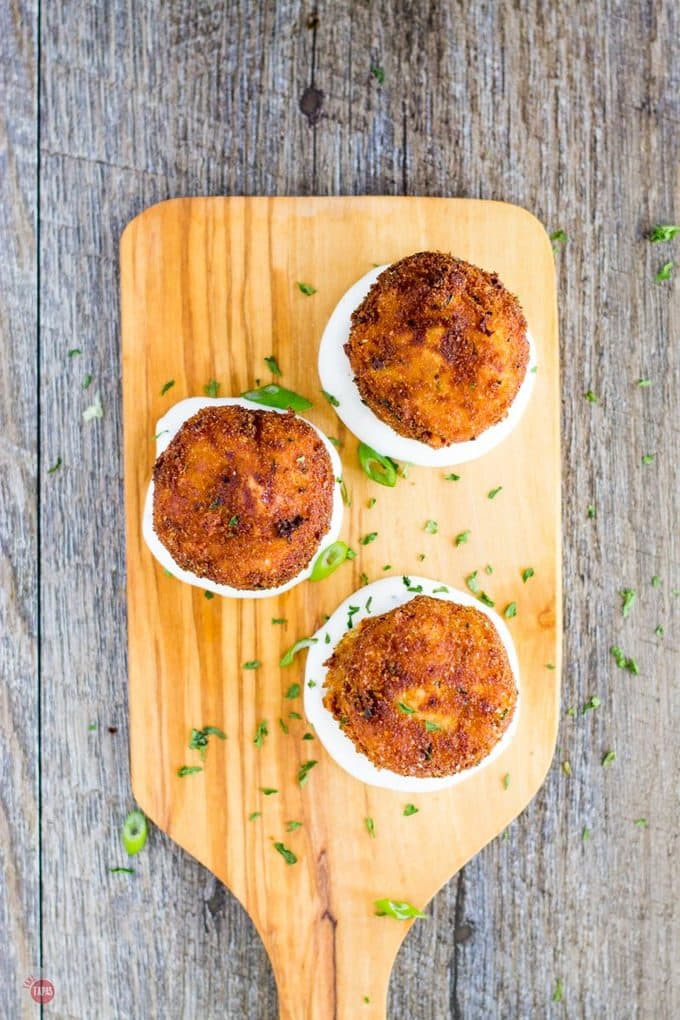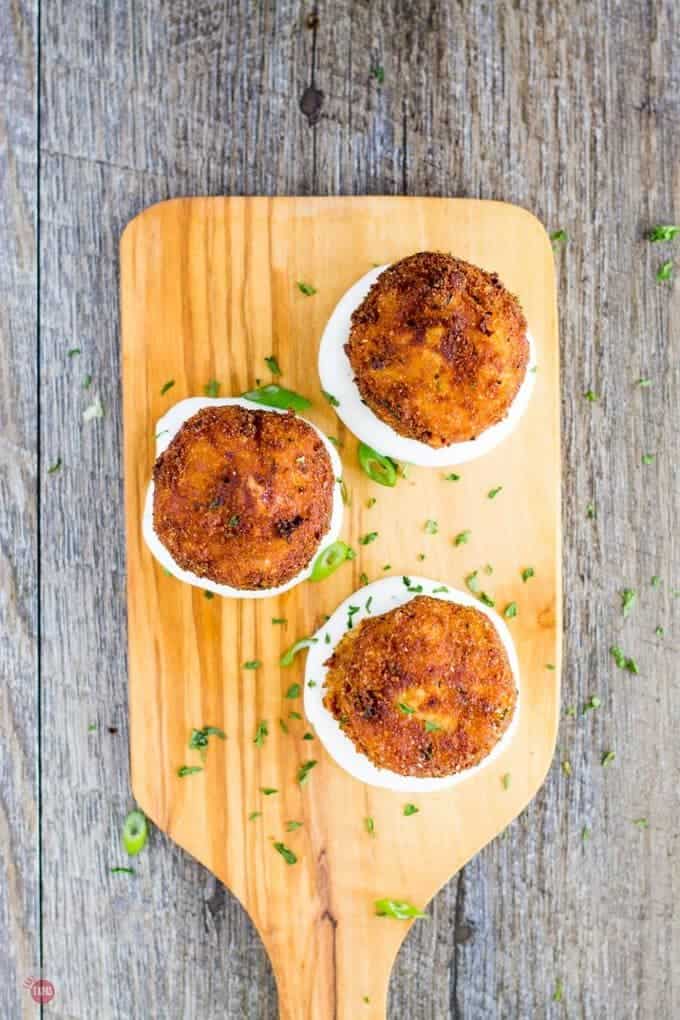 Mashed Potatoes are mixed with Southwest seasoning and fried to a crispy golden brown to make Southwest Potato Croquettes. Served with a spicy cool green chile ranch dip and they are the perfect appetizer!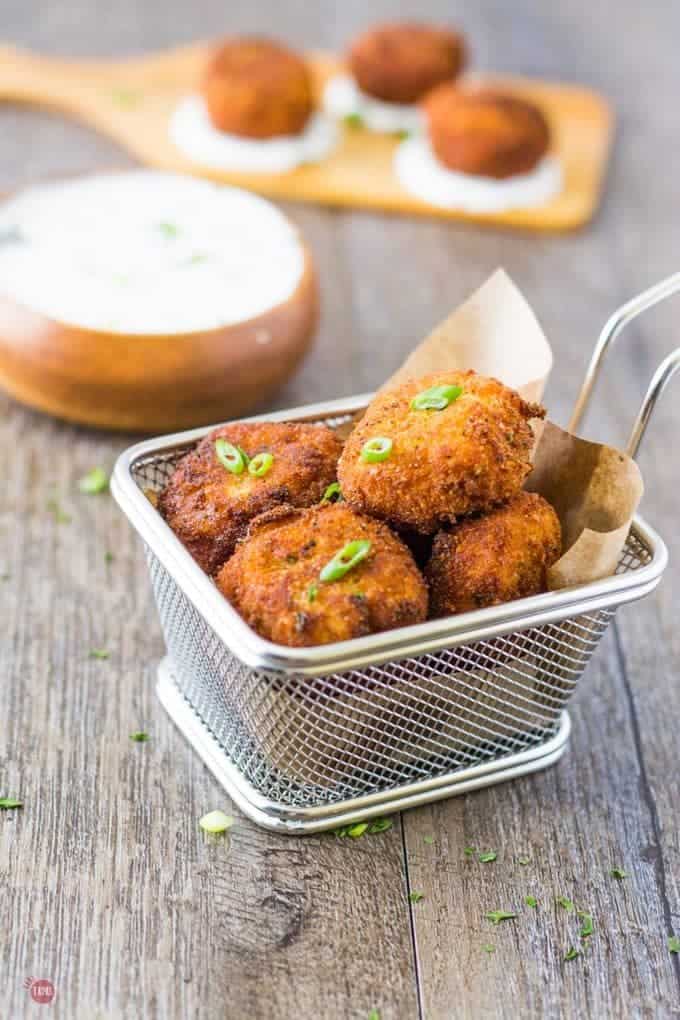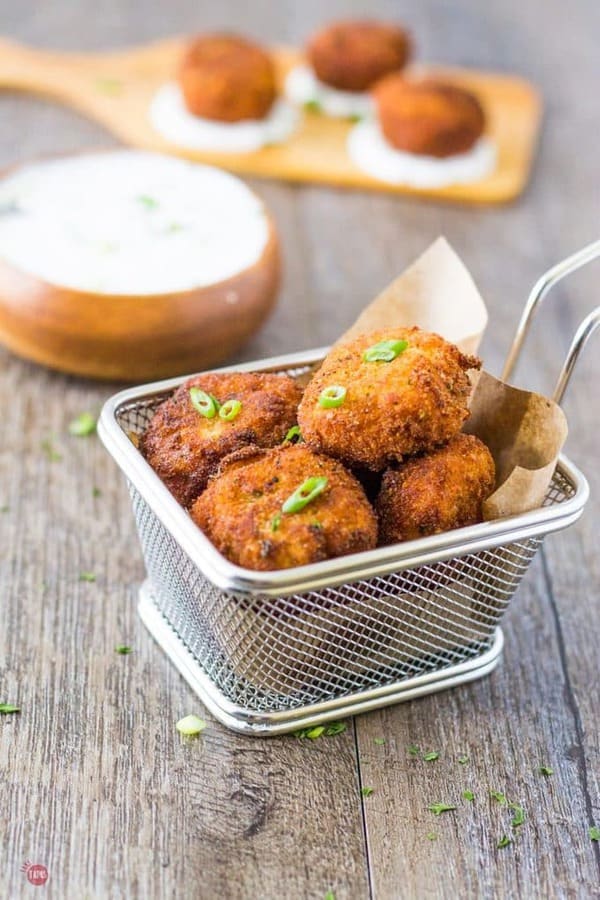 What do you do with your leftover mashed potatoes?
Do you even have leftover mashed potatoes? If you do, and you want to change them up a bit to make them new again, try making them into potato croquettes. Not sure what a potato croquette is? It is a delicious ball of mashed potatoes, cheese, and spices. They are coated in breadcrumbs and fried to a crispy golden brown. Doesn't that sound delicious?
I used to make them mashed potatoes all the time and since my hubby and me, well me really, switched to sweet potatoes I don't make them as much. My oldest son with the potato obsession (remember potatoes gonna po-tate shirt?) still wants them all the time.
But to make mashed potatoes for one person seems like a pain in the ass. I have found a shortcut where I microwave 1 or 2 regular baking potatoes and then scoop out the middle, mix with butter (a lot of butter) and milk and voila! Mashed potatoes with no peeling and boiling!
If he's really hungry I will make a full batch and go through the regular procedure. And if there are any leftovers, turn them into these tasty fried balls of deliciousness.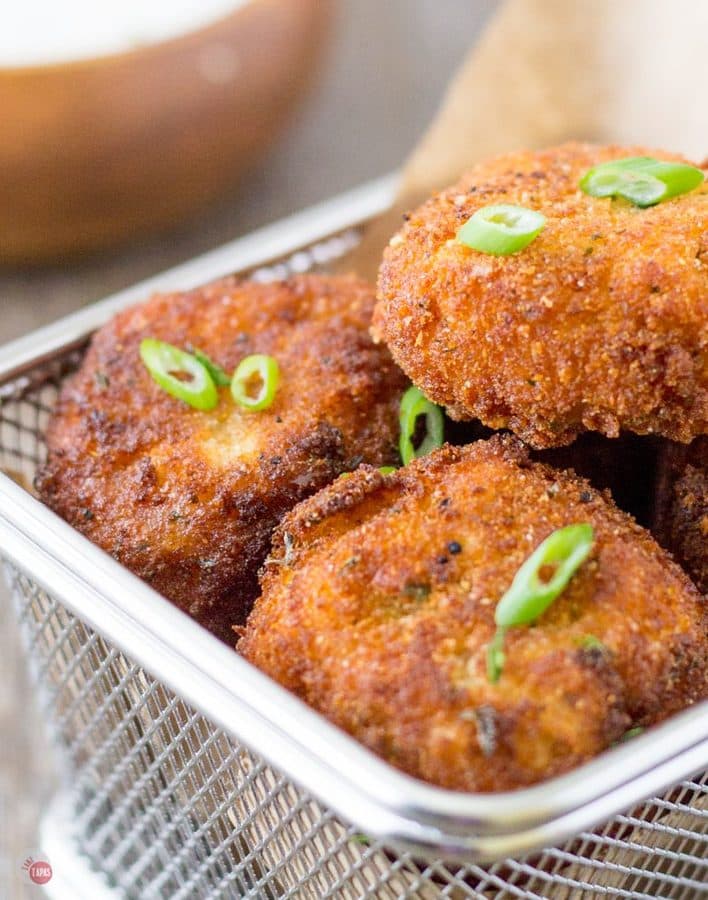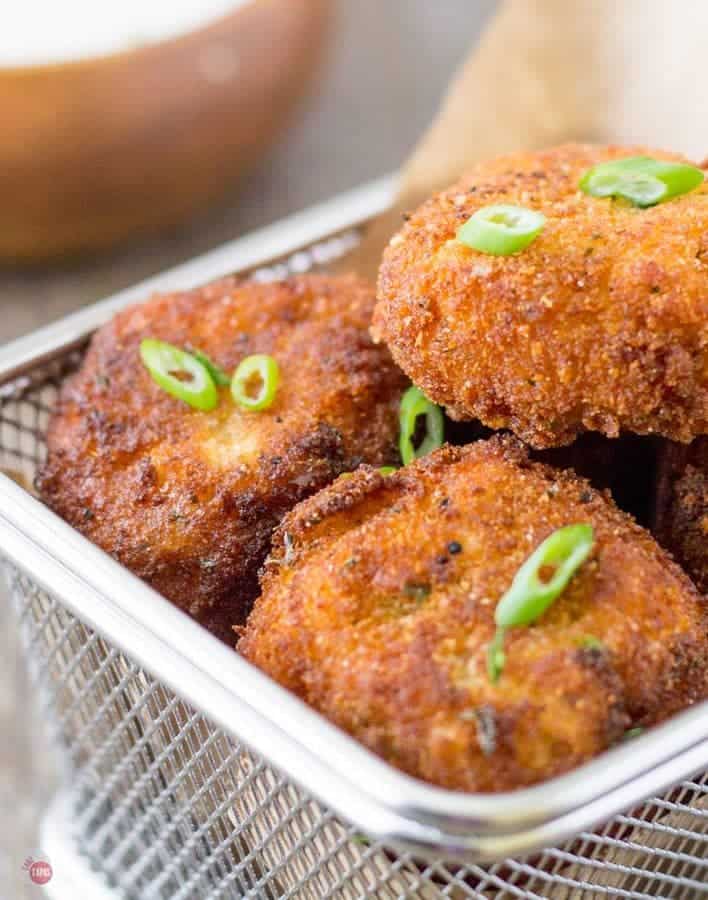 If you'd rather skip my (very helpful, I think) tips and tricks, essential cooking info, and similar recipe ideas – and get straight to this delicious recipe – simply scroll to the bottom of the page where you can find the printable recipe card.
Making potato croquettes is pretty easy, and with a basic recipe in your head (or on your mobile device like me) you can start to add your own spin to it! That is what I did with these. I hopped on over to my friends' (Dan and Scott) blog Platter Talk and grabbed their recipe.
I didn't really need to mess with it too much as it is perfect already, but I did want to kick up the spice factor a bit. After I get done making this recipe I am definitely going to try out their Beer Dip Recipe, because who doesn't want to combine beer and dip, and their Corn Fritters with Jalapeno Aioli. I can't wait for all the fresh summer corn to start rolling in just thinking about them.
It just so happens that today is our Freaky Friday Blog Swap – Winter Edition. If you are not familiar with it let me give you a quick run-down. A group of us food bloggers get together and try recipes from each other's blogs.
It is done in secret (the person's blog we are grabbing the recipe from) kind of like secret Santa, and then we make the recipe. We can choose to put our own spin on it like I did here, or just keep it the same.


It is so much fun and it gives us a chance to introduce other blogs to you guys that you might not have seen before. Last time I made some Crispy Roasted Chickpeas with Ghost Pepper Salt that I adapted from my friend Michelle's Blog, A Dish of Daily Life. Down below you can see all the other blogs that are participating this round, so please go check them out too!
Platter Talk is run by two dads that have a ton of boys! I can relate as I have two boys myself, three if you count the hubby, so I love to hear their stories of parenting and trying to feed those hungry kids. It is nice to know that I am not alone in constantly cooking and keeping the boy's bellies full.
Back to the potato croquettes.
This post may contain affiliate links. As an Amazon Associate, I earn from qualifying purchases. Read my disclosure policy here.

How to make Southwest Potato Croquettes
In grabbing my leftover mashed potatoes, I tossed in some Mexican blend shredded cheese instead of the Parmesan that Scott and Dan used and then grabbed my Homemade Southwest Seasoning Mix. It is a lot like taco seasoning with a few more spices added in for extra layers of flavor. I use it all the time when I make fajitas and even in meatloaf!
Toss in a few egg yolks and a little bit of flour to help bind it all together and you are ready to go! Once the mixture for the potato croquettes is mixed, I scoop it out with my trusty ice cream scooper so they are all the same size.
This is important so the cooking times are all the same. I scoop them out and put them on a baking sheet and then pop in the fridge to set them up while I am heating up the oil.
Once the oil is at 375F for frying, I take the croquettes out of the fridge, roll them in egg and then in breadcrumbs to give them a nice crust, and drop them into the hot oil.
You can leave them in the shape of balls if you like. I flattened mine a bit like discs so I wouldn't have to roll them around in the oil as much and all the sides would get crispy. If they are rounded you have to roll them a few times to get all the surface area cooked.
They take about 2 minutes on each side but keep an eye out because everyone's cooking times might be slightly different. Remember the potatoes are already cooked you are just setting the egg and getting the cheese to melt inside.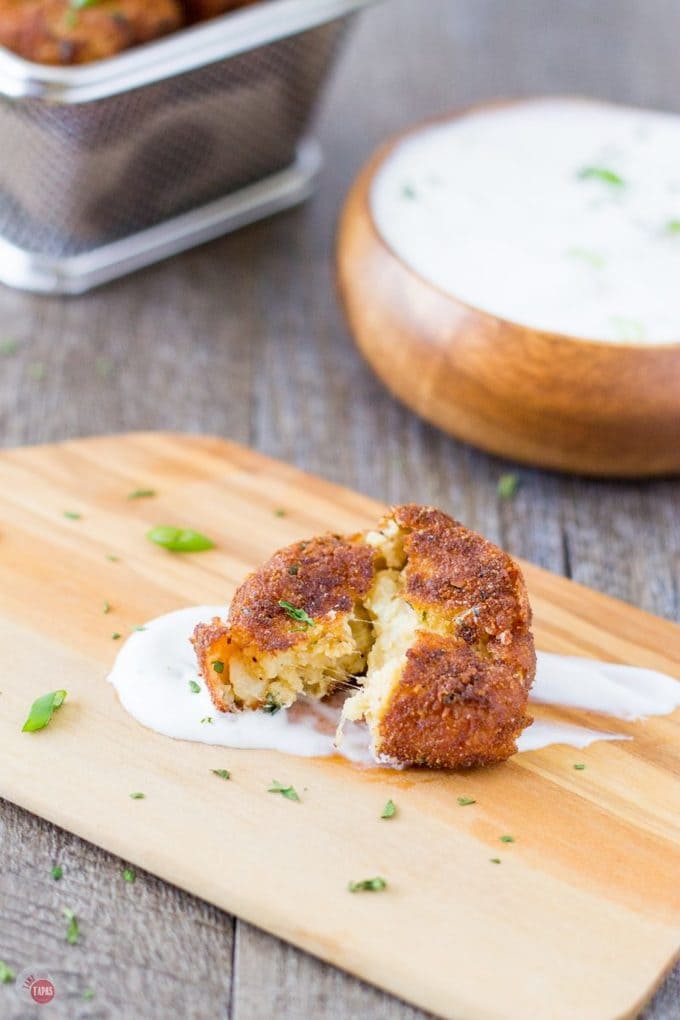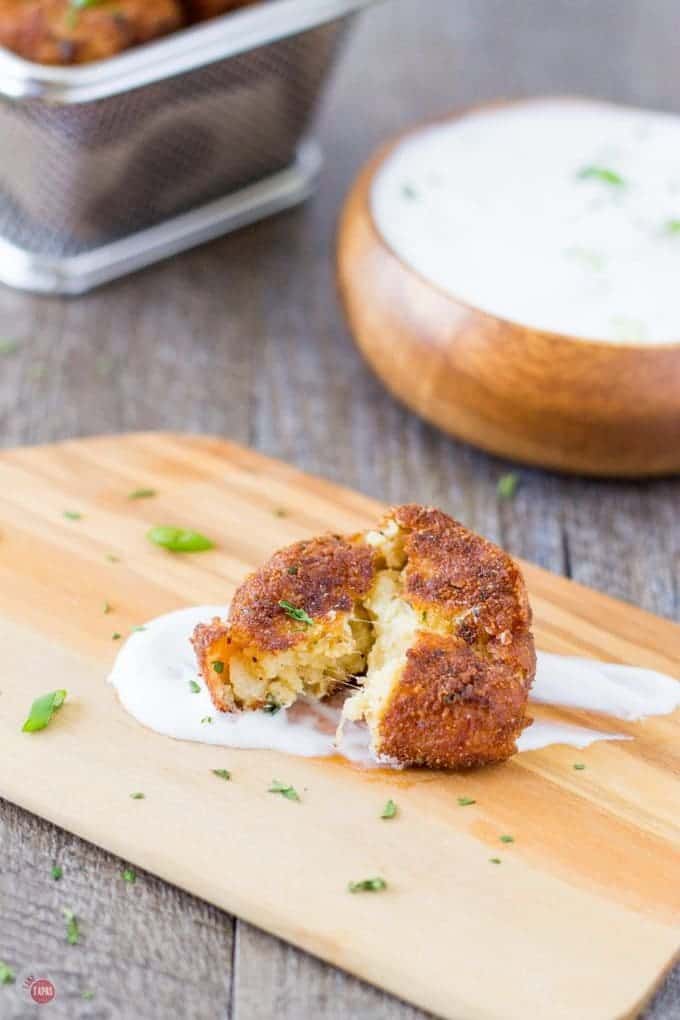 You have to work in batches when you fry them so don't crowd the frying pan too much. Too many croquettes in there at one time and the oil temperature will drop.
This makes for greasy croquettes and that is not fun at all. While I am frying up the subsequent batches, I keep my cooked ones on a baking sheet in the oven. I have it set on 200F to keep them all warm.
I serve these hot and with a great ranch dip that I spiced up with green chilies! To make the dip I use my homemade Ranch Dip seasoning mix. I add it to some sour cream, plain Greek yogurt, and a spoonful of chopped green chilies.
I always have a can of these in my pantry! You can make the dip ahead of time (as you might use it for chips or fries) and just have it sitting in your fridge ready to go!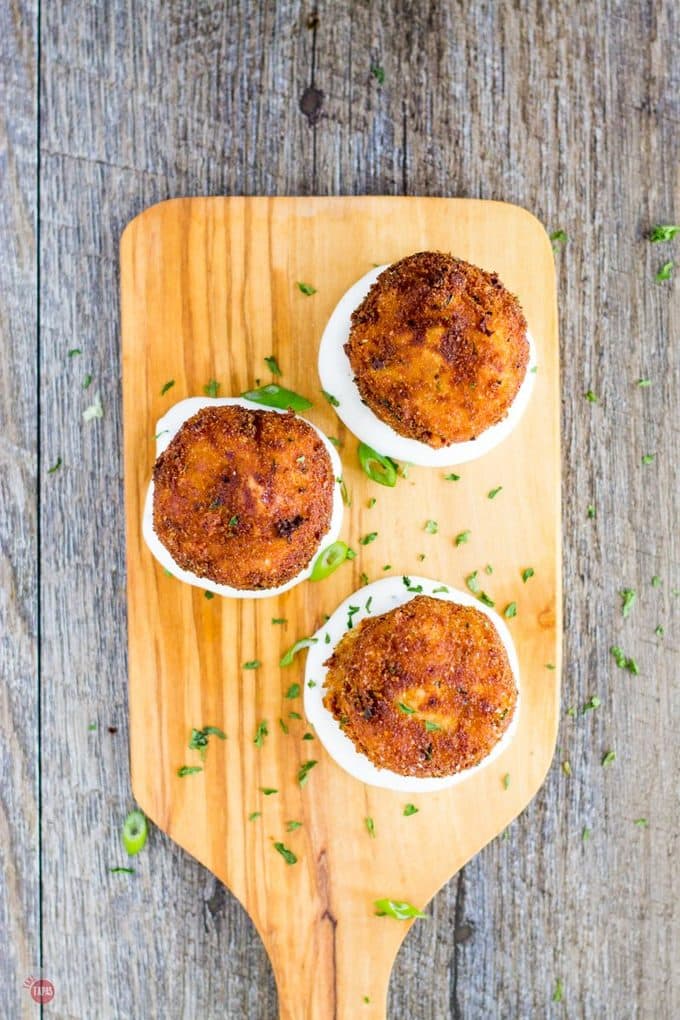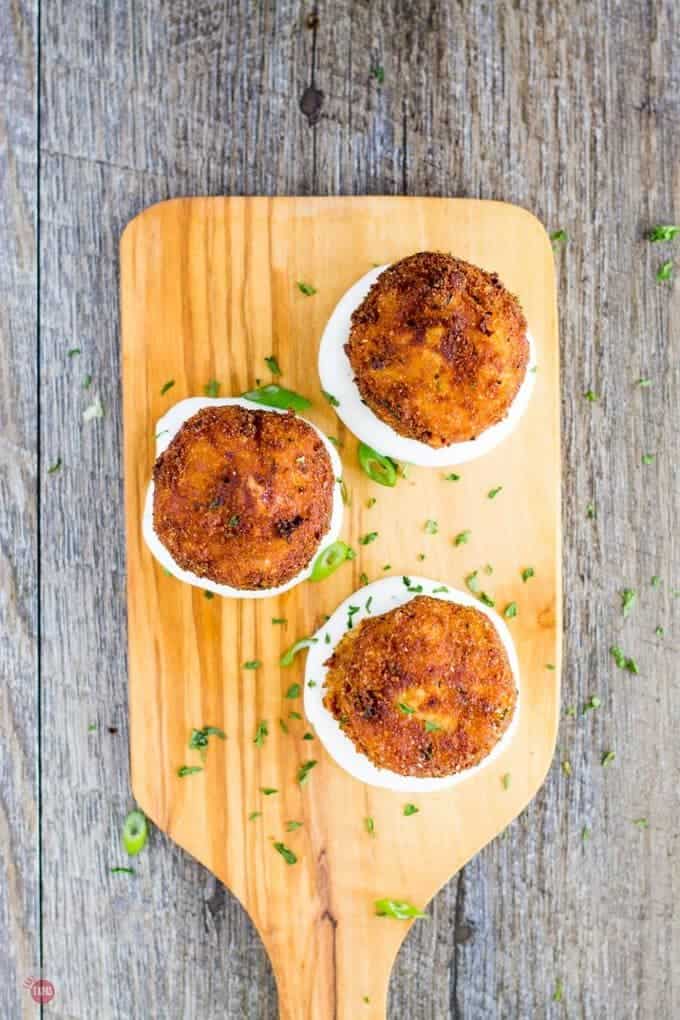 Serve them in a cute fry basket for individual servings. If you want a more upscale presentation, you can add a dollop or smear of the dip and place the potato croquettes on top like I did in this picture above.
Or you can do what I do. I eat them as they come out of the fryer, standing in the kitchen. No judgment here. Most of my food never makes it to an actual plate 🙂
Grab the recipe for these Southwest Potato Croquettes right here and then go and check out all the other blogs participating in Freaky Friday. I know you will find something tasty to make this weekend!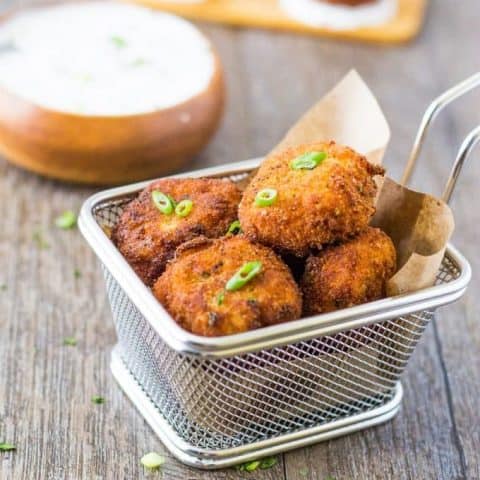 Southwest Potato Croquettes with Green Chile Ranch Dip
Mashed Potatoes are mixed with Southwest seasoning and fried to a crispy golden brown to make Southwest Potato Croquettes.
Ingredients
For the potato croquettes
2 cups mashed potatoes
2 egg yolks
2 teaspoons Southwest Seasoning Mix (you can use taco seasoning)
1 tablespoon all-purpose flour
3/4 cup Mexican blend shredded cheese
2 cups vegetable oil for frying
2 eggs
1 cup breadcrumbs (plain Italian seasoned)
For the dip
1/2 cup sour cream
1/2 cup plain Greek yogurt
2 tablespoons chopped green chilies
2 tablespoons Ranch Seasoning Mix (homemade or store-bought)
Instructions
Heat the oven to 200F
Make the croquettes
Mix the mashed potatoes, egg yolks, Southwest seasoning mix, flour, and cheese together in a bowl.
Scoop out the mixture and roll into 1 inch balls.
Place on a baking sheet and pop in the fridge to set.
Crack the whole eggs in a small bowl and whisk to scramble.
Add the breadcrumbs in a separate bowl to make the coating stations.
Fry the croquettes
Heat the oil in a medium frying pan t0 375F
When the oil is ready, remove the croquettes from the fridge.
In batches of 4 or five, dip the croquettes in the egg, then roll in the breadcrumbs to coat.
This is where I smash mine into disc shapes but you can leave round if you want to.
Place in the oil gently and fry till golden brown, flipping or moving around to cook all sides.
When crispy and golden brown, remove from the oil and place on a baking sheet lined with paper towels or brown bag paper.
Place in the oven to keep warm while you are frying the next batch.
Once all are done, keep warm while you make the dip.
Green Chile Ranch Dip
For the dip, combine the sour cream, yogurt, chilies, and ranch seasoning.
Stir to combine.
Keep cold until ready to serve with the hot Southwest Potato Croquettes!
Notes
*If you like this recipe, please leave me a comment and rate it with some stars. Thank you!
Nutrition Information:
Yield:

24
Serving Size:

1
Amount Per Serving:
Calories:

238
Total Fat:

22g
Saturated Fat:

3g
Trans Fat:

1g
Unsaturated Fat:

18g
Cholesterol:

38mg
Sodium:

631mg
Carbohydrates:

7g
Fiber:

1g
Sugar:

1g
Protein:

3g
This nutrition information was generated via a third party, Nutritionix, and can not be held liable for any discrepancies in the information provided.