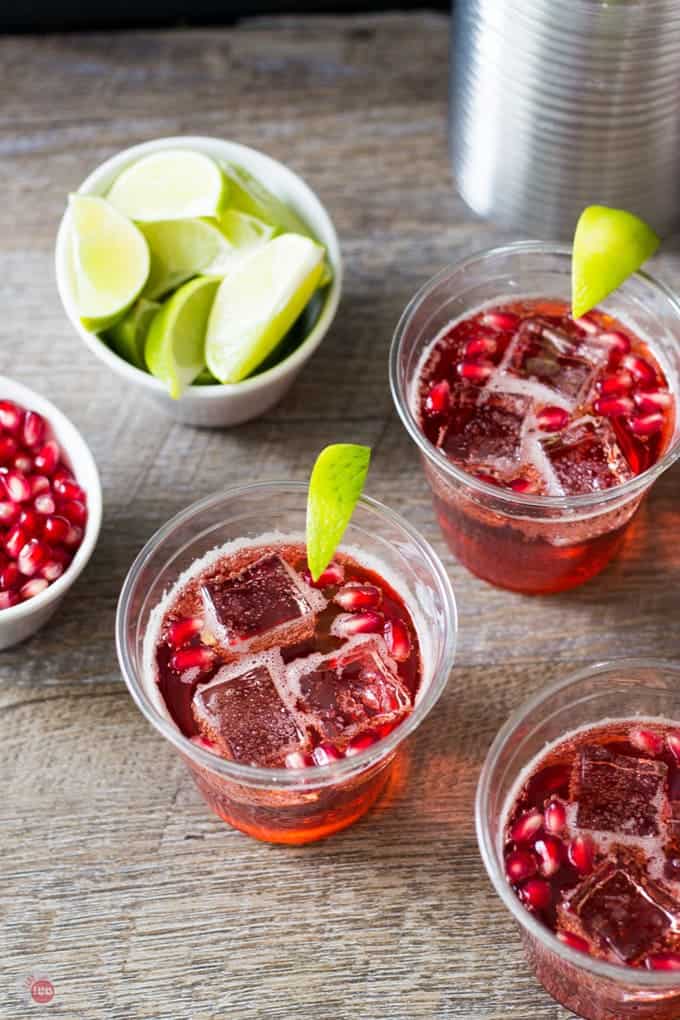 A large batch of Pomegranate Sparkler with Ginger Ale will help you celebrate your holiday party with ease!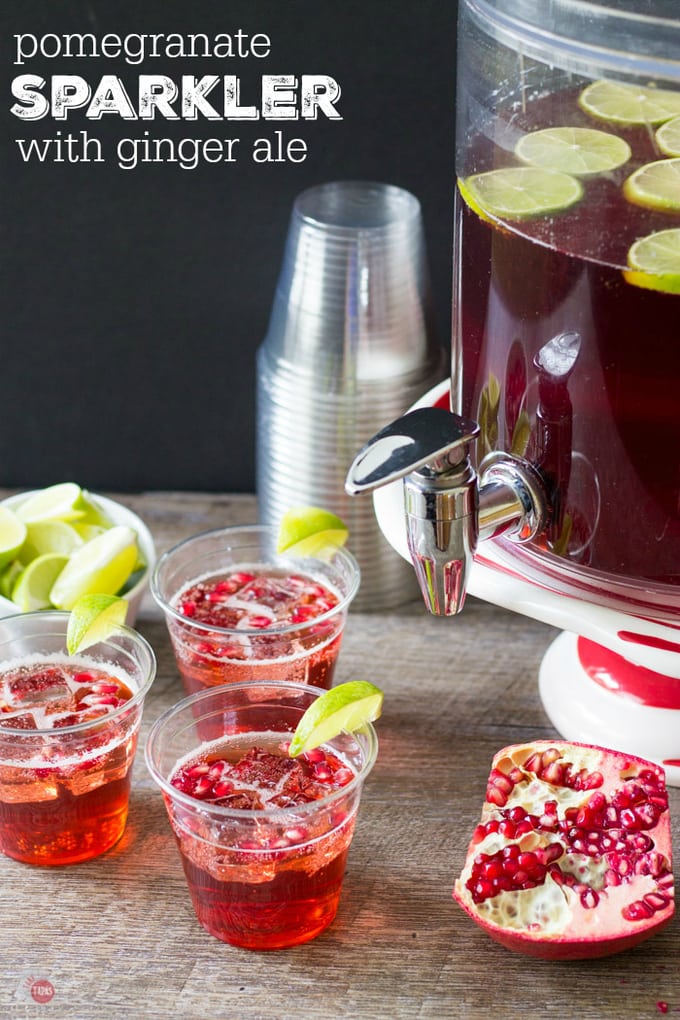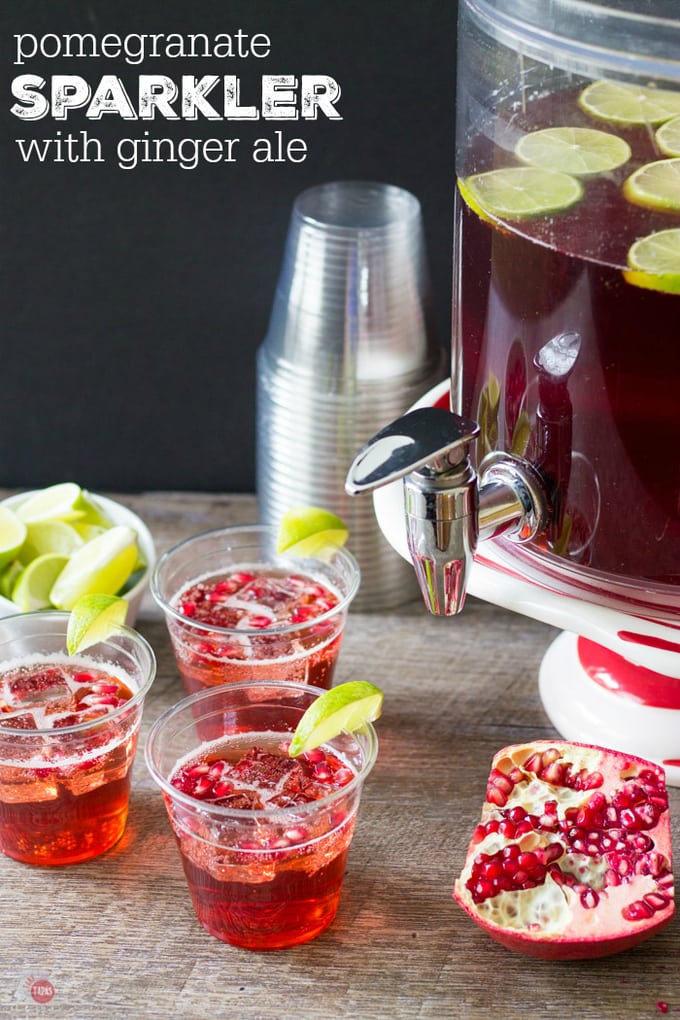 If you'd rather skip my (very helpful, I think) tips and tricks, essential cooking info, and similar recipe ideas – and get straight to this delicious recipe – simply scroll to the bottom of the page where you can find the printable recipe card.
Holiday party season is upon us and that means non-stop cooking, cleaning, washing dishes, buying groceries, planning menus, and even hostess gift shopping. I love this season even though it is hectic and full of sleepless nights.
Spending time with family and friends is the best gift of all and doing it while eating is even better. Wouldn't it be great if we could do all that we do over the holidays with a little less stress? And maybe less time washing dishes?
I have learned a few tips and tricks over my years of throwing and attending parties and I want to share them with you so you can relax during this holiday season!
Tips for throwing holiday parties.
First, let's talk about schedules. They are already filled to maximum capacity so when deciding which ones to attend, pick the parties that you really want to host yourself, or go to and politely decline that invitation to your mother-in-law's, best friend's, sister's party.
Focus on those that give you the opportunity to catch up with friends and close family.
Second, make your food and drinks in large batches. That sounds very unfancy, but if you can cook your roasts ahead of time, and make your casseroles early, store them in the freezer until ready to use, and it will make your meal planning easier.
This post may contain affiliate links. As an Amazon Associate, I earn from qualifying purchases. Read my disclosure policy here.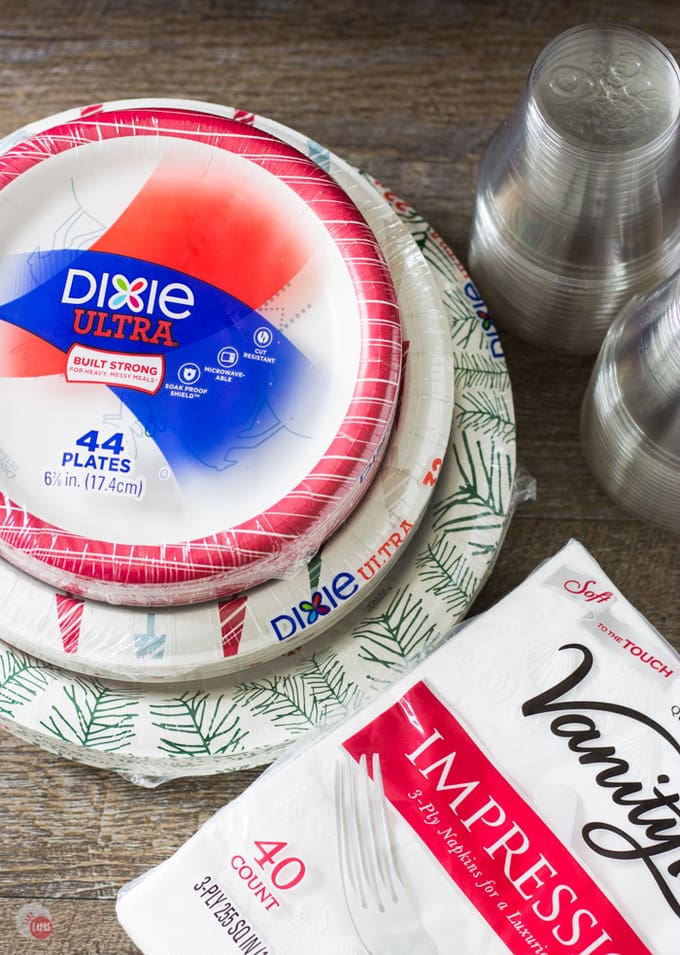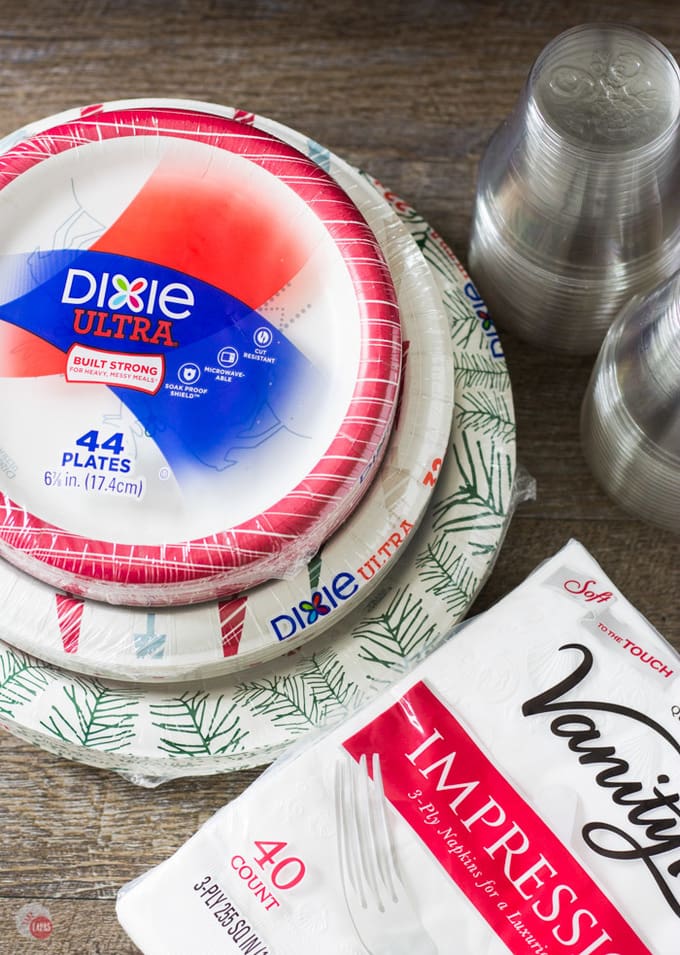 How about not washing dishes when you have a party? I'll take that any day of the week and twice on Sunday. This brings me to my third tip, Dixie Ultra® Holiday Plates and Vanity Fair® Impressions® Napkins.
Having a party is tiring enough without having to wash dishes after everyone is gone when all you want to do is take your shoes off and climb into bed. I can't tell you how many times I have left dishes on the counters to do the next morning. I know I just got an eye roll from my mother who is reading this.
Dixie has fun and festive plates that will spruce up your party without making extra work for you so you can spend more time with your guests. And best of all, no dishes to wash in the morning. I just gather all my party supplies and place in them in a simply decorated basket and off I go!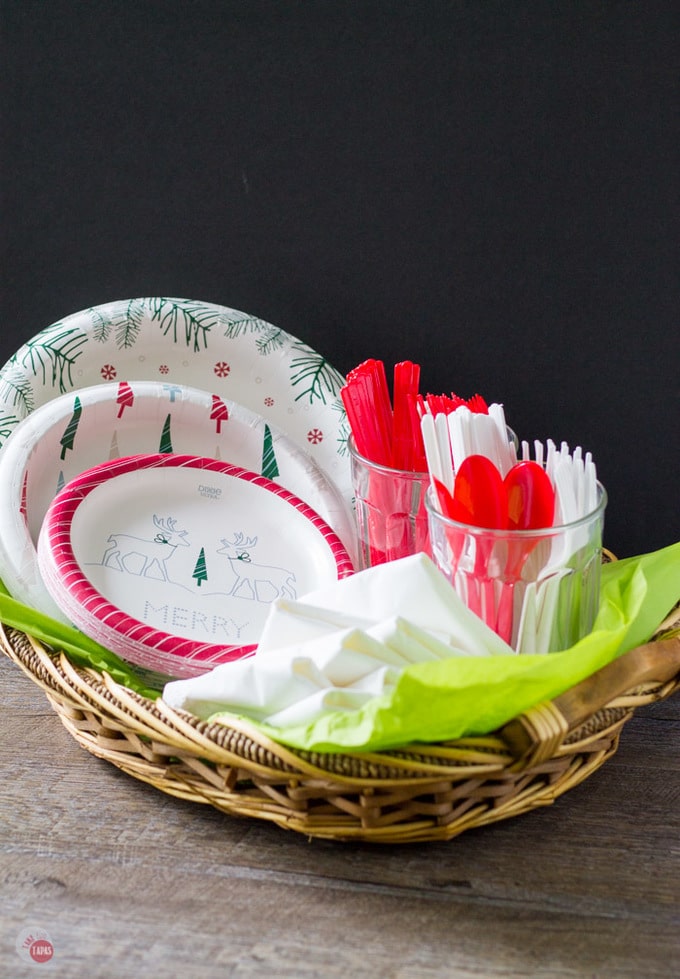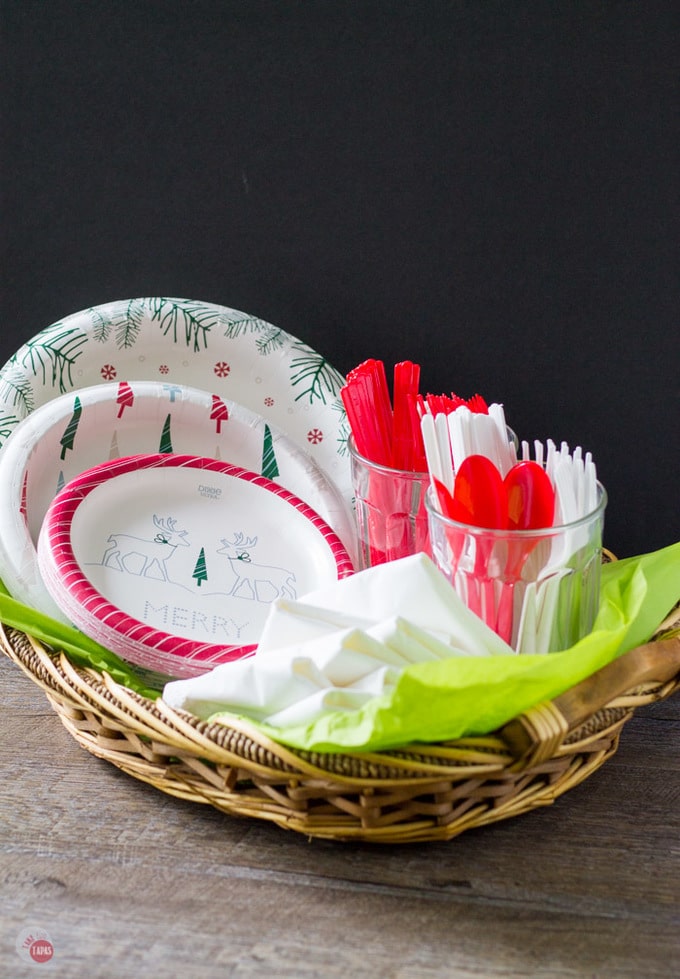 Aside from catching up with friends, guests come for the food and drinks. Planning a menu can be daunting so keep it simple. A cheese tray is an excellent choice for feeding a large crowd and offers something for everyone.
Having someone else help with the food is also a great tip. If you can't afford to have the whole party catered, just focus on buying one dish and then supplying some additional small snacks. People come to see and spend time with you so you should be doing the same not stuck in the kitchen!
My fourth tip involves your holiday bar. If you happen to be serving alcohol at your party, try having a signature cocktail instead of a full bar.
Your guests will enjoy beer, wine and a cocktail that you put together in a large batch. Trust me, they will drink what you supply even if it is just water.
My pomegranate sparkler is a festive punch and pomegranates are in season this time of year. You can make a large batch and place in a beverage dispenser, or a few different pitchers, and forget about mixing a bunch of complicated cocktails and having a variety of spirits, mixers, and garnishes on hand. Super simple!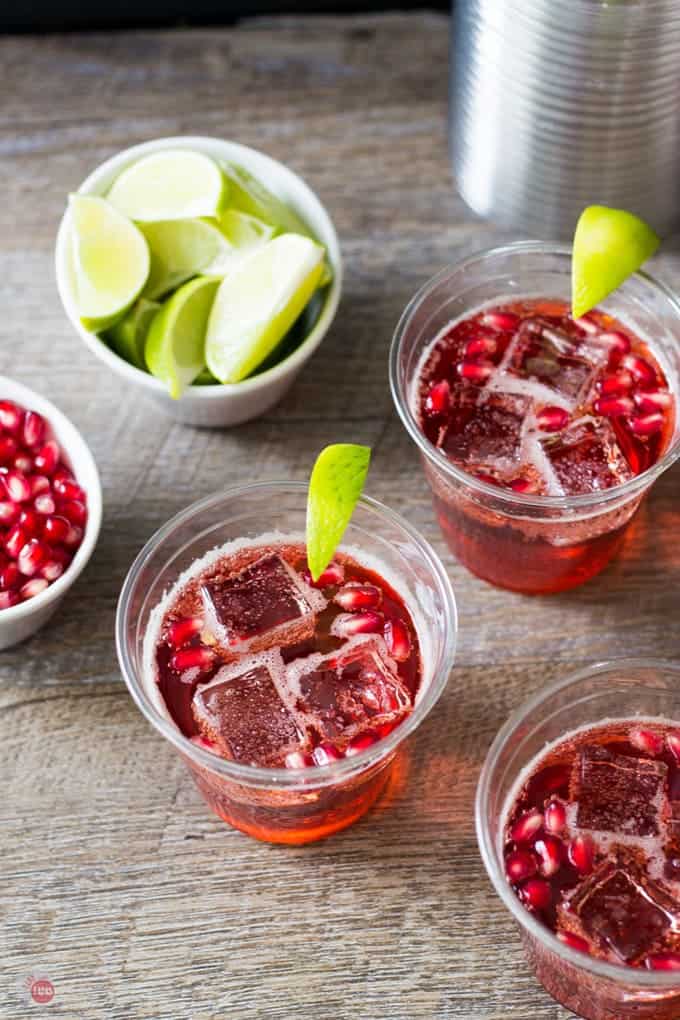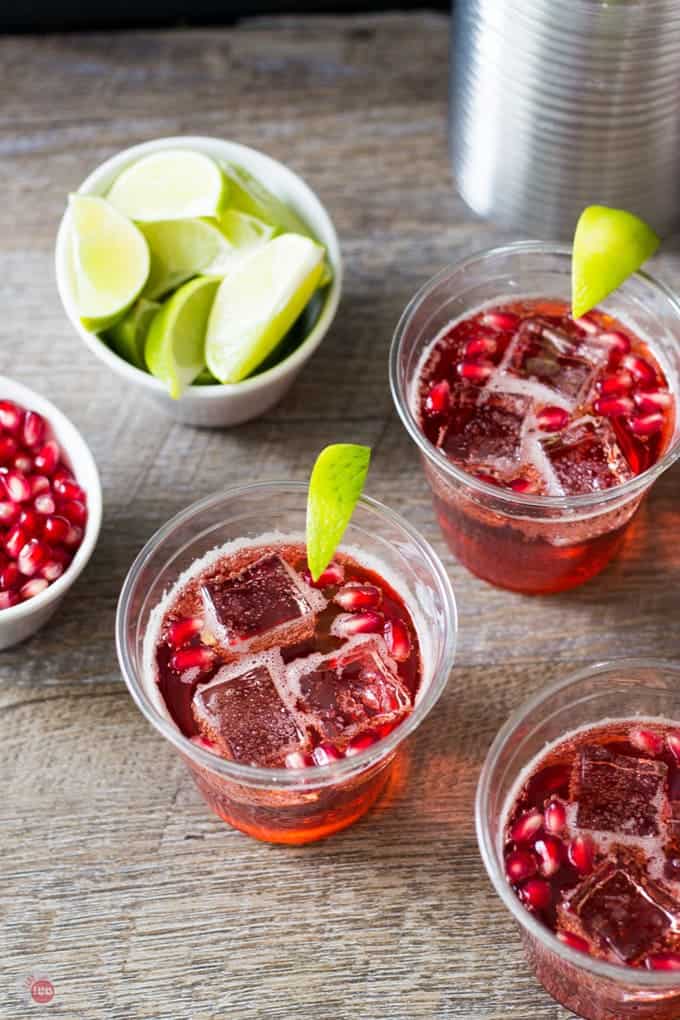 My Pomegranate Sparkler with Ginger Ale also has a non-alcoholic version for the under 21 or non-drinkers at your party. They can still enjoy the festivities without missing out on any of your recipes.
This Pomegranate Sparkler cocktail is super simple! When I was shopping at Target for my Dixie plates and Vanity Fair napkins, I grabbed a few bottles of Canada Dry® Ginger Ale, a few limes, some pomegranate juice, and a fresh pomegranate for garnish.
I already had some amaretto liqueur on hand at home so I thought it would be great with the tart juice. The ginger ale adds another layer of flavor to it that makes it complete.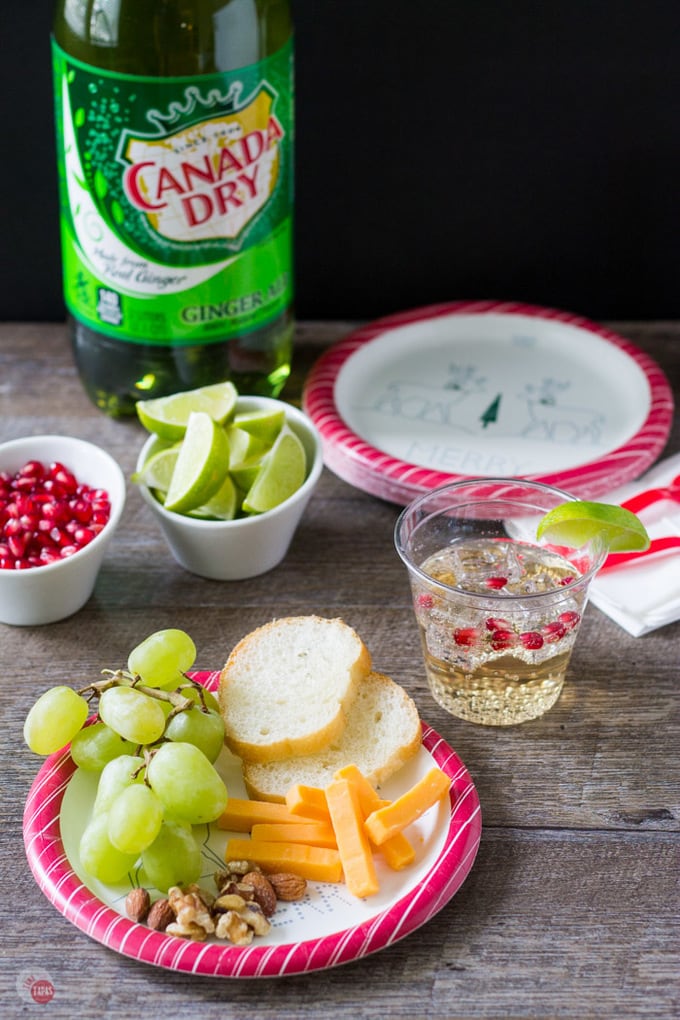 See how festive the non-alcoholic version is! The pomegranate arils add a nice flair to the glass and make me think of Christmas ornaments.
They even match my Dixie Holiday Plates!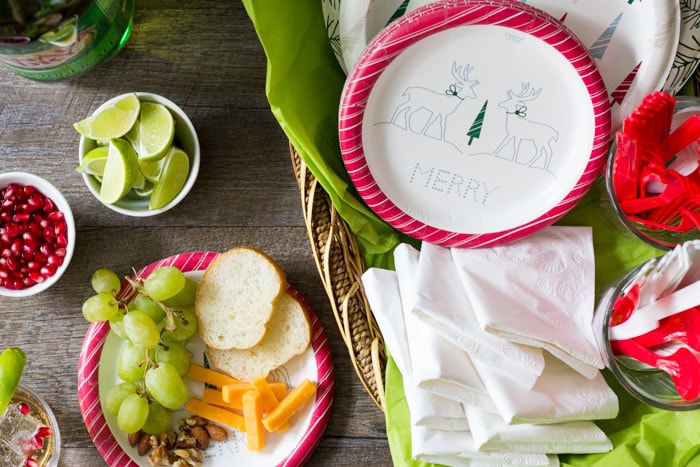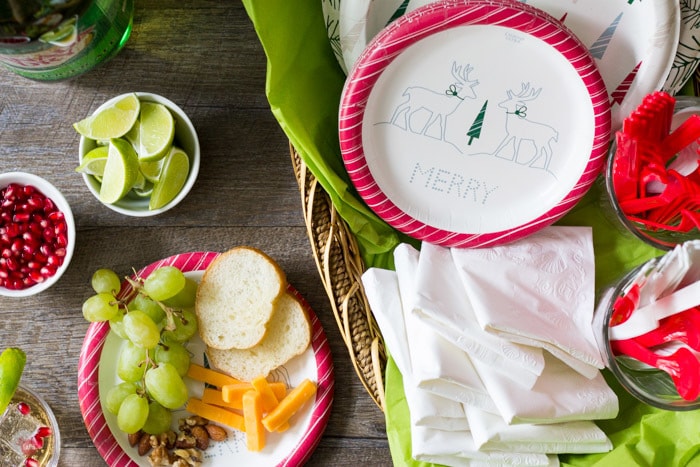 The last tip I have for you this holiday season is to ENJOY YOURSELF. The holidays can be stressful without adding extra pressure on yourself. I have become really adept at saying no and just focusing on my favorite things to do this season.
Entertain my friends and family in a stress-free environment so I can really connect with them and make memories that will last a lifetime.
No one will remember what your house looked like, or what you served, just how you made them feel. Happy Holidays and I hope you have a stress-free, memory-filled holiday season topped off with my Pomegranate Sparkler!
This shop has been compensated by Collective Bias, Inc. and its advertiser, Dr Pepper Snapple Group, Inc. and Georgia-Pacific LLC. All opinions are my own. #DrinkMakeWishBake #CollectiveBias
The following content is intended for readers who are 21 or older.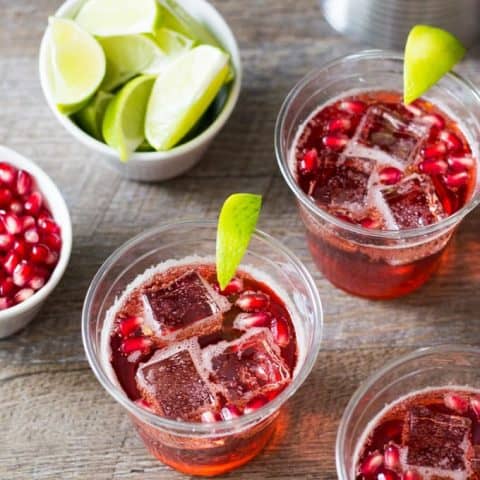 Pomegranate Sparkler with Ginger Ale
Ingredients
one 2 liter bottle of Canada Dry Ginger Ale
16 ounces of pomegranate juice
1 pomegranate for arils
16 ounces of Amaretto
Instructions
Peel your pomegranate and remove all the arils for garnish.
Mix together your pomegranate juice and amaretto.
Add your Canada Dry Ginger Ale and stir to combine.
When ready to serve, add ice and to your cup and add the punch.
Sprinkle with pomegranate arils and garnish with a lime wedge.
Enjoy with friends!
Notes
*If you like this recipe, please leave me a comment and rate it with some stars. Thank you!
Nutrition Information:
Yield:

8
Serving Size:

1
Amount Per Serving:
Calories:

365
Total Fat:

1g
Saturated Fat:

0g
Trans Fat:

0g
Unsaturated Fat:

0g
Cholesterol:

0mg
Sodium:

30mg
Carbohydrates:

60g
Fiber:

1g
Sugar:

58g
Protein:

1g
This nutrition information was generated via a third party, Nutritionix, and can not be held liable for any discrepancies in the information provided.