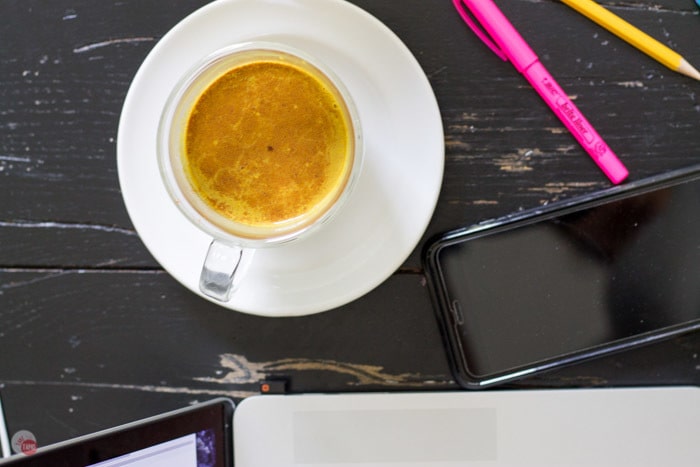 The addition of coffee to a traditional golden milk turmeric latte is a new twist on your favorite morning drink. Full of turmeric and healthy coconut milk it will help you get off to a great start in a new way!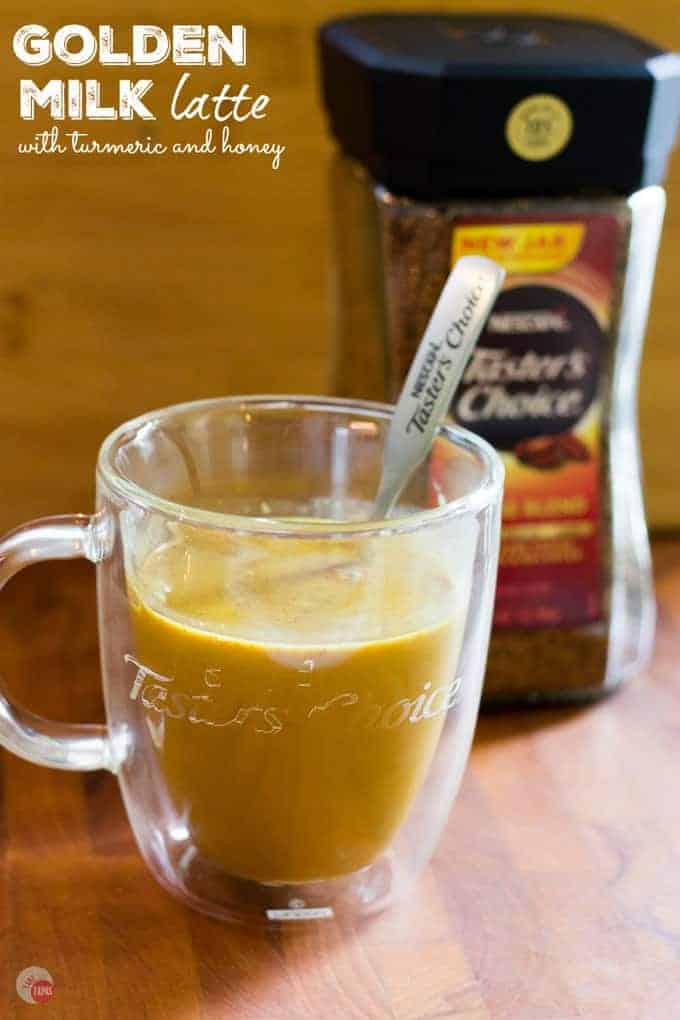 Ever wonder what a food blogger does behind the scenes? Here is a tiny look at my day. Hint, it involves lots of coffee cups.
This is an overhead view of my workspace. What is missing from the picture below? Notice anything on the white plate? EXACTLY!
If you'd rather skip my (very helpful, I think) tips and tricks, essential cooking info, and similar recipe ideas – and get straight to this delicious recipe – simply scroll to the bottom of the page where you can find the printable recipe card.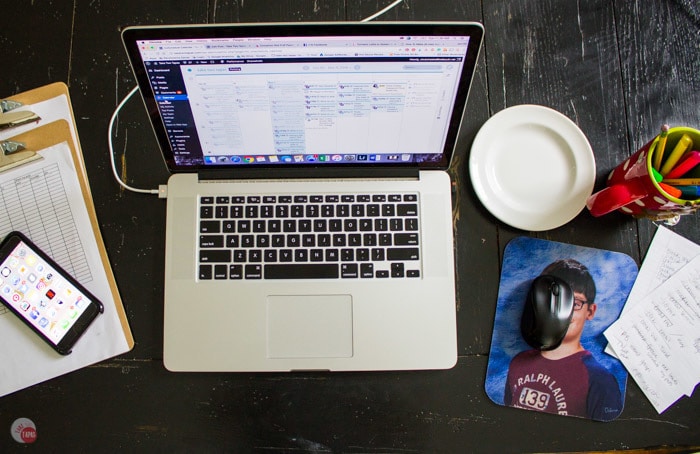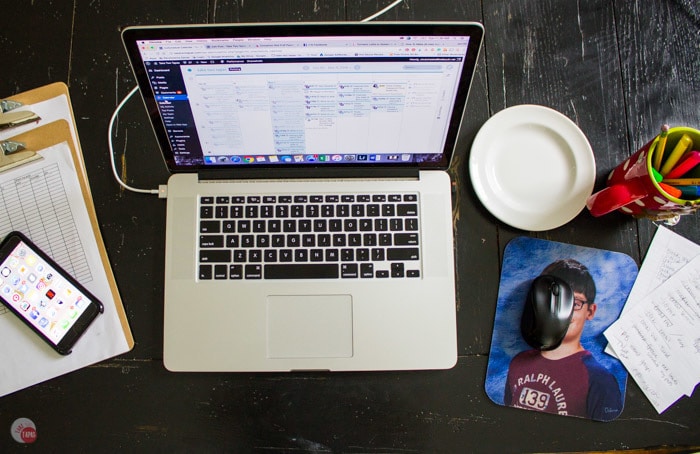 That's right it's empty!!! I can't do anything in the morning without a cup of coffee or tea. I need caffeine and this is the fastest way to get it into my body that doesn't include an IV.
Depending on the morning and what I have to accomplish that day, the levels of caffeine that I require varies. I gave up sugar in my coffee and tea a few years ago so mine beverages are usually strong and certainly not sweet.
After becoming friends with quite a few Indian food bloggers, I recently started drinking Golden Milk at night.
What is Golden Milk?
Golden milk is a mixture of warm milk (I use coconut), turmeric, and other spices. The turmeric is the key and is also what gives the milk it's golden color. Turmeric has been shown to have the following properties because of its curcumin content.
fights inflammation
acts as an antioxidant
detoxifies the liver
helpful in relieving arthritis symptoms
boosts brain function
possibly helpful for fighting diabetes and cancer by lowering your blood sugar
eases your digestive system
relieves night-time coughing
(This should not be used or substituted for actual medical advice. I am not a Dr just a food blogger! Please consult your physician for actual medical advice)
The golden milk is prepared by simmering milk and spices and then honey is added to it at the end. I have found that the golden milk helps me get to sleep faster, which is a good thing as I typically have a lot to do the next day!
Because I enjoy the flavors of the golden milk, I am curious to try it with my morning coffee and see how it helps me get through the day.
This post may contain affiliate links. As an Amazon Associate, I earn from qualifying purchases. Read my disclosure policy here.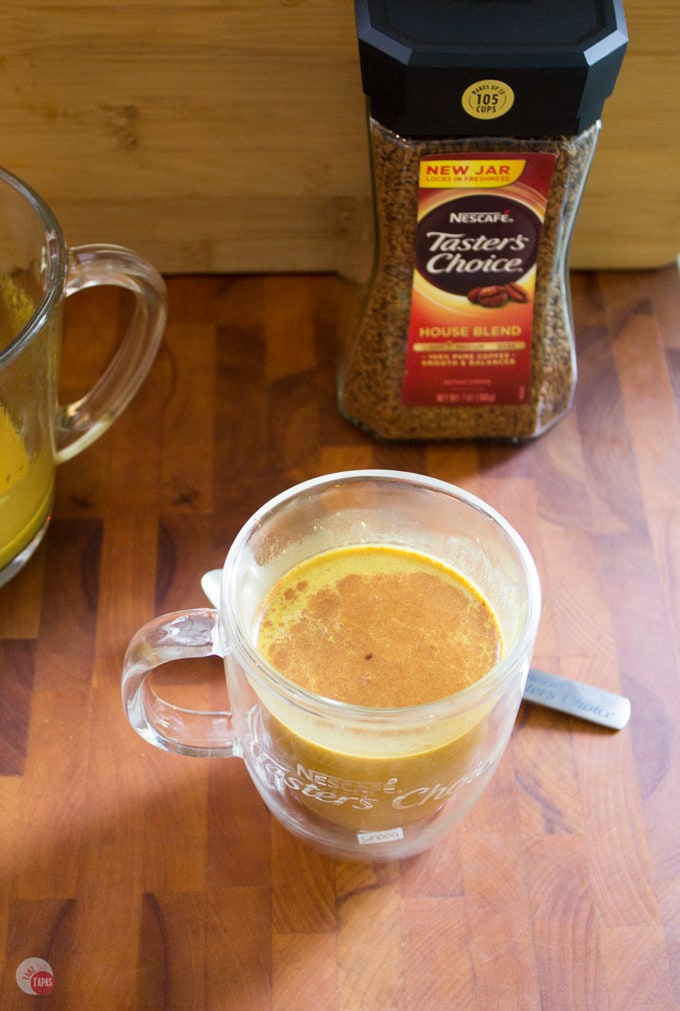 Why do I need a Golden Milk Turmeric Latte?
As a food blogger, I wear many hats. I am a recipe developer, food stylist, food photographer, writer, and social media manager. That is a lot of hats to add to my existing mom and wife hats, so I have learned that organization is the key to success.
Having many to-do lists for each of the projects that I am currently working on, clipboards with ideas for future projects, and an editorial calendar on my computer for my blog means lots of balls to juggle at one time.
My Editorial calendar juggles all my posts and social media messages. That is a lot to look at so it's no wonder I need a golden milk turmeric latte!
Not to mention the three, yes three, planners that I have. One for the kids and husband that contains eye appointments and practices along with blocks of time for my "office hours."
I have one that is my blog recipe calendar so I can jot things down, like ideas for recipes and social media messages I might think up, that I carry too.
You never know when you will get inspired and need to take notes. If I tried to remember everything, I would remember nothing. Working a part-time job outside of blogging and mommy-ing also requires some juggling so I make sure that I add those days in too.
My third planner is a generic calendar that I keep on hand in case I forget the other two! I always have to have a backup. I keep this tiny one in my purse for when I leave one or both of the other two in the car or on the dining room table.
Which is currently my workspace because Brooks took the office desk. The upside is that I feel more creative at the table where I also eat meals.
You can definitely see why I need a golden milk turmeric latte but what about you? How do you start your day?
The Golden Milk Latte helps me get my day started while feeling right at home which is where I work and feel most creative. Will you enjoy your Golden Milk Latte in the morning or evening? Tag me on social media and show me with #GoldenMilkLatte and #TakeTwoTapas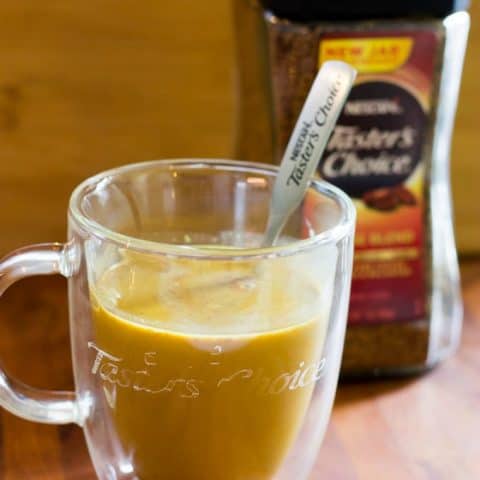 New Coffee Golden Milk Turmeric Latte
Ingredients
For the Golden Milk
2 cups milk (I use coconut or almond)
1 teaspoon turmeric
1/2 teaspoon cinnamon
1/2 teaspoon ginger
1/4 cup honey
for 1 latte
1 cup of Golden Milk
1 heaping teaspoons NESCAFÉ® Taster's Choice® instant coffee powder
Instructions
Make the Golden Milk
In a small saucepan, heat the milk, ginger, cinnamon, and turmeric.
Bring to a slight boil and then reduce temperature and simmer for 3 minutes.
Strain into a glass measuring cup and add the honey.
Stir to combine.
For the Golden Milk Latte
To make your latte, add a heaping teaspoon of NESCAFÉ® Taster's Choice®, or your favorite instant coffee in a mug.
Pour in 1 cup of Golden Milk.
Stir to combine.
Enjoy!!
Nutrition Information:
Yield:

2
Serving Size:

1
Amount Per Serving:
Calories:

325
Total Fat:

7g
Saturated Fat:

4g
Trans Fat:

0g
Unsaturated Fat:

2g
Cholesterol:

29mg
Sodium:

194mg
Carbohydrates:

55g
Fiber:

1g
Sugar:

35g
Protein:

13g
This nutrition information was generated via a third party, Nutritionix, and can not be held liable for any discrepancies in the information provided.