Simple and flaky pie crust is transformed into easy pie crust cookies topped with a pecan and drizzled with a whiskey caramel sauce!  Cut them into your favorite shape to fit your holiday or occasion.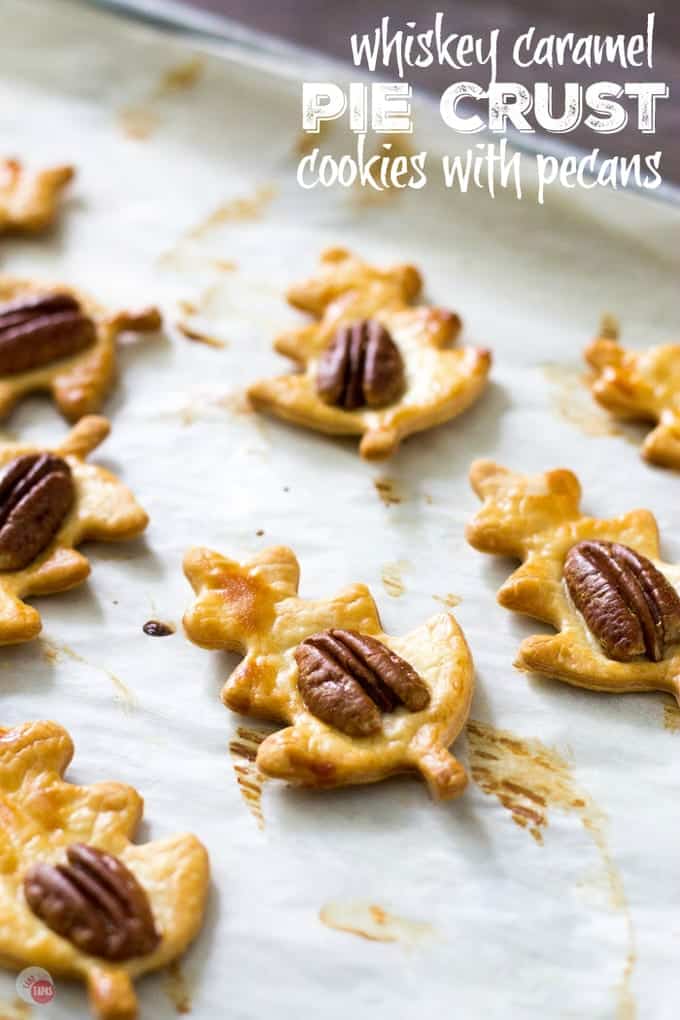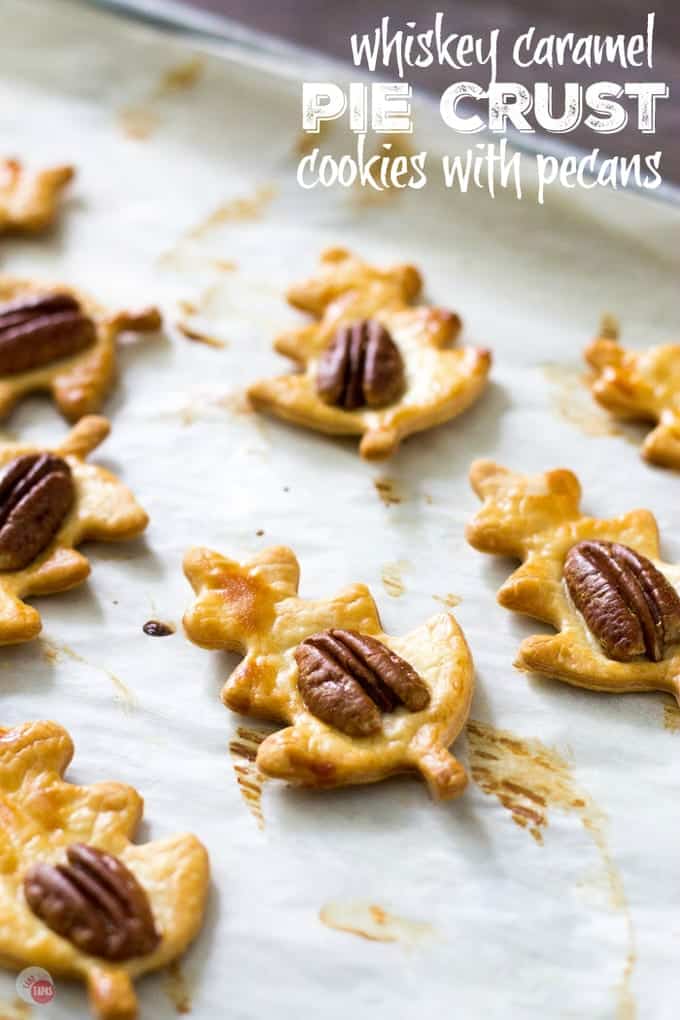 Refrigerated pie crust is just about the best thing every invented.  Right behind the maps app on my phone and the refrigerator that beeps when my kids leave the door open.  No more melted ice cream just beeping noises followed by me yelling at them to shut the door.  There is always a box of pie crust in my fridge just in case I need to make something last minute.  I have used pre-made pie crust for a variety of uses but never for cookies, so when I saw this recipe for pie crust cookies on my friend Michaela's blog, An Affair From the Heart, my heart lept!  It almost jumped out of my chest and ran straight to the fridge to grab my pie crust and get started.  I found this recipe while looking at Michaela's blog for appetizer recipes for my holiday parties, and figured this would be great for our Freaky Friday Virtual Cookie Exchange.  Freaky Friday is a virtual blog recipe swap where a group of bloggers
I found this recipe while looking at Michaela's blog for appetizer recipes for my holiday parties, and figured this would be great for our Freaky Friday Virtual Cookie Exchange.  Freaky Friday is a virtual blog recipe swap where a group of bloggers are secretly assigned someone else's blog and they make a recipe from it.  You can add your own twist to it if you want or just make it in all its original glory!  Then we share it all on the same day and we get to see who made our recipe, what changes they made if any, and how much they like it!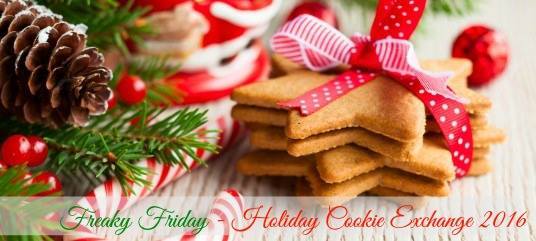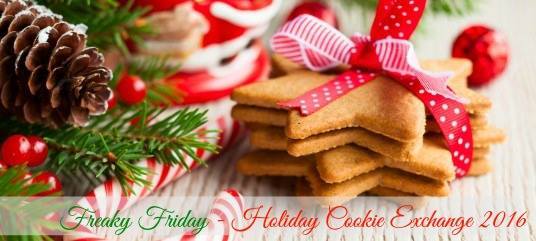 Looking for a new cookie for Thanksgiving this year I stumbled upon these pie crust cookies and decided to make them for the big turkey day.  Because you just roll out the dough, you can cut it into any shape that you want. I have a set of "fall" cookie cutters that consist of an acorn and two different leaf shapes.  A leaf-shaped cookie will get everyone in the holiday mood even if the weather is still warm in Florida.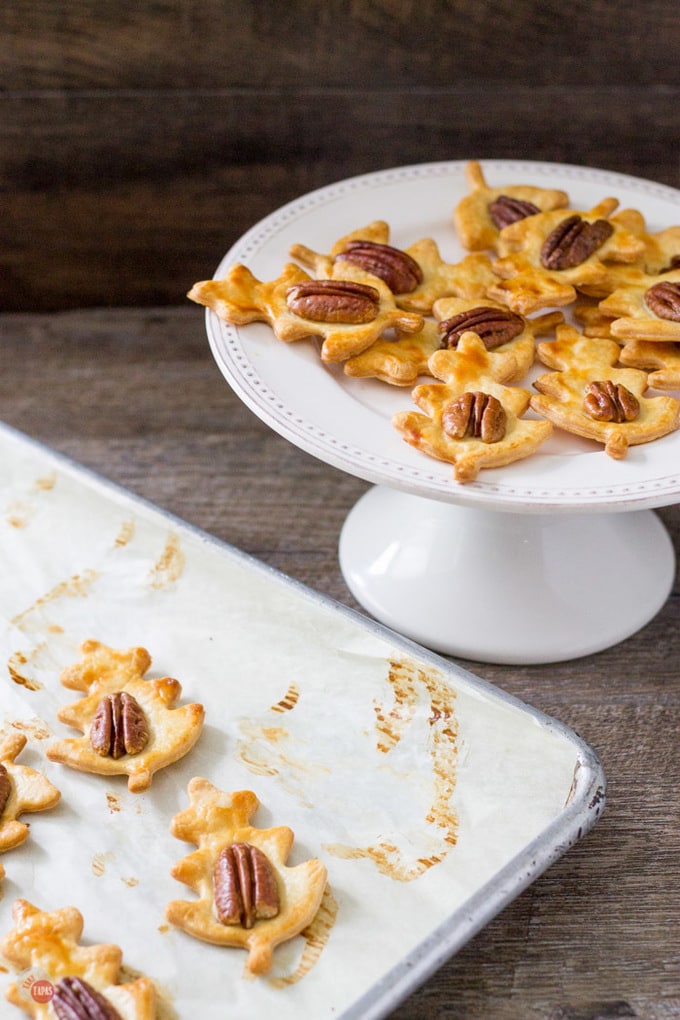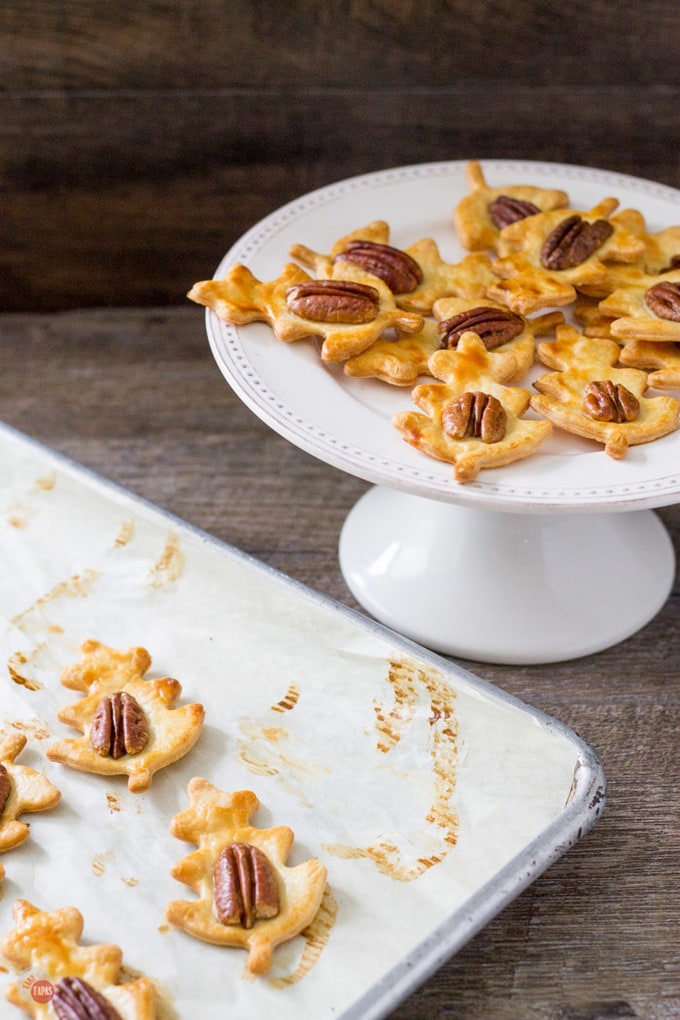 I topped the cookie it with a buttery toasted pecan to add some nuttiness (not that there won't be a lot of that at the family reunion) and baked them till they were crispy and golden brown.  Crispy crust is the best part of the pie, in my opinion (unless it's cherry pie), and that makes these pie crust cookies totally addicting!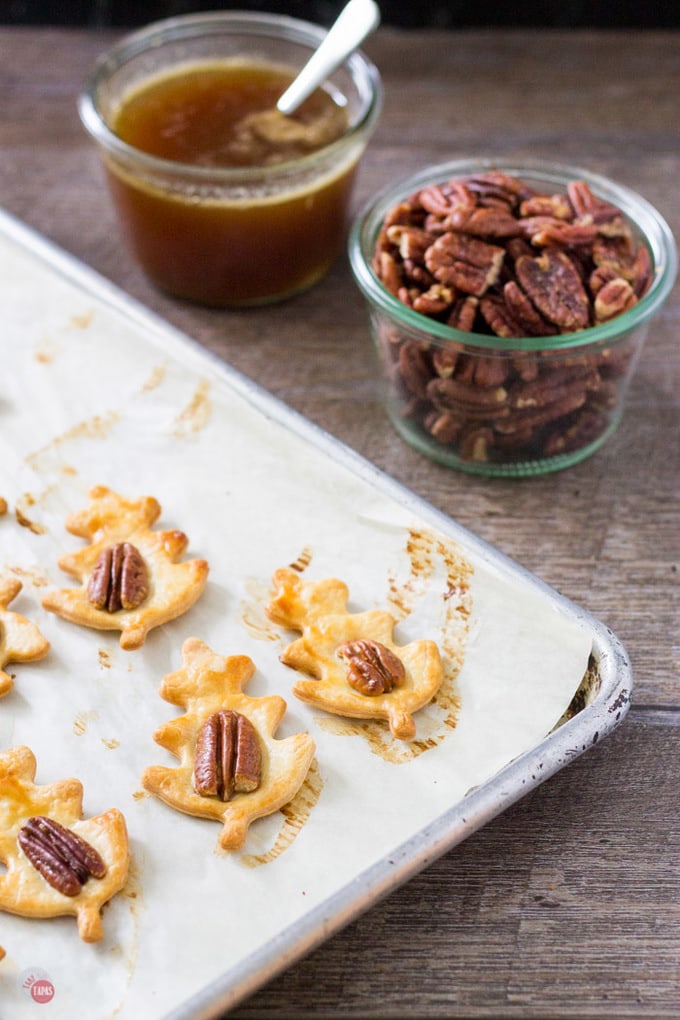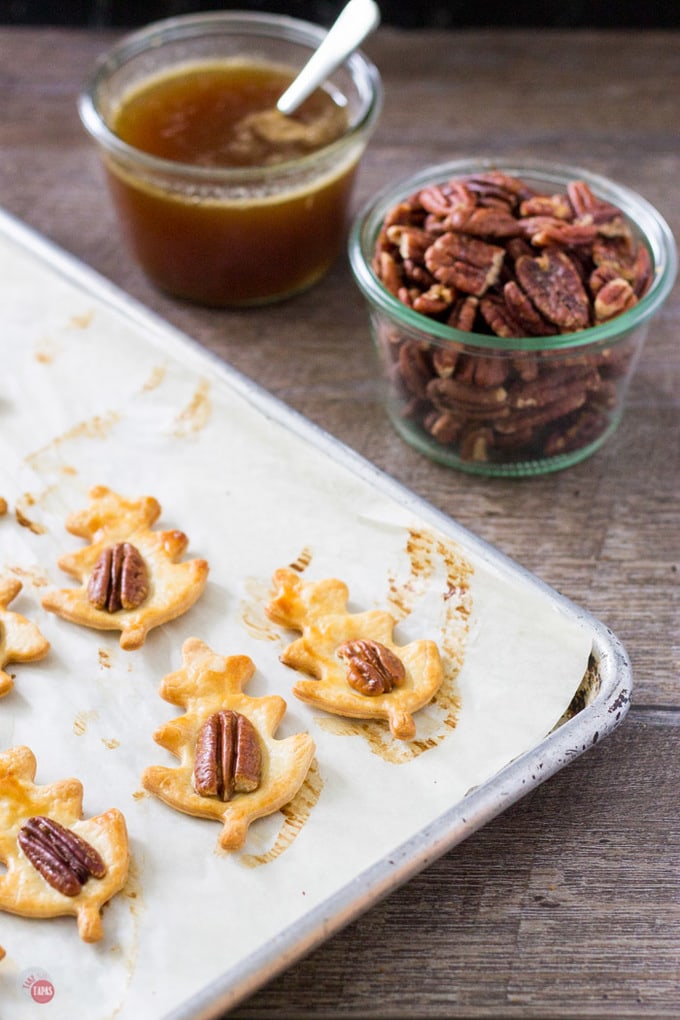 The cookies are flaky, buttery, and a little nutty with the pecan, so they screamed for a hint of sweetness.  In the original recipe, Michaela sprinkled the cookies with sugar.  I figured I would go one step further and drizzle them with a caramel sauce.  Let's take it to another level and add some whiskey to that drizzle sauce too!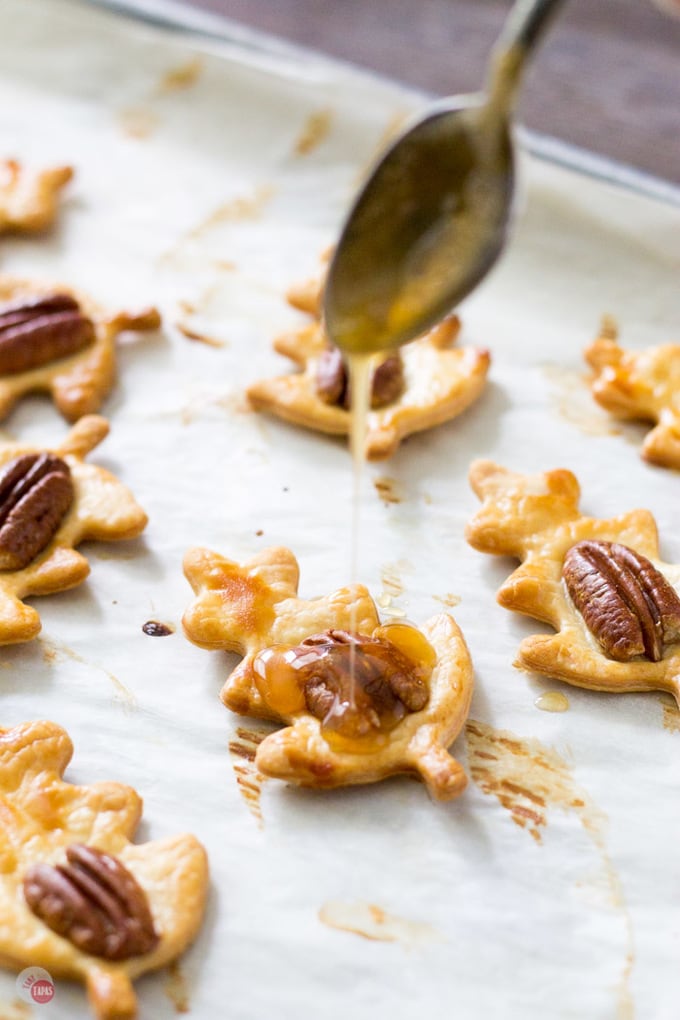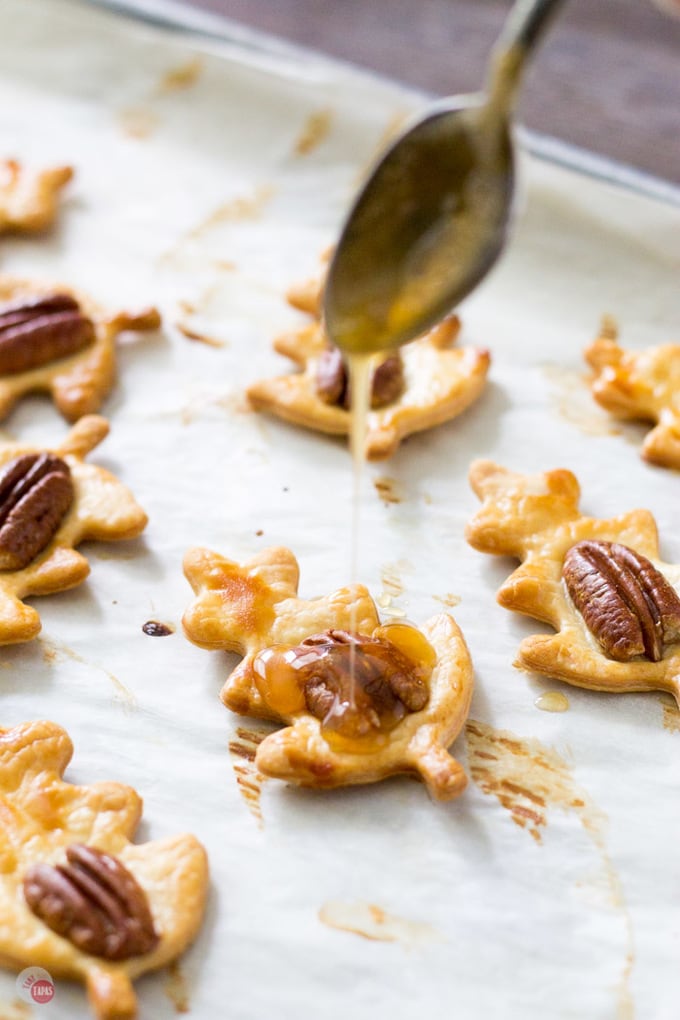 Once the whiskey caramel drizzle hit these cookies I couldn't resist eating one.  Then two.  Then three.  I had to back away from the pan at that point so I wouldn't eat them all!  These pie crust cookies have all the flavors you want for fall. They are buttery, flaky, crispy on the edges, nutty from the pecan, and sweet with the whiskey caramel.
Sticky sweet, so don't feel bad about licking your fingers afterward.  I know I did just so I could get the last little drop of the sauce!
The whiskey caramel sauce can be made ahead of time and stored in the fridge until ready to drizzle on your cookies.  Or drink from the jar:)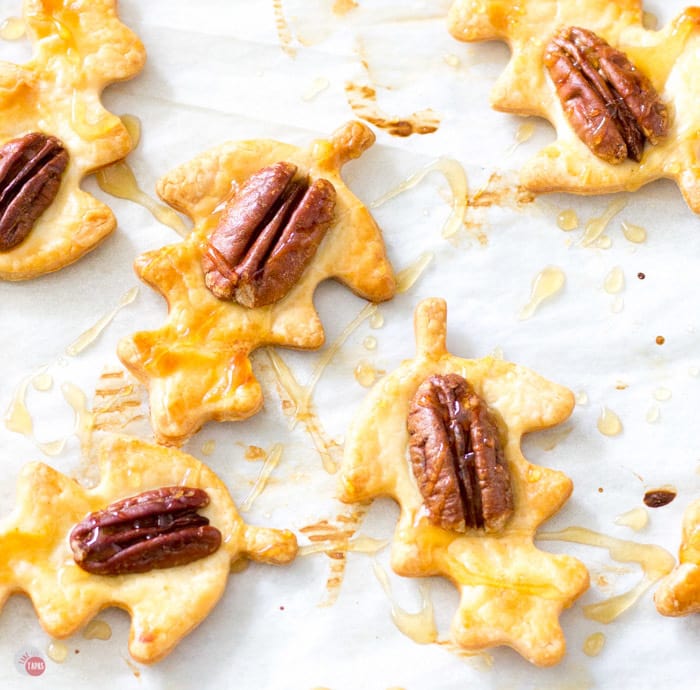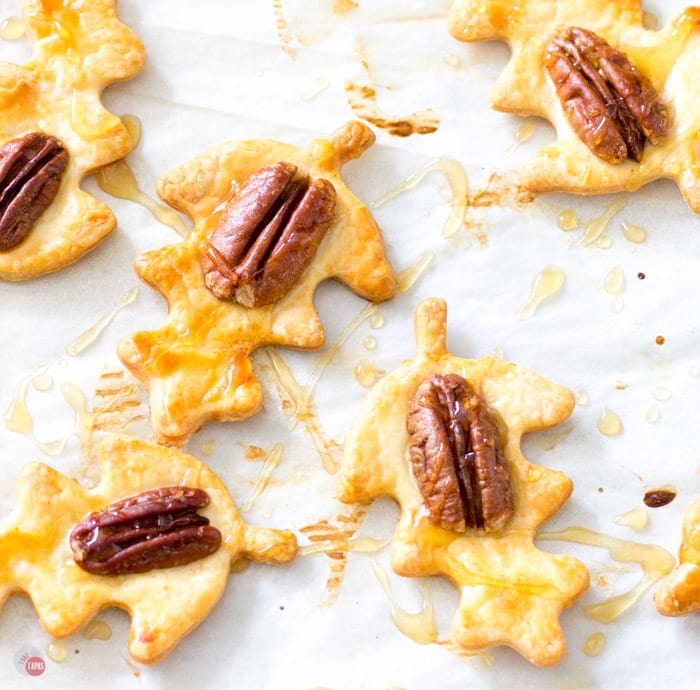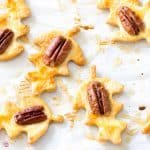 Whiskey Caramel Pie Crust Cookies
Ingredients
1

package refrigerated pie crust
For the Caramel sauce
1

cup

sugar

1

tablespoon

honey

3

tablespoon

whiskey

3/4

cup

coconut milk

1

teaspoon

sea salt

pecan halves for garnish
Instructions
Make the whiskey caramel sauce.

Combine the sugar, honey, and whiskey in a saucepan and bring to a boil over medium heat.

Once it comes to a boil, let it boil for 2 minutes.

Remove from heat and add coconut milk.

It will splatter so be careful.

Stir to combine and whisk until smooth.

Sprinkle in the salt and stir.

Pour into a glass jar.

Cool in the fridge for about 30 minutes.

Preheat oven to 400F.

Unroll your pie crust (or roll out your homemade one).

Cut into the shapes you want. I chose a leaf for the season.

Place the cookies on a parchment-lined baking sheet.

Brush with egg wash.

Place a pecan half on the cookie.

Bake for 10 minutes or until golden brown.

Remove from oven and cool for 5 minutes.

Drizzle with Whiskey Caramel Sauce and serve!
Michaela has some other great cookie recipes you just have to try out this holiday season!  I really want to try these Giant Chocolate Toffee Cookies, these Lemon Palmiers because they use another of my favorite kitchen hacks, Puff Pastry, and these Almond Raspberry Shortbread Thumbprints because those are my all time favorite cookie.  There is a bakery in my hometown that makes thumbprints, they call their's "Bachelor Buttons," and fill the cavity with royal icing that hardens after a little bit. The cookie part is super tender and has a great flavor but the royal icing that adds that little bit of texture is the best part.  I have a feeling that these will be just as addicting.
Check out all the other cookies recipes from Freaky Friday Virtual Cookie Exchange!
Loading InLinkz ...