These tequila infused grapes are a sweet and boozy snack that can serve as a dessert too! Rolled in festive sprinkles and sugar can dress them up for any holiday or occasion.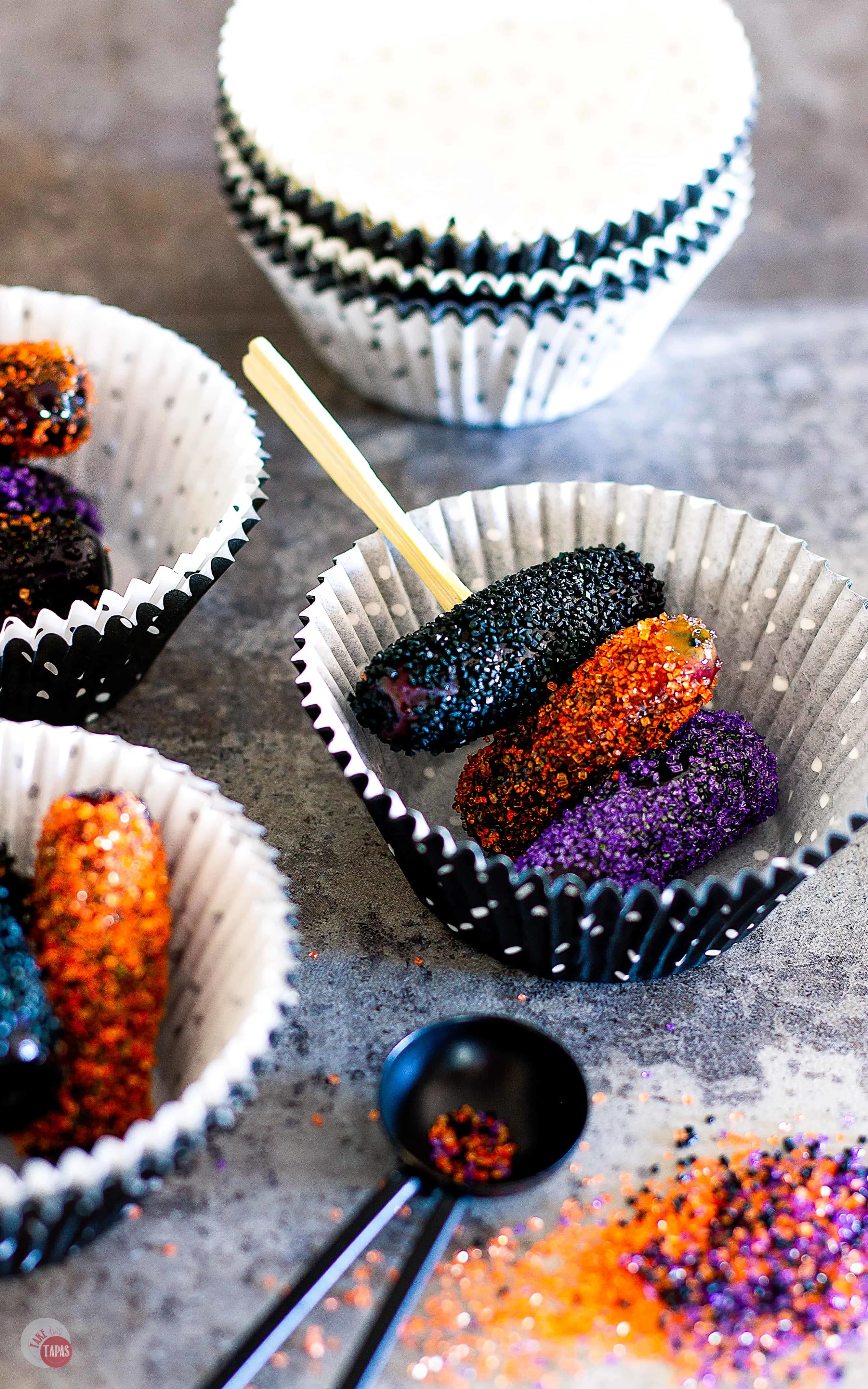 Candied Grapes
Having trouble getting in your fruit servings? How about trying some tequila infused grapes to help you get in your daily servings? Yes, just because they are infused with tequila, doesn't mean that they aren't still grapes! Fruit, people! Fruit!
I'm not sure that your mom would agree that they count the same as sober grapes do but I am still going to let them count.
Forget all that, let's talk about tequila infused grapes and how to make them!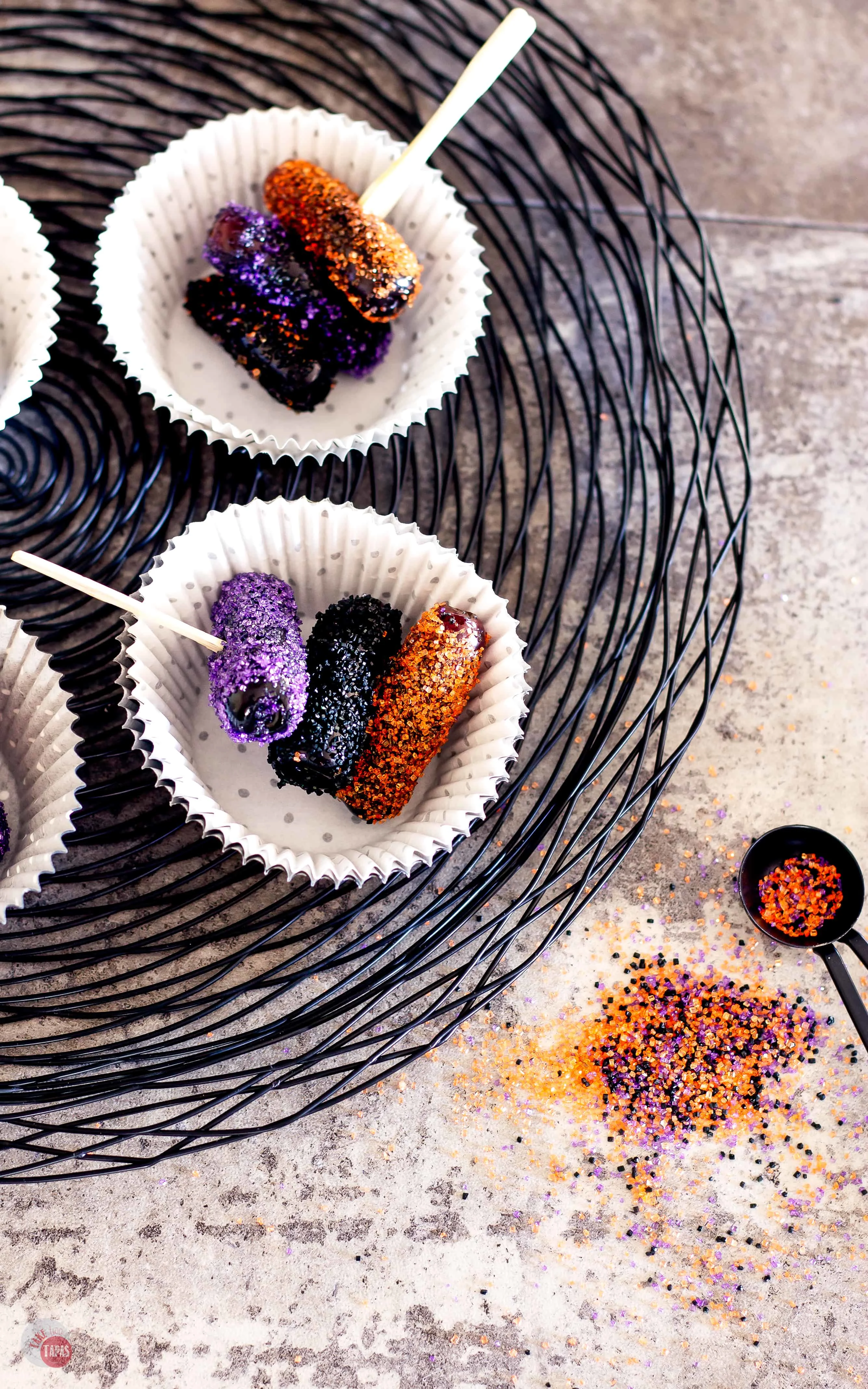 Just take me to the Tequila Infused Grapes Recipe Already!
If you'd rather skip my (very helpful, I think) tips and tricks, essential cooking info, and similar recipe ideas – and get straight to this delicious easy Tequila Infused Grapes recipe – simply scroll to the bottom of the page where you can find the printable recipe card.
Candy Grapes
Have you ever heard of Sour Patch Grapes? They are grapes that are rolled in sour flavored gelatin powder. Then they are chilled and served. Fun, sour, fruit that wows the kiddos. I don't know about you, but I like sour candy but these can be a little overpowering to me. How about an adult candy grape?
These sugared tequila infused grapes are the grown-up alternative to the sour candy grapes. Not overly sour, the perfect amount of sweetness, and a boozy tequila kick. Like an edible cocktail!
Fun, festive, a filling snack, and a little adult beverage throw in. Let me tell how to make them.
This post may contain affiliate links. As an Amazon Associate, I earn from qualifying purchases. Read my disclosure policy here.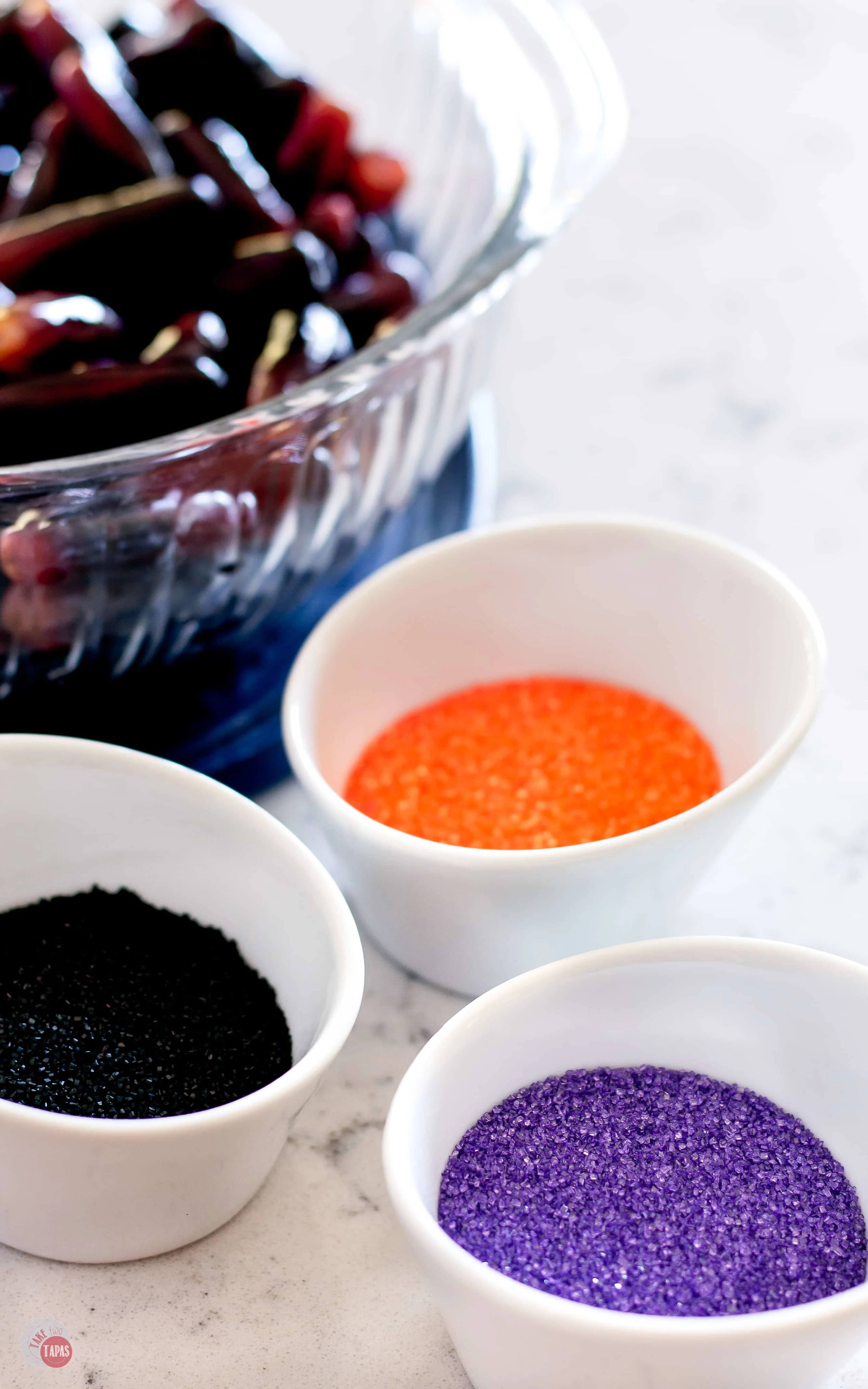 Boozy Fruit
To get our tequila infused grapes started, you have to get your grapes first. Green, red, seedless, champagne, are all great grapes to use. Because Halloween is around the corner, I already knew I was coating the grapes with holiday colored sugar sprinkles. Why not find a grape that goes along with the holiday spirit too?
Moon Drop grapes are perfect for the season. To me, they look like toes!! The Moon Drop grapes are a dark purple color with the end a little lighter than the rest of the grape. Long in shape, they resemble toes, or fingers if you want to imagine that.
I knew that I wanted to use tequila because I wanted to make margarita grapes instead of prosecco or wine like others have previously done. I even played around with a lime flavored tequila and adding a little salt to the colored sugar but the salt didn't really work out that great. I abandoned the salt immediately!!
But I didn't give up on the tequila with lime.
After soaking the Moon Drop grapes in Blanco tequila overnight, I drained them and got started with the coatings.

For more insider tips & tricks, and a candid behind the scenes look follow me on social media! Check use out on Pinterest, Facebook, Instagram, & Twitter (yes, people still use Twitter, LOL!)
Making the tequila-infused grapes is easy, just sprinkle the colored sugar over the wet tequila infused grapes. I tried a few different ways to accomplish this and through trial and error, learned a few tips and tricks along the way. The biggest takeaway was not to use black colored sanding sugar when you have an important meeting the next day.
Needless to say, I had black fingertips the whole next day. Luckily, everyone at the meeting knew that I liked to cook and bake and didn't question me about them, although I did get plenty of strange looks. I've listed the other hints below to make the process a little easier.
Tips for making Tequila Soaked Grapes
You need the outside of the grapes to be wet for the sugar or sprinkles to stick so don't dry them off before you coat them.
Hold the grapes on the ends when you coat them with sugar so you don't leave blank spots on the sides of the grapes.
If you are using colored sugar or sprinkles, you might want to wear gloves or you risk staining your fingers those colors.
Use a plate or wide bowl to catch excess sugar when you are sprinkling it over the wet grapes.
Sprinkle the sugar over the grapes instead of placing wet grapes in a bowl of sugar and swirling. The excess liquid will make the rest of the sugar in the bowl wet and it won't stick to the grapes leaving you with a mess.
Place sugar coated tequila infused grapes on a dry plate and let them dry before serving them.
Hold the grapes on the ends again when placing forks or skewers in the grapes.
If you are using multiple colors, try placing a variety of colors on each skewer or fork.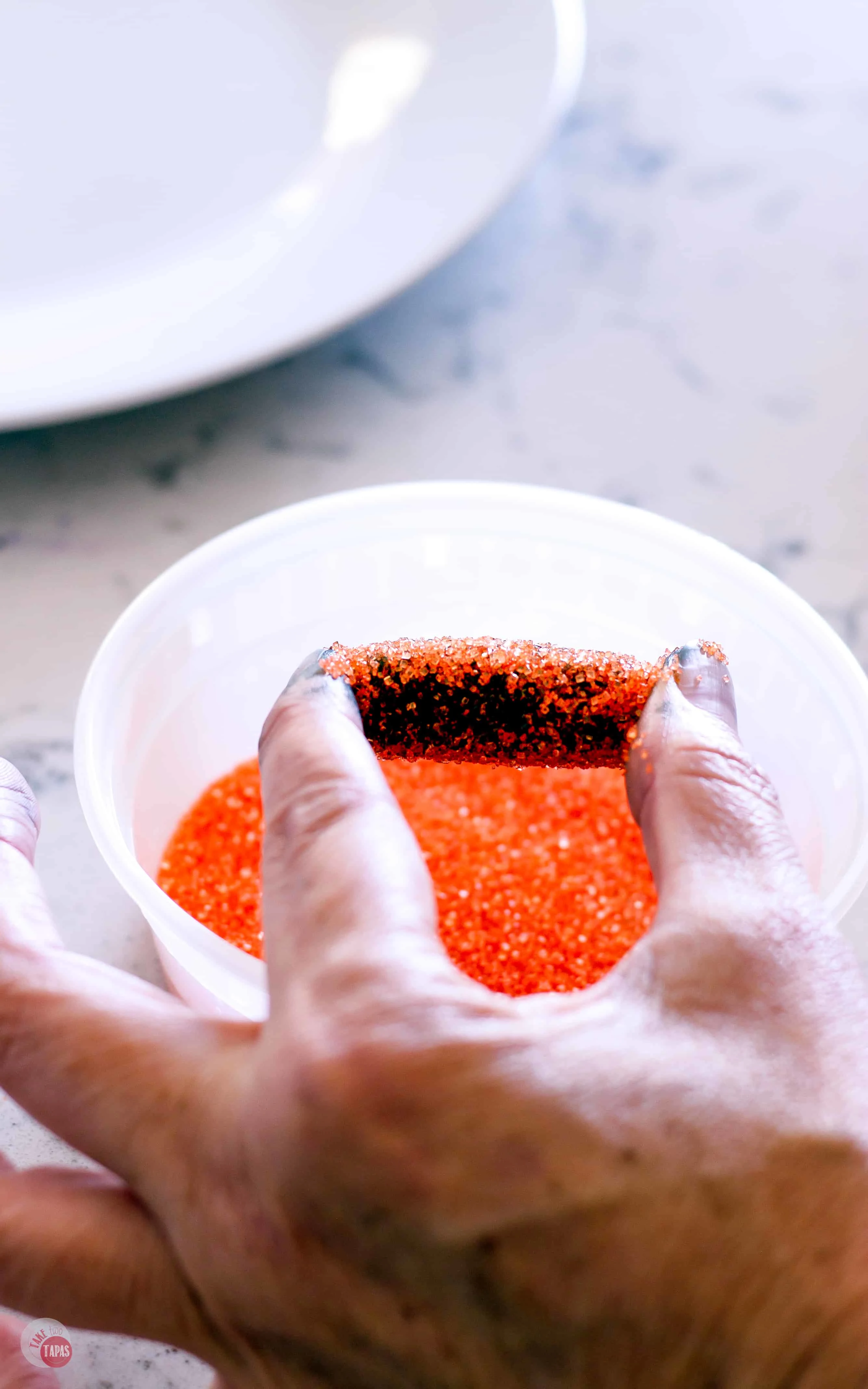 FAQ about Tequila Infused Grapes:
Q: How long do I need to infuse or soak the grapes?
A: At least an hour and up to 24 hours. If you need to leave them in the tequila longer before you sugar them, I would drain the grapes and store them Then before you roll them in sugar, run them under some water.
Q: What variety of grapes should I use?
A: Feel free to use any variety of grapes that you like. Just remember that the smaller the size of the grape, the shorter the time you need to soak them in the tequila.
Q: Can I use frozen grapes or freeze the tequila-infused grapes?
A: If you want the tequila-infused grapes frozen, you need to soak the grapes in tequila first before freezing.
Q: Can I use other spirits besides tequila?
A: Feel free to use rum, vodka, tequila, wine, or prosecco. I haven't used bourbon but I am not opposed to trying it.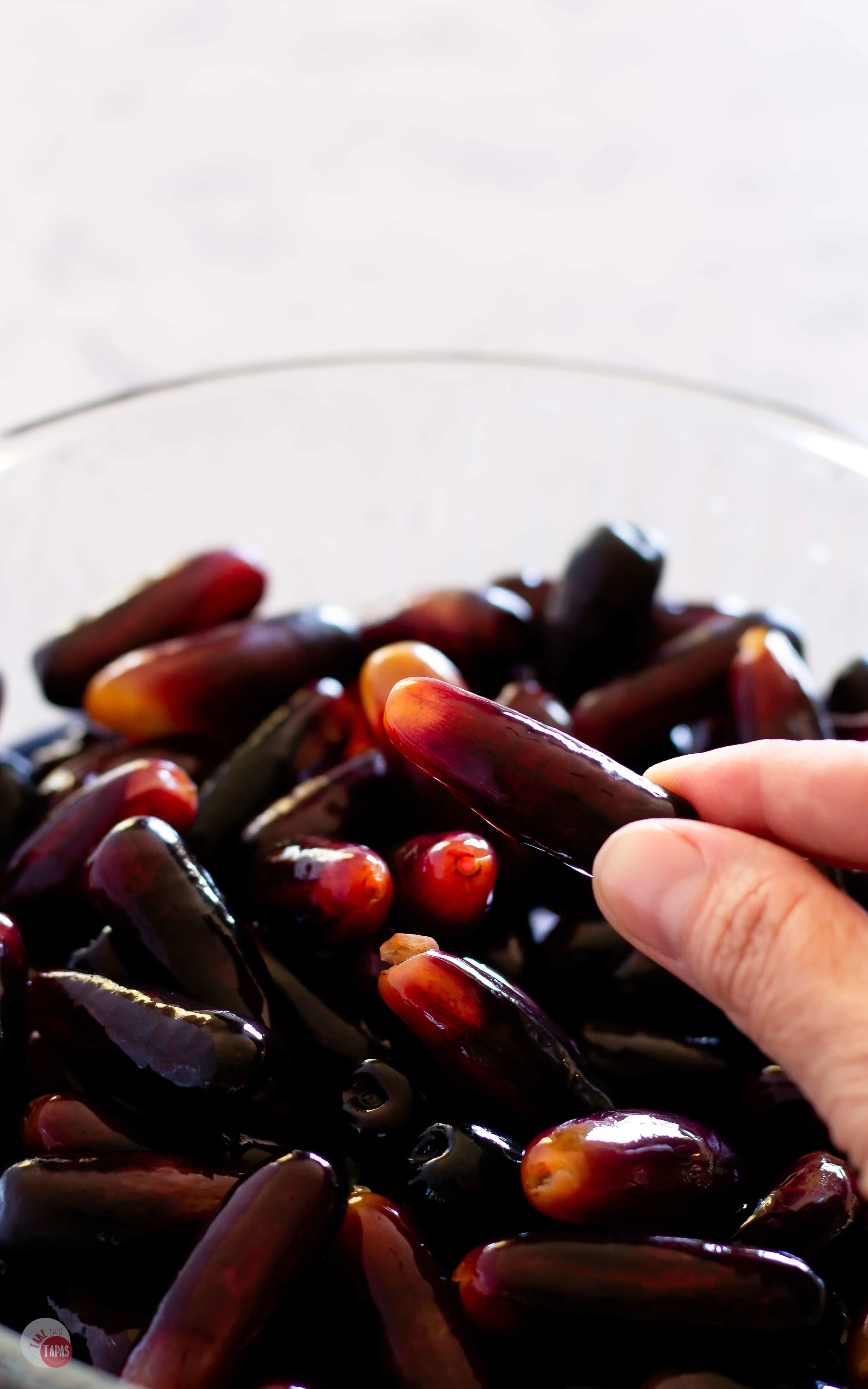 Freaky Friday
Where did I get the inspiration for these tequila infused grapes? From my blog buddy Kathy from the blog, Lemon Blossoms. We both participate in an event called Freaky Friday. What is Freaky Friday, you ask? It's a secret recipe swap that a group of bloggers participates in quarterly. We are secretly assigned another blogger from the group, we select a recipe from their blog, and make it for ours. You can make it exactly like the original or you can put your own spin on it.
Once they are all made, we post them on the same day and share to our readers. It is so fun to discover which blogger was assigned your blog, which recipe of yours they made, and if they put a new twist on it. It's like Secret Santa!!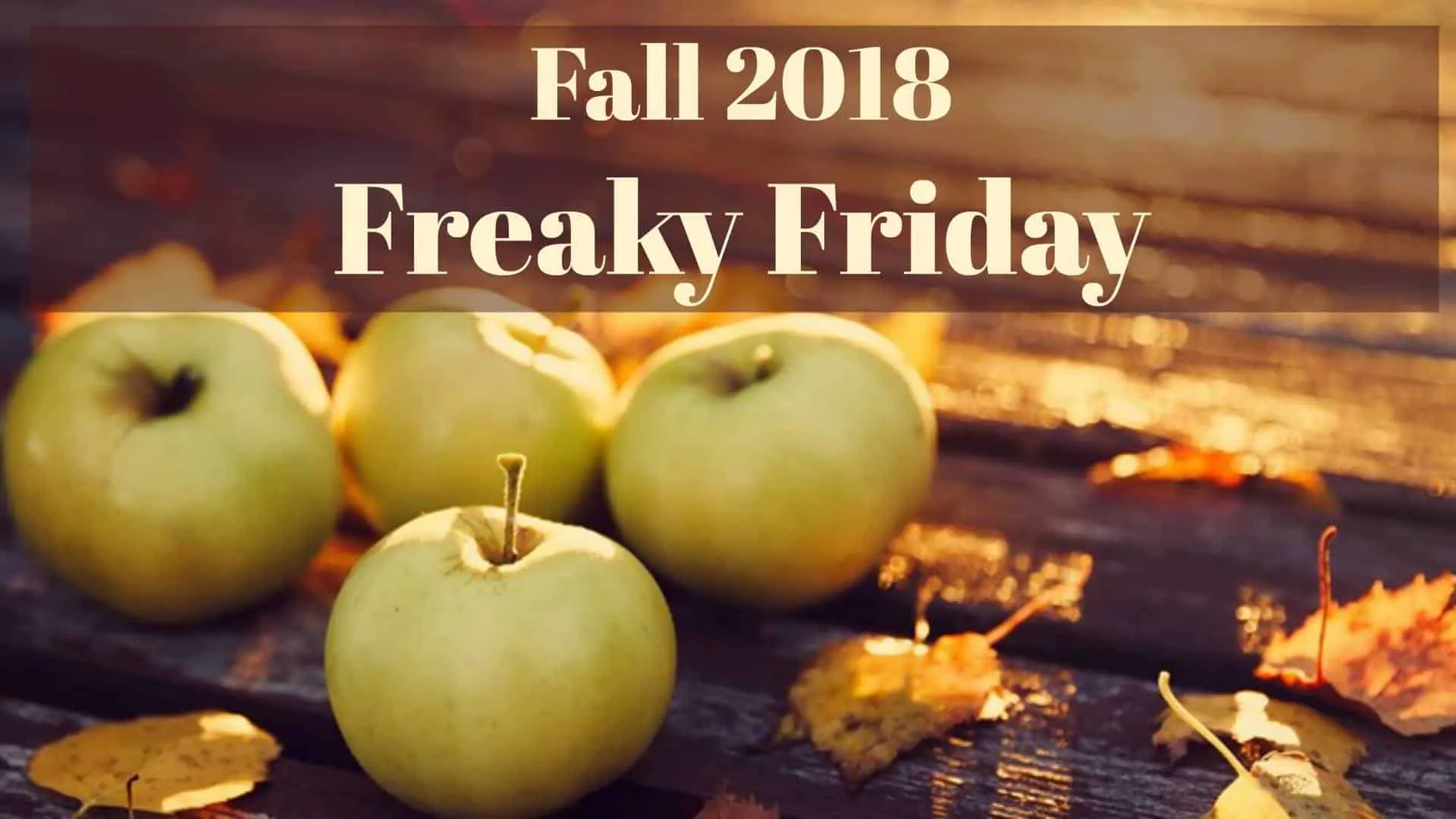 The hard part about Freaky Friday is trying to decide what recipe to make! Kathy has so many great recipes. Of course, I always start my search looking for appetizers and party foods. I also take a peek at their cocktails, because you know I am a sucker for an adult beverage. Then I always end with a quick glance at the sweets. Her Prosecco Sugared Grapes hit two of these categories!
All Kathy's great recipes took me on a journey from her Baked Brie Cheese with Strawberries and Hot and Cheesy Bacon Dip, to her Sushi Stacks. I can't wait to throw a party and serve these adorable, bite-sized sushi snacks. I could wash them down with her Cranberry Maple Bourbon Cocktail or her Harvest Shandy. These are both perfect for the upcoming holiday season. Right now I am currently crushing on her Caramel Apple Pie Party Mix which is perfect for fall.
Kathy believes that food is about creating memories, bringing families together and sharing your love with others. This is my philosophy as well, which is why we click! She loves rustic food because cooking with kids doesn't always yield photo friendly dishes, but the memories last forever.
I got a kick out of learning that she doesn't like plain milk, hasn't had any since she was 5 years old, and that most of the arguments that she and her husband have are about people liking plain milk. Kathy is a culinary school graduate and loves fancy restaurants but can totally get down with In-N-Out Burger and Chick-fil-A too.
Hop on over to Lemon Blossoms and check out Kathy's other recipes, and see which blog recipe she is recreating today like me! And don't forget to check out all the other blogger's recipes that are posted for Freaky Friday!
Take a Look at all of our Fall Freaky Friday Recipes:
If you love this recipe as much as I do, please write a five-star review in the comment section below (or on Pinterest with the "tried it" button – you can now add pictures into reviews, too!), and be sure to help me share on facebook!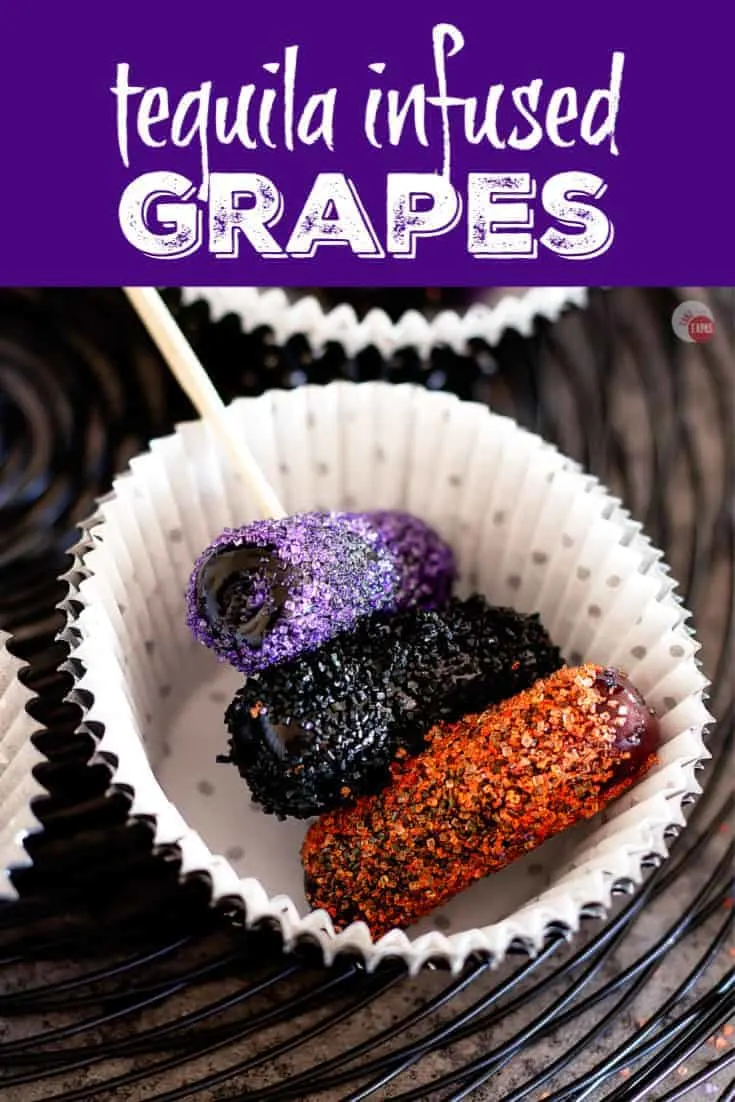 Easy Tequila Infused Grapes Recipe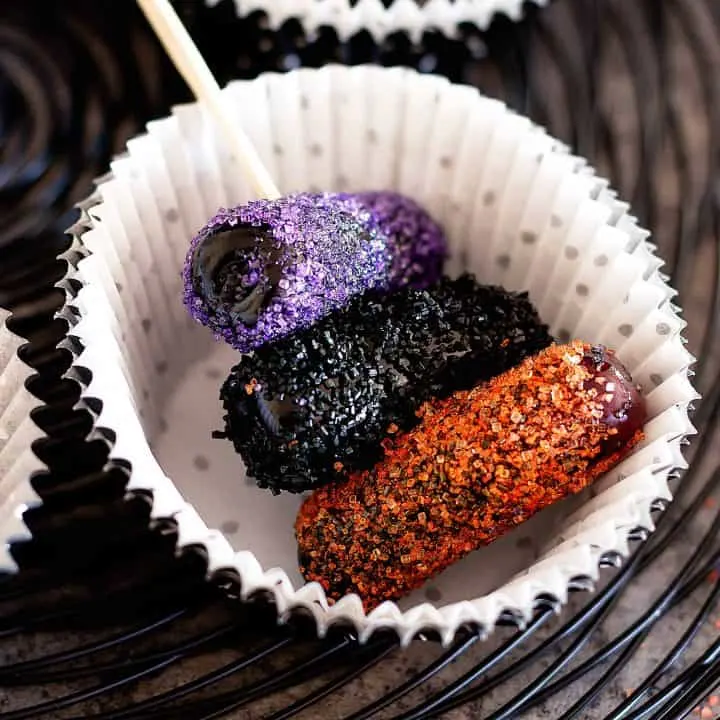 Tequila Infused Grapes - Sparkling Tequila Grapes
Total Time:
8 hours
15 minutes
These tequila infused grapes are a sweet and boozy snack that can serve as a dessert too! Rolled in festive sprinkles and sugar can dress up for any party!
Ingredients
2 lbs grapes
2 cups tequila
toothpicks or tiny forks for serving
Instructions
Prep the grapes
Remove the grapes from the stems and wash them.
Place the grapes in a container with a cover.
Pour the tequila over the grapes.
Cover and refrigerate for at least 1 hour and up to 24 hours.
Sugar Coat the Tequila-Infused Grapes
Drain the grapes but do not dry them.
Sprinkle plain or color sugar or sprinkles over the grapes.
Set on a plate to dry for 5 minutes.
Carefully move to a serving platter or place on skewers.
Enjoy Responsibly!
Notes
*If you like this recipe, please leave me a comment and rate it with some stars. Thank you!
Nutrition Information:
Yield:

20
Serving Size:

1
Amount Per Serving:
Calories:

72
Total Fat:

0g
Saturated Fat:

0g
Trans Fat:

0g
Unsaturated Fat:

0g
Cholesterol:

0mg
Sodium:

1mg
Carbohydrates:

8g
Fiber:

0g
Sugar:

7g
Protein:

0g
This nutrition information was generated via a third party, Nutritionix, and can not be held liable for any discrepancies in the information provided.
©TakeTwoTapas.com. Content and photographs are copyright protected. Sharing of this recipe is both encouraged and appreciated. Copying and/or pasting full recipes to any social media is strictly prohibited.