Poultry Seasoning is best when homemade and it is super easy to make. The ingredients are most likely in your pantry right now and make the perfect blend to add flavor to chicken, turkey, vegetables, and soups!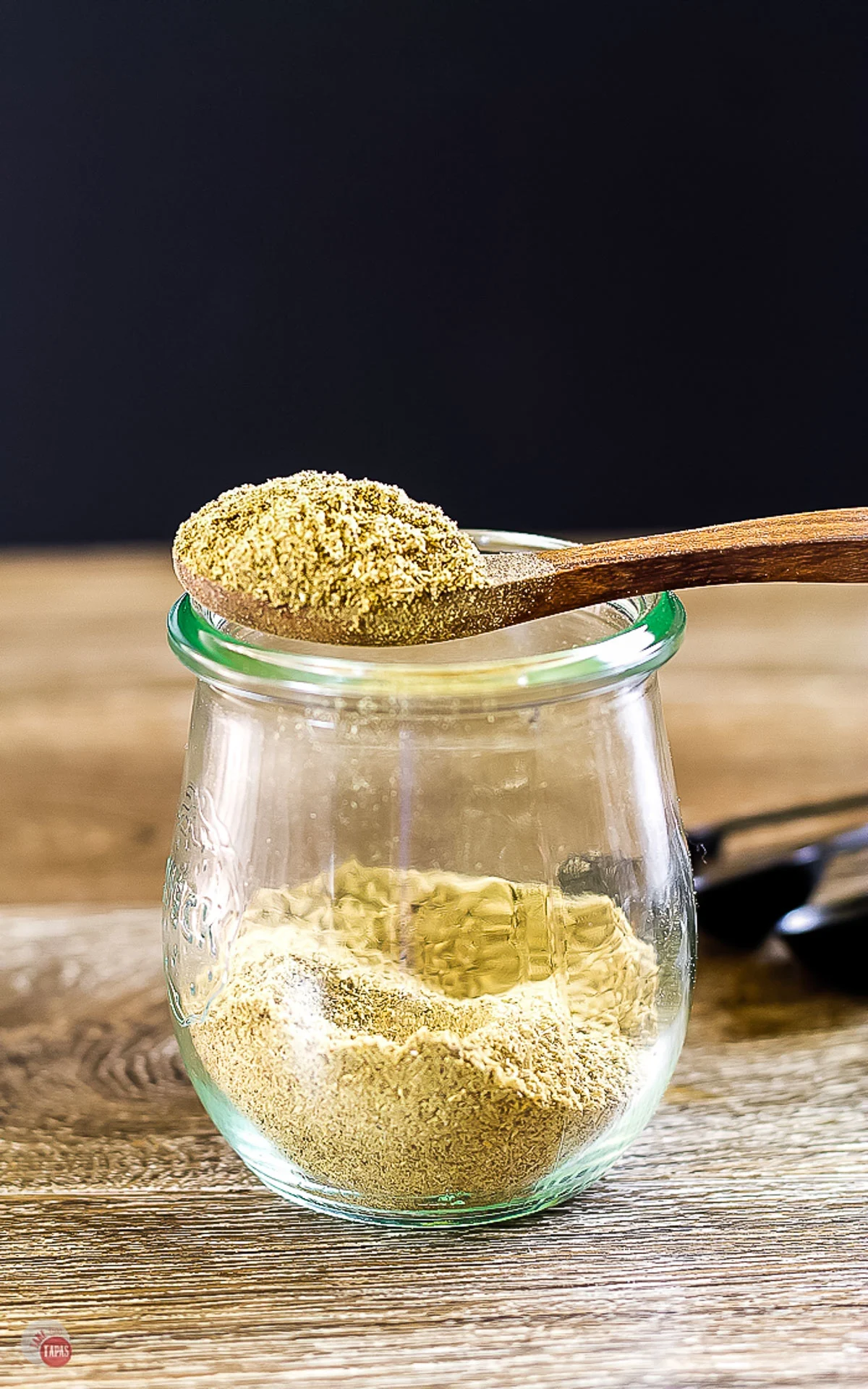 What is poultry seasoning?
Poultry seasoning makes bland chicken and turkey sing a "cock-a-doodle doo" with flavor.
Sure, there are a wide variety of poultry seasonings, but they typically build off the core ingredients: marjoram, sage, thyme, oregano, and rosemary.
I am pretty sure these spices were put on this earth just for poultry.
My recipe adds a couple other ingredients that work wonders with poultry as well, including nutmeg and celery seed.
Celery seed and nutmeg have a way of assisting the other seasonings in the blend. Celery seed also adds just a hint of a vegetable-like flavor and aroma to round things out as well.
So, I have a basic poultry seasoning blend that is my "go to" but can also serve as a base blend if you prefer to make customized variations based on your meal.
This post may contain affiliate links. As an Amazon Associate, I earn from qualifying purchases. Read my disclosure policy here.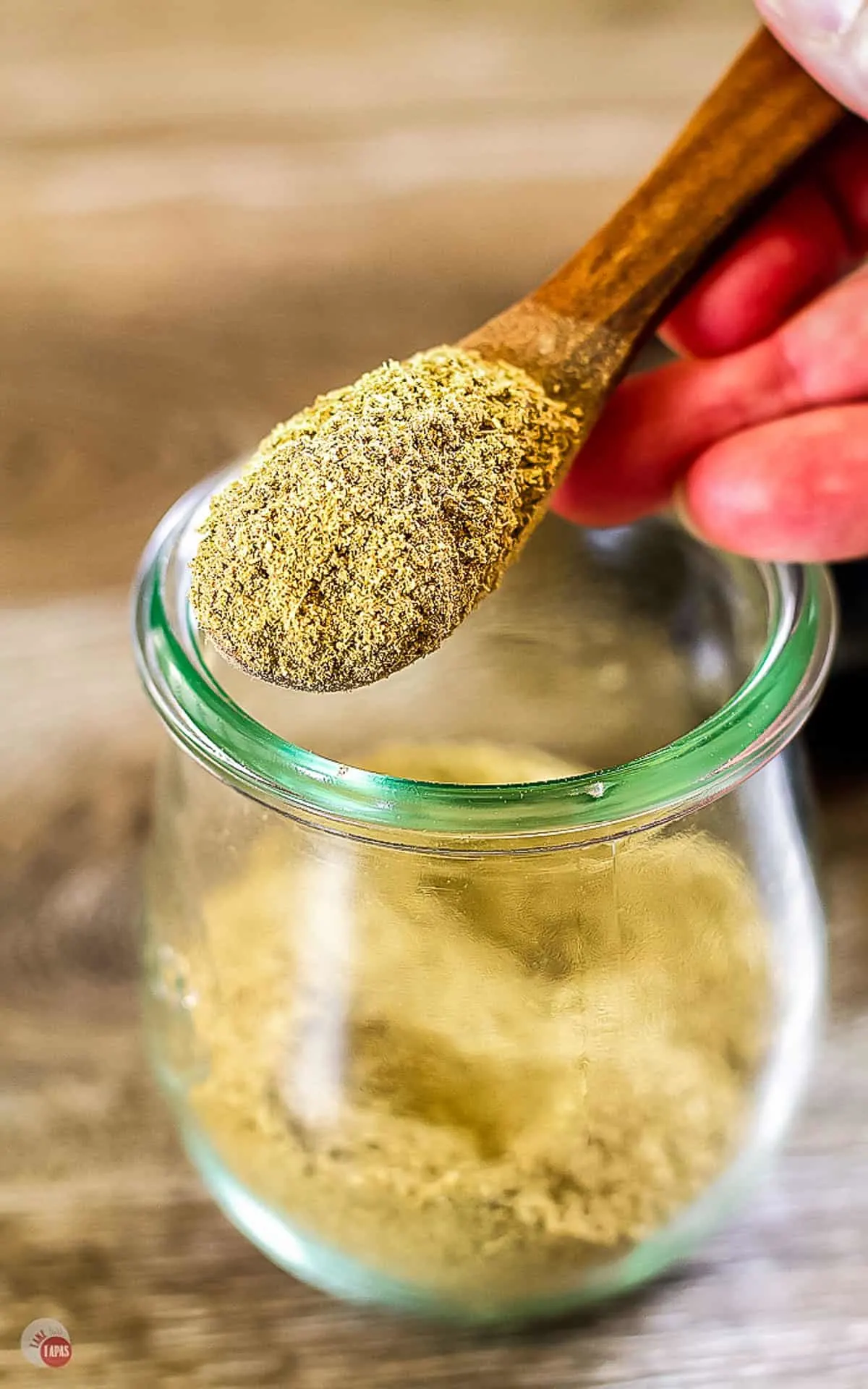 What is in poultry seasoning?
Poultry seasoning was originally popularized in the mid 1800s with "Bell's Seasoning" from New England. Of course, using marjoram, thyme, rosemary, and oregano for seasoning a bird goes back much further than that.
There are plenty of websites that have suggestions for poultry blends, but they are drawing on a long and illustrious history of how to season a bird for deliciousness.
Their recipe harks back to that original Bell's blend. The truth is this. Bell's just had the good sense to put them all together into a can and slap a label on it.
In actuality, those seasonings for poultry go back to ancient times. Later on, the French incorporated them as essential ingredients in french provincial style cooking.
You can always count on the French to first standardize, then raise the standard to excellent when it comes to cuisine.
In medieval times, herbs like marjoram, thyme, rosemary, and oregano served many purposes. First, since everything pretty much stunk to high heaven, these herbs offered a retreat from the endless attacks on the senses.
Then, just because someone that didn't smell so bad was probably more a fetching catch, they became associated with love and courtesy. All that chivalry stuff extended to the cuisine as well.
Not having much in the way of refrigeration meant food would rot. Having some powerful herbs to counteract that issue and make things more palatable? Always a bonus.
Ingredients Needed
Turkey seasoning recipes start with marjoram, thyme, rosemary, and sage, but you can do many variations on it from there. Consider those seasonings the basic building blocks of a great poultry seasoning.
sage
marjoram
thyme
rosemary
To enhance my poultry seasoning, I like to add these extra herbs and spices.
oregano
nutmeg
pepper
celery seed
If you like to add savory to your seasoning blend or have a recipe that includes it, I would opt for the winter savory instead of the summer variety. It is more suited for meats and will add another layer of flavor.
How to Make Homemade PoultrySeasoning
Combine all the dried herbs and store in an air tight container in a cool dry place.
Is it the same as chicken seasoning?
First, don't confuse chicken bouillon with poultry seasoning. Although you can use ground up bouillon to enhance a poultry seasoning blend.
Chicken bouillon is actually just the essence of chicken flavor and usually salt.The other seasonings in the bouillon are probably the core poultry seasoning ingredients anyway.
If you do want to use chicken bouillon in your blend, then make sure not to use other salt or you will end up with chicken saltier than an anchovy!
Want some twists on my basic blend? Here are a few ways to go!
Turkey Seasoning Variations
Dried lemon peel zest adds a great touch of lemon to the poultry. It works well to enhance the poultry seasoning ingredients.
Take things in a spicier direction by using a bit of cayenne pepper in the blend.
Dried mustard adds a touch of heat but also works wonders with poultry.
Using basil brings one more herb to the equation that can take you in a more mediterranean direction.
The Indian spice blend garam masala mixed into poultry seasoning adds an earthy touch that adds a very exotic flavor to the mix.
Are you deep frying your turkey or want a new seasoning for oven roasting? Check out this flavorful turkey rub.
Obviously, you can come up with your own variations too. This blend of seasoning is very versatile that way.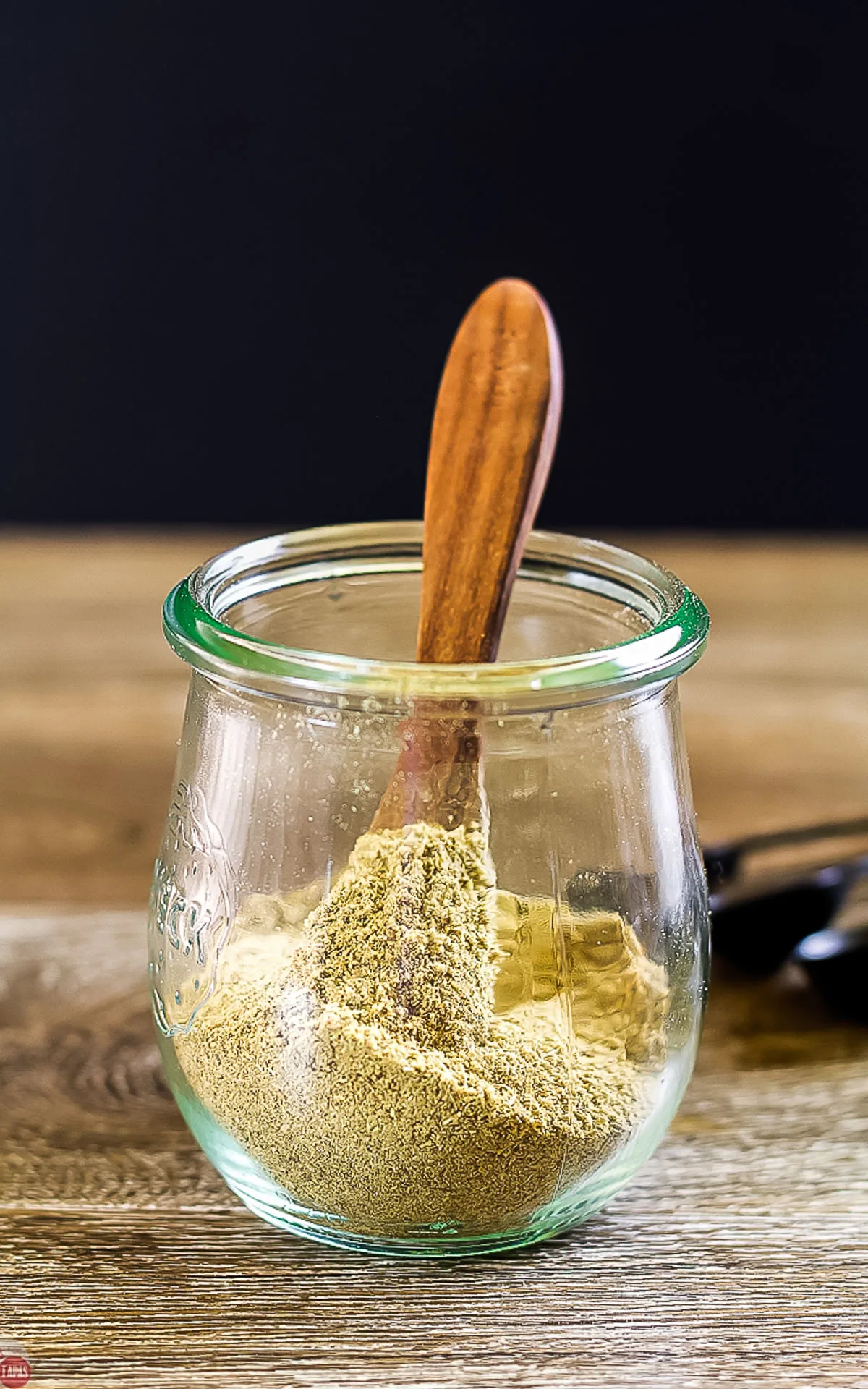 What can I use instead of poultry seasoning?
If you don't have some already made or all the ingredients to make the complete recipe, just add 2 teaspoons of sage and 1 teaspoon of thyme or marjoram.
Can I use Italian seasoning instead?
Italian seasoning has a lot of the same ingredients like rosemary and thyme but it doesn't have the sage.
Feel free to use the Italian seasoning and add a little bit of sage to it and it will work just fine.
What can I use instead of marjoram?
If you don't have marjoram on hand feel free to substitute oregano for it. They are both from the same herb family but oregano tends to be a little stronger. You won't need to use equal amounts.
For more insider tips & tricks, and a candid behind the scenes look follow me on social media! Check use out on Pinterest, Facebook, Instagram, & Twitter (yes, people still use Twitter, LOL!)
Uses for Poultry Seasoning
turkey, of course
chicken
pork
soups
stuffing
casseroles
pot pies
veggie burgers
meatloaf
bread loaves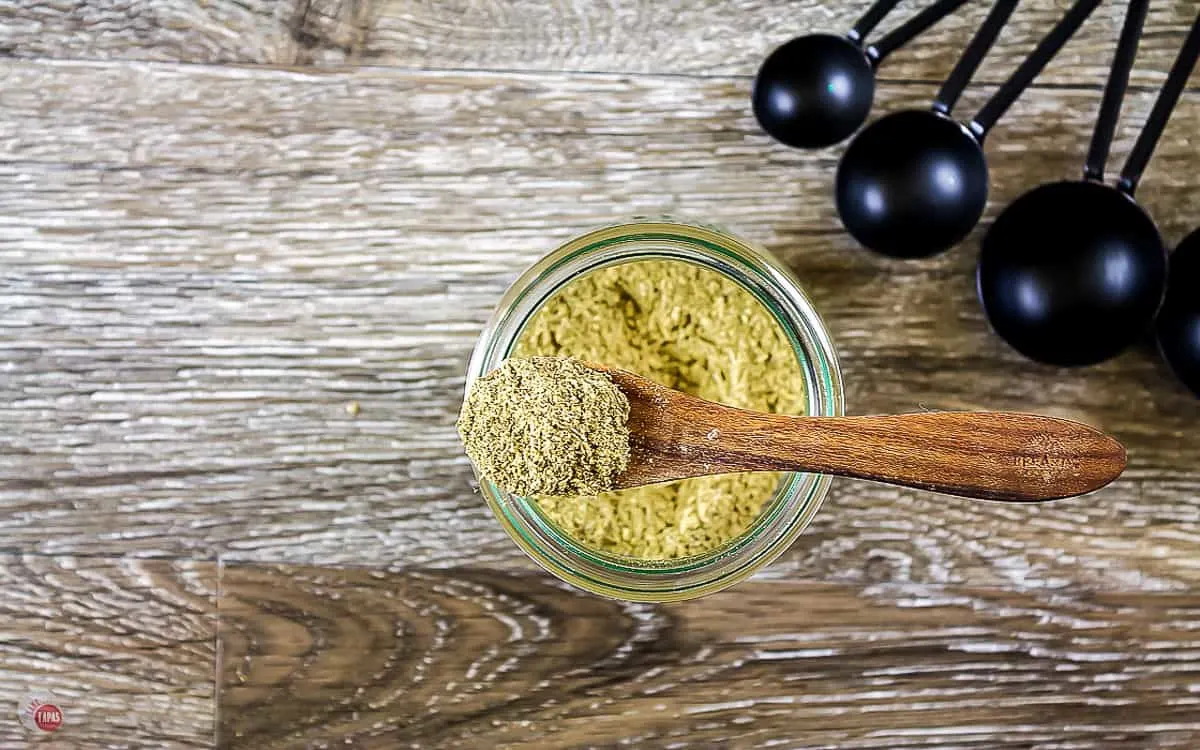 How long is it good for?
As long as all your ingredients are dry, you can keep this homemade poultry seasoning a few months. Just make sure to store in an airtight container in a cool, dark place.
If moisture from the air causes it to clump, don't worry, just use a fork to break it up.
If you love this Poultry Seasoning Recipe as much as I do, please write a five-star review in the comment section below (or on Pinterest with the "tried it" button – you can now add pictures into reviews, too!), and be sure to help me share on facebook!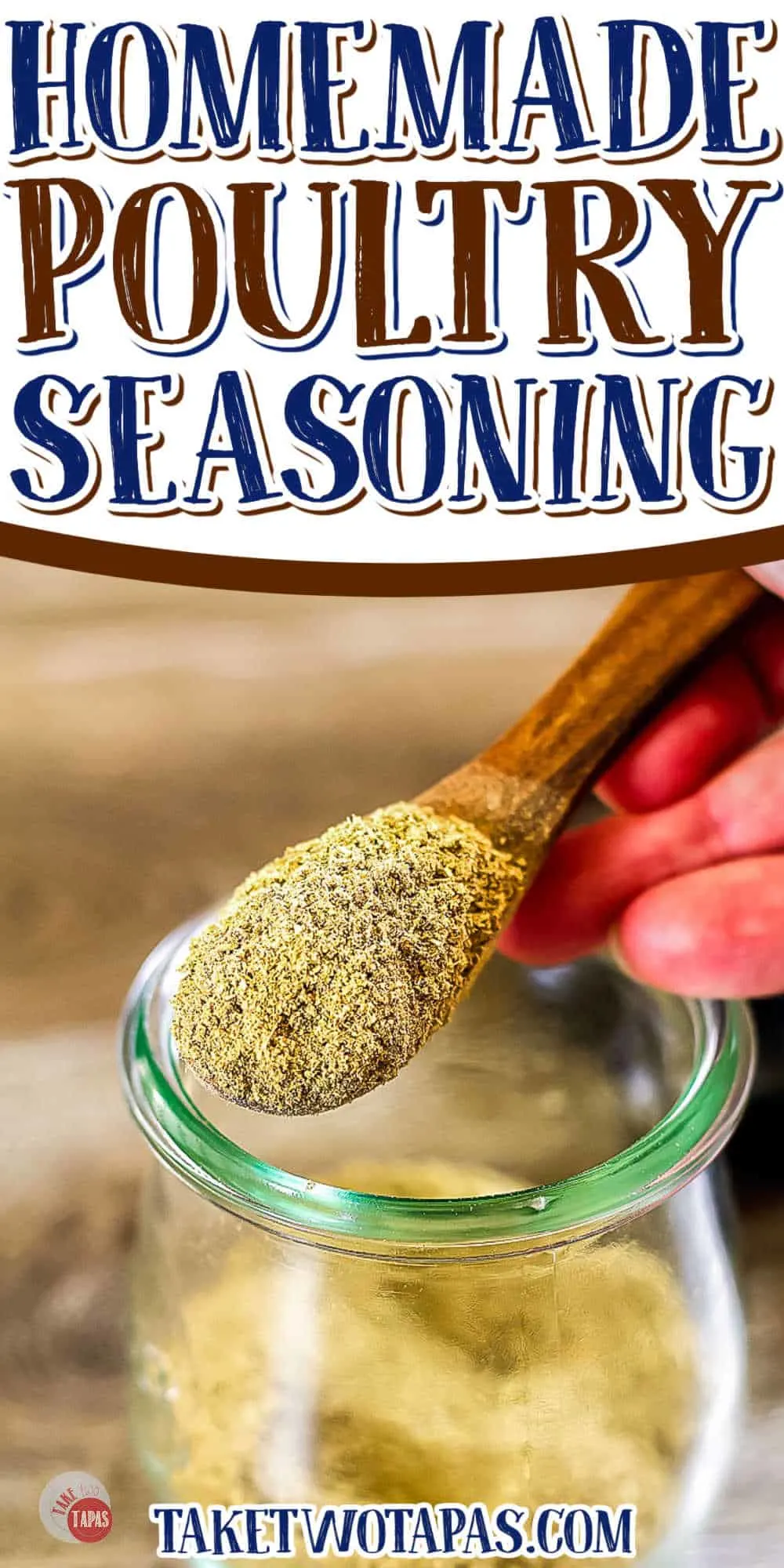 Use this homemade poultry seasoning for your turkey or chicken. Also perfect for stuffing too!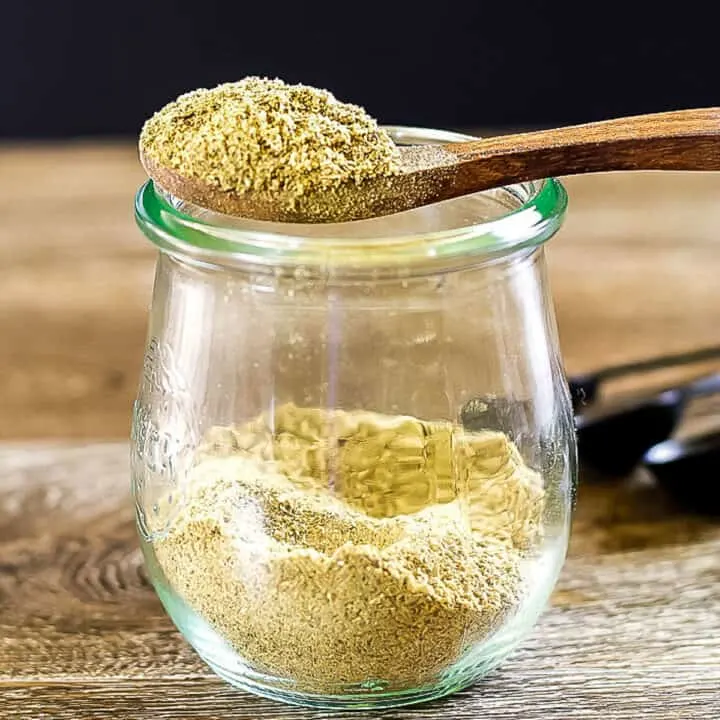 Poultry Seasoning
Poultry Seasoning is best when homemade and it is super easy to make. The ingredients are most likely in your pantry right now and make the perfect blend to add flavor to chicken, turkey, vegetables, and soups!
Ingredients
2 teaspoons sage
1.5 teaspoons marjoram
1.5 teaspoons thyme
1 teaspoon oregano
1.5 teaspoon rosemary
1/4 teaspoon nutmeg
1/4 teaspoon pepper
1/4 teaspoon celery seed
Notes
*If you like this recipe, please leave me a comment and rate it with some stars. Thank you!
Nutrition Information:
Yield:

8
Serving Size:

1
Amount Per Serving:
Calories:

3
Total Fat:

0g
Saturated Fat:

0g
Trans Fat:

0g
Unsaturated Fat:

0g
Cholesterol:

0mg
Sodium:

0mg
Carbohydrates:

1g
Fiber:

0g
Sugar:

0g
Protein:

0g
This nutrition information was generated via a third party, Nutritionix, and can not be held liable for any discrepancies in the information provided.
More Easy Appetizers
TakeTwoTapas.com. Content and photographs are copyright protected. Sharing of this recipe is both encouraged and appreciated. Copying and/or pasting full recipes to any social media is strictly prohibited.