The traditional Puppy Chow recipe gets a few upgrades in my Peanut Butter Pretzel Puppy Chow. There is also a secret ingredient that will take it to another level so read on!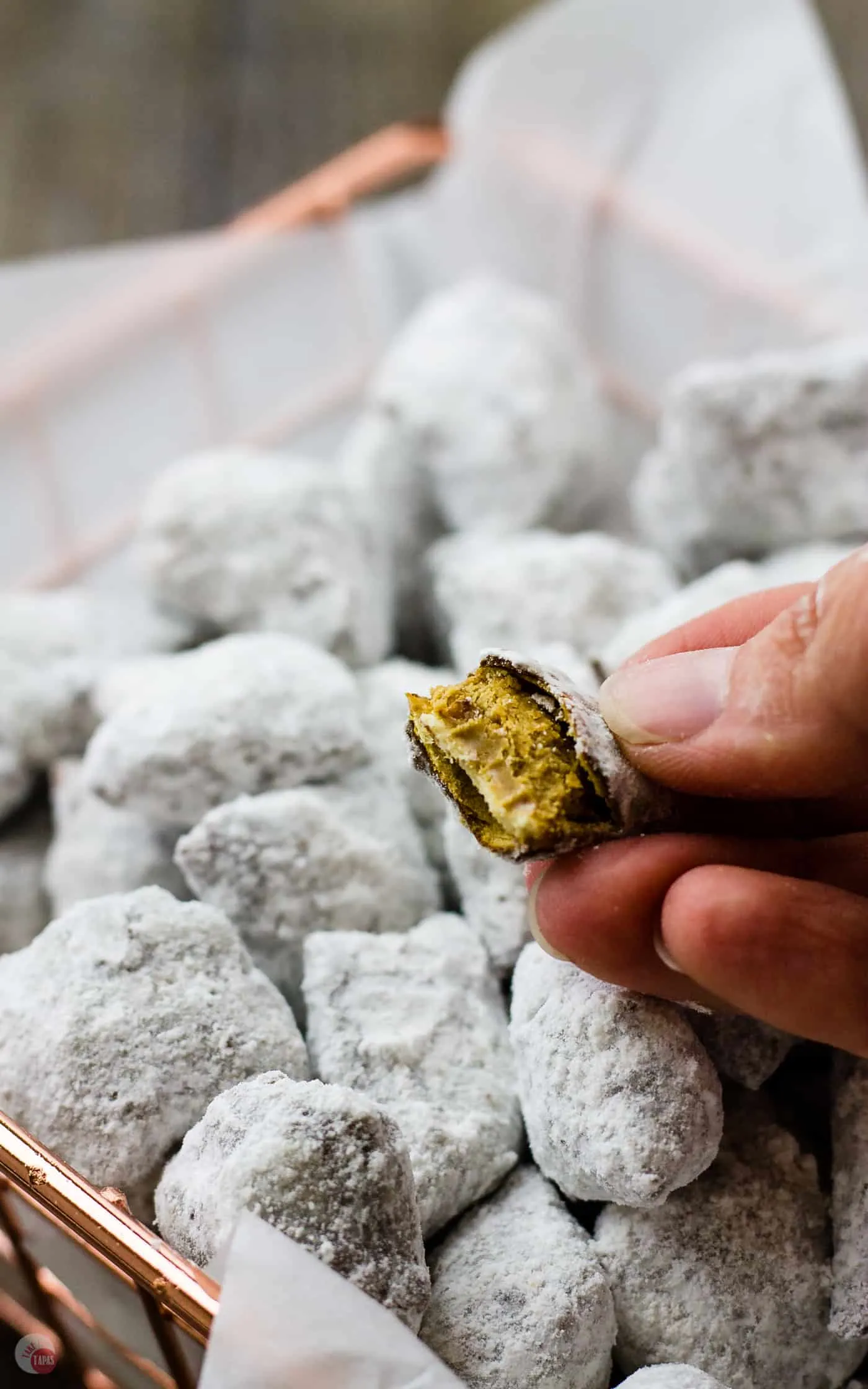 WHAT IS PUPPY CHOW?
When someone mentions puppy chow I don't immediately think of dog food I think of the Chocolate and Powdered Sugar coated Chex Cereal.
I am not even sure how the peanut butter and chocolate covered Chex cereal got the name, Puppy Chow. It doesn't even look like food for puppies so I can't even try to put the two together.
I prefer the other name, Muddy Buddies, over Puppy Chow because it makes me feel like I am having a snack with a friend. My friend being a bag of chocolate chips tossed in powdered sugar.
Now there are many variations on Muddy Buddies but I am going to show you how to take it to a whole other level all the while making a total mess of my kitchen making my Peanut Butter Pretzel Puppy Chow.
This post may contain affiliate links. As an Amazon Associate, I earn from qualifying purchases. Read my disclosure policy here.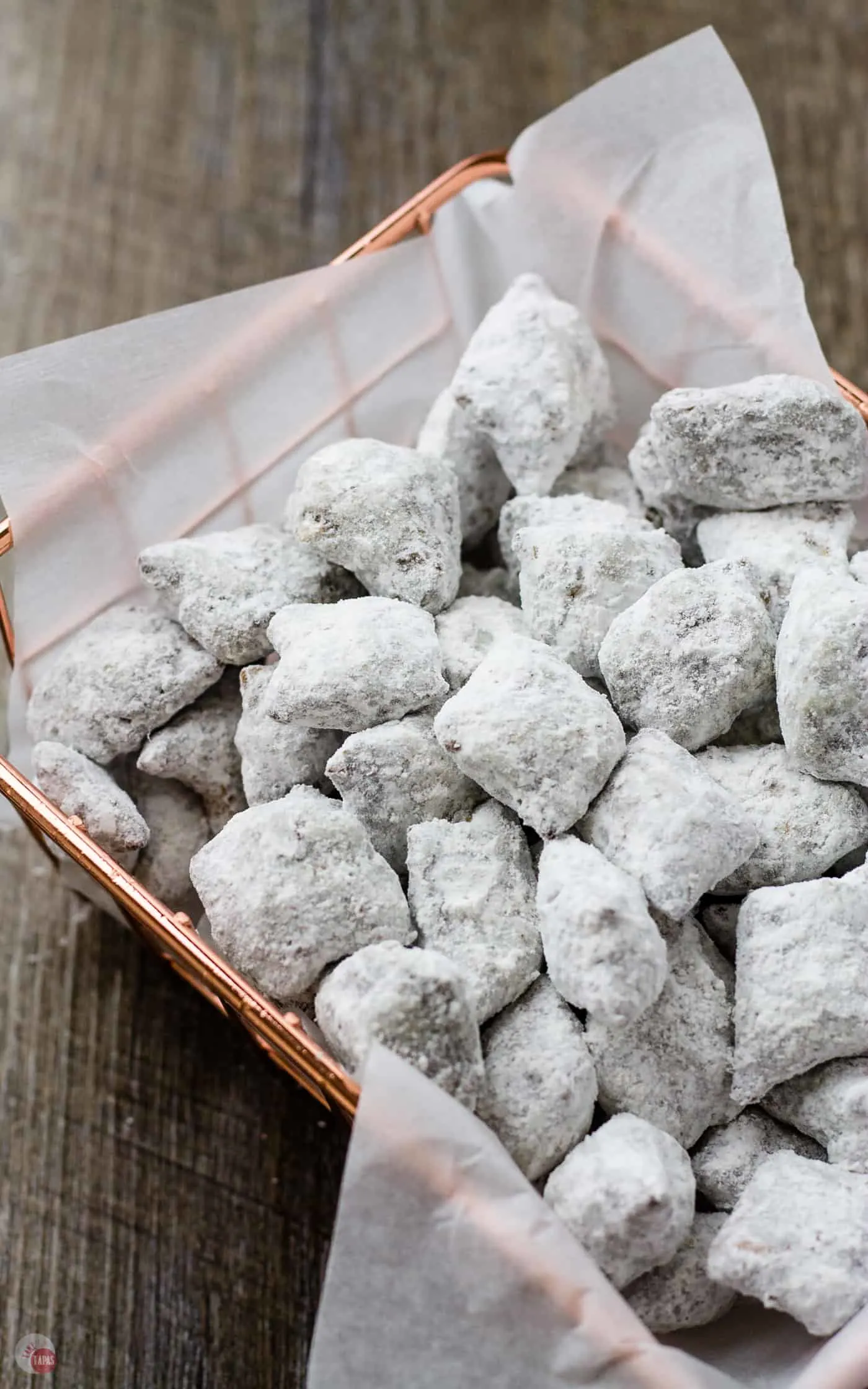 PUPPY CHOW INGREDIENTS
Puppy Chow, Muddy Buddies, or whatever you want to call it consists of just 5 ingredients. Chex cereal, chocolate chips, peanut butter, powdered sugar, and some butter.
Simple yet very messy. The way to make traditional puppy chow/muddy buddies is to melt the peanut butter with chocolate chips and butter, pour it over the Chex cereal and stir.
Then toss the chocolate covered pillows in powdered sugar and you are ready to cram them in your face.
Some other variations include Brownie Puppy Chow where the chocolate covered cereal is tossed in brownie mix, or tossed in white chocolate with crushed Oreo cookies, or even mixed with butterscotch and toffee to make a Harry Potter version. So fun!
All of these versions have something in common, the cereal. Let's start with changing that!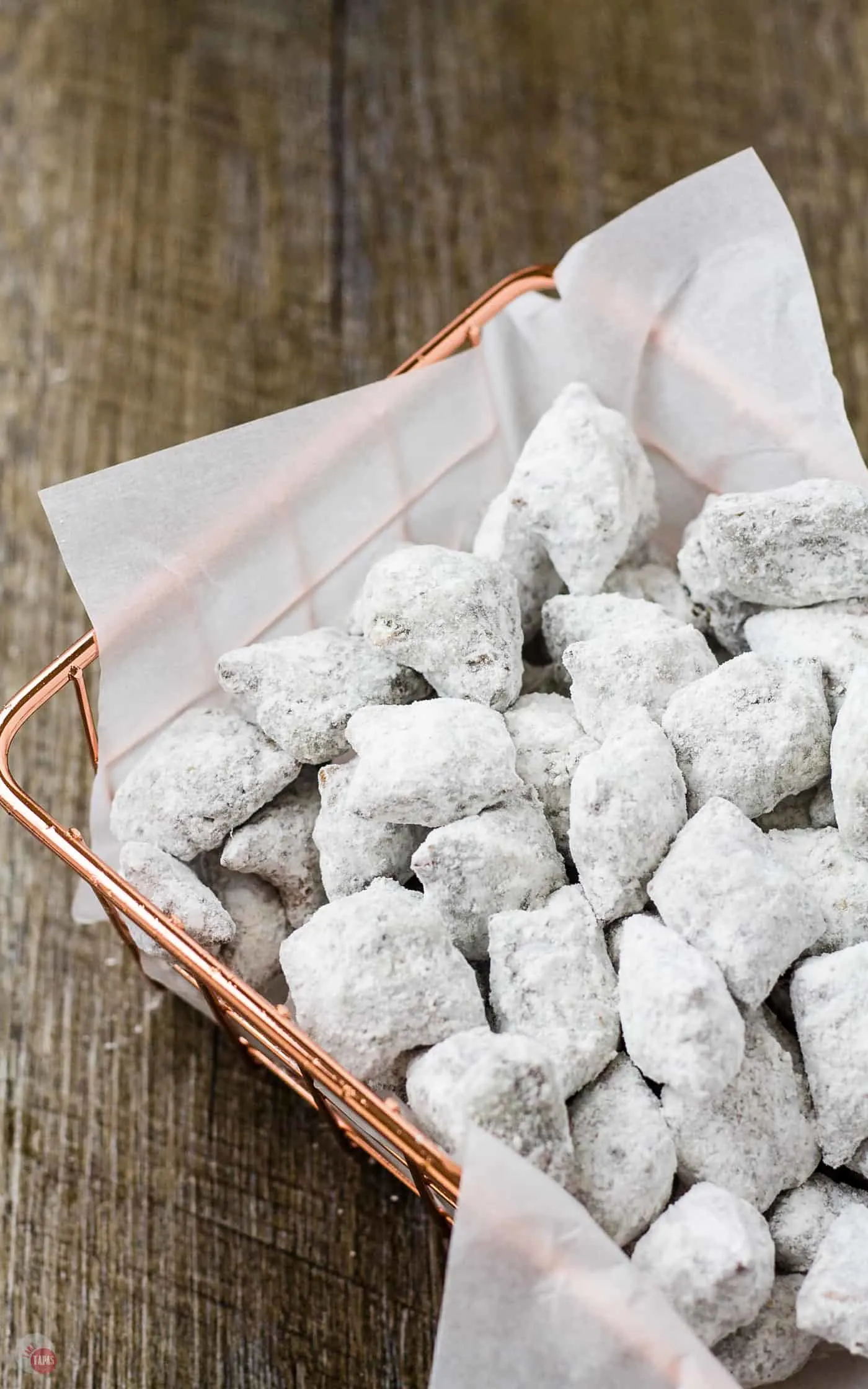 For more insider tips & tricks, and a candid behind the scenes look follow me on social media! Check use out on Pinterest, Facebook, Instagram, & Twitter (yes, people still use Twitter, LOL!)
PUPPY CHOW RECIPE VARIATIONS
All the pretzels lying around got me thinking about sweet versions to make and Muddy Buddies immediately popped into my head. Because I have so many bags of pretzels (currently buy one get one free so I can save money too) I thought about using them instead of the cereal, which I don't currently have in my pantry.
The container of peanut butter stuffed pretzels stand tall on the table because they are not in a bag but a plastic container so I grab these.
Puppy Chow has peanut butter mixed in but why not use peanut butter stuffed pretzel nuggets instead?
These are what make the peanut butter pretzel puppy chow an over the top recipe!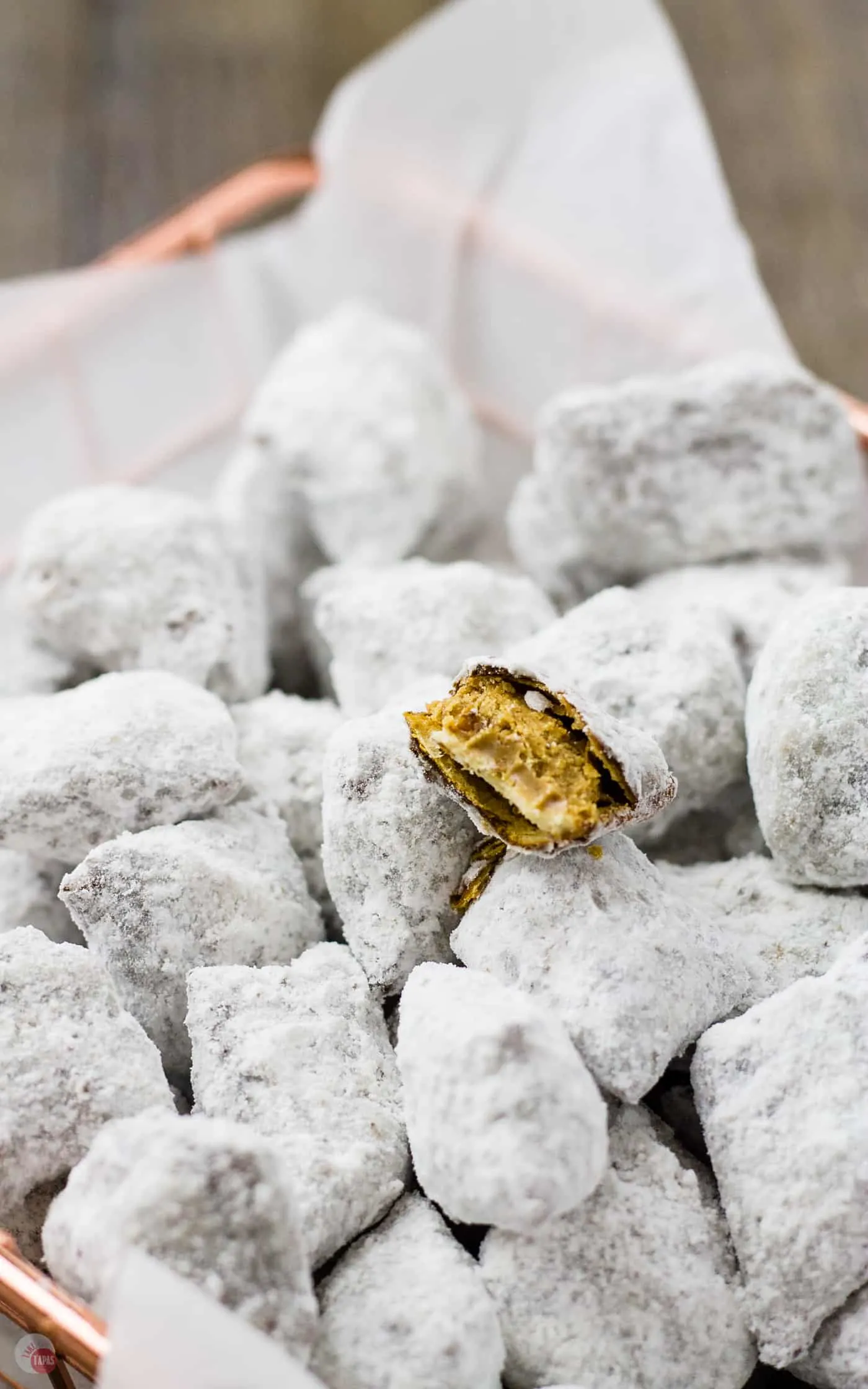 HOW TO MAKE PEANUT BUTTER PRETZEL PUPPY CHOW
Start with 2 zip-top bags instead of one. If you stuff all the pretzels in one bag you won't be able to shake it and you will end up with a block of chocolately pretzels. Not a bad thing but not what were are going for with this recipe.
Add a 1/2 cup of powdered sugar to the bottom of each bag before you add the chocolate coated pretzels. This will keep the pretzels from sticking to the bag and not letting the powdered sugar cover all sides of the pretzels.
Add a 1/4 of the total pretzels to each bag and then add another 1/2 cup of powdered sugar to each bag. This breaks up the large block of chocolate pretzels into manageable blocks and helps to coat the pretzels evenly.
Add the other 1/4 of the pretzels to each bag and add the last two 1/2 cups of powdered sugar. Now you have layers of pretzels and powdered sugar that don't crowd the bag and allows you to shake and manipulate the chocolate covered pretzels to get the powdered sugar to coat each pretzel much easier than if you have all the sugar on top and the chocolate covered pretzels are all stuck together.
For the full recipe and detailed instructions, please refer to the recipe card at the bottom of the post.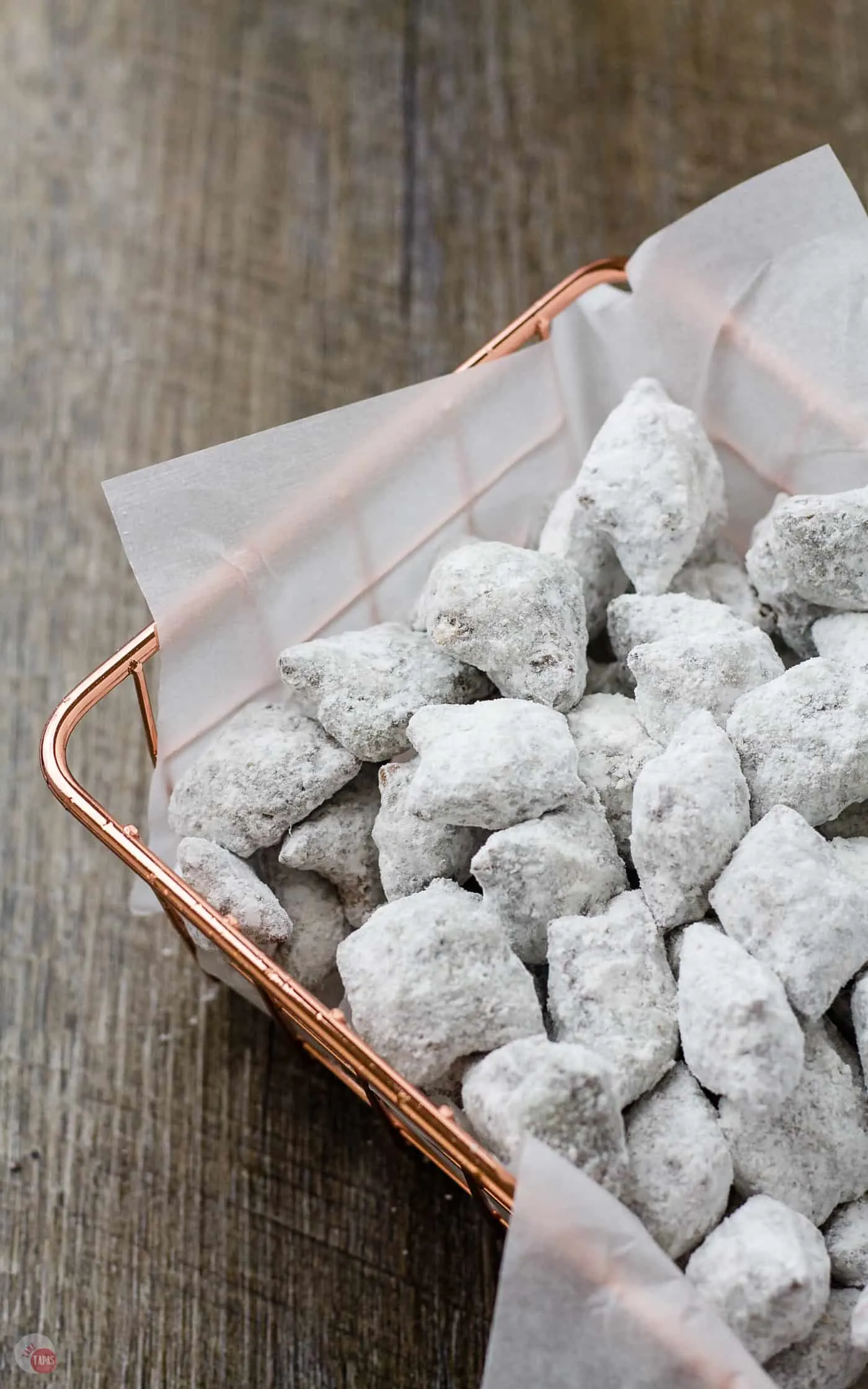 Traditional Puppy Chow takes a twist by using peanut butter stuffed pretzel nuggets instead of Chex cereal. My Peanut Butter Pretzel Puppy Chow will make you rethink all the traditional snacks you have been eating!
OTHER SNACKS TO ENJOY
Peanut Butter Pretzel Puppy Chow
The traditional Puppy Chow recipe gets a few upgrades with my Peanut Butter Pretzel Puppy Chow. And a secret ingredient that will take it to another level!
Ingredients
26 ounces peanut butter stuffed pretzels
1/2 cup butterscotch chips
12 ounces chocolate chips
1/4 cup butter
1 teaspoon vanilla extract
3 cups powdered sugar
Instructions
Get prepared for the mess that is about to happen in your kitchen.
Grab 2 gallon-sized ziptop bags.
Put a 1/2 cup of powdered sugar in each bag.
Grab a large bowl and add your peanut butter stuffed pretzels to it.
In a large microwave-safe bowl add the chocolate chips, butterscotch chips, and butter.
Microwave in 30-second bursts until the butter and chips are melted, stirring between bursts to prevent burning.
When the chocolate is all melted, pour over the peanut butter stuffed pretzels and stir to coat all the nuggets as even as possible.
Scoop out a 1/4 of the chocolate covered pretzels and place one in each bag with the powdered sugar.
Add another 1/2 cup powdered sugar into each one.
Add another 1/4 to the chocolate covered pretzels into the bag.
Cover with the last 1/2 cup of powdered sugar to the top of the chocolate covered pretzels to each bag.
Seal the bags leaving air in them.
Shake the bags and use your hands to break up the chocolate covered pretzels so they can get completely covered.
Store the peanut butter pretzel puppy chow in the bags with the extra powdered sugar. You might need to reshake every now and then.
Notes
*If you like this recipe, please leave me a comment and rate it with some stars. Thank you!
Nutrition Information:
Yield:

15
Serving Size:

1/4 cup
Amount Per Serving:
Calories:

549
Total Fat:

36g
Saturated Fat:

12g
Trans Fat:

0g
Unsaturated Fat:

19g
Cholesterol:

8mg
Sodium:

290mg
Carbohydrates:

54g
Fiber:

4g
Sugar:

41g
Protein:

12g
This nutrition information was generated via a third party, Nutritionix, and can not be held liable for any discrepancies in the information provided.
TakeTwoTapas.com. Content and photographs are copyright protected. Sharing of this recipe is both encouraged and appreciated. Copying and/or pasting full recipes to any social media is strictly prohibited.