Make this easy and refreshing HOMEMADE limeade with honey from scratch. NO REFINED SUGAR and not from concentrate! Top with wine for an easy cocktail!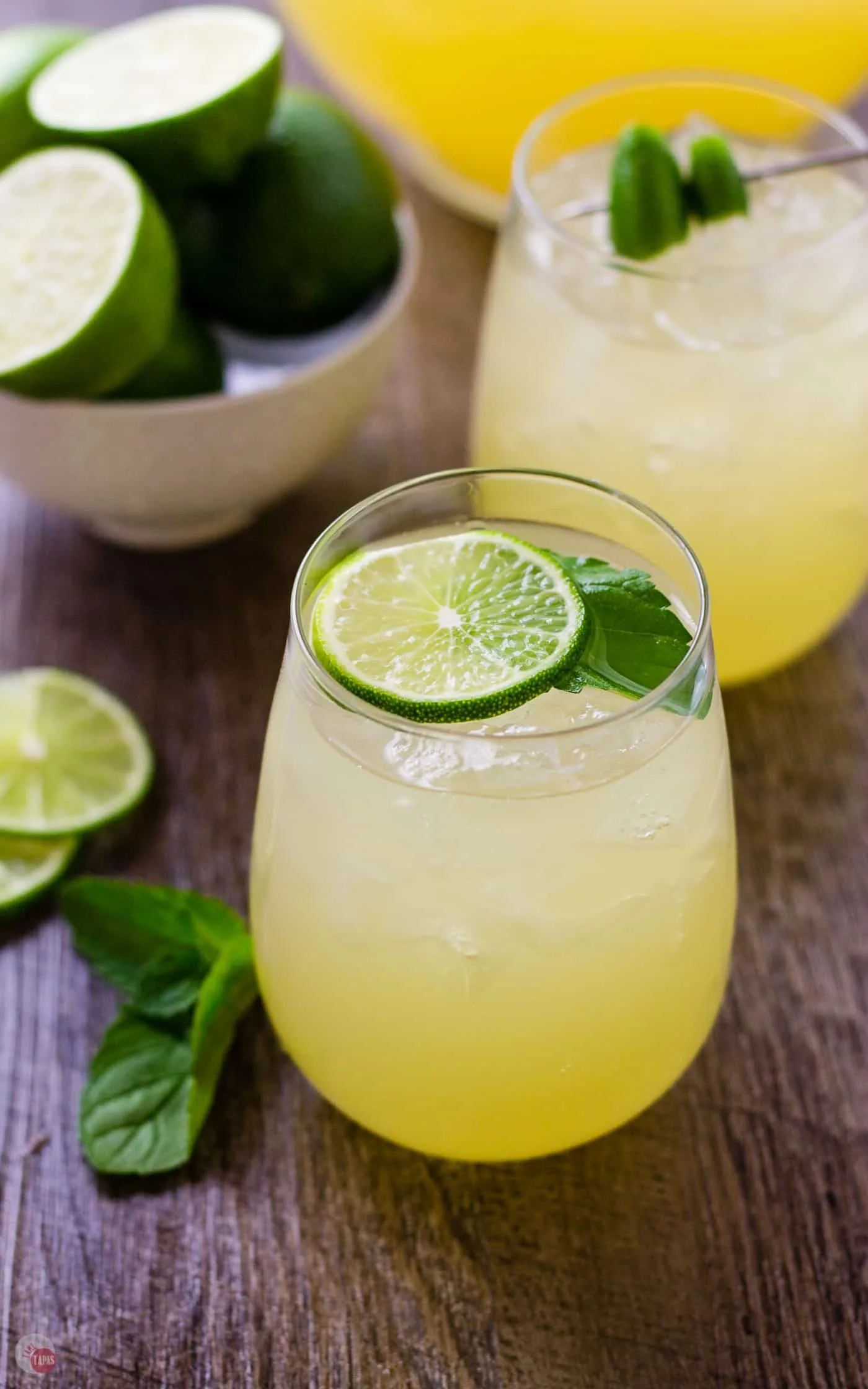 HOMEMADE LIMEADE
Summer is officially the season of limeade! Tart, sweet, and refreshing, it's like the perfect way to cool down on a hot summer day.
Not only is it delicious to drink on its own, it's the perfect base for so many other drinks! I like to use limeade as a mixer in my cocktails so instead of always buying pre-made Limeade, I decided to make my own.
Making it from scratch means you can control the type and amount of sugar in it. This is essential for keeping your bathing suit body in the summer months.
DOES LIMEADE TASTE LIKE LEMONADE?
Personally, I prefer limeade and make it more often than lemonade because of the level of sweetness. Lemons tend to taste sweeter when mixed with sugar whereas the limes tend to start more on the tart side.
This post may contain affiliate links. As an Amazon Associate, I earn from qualifying purchases. Read my disclosure policy here.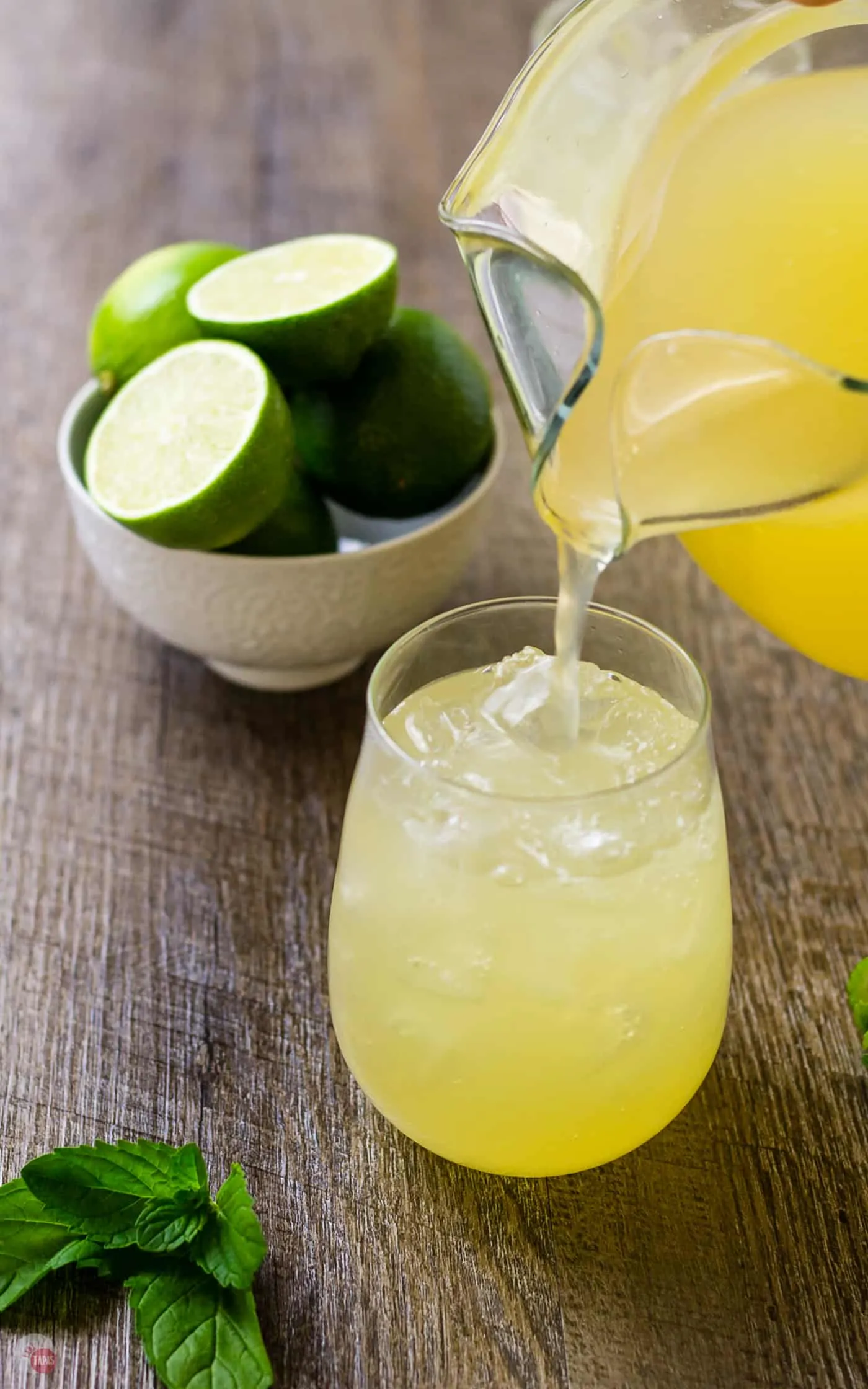 HOMEMADE LIMEADE INGREDIENTS
This limeade recipe has only 4 ingredients:
lime juice
lemon juice
honey
water
You might ask why I add lemon juice to mine instead of just sticking with limes. I find that just a bit of lemon juice rounds out the flavor and helps it mix with other drinks better.
This is important if you are planning on using it as a mixer in punches or cocktails, or drinking it straight.
HOW MANY LIMES MAKE A CUP OF JUICE?
On average, a medium-sized lime has 2 tablespoons of fresh juice. To make a cup of fresh lime juice you will need 16 tablespoons or 8 fresh limes.
To increase the amount of juice you can squeeze out of a lime you can:
microwave the citrus before juicing
use a citrus juicer instead of your hands – easier on the hands!
squeeze the halves between kitchen tongs to get more leverage
roll the limes between your hand and a hard surface before juicing
IS BOTTLED LIME JUICE AS GOOD AS FRESH?
For a recipe like this, where everything is fresh and you will be drinking it within a short time frame, fresh is best.
Plus you get the added benefits of an arm workout. GAH!
Bottled juices tend to lose their tartness and fresh flavors because of the processing it takes to make them shelf stable in a bottle. And you lose some of the vitamins and enzymes during the pasteurization process.
For more insider tips & tricks, and a candid behind the scenes look follow me on social media! Check use out on Pinterest, Facebook, Instagram, & Twitter (yes, people still use Twitter, LOL!)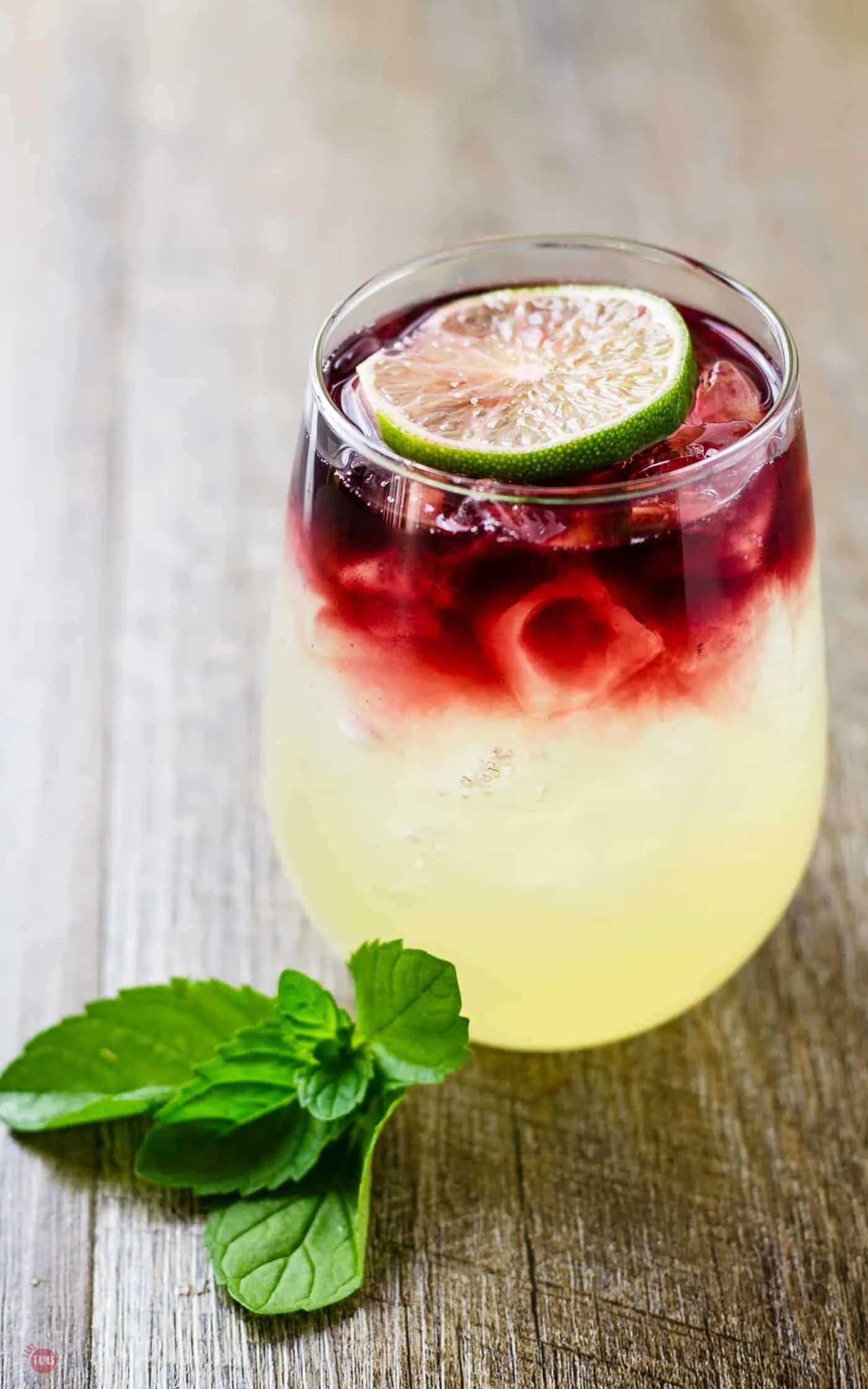 HOW TO MAKE LIMEADE FROM SCRATCH
The ingredients are few and so are the steps. You will be drinking it in no time!
ONE: Add the honey and 1 cup very hot water to a pitcher. Stir to dissolve the honey.
TWO: Juice your lemons and limes and add to pitcher. Stir to combine.
THREE: Add the remaining cold water and stir to combine. Taste, if mixture is too tart add up to 1/4 cup more honey if needed.
Enjoy chilled! If you need immediate serving add ice cubes.
The limeade will have a golden glow to it from the honey so don't worry if your limeade isn't bright neon green. You can also add sparkling water to your limeade instead of still or tap water to add some fun to it.
For the full recipe and detailed instructions, please refer to the recipe card at the bottom of the post.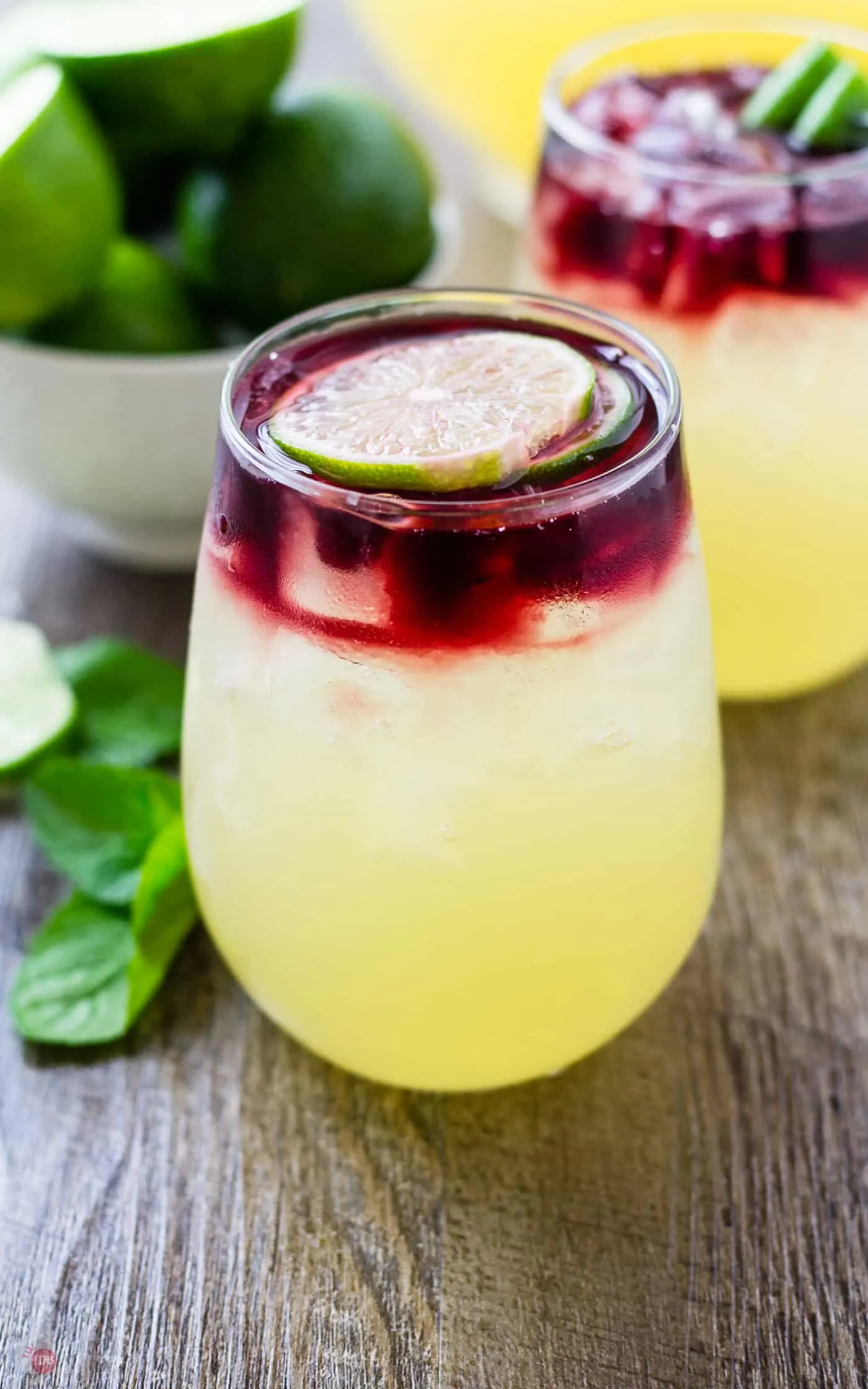 TAPAS TIPS & TRICKS
To get more juice out of your limes, microwave the limes for 10-15 seconds to burst the inner sections. Be careful, they will be hot when juicing!
Spray the measuring cup with cooking oil before measuring the honey. It will slide right out and save you time scraping out the cup. I use coconut oil for this.
To get the honey to dissolve completely, add a cup of very hot water to it before the rest of the ingredients. This is usually my first step.
LIMEADE USES
Now that you have your limeade, let me tell you about Wimade or Wine topped Limeade.
No, this is not Elmer Fudd writing this post, I just needed to come up with a name for this kooky cocktail of homemade honey limeade and wine.
The Wimade (yes, I chuckle every time I say it) came about during a photo shoot for the most popular cocktail on the blog, my Penitent Punch.
I needed to recreate the color of the cocktail base without wasting the liquor so I used limeade. Then topped with wine. Not wanting to waste it, I tried it after the shoot. DELICIOUS!
For more insider tips & tricks, and a candid behind the scenes look follow me on social media! Check use out on Pinterest, Facebook, Instagram, & Twitter (yes, people still use Twitter, LOL!)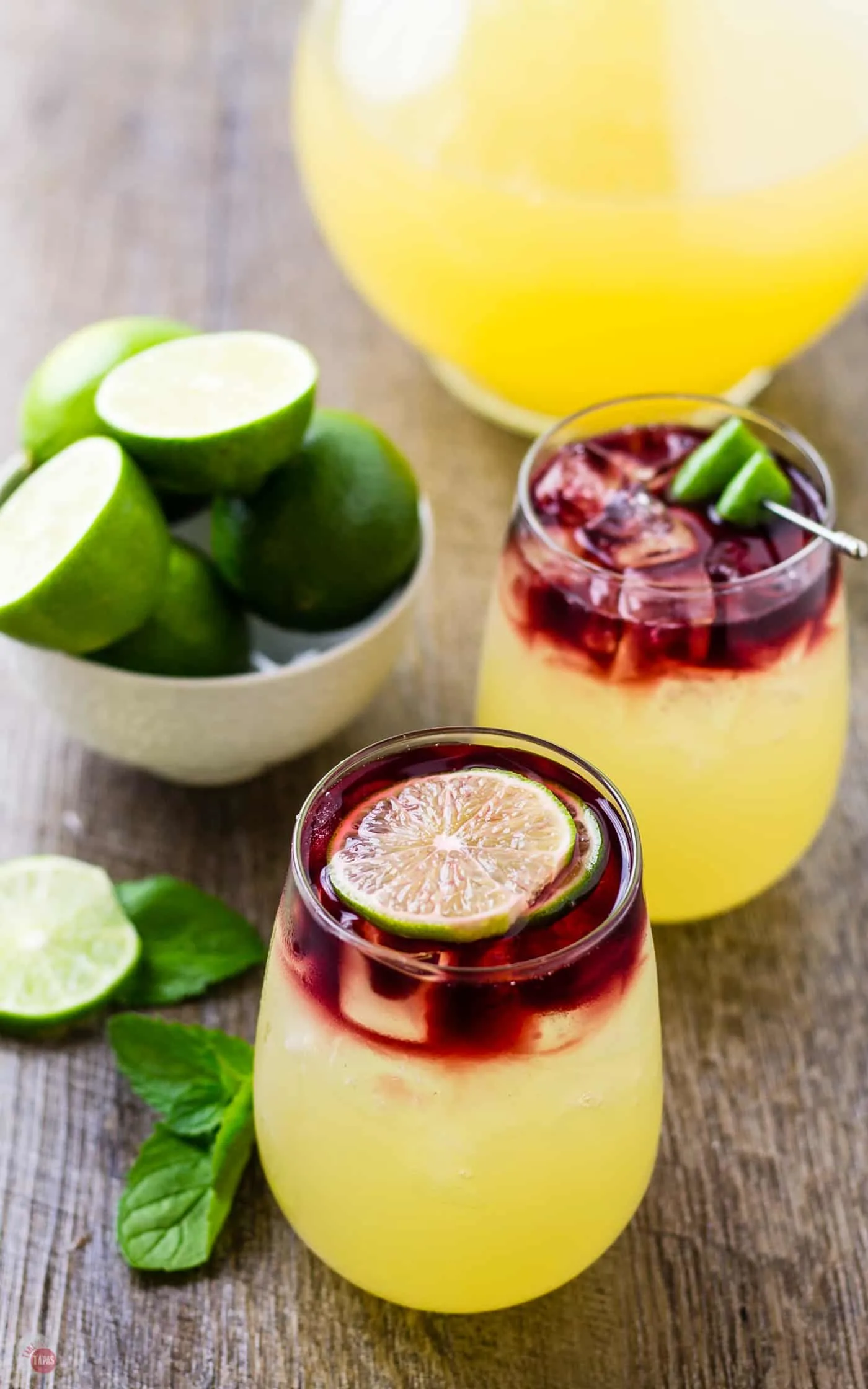 WINE LIMEADE COCKTAIL VERSIONS:
You can serve as written with limeade and wine.
You can add half the limeade and add in some sparkling water. Top with wine.
For a non-alcoholic version, you can serve the honey limeade with pomegranate/grape/cherry juice on top instead of wine.
Don't worry if your layering doesn't quite work out, look how gorgeous the Wimade looks all stirred up!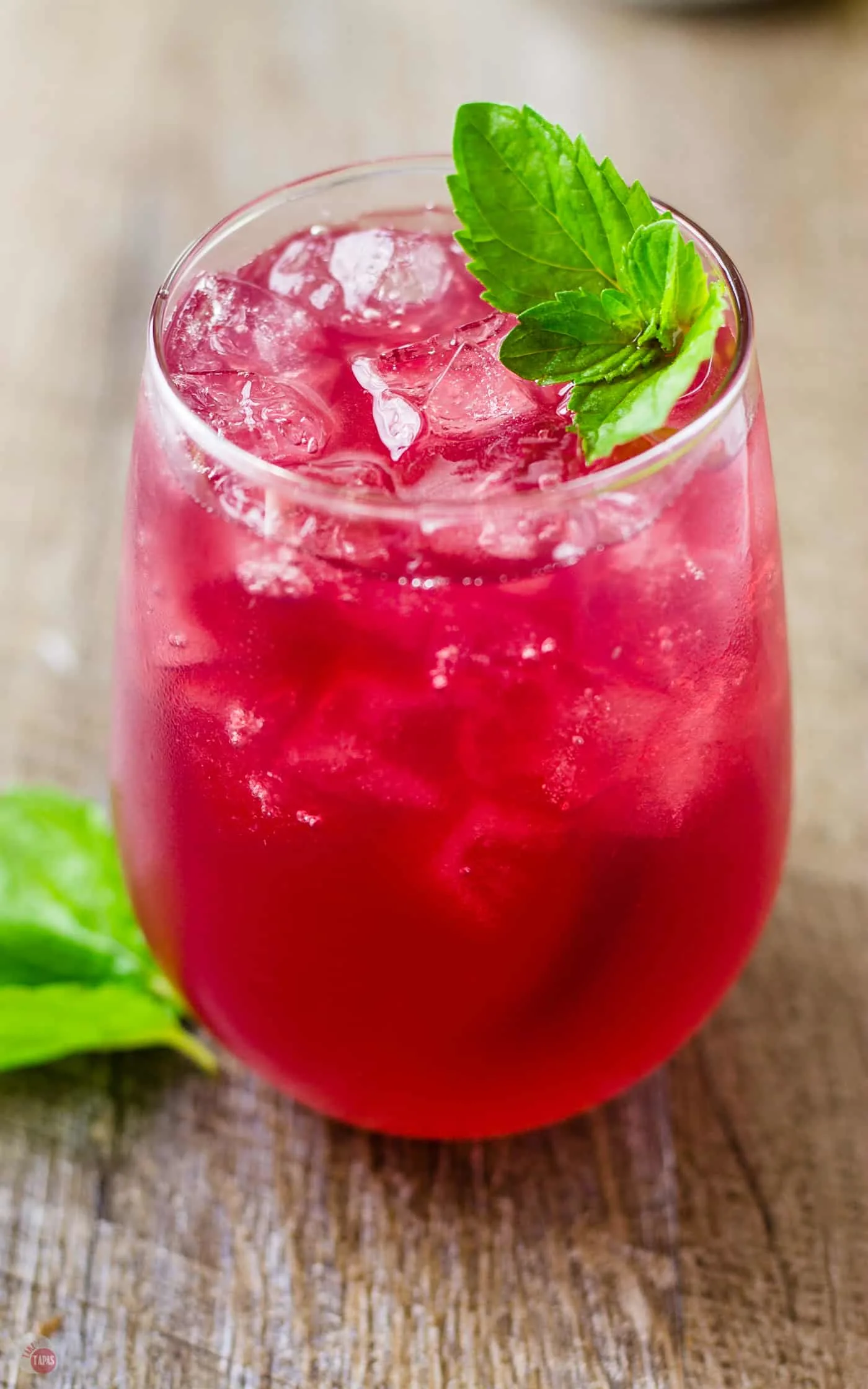 If you love this recipe as much as I do, please write a five-star review in the comment section below (or on Pinterest with the "tried it" button – you can now add pictures into reviews, too!), and be sure to help me share on facebook!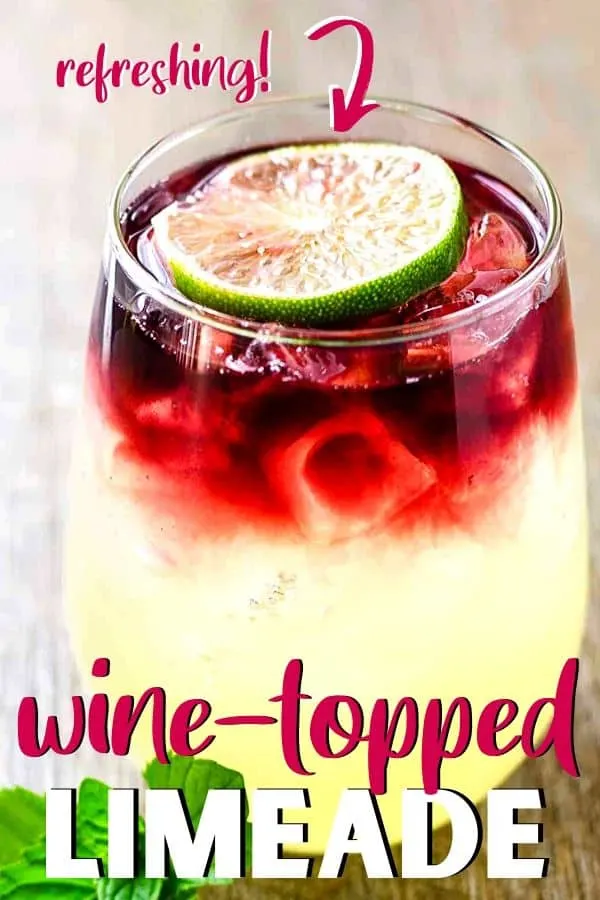 I just want to stare at this drink all day long, don't you? This homemade limeade with wine is perfect for adults of all ages with my variations too. It's even good with a splash of tequila in it!
MORE EASY APPETIZERS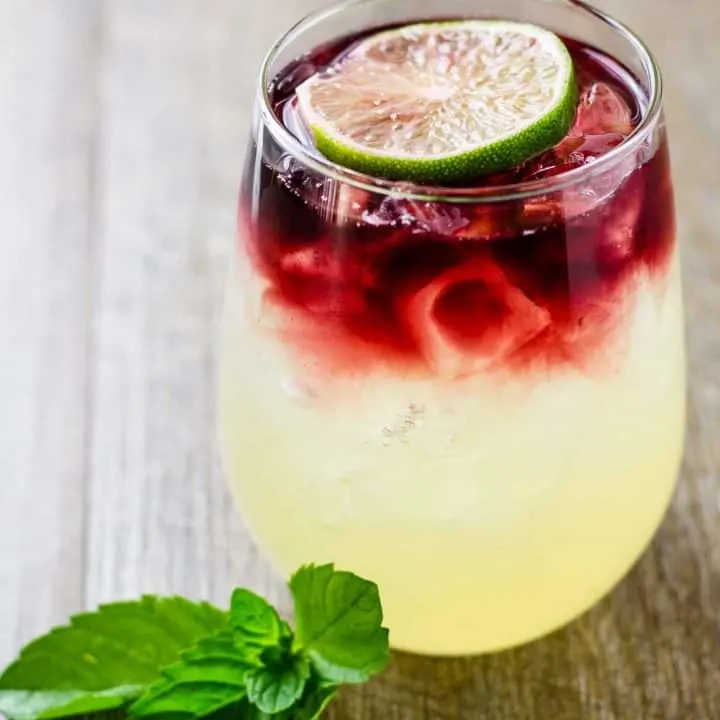 Homemade Limeade with Honey
Make this easy and refreshing homemade limeade with honey from scratch. No refined sugar and not from concentrate! Top with wine for an easy cocktail!
Ingredients
Homemade Limeade
1 1/2 cups Lime Juice (fresh squeezed)
1/2 cup Honey (local is best)
1/4 cup Lemon Juice (fresh squeezed)
7 cups Water (1 cup hot)
For the Wimade
2 cups Red Wine
lemon and lime slices (for garnish)
*Sparkling Water (optional-see notes)
*Pomegranate Juice (optional-see notes)
Instructions
Make the Honey Limeade
Add honey and 1 cup hot water to a pitcher and whisk to combine.Once you have all the lime and lemon juice squeezed, pour them into a pitcher.
Juice the limes and lemons and add to the pitcher. Stir to combine.
Add the remaining water, cold if possible.
Chill for and hour in the refrigerator until ready to drink.
The honey limeade will last for up to a week.
To make the Wimade
Grab a few glasses and add some ice cubes.
Pour in your honey limeade.
Add your lime slices to the top of the ice.
Pour the red wine slowly over the lime slice to layer the wine on top.
Serve!
Notes
*If you like this recipe, please leave me a comment and rate it with some stars. Thank you!
Nutrition Information:
Yield:

8
Serving Size:

1
Amount Per Serving:
Calories:

149
Total Fat:

0g
Saturated Fat:

0g
Trans Fat:

0g
Unsaturated Fat:

0g
Cholesterol:

0mg
Sodium:

18mg
Carbohydrates:

29g
Fiber:

1g
Sugar:

23g
Protein:

1g
This nutrition information was generated via a third party, Nutritionix, and can not be held liable for any discrepancies in the information provided.
TakeTwoTapas.com. Content and photographs are copyright protected. Sharing of this recipe is both encouraged and appreciated. Copying and/or pasting full recipes to any social media is strictly prohibited.