A Tropical Hawaiian Popcorn Mix of dried pineapple, toasted coconut chips, roasted macadamia nuts, all drizzled with white chocolate. Perfect for a slightly healthier snack mix!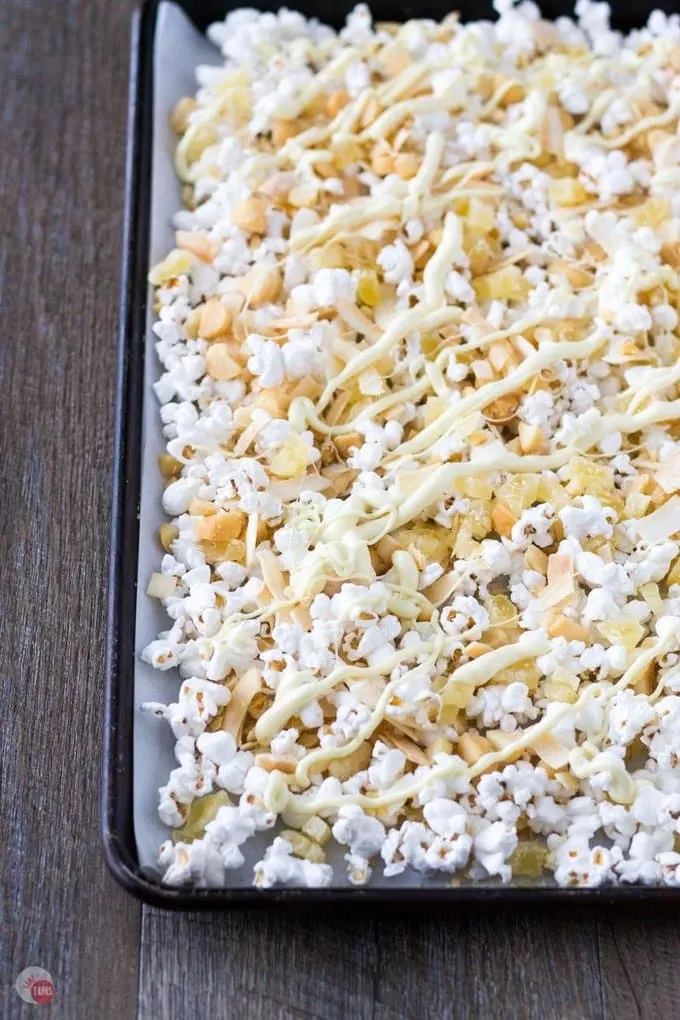 Tropical Popcorn
Are your winter blues making you crave a warmer climate? Wishing for a pina colada and your toes in the sand? Here in the south, our winters are not that cold but they do get overcast and gloomy.
Even with the warm weather, I long for sunny days in a tropical location. If I can't get there physically, I can try to get there with my food. Looking for a healthy snack that transports me to a place of sunshine and happiness, I realize I need to make some Hawaiian Popcorn STAT!
And so do you.
When I think of Hawaii, even though I have never been, I think of pineapple, macadamia nuts, and coconut. Most of the time I will eat these items separately. Devouring a whole container of coconut chips or dried pineapple is not a rare occurrence.
Neither is a container of macadamia nuts. Why not mix them all together in a tropical combination?
A combination that I can eat day in and day out.
This post may contain affiliate links. As an Amazon Associate, I earn from qualifying purchases. Read my disclosure policy here.

Ingredients
It seems a little indulgent to eat all these goodies without something else in there. How about some popcorn?
My kids love popcorn and practically survive on it. Microwave popcorn is their favorite but not mine. They like all the extra butter and oil in the movie theater butter flavor and the ease of three minutes in the microwave.
I prefer the air popper. No oil, warm popcorn that will pick up some salt when sprinkled on it, and I can make a larger batch than what comes in those preportioned bags.
It's a little noisier but better for you.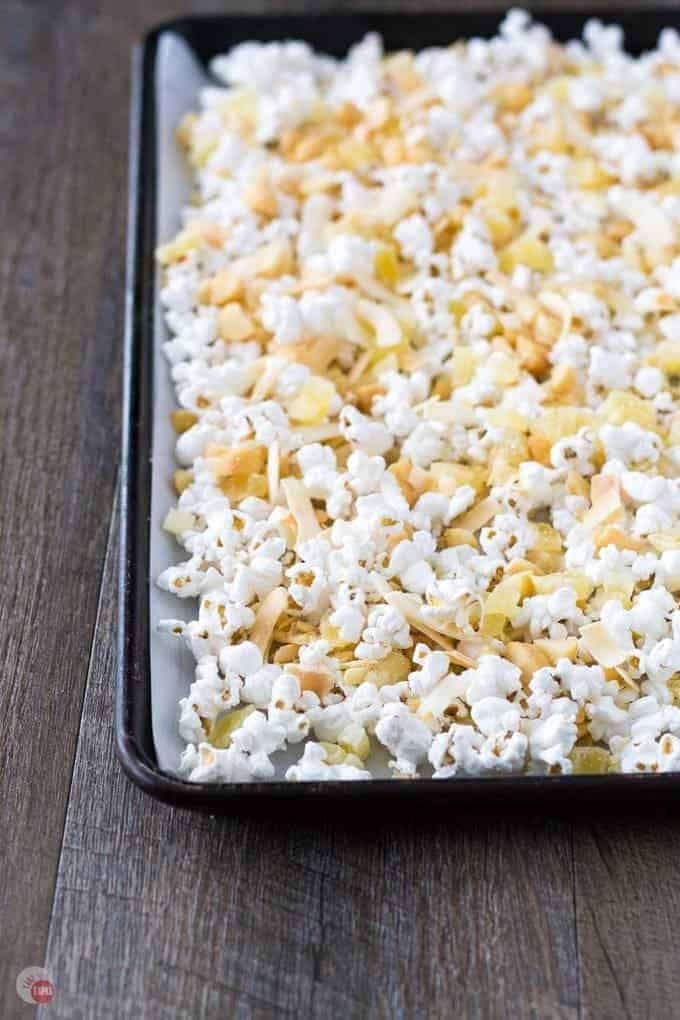 How to make Hawaiian Popcorn
My mom makes it the old-fashioned way on the stove. She stands there shaking that pot on the burner until all the popping stops. It's old school, but it is fun to hear the kernels pop against the metal pan and make the "ting" noise.
Once the popcorn is ready, I sprinkle a little salt on it. Everything is better with a bit of salt on it, even sweet stuff! So I will add the indulgent, rich, sweet, tropical goodies to the popcorn and transform it to Hawaiian popcorn! To tie it all together and make snack "pieces" (clumps sounds weird) I add some white chocolate.
Now here is where preferences come in. If you don't want to go through the trouble of melting chocolate, drizzling it on the Hawaiian popcorn, waiting for it to set, blah blah blah, just add 1 cup of white chocolate chips.
The salt won't have anything to really stick to and the pieces will not be stuck together, but you can grab it by the handful and shove it in your mouth.
For more insider tips & tricks, and a candid behind the scenes look follow me on social media! Check use out on Pinterest, Facebook, Instagram, & Twitter (yes, people still use Twitter, LOL!)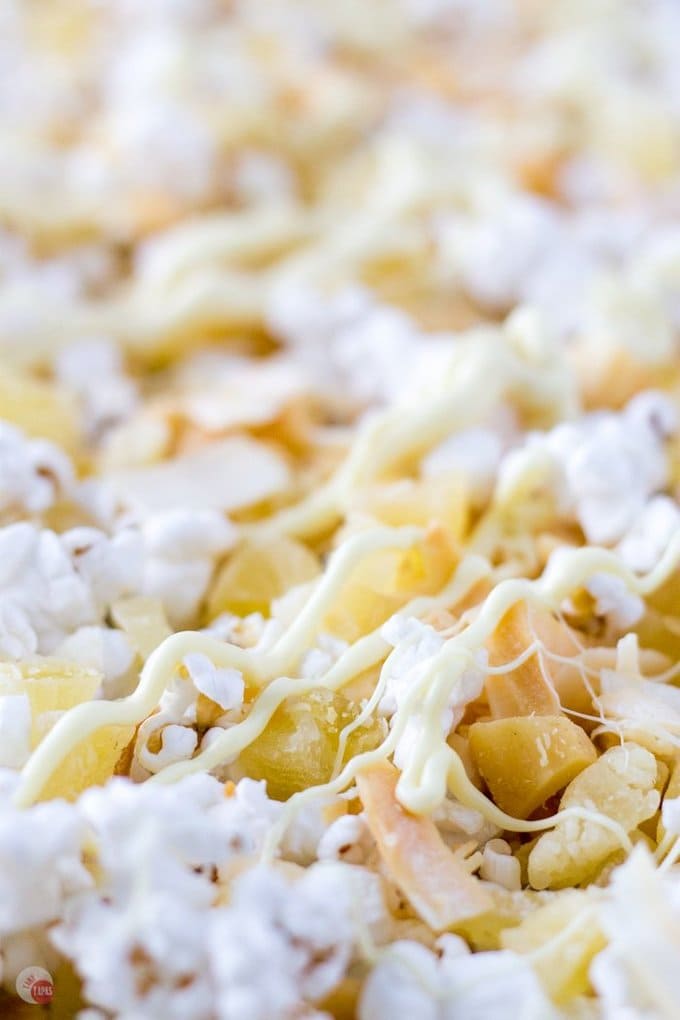 There you have it! Tropical Hawaiian Popcorn. A healthier snack that takes you to the tropics on a gloomy winter day. And you don't even have to put on a bathing suit, sunscreen, or get sand in your shoes!
If you are not really into the tropical side of things you can check out my Spicy Sriracha Snack Mix or take a trip to the Far East with my Asian Wasabi Chex Mix! They are a sure-fire way to keep your snack cravings in check.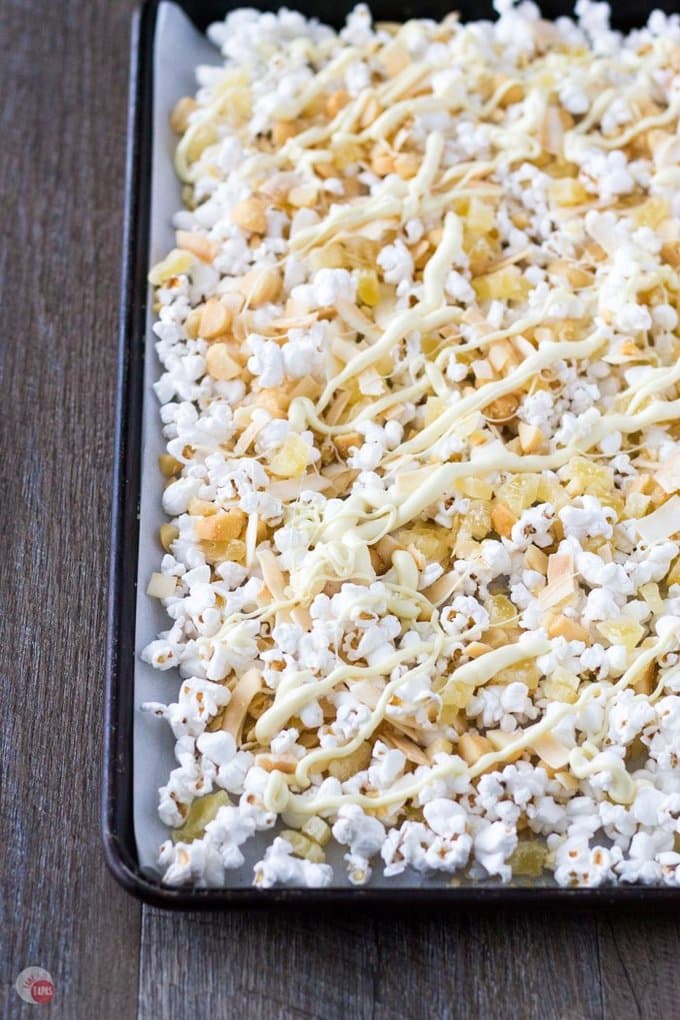 More Party Snacks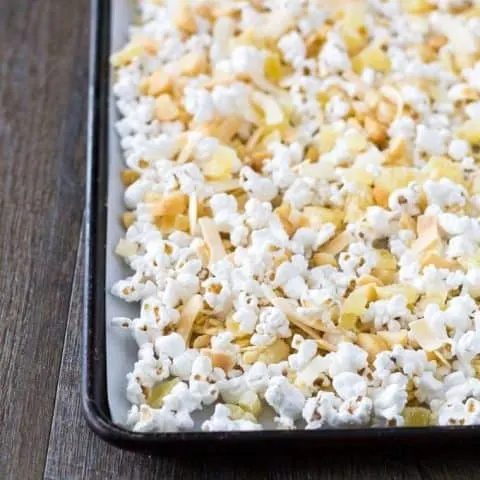 Tropical Hawaiian Popcorn Mix For A Healthier Snack
A tropical Hawaiian popcorn mix of dried pineapple, toasted coconut chips, macadamia nuts, drizzled with white chocolate. Perfect for a healthier snack mix!
Ingredients
6 cups white kernel popcorn (popped)
1 cup toasted coconut chips *I love Trader Joe's Coconut Chips but these work too
1 cup dried pineapple (diced small)
1 cup macadamia nuts (roasted, salted, and chopped small)
8 oz white chocolate (melted)
Instructions
Prep your popcorn. If you want to use already popped corn that is fine. I used 1/3 cup white corn kernels and popped the old-fashioned way, in a pot on the stove top. I added a teaspoon of salt when it was freshly popped to flavor it a bit.
Place the popcorn in a large bowl and add the nuts, coconut strips, and pineapple.
Toss to mix and spread out on a baking sheet.
Melt the white chocolate in the microwave or by the double boiler method on the stove top.
When melted, drizzle over the popcorn and put in the fridge to harden it back up.
Break up your popcorn and stir in an air-tight container until ready to eat!
Enjoy with friends or sneak into the movies:)
Notes
*If you like this recipe, please leave me a comment and rate it with some stars. Thank you!
Nutrition Information:
Yield:

8
Serving Size:

1
Amount Per Serving:
Calories:

396
Total Fat:

27g
Saturated Fat:

11g
Trans Fat:

1g
Unsaturated Fat:

15g
Cholesterol:

6mg
Sodium:

116mg
Carbohydrates:

39g
Fiber:

3g
Sugar:

33g
Protein:

4g
This nutrition information was generated via a third party, Nutritionix, and can not be held liable for any discrepancies in the information provided.
TakeTwoTapas.com. Content and photographs are copyright protected. Sharing of this recipe is both encouraged and appreciated. Copying and/or pasting full recipes to any social media is strictly prohibited.