Step up your snack game with pretzels and pecans covered with a crispy caramel coating that is addicting!  You will be asked back when you bring these crack pretzels as a hostess gift for sure!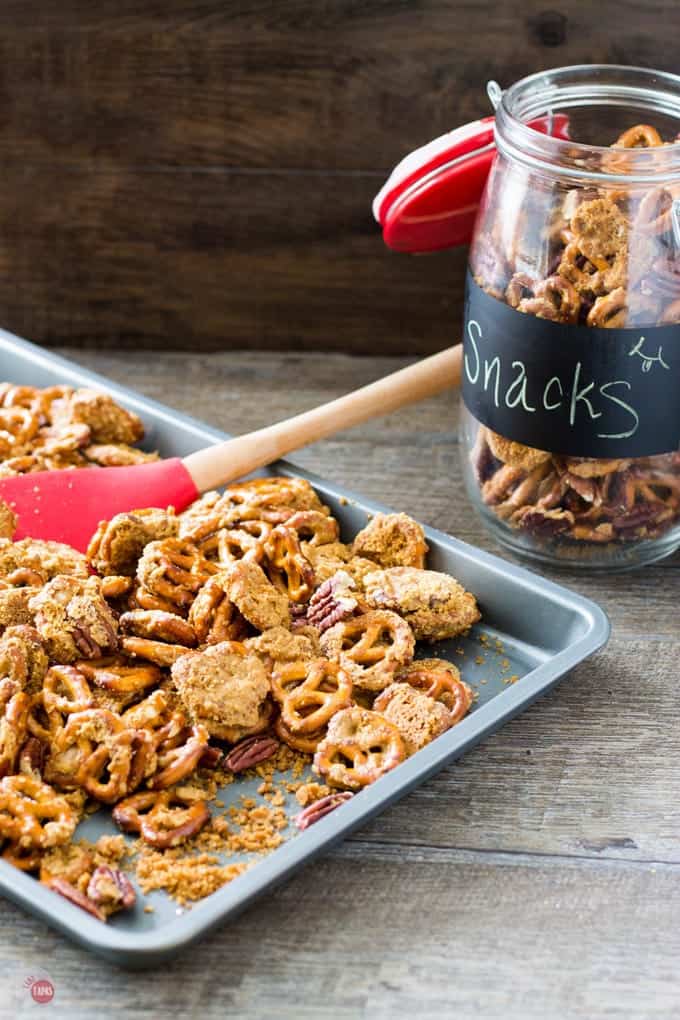 Crack Pretzels are Perfect for the Holidays!
The holidays are here and that means crazy schedules and gift-giving.  Like everyone, you are probably stressed to your maximum and can't handle one more thing on your to-do list.  Every year I want to plan ahead and have the perfect holiday season and then I wake up on December 15th and still have no tree, no gifts bought, no pounds lost, a room full of dirty laundry, and unwashed hair.  Every Freaking Year!
This year in my blogging journey, I have definitely made strides in my goal-setting and planning ahead.  I actually had recipes planned a month in advance (even though I only had the recipe scribbled out on a sketch pad and a note on my editorial calendar that I want to post it-still progress) and started to feel a little extra breathing room!  A lot of that also comes from not trying to do it all, taking a step back and prioritizing my time, and not getting sucked into all these unobtainable ideas of perfection that go with being a wife and mom.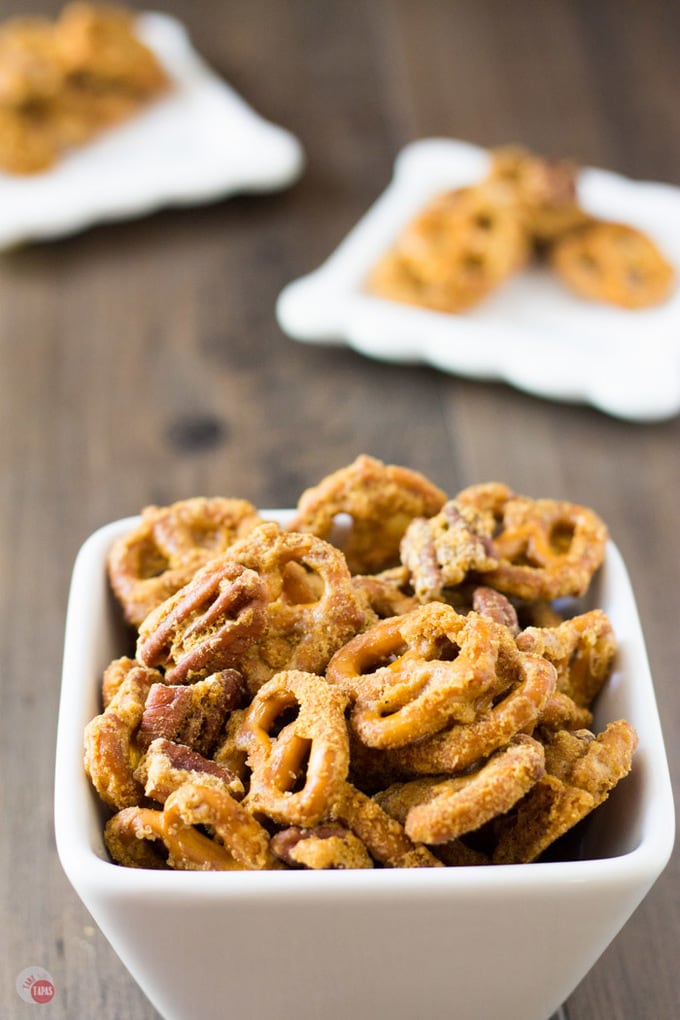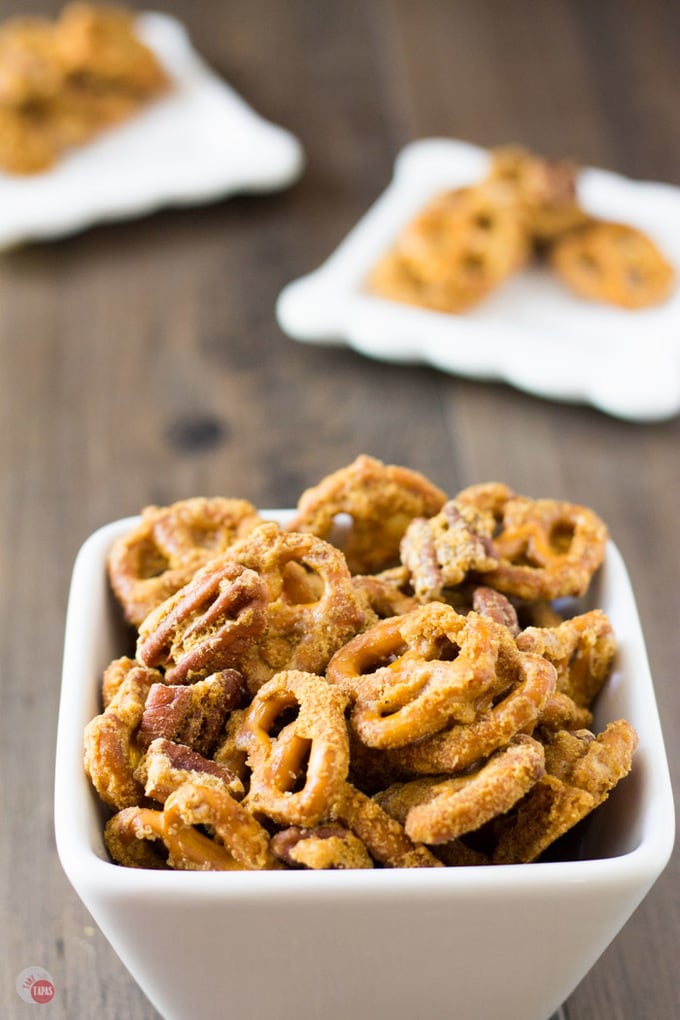 That means I didn't decorate for Halloween this year but since my kids are older I didn't feel guilty about that!  Give yourself some GRACE!!
That's not saying that you can't avoid unplanned emergencies and last minute projects since we are all susceptible, but I have found ways to say no and some other things that help me when I have to say yes.  This year I have been really good at saying no but when it comes to gifts for my kid's teachers I never say no!
They work hard with very little thanks, and usually a lot of complaining from parents and students, and they certainly deserve a treat!  Since I can't afford a Caribbean cruise, I like to make edible gifts or give gift cards.  They love gift cards for their favorite coffee place, restaurant, or package store 🙂  The next best thing is an edible gift that they can eat themselves or use as a gift for someone else if they are too busy to make something and can't go to a party empty-handed.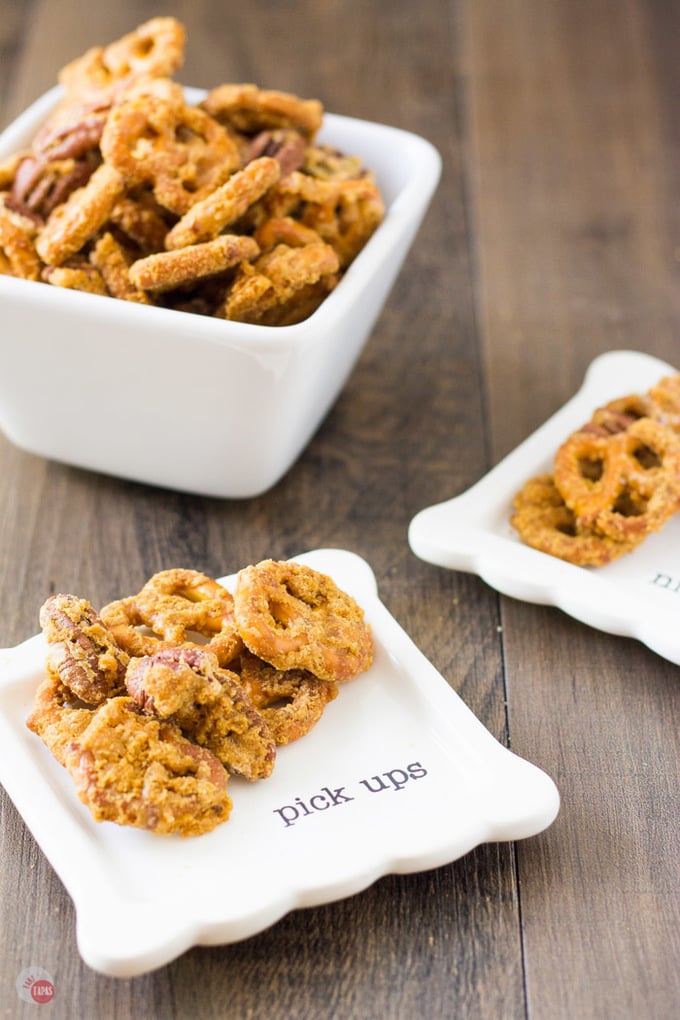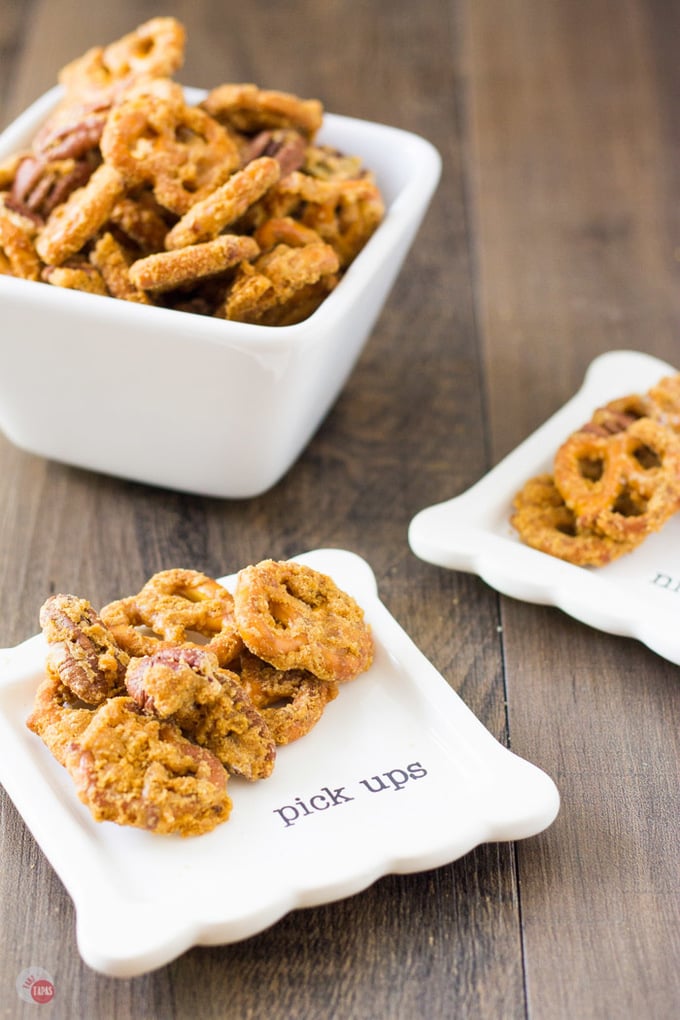 Need a good hostess gift? Crack Pretzels make a great gift!
My go-to edible gift is Crack Pretzels.  Last Christmas I made a Crack Chex Mix that turned out to be a big hit!  It's the usual snack mix but with an addicting crispy caramel coating much like caramel corn.  This year, inspired by my son's addiction to pretzels, I switched up the snack mix part.  Total win!  I knew I wanted to make this for the teachers because it makes a large amount so I could get away with making one batch.  Even better win!  I did get a few days notice on this unplanned task but I can whip it up the night before because:
It's easy and doesn't have too many ingredients
I could make it all at once.
I can make it a few days ahead of time and it will hold.
During my year of goal setting and planning ahead, I also wanted to make sure I went to the gym regularly and stayed in shape.  I am happy to say I went at least 3 times a week for most of the year.  Rearranging my schedule and making it a priority helped me achieve this.  When my son mentioned that he needed teacher's gifts on the way to school, I didn't bat an eye as I knew I could whip up these Crack Pretzels!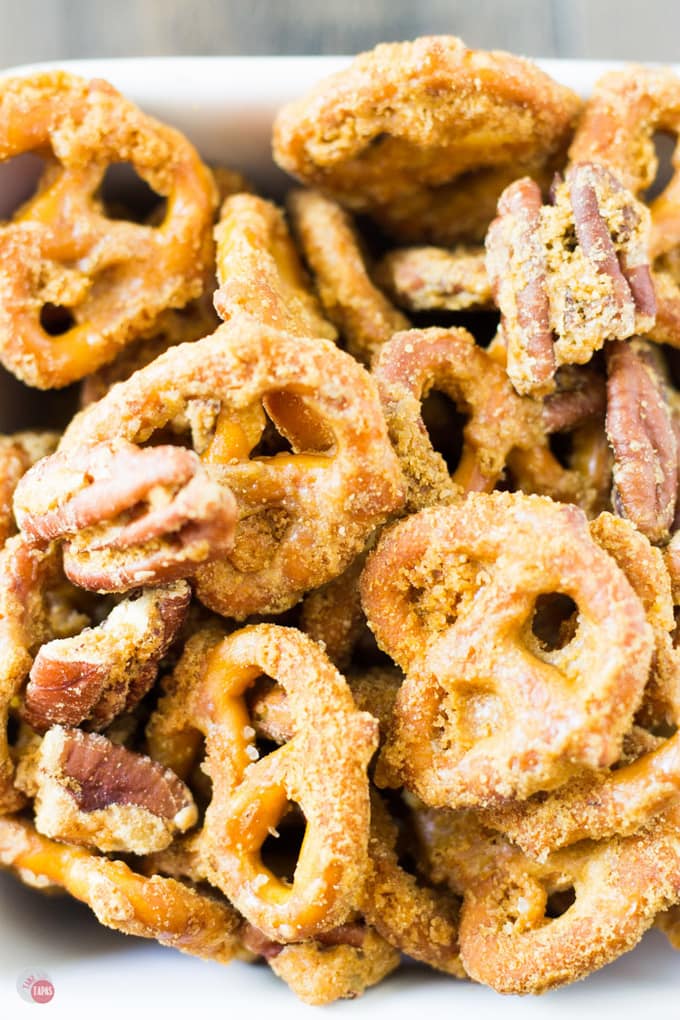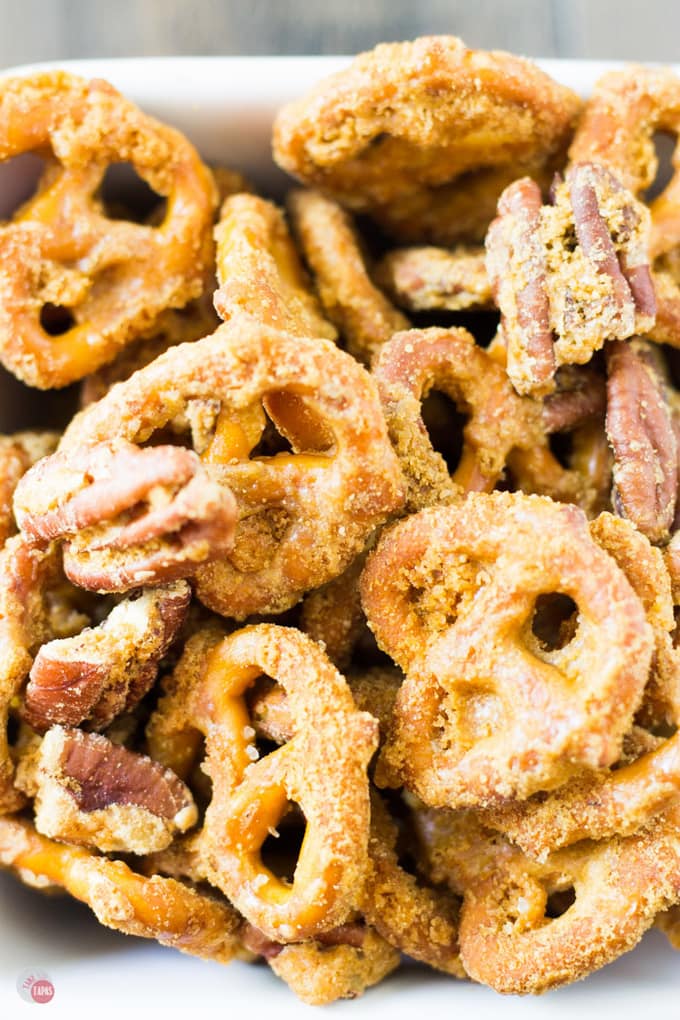 After my workout, I walked straight from the gym and into the store.  How do these look for a last minute teacher gift?  Check out these Crack Pretzels.
This crispy caramel coating will blow your socks off!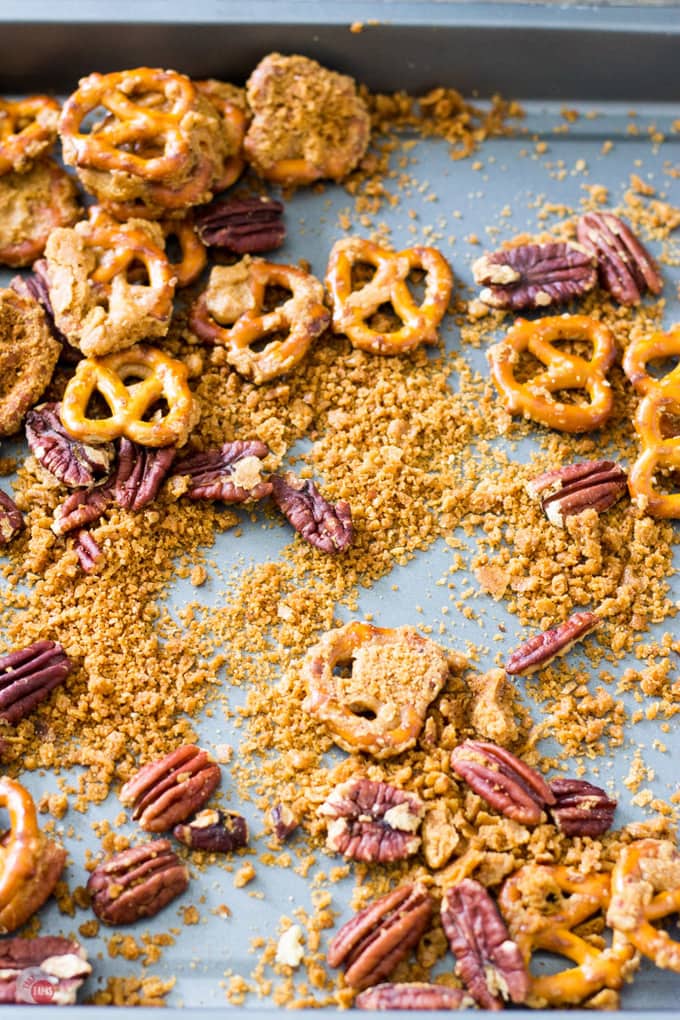 Another great thing I love about this mix is it leaves you a little surprise at the bottom of the pan.  The caramel coating sometimes chips off the pretzels when you stir it leaving little bits of crispy caramel sugar in the pan.  After cooking, I gathered up all the pretzels and pecans for the teacher's gift jars and was left with about a 1/2 cup of these wonderful little crunchies.  I started to lick my fingers and press them into the crumbs so I could eat a little bit but then figured they would taste better on some ice cream.
Or stirred into your coffee.
Or even by the spoonful.
I won't tell.
All it takes is 15 minutes of prep and then you can just throw it in the oven while you are doing laundry or decorating the tree.  After an hour you will have a large batch of edible heaven you can use for gifts or snacking while watching your favorite holiday movie.
Whatever is on your to-do list this holiday season you have time to make a batch of these Crispy Caramel Crack Pretzels.   That is definitely a holiday stress-reliever if I ever saw one.
Print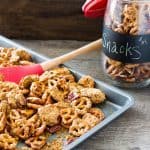 Crack Pretzels with Crispy Caramel and Pecans
---
Author:

Prep Time:

10 mins

Cook Time:

1 hr

Total Time:

1 hr 10 mins

Yield:

12 servings

Category:

Snacks, Dessert
Description
Step up your snack game with pretzels and pecans covered with a crispy caramel coating that is addicting!  You will be asked back when you bring these crack pretzels as a hostess gift for sure!
---
Ingredients
For the snack mix
6 cups twisty pretzels
2 cups pecan halves
For crispy crack coating
1 cup butter
2 cups light brown sugar
1 teaspoon salt
1 teaspoon vanilla
1/2 teaspoon baking soda
---
Instructions
Prepare the snack mix
Preheat oven to 250F.
Mix the pretzels and the pecans in a large glass or metal bowl. Do not use plastic!
Create the crack coating
In a medium saucepan, add the butter and sugar.
Bring to a boil.
Boil for 5 minutes.
Remove from burner and add the salt, vanilla, and baking soda.  When you add the baking soda, it will foam up and bubble so be very careful.
Stir to settle and mix.
Coat the crack pretzels
Pour over the pretzel and pecans and stir quickly. The sugar coating will start to harden fast.
Once it is mixed, pour onto a jelly roll pan or baking sheet and spread out.
Bake the crack pretzels
Bake at 250F for 1 hour stirring every 15 minutes.
Remove from oven and cool completely.
Store in gift jars or other another air-tight container until ready to give away. Or eat yourself.
Notes
*If you like this recipe, please leave me a comment and rate it with some stars.  Thank you!
This shop has been compensated by Collective Bias, Inc. and its advertiser. All opinions are mine alone. #BigLotsHoliday#CollectiveBias