This salad is a mixture of garlic, maybe an olive or two, and vinegar with some peppers thrown in there too. Use it to top a cracker, hang out with your boring chicken, or make an authentic New Orleans Muffuletta sandwich!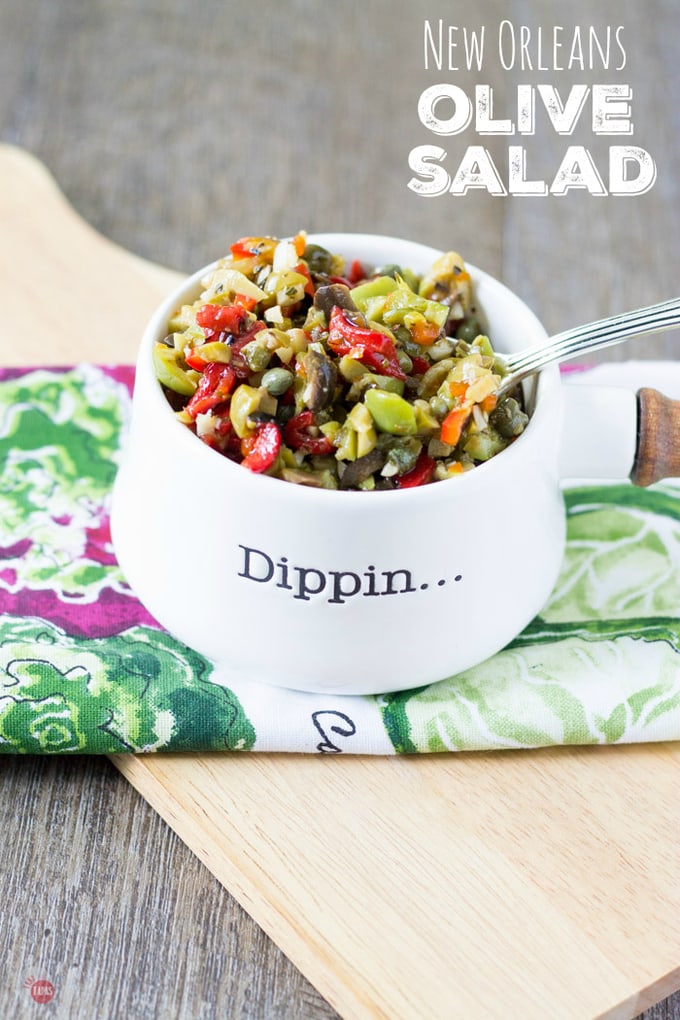 I went all the way to New Orleans and I only brought one thing back!
Have you ever been to New Orleans or Nawlins as the locals call it?  I have had the pleasure of going three times and each time I ate way too much.  When you are traveling somewhere new, what is the first thing you plan?  For us, it's food.  What cool restaurants are there, are there any that have been on the Dines, Drive-ins, and Dives show, any authentic, local hangouts that are a must for all tourists?  I could stay in a tent on the sidewalk if it meant that I would be able to visit all the food joints that I wanted to try.
My first Low- Country experience.
Right before my hubby and I got married we traveled to New Orleans to visit one of his college friends.  We got to experience Mardi Gras on Bourbon Street (from a balcony where I got to throw beads and see some things I didn't want to see!!), watch the parades, eat beignets at Cafe du Monde, and I even managed to steal a manhole cover from the Garden District.  I no longer have it morality police so calm down.  It stayed in NOLA just not in its original location as it wouldn't fit in my suitcase and all.  My favorite memory of the whole trip was eating a classic Muffuletta sandwich.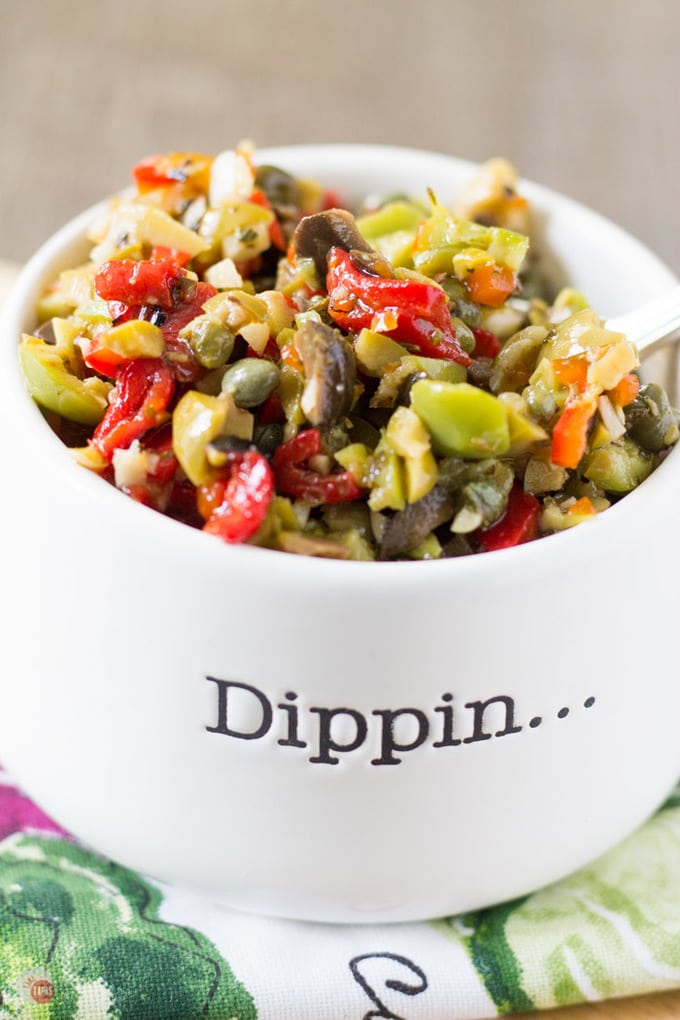 Just a sandwich?
I beg to differ!  As a frequent eater of Italian sub sandwiches, see my family history here, I was happy to see that there were the traditional Italian meats, capicola, salami, and mortadella. But there was something else to it that made it special.  Aside from the sheer size of the sandwich.  I made the mistake of ordering a whole Muffuletta sandwich at the restaurant and the hubs told me that I need to order a quarter.  He knew I could pack away some food so I was naturally curious as to why I only needed a 1/4 of a sandwich.  I had been walking all day taking in the sights and I was HUNGRY!  He calmly told me that if I was still hungry he would get me another one so I was satisfied with that answer.
He ordered a Po-boy, which I was also curious about. If he was going to deny me adequate food and I was leave me hungry, I would just steal some of his.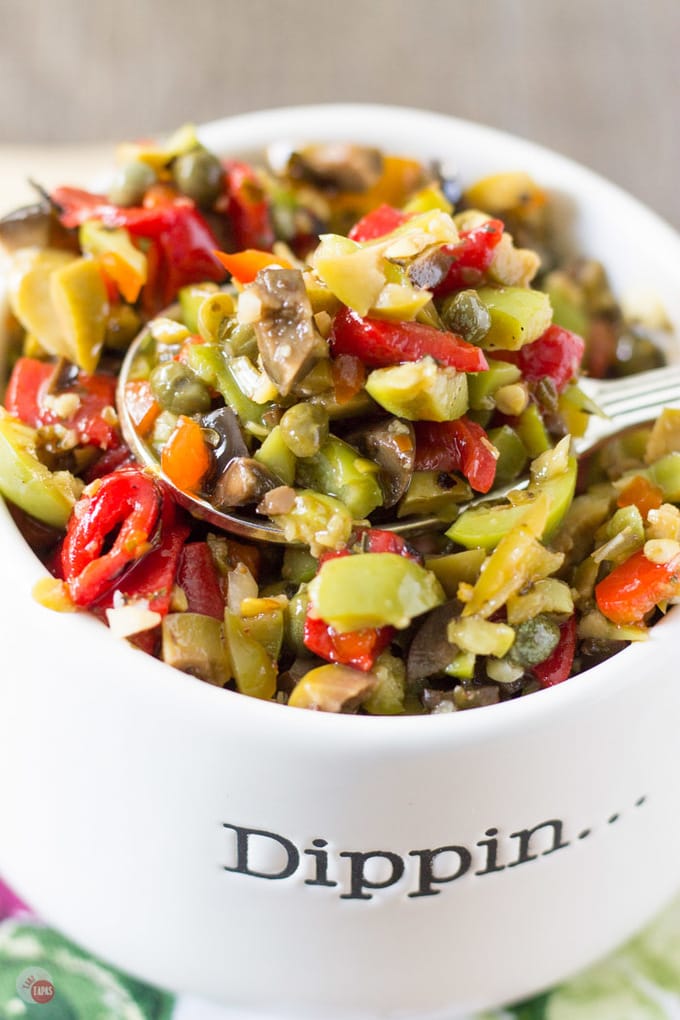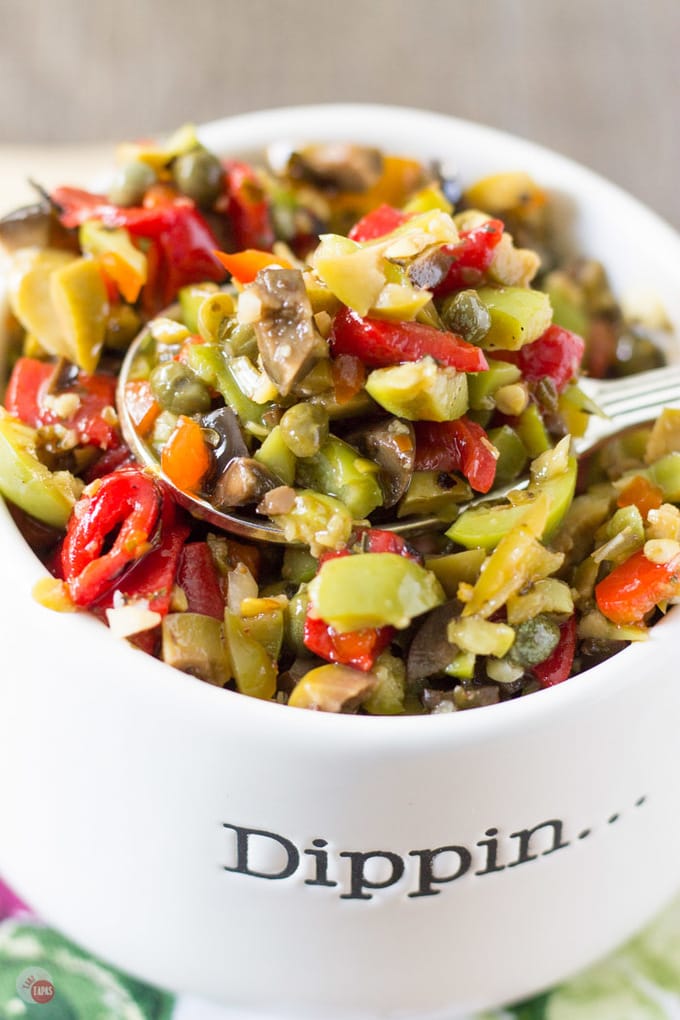 More than a mouthful!
The 1/4 showed up.
It was bigger than my head.
I couldn't finish it.
I was defeated by a sandwich and it wasn't even a cool eating competition with people cheering you on!
But I gratefully lost to said sandwich because of the one special condiment that adorned it.  The olive salad.  A mixture a few olive types, some pickled vegetables, a hint of garlic, some vinegar, and peppers for good measure.  Tangy, briny, and filled with so many different flavors, I wanted to buy a jar of it!  I wanted to rub it on my face!  I would have rubbed it on the hubby's face and kissed him but I didn't want to waste any!  We sat there for quite a while and dissected out all the pieces of the olive salad so I could try and recreate it later.  While not an exact replica due to all the local variations, this recipe is the product of our detective work.
I am pretty darn close.
While we did shop for souvenirs, I wanted the one thing I brought back from NOLA to be a recipe.
That contained olives.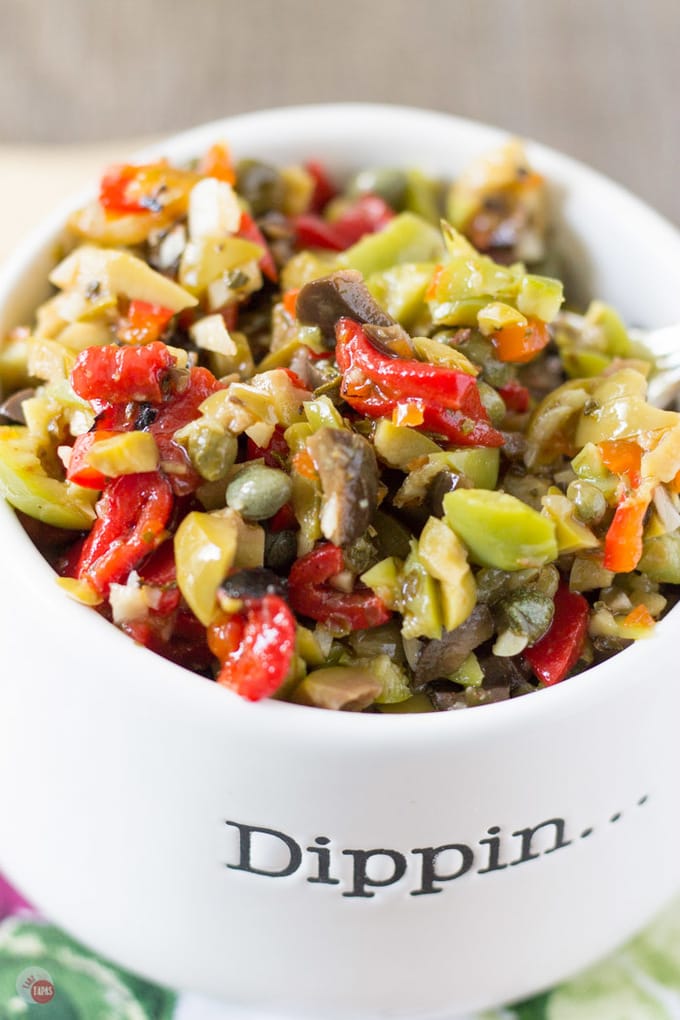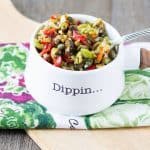 New Orleans Olive Salad
Ingredients
5

sweet cherry peppers

, sliced and seeded

2

cloves

garlic

, minced

1

cup

Castelvetrano olives

, pitted and chopped

3/4

cup

Spanish olives with pimento removed

1/2

cup

roasted piquillo peppers/red bell pepper

, diced

3/4

cup

black olives

, chopped

1/4

cup

olive oil

3

tablespoons

capers

, drained

1/4

cup

red wine vinegar

1

tablespoon

oregano

1/2

teaspoon

salt
Instructions
Make sure all items are chopped fine and combine.

Store in the fridge until ready to use.

Because the olive oil solidifies in the fridge, set out about 5 minutes before you plan on serving!

Enjoy!
Can't find some of these olives in your local market?  Check them out here!


Like this recipe?  Check out these!