Traditional King Cake for Mardi Gras is made bite-sized in a Golden Oreo truffle.  Coat them in white chocolate and hide a baby in one for the prize! Top with purple, green, or yellow sprinkles and these are perfect for your Mardi Gras celebration.
Tomorrow is Fat Tuesday!  Even though I have been feeling fat since before Christmas, tomorrow is Mardi Gras.  That means it is time to party, don our beads and throw some too, hang with our Krewe at the parade, and eat some King Cake.  Not sure what a King Cake is?  Here is the skinny.  Or should I say the "fat" since it will be tomorrow?
What is a King Cake?
A King Cake is a special cake baked in the honor of the three Magi (wise men, or kings) that visited the Christ Child 12 days after Christmas on the day of Epiphany.  This starts off the Mardi Gras, and King Cake, season and culminates with Fat Tuesday or the day before Lent(Ash Wednesday), which is 47 days before the celebration of Easter.
Each king cake is baked with a tiny baby inside, not a real one, but a tiny plastic one.  The "lucky" person to get the slice with the baby gets to host the King Cake Party next year.  This might not be "lucky" for you if you don't like to host parties!  Topping the baked cake with simple a simple sugar glaze and decorated with the Mardi Gras colors of purple, green and gold is the only way to go.
I'm not very good at making a yeast dough, something I am working on right now, but really wanted to get into the Mardi Gras spirit!  I am a huge fan of Oreo truffles and how easy they are to make.  Also, the fact that they require two ingredients, is a total plus!  Golden Oreos have a delicious vanilla flavor that reminds me of cake.  Mixing the Golden Oreos with cream cheese, like a traditional Oreo truffle makes sense because some King Cakes have a cream cheese filling.
Once the Golden Oreos are mixed with cream cheese, I dip them in white chocolate.  The whole combination tastes just like a traditional King Cake.  Trust me, I have had a few before.
'Nawlins Mardi Gras
Down in 'Nawlins during a visit, I had the opportunity to attend a Mardi Gras ball.  Without "flashing" anyone, I was great at catching beads during the parade.  After some drinks down on Bourbon Street, I ate a whole King Cake.  By Myself!
That meant I also got the baby too!  I didn't get the chance to host a King Cake party the next year but I have always wanted to go back to New Orleans for Madri Gras again.  This time I want to take the boys as I really think they would get a kick out of the parade.  The Krewes, or clubs that host the balls and do the floats, go all out on their float designs.  They work on them all year and even keep them under lock and key so no one takes their idea.
I won't keep this King Cake Oreo Truffle recipe under lock and key so you can make them for your Mardi Gras celebration.  I only put a baby in one of the truffles and had it sticking out of the top.  Easy to pick up that way:)  Perfect for your office party or for taking to your kids class.  Just be sure to take the baby out as it can post a choking hazard.
These King Cake Oreo Truffles take less than 30 minutes to make so you can whip up a batch in no time!
King Cake Oreo Truffles For Mardi Gras
Ingredients
1

package Golden Oreo cookies

(36 regular not double stuffed)

8

ounces

cream cheese

, softened

16

ounces

white chocolate

purple

, yellow, and green sprinkles

1

tiny plastic baby

(optional)
Instructions
In a food processor, combine the Golden Oreo cookies and cream cheese.

Pulse until completely combined and most of the bigger pieces are gone.

Remove,

scoop

into 1 inch balls and place on the lined baking sheet.

Pop in the freezer for 15 minutes.

While the truffles are chilling, melt your chocolate using the microwave or double boiler method.

Remove the truffles from the freezer. (This is when I placed the baby in one of the truffles)

Dip in the white chocolate and place back on the baking sheet.

Top with the colored sprinkles while the chocolate is still wet.

Place back in the refrigerator/freezer to set the chocolate coating. About 5 minutes.
If you like these truffles, check out my other ones!
Salted Fireball Dulce de Leche Truffles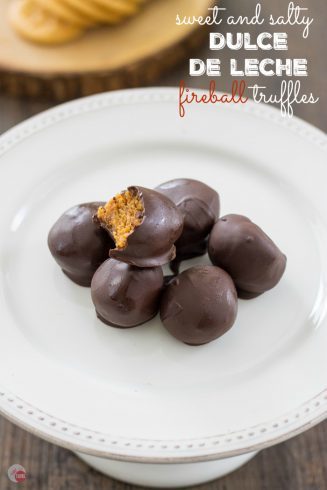 Cracker Truffles with Peanut Butter and Honey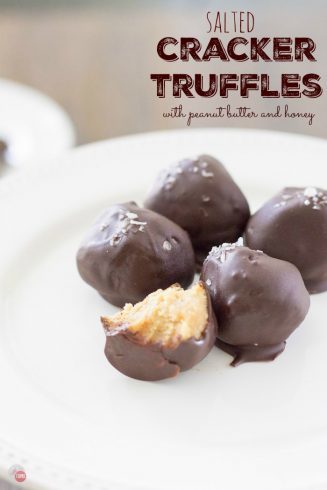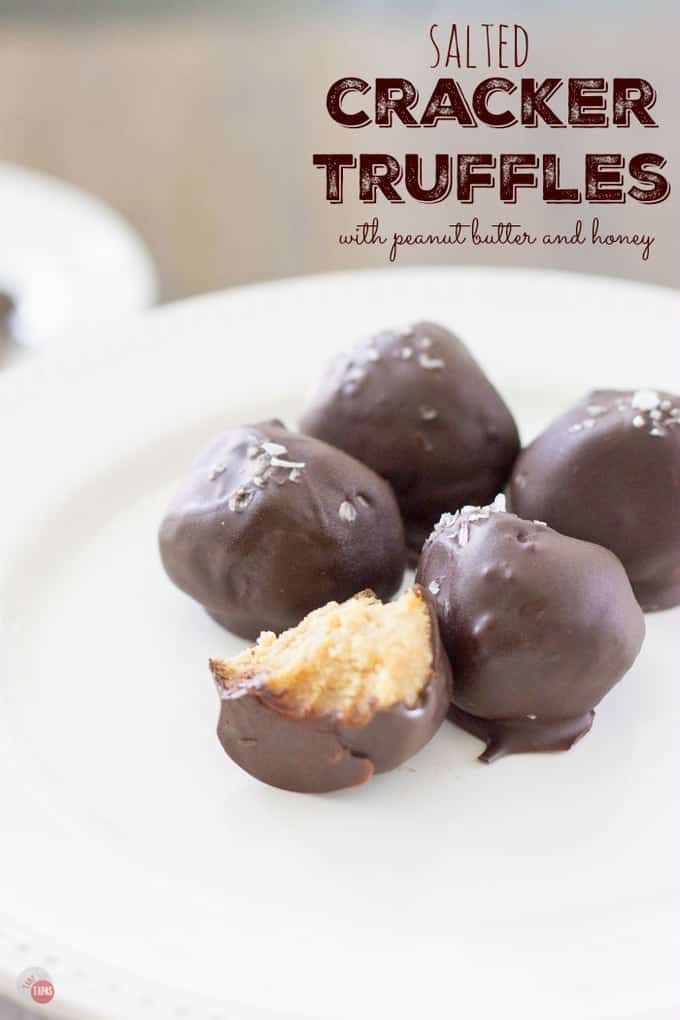 Banana Pudding Truffles