King Cake Oreo Balls are an easy, no-bake, bite-sized Mardi Gras Dessert that everyone will love! Dipped in white chocolate and complete with a hidden baby! Top with purple, green, or yellow sprinkles and these are perfect for your Mardi Gras celebration.
Complete your Mardi Gras Menu with this Olive Salad, this Muffuletta Cheese Ball, and these Fat Tuesday Deviled Eggs!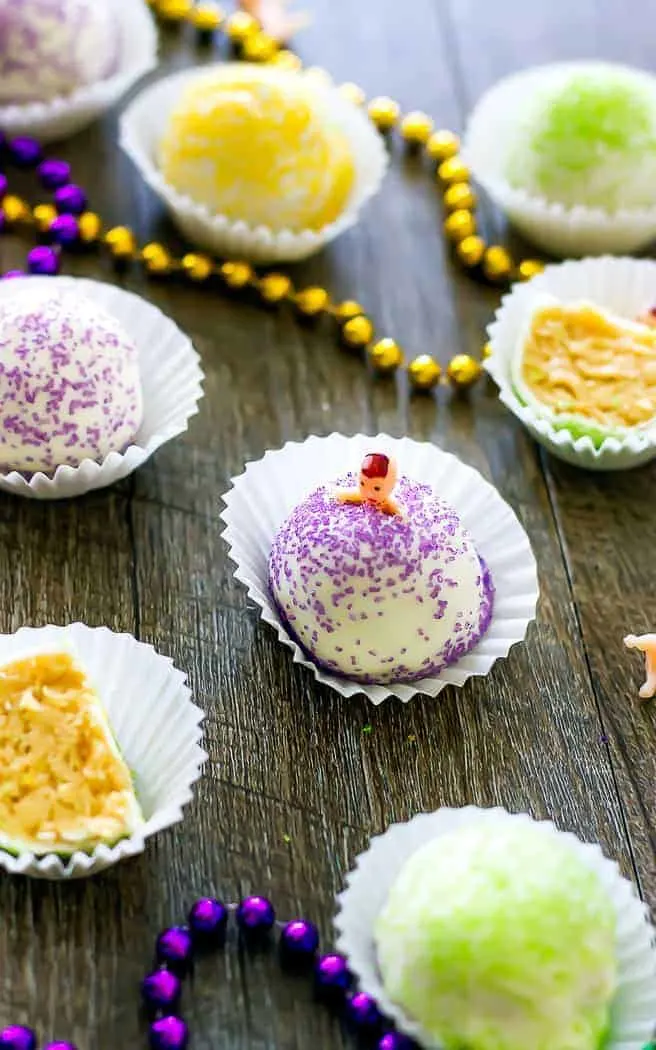 Fat Tuesday is coming up! Even though I have been feeling fat since before Christmas, Mardi Gras with their "Fat Tuesday" just reminds me to stop snacking.
Mardi Gras and Fat Tuesday mean it is time to party, don our beads and throw some too, hang with our Krewe at the Mardi Gras parade, and eat some King Cake. Not sure what a King Cake is?
Here is the skinny. Or should I say the "Fat?"
WHAT IS A KING CAKE?
A King Cake is a cake traditionally made from a broiche/bread dough, with various fillings like cream cheese or chocolate, and coated in frosting and sprinkles in Mardi Gras colors (purple, green, and yellow).
The King Cake is baked in the honor of the three Magi (wise men, or kings) that visited the Christ Child 12 days after Christmas on the day of Epiphany.
This starts the Mardi Gras, and King Cake eating season, and culminates with Fat Tuesday or the day before Lent (Ash Wednesday), which is 47 days before the celebration of Easter.
How fitting as most people tend to give up sweets or desserts for Lent.
The other cool things about a King Cake is that a tiny plastic baby is baked inside of it!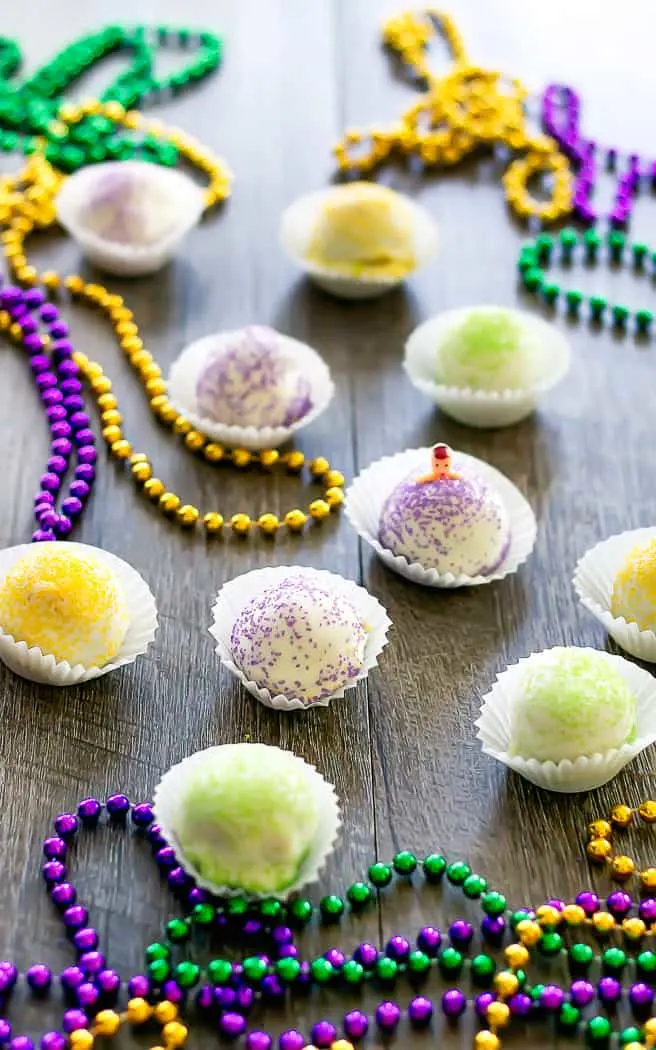 WHAT IS THE MEANING OF THE KING CAKE BABY?
The baby in the King Cake started off to symbolize the baby Jesus, but today it represents good luck and good fortune for he who finds it.
Some people even designate the finder as the King or Queen of the evening and get special privileges.
Finding the baby also comes with the obligation of hosting next year's party or, at the very least, bringing the King Cake!
These King Cake Oreo Balls have a baby tucked in one of the truffles to carry on this fun tradition. This makes it easier to pick up the King Cake Oreo Truffles.
You might want to put a baby in each truffle so you can wish everyone at the party good luck!
Just be sure to take the baby out as it can post a choking hazard.
OREO COOKIE BALLS
I'm not very good at making a yeast dough, something I am working on right now, but really wanted to get into the Mardi Gras spirit! I am a huge fan of Oreo cookie truffles and how they are easy desserts to make.
Also, the fact that they require two ingredients, is a total plus!
OREO BALLS INGREDIENTS
Oreos or other sandwich cookie with cream filling
cream cheese
For these oreo balls I chose Golden Oreos. They have a light vanilla flavor that reminds me of King Cake.
Mixing the Golden Oreos with cream cheese, like a traditional Oreo truffle makes sense because some King Cakes have a cream cheese filling.
This post may contain affiliate links. As an Amazon Associate, I earn from qualifying purchases. Read my disclosure policy here.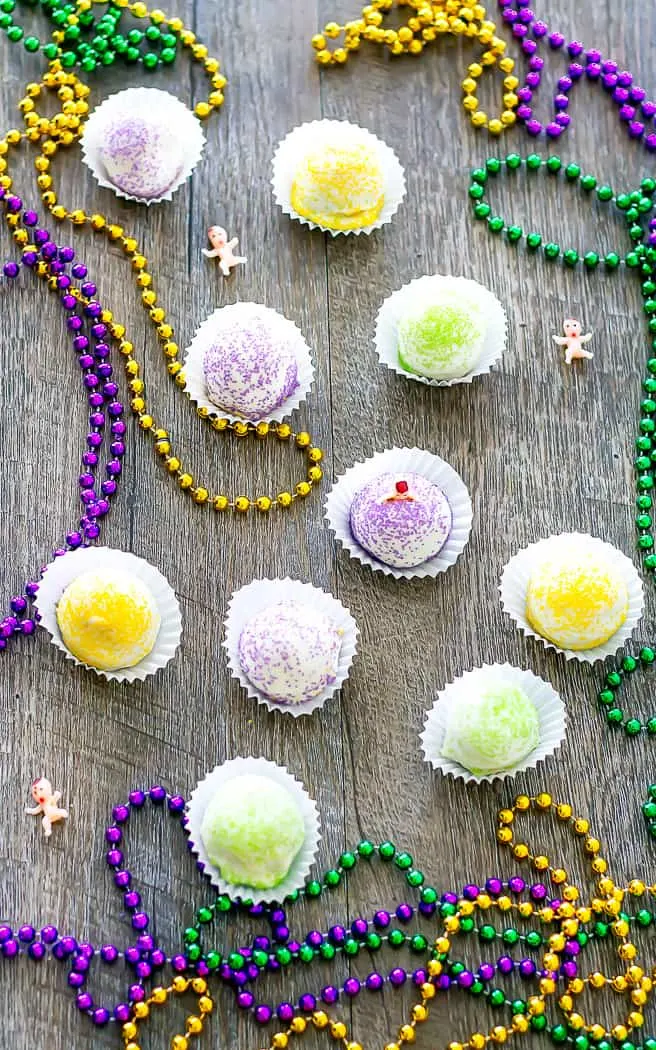 HOW TO MAKE OREO BALLS
Making Oreo bites is quick and super easy. Just combine the crushed Oreos and cream cheese in a mixing bowl.
Once the Golden Oreos are mixed with cream cheese, I scoop them into tiny truffle balls and dip them in white chocolate. The whole combination tastes just like a traditional King Cake. Trust me, I have had a few before.
HOW TO CRUSH OREOS
There are a few ways you can do this to get them to Oreo crumbs.
You can place them in a plastic bag, squeeze out the air, and them bang with a rolling pin or something similar.
Place them in a food processor and chop until they are small crumbs.
Using a food processor makes them filling more consistent, easier to scoop, and doesn't make your arms tired.
For more insider tips & tricks, and a candid behind the scenes look follow me on social media! Check use out on Pinterest, Facebook, Instagram, & Twitter (yes, people still use Twitter, LOL!)
HOW TO DIP OREO BALLS
Once the filling is combined and scoop into balls. This is the time to add the babies to the truffles! Chill them for at least 30 minutes.
You can place them in the freezer but I wouldn't recommend this unless you are really behind schedule.
While the Oreo bites are chilling, melt your white chocolate or almond bark coating, gather your sprinkles and babies, and set up your dipping station. I like to have a baking sheet with parchment paper ready to go.
One at a time, dip the chilled King Cake Oreo Balls in the white chocolate coating with a fork. Roll to cover completely.
Scoop out and lightly tap the fork on the side of the bowl to remove any excess coating. Scrape any extra coating from the bottom using the side of the bowl.
Place on the baking sheet and immediately add the sprinkles.
Continue with this until all truffles are dipped.
Place the baking sheet in the fridge to set the coating.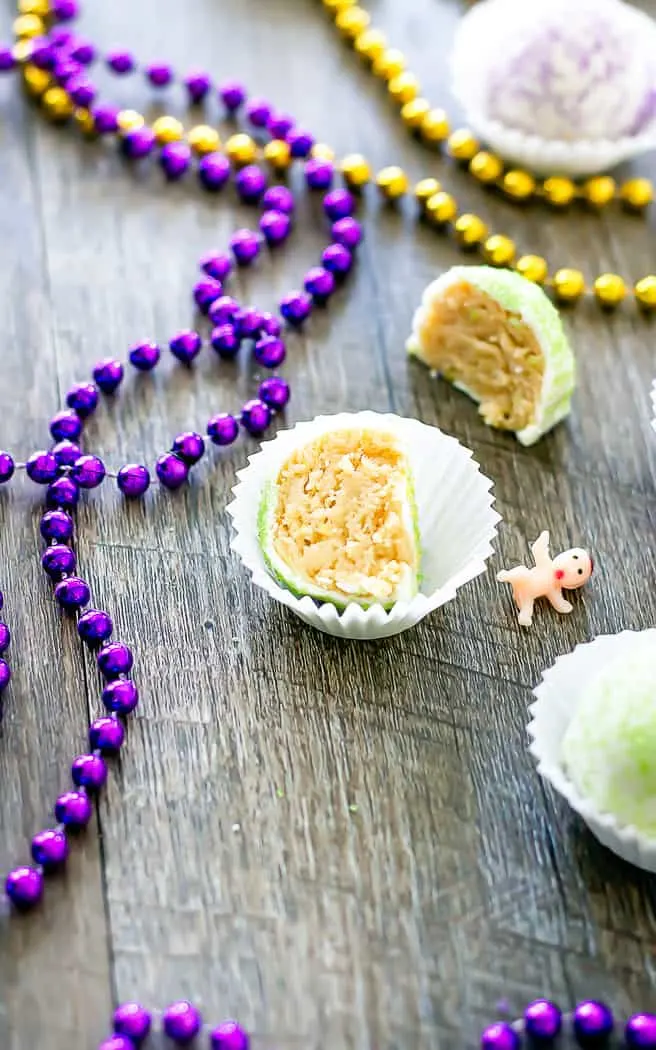 HOW LONG DO OREO BALLS LAST?
Once the balls are coated, they will last up to 7 days in the refrigerator if stored in an air tight container. This means you can make them up to a week ahead of time!
CAN YOU FREEZE KING CAKE OREO BALLS?
Yes, you can! Just be careful when you thaw them out as some condensation might form on the outside and the sugar colors might run.
These King Cake Oreo Truffles take less than 30 minutes to make so you can whip up a batch in no time!
If you love this recipe as much as I do, please write a five-star review in the comment section below (or on Pinterest with the "tried it" button – you can now add pictures into reviews, too!), and be sure to help me share on facebook!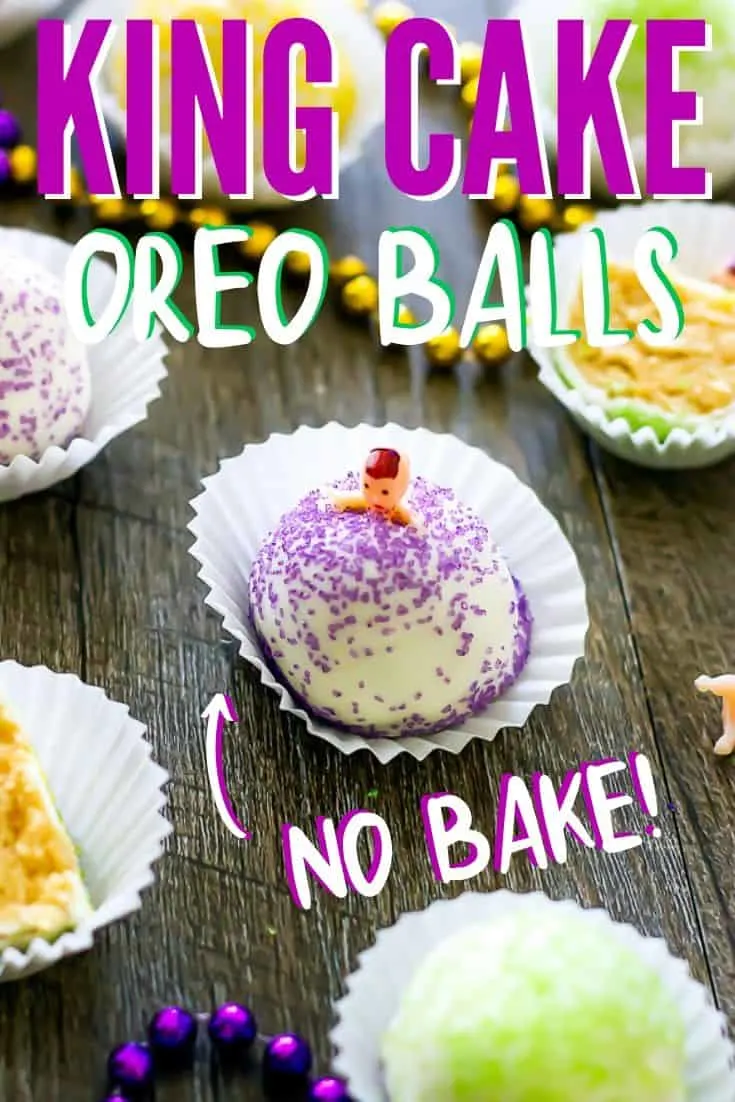 MORE PARTY FOODS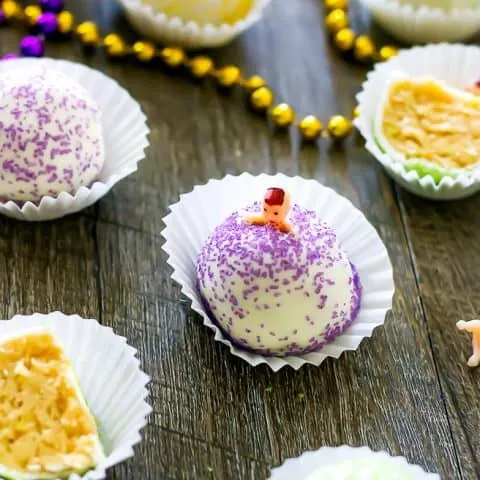 King Cake Oreo Balls
Traditional King Cake for Mardi Gras is made bite-sized into King Cake Oreo Truffles. Coat them in white chocolate and hide a baby in one for the prize! Top with purple, green, or yellow sprinkles and these are perfect for your Mardi Gras celebration.
Ingredients
1 package Golden Oreo cookies (36 regular sized cookies, not double stuffed)
8 ounces cream cheese (softened)
[16 ounces white chocolate]
sprinkles (purple, yellow, and green)
Instructions
Line a baking sheet with a silicone baking mat or parchment paper
In a food processor, combine the Golden Oreo cookies and cream cheese.
Pulse until completely combined and most of the bigger pieces are gone.
Remove, scoop into 1 inch balls, and place on the lined baking sheet.
Pop in the freezer for 15 minutes.
While the truffles are chilling, melt your chocolate using the microwave or double boiler method.
Remove the truffles from the freezer. (This is when I placed the baby in one of the truffles)
Dip in the white chocolate and place back on the baking sheet.
Top with the colored sprinkles while the chocolate is still wet.
Place back in the refrigerator/freezer to set the chocolate coating. About 5 minutes.
Enjoy!
Notes
*If you like this recipe, please leave me a comment and rate it with some stars. Thank you!
Nutrition Information:
Yield:

24
Serving Size:

1
Amount Per Serving:
Calories:

138
Total Fat:

9g
Saturated Fat:

6g
Trans Fat:

0g
Unsaturated Fat:

3g
Cholesterol:

14mg
Sodium:

48mg
Carbohydrates:

12g
Fiber:

0g
Sugar:

12g
Protein:

2g
This nutrition information was generated via a third party, Nutritionix, and can not be held liable for any discrepancies in the information provided.
TakeTwoTapas.com. Content and photographs are copyright protected. Sharing of this recipe is both encouraged and appreciated. Copying and/or pasting full recipes to any social media is strictly prohibited.