The sandwich I looked forward to on the weekends growing up was an Italian Sub. I recreate my favorite childhood sandwich into a Mini Veggie Italian Sliders with homemade dressing!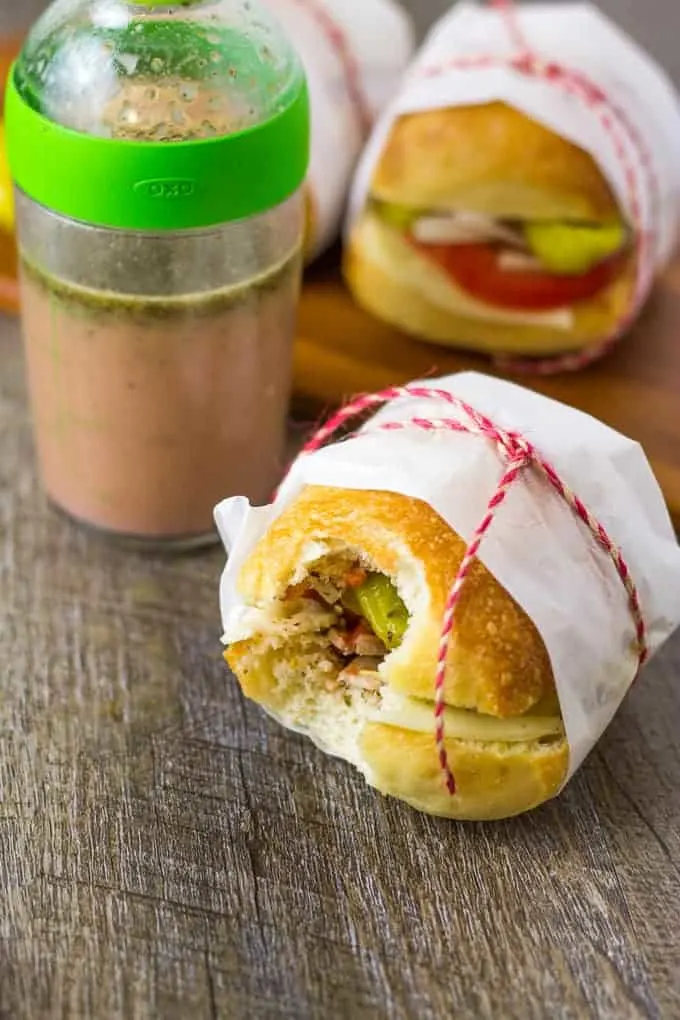 My childhood was filled with all sorts of amazing foods from Italian to Bahamian to Jewish foods but these Mini Veggie Italian Sliders have a special place in my heart. Read on to find out why!
When my parent's finally sold the restaurant, all their new-found free time was spent watching cooking shows and experimenting with food. I think it's genetic because I love watching food shows and trying new recipes!
Sandwiches were never really one of my favorite things growing up. I guess that is because I am bread snob. No white bread for me unless it is for a grilled cheese sandwich and even then not really.
Sub, hoagie, onion, and potato rolls are the only way to go. A crusty French baguette or Ciabatta loaf will work too as long as I can slather some butter on it!
Sub, hoagie, onion, and potato rolls are the only way to go. A crusty French baguette or Ciabatta loaf will work too as long as I can slather some butter on it!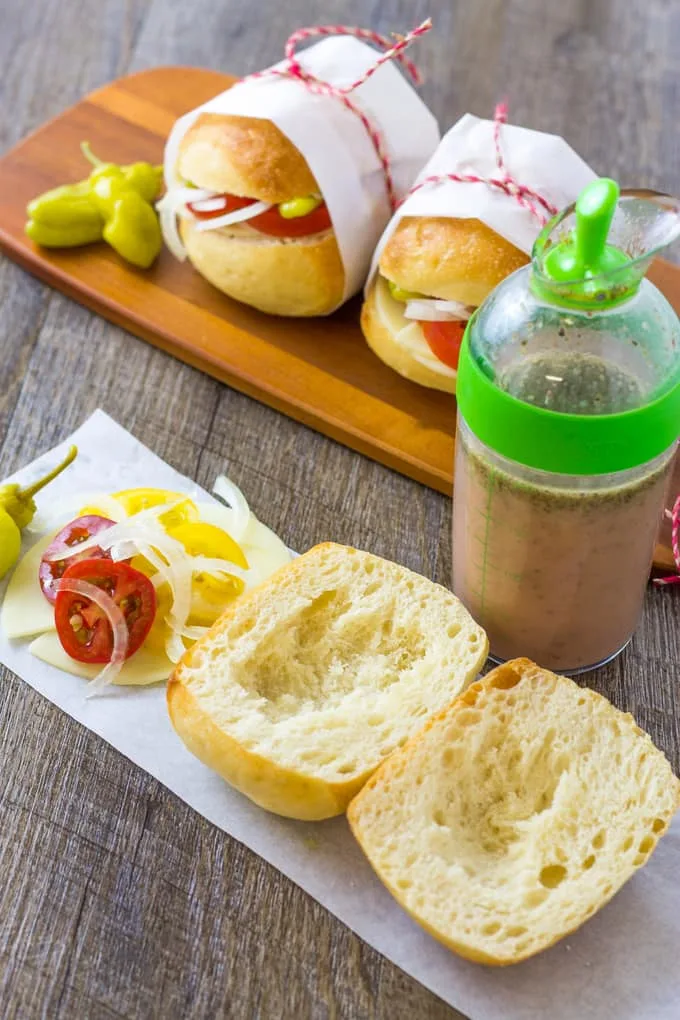 Bread must be able to stand up to the other ingredients and not get soggy or fall apart so I am pretty picky when it comes to sandwich bread.
Imagine putting a red wine vinaigrette on a slice of white bread? It would disintegrate! For a sandwich, the bread is basically like wrapping paper. But it can't be boring, it must have texture and flavor too!
I love the heartier bread for that reason. They can stand on their own and elevate the fillings!
Reason number one why these Mini Veggie Italian Slider Subs are on the top of my list. The bread.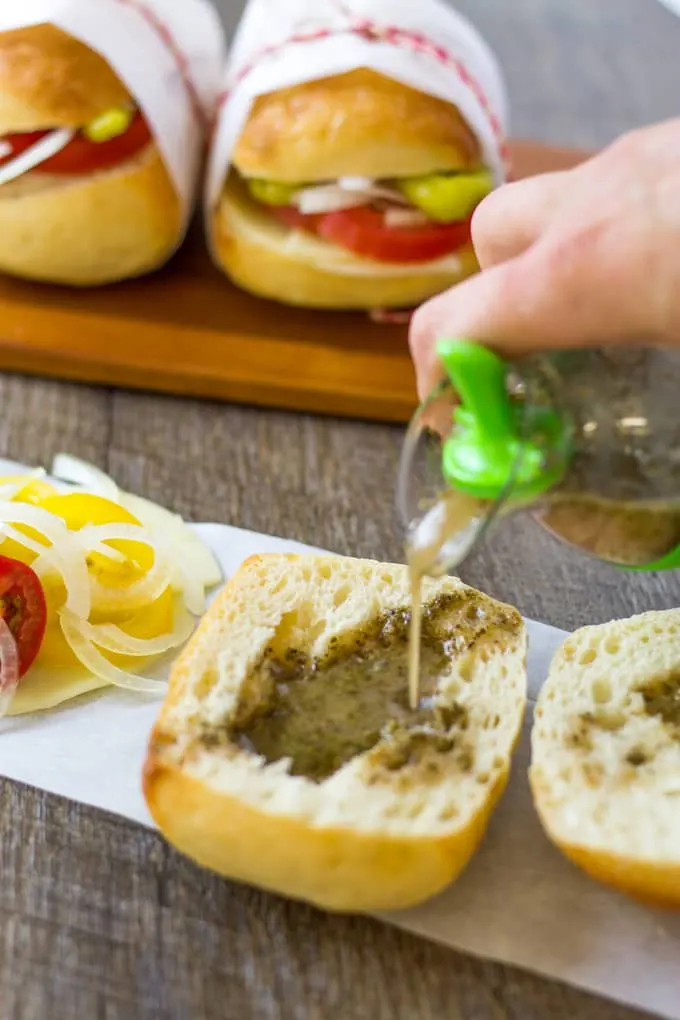 Reason number two is the ingredients. When we made these sandwiches, or shall I say, my stepfather Bob did, he included classic Italian ingredients:
Salami, capicola, provolone cheese, tomatoes, onions, pepperoncini peppers, and an Italian dressing to tie it all together. It was an antipasto between two crusty pieces of bread that we lovingly called "Bob's Sub Sandwiches."
Now I love salami and capicola just as much as the next girl but sometimes I am not in the mood for salami. I'm totally kidding!
If I am being completely honest, I am usually out of it because I ate it on a cheese board the night before. But veggie sandwiches are good too! Sliced cured meats can be expensive so a vegetarian sandwich is really a good frugal choice!
So when I make these sandwiches I usually leave off the meats…
This post may contain affiliate links. As an Amazon Associate, I earn from qualifying purchases. Read my disclosure policy here.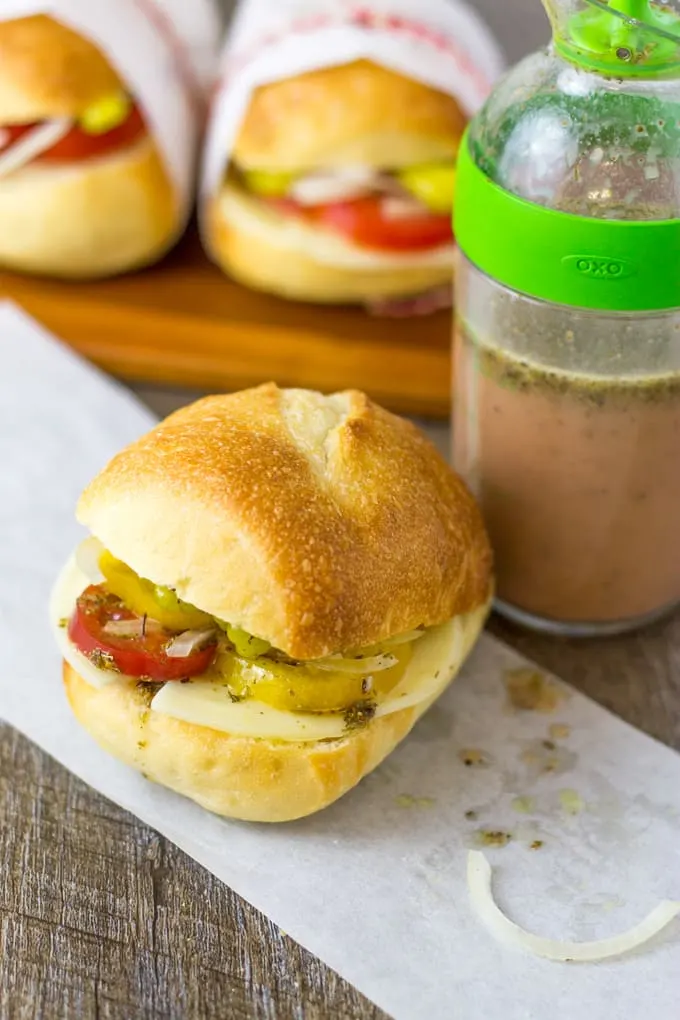 These mini veggie Italian sliders are a great way to use up the end of ingredients. That last piece of cheese, the last tomato, the last few peppers in the jar, and a slice or two of onion are all you need.
Hopefully, you already have some red wine vinaigrette in the fridge to top of the slider, if not, I have included a recipe for my favorite one!
The sliders are easy to assemble, in any order of ingredients that you like, but I prefer to have the dressing on the bread directly. If I am not in the mood for a lot of bread, I remove a little of the soft inside leaving mostly crust.
Hollowing it out also makes a great reservoir for the dressing. Having the cheese closer to the bread will also keep the tomatoes from smashing into the bread as well.

Making my own dressing because is a must because it is the real highlight of the subs. I found this salad dressing container that I absolutely love! I mix the dressing right in the container and can store it in there until I use it all on these sandwiches. The best part is that it is dishwasher safe. I hate washing dishes that are oily!!
I started making homemade dressings after my hubby and I got married. His mom Judy makes all her own dressings and she taught me the basics so I don't have to buy it from the store. Even Ranch Dressing!
Plus it doesn't have any of the preservatives and chemicals in it either. Want to make Ranch dressing from scratch? Grab my free eBook for a mix that you can use to make your own. Along with 9 other dip mixes to use as marinades and dressings too!
For more insider tips & tricks, and a candid behind the scenes look follow me on social media! Check use out on Pinterest, Facebook, Instagram, & Twitter (yes, people still use Twitter, LOL!)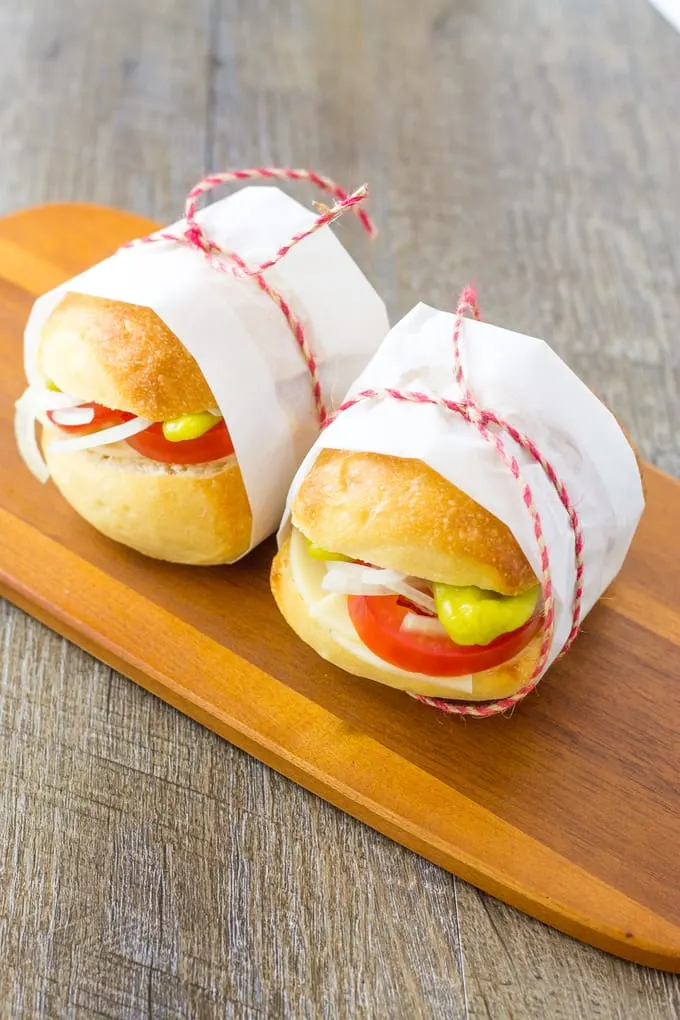 All in all these sliders are full of veggies, have a tanginess that will have your taste buds singing, and you can prep them ahead of time, wrap them up, and add the dressing later. This article will help you wrap your Mini Veggie Italian Sliders for any on the go purposes! Can't have soggy sandwiches at the party now, can we?
Mini Veggie Italian Sliders are easy to make, quick to throw together, and even though they are veggie subs they can be appreciated by vegetarians and carnivores alike!
MORE EASY PARTY FOODS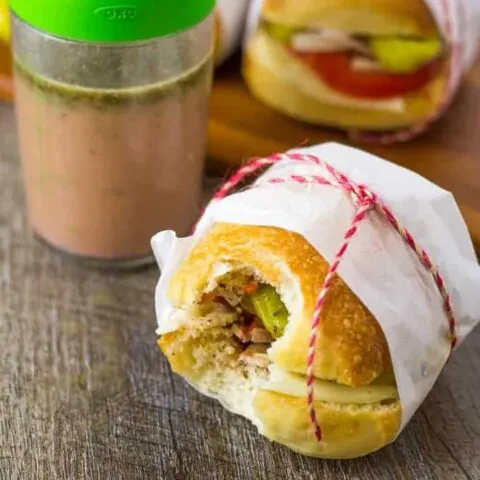 Mini Veggie Italian Sandwiches
The sandwich I looked forward to growing up was an Italian Sub. I make my favorite childhood sub into Mini Veggie Italian Sliders with homemade dressing!
Ingredients
For the Mini Veggie Italian Sliders
4 mini ciabatta rolls
8 tomato slices
8 pepperoncini peppers
2 slices onion
4 slices provolone cheese
8 tablespoons red wine vinaigrette
Red Wine Vinaigrette:
2 cloves garlic (minced or pressed)
2 tablespoons mustard
juice of 1 lemon
1/2 cup avocado oil (or olive oil)
1/2 cup red wine vinegar
2 tablespoons honey
2 tablespoons Homemade Italian Seasoning
1 teaspoon salt
Instructions
Prepare your red wine vinaigrette
In a small bowl or dressing container combine the mustard, garlic, honey, red wine vinegar, and Italian Seasoning.
Shake to combine.
Add the lemon juice and salt.
Shake or stir to combine.
Slowly add in the oil while whisking to combine.
Store in the fridge until ready to use.
To make the Mini Veggie Italian Sliders
Slice your rolls in half.
If you want crispy bread, toast for a few minutes.
Add a tablespoon of dressing on the bread.
Add the sliced tomato, cheese, onion slices, and peppers.
Top with the other half of the roll.
Wrap or enjoy now!
If wrapping for later, leave off the dressing and apply right before eating.
Notes
The olive oil or avocado oil will solidify in the fridge so take your dressing out a few minutes before serving.
Nutrition Information:
Yield:

4
Serving Size:

1
Amount Per Serving:
Calories:

725
Total Fat:

44g
Saturated Fat:

9g
Trans Fat:

0g
Unsaturated Fat:

32g
Cholesterol:

19mg
Sodium:

3271mg
Carbohydrates:

67g
Fiber:

5g
Sugar:

24g
Protein:

17g
This nutrition information was generated via a third party, Nutritionix, and can not be held liable for any discrepancies in the information provided.
Don't you want these Mini Veggie Italian Sliders for tailgating?