Last updated on December 8th, 2019 at 10:33 am
A Cheese Ball is the perfect party appetizer and this recipe is for making a classic cheese ball with just a few simple ingredients. Use this tutorial as a jumping off point with helpful tips for customizing a great cheese ball with your own flavors!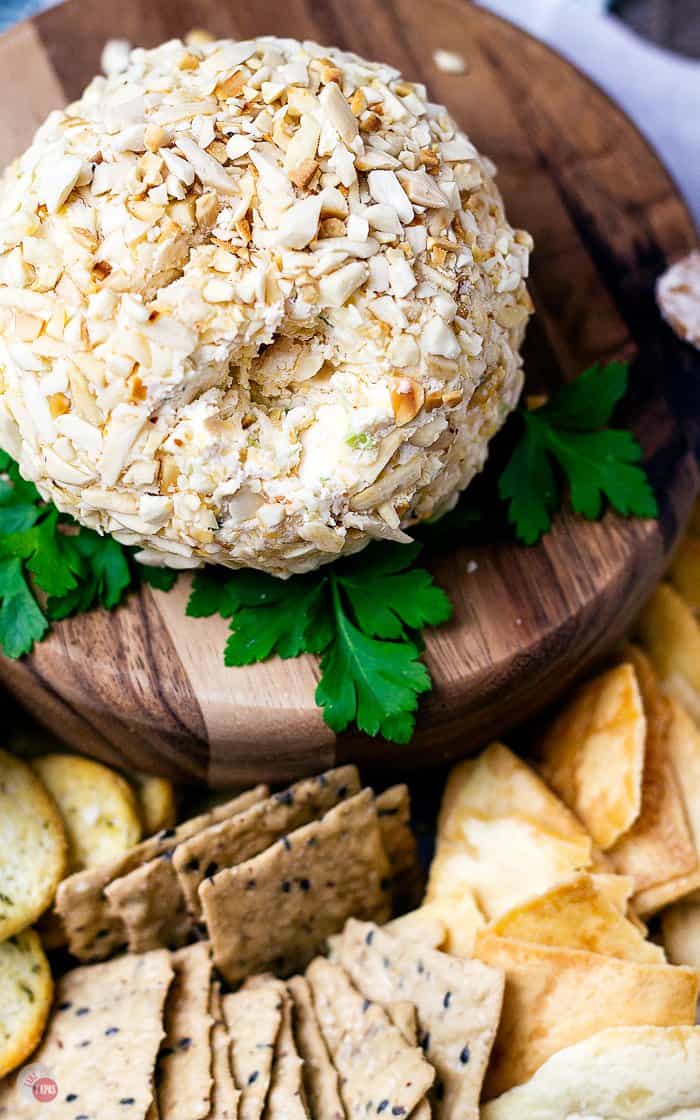 Cheese Balls are the Perfect Party Food
Of all the appetizers at a party, a cheese ball is my absolute favorite for a few reasons:
easy to make
can be made ahead
can be customized for any flavor profile
can be sweet or savory
In this post, I give you the recipe for a basic cheese ball that is delicious on it's own but also can be customized to fit your party theme, can be the flavors that you and your guests like, and can be made ahead of time. There are so many variations it will make your head spin. Or your stomach rumble…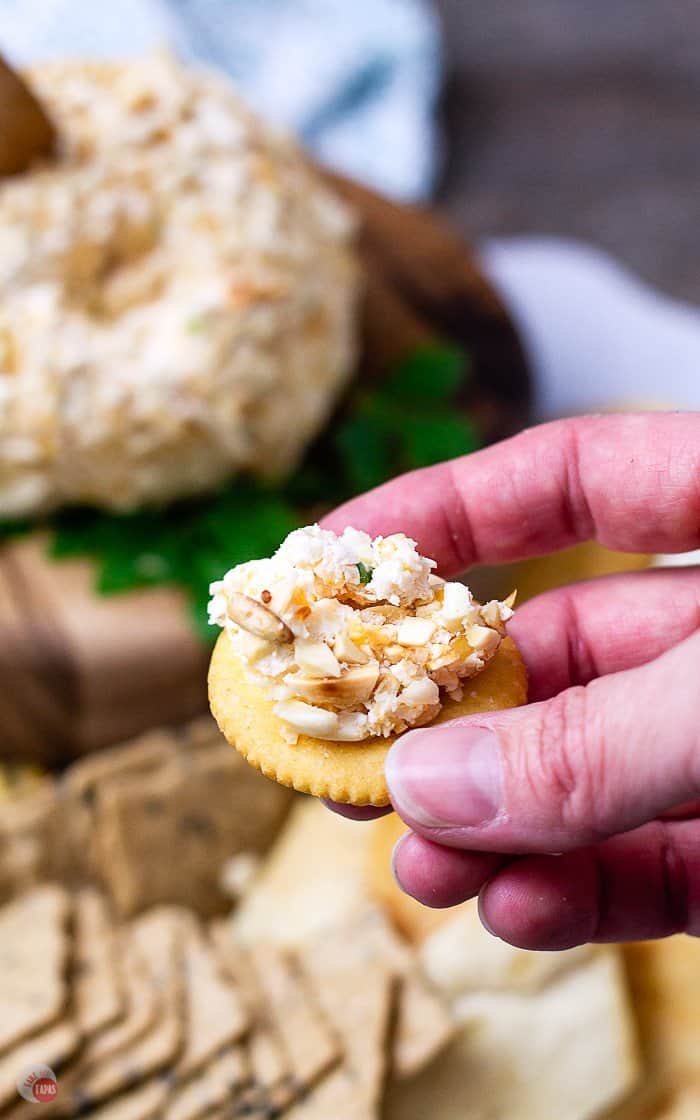 Just take me to the Easy Cheese Ball Recipe Already!
If you'd rather skip my (very helpful, I think) tips and tricks, essential cooking info, and similar recipe ideas – and get straight to this delicious Best Cheese Ball Ever recipe – simply scroll to the bottom of the page where you can find the printable recipe card.
How to make a Cheese Ball
Before we talk about all the great ways you can turn a basic cheese ball into a flavor extravaganza, let's start with the cheese ball ingredients. Every great cheese ball starts with a block of cream cheese. 8 ounces of cream cheese softened a little is best for maximum ingredient incorporation.
how to soften cream cheese
To the block of cream cheese, add in 1.5 cups of additional cheese. This is where you get to have some fun! Some great cheeses to add are:
Mozzarella
Cheddar
Swiss
Blue cheese
Parmesan
Gorgonzola
Gouda
Monterey Jack
Gruyere
Pepper Jack
Goat Cheese
Cream Cheese/Greek yogurt mixture
Once the cheeses are mixed in, all you need is a little spice. Basic salt and pepper are really all you need with your cheeses, but I love a hint of garlic powder and a little onion to break up the richness of the cheeses.
I also like to add in some Worcestershire sauce, some Tabasco, ad a hint of lemon juice to brighten it up. If you are making a sweet cheese ball I would leave out the savory spices and add a little vanilla extract, sugar, or honey.
This post may contain affiliate links. I earn a small commission for my endorsement, recommendation, testimonial, and/or link to any products or services from this website. Your purchase helps support this blog at no additional cost to you and allows me to continue bringing you delicious recipes and funny stories. For my entire disclosure policy click here.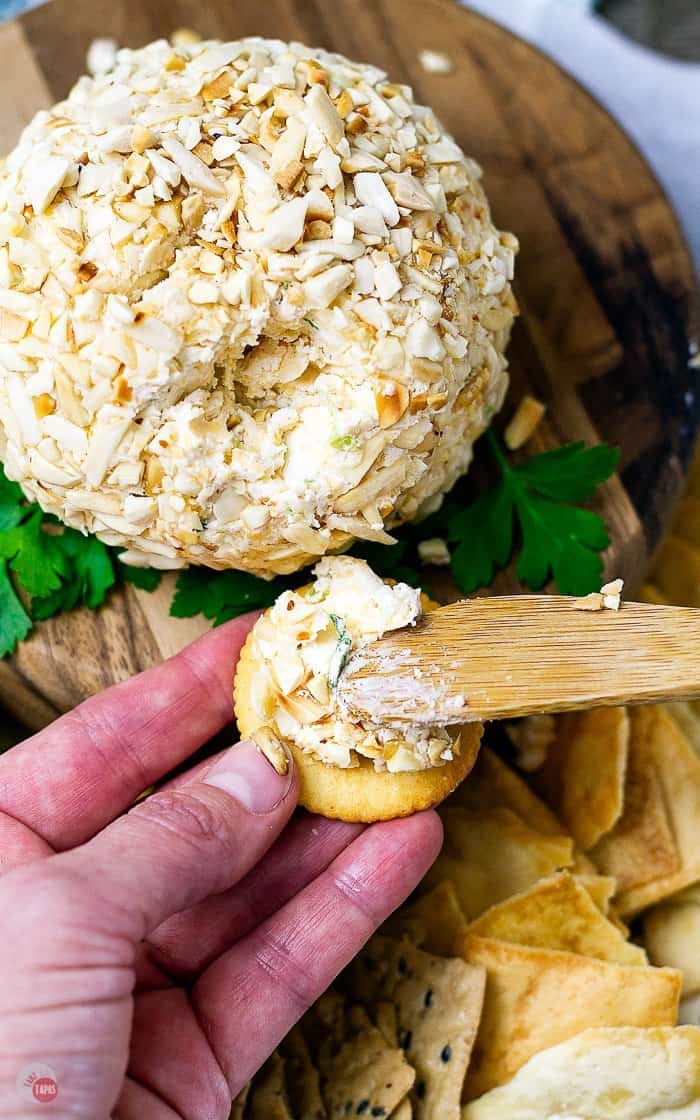 How to Form a Cheese Ball
After the cheeses and spices are mixed together, place the mixture in a pile on some plastic wrap. Bring up the sides and twist to form a ball or roll into a log.
Chill for 30 minutes to an hour or up to 3 days. That's why I love a cheese ball because I can make it ahead of time!!!
What to Coat or Roll your Cheese Ball in
The coating is the presentation or outfit that your cheese ball is wearing. Most cheese balls are rolled in nuts, herbs, or a combo of the two, but don't forget the sweet cheese balls. There are so many fun candies that you can use too!
Toasted nuts (pecans, almonds, walnuts, cashews, macadamia)
Toasted seeds (poppy, chia, sesame, sunflower)
Dried fruit (apricots, cranberries, raisins, pineapple, coconut)
Fresh fruit (pomegranate arils)
BACON!!!
Fresh herbs (chives, green onions, parsley, cilantro, dill, thyme, rosemary)
Snacks (potato chips, pretzels, cheese crackers)
Candies (M&Ms, chocolate chips, cookies, powdered sugar, candy bar bits, toffee)
Misc items like pickled mustard seeds, dried beef, or crushed cereal
For easy coating, place the toppings in a bowl, add the cheese ball, and roll it around. Transfer to a serving platter and fill in any holes with extra toppings.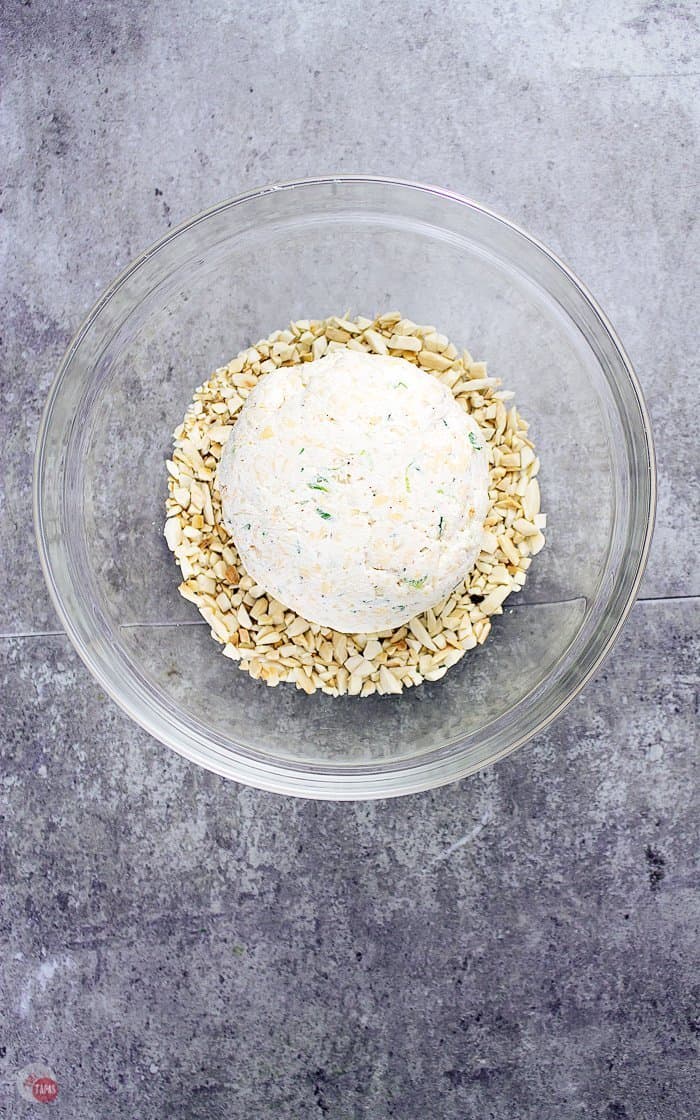 Tips for making a great cream cheese cheese ball:
make sure your cream cheese is softened or at room temperature. If the cream cheese is cold, it won't mix with the rest of the ingredients and you will end up with clumps of plain cream cheese in the cheese ball.
when adding shredded cheese, it's best to shred your own cheese from a block. Pre-shredded cheese is loaded with starch and other anti-caking additives that can dry out your recipe.
your basic cheese ball can be made up to three days ahead of time.
when rolling your cheese ball/ cheese log warm up the outside of the cheese ball briefly in your hands (still in plastic wrap) which helps the coatings stick to the cheese ball better.
if coating your cheese ball in nuts, make sure your nuts are toasted for even more flavor.
if you are coating your cheese ball in crunchy items like pretzels, wait to coat your cheese ball until the last minute. Wrapping the cheese ball up with the coating can cause the crunchy coating to get soggy.
placing the cheese ball on a small piece of parchment paper makes it easy to transfer and situate on your platter.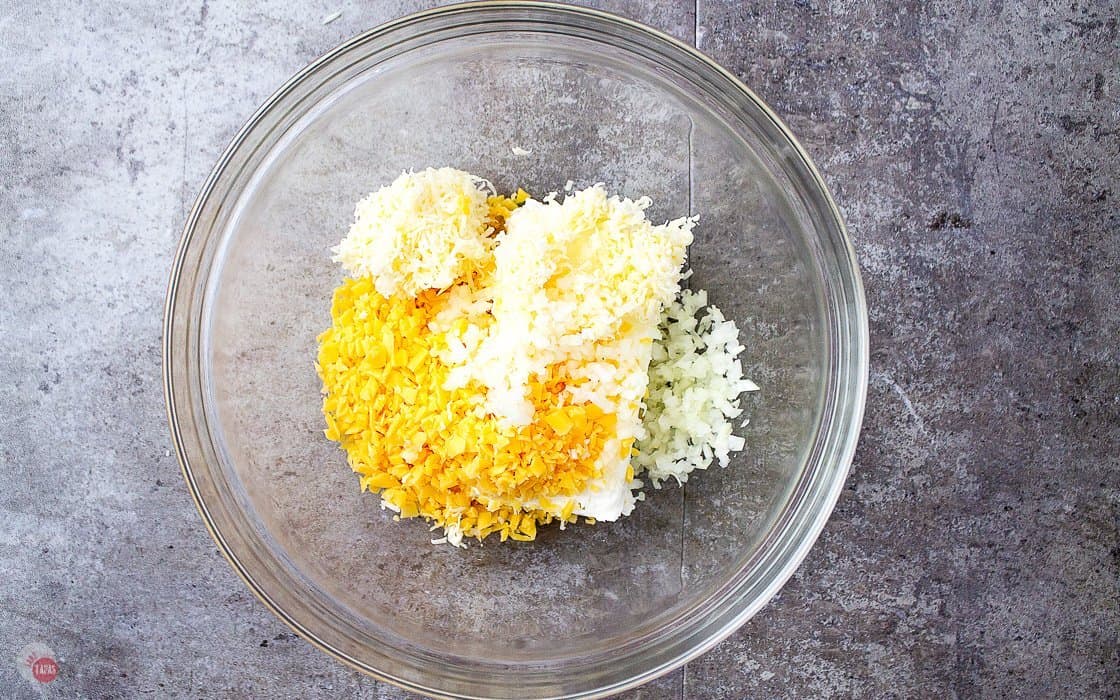 Frequently asked questions about cheese balls:
Q: How long with a cheese ball last in the fridge??
A: Without the coatings and just the basic ingredients, a cheese ball will last two weeks, in an air-tight container store in the fridge at less than 40F.
Q: Can you freeze a cheese ball?
A: If tightly wrapped in plastic wrap, you can freeze the basic cheese ball recipe for up to 1 month.
Q: What are your favorite cheese ball flavors?
A: I like a spicy jalapeño and bacon the best!
Q: Can you make it vegan?
A: Feel free to use vegan cheese or cashew cheese.
Other great Cheese Ball recipes to try!
Savory Cheese Balls:
Honey Mustard
Mexican
Wasabi Ginger
Drunken Goat
Hot Pepper Jelly
Dirty Martini
Benedictine
Sweet Cheese Balls:
Puppy Chow
Italian Cream Cake
Breakfast
Almond Joy
Elvis
Cannoli
Peppermint Mocha
If you like reading my posts and seeing my recipes, connect with me on your favorite social media channel for behind the scenes photos and much, much more:
Sign up to receive a free email in your inbox with each new recipe:
If you love this Easy Cheese Ball Recipe as much as I do, please write a five-star review in the comment section below (or on Pinterest with the "tried it" button – you can now add pictures into reviews, too!), and be sure to help me share on facebook!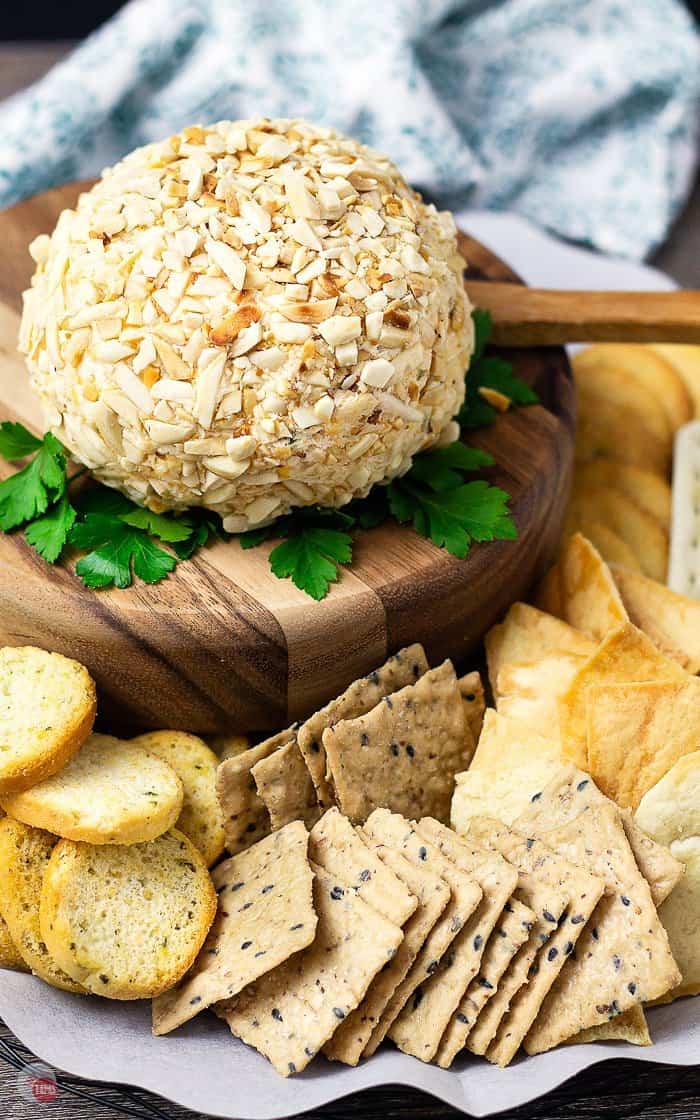 Easy Party Cheese Ball Recipe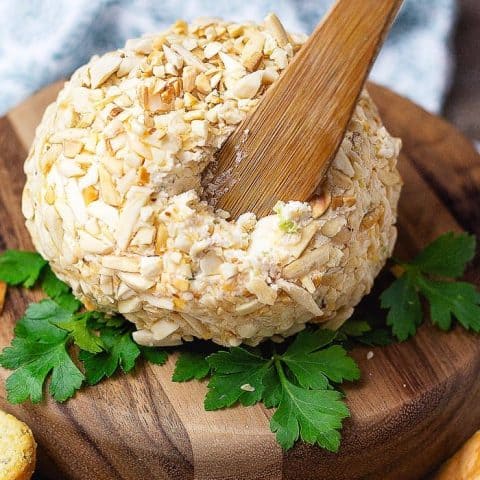 Easy Party Cheese Ball
A Cheese Ball is the perfect party appetizer and this recipe is for making a classic cheese ball with just a few simple ingredients.
Ingredients
Basic Savory Cheese Ball
8 ounces cream cheese (softened)
1 cup cheddar cheese (4 ounces shredded)
1/2 cup mozzarella or white cheddar (2 ounces shredded)
1/8 cup green onion (sliced thin)
1/4 cup white onion (chopped fine)
1/8 teaspoon pepper
1/8 teaspoon paprika
1/4 teaspoon garlic powder
1 teaspoon Worcestershire sauce
1 teaspoon lemon juice
2 dashes Tabasco sauce (or other hot sauce)
Basic Sweet Cheese Ball
12 ounces cream cheese (softened)
1.5 cups powdered sugar
1 teaspoon salt
1 teaspoon honey
Instructions
In a mixing bowl, combine the cream cheese, shredded cheese, onion, and spices.
Mix to combine.
Place the mixture on some plastic wrap.
Bring the sides up and twist to form into a ball.
Chill for 30 minutes or up to 3 days.
When ready to serve, remove plastic and roll in coating.
Place on a serving tray and add crackers!
Notes
*If you like this recipe, please leave me a comment and rate it with some stars.  Thank you!
Recommended Products
THIS POST MAY CONTAIN AFFILIATE LINKS. I EARN A SMALL COMMISSION FOR MY ENDORSEMENT, RECOMMENDATION, TESTIMONIAL, AND/OR LINK TO ANY PRODUCTS OR SERVICES FROM THIS WEBSITE. YOUR PURCHASE HELPS SUPPORT THIS BLOG AT NO ADDITIONAL COST TO YOU AND ALLOWS ME TO CONTINUE BRINGING YOU DELICIOUS RECIPES AND FUNNY STORIES. FOR MY ENTIRE DISCLOSURE POLICY CLICK HERE.
Nutrition Information:
Yield:

10
Serving Size:

1 ounce
Amount Per Serving:
Calories:

346
Total Fat:

26g
Saturated Fat:

15g
Trans Fat:

0g
Unsaturated Fat:

8g
Cholesterol:

77mg
Sodium:

533mg
Carbohydrates:

22g
Net Carbohydrates:

0g
Fiber:

0g
Sugar:

19g
Sugar Alcohols:

0g
Protein:

8g
This nutrition information was generated via a third party, Nutritionix, and can not be held liable for any discrepancies in the information provided.
@TakeTwoTapas.com. Content and photographs are copyright protected. Sharing of this recipe is both encourages and appreciated. Copying and/or pasting full recipes to any social media is strictly prohibited.