Toasty French Bread is topped with my New Orleans Olive Salad and covered with cheese. Broiled until melty, this cheesy olive salad bread is sure to be a hit!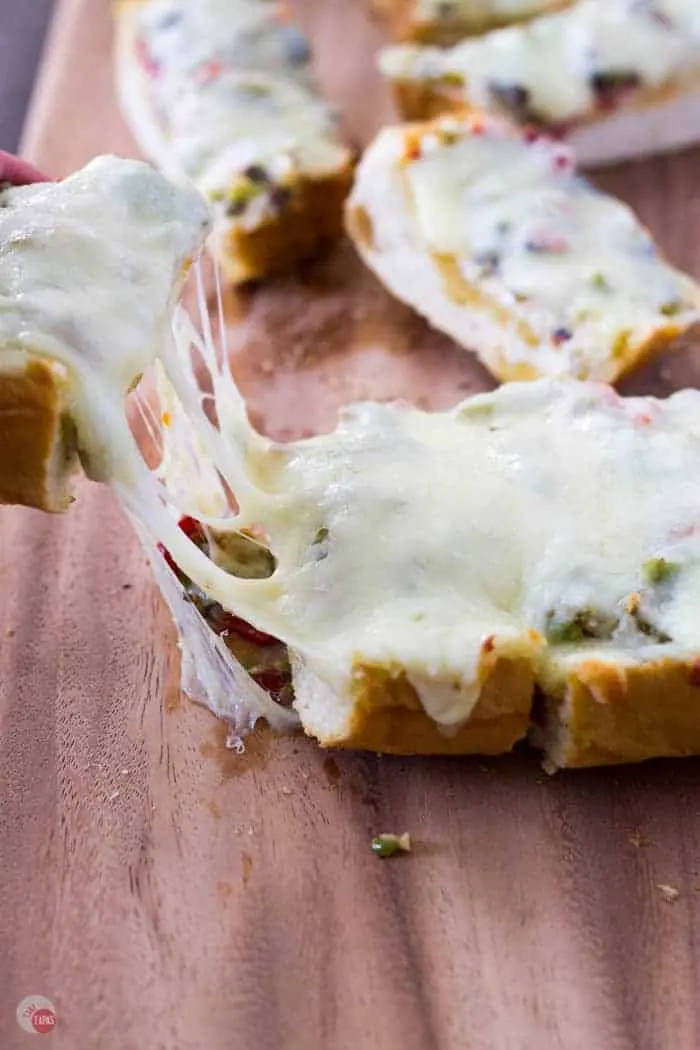 You have been dreaming of the weekend it is finally here but what are you planning on doing with it? Clean out a closet or make your Christmas list? I need to do both but I am doing neither.
I am shooting photos in preparation for the holiday season, binging on a new Netflix series, and eating lots of bread. Sound like a plan to you? It does to me!
Trust me I have a closet that would make Marie Kondo cringe and I have already KonMaried it!
Bottom line is that I'm lazy about putting my clothes away and winter is coming just as Ned Stark predicted. All the cold weather clothes have started to slowly creep into the same space as the warm weather clothes.
There has been a lot of Sheldon Cooper layering going on, and not always matching. I don't think the ladies in the carpool line are looking anyway as they are too busy hiding behind their large sunglasses and Starbuck's cups to look my way.
This post may contain affiliate links. As an Amazon Associate, I earn from qualifying purchases. Read my disclosure policy here.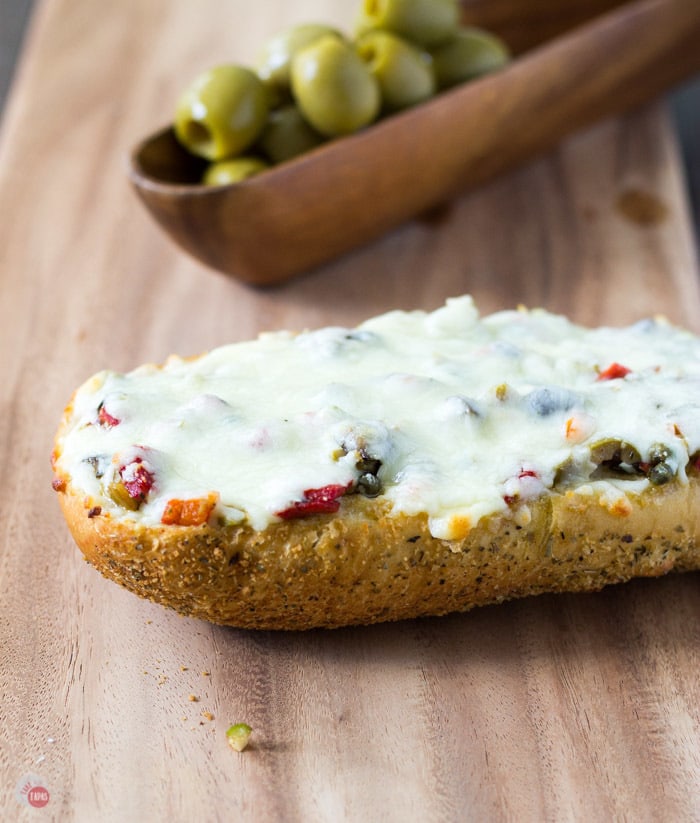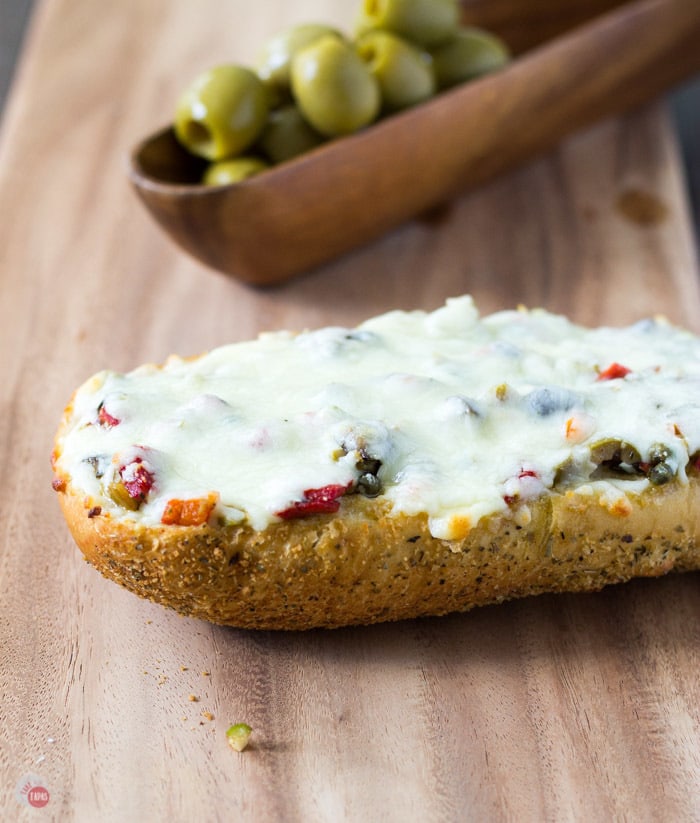 This time of year always makes me happy because I can finally cover up my winter body, that I have had all summer despite wanting to trim down, with all my oversized sweaters and jeans!
Other things that make me love this time of year are holiday gatherings and family reunions!
And even though I eat appetizers and tapas all year long, these next few months can be considered the award season of appetizers with New Year's Eve being the Oscars!
Feeding holiday guests, filling party trays, and trying to eat while wrapping gifts and decorating are the perfect opportunities to eat appetizers instead of making full meals.
We are grazers at my house so having easy and filling appetizers is the easiest way to get through this busy time of year. The best one to have is my cheesy olive salad bread!

I personally recommend having ingredients for a cheese board on hand at all times. Most nights we usually just make a small tray of olives, cheese, and bread to have for dinner.
Along with a glass or two of wine because that's how we roll! With the weather getting a little nip in it, I am leaning more towards warm and comfort food style appetizers.
This Cheesy Olive Salad Bread is the perfect example! I recently posted about my travels to New Orleans, and a manhole cover incident, and shared a recipe for Olive Salad which is a mixture of olives and peppers that is salty, tangy, and a tad spicy.
I happen to have a jar in my fridge still, a loaf of French bread that I just bought, and a stash of cheese! My youngest is in a quesadilla and chicken taco phase so we always have cheese on hand.
Blocks and bags of pre-shredded. ALWAYS. I would recommend buying the block and shredding the cheese yourself for the cheesy olive salad bread for two reasons.
It's cheaper and who doesn't like cheaper?
It melts better. The pre-shredded cheese has an anti-caking agent on it to keep the strands from sticking to each other but that hinders the melting process. We can all agree that melty is better!
TAPAS TIPS & TRICKS
If you don't want to shred each time you need some, shred the whole block and put it in a new bag. If I'm shredding a couple of blocks, or if I just completed an arm workout at the gym, I will break out the food processor. The shredding attachment does the work for me.
The processor goes in the dishwasher afterward for easy cleanup. If you don't want to drag out your whole food processor, a quick shredded like this one is easier! Make shredding block cheese a prep day chore:)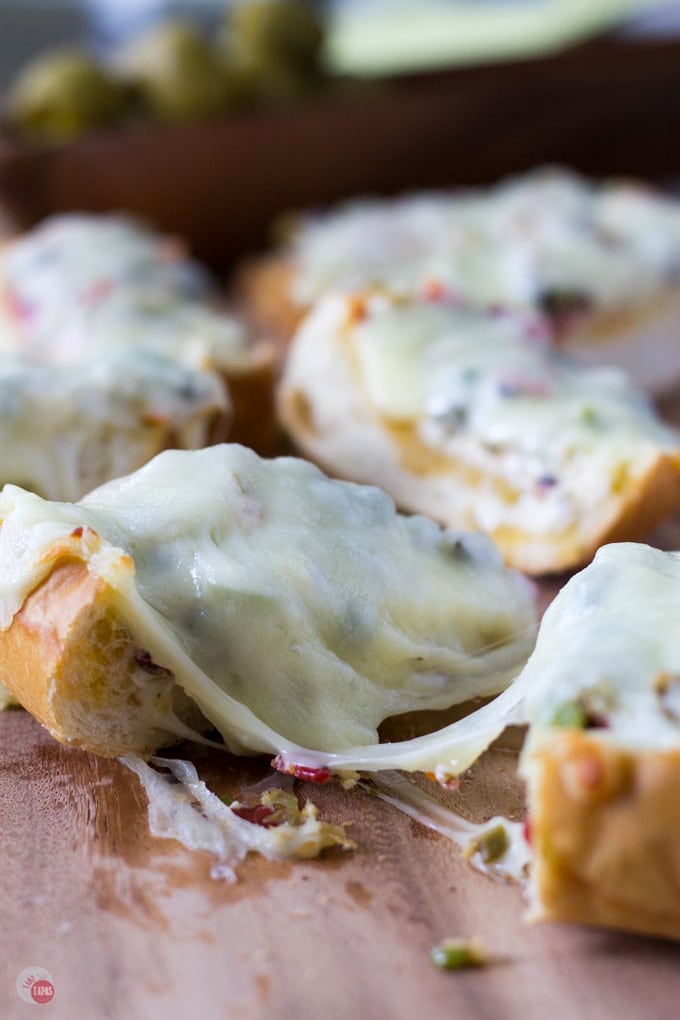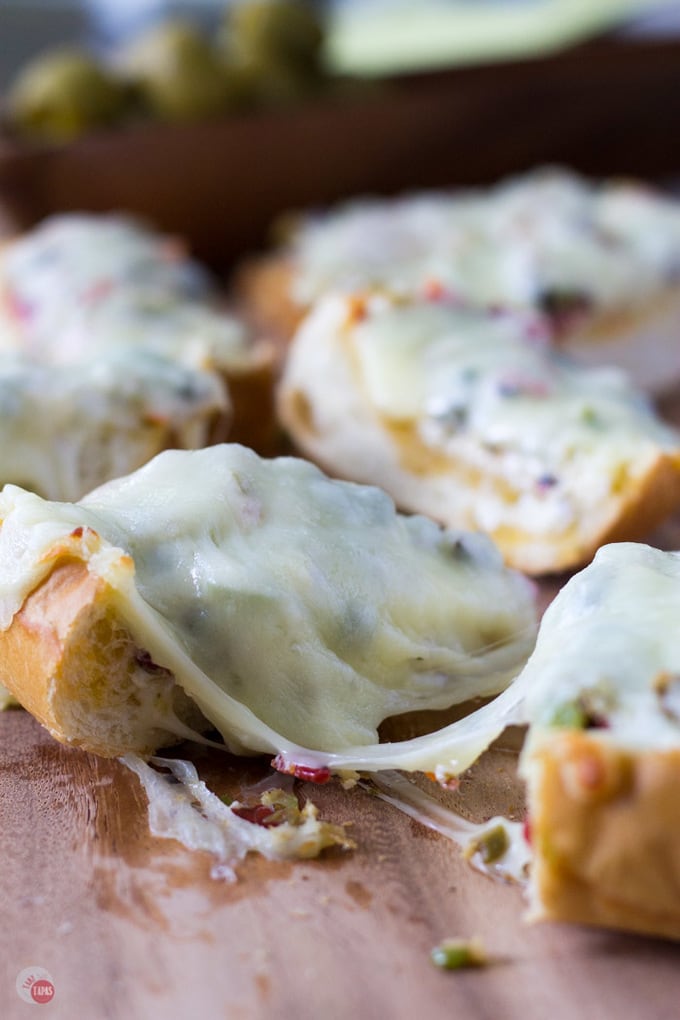 For more insider tips & tricks, and a candid behind the scenes look follow me on social media! Check use out on Pinterest, Facebook, Instagram, & Twitter (yes, people still use Twitter, LOL!)
With my olive salad on hand, a bag of freshly shredded cheese, and my loaf of bread, I am ready to make a cheesy olive salad bread appetizer that will most likely be my dinner after I take the photos. You can have it for dinner too!
Simply slice your bread lengthwise toast it at 400F for a few minutes. I do two toastings for this bread.
Once for a few minutes to lightly toast the bread before adding the olive salad. This keeps the bread from getting soggy too quick.
Remove the bread from the oven and top with the olive salad, spreading it all the way to the edges. Grab your cheese and sprinkle it over the olive salad until it is completely covered.
Place it back in the oven and toast it for another 5-7 minutes or until the cheese is melted.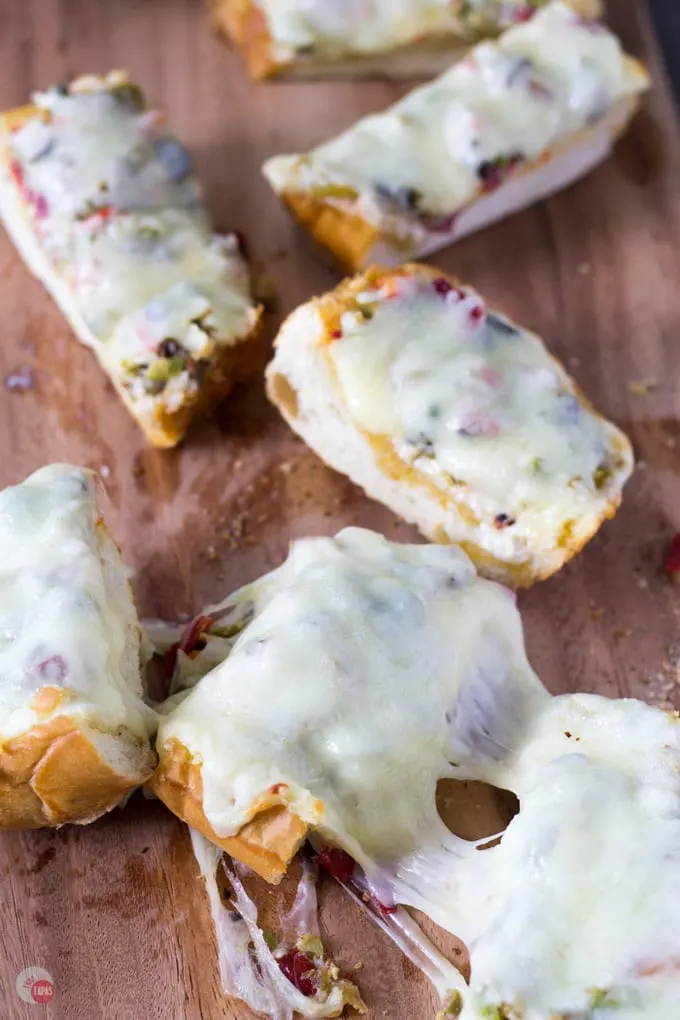 I don't toast mine until the cheese is brown because I think it keeps the cheese from pulling and giving you that gorgeous stretch. If you are inhaling the whole thing by yourself and like the cheese a little more toasted, go for it!
One more tip. If you are serving this bread at a party and want to make it pretty, slice the bread after you put the olive salad on it. Then place the pieces back together and cover with the cheese.
This will allow people to grab a single slice and get that cheese stretch effect! And it keeps knives off the serving board which is always a plus for a klutz like me.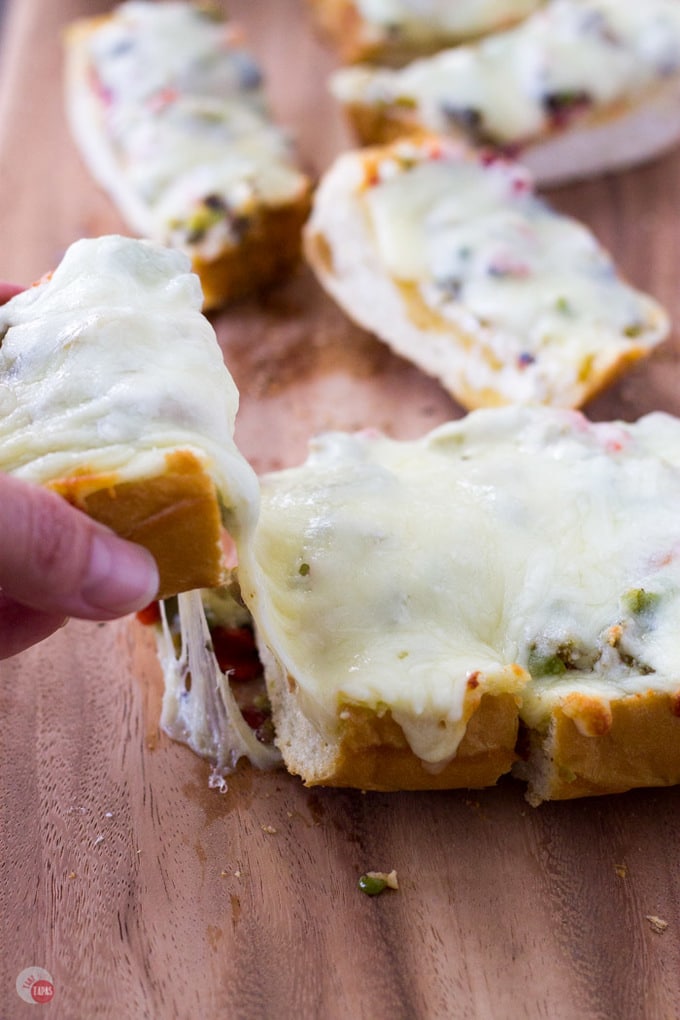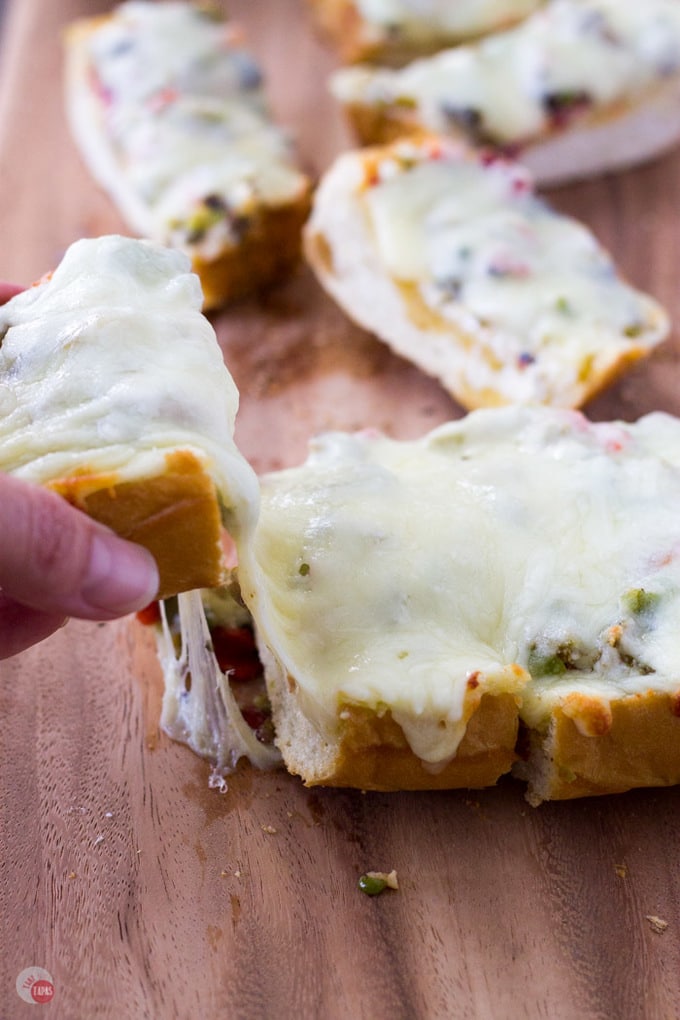 Cheesy Olive Salad Bread is sure to be a hit at your party or an excellent dinner while you are planning out the rest of your holiday party menu and filling out your gift list.
Don't sweat the holidays, keep it easy and have fun! Best of all, eat cheesy olive salad bread appetizers for dinner!
MORE FINGER FOODS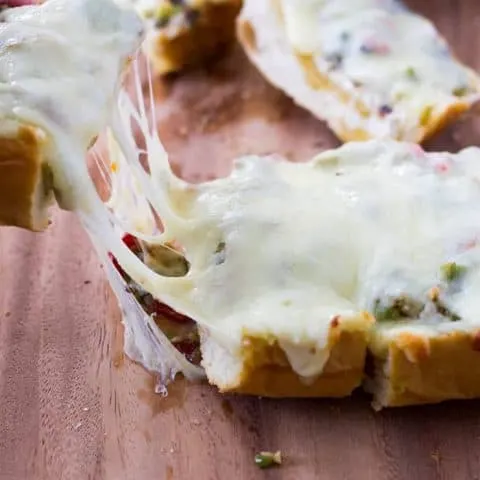 Cheesy Olive Salad French Bread Appetizer
Toasty French Bread is topped with my New Orleans Olive Salad and covered with cheese. Broiled until melty, this cheesy olive salad bread is sure to be a hit!
Instructions
Preheat oven to 400F.
Slice bread loaf in half lengthwise.
Place on a foil-lined baking sheet, cut side up, and toast for 3 minutes to get a slight toast on the bread.
Remove from oven.
Top with olive salad.
Top with cheese to cover the olive salad.
Place back in the oven and toast for another 5 minutes or until the cheese is melted and starts to brown.
I don't let mine completely brown as the cheese doesn't pull as well but toast it to your liking.
If you want the cheese to pull you need to add the olive salad to the bread and then slice your bread.
Add the slices to the pan and push them together to form the loaf again.
Then add the cheese and bake.
This makes serving easier too!
Plus you get that gorgeous cheese stretch!
Notes
*If you like this recipe, leave me a comment and rate it with some stars. Thank you!
Nutrition Information:
Yield:

16
Serving Size:

1
Amount Per Serving:
Calories:

78
Total Fat:

6g
Saturated Fat:

3g
Trans Fat:

0g
Unsaturated Fat:

2g
Cholesterol:

14mg
Sodium:

178mg
Carbohydrates:

3g
Fiber:

0g
Sugar:

0g
Protein:

4g
This nutrition information was generated via a third party, Nutritionix, and can not be held liable for any discrepancies in the information provided.
TakeTwoTapas.com. Content and photographs are copyright protected. Sharing of this recipe is both encouraged and appreciated. Copying and/or pasting full recipes to any social media is strictly prohibited.