These spicy and crispy Comeback Crackers are light and flaky with a little kick to them. They are so addicting and they will keep you coming back for more!
Serve these along with Wasabi Snack Mix, classic Spinach Dip, and wash it down with a Grape Lime Rickey Cocktail!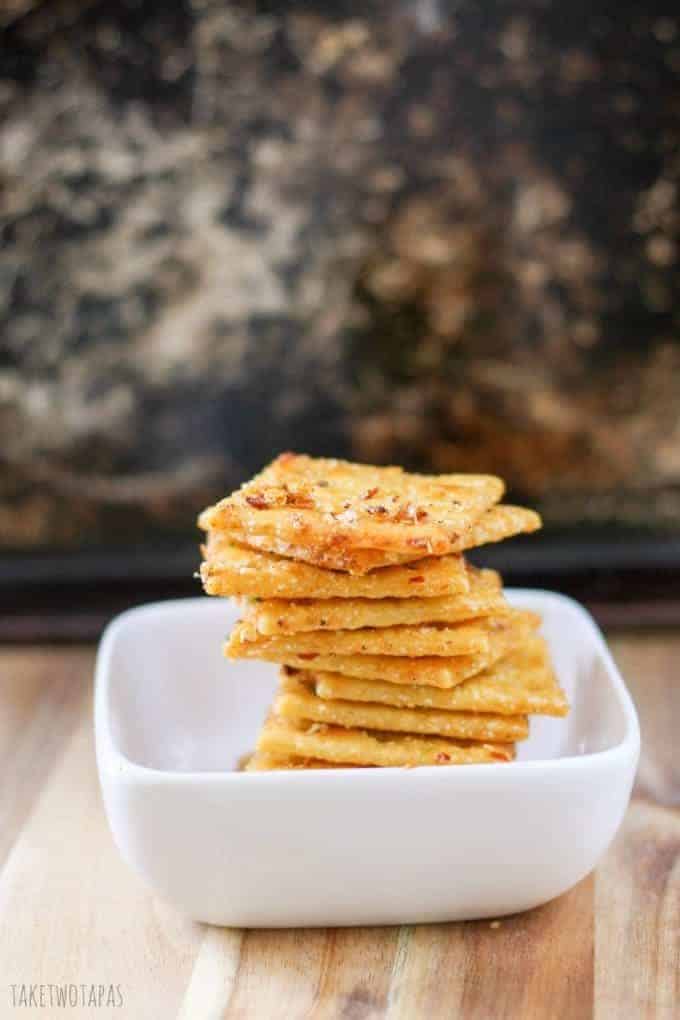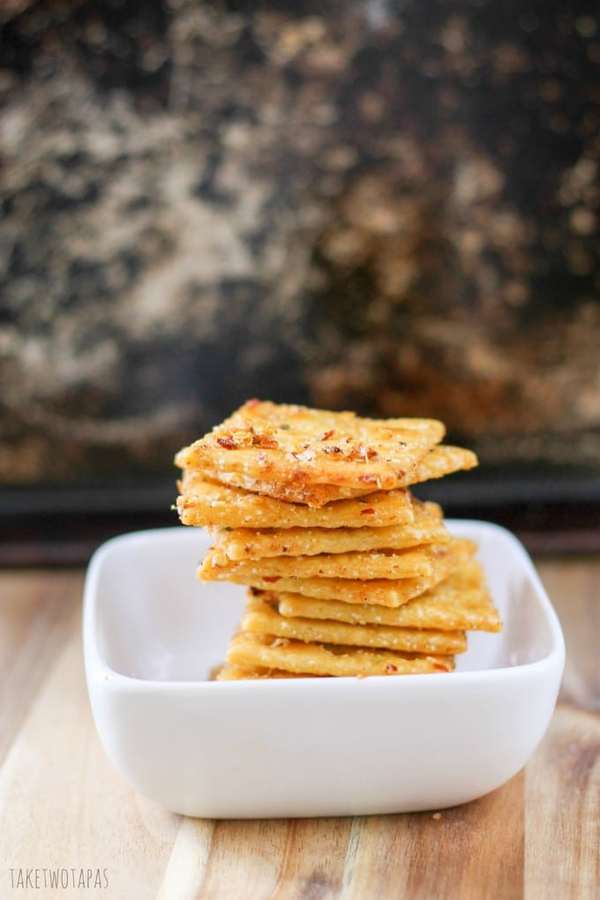 If you'd rather skip my (very helpful, I think) tips and tricks, essential cooking info, and similar recipe ideas – and get straight to this delicious easy Comeback Saltines recipe – simply scroll to the bottom of the page where you can find the printable recipe card.
Seasoned Saltine Crackers
How many Saltines have I purchased in the last 14 years? My kids are Saltine addicts. To the point where I should own stock in them. My younger son even licks all the salt off of his before he eats them.
Now as an adult, I like them but not enough to inhale 75 sleeves of them. Enter some spice and a little fruity olive oil and you can keep me coming back for more.
This made me think of a great name for these crackers: Comeback Crackers!
I keep coming back for more and more and more until the whole box is gone. And a liter of water since they are spicy:) These Comeback Crackers are zesty crackers that are an easy party appetizer, movie snack, or accompaniment to your bowl of chili or soup this winter!
This post may contain affiliate links. As an Amazon Associate, I earn from qualifying purchases. Read my disclosure policy here.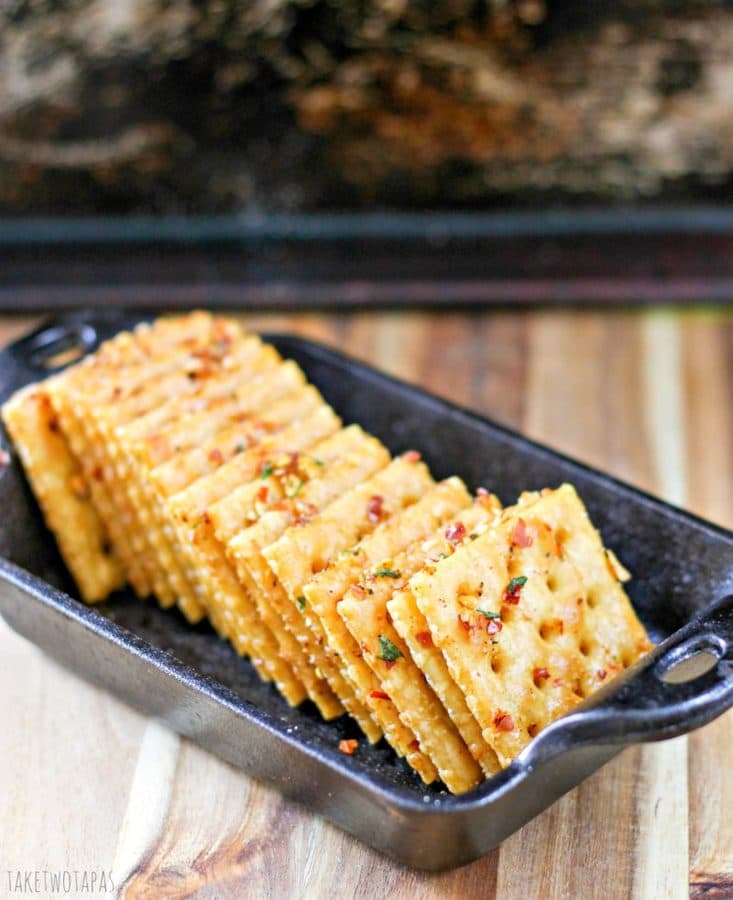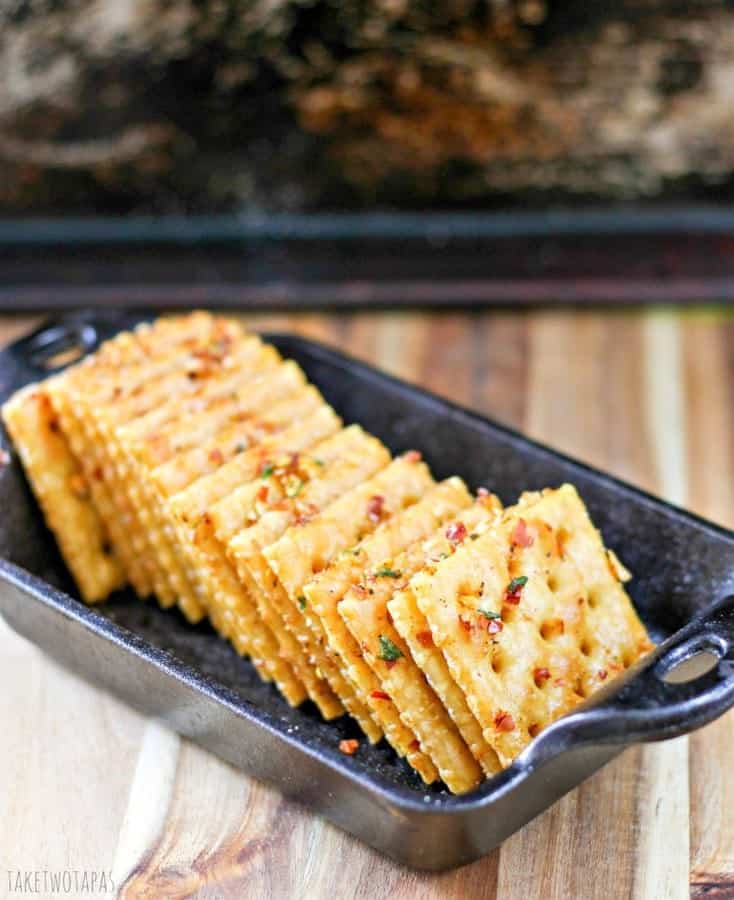 Spicy Saltines Recipe
Making these Comeback Crackers seems a little on the odd side. Pouring olive oil over crispy saltines? Won't that make them soggy? That was my first thought, but the scientist in me had to try it.
I am still not sure why the saltines stay perfectly crisp, but I don't care. I will come back and eat box after box until I figure it out. Hence the name Comeback Crackers. Wash these down with a Penitent Punch Long Island Iced Tea Cocktail!
They are still crispy after a week, but they will not last that long…
This post may contain affiliate links. As an Amazon Associate, I earn from qualifying purchases. Read my disclosure policy here.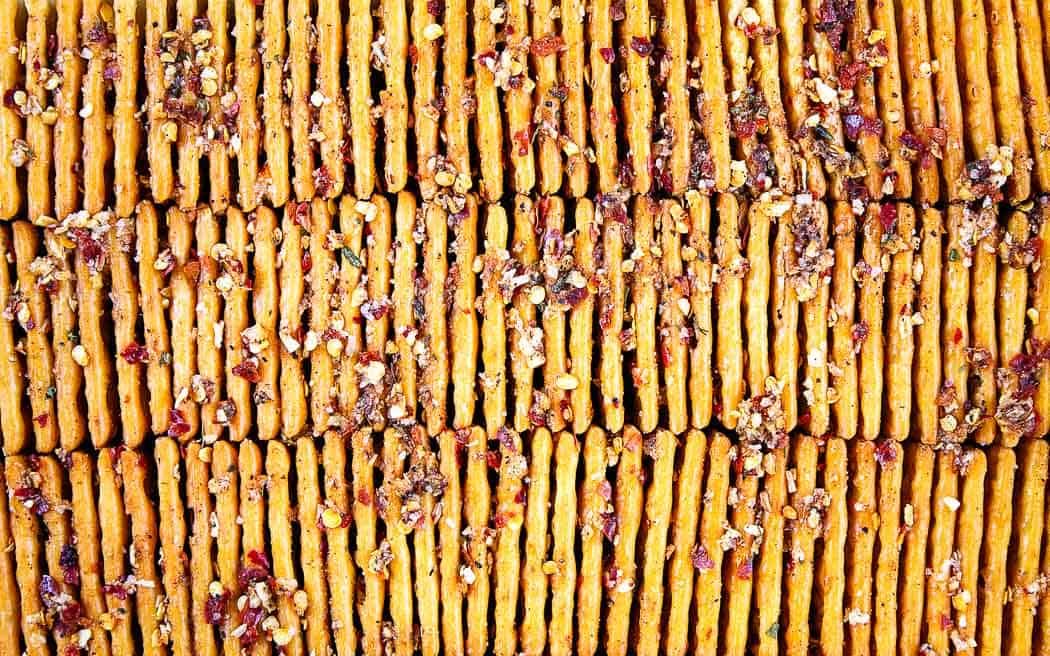 Questions about Comeback Crackers
Can you use a different or homemade seasoning with them?
There are a ton of different seasoned saltines recipes out there using different spice mixes. I prefer my All-Purpose Steak Seasoning for the kick but feel free to modify the spices to your liking.
How long will they last?
They will stay crispy for up to a week if they are not eaten first!
Do the saltines stay crispy?
Believe it or not they do! The crackers are so absorbent and there isn't THAT much oil so they stay crispy.
Can you use a different oil than Olive oil?
Yes! A lot of other Saltine Cracker recipes use canola oil or peanut oil.
Why are they called Comeback?
Because they are so tasty they will keep you coming back for more and more. You will be addicted!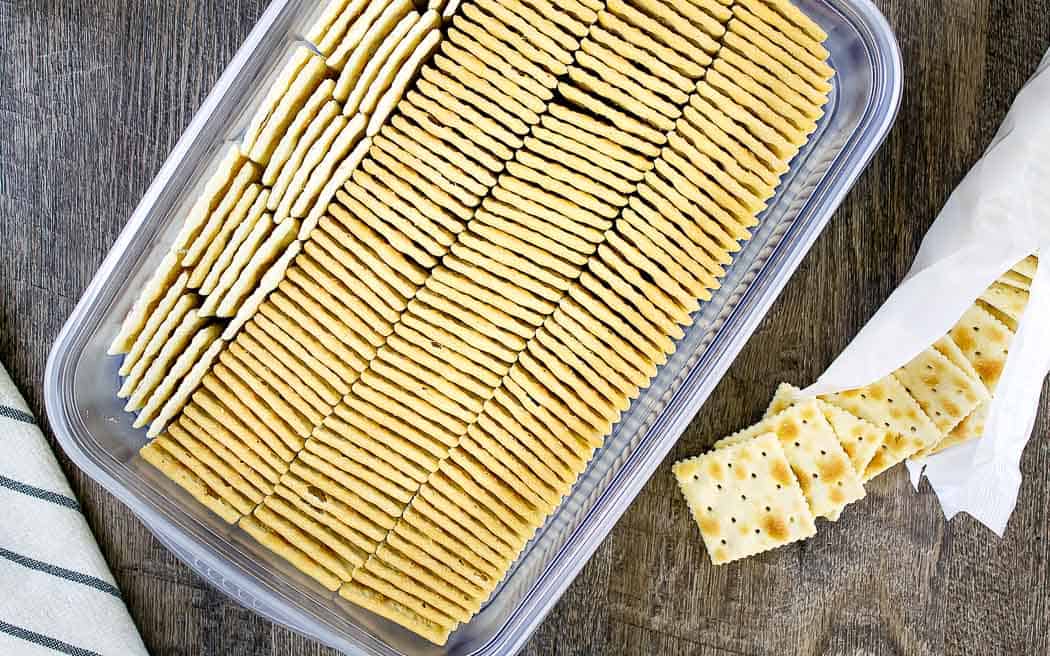 Savory Saltine Seasoning
What makes these saltines so good? The buttery, salty seasonings that's what!
I have seen other Seasoned Crackers that use Ranch dressing or just a hint of garlic powder and that is what inspired me to try these. Like this recipe from Mom on Timeout. I also use the same idea in my Jerk Spiced Oyster Crackers. They are a hit too!
My spicy saltines need to have a little more spice to kick you in the mouth when you eat them, so I decided to add my own All Purpose Steak Seasoning Mix that I have on hand all the time. It already has a bit of garlic, paprika, and of course, cayenne pepper which is perfect for a base!
Just mix the Seasoning Mix which is a great savory cracker seasoning with your olive oil and a few other spices, whisk together, pour over your saltines, flip, and come back for more! Stock up on spices AND Saltines so you're not empty-handed when they "Comeback" for more!
For more insider tips & tricks, and a candid behind the scenes look follow me on social media! Check use out on Pinterest, Facebook, Instagram, & Twitter (yes, people still use Twitter, LOL!)
can you put saltines in the oven?
You can put them in the oven at 400F for 3-5 minutes to crisp them back up if you need to but they stay crispy for up to a week at room temperature if they last that long.
why are saltines called saltines?
These are leavened with baking soda, hence the name soda crackers but named "saltines" after adding the salt to the top of them.
What's the difference between soda crackers and saltines?
The salt, of course! Oh and I Saltines have yeast in them.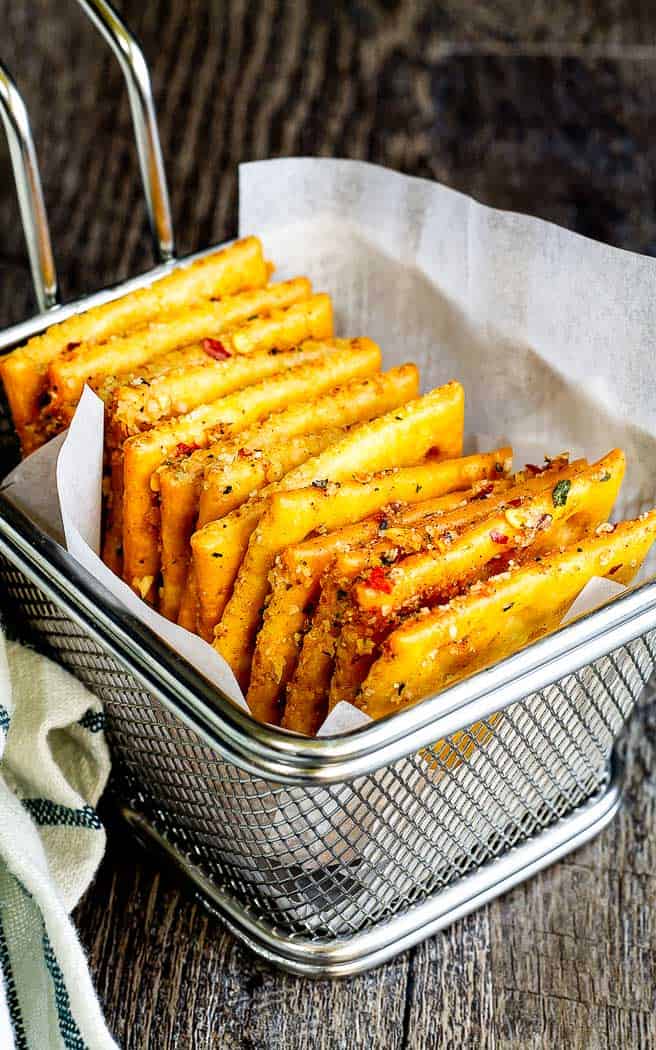 How many crackers are in a pack of saltine crackers?
Approximately 40 in each sleeve. Just enough to calm the stomach or inhale with a pot of soup!
What is good with saltine crackers?
Just about anything. Including chocolate.
What can I substitute for saltine crackers?
Plain soda crackers will work as a substitute for this recipe. The steakhouse seasoning has salt in it to compensate.
are saltine crackers fattening?
At 70 calories for roughly 5 crackers, I wouldn't say so. But they are carbs so watch your portions! Which will be tough with this addicting recipe.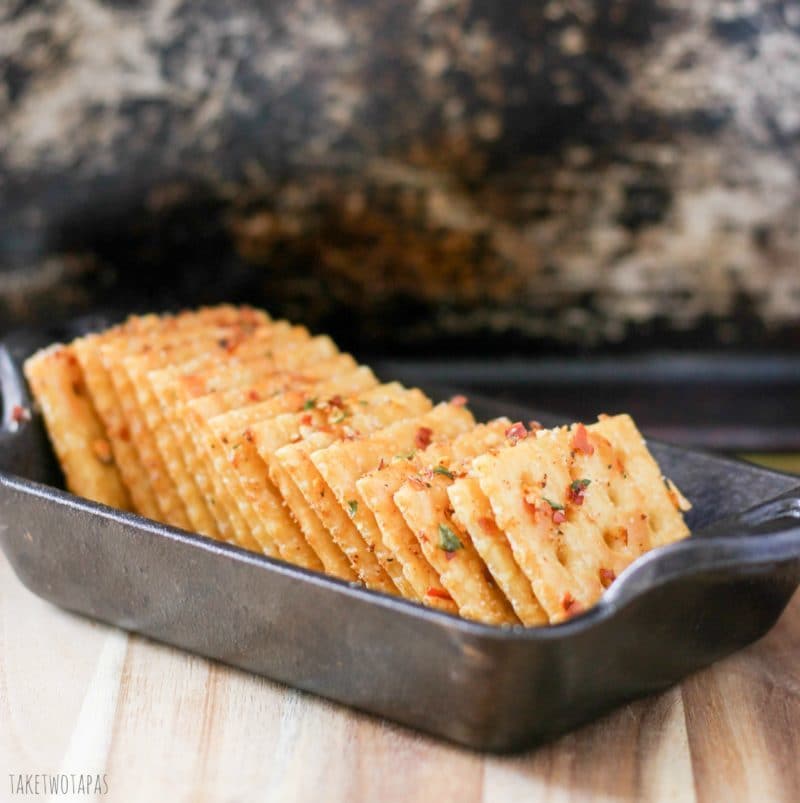 Quick and easy finger foods
Other easy cracker recipes
If you love this recipe as much as I do, please write a five-star review in the comment section below (or on Pinterest with the "tried it" button – you can now add pictures into reviews, too!), and be sure to help me share on facebook!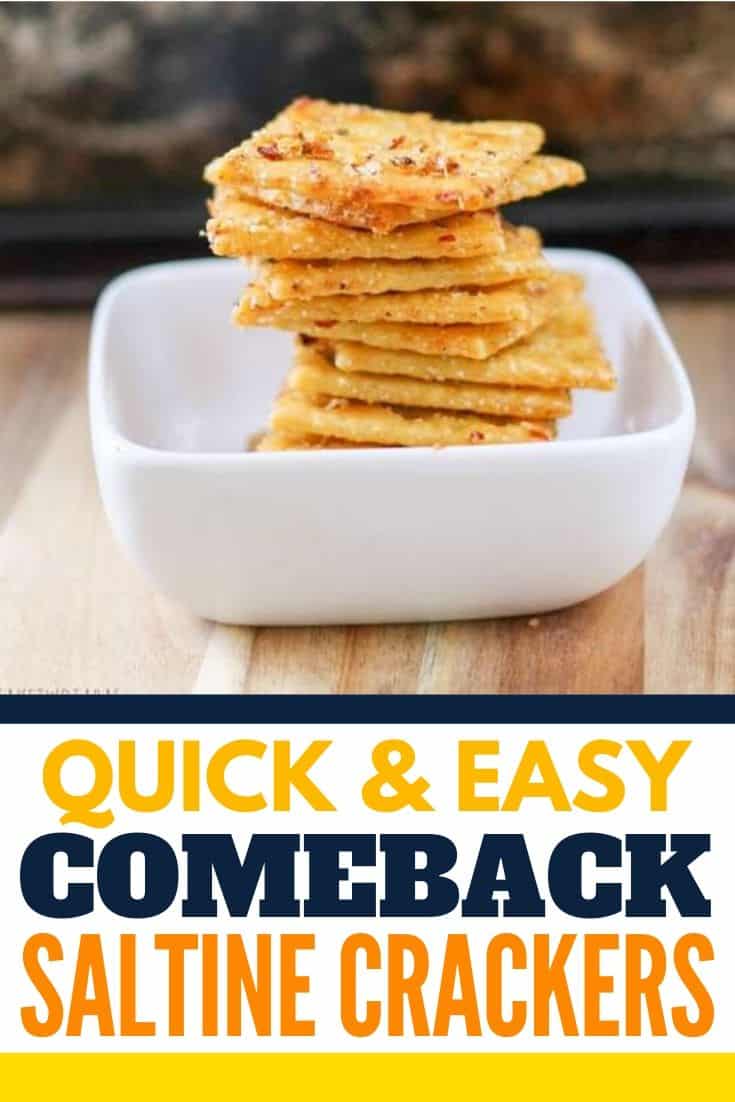 Easy Comeback Saltines Recipe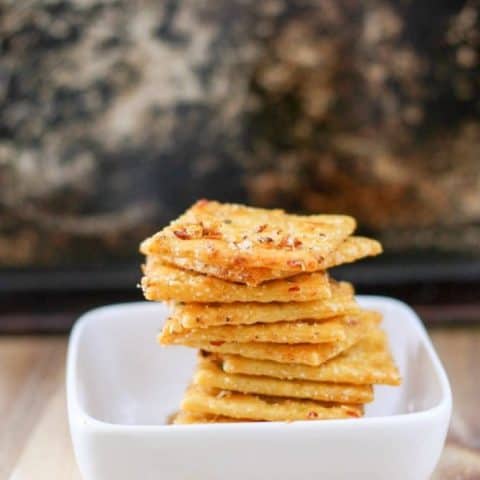 Comeback Crackers
Additional Time:
30 minutes
These spicy and crispy crackers are light and flaky with a little kick to them. they are so addicting and they will keep you coming back for more!
Ingredients
1 box Saltine crackers (all 4 sleeves)
1 cup olive oil
2 tablespoons All-Purpose Steak Seasoning
1 tablespoon red pepper flakes
2 teaspoons garlic powder
1 teaspoon cayenne pepper
1 large container (airtight lid)
Instructions
Assemble
Place all your crackers (all 4 sleeves) upright in a container. I used a square one but you can find one that fits them all. Standing them upright will help distribute the seasoning better.
Mix your oil and spices together in a bowl.
Whisk to combine.
Drizzle over the crackers as evenly as possible. Make sure to scrape out all the seasoning in the bowl. You don't want to miss any.
Seal the container.
Flip the container upside down and let sit for 5 minutes.
Every five minutes, for 30 minutes.
That's it!
Store in the container until all have been eaten. It won't take long for them to disappear, but you can store them for up to a week and they will stay crispy!
Notes
*If you like this recipe, please leave me a comment and rate it with some stars. Thank you!
Nutrition Information:
Yield:

20
Serving Size:

1/20th
Amount Per Serving:
Calories:

102
Total Fat:

11g
Saturated Fat:

2g
Trans Fat:

0g
Unsaturated Fat:

9g
Cholesterol:

1mg
Sodium:

3mg
Carbohydrates:

1g
Fiber:

0g
Sugar:

0g
Protein:

0g
This nutrition information was generated via a third party, Nutritionix, and can bot be held liable for any discrepancies in the information provided.
@TakeTwoTapas.com. Content and photographs are copyright protected. Sharing of this recipe is both encouraged and appreciated. Copying and/or pasting full recipes to any social media is strictly prohibited.