A classic snack mix is spiced up with Sriracha and red pepper flakes in my Sriracha snack mix.  The combination of Chex cereal, cheesy fish and square crackers, pretzels, and oyster crackers is perfect for snacking while you are cheering on your favorite sports team in the big game!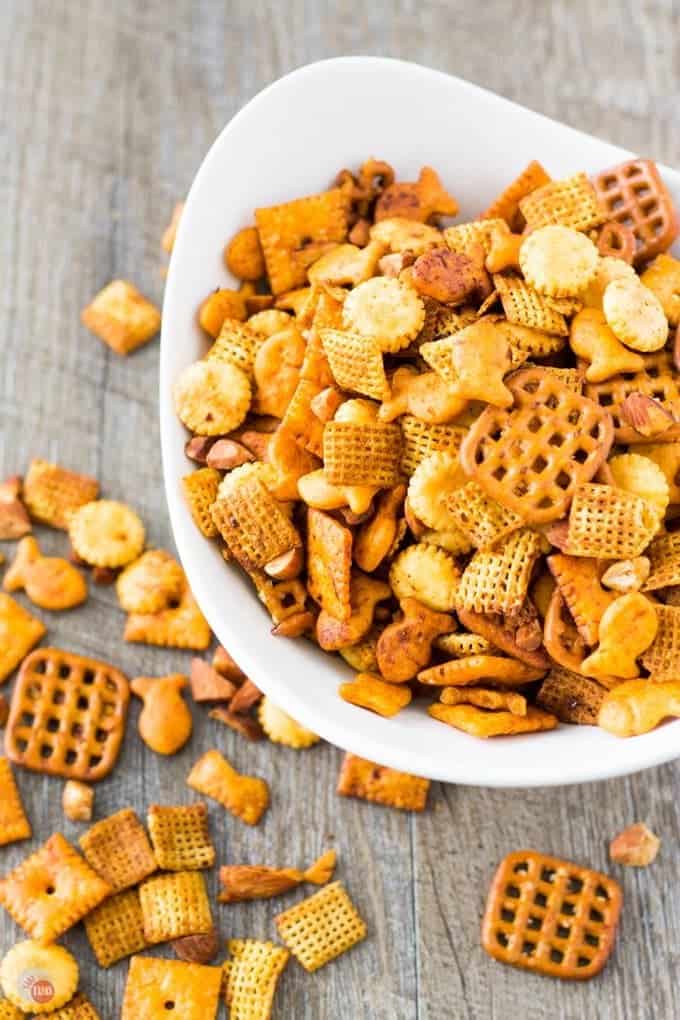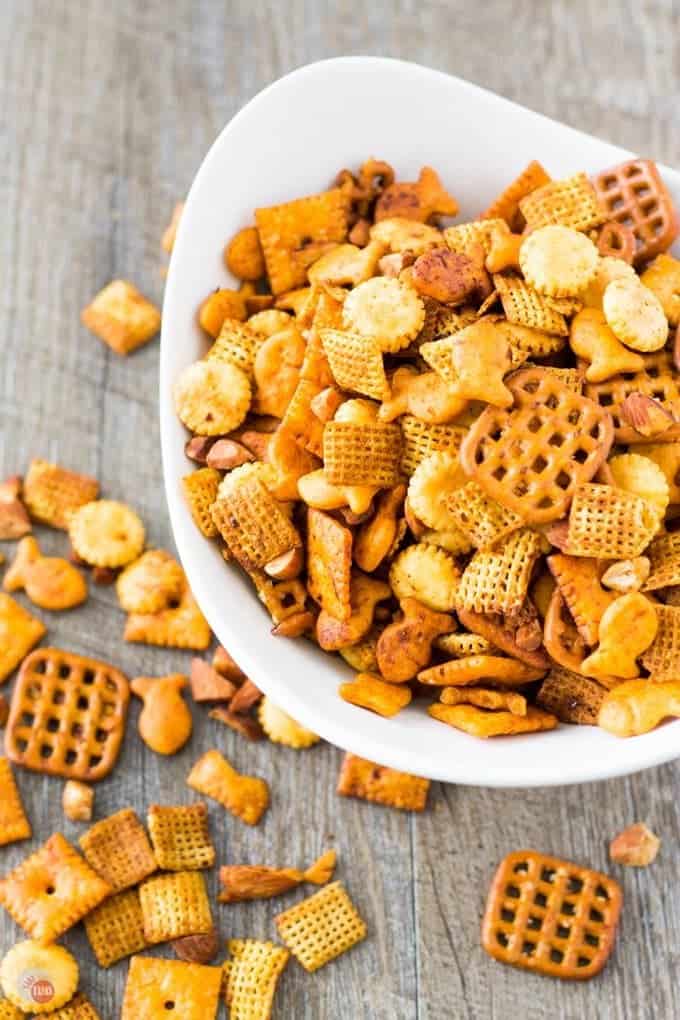 You know that feeling you get when you are craving something to snack on and can't quite find it? I can never figure out if it is something sweet, salty, crunchy, spicy, or if I am just thirsty.
Yes, I hear that if you think you are craving something then you drink a glass of water and wait 10 minutes.  If you are still hungry then eat something.  If not, your body was just thirsty.  I can tell you without a doubt that my body is always thirsty because I don't drink enough water, but my body is always hungry too.
Not super hungry, I just need a handful of something.  Some bits of a snack to put in my mouth and crunch on.  Maybe I just need something to keep my mouth busy.  Or at the very least, shut me up for five minutes.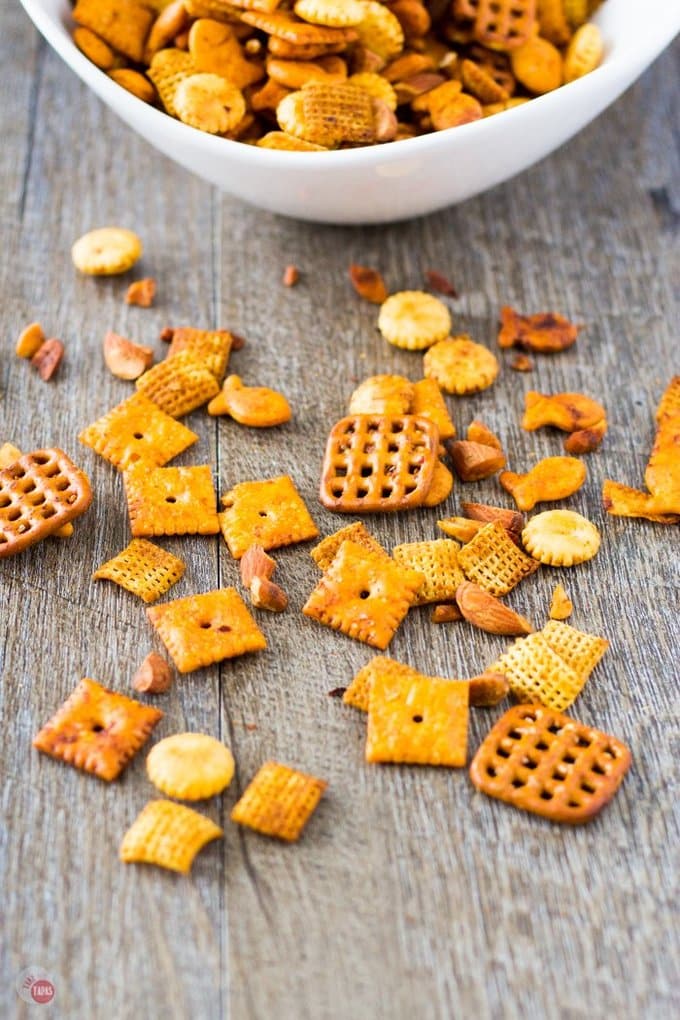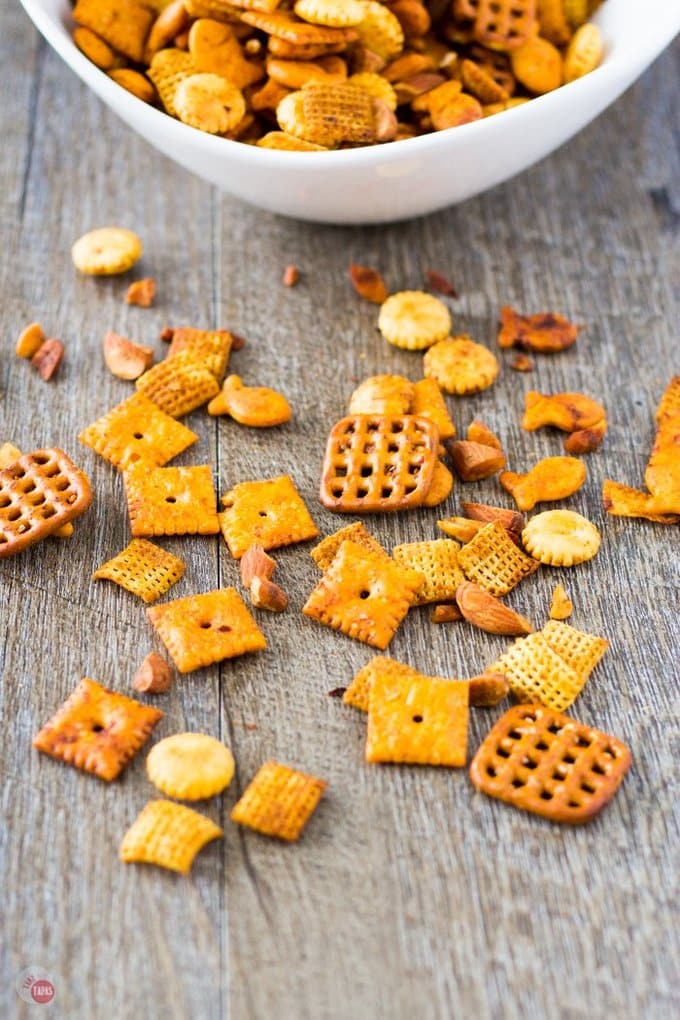 When searching for a snack in my house, I go straight to the snack cabinet.  Loving called that by my kids because that is where all the crackers, chips, cookies, and leftover bags of leftover food that doesn't need to be stored in the refrigerator, go.  It's also where I go find things to put in their lunch boxes.
I have given them some really random combinations of foods in their lunchboxes because of this snack morgue.  Their friends probably think I am on drugs when I pack their boxes in the morning when they open them in the cafeteria.  Maybe I should pack them in the evening and they would be less of a "hodge-podge."
Back to my cravings because those are more important.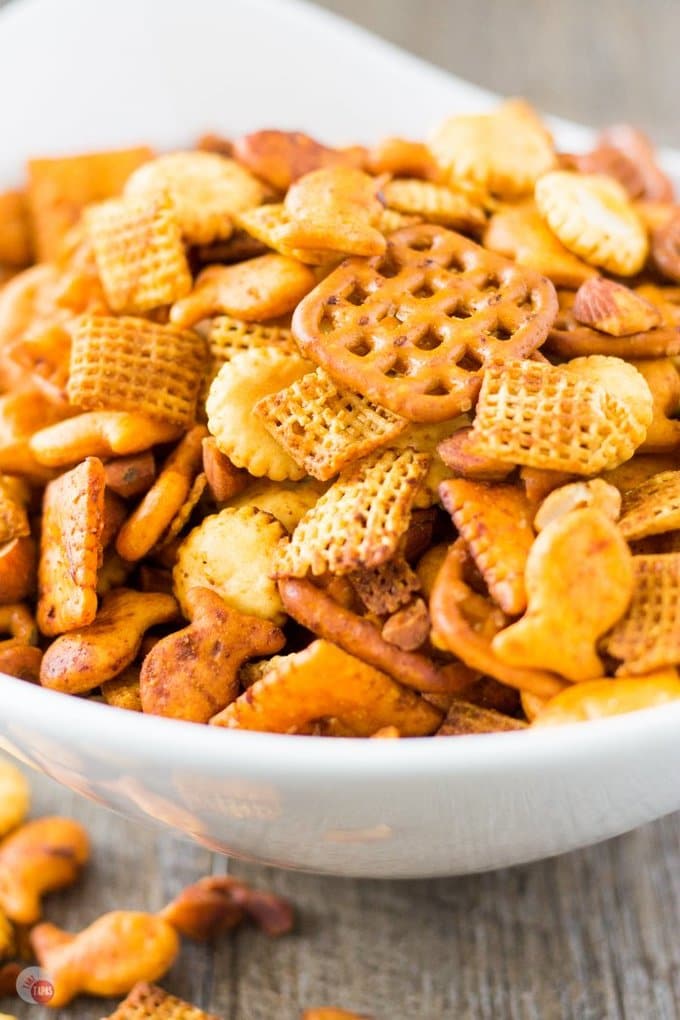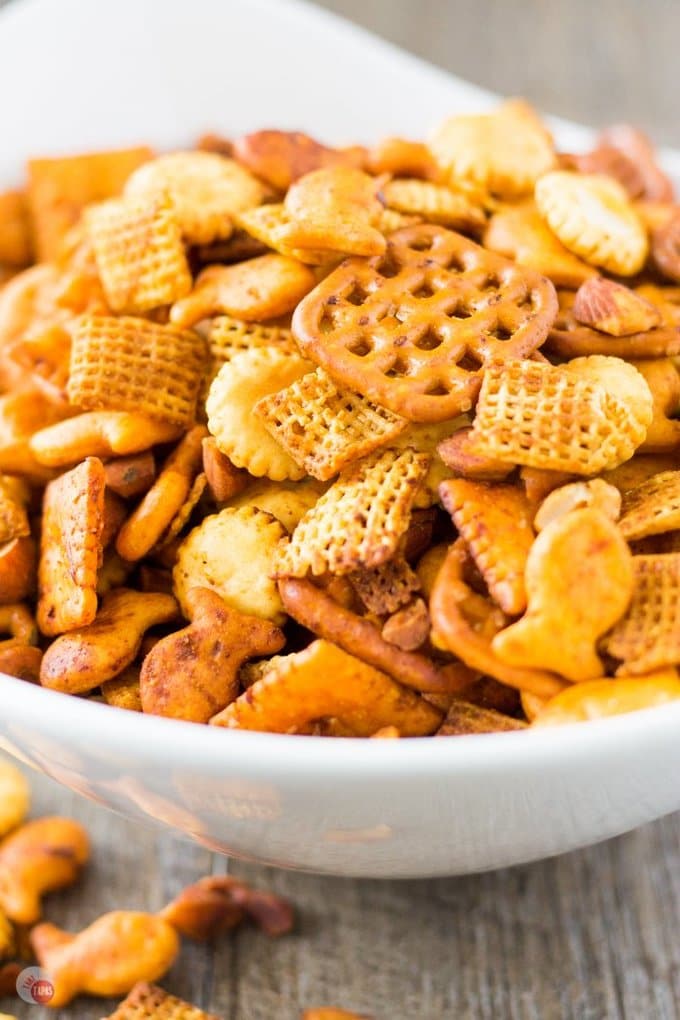 Do your kids, or spouse, eat 99% of something and then put the container back in the cabinet or fridge?  Anyone suffering from that 1 swallow of milk or orange juice?  Upon stumbling to the snack cabinet and not knowing what I was craving (sweet, salty, spicy, crunchy,) and finding random bags of crackers that only contain a handful of each one in them, I decided to make my own!
I grabbed the last handfuls of the crackers and snacks, whipped a quick sauce or marinade together that I modeled after the traditional baked snack mix, and made a mix to satisfy all my cravings.  Maybe not the sweet one, but I can always grab a cookie after.  To hit that spicy spot, I added a bunch of Sriracha and red pepper flakes.  It's El Diablo hot and will hit you where it counts.  In a good way!
It reminds me of my Comeback Crackers and my Redneck Snack Mix.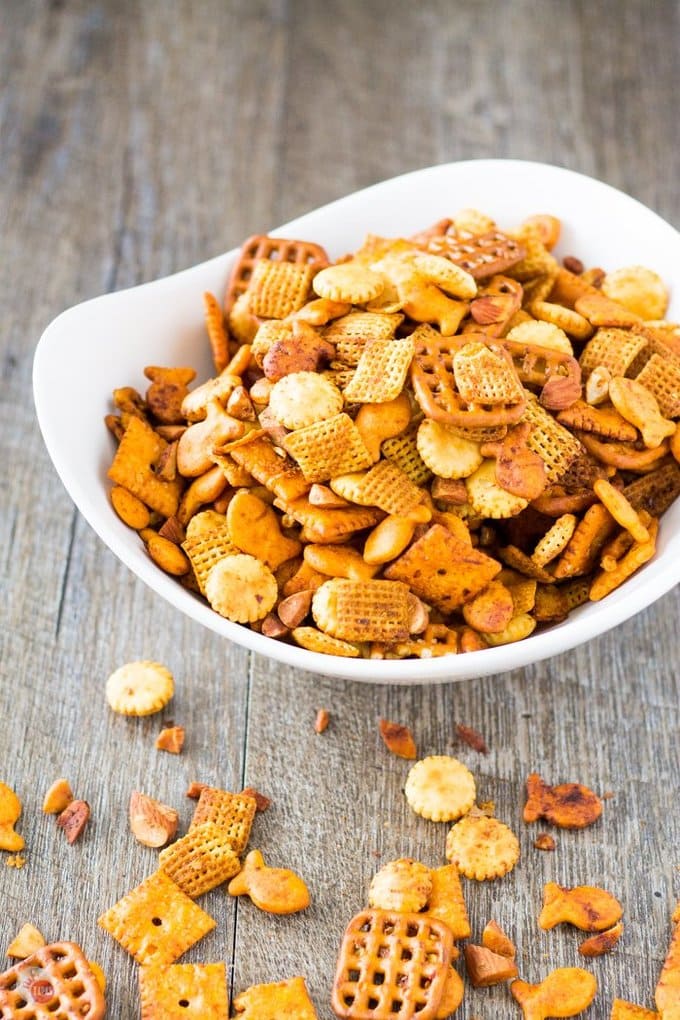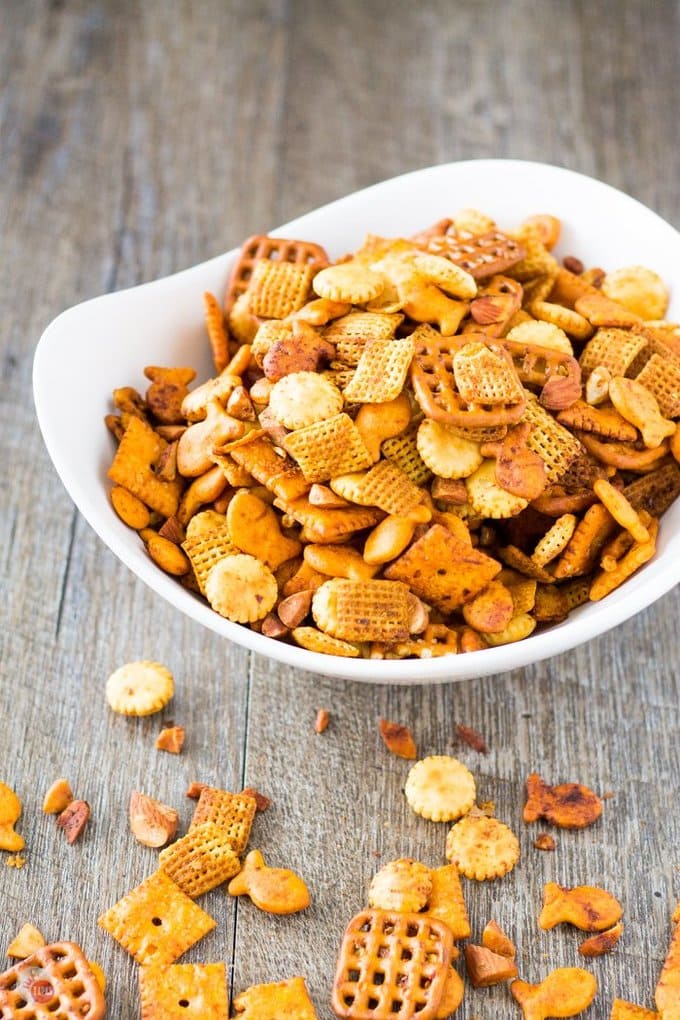 All the different crackers and such make for a great variety of textures and flavors.  The rough-chopped almonds are firmer than the other ingredients and are a welcome crunch.  And the combination of the coating sauce ingredients play well with the cheese that is already on some of the crackers.
Making this snack mix takes minimal effort, I can keep an eye on it while doing other things around the house (like bingeing a show-not laundry,) and makes a ton of snack mix.  12 cups to be exact!
Don't worry if you don't have the exact crackers in the recipe, just use what you have.  Just remember that you need 12 cups of dry mix, so any combination of crackers, pretzels, nuts, etc., will work great!
Clean out your mostly empty boxes of snacks and combine them all for a unique snack mix.  This recipe works great for getting ready for the big game!!
What crackers do your kids leave only a handful left in the container?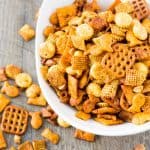 Spicy Sriracha Snack Chex Mix For The Big Game
Ingredients
For the snack mix
2

cups

pretzels

2

cups

cheddar fish crackers

2

cups

square cheddar cheese crackers

2

cups

rice Chex cereal

2

cups

oyster crackers

2

cups

almonds

chopped
For the sauce coating
6

tablespoons

butter

melted

1/4

cup

Worcestershire sauce

1/4

cup

Sriracha

1

teaspoon

garlic powder

1

teaspoon

salt

1

tablespoon

red pepper flakes
Instructions
Preheat oven to 250F.

Combine all the snack mix crackers

In a medium-sized bowl, combine all the ingredients for the sauce coating.

Stir to combine.

Pour over the snack mixture of crackers.

Toss to combine and make sure that the crackers are all coated.

Spread on a sheet pan.

Bake at 250F for 45 minutes, stirring every 15 minutes.

Remove from oven and cool completely.

Store in an air-tight container for up to a week or until it's all gone!