This EASY all-purpose steak seasoning blend is DELICIOUS on steaks, chicken, fish, pork, and even vegetables. Make it now with the spices you already have in your pantry!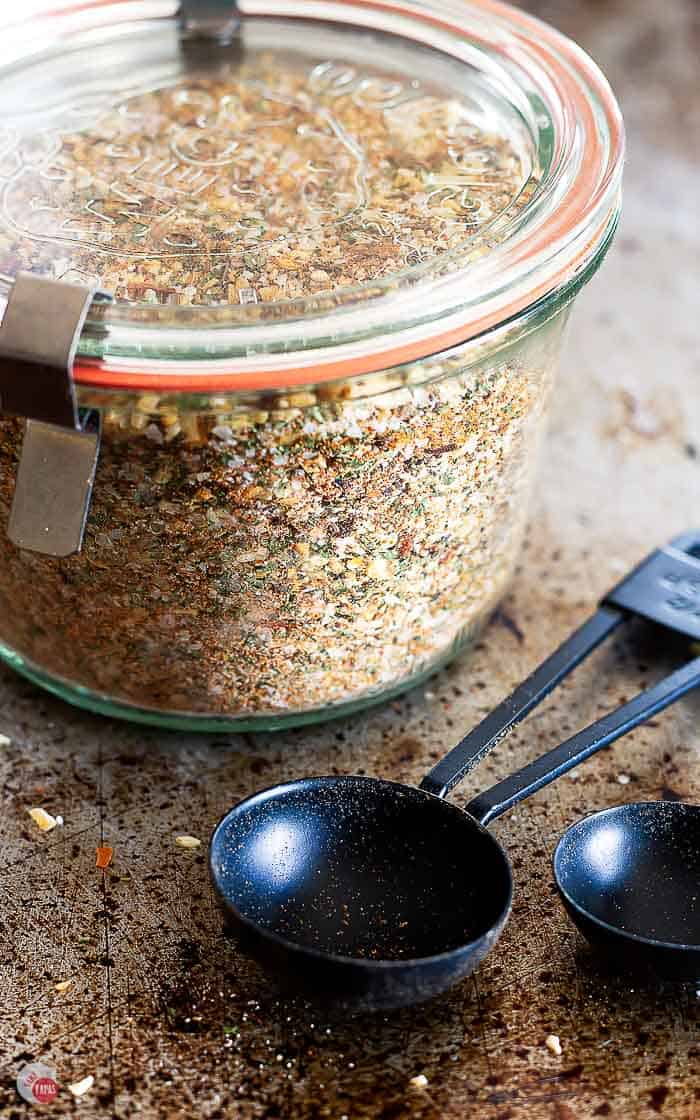 Simple Seasonings for Steak
Yes or no, who has used Montreal or Canadian Steak Seasoning before? If you answered no, I have no idea who you are and seriously question your life choices.
Even if you are a vegetarian, you can use this tasty steak seasoning mix on your fake burgers and on your vegetables to make them more interesting!
I am a big fat yes to the question, by the way.
I always have a ginormous container of steak spices in my house and it is almost always empty.
Much like my Worcestershire sauce addiction (I have no less than three bottles in my house at this very moment), I need to have it on hand.
I started buying so much Worcestershire because I kept thinking I was out when I went to the store and bought a bottle each time I went.
That goes to show you that I am not organized and my pantry is so crammed with stuff that I can't see what I have. Last time it was soy sauce and I had 6 bottles on hand at one time.
Four of them were open and in the refrigerator which only proves the point that I have some serious issues!
This post may contain affiliate links. As an Amazon Associate, I earn from qualifying purchases. Read my disclosure policy here.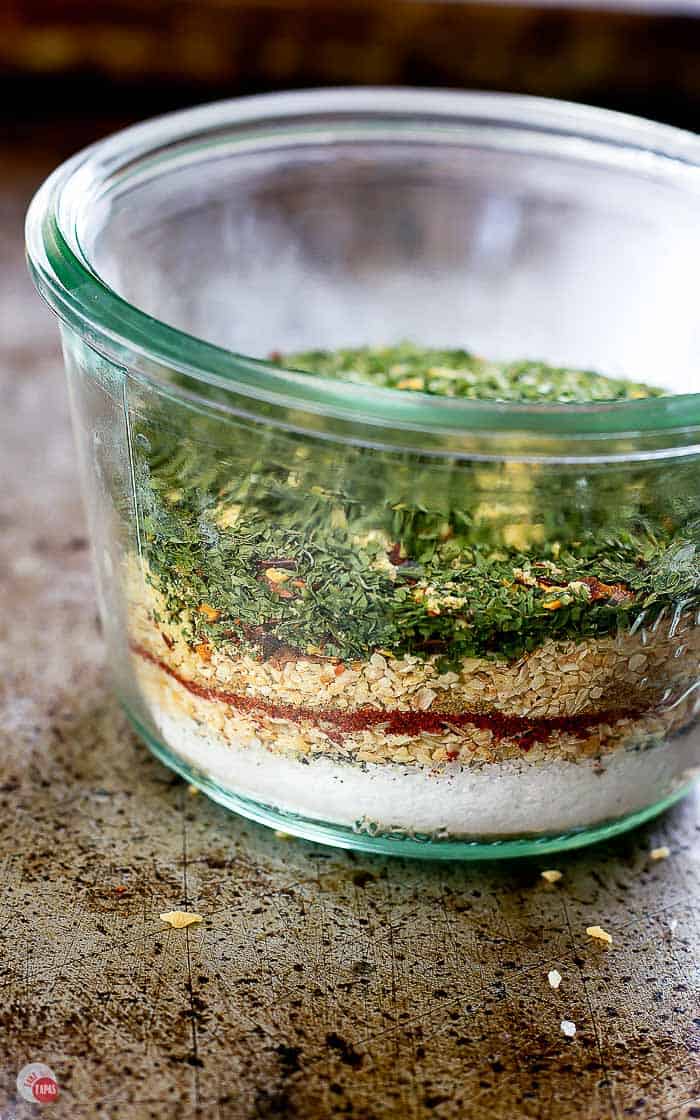 If you'd rather skip my (very helpful, I think) tips and tricks, essential cooking info, and similar recipe ideas – and get straight to this delicious easy All Purpose Steak Spice Mix recipe – simply scroll to the bottom of the page where you can find the printable recipe card.
Other spice blends are great but I am not a fan of caraway seeds or fennel seeds that they sometimes contain.
Depending on which company is making it, there are differing amounts of these infernal seeds.
They are the reason I don't eat Rye bread.
It sounds too much like dill weed and that is what I used to call people (not out loud, of course) who I thought were acting like fools. Kind of like a dork but worse.
My version of a steak spice mix does not have that annoying seed/weed so I'm free to sprinkle it on to my heart's content and still silently call people dill weed.
Steak Seasoning Recipes
Now that we have talked about what I don't like, let's talk about what I do like, and that is salt.
Salt is great for seasonings as it brings out and enhances the overall flavor of anything you put it on.
When you make your own spice rubs you can control the level of every spice and herb in it!
If you are trying to be salt free- or low sodium, you can still enjoy this recipe just cut out the salt altogether and then slowly add it back in.
The other spice that is crucial when seasoning steaks or anything in my opinion is garlic. I put garlic in everything, not because I am warding off vampires, but because I LOVE IT!
Onion is another good spice to add. I like to use minced dried onion but onion powder will work too.
Most steak seasoning recipes have these crucial ingredients with other variations adding in spices and herbs like:
oregano
cumin
black pepper
mustard
cayenne
thyme
Not only will these spices add layers to your steak, or anything else, but it will make it very flavorful all while keeping it moist, tender, and juicy!
Whether you are pan searing your steaks or grilling them, this easy dry rub is perfect!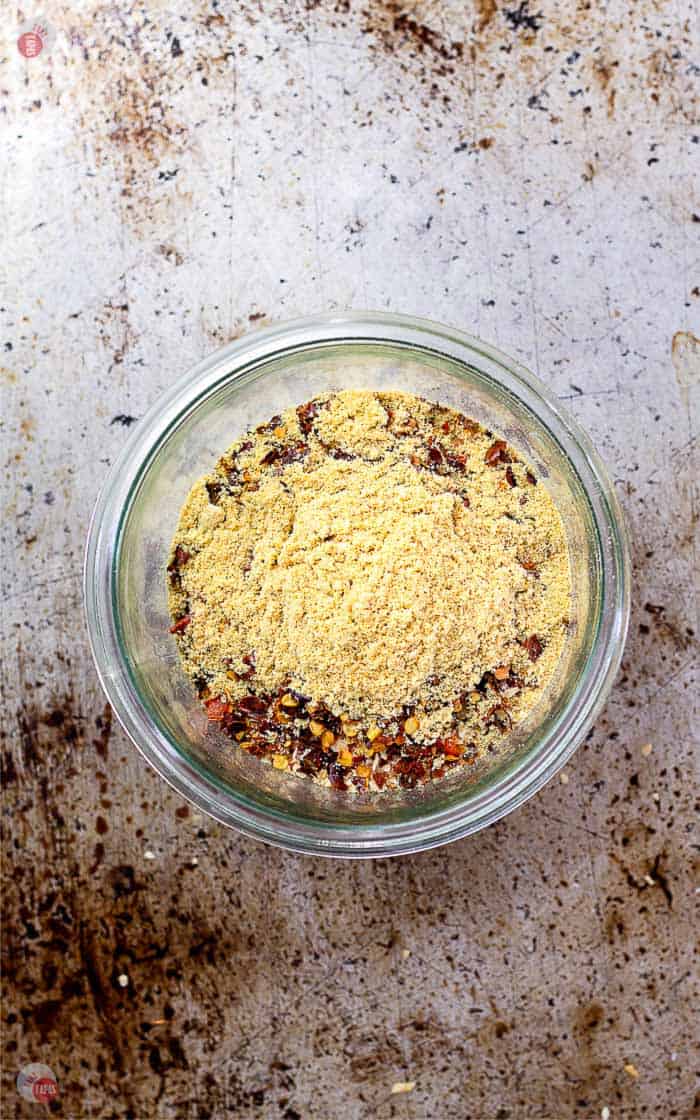 Best Steak Seasoning
I started making my own steak seasoning so it is free of non-caking additives, and other such abominations, and I could control the amount of each spice added to it.
I can be picky and I like mine spicier than they make it so that means my home version contains more red pepper flakes than is humanly necessary!
This recipe for all-purpose steak seasoning makes a good amount so make sure that you store it in a cool, dry place until you have used the last crumb! In my house, it doesn't take long!
For more insider tips & tricks, and a candid behind the scenes look follow me on social media! Check use out on Pinterest, Facebook, Instagram, & Twitter (yes, people still use Twitter, LOL!)
Questions about All-Purpose Steak Seasoning
When is the best time to season a steak?
Preferably overnight, but up to at least an hour will work if the seasoning contains salt. If it doesn't contain salt, you can season immediately before cooking.
What is the best way to season a steak?
Some say salt and pepper are the best way to season a steak and I tend to agree, especially if it is an already flavorful cut.
If you are working with a less flavorful cut of beef, then you need to add some of your favorite spices like garlic, paprika, and onion.
How do you apply the All-Purpose Steak Seasoning?
Pat the meat dry on both sides with a paper towel and generously massage the spice mix on the steak until the meat is completely covered. Cook immediately or let sit at least an hour.
Is All-Purpose Steak Seasoning gluten-free, Paleo, or Whole30 compliant?
This recipe is! Some recipes add sugar or bouillon. If you add these they will not be.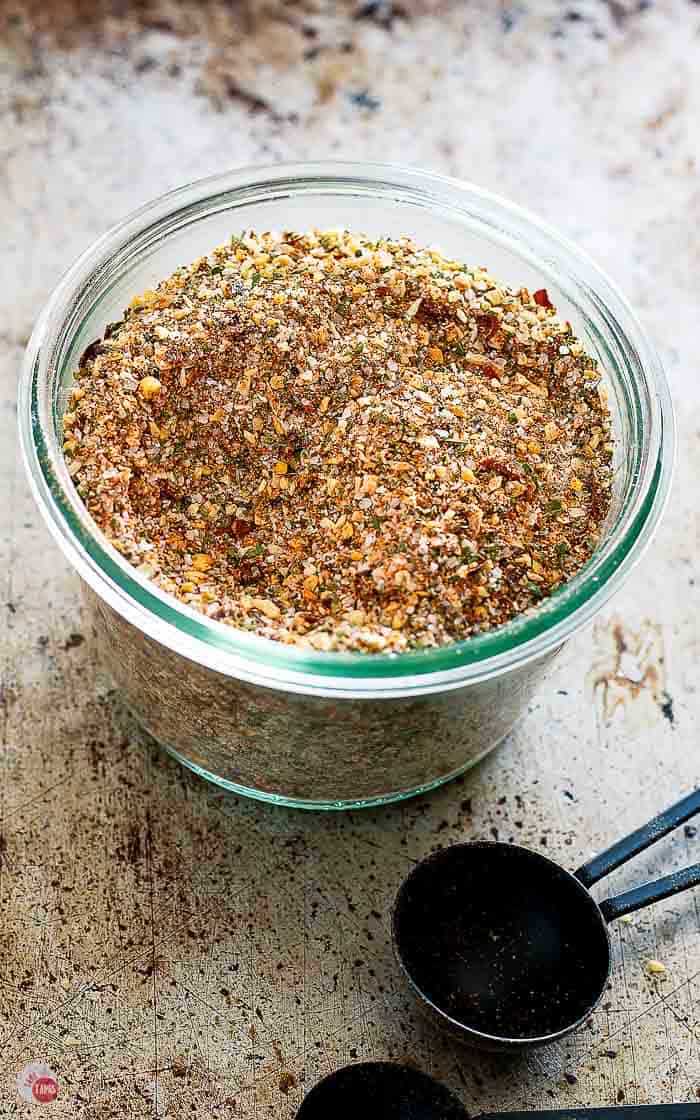 other easy appetizers to serve
If you love this recipe as much as I do, please write a five-star review in the comment section below (or on Pinterest with the "tried it" button – you can now add pictures into reviews, too!), and be sure to help me share on facebook!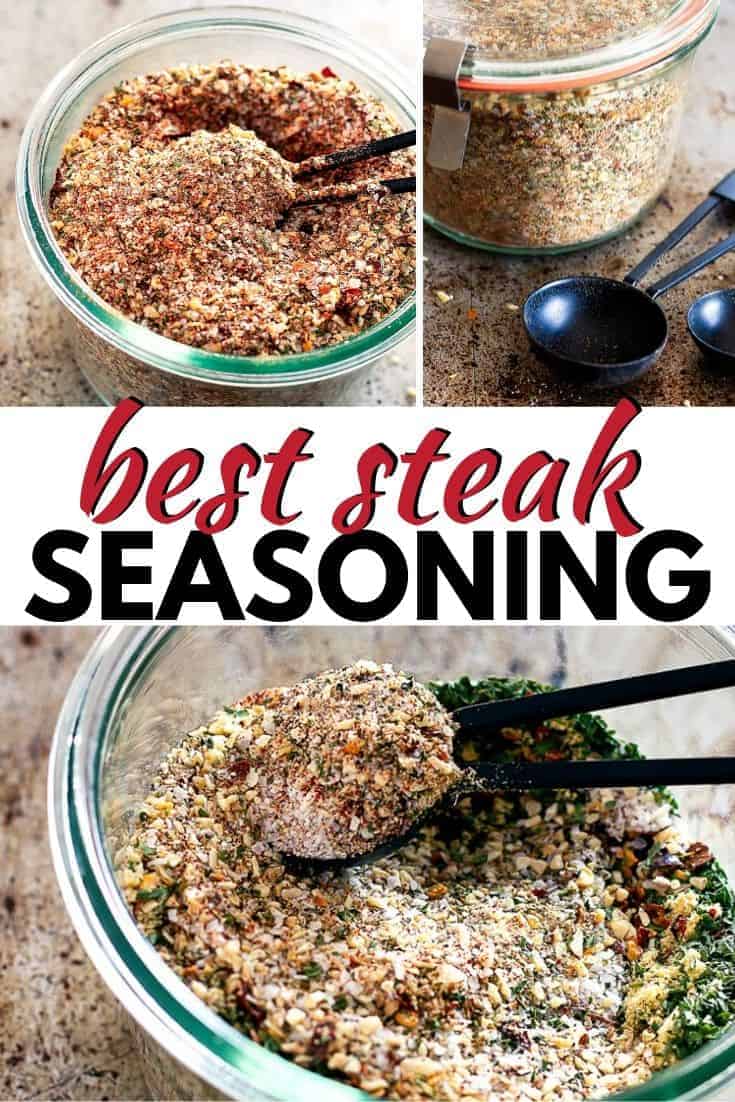 other seasoning recipes
Easy Steak Seasoning Blend Recipe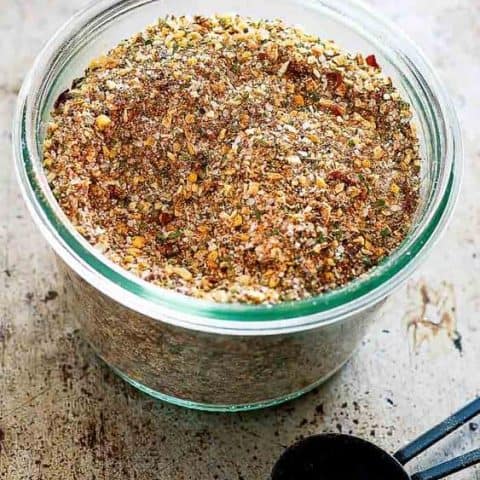 All-Purpose Steak Seasoning Mix
This all-purpose steak seasoning blend is great for steaks, chicken, fish, pork, and even vegetables. Make it now with the spices you already have in your pantry!
Ingredients
4 tablespoons kosher salt
3 tablespoons butcher grind black pepper
3 tablespoons granulated garlic
1 tablespoons smoked paprika
3 tablespoon granulated onion
2 tablespoon ground coriander
2 tablespoon crushed red pepper flakes
1 tablespoon dried mustard
2 tablespoons dried parsley flakes
Instructions
Mix all ingredients together and store in a container until ready to add to your favorite recipe!
Notes
*If you like this recipe, leave me a comment and rate it with some stars. Thank you!
Nutrition Information:
Yield:

24
Serving Size:

1 tablespoon
Amount Per Serving:
Calories:

14
Total Fat:

0g
Saturated Fat:

0g
Trans Fat:

0g
Unsaturated Fat:

0g
Cholesterol:

0mg
Sodium:

1060mg
Carbohydrates:

3g
Fiber:

1g
Sugar:

0g
Protein:

1g
This nutrition information was generated via a third party, Nutritionix, and can not be held liable for any discrepancies in the information provided.
Pin this great infographic to your favorite Pinterest Board for easy access!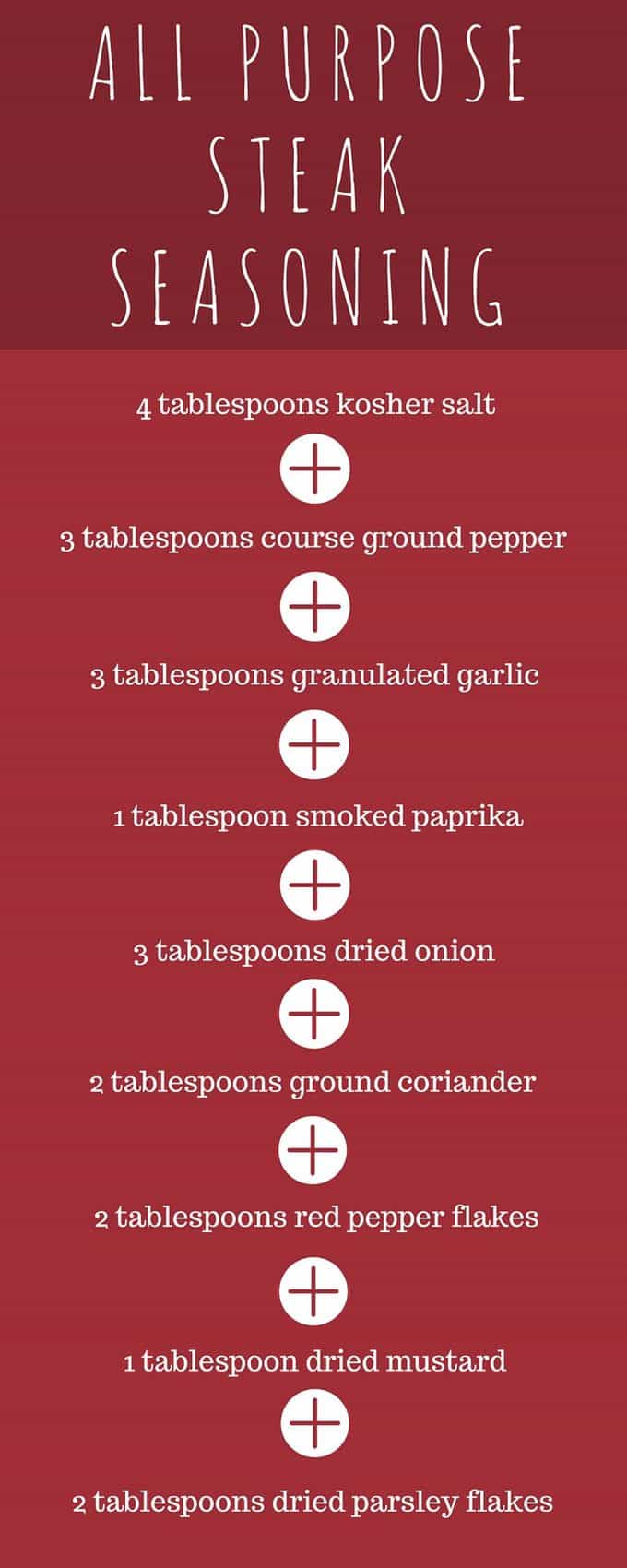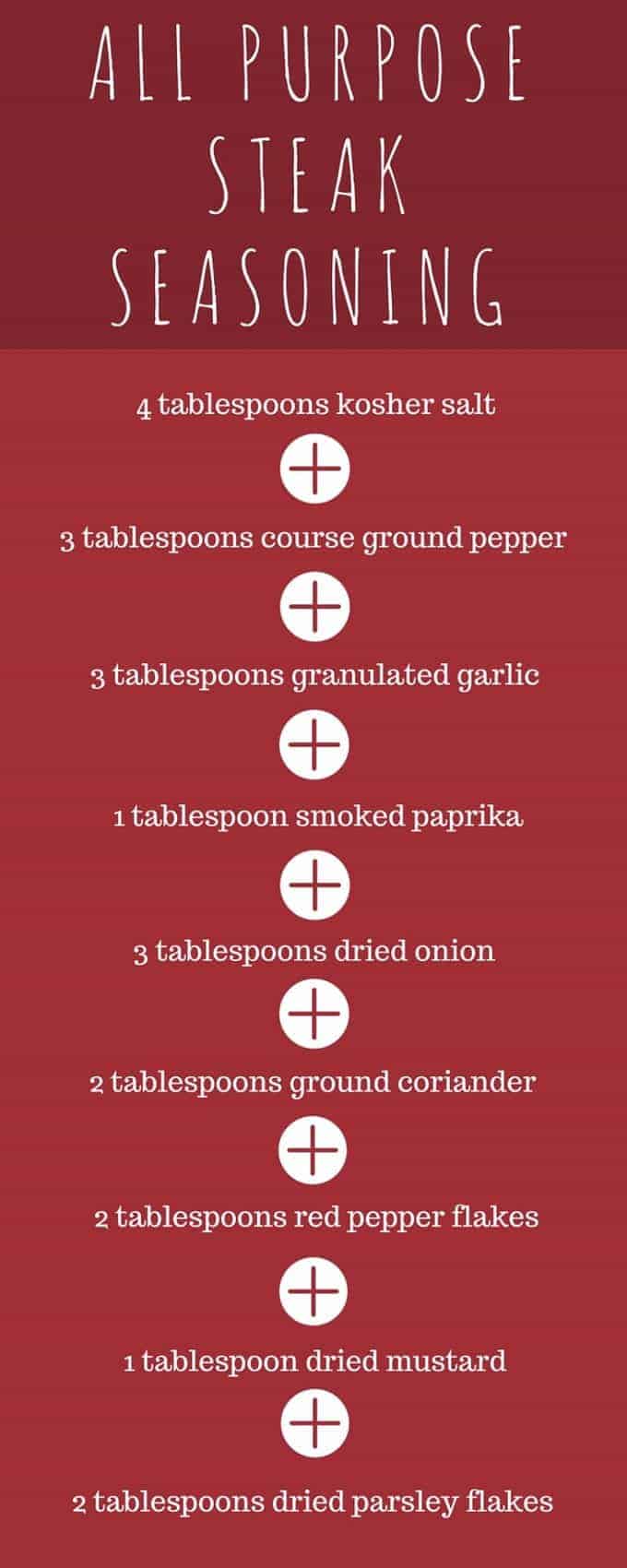 @TakeTwoTapas.com. Content and photographs are copyright protected. Sharing of this recipe is both encouraged and appreciated. Copying and/or pasting full recipes to any social media is strictly prohibited.