All the yummy flavors of caramel, chocolate, pecans, and coconut are found not only in a cake but in my German Chocolate Popcorn!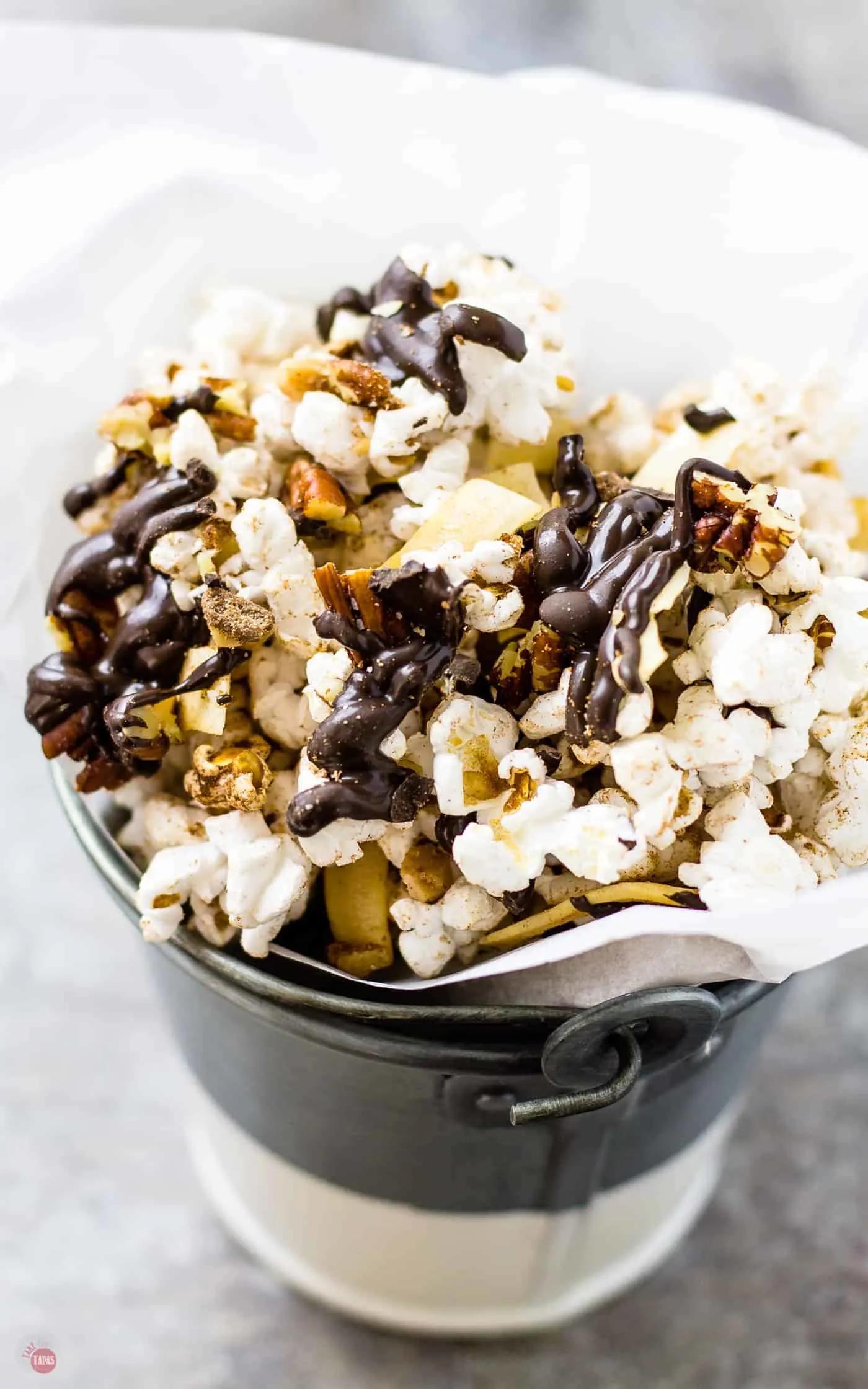 I am a sucker for German Chocolate and let me count the reasons why. Chocolate, duh, pecans, caramel, and let's not forget coconut.
A German Chocolate Cake with tons of frosting is a dream come true but having all these flavors in an easy to eat snack, I am all in! If you are too, check out my German Chocolate Popcorn!
Can you eat just one handful? I had a hard time putting this popcorn down so I know that you will love it just as much as I do!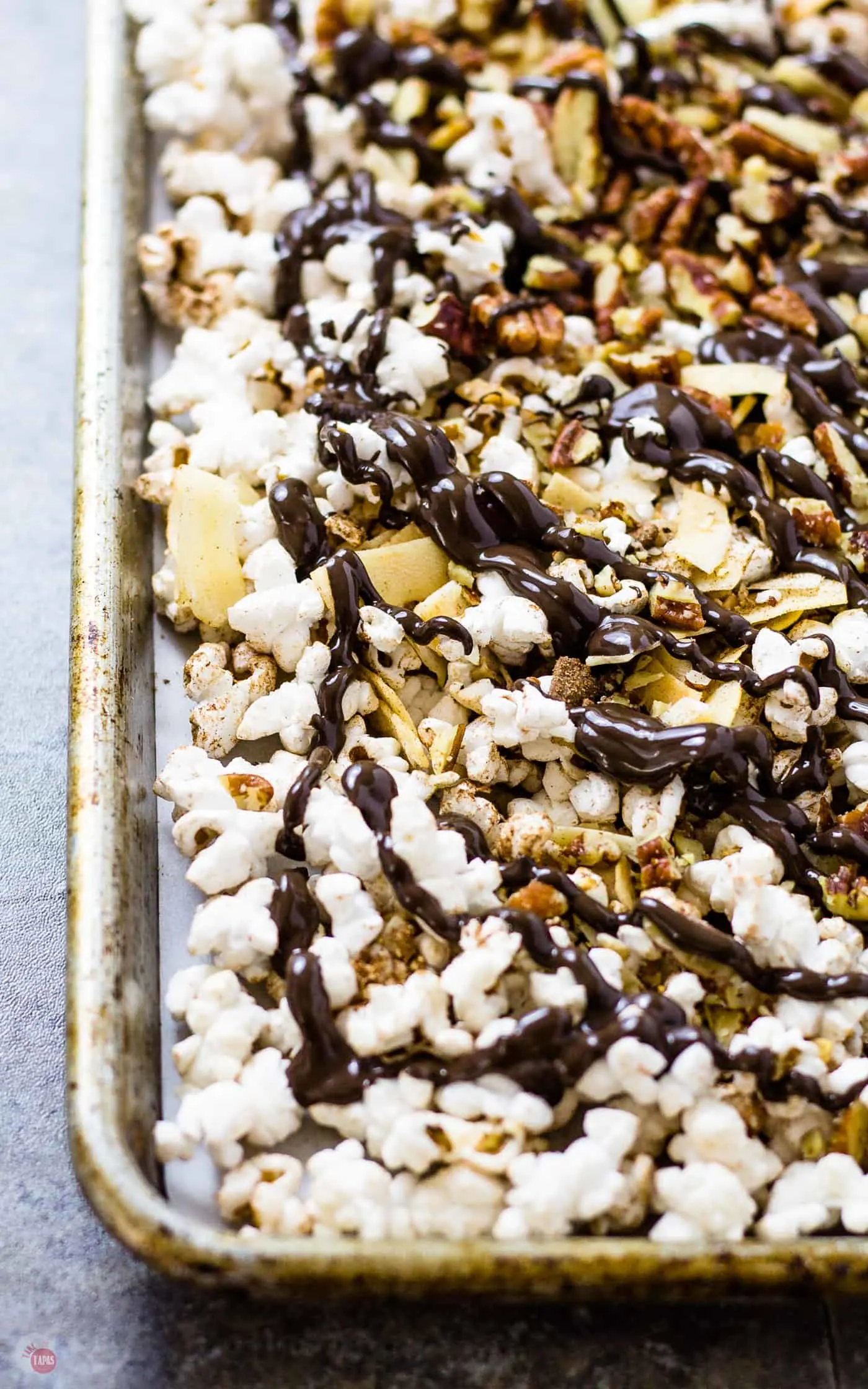 This week is all about chocolate and I am bringing you this recipe with the help of Barleans. Barleans is a sponsor of #Choctoberfest and has graciously sent me a few products to try, two of which I used to make this German Chocolate Popcorn.
No offense to cake but let's get serious, we all know that the best thing about a German Chocolate Cake is the frosting. Those layers of creamy, sweet, nutty frosting are something I can't help but lick off my fingers and steal off other pieces of cake.
The frosting, when made from scratch, can be a little time-consuming but worth it in the end. This German Chocolate Popcorn recipe came about because I want all those tasty flavors but not the mess or all the time it takes to make it.
I started out with white popcorn. Popped in a pot "old-school" with some Butter-Flavored Coconut Oil. I love it because it stays liquid at room temperature (here in Arizona) and all my other containers are solid.
I have been using coconut oil for a while now as a moisturizer and even for frying! Food, not my skin. Barleans coconut oil is organic, non-GMO, Kosher, Vegan, Gluten-Dairy-Soy free, and is sourced from sustainable coconuts.
This post may contain affiliate links. As an Amazon Associate, I earn from qualifying purchases. Read my disclosure policy here.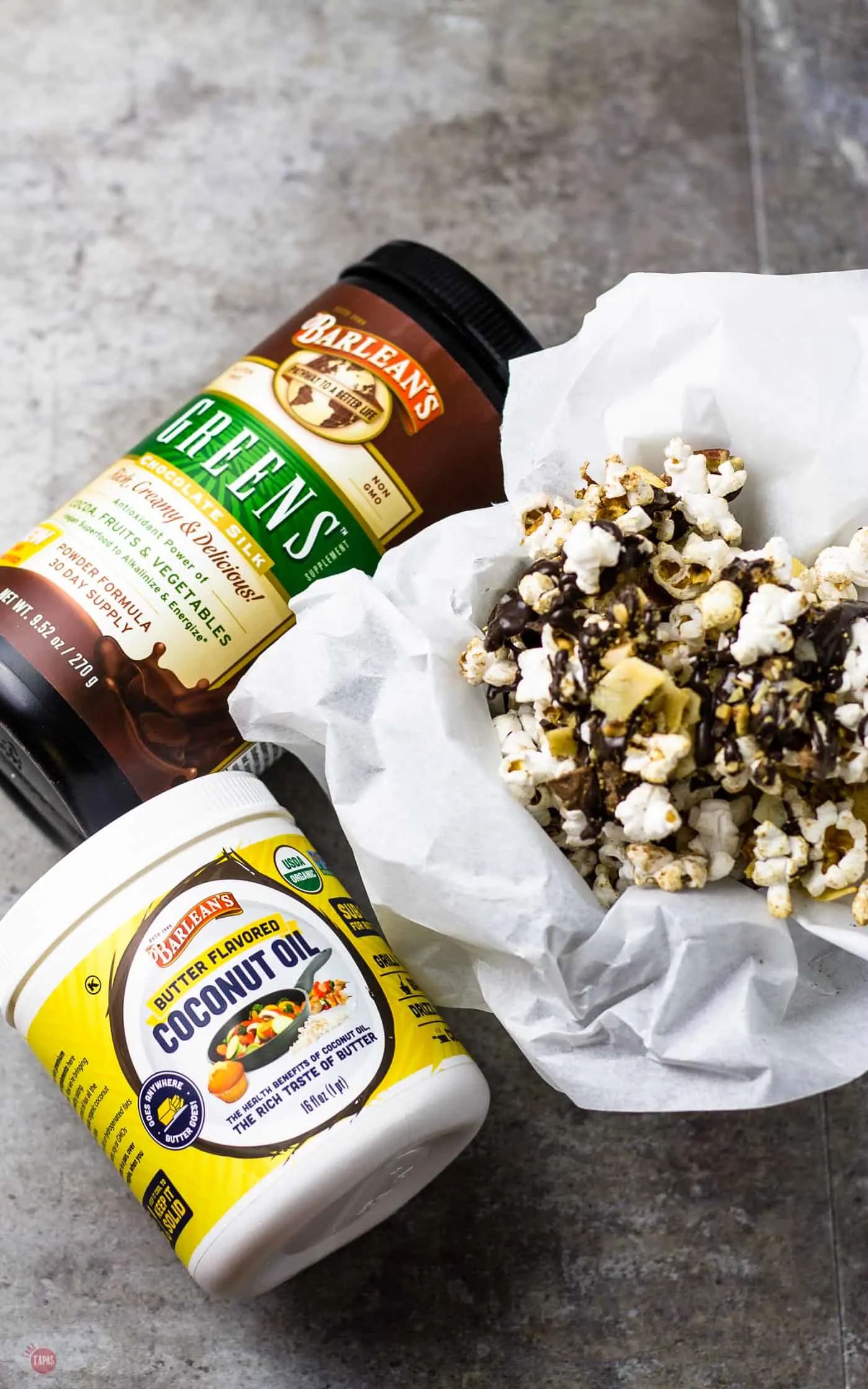 Once I popped the popcorn I didn't dust it with salt like most people do, I opted for something a little healthier. A dusting of chocolate greens. Don't get all crazy when I say the word "greens," it's not what you think.
Barleans has a concentrated greens powder that is loaded with nutrients from over a dozen fruits and vegetables mixed with fair-trade cocoa. It's the best chocolate powder that you can use to get some superfoods into your body. I can't wait to try it in a cold, tall glass of milk or even some hot cocoa when it gets cold.
For now, I dusted my freshly-popped popcorn in a scoop of the cocoa greens powder and started snacking. The Chocolate Silk Greens add just a hint of chocolate flavor and some antioxidants as a bonus. Once the popcorn is dusted it's time to add the rest of the German Chocolate Flavors.
Next up, coconut!
For more insider tips & tricks, and a candid behind the scenes look follow me on social media! Check use out on Pinterest, Facebook, Instagram, & Twitter (yes, people still use Twitter, LOL!)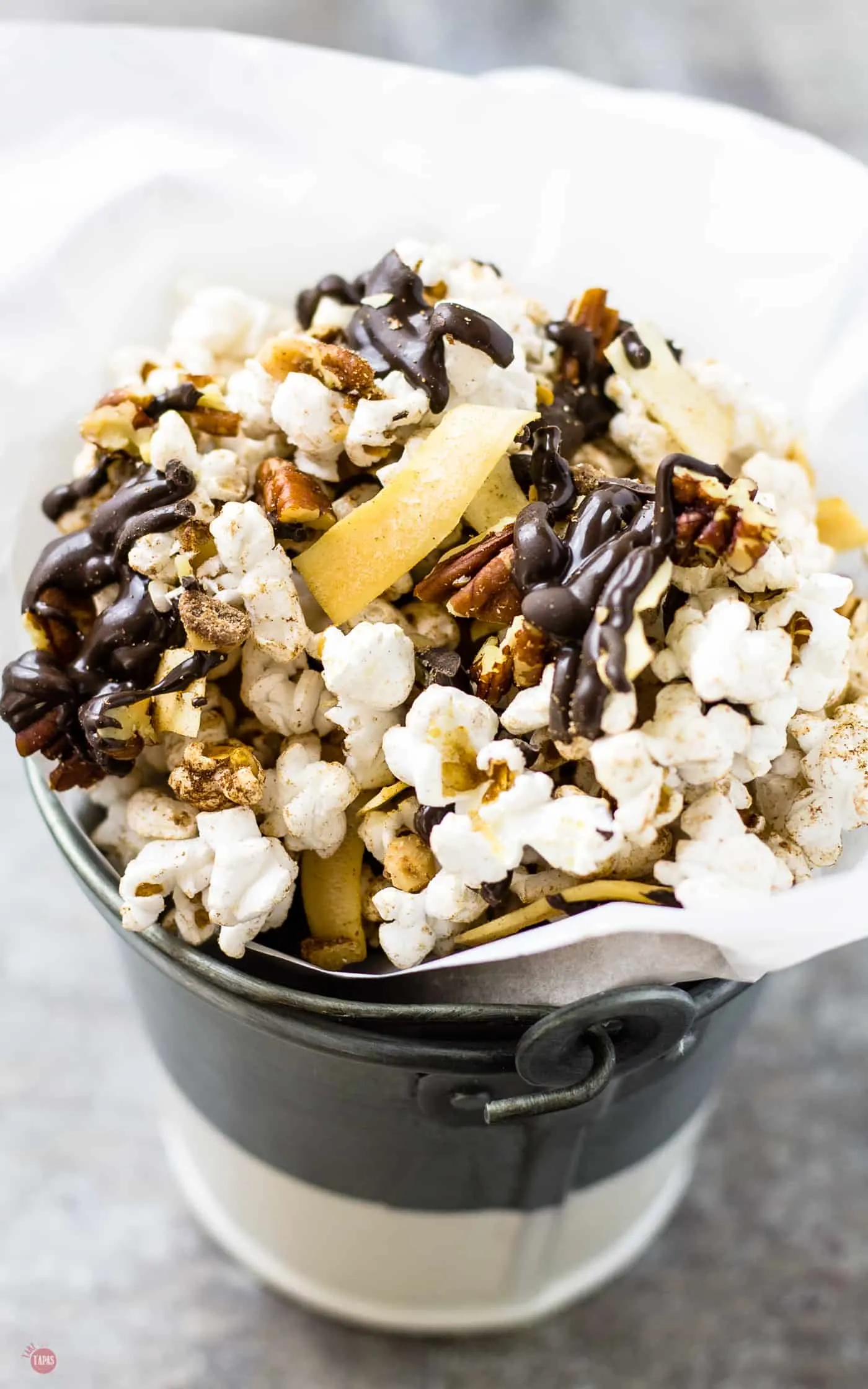 The coconut is really the best part of the German Chocolate Cake in my opinion, so I wanted to make sure it was represented fairly. I use toasted coconut chips instead of shredded coconut. The toasted coconut chips are thicker than the shredded coconut and come already toasted so you don't have to worry about that. One less step to do!
Now we can talk about the pecans being the best part of the frosting, or the coconut (MINE), but what people love is the caramel too. Making the frosting from scratch and boiling the sugar, milk, butter, etc gives you a creamy caramel frosting that is really the base that holds all the coconut and pecans.
How can I get the caramel flavoring to the popcorn?
Don't all scream caramel popcorn at the same time! I seriously thought about starting with caramel corn, or even making caramel corn after I popped it but then again I wanted the recipe to be easy and not take 3 hours to make.
Time constraints mean I need to streamline the recipe and I solved the lack of caramel coating with one simple hack. Toffee Bits.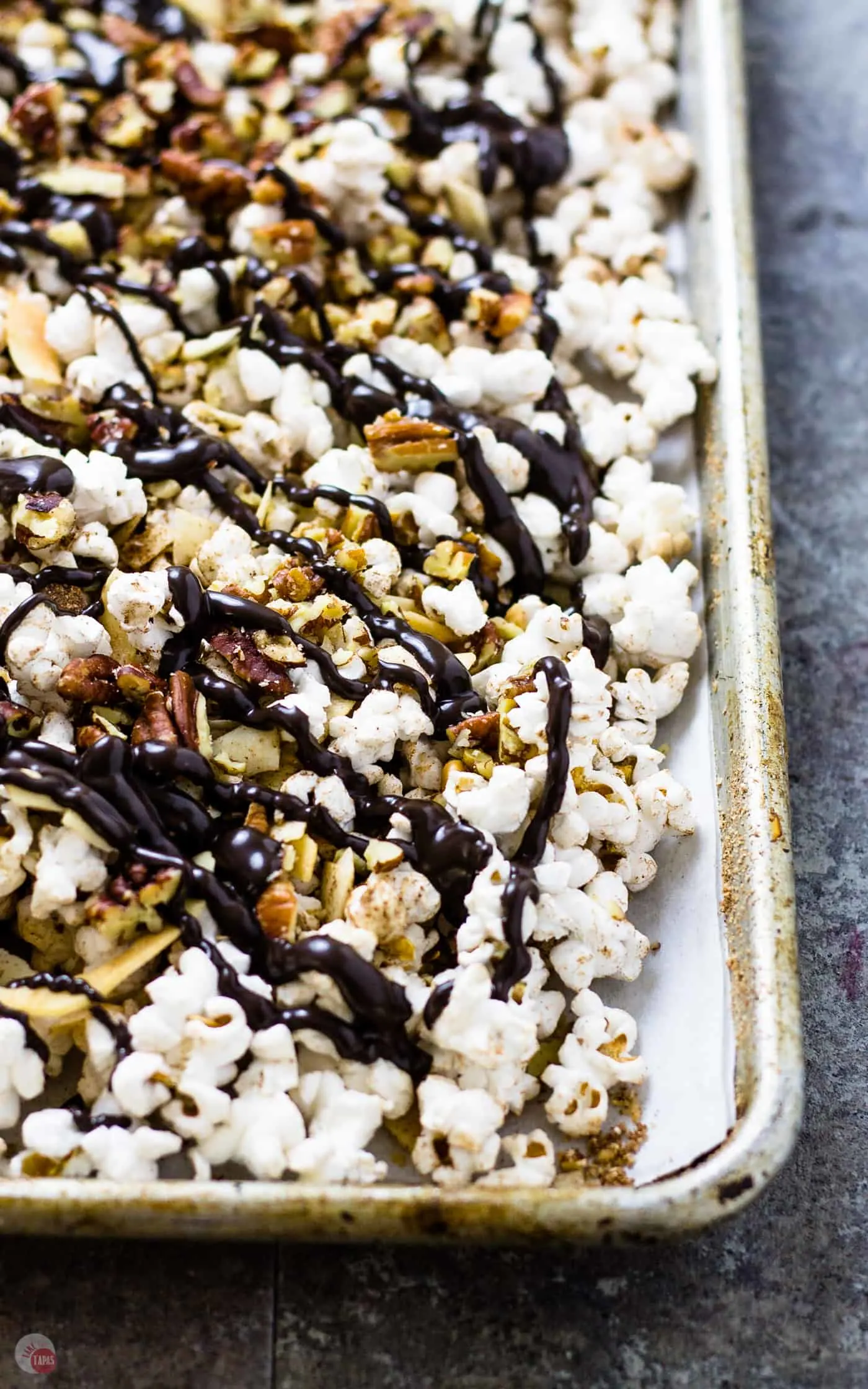 The toffee bits bring a bit of crunch to the popcorn mix but also surprise little bites of caramel! You can have the caramel flavor in the German Chocolate Popcorn without all the extra time and work. Because it is #Choctoberfest this week, I use milk chocolate toffee bits just to up the chocolate factor.
The last bit of the flavor party is the nut factor. German Chocolate Cake frosting contains pecans so I tossed in some of my Buttery Toasted Pecans. I always have a bag in my freezer for all my baking needs and this constitutes a need indeed!
Now that we have all the flavors of a German Chocolate Cake represented let's tie it all together with a little more chocolate.
The Chocolate drizzle on the popcorn has two jobs.
1. to add more chocolate flavor because we all need this.
2. to hold all the bits and pieces together in one bite.
Drizzling the chocolate over the popcorn and all the goodies mixed in help to hold the chopped pecans, coconut chips, toffee bits, and popcorn together so you get a bit of everything in each bite. I use Merckens Dark Chocolate Wafers because they melt the best and harden back up with a nice shine to it.
A little tip to make sure you get even drizzling: Spread the popcorn out on two baking sheets, drizzle with the melted chocolate, then sprinkle with the toffee bits, pecans, and coconut chips.
Initially, I dumped it all into a bowl then onto a pan. All the tiny toffee bits and nuts fell through the popcorn and underneath it. The chocolate drizzle didn't touch it, just the popcorn, so when I started to eat it all the good stuff was left at the bottom of the bowl. That will not do!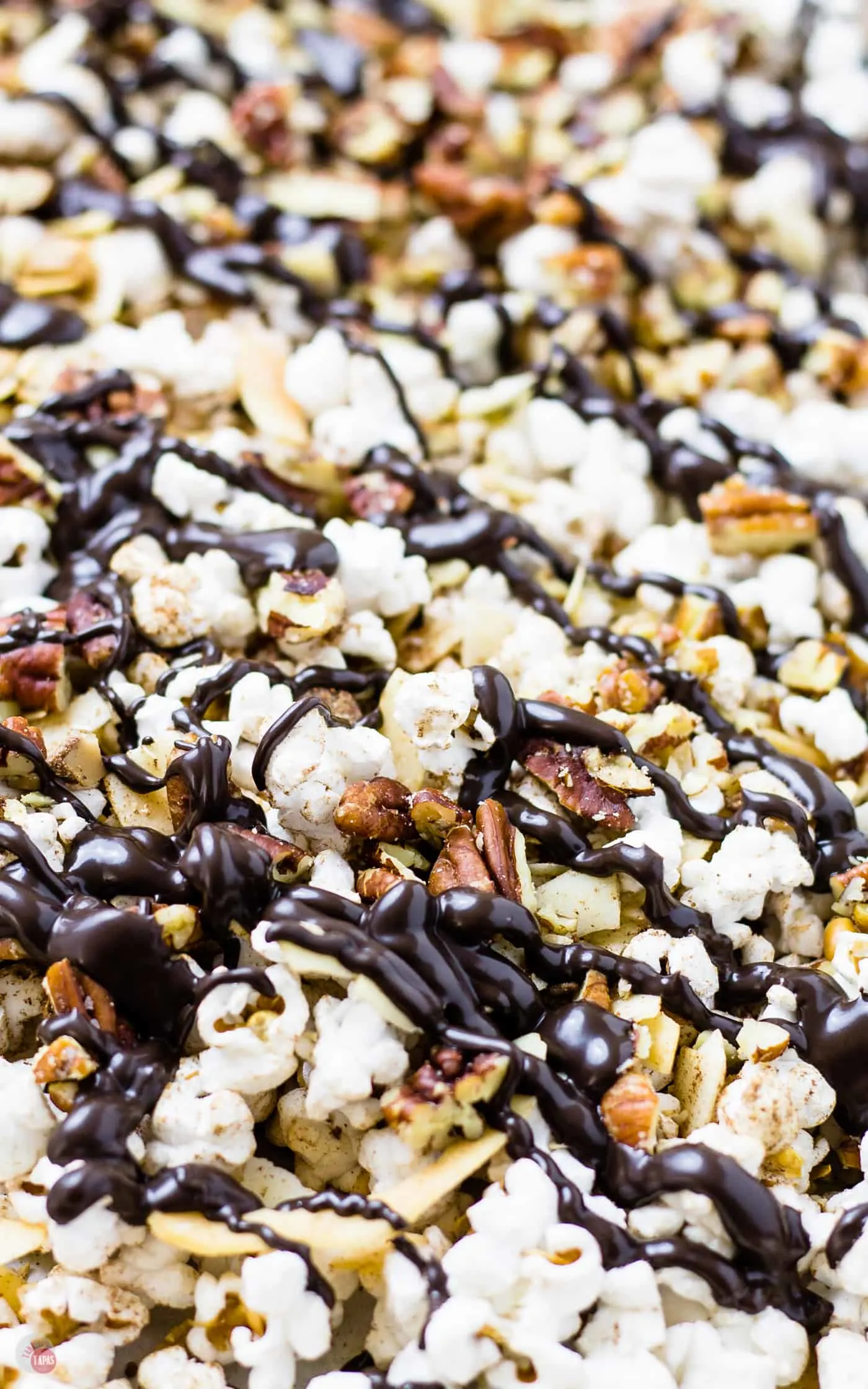 Sprinkle it all on top that way you know it sticks to the chocolate drizzle and you are assured to get a little bit of everything in each bite of popcorn.
All the flavors of German Chocolate Cake but in a popcorn.
Get your snack bags ready!!
MORE EASY SNACKS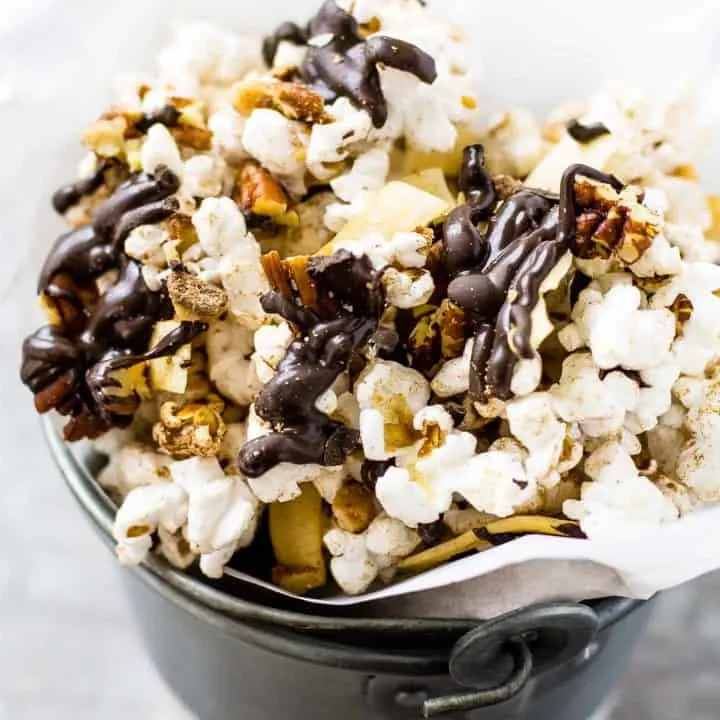 German Chocolate Popcorn
All the yummy flavors of caramel, chocolate, pecans, and coconut are found not only in a cake but in my German Chocolate Popcorn!
Ingredients
For the popcorn base
1/2 teaspoon Barleans Butter-Flavored Coconut Oil
1/2 cup white popcorn kernels (unpopped)
1 scoop Barleans Chocolate Silk Greens Powder
For the German Chocolate Popcorn
3 ounces Toasted Coconut Chips (I use Dang brand)
1/2 cup Milk chocolate toffee bits
1 1/2 cups Toasted pecans (chopped)
1 1/2 cups Dark Chocolate Melting Wafers
Instructions
Let's pop the popcorn!
Grab a medium to a large-sized pot with a lid.
Put it on the stove on medium heat without the lid on.
Add the coconut oil and three popcorn kernels.
Cover and wait till all three kernels are popped.
Once all three kernels are popped, remove them with some tongs and then add the rest of the kernels.
Let them cook at medium heat, shaking the pot every three seconds or so to stir the popcorn around.
Continue popping until you hear about 3 seconds of time pass between pops.
Remove the pan from the heat. Add Image Empty the popcorn into a large bowl.
Sprinkle with one scoop of the Barleans Chocolate Silk Greens Powder.
Set aside to cool completely while you prepare the rest of the ingredients.
Let's assemble the German Chocolate Popcorn!
Spread your popcorn out onto a baking sheet.
If it gets too crowded use two pans.*
Melt the chocolate wafers in the microwave on medium heat in 30-second bursts until melted.
Stir to mix evenly.
Drizzle the melted chocolate over all the popcorn.*
While the chocolate is still melted, sprinkle on the toasted pecans, toasted coconut chips, and toffee bits.
Let sit out until the chocolate sets up.*
When all the chocolate is set, break up the popcorn into large pieces and store in an airtight container for up to a week. If it lasts that long.
Notes
*You want an even layer of popcorn so we can get chocolate on as many popcorn kernels as possible when drizzling so spread it out.
*I use a plastic bag or frosting bag with a tiny hole in it to get a small steady stream for drizzling.
*You can put the pans of popcorn in the fridge to help the chocolate set up faster.
*If you like this recipe don't forget to rate it with some stars!
Nutrition Information:
Yield:

12
Serving Size:

1
Amount Per Serving:
Calories:

368
Total Fat:

26g
Saturated Fat:

12g
Trans Fat:

0g
Unsaturated Fat:

13g
Cholesterol:

9mg
Sodium:

76mg
Carbohydrates:

32g
Fiber:

5g
Sugar:

24g
Protein:

4g
This nutrition information was generated via a third party, Nutritionix, and can not be held liable for any discrepancies in the information provided.
Don't forget to check out all the other #Choctoberfest recipes that are being posted today too!
[inlinkz_linkup id=743271 mode=1]
I used this technique from Amy's Healthy Baking for popping the popcorn!