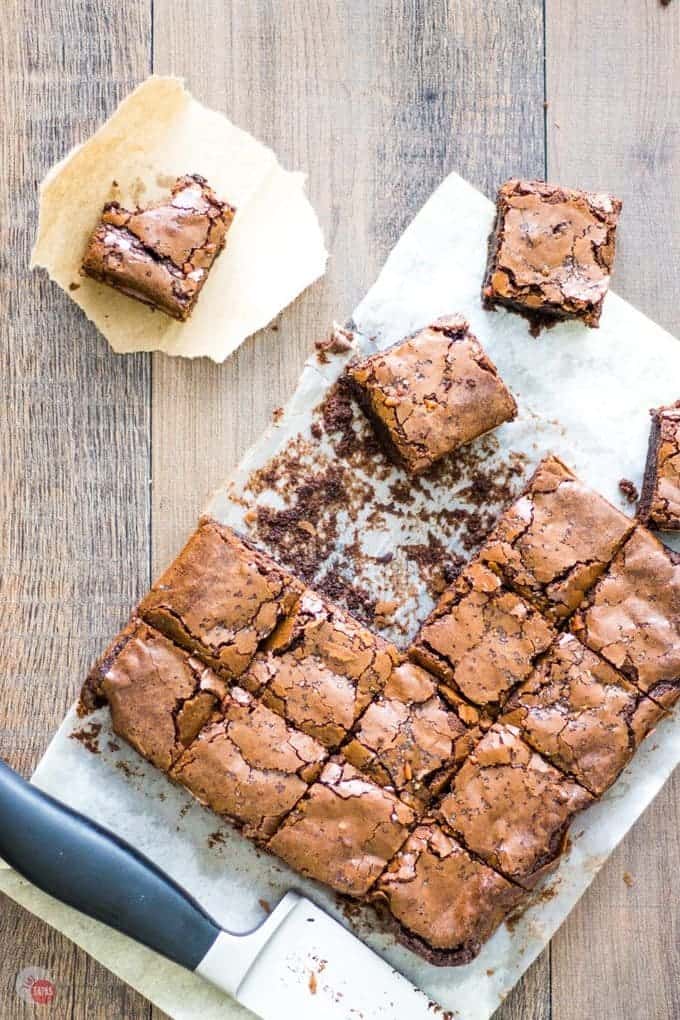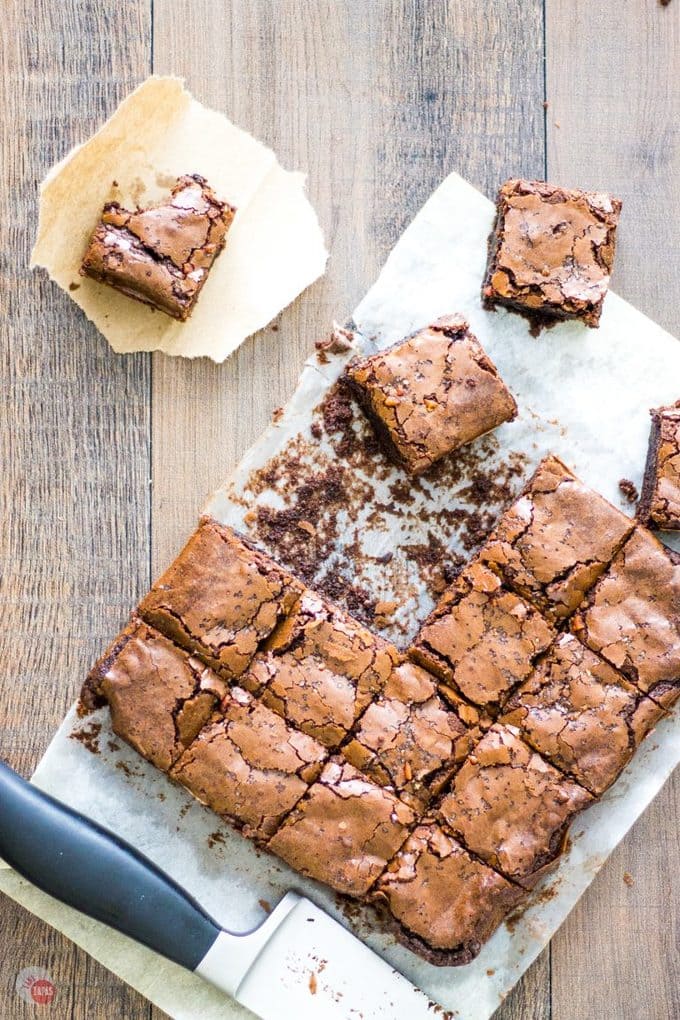 When you can't figure out what to eat when you are craving something sweet, salty, chocolate, AND has bacon in it, make a batch of my Bacon Salt Brownies! It hits all your cravings right in the mouth!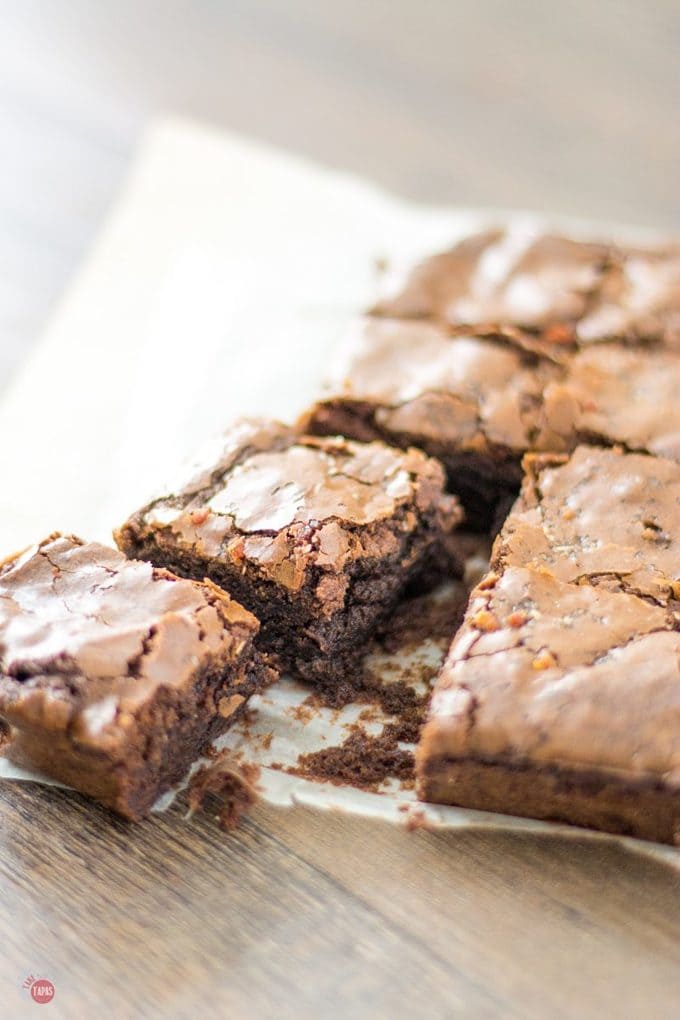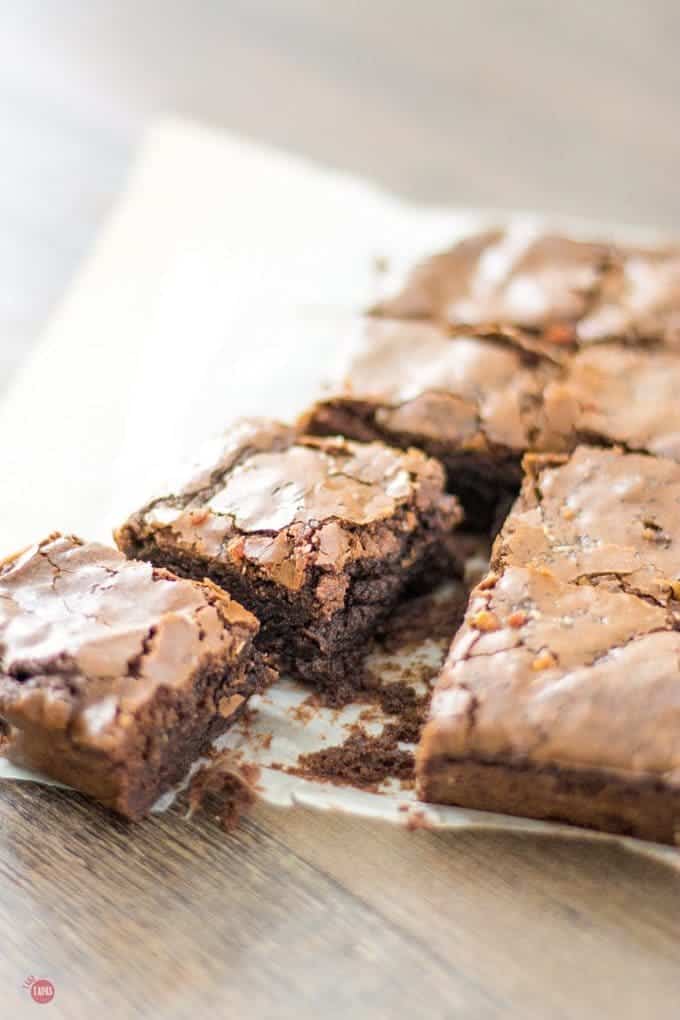 Think you already have the best brownie recipe and don't need to look for another one? Have you had a brownie that is sweet, chocolatey, fudgy, salty, and bacony? Yes, I said salty and bacony. Or is it bacon-y? Either way, Bacon Salt Brownies are here.
Do you remember when I posted on how to entertain for brunch with a Bacon Bar? If not, go back and read it pronto!! In that post, I made a couple flavors of bacon, some cherry bacon jam, and bacon salt. I only used a few pinches of the bacon salt for my undeviled eggs, so I still have almost 1/2 a cup left. I am using it on my brussels sprouts, my green beans, my salad greens, in my salad dressings, and now in my sweets. Wouldn't want to waste it now would I?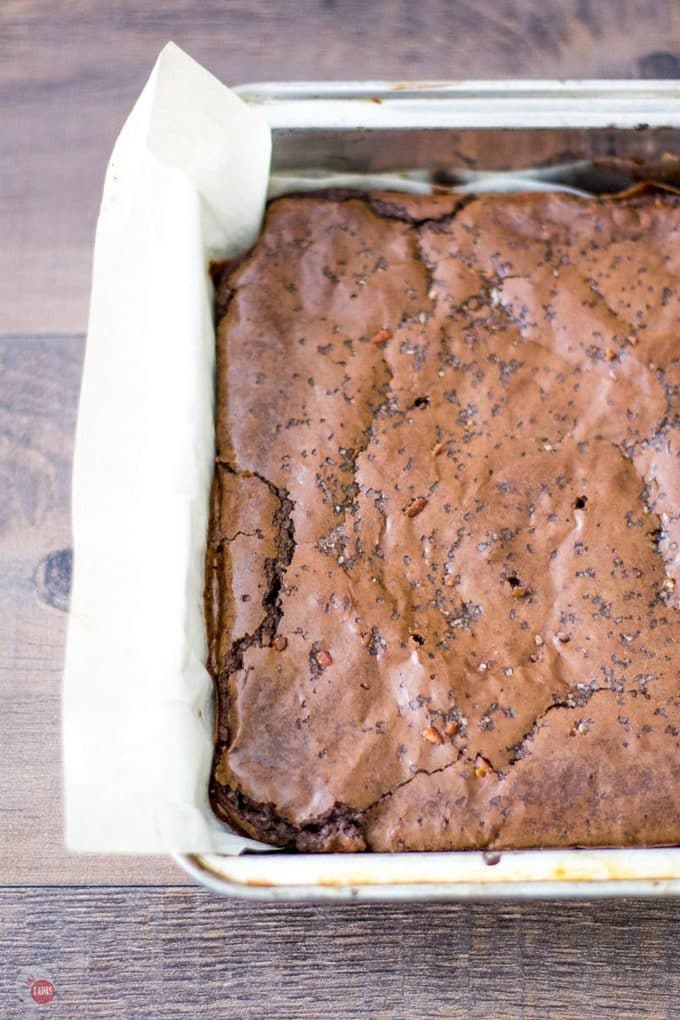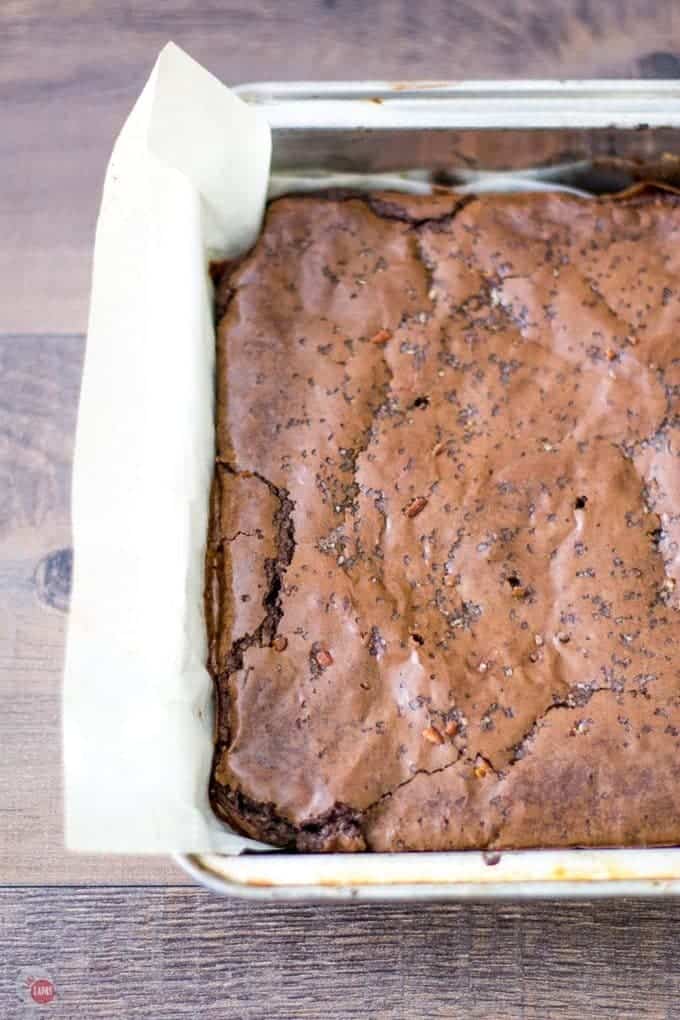 If you'd rather skip my (very helpful, I think) tips and tricks, essential cooking info, and similar recipe ideas – and get straight to this delicious recipe – simply scroll to the bottom of the page where you can find the printable recipe card.
In making these bacon salt brownies, I made a simple brownie recipe. Well, not really simple in flavor and texture, but simple in the making and baking process. I love the Baker's One Bowl Brownies recipe from Kraft! I started making them years ago because I buy their semi-sweet chocolate blocks to bake with. While waiting for another recipe to cook, I started reading the inside of the package and came across this recipe.
When I read the words "one bowl" I fell in love. I have all the ingredients, flour, eggs, butter, sugar, and chocolate on hand all the time, so I whipped a batch up. And only have one dish to wash!!! I really don't think can I make these better, but now that I have bacon salt…
This post may contain affiliate links. As an Amazon Associate, I earn from qualifying purchases. Read my disclosure policy here.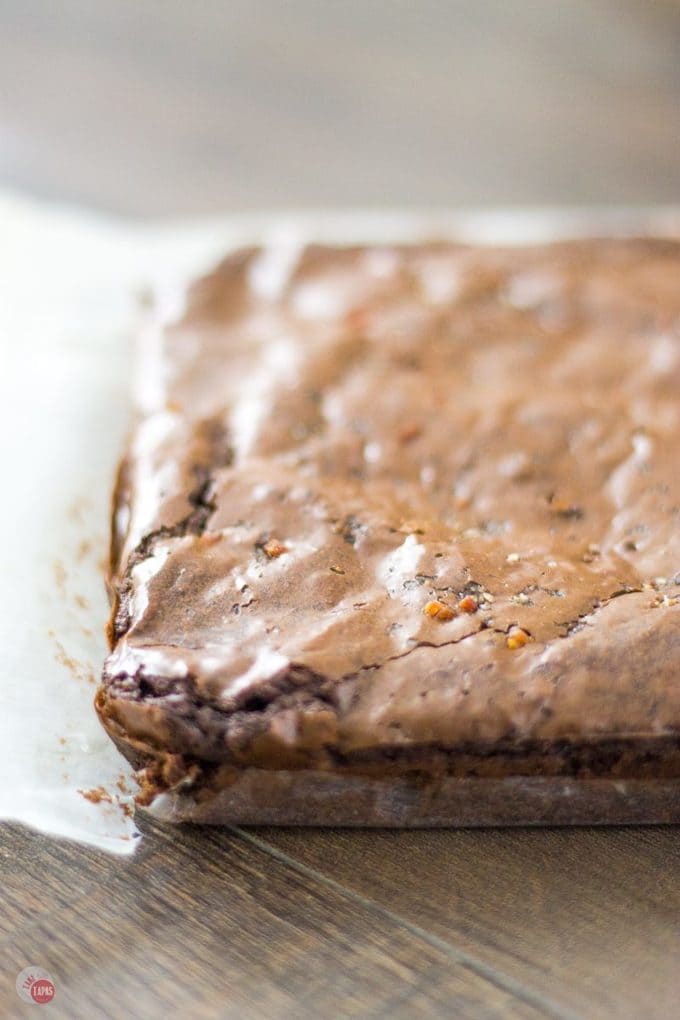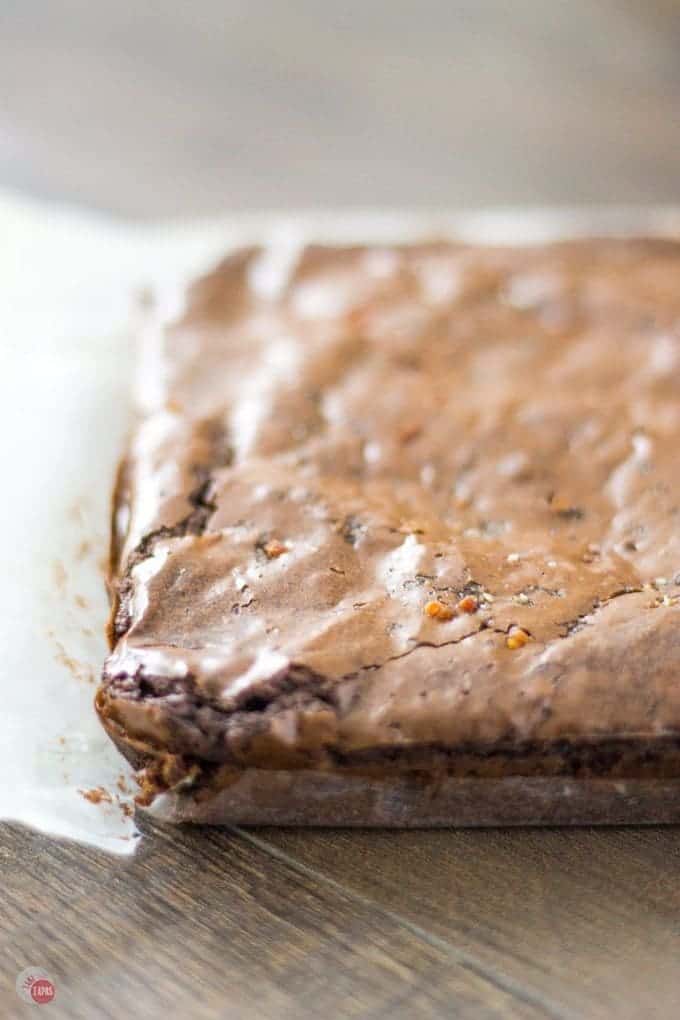 A sprinkle of the bacon salt in the middle and on the top is all you need to get the flavor right. The first batch I made was so yummy with just the right amount of salt to balance the sweet. The bacon flavor didn't come through as much as I would like so I made another batch and added some bacon fat.
Yes, I said bacon fat. As someone raised below the Mason-Dixon Line, I have a cup of bacon fat in my fridge all the time. It might not be in an enamel coffee cup, but it's there just the same. Everyone needs a container of bacon fat in their fridge, so the next time you make bacon, just save a bit before you clean up.
These 2 tablespoons of bacon fat make all the difference!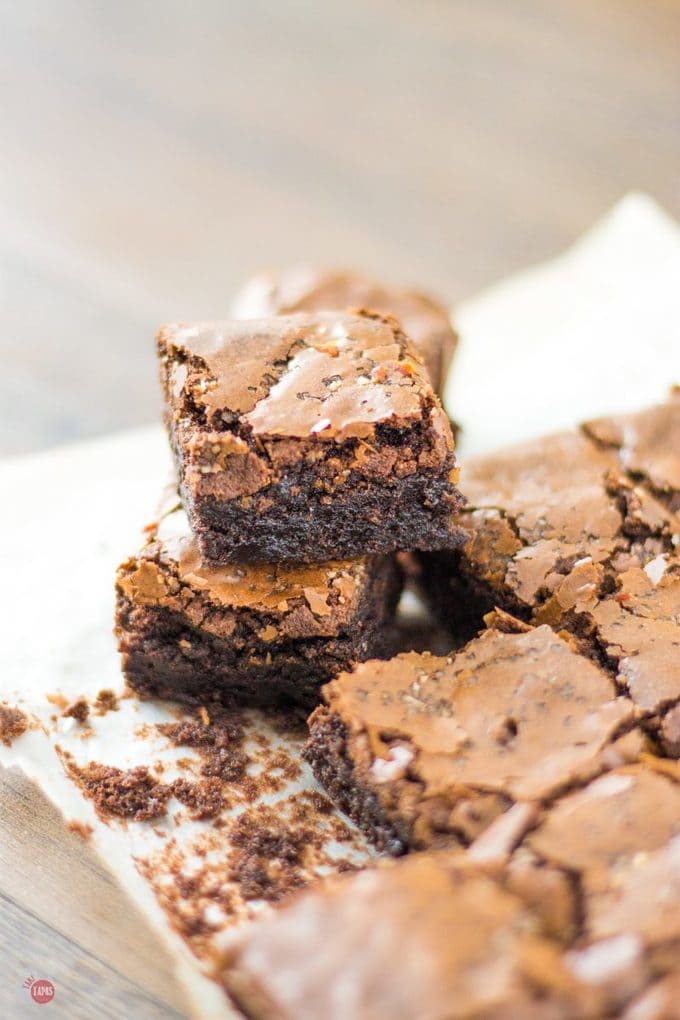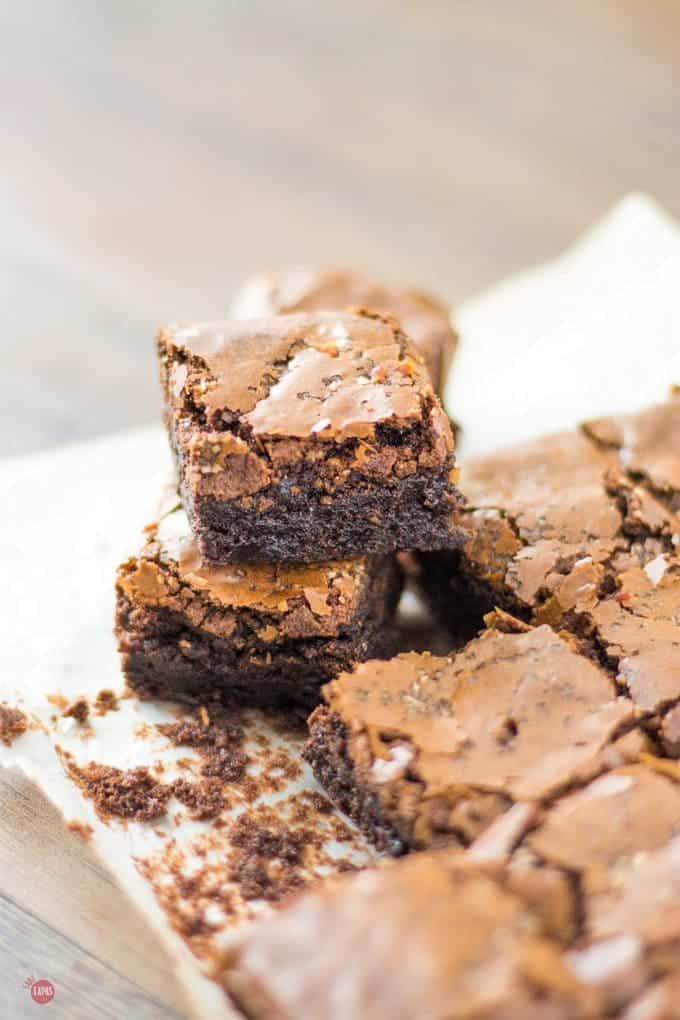 Sweet, dense, fudgy brownies with a hint of salt and the taste of bacon in the background make these bacon salt brownies the perfect dessert! Can you see the tiny crumbles of bacon on the top? Sitting right in the middle of that thin, crispy layer that tops the brownies? I love it.
Like gorgeous jewelry on top of an already perfect masterpiece.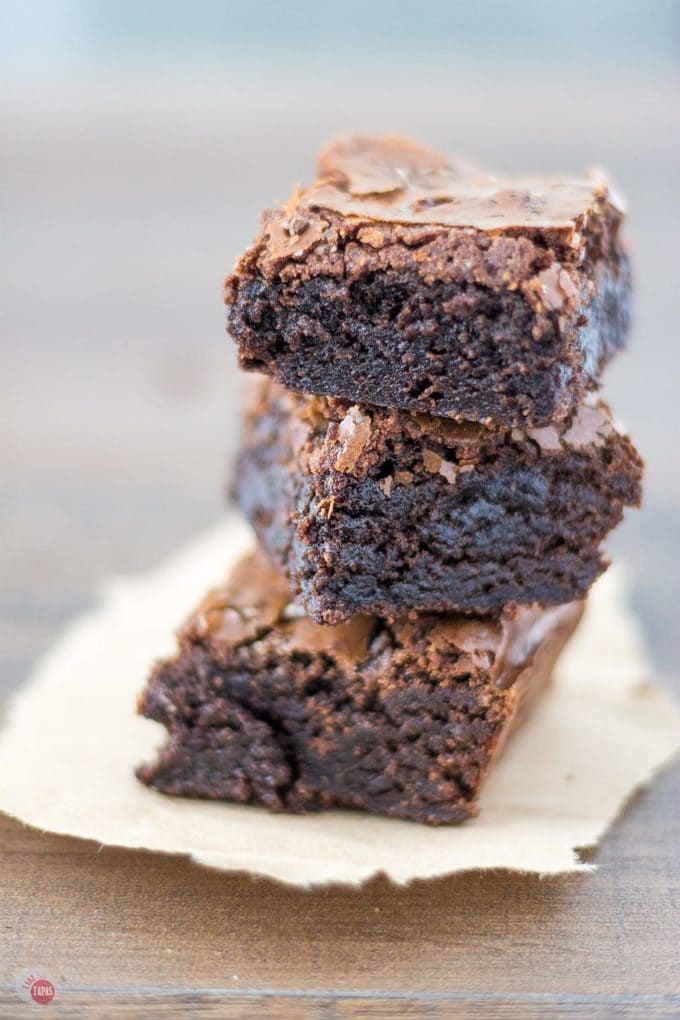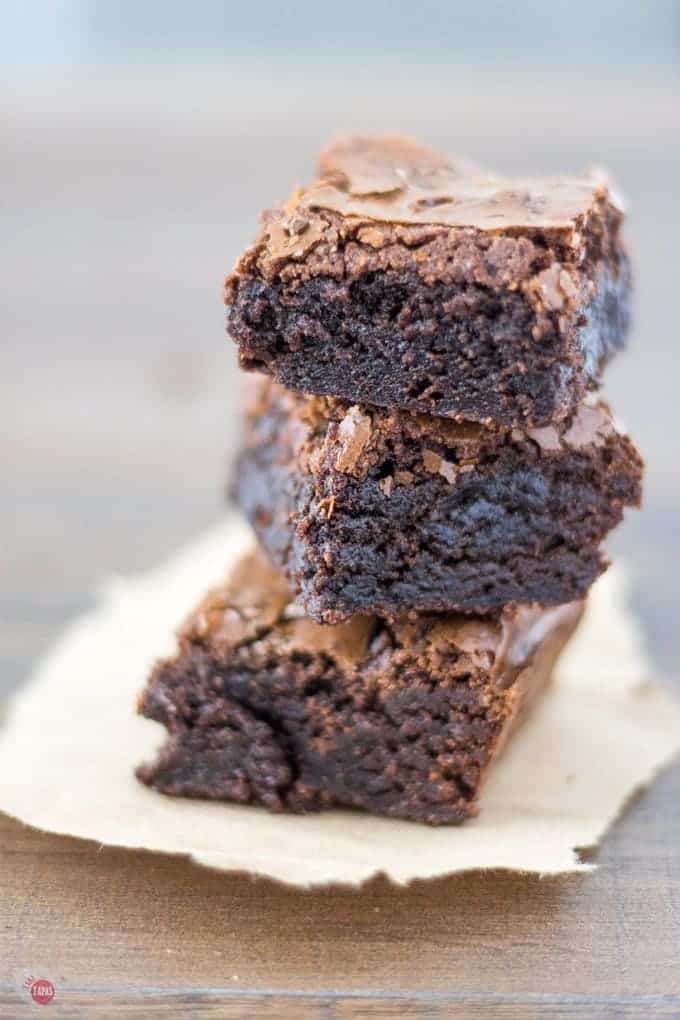 Check out these Bacon Salt Brownies and make a few batches for your upcoming Game Day celebration or tailgate party! What is your favorite sweet thing to put salt or bacon on?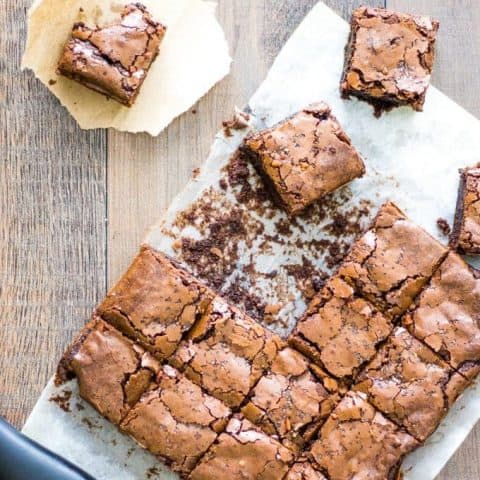 Bacon Salt Brownies For A Sweet Salty and Smoky Treat!
When you can't figure out what to eat when you are craving something sweet, salty, chocolate, AND has bacon in it, make a batch of my Bacon Salt Brownies.
Ingredients
For The Brownies:
4 ounces semisweet chocolate
3/4 cup butter (melted (replace 2 tablespoons of butter with 2 tablespoons bacon fat if wanted))
2 cups sugar
3 eggs
1 teaspoon vanilla
1 cup flour
1 teaspoon bacon salt
For the bacon salt
1/2 cup salt
3 pieces of cooked bacon
Instructions
Make the bacon salt by adding salt and cooked bacon to food processor.
Pulse until the bacon is in tiny crumbles.
Remove and store in the fridge for up to a month.
For the Bacon Salt Brownies preheat the oven to 350F.
Melt the butter (and bacon fat if using) and chocolate in a medium-sized bowl in the microwave.
Stir to combine.
Add the sugar, eggs, and vanilla.
Stir to combine.
Add the flour and just stir to combine. Do not overmix.
Pour half the batter into an 8x8 pan lined with parchment paper. (This will make a 9x13 pan but they will be thin)
Sprinkle a 1/2 teaspoon of bacon salt over the mix.
Add the remaining batter to the pan.
Sprinkle with 1/2 teaspoon bacon salt.
Bake at 350 for 30 minutes or until a toothpick comes out with only a few crumbs. I prefer mine a little bit underdone vs dry and hard.
Let cool completely.
Cut and eat!!!
Notes
*If you like this recipe, please leave me a comment and rate it with some stars. Thank you!
Nutrition Information:
Yield:

9
Serving Size:

1
Amount Per Serving:
Calories:

329
Total Fat:

7g
Saturated Fat:

3g
Trans Fat:

0g
Unsaturated Fat:

3g
Cholesterol:

66mg
Sodium:

6451mg
Carbohydrates:

63g
Fiber:

1g
Sugar:

51g
Protein:

6g
This nutrition information was generated via a third party, Nutritionix, and can not be held liable for any discrepancies in the information provided.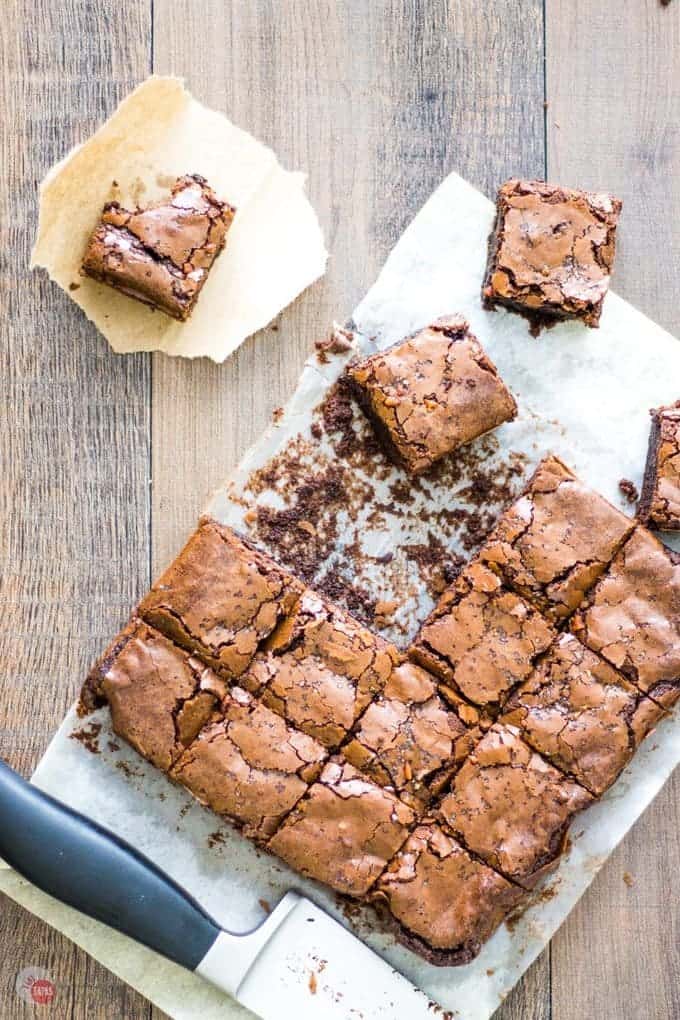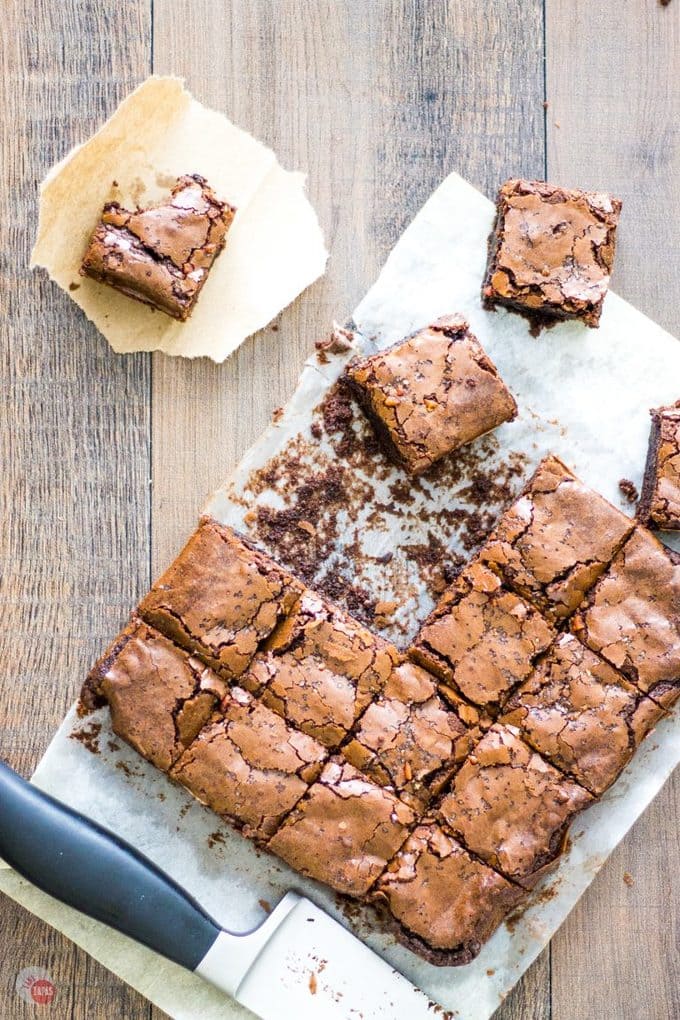 Notes: If you want to use a box brownie mix you can! I love the Dunkin' Hines Dark chocolate Fudge brownie mix. I use the mix, 1/3 cup water, 1 egg, and 1/3 cup oil substituting 2 tablespoons of the oil with melted bacon fat. 1/3 cup is the same as 5 1/3 tablespoons. Use 2 tablespoons of bacon fat and 3 1/3 tablespoons canola oil.
Dunkin Hines didn't pay me to talk about their brownie mix. I just love it as my go to when I need brownies quick or when I am out of an ingredient.