Spicy Nacho Popcorn is a gluten and dairy free snack that tastes like you are chowing down on Nacho Doritos but with a kick! And it doesn't turn your fingers orange!
Flavored popcorn recipes
Popcorn is such a fun way to snack and even more fun with different and unique seasoning on it! I recently made a Buffalo Ranch Popcorn recipe and I have to admit that I haven't stopped eating it.
So much that I have had to open up 4 fresh pairs of contact lenses because I keep getting the Buffalo Ranch Seasoning with the dried hot sauce in it.
Popcorn is such a great gluten-free snack on its own and best dressed with a variety of flavors and not just gallons of melted butter! And if you can make a variety of seasonings, like my Italian or Greek Seasonings, the popcorn party is just getting started!
My Homemade Ranch is dairy and gluten-free but guess what, my Spicy Nacho seasoning is too! And it can be considered vegan as well because it doesn't use cheese but a secret ingredient that vegans love to use!
This post may contain affiliate links. As an Amazon Associate, I earn from qualifying purchases. Read my disclosure policy here.

Is Spicy Nacho Doritos Popcorn gluten-free, Dairy-free, AND Vegan?
I am happy to say that because I air-pop my popcorn, it is! The other secret ingredient is nutritional yeast, or "nooch," as it might be called. Without the Nooch, making a Doritos flavoring would be hard without actual cheese. That defeats the purpose. What is nooch?
Nutritional Yeast Popcorn
Nutritional yeast is a non-candida-feeding yeast that has a cheesy and nutty flavor that is hard to obtain without using actual nuts and cheese. Vegans like to use it achieve a cheesy taste without dairy.
It's a popular product and substitution because it's vegan, dairy-free, gluten-free (double-check labels), has a ton of vitamins, low-fat, and has no added sugars or preservatives.
Don't laugh when I say that it looks a little like fish food flakes but it kinda does. When I went to buy some at my local Sprouts Market, I laughed as I was scooping it out of the bulk container.
But when I tasted it, and you know I did, it had a nutty, cheesy, salty, and deliciously savory flavor. Now I know why people use it on popcorn instead of butter!
I also love that I don't have to say nutritional yeast, I can say "nooch!" Not "Hooch" but Nooch! Makes you want to get some even more right?!?!
Let's get started making our everything compliant popcorn Spicy Nacho Popcorn!
For more insider tips & tricks, and a candid behind the scenes look follow me on social media! Check use out on Pinterest, Facebook, Instagram, & Twitter (yes, people still use Twitter, LOL!)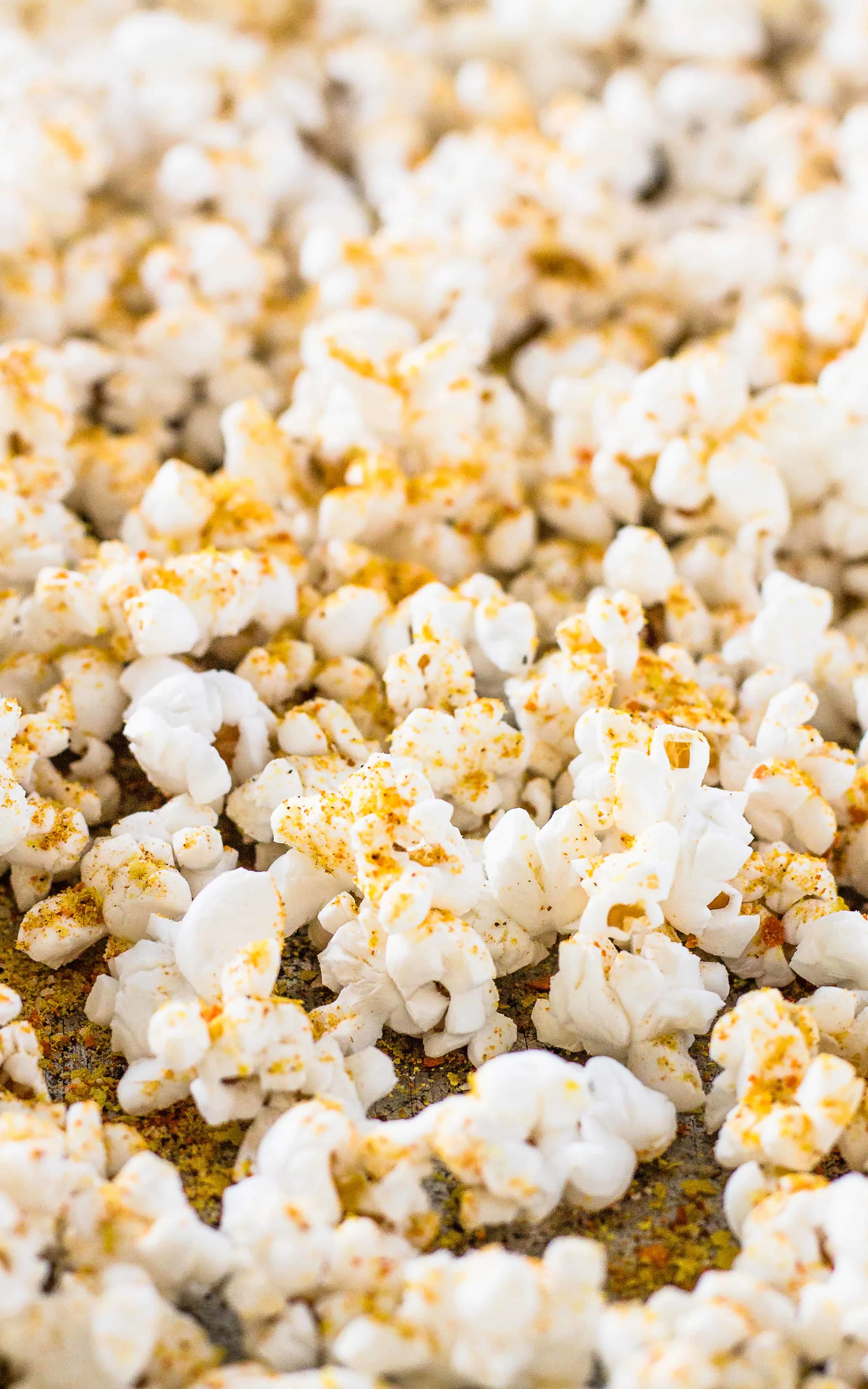 Doritos Seasoning Recipe
To get the "Dorito" flavor in a powder that you can sprinkle on a bunch of different snacks, hopefully without all the orange colored dust covering your fingers, you need to have these few basic ingredients:
Garlic Powder
Onion Powder
Paprika
Chili Powder
Salt
Other optional add-ins or substitutions can include:
Cumin
Nutritional Yeast
Parmesan Cheese
Dried Mustard
Tomato Powder (What in the world is this?!?!)
The orange/red color really comes from the paprika and the chili powder but the cheesy/nutty savory flavor comes from one of two things: Parmesan cheese or nutritional yeast.
Parmesan cheese is something I am totally into but when making a dry seasoning, you have to store the mix in the refrigerator. I don't want that, I want something that stays in my spice cabinet.
I prefer using nutritional yeast even though it is totally weird to me because it is dry and gives a little more oomph in the flavor in my opinion. You can choose to use the nutritional yeast or the Parmesan just sub out the other in equal amounts.
Doritos Seasoning Recipe
For my Doritos Seasoning Recipe, I use:
Nutritional yeast
Garlic powder
Onion powder
Cumin
Ancho or Mexican chili powder
Cayenne
Salt
Dried tabasco
As you can see I like the "nooch", a spicier chili powder, some cayenne, and that dried Tabasco I made for the Buffalo Ranch Popcorn. When I mean spicy nacho, I mean, SPICY NACHO!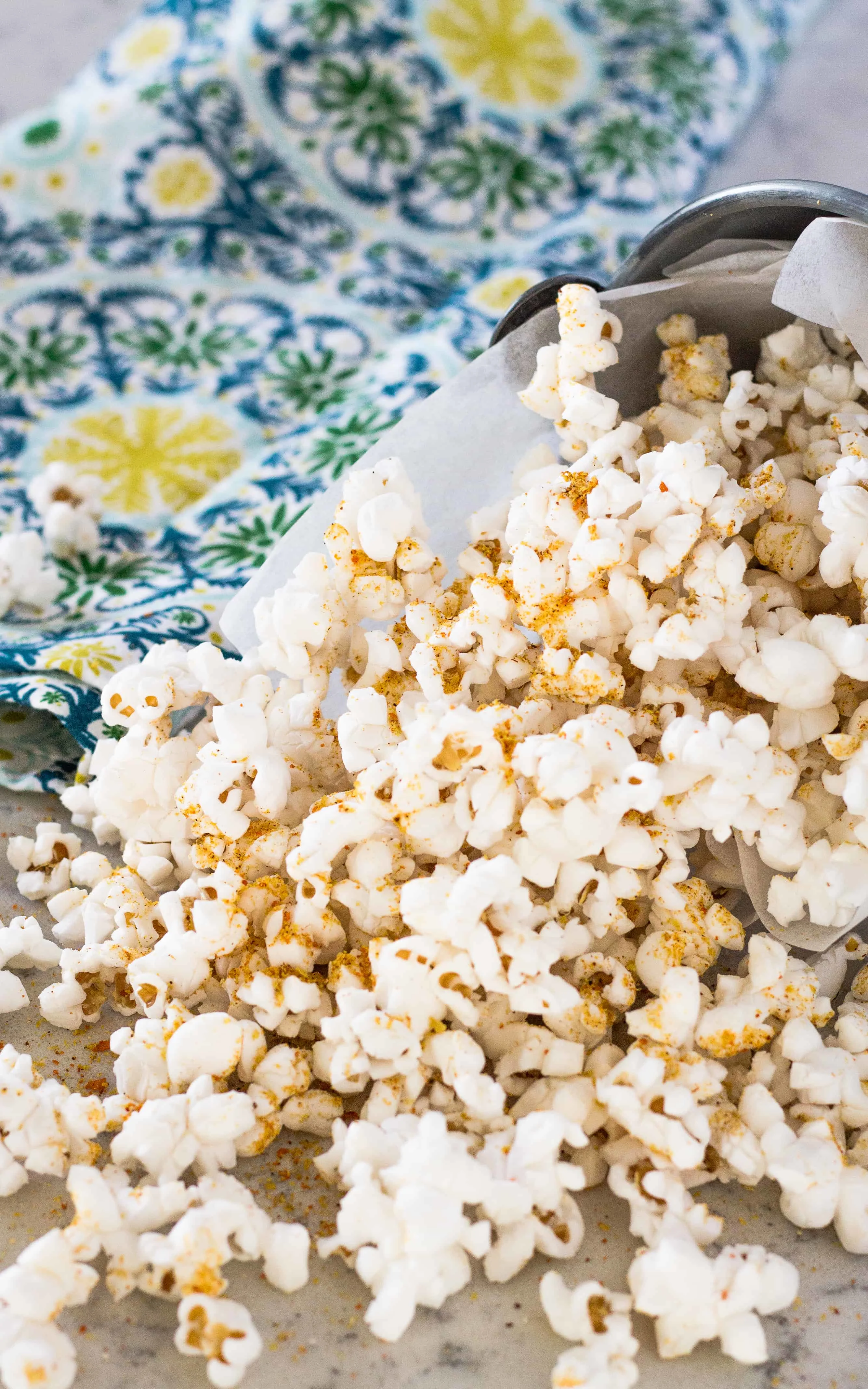 Sprinkle your popcorn liberally with your Spicy Nacho Popcorn Seasoning and get your snack on! Orange fingers not included.
MORE PARTY FOODS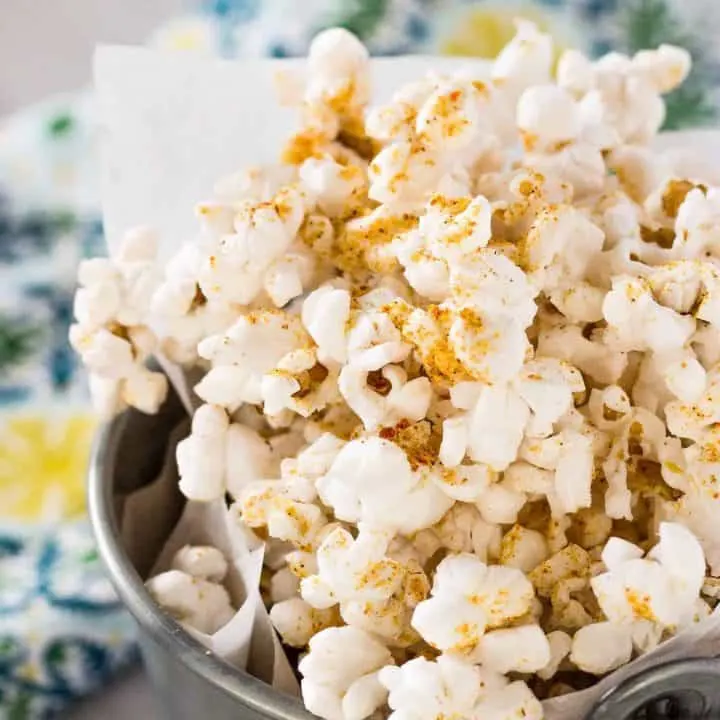 Spicy Nacho Popcorn - Spicy Nacho Doritos Flavored Popcorn
Spicy Nacho Popcorn is a gluten and dairy free snack that tastes like you are chowing down on Nacho Doritos but with a kick! And it doesn't turn your fingers orange!
Ingredients
Spicy Nacho "Dorito" Seasoning
2 tablespoons nutritional yeast
1/2 tsp garlic powder
1/2 tsp onion powder
1/2 teaspoon cumin
1/2 teaspoon chili powder
pinch cayenne
1.5 teaspoon dried tabasco
1 teaspoon salt
Instructions
If you haven't already, pop your popcorn. I prefer an air popper but you can also use the oil pop or brown bag microwave method just don't use bagged microwave popcorn.
While your popcorn is popping or before you get started with that, make your spicy nacho seasoning.
Combine all the ingredients for the spicy nacho seasoning and store in an airtight container until ready to use.
When ready to make the Spicy Nacho Popcorn
Spread your popcorn on a baking sheet.
Spray the popcorn with a non-stick spray. I use a coconut oil spray.
Sprinkle the Spicy Nacho Seasoning over the popcorn.
Let dry for a few minutes.
Enjoy now or store in an airtight container for up to 3 days.
Notes
*If you like this recipe, please leave me a comment and rate it with some stars. Thank you!
Nutrition Information:
Yield:

5
Serving Size:

1
Amount Per Serving:
Calories:

3
Total Fat:

0g
Saturated Fat:

0g
Trans Fat:

0g
Unsaturated Fat:

0g
Cholesterol:

0mg
Sodium:

431mg
Carbohydrates:

1g
Fiber:

0g
Sugar:

0g
Protein:

0g
This nutrition information was generated via a third party, Nutritionix, and can not be held liable for any discrepancies in the information provided.
This recipe inspired by this one.
TakeTwoTapas.com. Content and photographs are copyright protected. Sharing of this recipe is both encouraged and appreciated. Copying and/or pasting full recipes to any social media is strictly prohibited.