When you're craving chicken wings but you are trying to eat a little healthier and really just need a snack, check out my Buffalo Ranch Popcorn and satisfy all your cravings at once!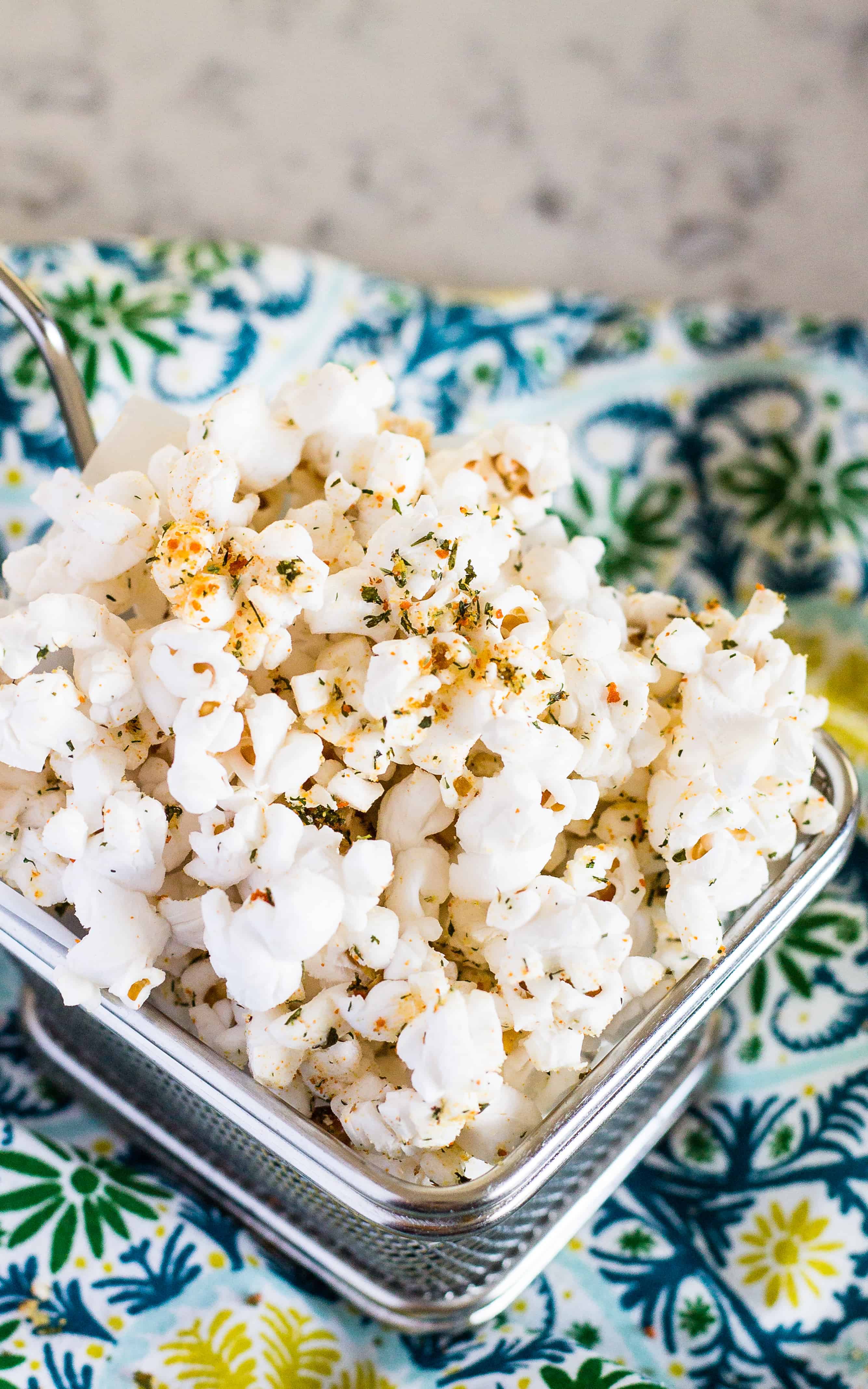 What are some good Popcorn Seasoning recipes?
Popcorn is a great snack. Did you know that it is a whole grain? It's actually the ONLY snack that is 100% whole grain so eat up!! But, let's face it, plain popcorn is boring! Especially if you air pop it. No oil, not flavoring, just unadulterated popped corn kernels. I prefer air-popping because I have an appliance for that and it doesn't require me to wash any dishes. Much healthier too!
The best way to season popcorn and still keep the health factor on point is a dry seasoning mix. Don't get me wrong, I love sweet popcorn like my Caramel Corn, Hawaiian Tropical Popcorn, and German Chocolate Popcorn, but sometimes you need a savory and salty snack.
So let's whip up a spicy popcorn seasoning that also won't get your fingers all messy and leave grease stains on your shirt when you drop popcorn on it while shoveling it in your mouth.
I have quite a few seasoning mixes already like my Greek and Italian Spice Blends which will be great sprinkled on popcorn but none that are super spicy and that can satisfy specific food cravings. Time to make a new one!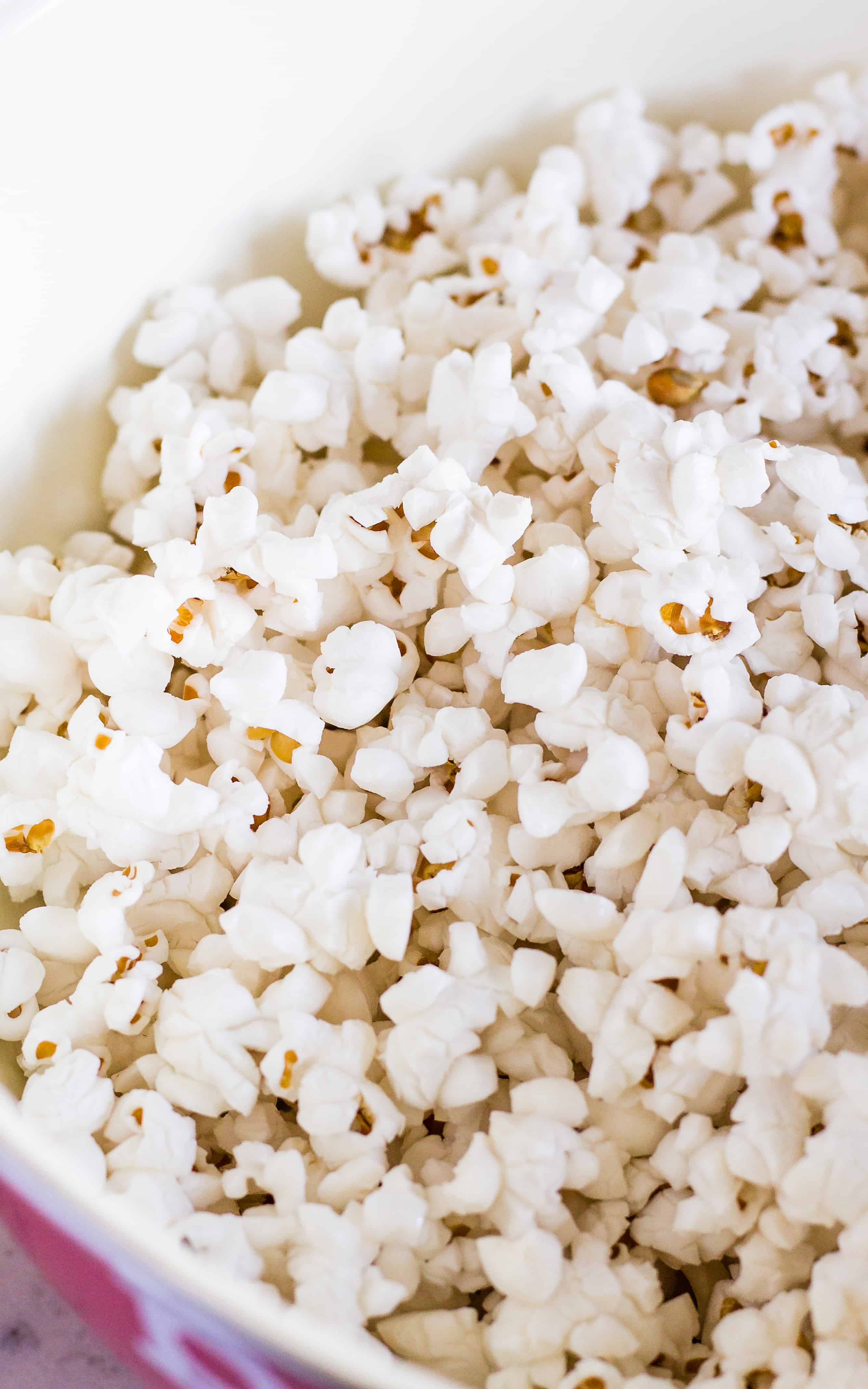 If you'd rather skip my essential cooking tips and tricks and get straight to this delicious recipe – simply scroll to the bottom of the page where you can find the printable recipe card.
A specific food craving that I get, especially when I'm in the mood to snack, is buffalo wings. When I was pregnant with my first son I insisted on eating Hooters buffalo chicken wings dipped in ranch dressing 4 nights a week. My husband didn't complain that's for sure!
So when I was thinking of crave-worthy popcorn flavors I immediately thought of buffalo chicken wings. So, how do I make a buffalo ranch seasoning for my popcorn that doesn't make the popcorn soggy?
Three Words:
Dried Hot Sauce
When I was coming up with the recipe for this Buffalo Ranch Popcorn I knew two things:
I didn't want something you had to drizzle on your popcorn
I wanted it to be dairy-free
The second stipulation was easy to do because I knew I was using my Homemade Ranch Seasoning, which doesn't contain any dairy like powdered milk or buttermilk. Just the spices that I love in Ranch dressing without all the bottled dressing nonsense.
The no drizzle part was a little harder to do. I never get butter on my popcorn when I go to the movies because it just seems like this weird yellow liquid poured on my popcorn, that is already yellow from the oil it's cooked in, just makes the popcorn soggy and my fingers extra greasy.
But how do I get that tangy hot sauce flavor on the popcorn without putting ACTUAL hot sauce on it? I took to the interweb and found the solution. Dried hot sauce! You can buy a bag of powder for mega $$$ or you can make it yourself.
This post may contain affiliate links. As an Amazon Associate, I earn from qualifying purchases. Read my disclosure policy here.

Instead of mixing the hot sauce with the salt and then baking it, because hot sauce already has salt in it, I just took the liquid hot sauce and dried it the same way she did. In the oven, low and slow. Now let me say this, it took 4 hours to do this which is double the time for the salt recipe, but it is totally worth it!!! Here is how I do it:
With the oven on 170F, I place a sheet of non-stick parchment paper on a baking sheet. Next, I pour 1/2 cup of hot sauce (I prefer Tabasco) and spread it out as thin as I can with a spatula or spoon.
Then I place the baking sheet in the oven for 4 hours, rotating and scraping every 30 minutes. Once the hot sauce is all dry (the color will get much lighter than the still wet part) remove the pan and cool for a little. Then scrape the hot sauce gently with a spatula or butter knife until it all comes off the paper.
I like the parchment paper but next time I will try my silicone baking sheet to see if that is easier.
The house will smell like buffalo wings and everyone's sinuses will be clear, but hold fast because when you get the 1/4 cup of high strength, dried hot sauce powder at the end of this, you will be so happy!
After you have some hot sauce powder, you just add this to your Ranch Seasoning and you have Buffalo Ranch. No liquid, no dairy, and some left over for the next time!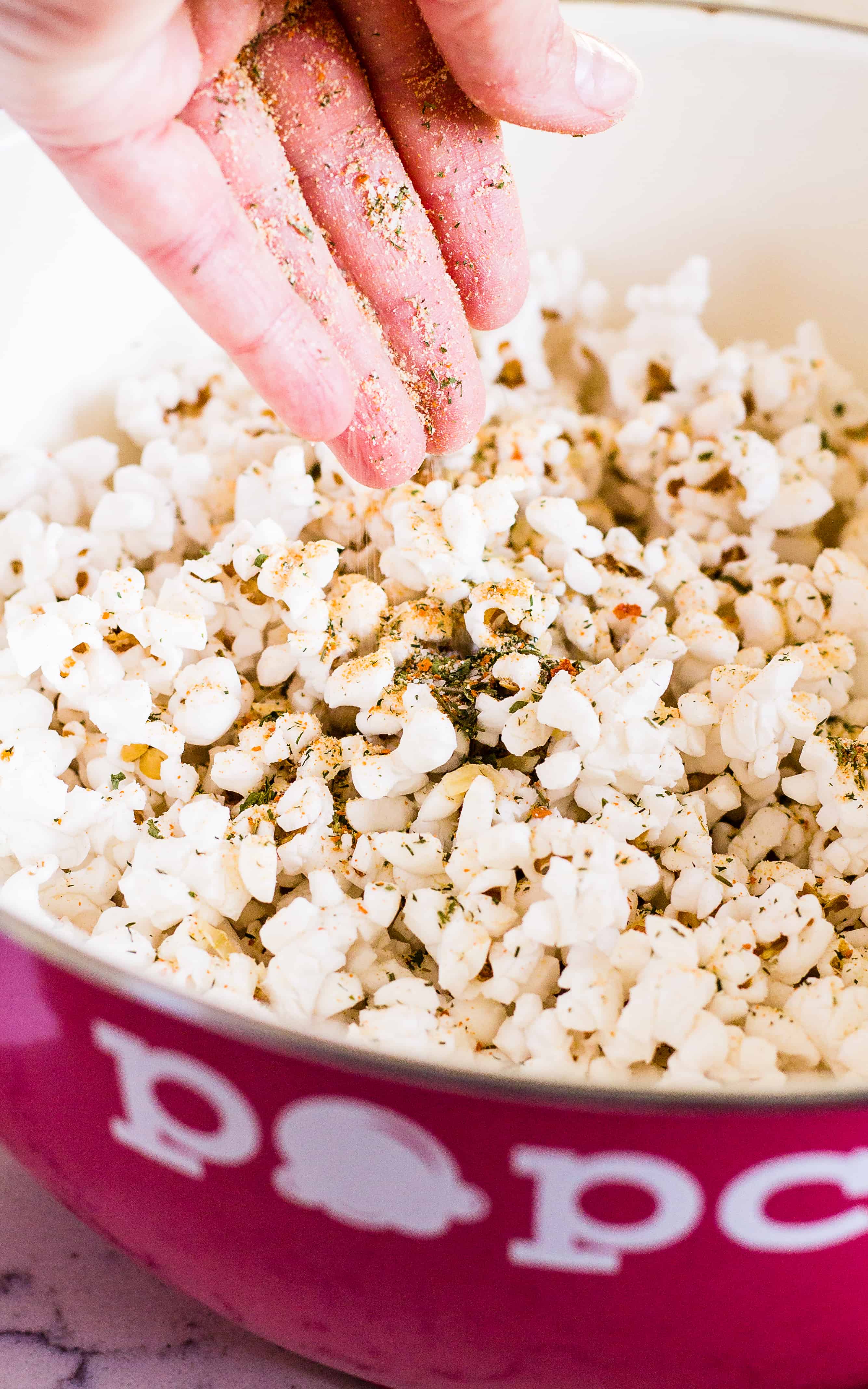 How to Make the Buffalo Ranch Seasoning
The Buffalo Ranch Seasoning has two components. Buffalo and Ranch. The Ranch part is easy because I already have a Ranch Seasoning Recipe all prepared and ready to go. And it's dairy-free!
You can grab the recipe for Homemade Ranch seasoning in the recipe card or you can grab my ebook of 10 dip mix recipes here. These dip mixes can be used for dips, marinades, popcorn seasonings, or just sprinkling on a piece of plain chicken to jazz it up a bit!
A few tablespoons of Homemade Ranch Seasoning, which is great on chicken by the way, and a teaspoon of dried hot sauce and you have all the flavors of those delicious, tangy Buffalo Ranch chicken wings without the mess.
A dry seasoning that hits all the flavor notes, easy to mix together, stores for a long time in an airtight container, and can be used on so much more than just popcorn.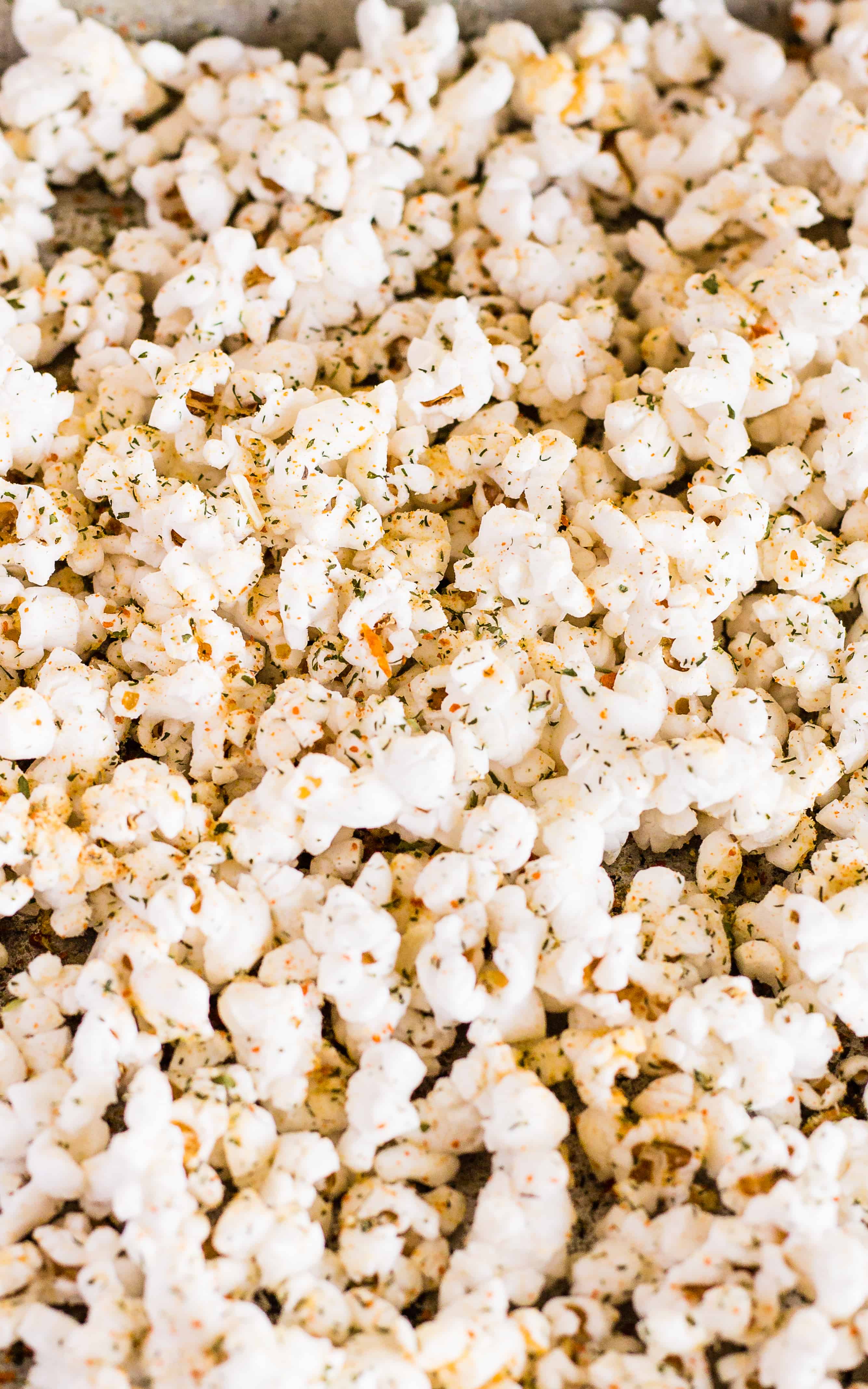 For more insider tips & tricks, and a candid behind the scenes look follow me on social media! Check use out on Pinterest, Facebook, Instagram, & Twitter (yes, people still use Twitter, LOL!)
After seeing how easy it is to make this Buffalo Ranch Popcorn, don't you just want to crash on the couch and chill while binge-watching an entire season of your favorite show? And you can use the leftover Buffalo Ranch Popcorn seasoning on your chicken, garlic bread, or even your scrambled eggs in the morning!
Drop the chicken wings and opt for my Buffalo Ranch Popcorn as a tasty snack instead! All the flavors you love with none of the mess!
MORE EASY PARTY SNACKS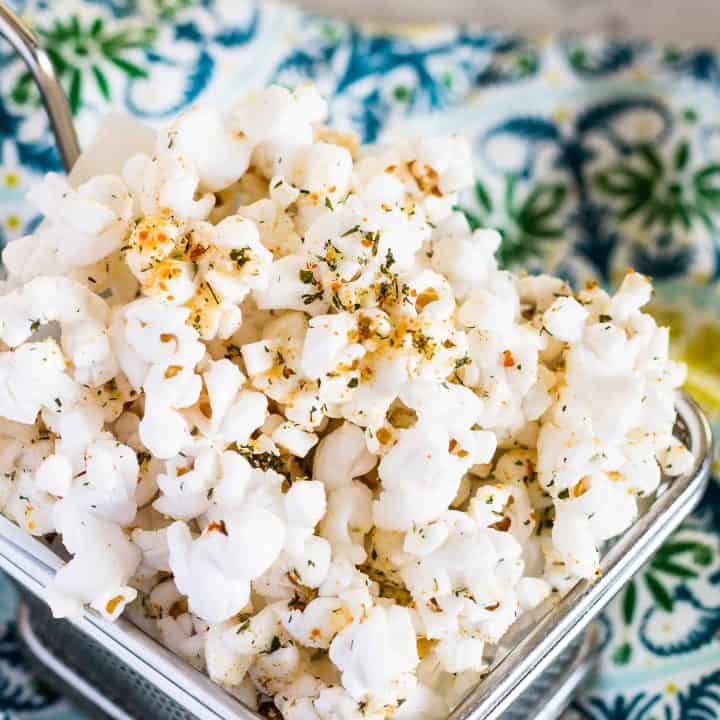 Buffalo Ranch Popcorn
When you're craving chicken wings but you are trying to eat a little healthier and really just need a snack, check out my Buffalo Ranch Popcorn!
Ingredients
Ranch Seasoning:
1 tablespoon minced onion (dried)
1 teaspoon dill
2 teaspoons onion powder
2 teaspoons garlic powder
1 teaspoon garlic salt
1 teaspoon onion salt
1/2 teaspoon dried mustard
1 teaspoon chives
1 teaspoon parsley
1/2 teaspoon thyme
1/4 teaspoon seasoned salt
1.5 teaspoons dehydrated Tabasco (see notes and post)
Instructions
If you haven't already, pop your popcorn. I prefer an air popper but you can also use the oil pop or brown bag microwave method just don't use bagged microwave popcorn.
While your popcorn is popping or before you get started with that, make your ranch seasoning.
Combine all the ingredients for the ranch seasoning and store in an airtight container until ready to use.
When ready to make the Buffalo Ranch Popcorn
Spread your popcorn on a baking sheet.
Combine 2 tablespoons of the Homemade Ranch Seasoning and 1.5 teaspoons of dehydrated hot sauce to make Buffalo Ranch Seasoning.
Spray the popcorn with a non-stick spray. I use a coconut oil spray.
Sprinkle the Buffalo Ranch seasoning over the popcorn.
Let dry for a few minutes.
Enjoy now or store in an airtight container for up to 3 days.
Notes
*If you like this recipe, please leave me a comment and rate it with some stars. Thank you!
*See post for how to dehydrate your hot sauce. This takes 3-4 hours so you might want to do this a day or two before.
Nutrition Information:
Yield:

5
Serving Size:

1
Amount Per Serving:
Calories:

15
Total Fat:

0g
Saturated Fat:

0g
Trans Fat:

0g
Unsaturated Fat:

0g
Cholesterol:

0mg
Sodium:

795mg
Carbohydrates:

3g
Fiber:

0g
Sugar:

0g
Protein:

1g
This nutrition information was generated via a third party, Nutritionix, and can not be held liable for any discrepancies in the information provided.
TakeTwoTapas.com. Content and photographs are copyright protected. Sharing of this recipe is both encouraged and appreciated. Copying and/or pasting full recipes to any social media is strictly prohibited.