All the yummy ham, pineapple, and pizza spices on a Hawaiian pizza are found on Hawaiian Pizza Sliders. Don't forget all that stretchy cheese!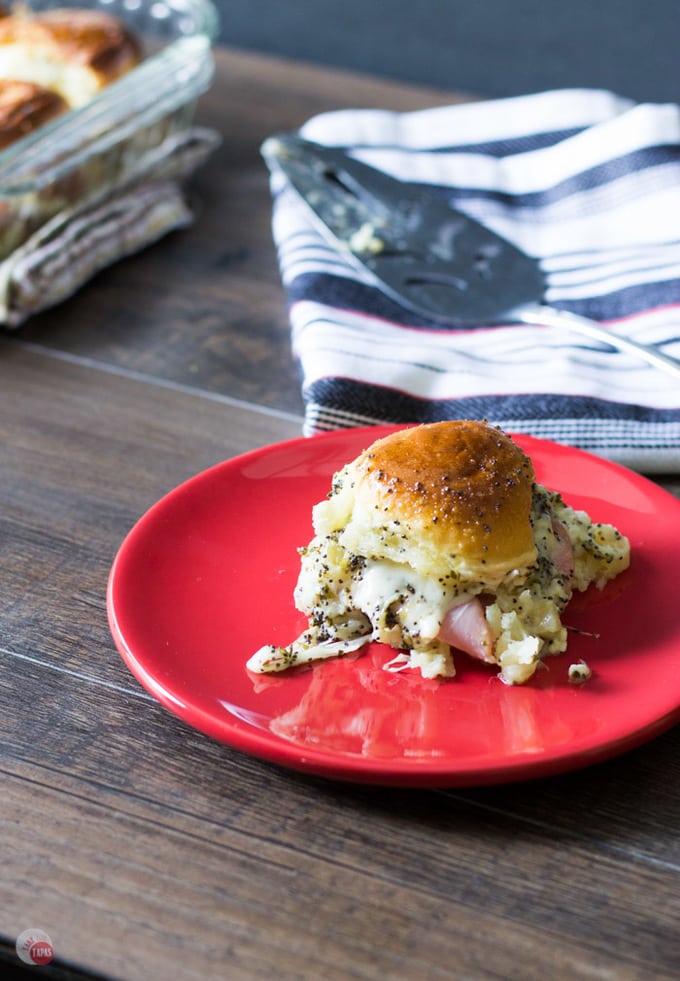 If you'd rather skip my essential cooking tips and tricks and get straight to this delicious recipe – simply scroll to the bottom of the page where you can find the printable recipe card.
Why do they call it Hawaiian Pizza?
Hawaiian Pizza is one of the best, unconventional pizza combination around. Right up there with Margherita and Buffalo Chicken, Hawaiian Pizza takes all the great aspects of pizza, the crust and cheese, and ups the flavor level with pineapple and ham!
The sweet pineapple contrasts so well with the salty ham and the melty cheese that you can't simply resist it! Turns out that the inventor of the
Hawaiian Pizza wanted to use pineapple together with ham and named it after the brand of canned pineapple he used on the pizza. Sounds perfect for sliders doesn't it?
How do you eat your pizza?
Are you a thin crust person or a deep dish person? Crust first? Do you use a knife and fork, like on Seinfeld, or do you fold it in half and use your hands? Can you eat it cold or does it have to be warm? I have a friend that takes his leftover pizza serious.
After reheating it, he will pull out a griddle and re-toast the crust back to original delivery crispiness! I, myself am a thin crust, veggie topping, extra cheese kind of girl who eats from the center (or the point of the slice) and saves the crispy crust for last.
This post may contain affiliate links. As an Amazon Associate, I earn from qualifying purchases. Read my disclosure policy here.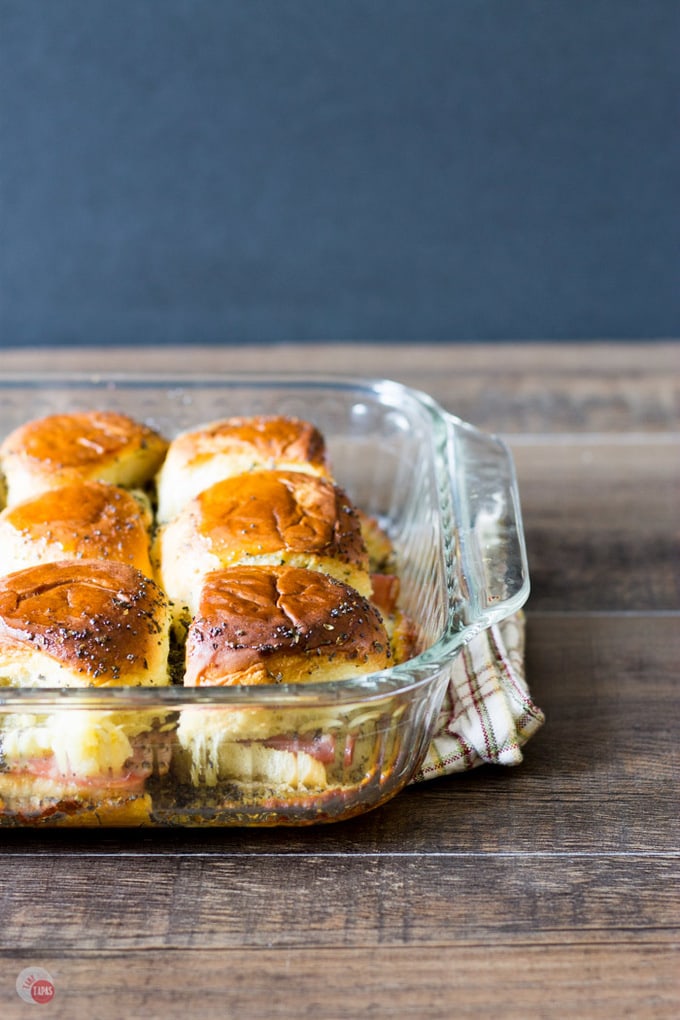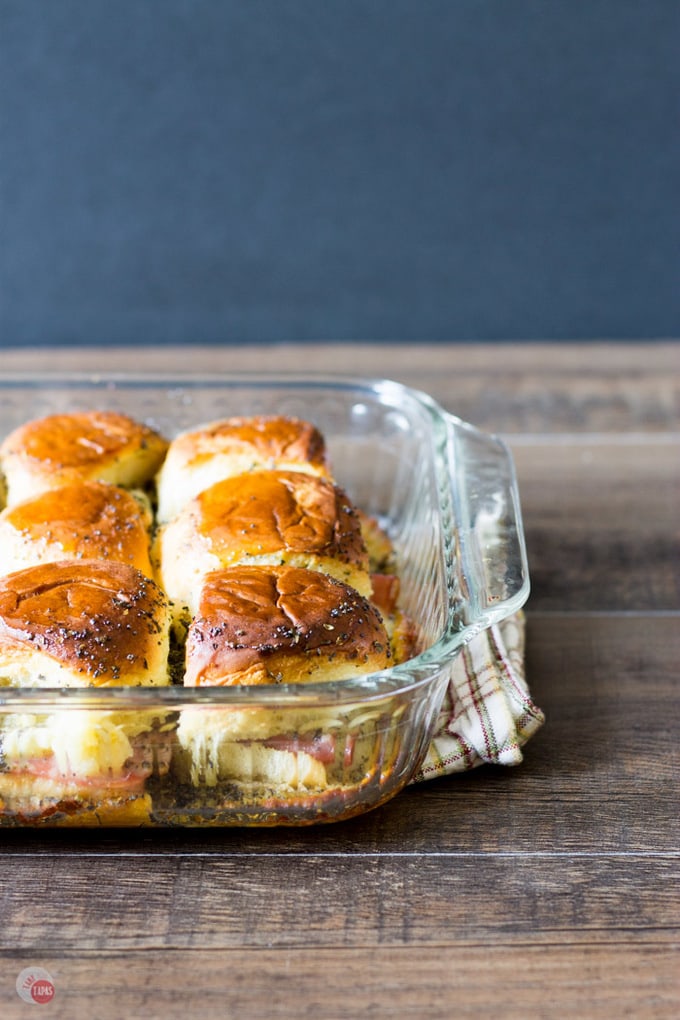 Hawaiian Pizza Sliders
What are your favorite pizza toppings and ingredients? I started out my life as a pepperoni lover but have veered off that course, and now drive on the veggie and uncommon topping road.
Margherita, Caprese, Steak and Blue Cheese, Hawaiian – even though I am not a huge fan of ham- and the Spinach Artichoke.
Not that there is anything wrong with the classics. I still eat a slice of hand-tossed pepperoni out of my kid's pizza box when they are not looking or I make my Pepperoni Pizza Dip!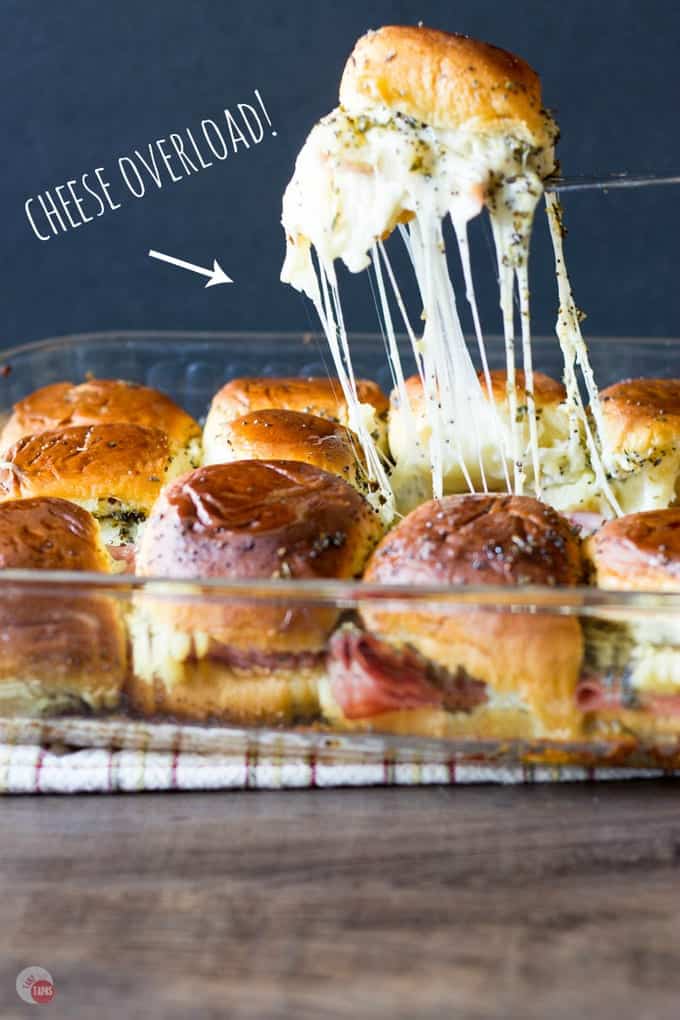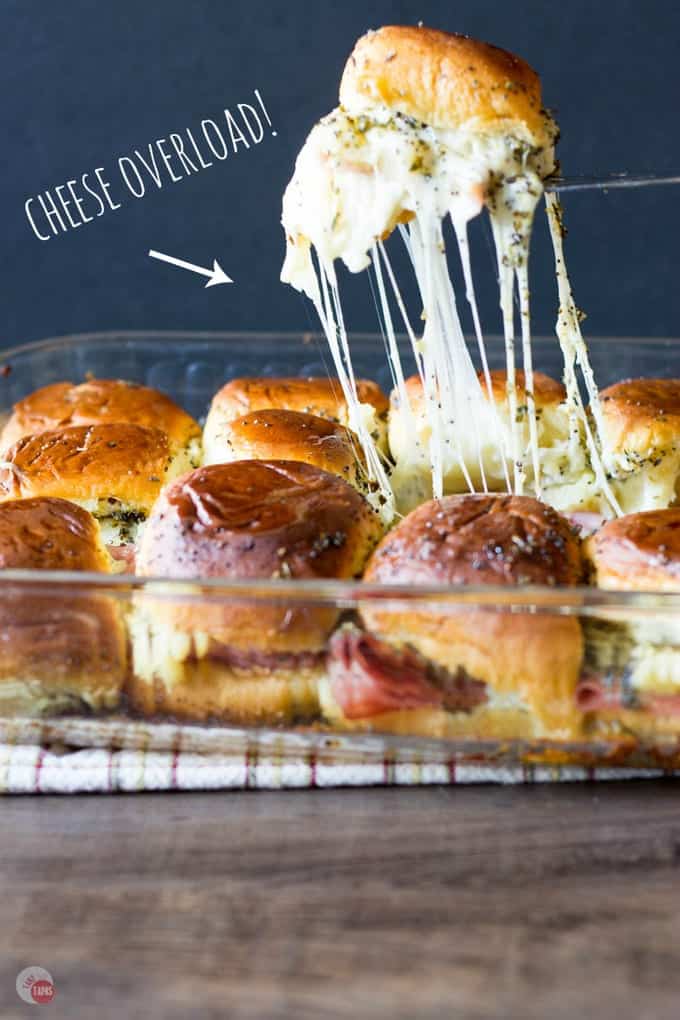 What are your favorite Hawaiian Roll sliders?
Cheese! It is the topping that binds all the other toppings together. The sauce is the part of the pizza that brings all the other flavors together whether it be a tomato-based sauce or a cream-based sauce or an olive oil-based one.
But the cheese is what holds all the toppings on the crust and serves as a warming blanket for the sauce. Just like the cheese in my Celebration sliders with Roast Beef. Perfectly cheesy!
These Hawaiian Pizza Sliders have plenty of cheese. I use Monterey Jack because it has a mild flavor that goes well with the ham and pineapple. It allows the bright fruit flavor of the pineapple to shine and compliment the salty ham.
The addition of the onion powder and the oregano brings you back to the pizza side of things but makes you still appreciate the ham and pineapple.

For more insider tips & tricks, and a candid behind the scenes look follow me on social media! Check use out on Pinterest, Facebook, Instagram, & Twitter (yes, people still use Twitter, LOL!)
Pizza Sliders are the perfect party food!
These Hawaiian Pizza Sliders are perfect for any party! Easy to put together, you can make them the night before and let them sit in the fridge, and then bake!
Leave them in the dish and take to the party. You can serve room temperature or heat them there and the cheese will be all melty again and help you to get that pizza flavor in a sandwich! If there are any leftovers, they are great in the lunch box!
Grab your ham and pineapple and whip up a batch these. Hawaiian Pizza Sliders are perfect for any occasion!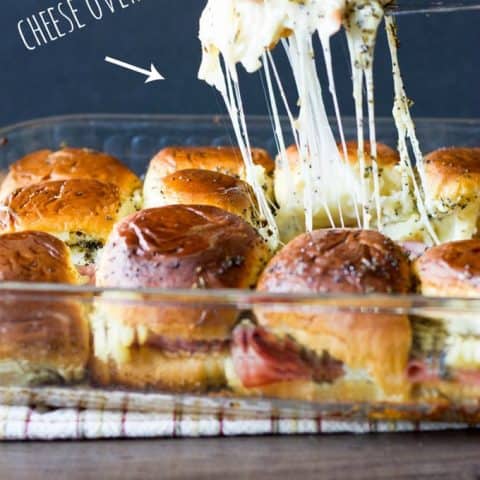 Hawaiian Pizza Sliders
All the salty ham, sweet pineapple, and pizza spices on a Hawaiian pizza are found in these Hawaiian Pizza Sliders. Don't forget all that stretchy cheese!
Ingredients
I used King's Hawaiian because it just seemed natural
9 ounces or 15 slices ham (sliced thin)
2 cups Monterey Jack Cheese (sliced or shredded)
20 ounces crushed pineapple in juice (juice reserved)
For the marinade
1/4 cup sour cream
1 cup butter (melted)
1/4 cup pineapple juice (reserved from the can above)
3 teaspoons oregano
1 teaspoon onion powder
1 tablespoon poppy seeds
Instructions
Prepare the marinade
Combine the butter, pineapple juice, onion powder, oregano, and poppy seeds.
Stir to mix completely.
Set aside.
Assemble the Hawaiian Pizza Sliders
Slice you slider rolls and place the bottoms in a 9x13 pan.
Slather the slider bottoms with sour cream.
Layer the ham on the sliders.
Add the pineapple.
Add the cheese.
Place the tops on the sliders.
Pour the marinade evenly over the sliders.
Cover and let sit at least 4 hours or overnight in the refrigerator.
Cook the sliders
When getting ready to prepare, set out the sliders so they can come to room temperature for at least 10 minutes and preheat the oven to 350F. This helps the cheese melt evenly.
Cook uncovered for 30 minutes or until cheese is melty and the bun tops are crispy.
Remove and serve warm!
Notes
*If you like this recipe, please leave me a comment and rate it with some stars. Thank you!
Nutrition Information:
Yield:

8
Serving Size:

1
Amount Per Serving:
Calories:

579
Total Fat:

41g
Saturated Fat:

22g
Trans Fat:

1g
Unsaturated Fat:

14g
Cholesterol:

174mg
Sodium:

1629mg
Carbohydrates:

19g
Fiber:

1g
Sugar:

16g
Protein:

37g
This nutrition information was generated via a third party, Nutritionix, and can not be held liable for any discrepancies in the information provided.
If you like reading my posts and seeing my recipes, follow me on your favorite social media channel for behind the scenes photos and much, much more: Pinterest, Facebook, Instagram, and Twitter!