Celebrate all the wonders of autumn and make your own DIY Caramel Apple Bar: it's an easy and fun dessert for Halloween, Thanksgiving, and any day in between!
Caramel apples always remind me of fall and an apple bar is the perfect fall dessert, but really, you can enjoy this spread all year long.
This DIY caramel apple bar is easy to put together and is so much easier to make than the traditional caramel apples and easier to share.
Plus, they are easy to eat, completely customizable to your guests taste buds, and don't leave you with candy toppings all over your face.
Spread out the sliced apples on a platter, add various toppings and dips to decorative containers, and enjoy!
When to have a Caramel Apple Bar
Caramel apples are a staple of fall! Delicious, nostalgic, and so much fun; this simple dessert bar is the perfect way to spice up any autumn occasion; whether it be a bonfire, family gathering, or a cozy night in.
Showcasing a DIY caramel apple bar is a creative, versatile, completely customizable way to let your guests (and you!) play with their food; in an acceptable way of course!
This delicious dessert station is one that everyone will love, kids and adults alike! Serve this along with Apple Nachos and Caramel Apple Empanadas!
This post may contain affiliate links. As an Amazon Associate, I earn from qualifying purchases. Read my disclosure policy here.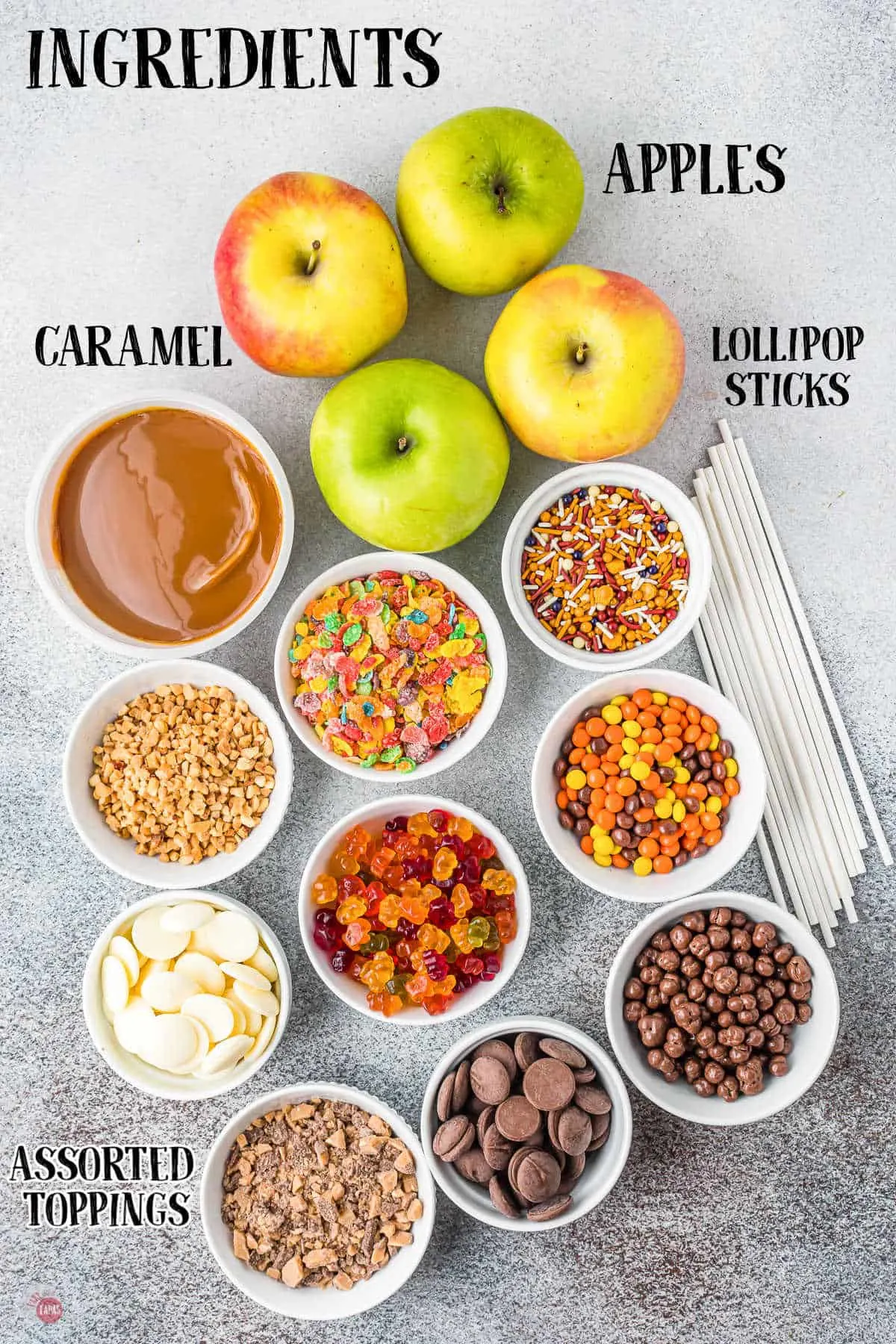 Ingredients Needed
Apples – I like to use apples varieties that are more on the tart side to balance out the sweetness of the caramel and toppings. My favorites are Granny Smith, McIntosh, and Honeycrisp but feel free to use your favorites.
Chocolate Melts – Use a combination of white, milk, and dark chocolate.
Caramel Dip – You can find this dip in the produce section by the apples any time of the year. Marzetti is my favorite brand.
Toppings – Grab any of your favorite candies and toppings like chopped nuts, mini chips, cereal, and cookies.
Lemon – Lime Soda – You can substitute lemon juice and water to keep the apples from browning while serving.
Lollipop Sticks – You can also use old fashioned popsicle sticks.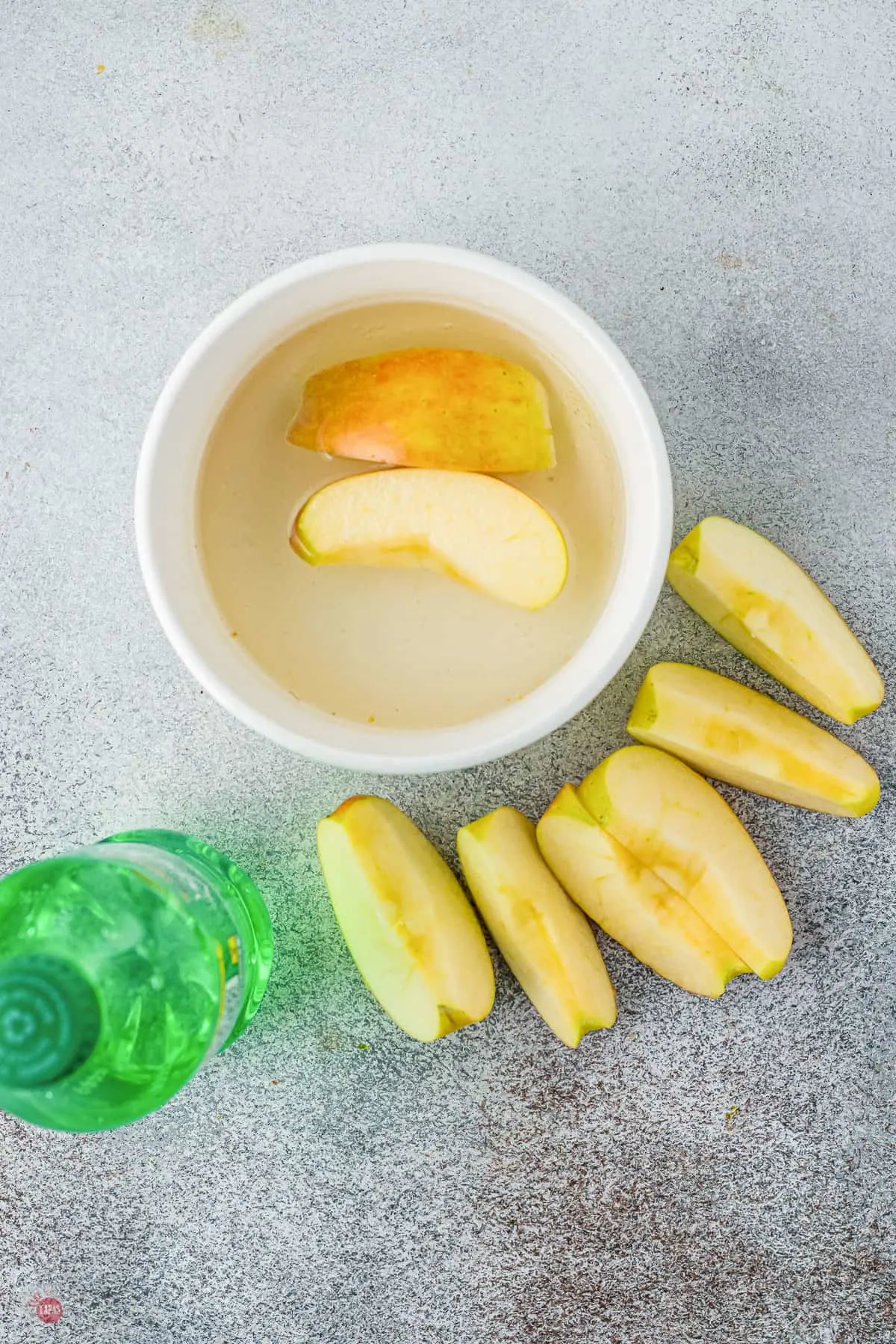 How to Set up a Caramel Apple Bar
First: Cut each apple into 8 wedges and put in a bowl of lemon-lime soda to keep them from turning brown.
Second: Poke a lollipop stick into each apple wedge being careful not to break the apple.
Third: Add each of the assorted toppings to individual bowls. Melt the chocolate in the microwave for 10-15 seconds, stirring occasionally, until completely melted.
Fourth: Place the apple wedges on a large tray and add the individual bowls of caramel, chocolates, and assorted toppings. Enjoy making your favorite combinations!
For the full recipe and detailed instructions, please refer to the recipe card at the bottom of the post.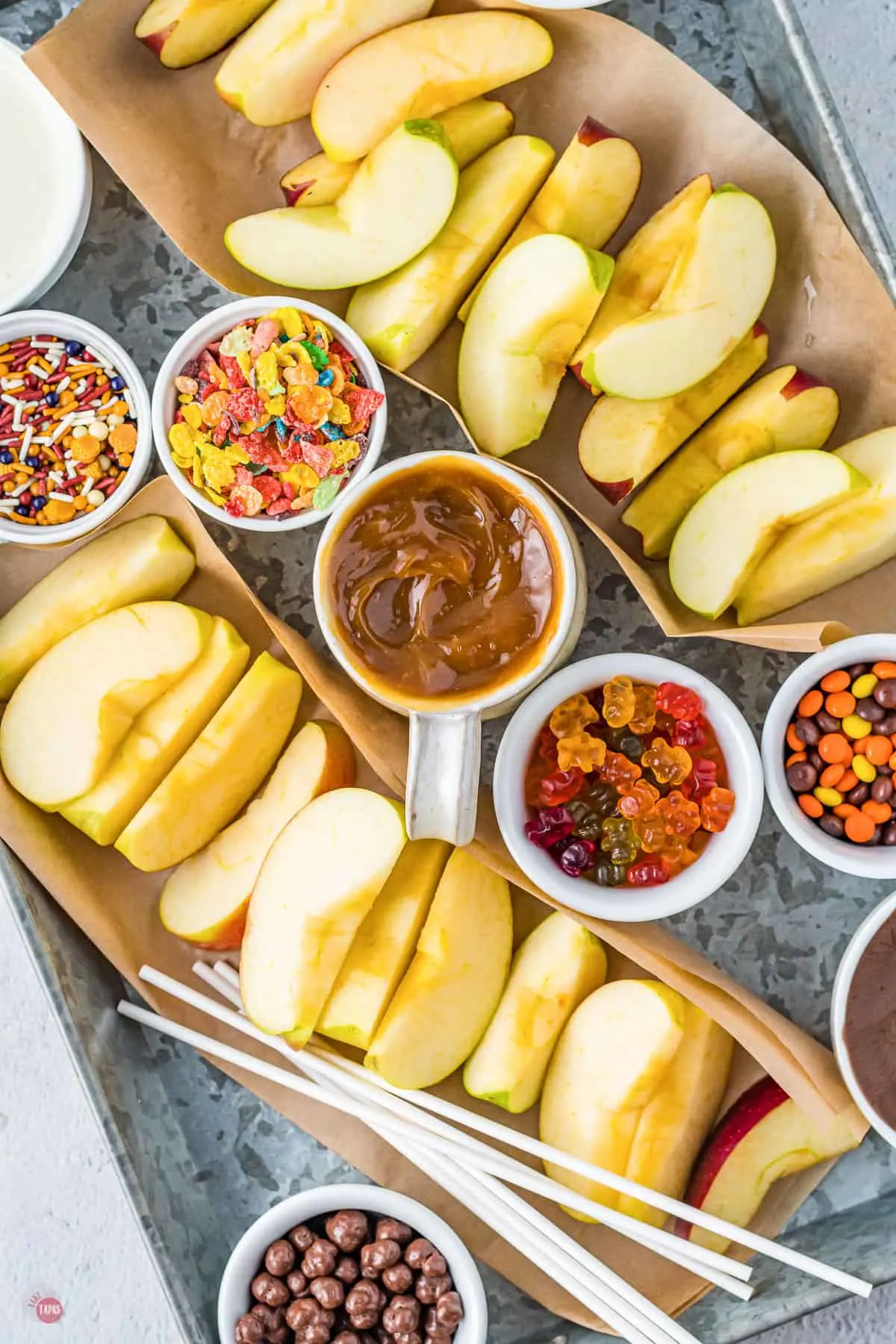 Why is the caramel not sticking to the apple?
There are a couple of reasons the caramel may not be sticking to the apple.
First, your apple needs to be VERY dry prior to dipping. Be sure to blot off an extra moisture with a paper towel prior to dipping in the sauce.
Second, be sure the caramel is not too hot. If it's too hot, it will immediately drip off.
Caramel sauce should be hot enough that it's fluid enough to evenly coat the apple when dipped but not so hot that it's a viscous liquid.
Third, the outside of apples have a natural wax coating. And actually, most apples bought at the grocer will be sprayed with an extra wax to make them look more appealing.
This wax coating needs to be neutralized and can be done by washing your apples prior to slicing.
For more insider tips & tricks, and a candid behind the scenes look follow me on social media! Check use out on Pinterest, Facebook, Instagram, & Twitter (yes, people still use Twitter, LOL!)
How unhealthy is a caramel apple?
The occasional caramel apple won't harm your health. The caramel sauce does add some sugar and a few extra calories, but everything in moderation:)
The best thing about this is that you are eating just one or two apple wedges and not an entire caramel apple!
What apple is best for caramel?
The best apples to use to make caramel apples are the same apples you'd use when making apple pie: firm with a sweet-tart profile.
Generally, Granny Smiths, Honeycrisps, Pink Lady's, Pippins or Jonagold fit this flavor profile and will be the best apples for dipping!
Favorite Caramel Apple Toppings
peanuts
walnuts
almonds
sunflower seeds
pistachios
sprinkles
crushed up candy bars
toffee bits
marshmallow
caramel sauce
Reese's pieces
butterscotch chips
pretzels
coconut
granola
honey
Nutella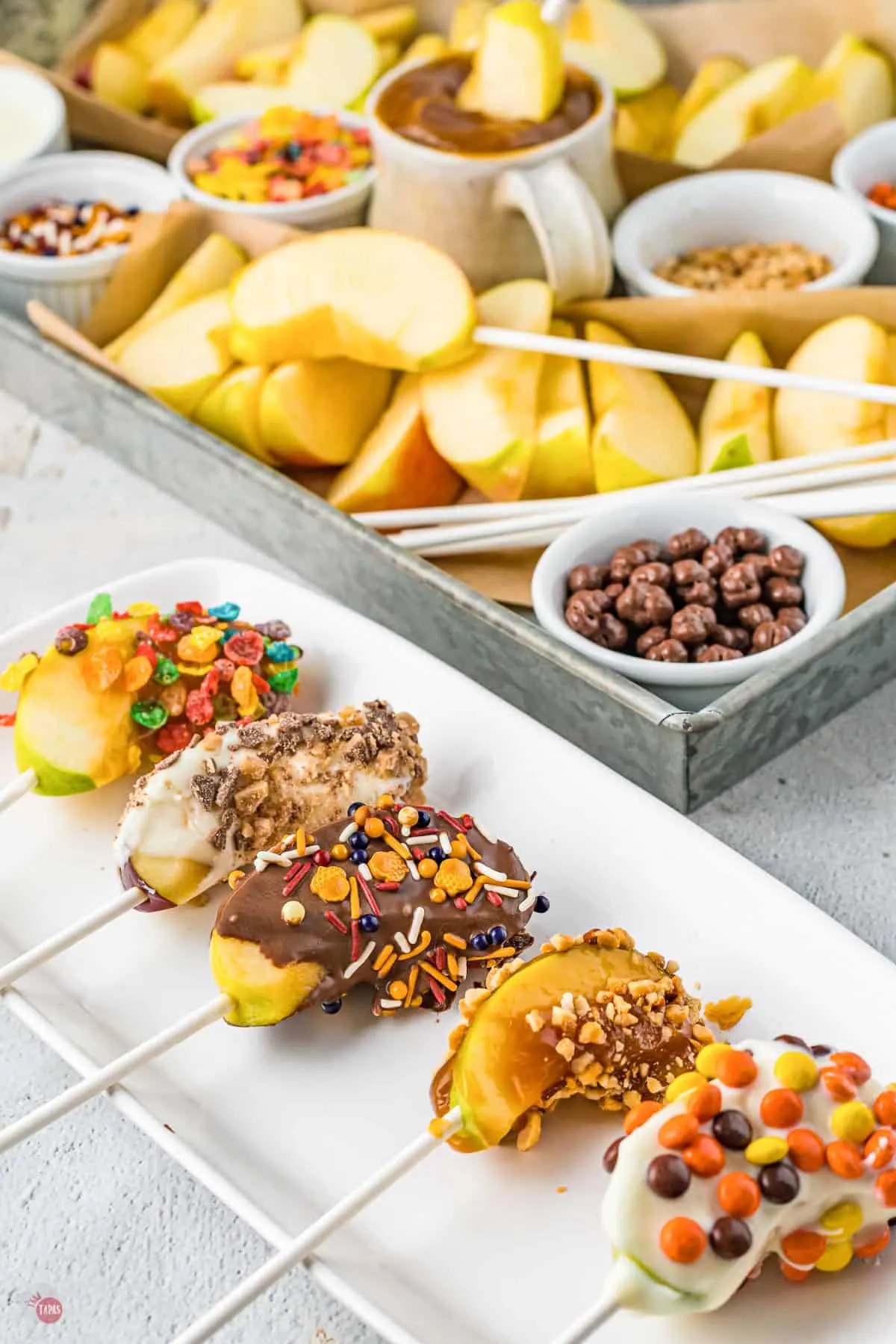 Tapas Tips & Tricks
The sky is the limit with this caramel apple bar – find your favorite board and start building.
Put the melted chocolates and caramel in bowls and place on the board.
Use different shapes and sizes of bowls or cups and add whatever toppings you prefer. Place these around the board.
Next add apples in all the "holes". Have a cup for the sticks, or you can put the sticks in the apples and have them standing in a cup.
Pre-make a few apples so everyone can see what to do.
Dipping the apples in sprite or cream soda helps keep them from getting brown. The citric acid is the main ingredient doing this work. You can use lemon or lime juice as well, I just find that sprite actually works much better.
If you love this recipe as much as I do, please write a five-star review in the comment section below (or on Pinterest with the "tried it" button – you can now add pictures into reviews, too!), and be sure to help me share on facebook!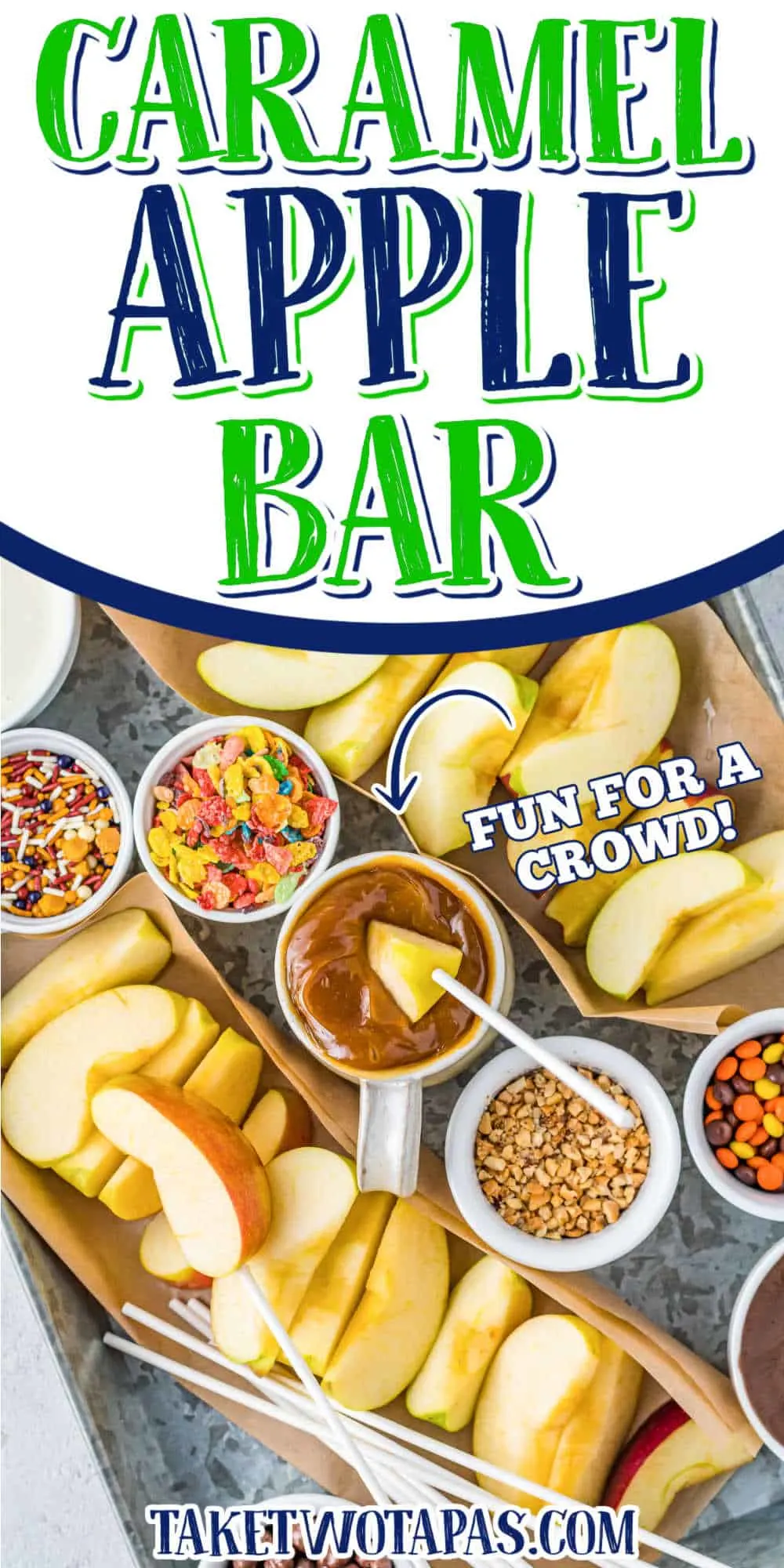 Autumn is full of fun parties and events and is the perfect time to bring the nostalgic flavors of fall to your next gathering with this Caramel Apple Bar. From bonfires to Halloween to Thanksgiving to cozy nights inside, there's no shortage of occasions to create and display this fun crowd-pleasing dessert!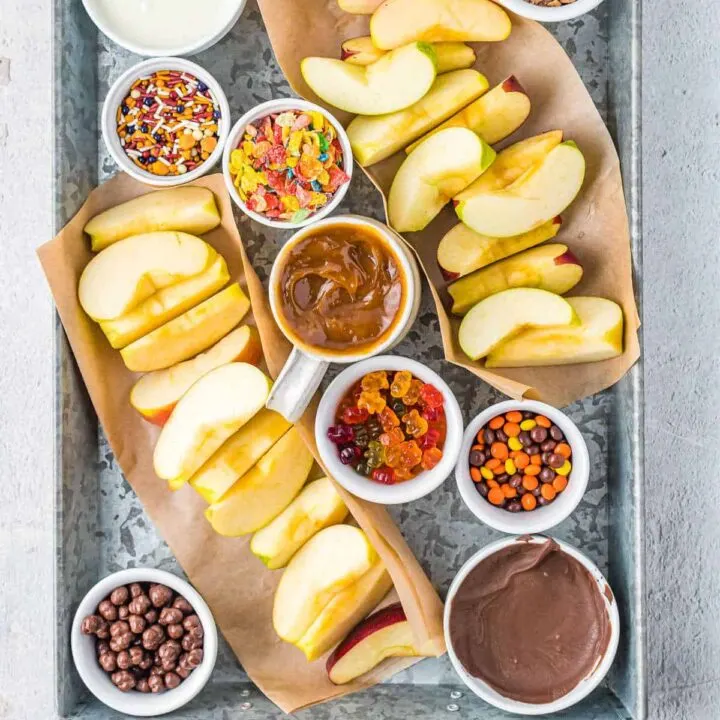 DIY Caramel Apple Bar
Celebrate all the wonders of autumn and make your own DIY Caramel Apple Bar: it's an easy and fun dessert for Halloween, Thanksgiving, and any day in between!
Ingredients
4 apples (Granny Smith, Jonagold, and Honeycrisp are best)
4 cups of an assortment of small candies, or ice cream toppings such as nuts, mini Reeses Pieces, mini chocolate chips, etc.
1 container old fashioned caramel
1/2 cup White chocolate melts
1/2 cup Milk chocolate melts
1 cup Sprite
Lollipop sticks
Instructions
Cut apples in quarters and remove the seeds and core.
Cut each quarter in half, but no smaller.
Pour the Sprite into a bowl and dip the apple slices in the Sprite. This keeps them from turning brown.
Poke a stick in each apple piece, starting at one end doing so carefully so the apple pieces don't break. Thicker apple slices make this a bit easier.
Set up a tray with little serving dishes and place the candies, cookies, cereals, or sprinkles in the dishes.
Melt the white chocolate and milk chocolate by placing them in separate bowls in the microwave for 30 seconds. Stir till melted and smooth. You may need to microwave for 20 more seconds, repeat until melted completely. Do this right before time so they don't harden too quickly.
Place the apple slices on the board in bowls or scattered amongst the dips.
Let everyone enjoy making their favorite combinations.
Notes
*If you love this recipe as much as I do, please leave me a comment and rate it 5 stars. Thank you!
Recommended Products
Nutrition Information:
Yield:

10
Serving Size:

1/2 apple
Amount Per Serving:
Calories:

775
Total Fat:

16g
Saturated Fat:

9g
Trans Fat:

0g
Unsaturated Fat:

6g
Cholesterol:

10mg
Sodium:

129mg
Carbohydrates:

156g
Fiber:

5g
Sugar:

113g
Protein:

4g
This nutrition information was generated via a third party. I can not be held liable for any discrepancies in the information provided.
More Easy Party Foods
TakeTwoTapas.com. Content and photographs are copyright protected. Sharing of this recipe is both encouraged and appreciated. Copying and/or pasting full recipes to any social media is strictly prohibited.