A fun new way to eat thin crust pizza, which is my favorite crust, are my Wonton Pizza Rolls. Crispy and spicy and totally dippable!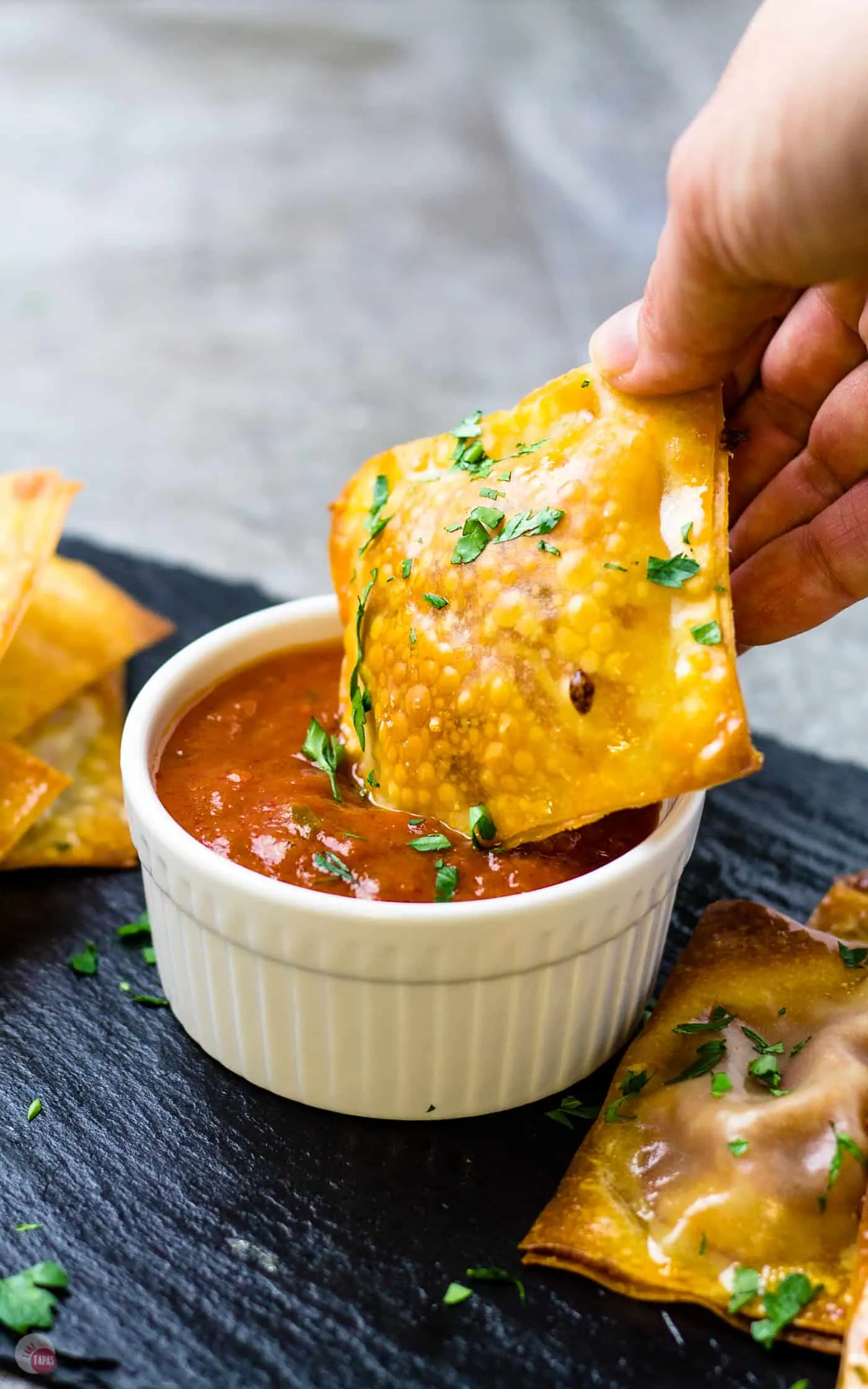 Wonton Pizza Rolls
How do you like to eat pizza? Growing up I got so excited to see pizza on the school menu. Square pizza! As I have grown older, my preferences for pizza have definitely changed.
I love a vegetable pizza on a super thin crust and spicy tomato sauce. Throw on some jalapenos and we are good to go. Now I am making a new way to eat pizza, pepperoni pizza packets.
Ever had Pizza Rolls growing up? Those tiny bundles of sauce, cheese, and pepperoni nuggets wrapped in a flaky crust?
I ate them by the truck-load after school while my parents worked, baking batch after batch in our toaster oven.
I never cooked them in the microwave because they don't get crispy that way. These pepperoni pizza packets are just like those but with more class!
This post may contain affiliate links. As an Amazon Associate, I earn from qualifying purchases. Read my disclosure policy here.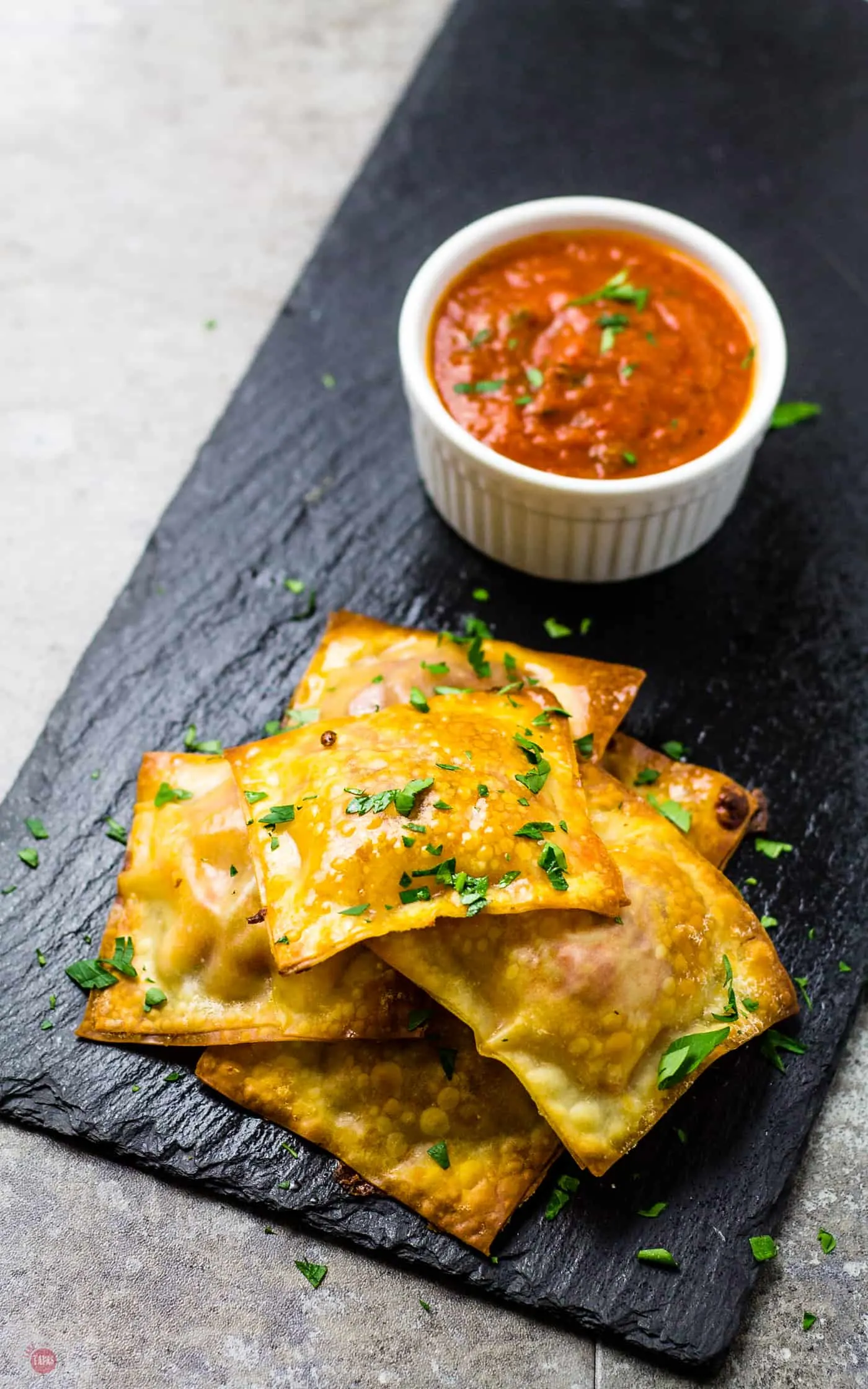 I didn't come up with this recipe on my own. Remember the Freaky Friday posts I have done in the past?
Freaky Friday is a blog swap that a group of bloggers participates in once a quarter.
A group of us foodies throws our names in a virtual hat (or our blog names) and we are randomly assigned another blogger from the group. This is all kept a secret so no one knows who gets who, much like Secret Santa.
We then pick a recipe from our assigned blog and make it, usually with our own spin on it. Together we all post them on our blogs all at the same time for our readers to enjoy.
Previously I have made a Crock Pot Corn Dip, Pie Crust Cookies, Artichoke Cheese Toasts, Pan Roasted Chickpeas, Southwest Potato Croquettes, Pineapple Hummus with Smoked Paprika, and the most recent one, Margarita Shrimp Skewers.
It is so fun taking recipes I know I like and adding my "tapas" spin on them, but I really love seeing others make one of my recipes with their spin on it too.
Not everyone eats tapas style all the time so I love it when they change them to fit their reader's needs.

This time I was assigned Debi from Life Currents. Not only does she have great appetizers, her blog has many other types of dishes from soups to desserts.
Let's not forget her extensive ingredient index where she gives you helpful tips on how to use certain ingredients. She is pretty crafty and has lots of DIY projects too!
Debi loves healthy whole foods, preserving, and getting back to real foods and methods. Debi tries not to waste food and has eliminated trans-fats from her family's diet.
I really need to make more things from her blog as the doughnuts here in Mesa are exceptional and keep calling my name!
I was feeling pizza-like when I started looking for a recipe to make so her Easy Baked Pizza Wraps caught my eye immediately.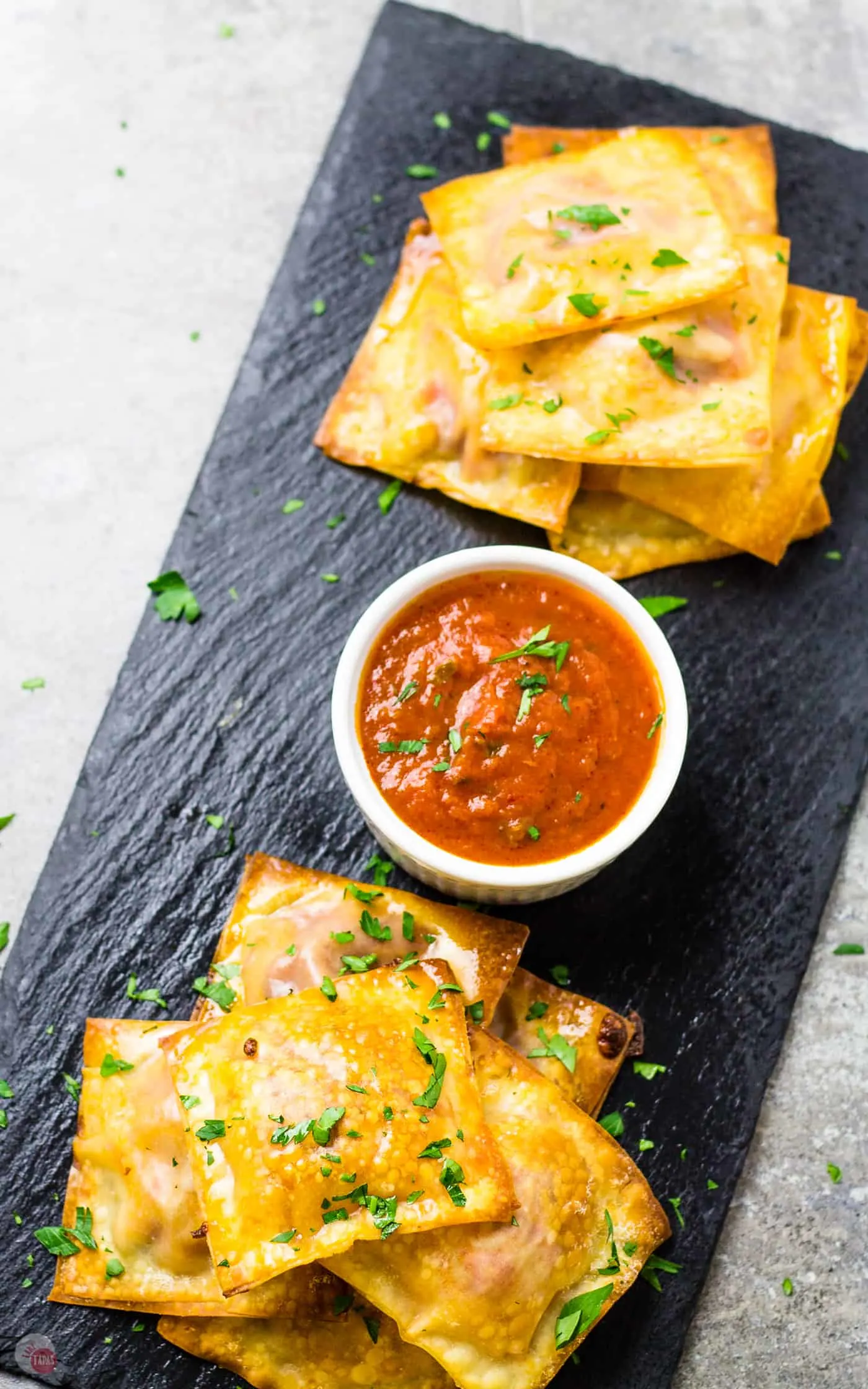 For more insider tips & tricks, and a candid behind the scenes look follow me on social media! Check use out on Pinterest, Facebook, Instagram, & Twitter (yes, people still use Twitter, LOL!)
Wonton wrappers are a fun way to add some spark to recipes and I love stuffing them with lots of goodies. The wonton wrappers get super crispy when you fry them, remember my cinnamon stars?
Well, they get crispy and a nice golden brown when you bake them. What better way to mimic a thin crust pizza?
To make the Pepperoni Pizza Packets, simply lay a wonton wrapper on a parchment-lined baking sheet, top with a few pepperoni slices, some sauce, a little cheese, and seal up into a packet with one on the top.
Bake until golden brown and serve with some extra sauce on the side. These are so much bigger than the Pizza Rolls I used to eat as a child and crispier too!
For the full recipe and detailed instructions, please refer to the recipe card at the bottom of the post.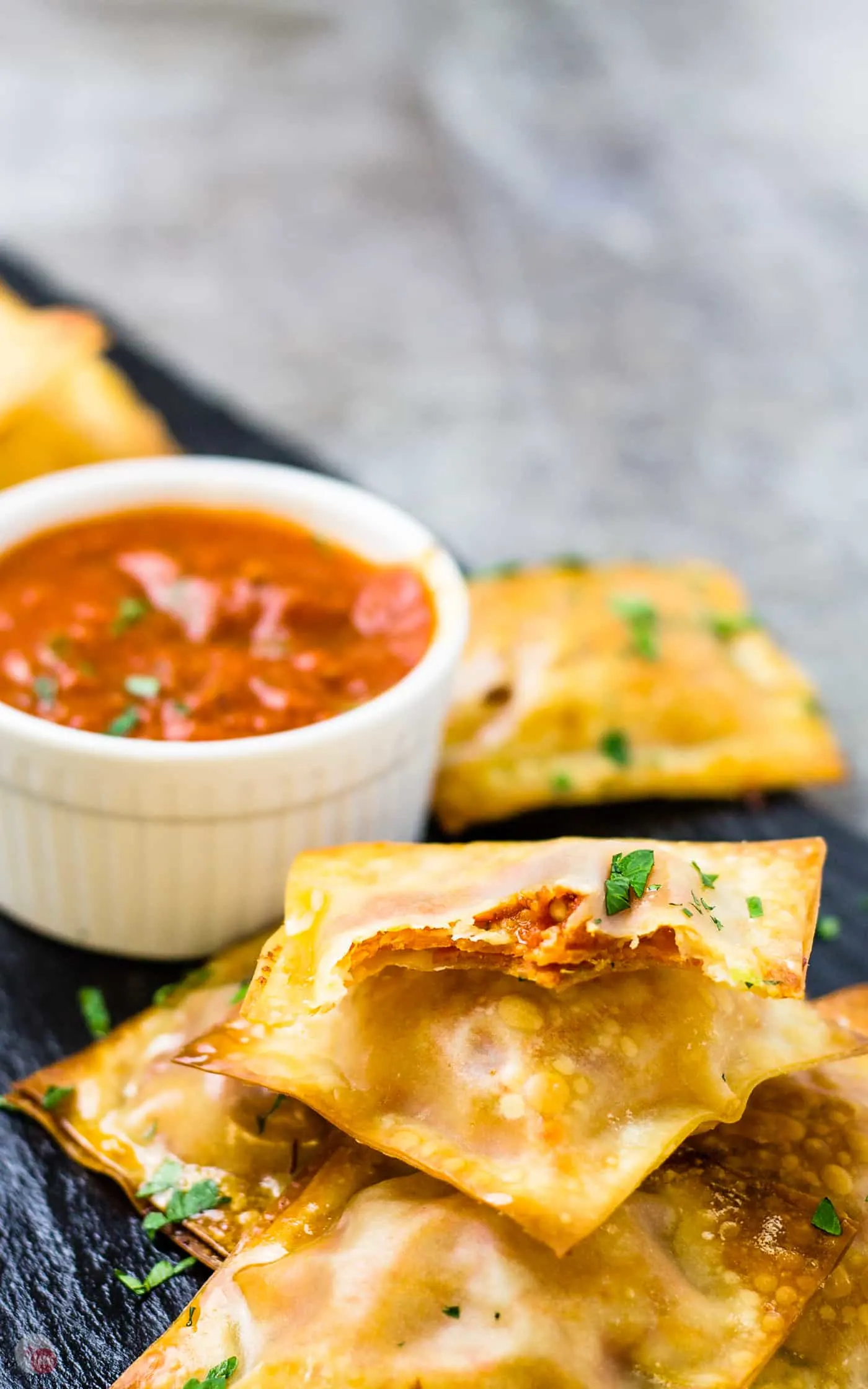 Make a dozen or 4 dozen! You can make them and freeze them for later, which makes a great after-school snack for you and your kids.
Or even an after-work snack for you!
How do you like to eat your pizza?
Easy Finger Foods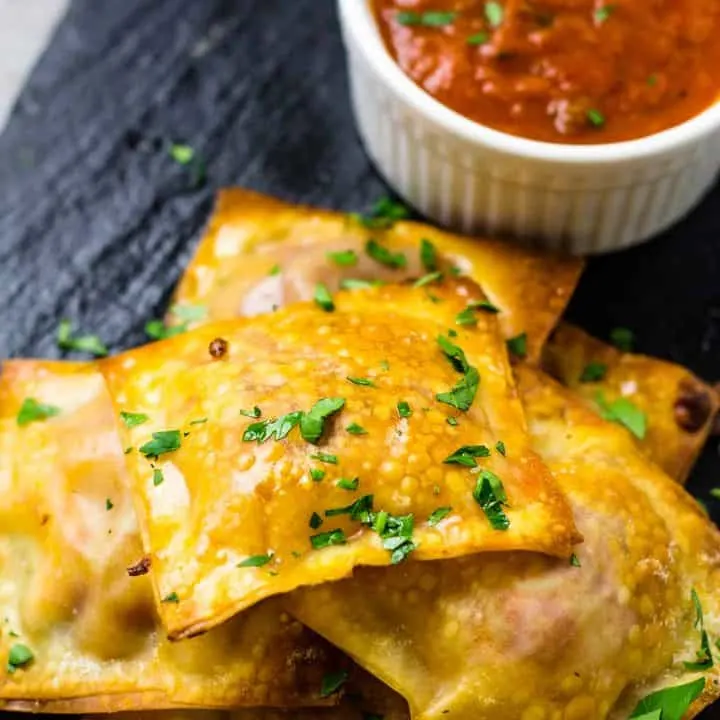 Pepperoni Pizza Packets
A fun new way to eat thin crust pizza, which is my favorite crust, is my pepperoni pizza packets. Crispy and spicy and totally dippable!
Ingredients
24 wonton wrappers
24 pepperoni slices
1 cup tomato sauce (pizza or marinara optional)
4 ounces mozzarella cheese (shredded)
non-stick spray (olive oil optional)
Instructions
Preheat oven to 400F
On a parchment-lined baking sheet arrange 12 wonton wrappers.
On each wonton wrapper, place 2 pepperoni slices in the middle.
Top with a teaspoon of sauce.
Top with a tablespoon of shredded cheese keeping it all in the middle.
Brush the edges with water and top with another wonton wrapper.
Press the wrappers together pressing out the air in the middle and sealing the edges tight.
Continue until all 12 pepperoni pizza packets are covered and sealed.
Spray all the wonton wrappers with non-stick spray or brush with olive oil.
Bake at 400F degrees for 15-20 minutes.
Remove from the oven when they are golden brown.
Serve with the remaining sauce, heated up if you prefer.
Notes
When I cooked my pepperoni pizza packets it took 20 minutes to get them toasty brown. Your oven may vary so start checking on them after 10 minutes.
*If you like this recipe don't forget to give it a star rating.*
Nutrition Information:
Yield:

6
Serving Size:

1
Amount Per Serving:
Calories:

200
Total Fat:

9g
Saturated Fat:

4g
Trans Fat:

0g
Unsaturated Fat:

4g
Cholesterol:

26mg
Sodium:

622mg
Carbohydrates:

21g
Fiber:

1g
Sugar:

2g
Protein:

9g
This nutrition information was generated via a third party, Nutritionix, and can not be held liable for any discrepancies in the information provided.
Check out all the other bloggers and their Freaky Friday Recipes below. Can you spot which blogger got one of my recipes?
TakeTwoTapas.com. Content and photographs are copyright protected. Sharing of this recipe is both encouraged and appreciated. Copying and/or pasting full recipes to any social media is strictly prohibited.