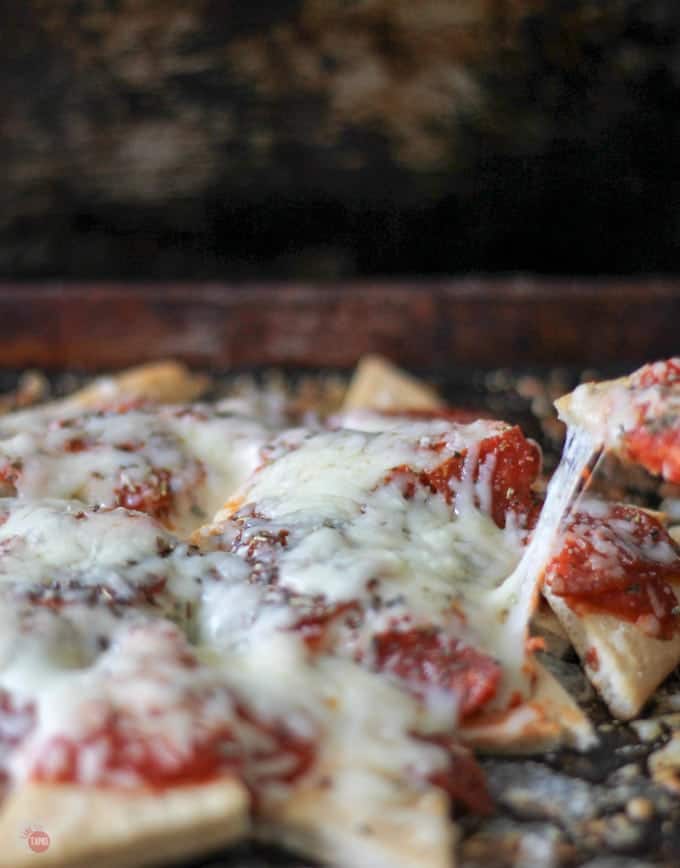 Your favorite pepperoni pizza is now pizza nachos! Tangy sauce drizzled on crispy dough crust chips, topped with pepperoni and melted cheese. Share with your friends. That is if you want to share…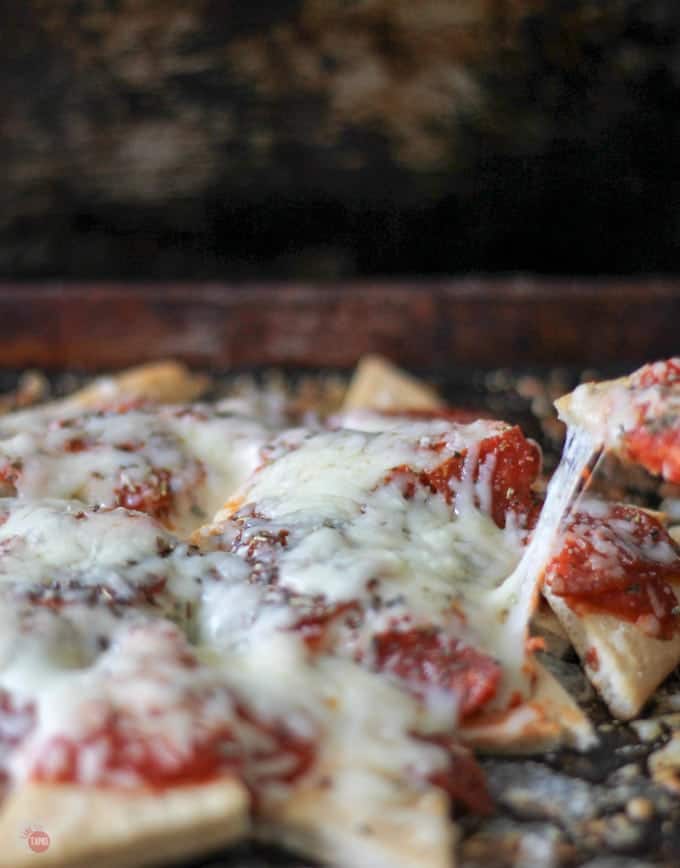 Why are kids so picky?
When Brooks is away on a Tuesday, it is pizza night in the Stewart household. Braxton and Connor used to be strictly cheese only.
While away, Braxton tried pepperoni for the first time and decided that it was his new topping of choice. As the older brother does, so does the younger brother follow. Connor now eats pepperoni only.
They think that cheese is terrible, even though that is what their pepperoni pizza only without the pepperoni! Kids… They drive me crazy some days and then they flash their cute dimples I am mush.
If you'd rather skip my (very helpful, I think) tips and tricks, essential cooking info, and similar recipe ideas – and get straight to this delicious recipe – simply scroll to the bottom of the page where you can find the printable recipe card.

I was thinking of them when I started thinking about nacho recipes that I wanted to share. Pepperoni pizza in particular but in an easier method to share. What do you do if you don't want a whole slice? Don't get dressed and drive to a pizza place to order one slice, if they even sell by the slice, and then have to drive home where your pizza slice is now cold.
Don't worry about all that nonsense just grab a few pieces of these nachos!
This post may contain affiliate links. As an Amazon Associate, I earn from qualifying purchases. Read my disclosure policy here.

For more insider tips & tricks, and a candid behind the scenes look follow me on social media! Check use out on Pinterest, Facebook, Instagram, & Twitter (yes, people still use Twitter, LOL!)
Tortilla chips, even though they are the gold standard for nachos, are never going to work with my pizza nachos. They work for other nachos but I didn't even use them for my Italian Nachos or my Gyro Nachos. I could use them and put cheese and pepperoni on top but it seems like such a cop-out. Besides, corn tortilla chips might be a little strange with tomato sauce and cheese.
New nacho chips for my pizza nachos?
What can I use for chips? The very thing that makes pizza great, THE CRUST! It is all about the crust. Especially a thin crust… Once you cook the prepared crust and cut them into "chips" you can start adding the good stuff: the toppings.
Load them up with sauce, pepperoni, and lots and lots of cheese!! Pop them back into the oven and melt the cheese and get the nachos all hot and bothered. When they are done, you can serve them right from the baking sheet. No other dirty dishes.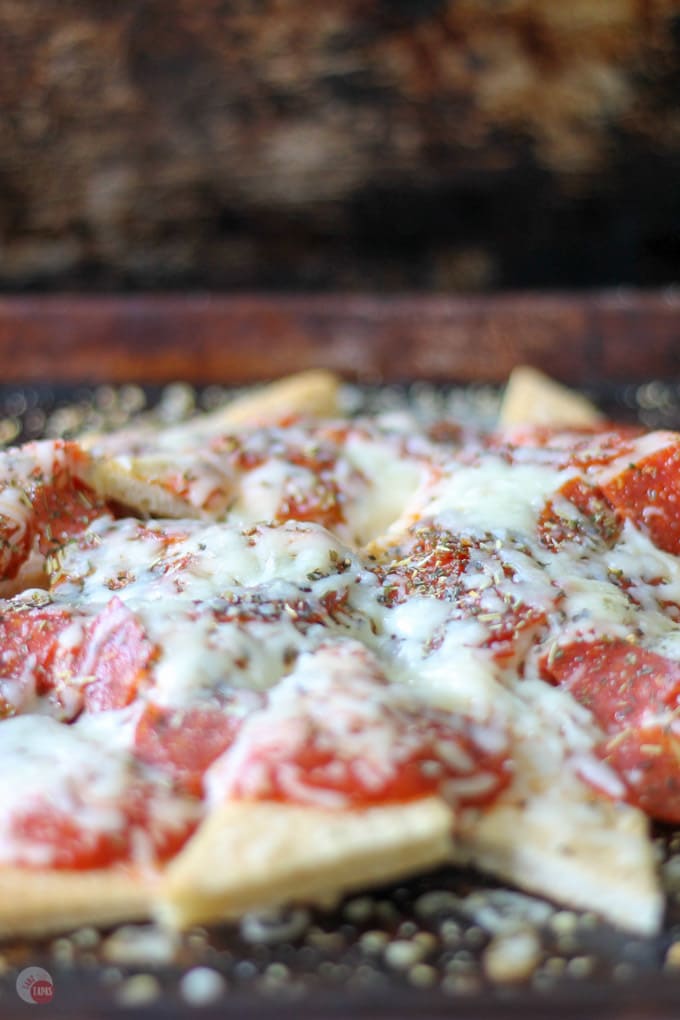 Sign up to early access to recipes, tips & tricks, and behind the scenes info in our newsletter! It's FREE and we promise not to SPAM you. Click here to join us!
For some, deep dish is the way to go, but I am a thin crust girl. The chips for my pizza nachos are made from prepared pizza dough rolled out to a medium or thin thickness. If you want to go thinner you can, but the melty cheese might cause them to break a bit. I just sliced them on the diagonal to make traditional "chip" shapes and off I went.
Having these toppings on pizza crust chips is really like eating a tiny personalized pizza but on a sheet pan for sharing with friends. If you can stand to share.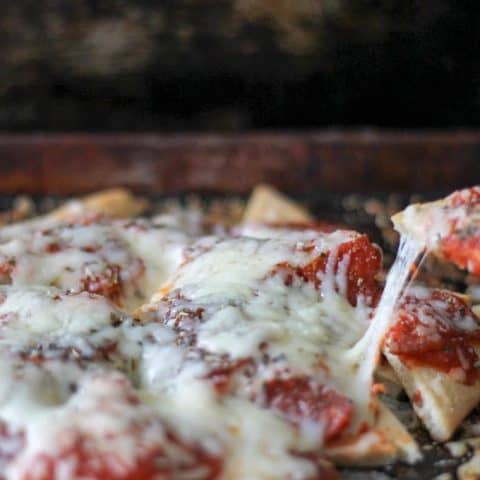 Pizza Nachos with Pizza Crust Chips
Your favorite pepperoni pizza is now nachos! Tangy pizza sauce drizzled on crispy pizza dough crust chips, topped with pepperoni and melted cheese.
Ingredients
Pizza Crust Chips
1 recipe for pizza dough
1 tablespoon olive oil
1 teaspoon salt
1 tablespoon Italian Seasoning Mix
Pizza Nachos
3/4 cup Marinara or Pizza Sauce
12 slices of pepperoni
1 teaspoon crushed red pepper flakes
1 1/2 cup mozzarella cheese (shredded)
Instructions
Preheat oven to 350F.
Roll out pizza dough until thin.
Brush with olive oil and salt.
Bake as directed or until cooked.
Remove from oven and slice into chip-sized wedges.
Let cool for 5 minutes.
Lay chips out on baking sheet (use the same one so you don't have more dishes)
Drizzle or spread the sauce over the chips.
Place pepperoni on the sauce and chips.
Cover with cheese, crushed red pepper, and Italian Seasoning Mix.
Bake at 350F for 5 minutes or until the cheese is nice and melty.
Serve to your hungry guests!
Notes
*If you like this recipe don't forget to rate it with some stars!
Nutrition Information:
Yield:

8
Serving Size:

1
Amount Per Serving:
Calories:

120
Total Fat:

9g
Saturated Fat:

4g
Trans Fat:

0g
Unsaturated Fat:

4g
Cholesterol:

20mg
Sodium:

592mg
Carbohydrates:

5g
Fiber:

1g
Sugar:

2g
Protein:

6g
This nutrition information was generated via a third party, Nutritionix, and can not be held liable for any discrepancies in the information provided.
Grab some of your friends, or sneak away by yourself and make some pizza nachos. Maybe they can be your new choice when the kids want a pizza night!
What toppings do you prefer on your nachos? Make your favorite pizza into nachos and tag me on social media with the hashtag #pizzanachos so I can see your creations!
©TakeTwoTapas.com. Content and photographs are copyright protected. Sharing of this recipe is both encouraged and appreciated. Copying and/or pasting full recipes to any social media is strictly prohibited.