These peanut butter pretzel bars with bacon and bourbon will hit all your cravings in one bite. And did I mention they have bacon in them?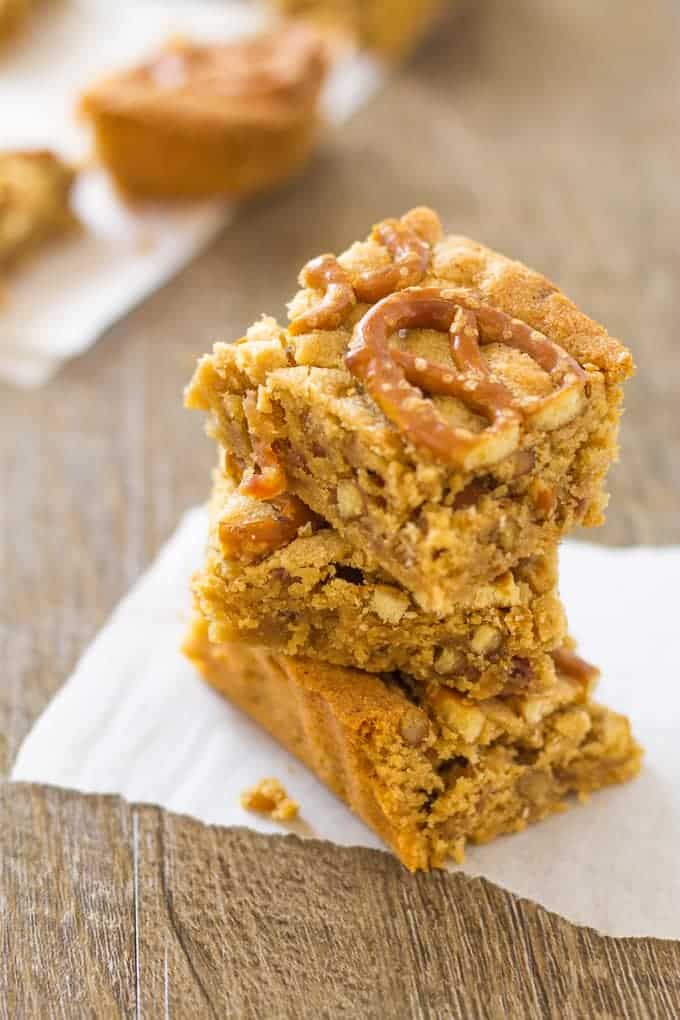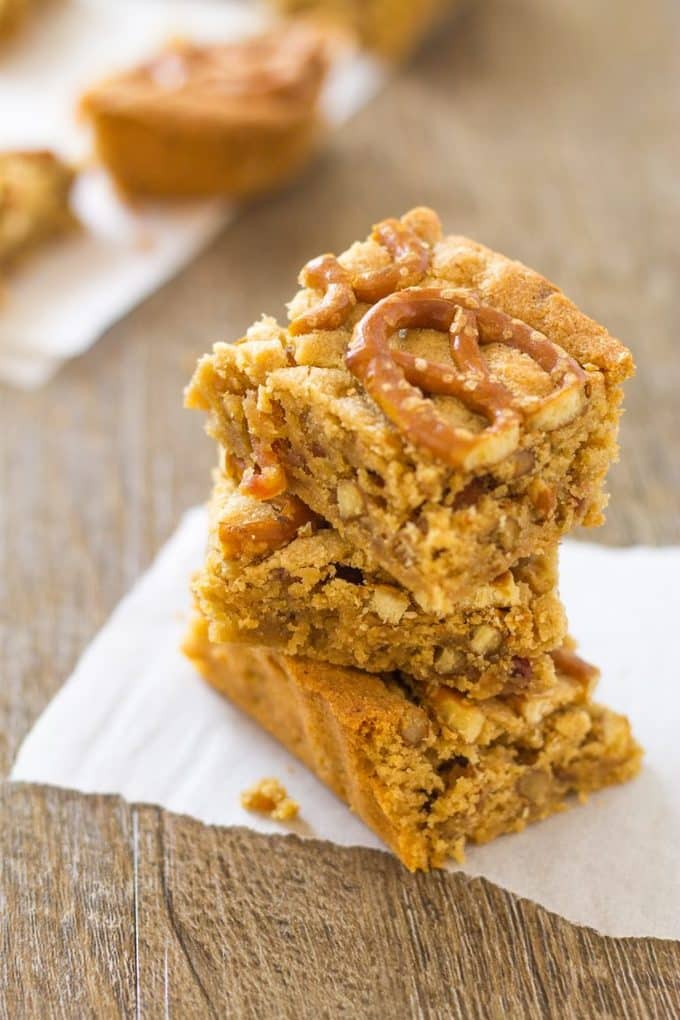 If you'd rather skip my (very helpful, I think) tips and tricks, essential cooking info, and similar recipe ideas – and get straight to this delicious recipe – simply scroll to the bottom of the page where you can find the printable recipe card.
OMG, these peanut butter pretzel bars are everything I am craving right now. Thank goodness there is one thing that can do that instead of me having to eat 3 different foods to feel satisfied. Not to mention all those extra calories I am not consuming because I am eating these!
How many things can I cram in these here Peanut Butter Pretzel bars? As many as I want!!
This post may contain affiliate links. As an Amazon Associate, I earn from qualifying purchases. Read my disclosure policy here.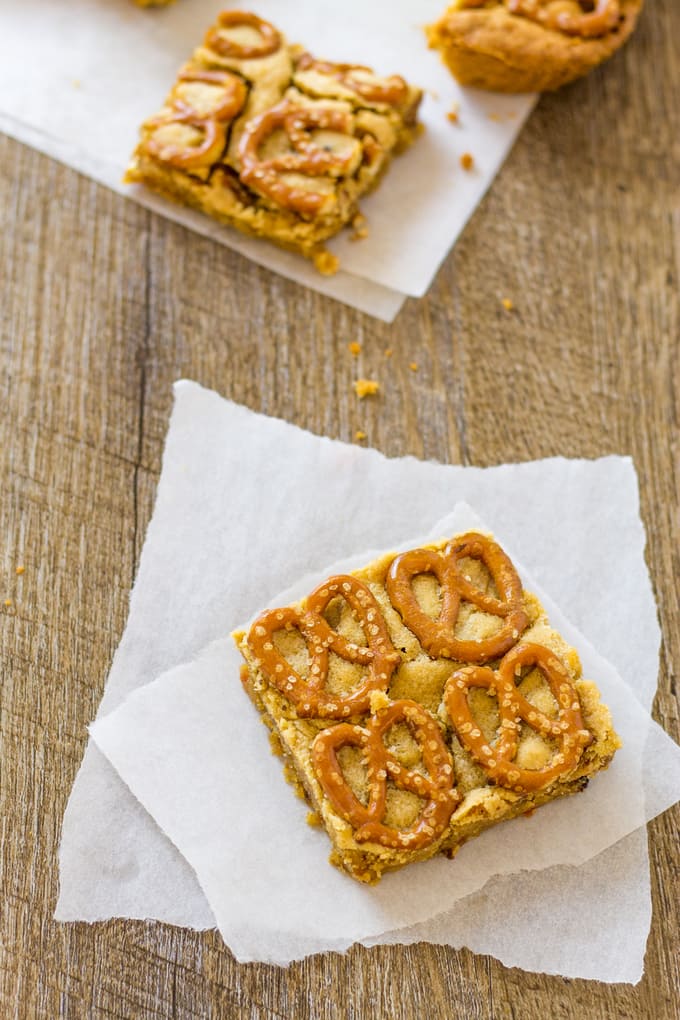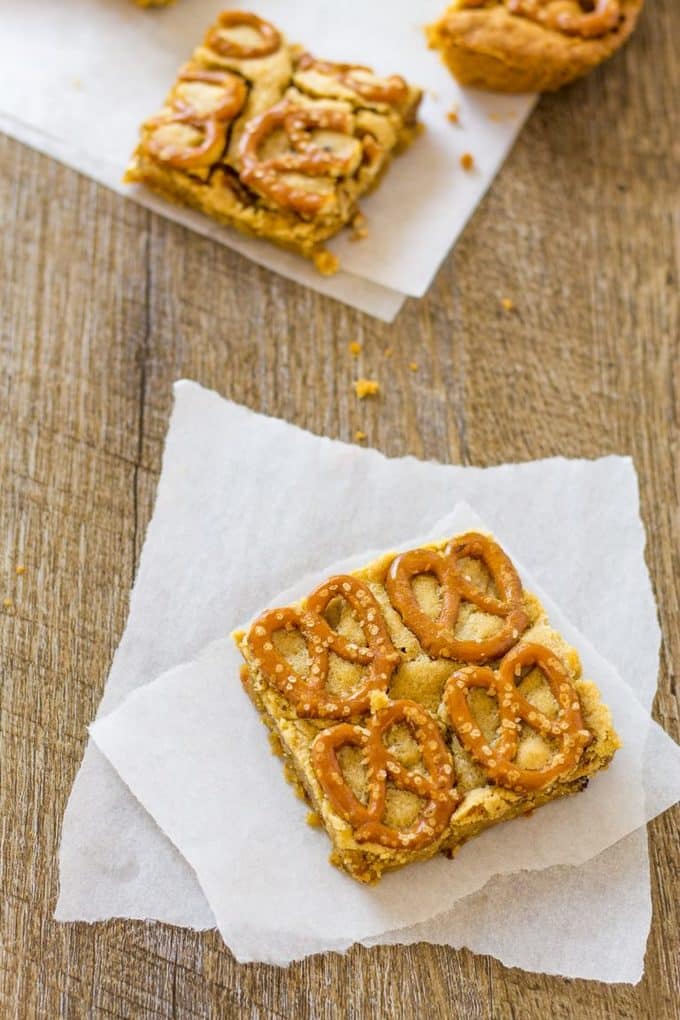 It has been a while since I made anything with peanut butter and my kids are quick to remind me of this fact. With 3 containers of peanut butter currently residing in my pantry, all of them open I will admit, I need to start burning through it before it goes bad.
A spoonful at a time is not going to cut it!
Connor asked for peanut butter cookies last week and I actually felt guilty for not having made some before now. Ok, I felt guilty for about a nanosecond since he won't eat a lot of the other foods I make, but I still decided to make something. Albeit, not classic peanut butter cookies.
Those are all fine and good, but a little more texture is required at the present moment!
Sign up to early access to recipes, tips & tricks, and behind the scenes info in our newsletter! It's FREE and we promise not to SPAM you. Click here to join us!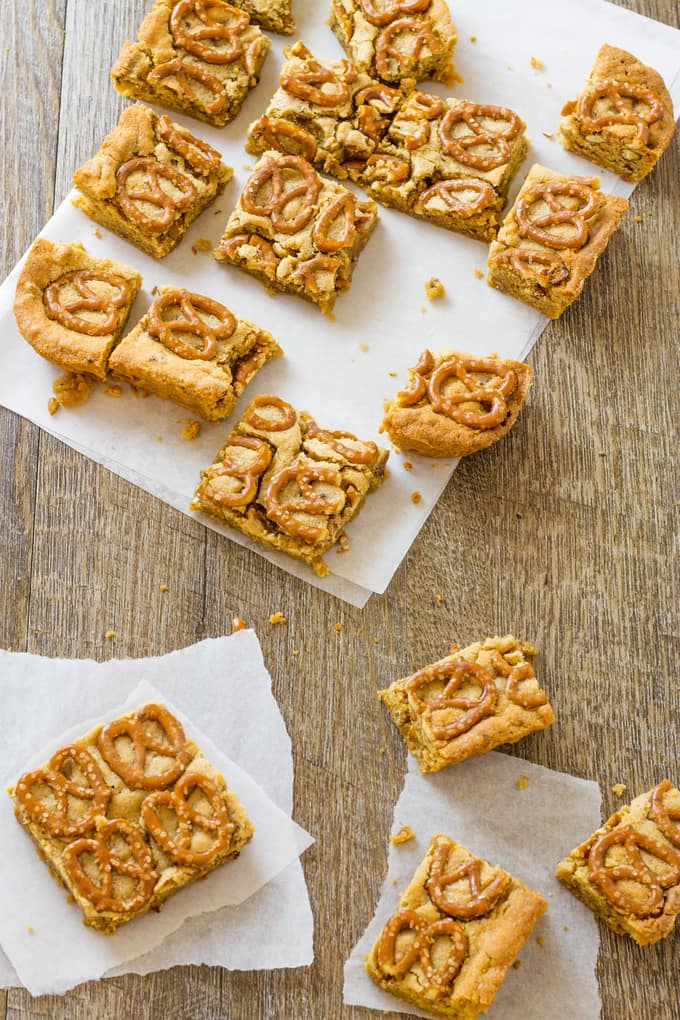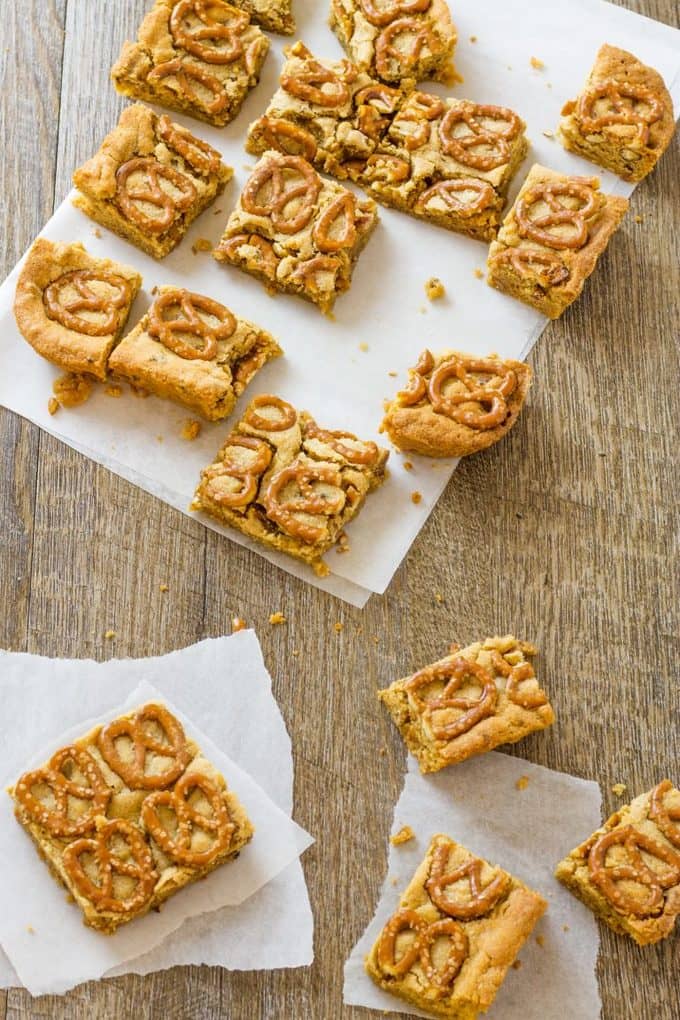 Enter all the pretzels that I am currently obsessed with. Case in point, my French Onion Pretzel Nuggets from a few days ago and the fact that my son eats pretzels by the ton. I love pretzels and want to put them in everything so naturally, the crunch is the perfect addition to these peanut butter bars.
You have peanut butter, which is yum, and now you have salty crunchy pretzels. Boom! These are perfect. Or are they?
The force is strong with the peanut butter, how about a little something from the dark side?
Bourbon!!!!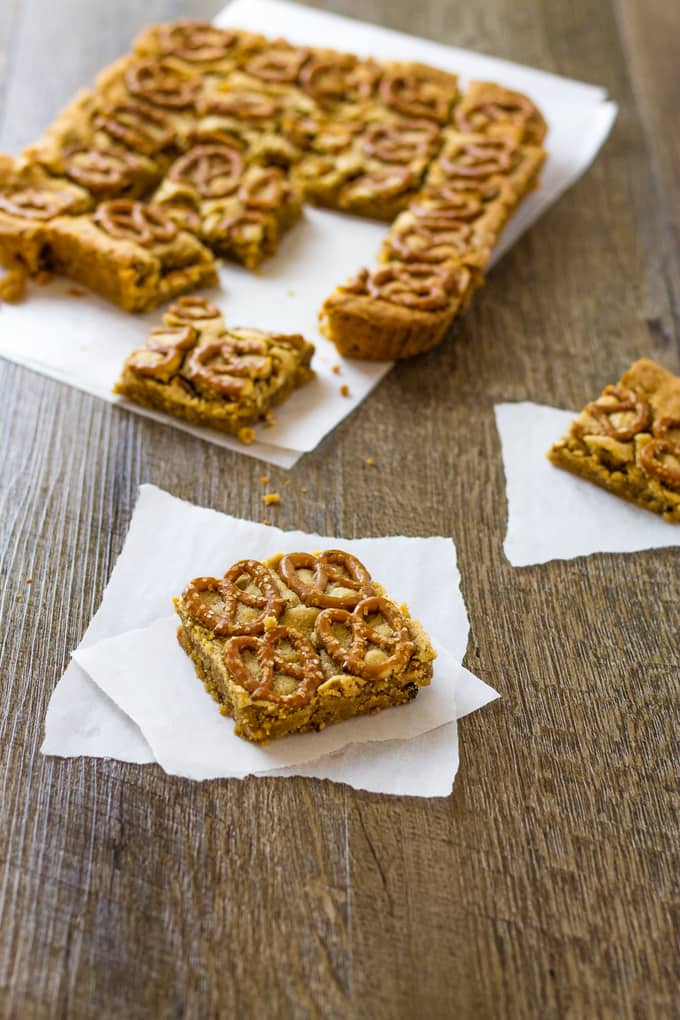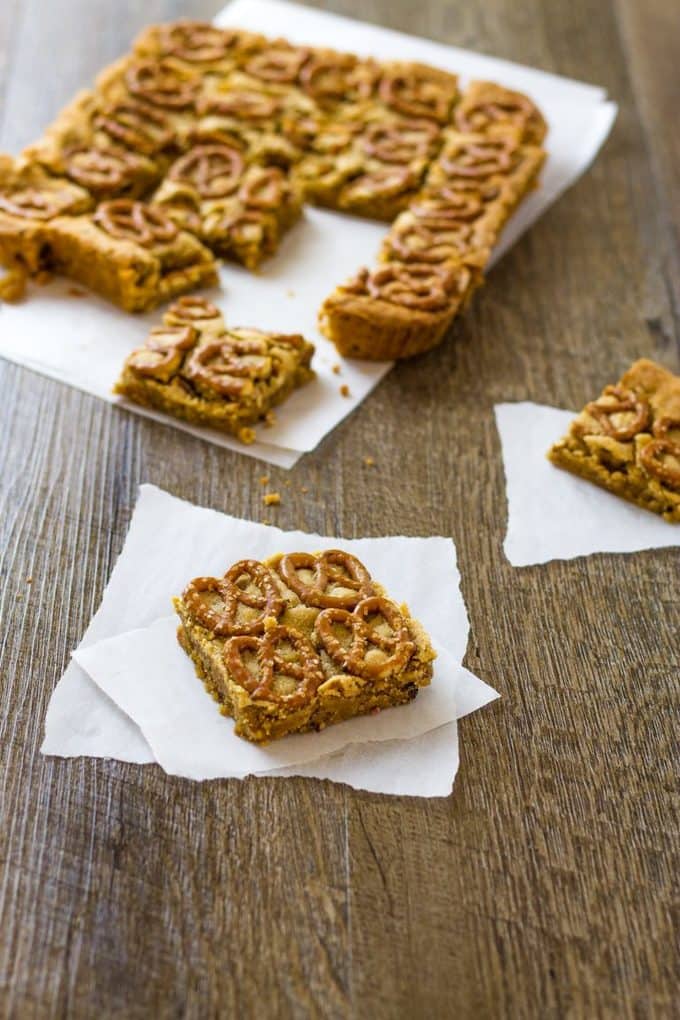 For more insider tips & tricks, and a candid behind the scenes look follow me on social media! Check use out on Pinterest, Facebook, Instagram, & Twitter (yes, people still use Twitter, LOL!)
Let's not forget bacon too. Bacon is not really from the dark side but it goes so well with the bourbon that we should let them make their move together.
So now the peanut butter pretzel bars are loaded with peanut butter, crunchy pretzels (nuggets not those thin things), salty and smoky bacon, and a buttery and slightly smoky bourbon too! A quadruple threat if ever I saw one. Ok, my two sons having simultaneous sleepovers is a quad threat too, but at least with these bars, I can eat them and go to bed.
The alternative quadruple threat requires multiple meals and no sleep due to the boy noises. You know what I am talking about moms.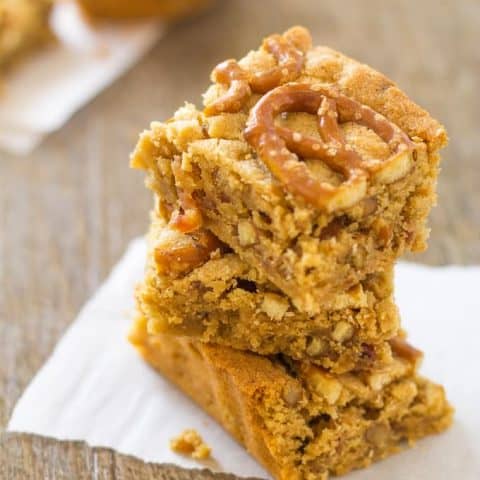 Peanut Butter Pretzel Bars with Bourbon and Bacon
These peanut butter pretzel bars with bacon and bourbon will hit all your cravings in one bite. And did I mention they have bacon in them!
Ingredients
1/2 cup butter (softened)
1 cup brown sugar
1 egg
1 teaspoon vanilla
1/2 cup peanut butter
4 tablespoons bourbon (I used TJ Weller for this recipe)
1 cup flour
2 tablespoons bacon (cooked and chopped fine)
1 cup pretzels (broken into pieces)
pretzels (for garnish)
Instructions
Preheat oven to 350F.
In a bowl, cream together butter and brown sugar in either a stand mixer or with a hand mixer.
Add in the egg, vanilla.
Mix until combined.
Add the bourbon and mix well to combine.
Add in the peanut butter and mix until combined.
Add in the flour and mix just until combined.
Break the pretzels into large pieces.
Fold in the pretzels gently as not to break up the pretzel pieces too much.
Spread the batter in an 8x8 baking pan sprayed with non-stick spray.
Spread pretzel pieces or whole pretzels on the top of the batter and press in slightly to get the pretzels to stick.
Bake at 350F for 20 minutes or until the middle is set and a toothpick comes out nearly clean. A few crumbs are ok.
Cool completely.
Cut and store in an airtight container for up to a week.
Notes
*If you like this recipe, please leave me a comment and rate it with some stars. Thank you!
Nutrition Information:
Yield:

16
Serving Size:

1
Amount Per Serving:
Calories:

209
Total Fat:

11g
Saturated Fat:

5g
Trans Fat:

0g
Unsaturated Fat:

5g
Cholesterol:

29mg
Sodium:

182mg
Carbohydrates:

23g
Fiber:

1g
Sugar:

12g
Protein:

4g
This nutrition information was generated via a third party, Nutritionix, and can not be held liable for any discrepancies in the information provided.