Individual Walnut Amaretto Turtles are the perfect sweet treat you don't have to share! Toasted walnuts, creamy amaretto caramel, and salted dark chocolate!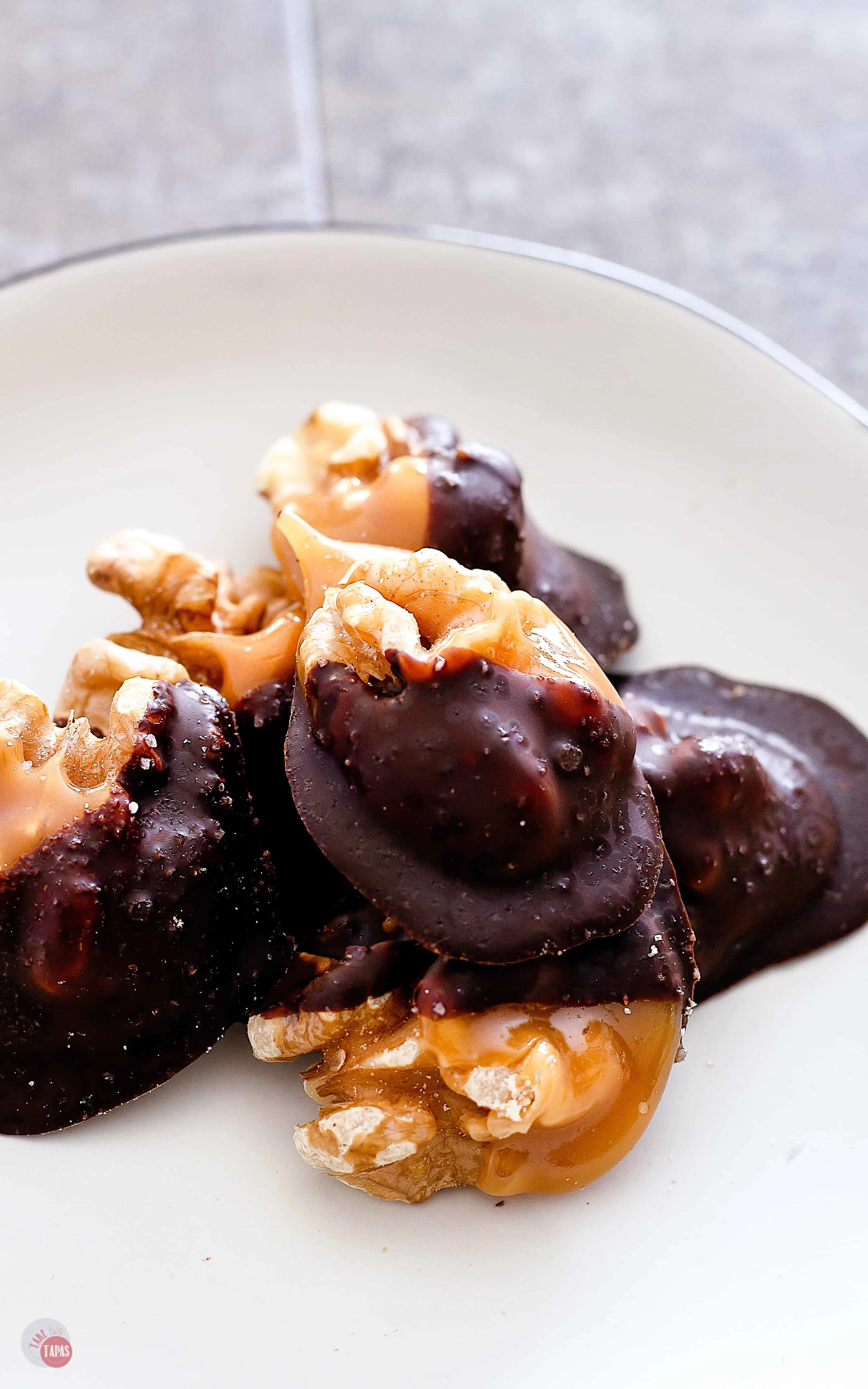 This post for #Choctoberfest is sponsored by Divine Chocolate. The recipe and opinions expressed here are my own.
DARK CHOCOLATE TURTLES
A traditional chocolate turtle is a candy made of pecans and caramel and covered in chocolate. Usually a free-form type of candy of creamy caramel studded with or on top of pecans.
This is usually drizzled or dipping in chocolate. Pretty simple, but in my opinion, a little on the sweet side.
Turtles are sweet because of all the delicious caramel that is topped with milk chocolate. Sometimes a little too much.
I feel that the pecans are a tad under-represented. Way too much candy and not enough nut! My Walnut Amaretto Turtles a more gourmet version of the traditional turtle, with sea salt and dark chocolate.
Plus, they are one bite and not a messy glob! Oh, and no pecans… WALNUTS!
This post may contain affiliate links. As an Amazon Associate, I earn from qualifying purchases. Read my disclosure policy here.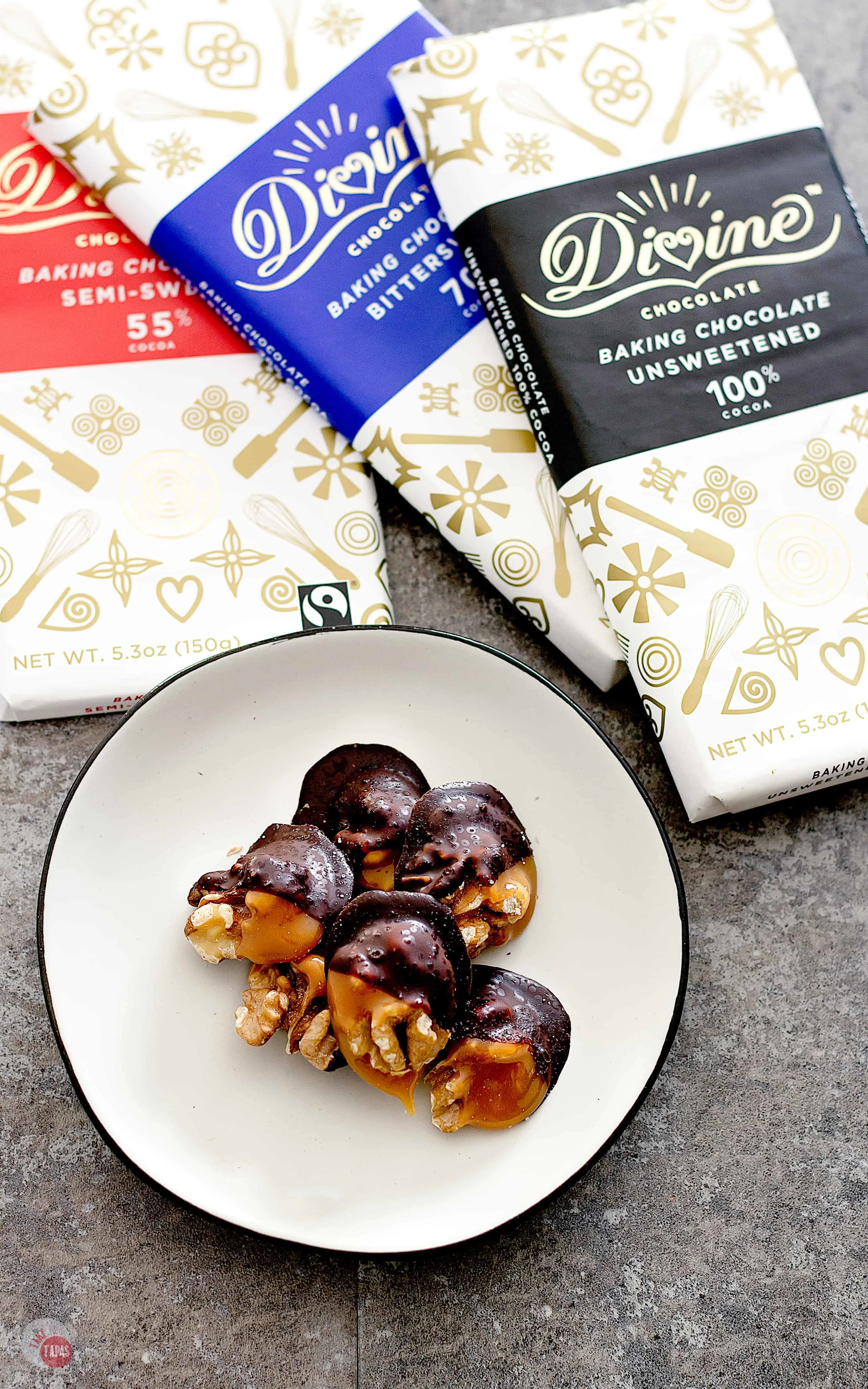 DARK CHOCOLATE TURTLE RECIPE
The easiest way to make turtles is to grab some pecans, melt some caramels and drop some over the pecans, and then dip or top with a spoonful of chocolate.
Quick and dirty, and you can use all store-bought items. Nothing wrong with that!
I have even seen some made with chocolate caramel candy just melted over some nuts. Two ingredients!
I decided since these are gourmet, I would start with walnuts. The halves are bigger and have a larger surface area to dip.
Amaretto is a flavor I love to incorporate into desserts and sweets so why not make some homemade caramel and add a touch of spirit to it?
I mean, liquid spirit! Who would turn that down?
Next, I use a bittersweet, or 100% chocolate instead of milk or semi-sweet to balance out the caramel.
A dusting of Himalayan sea salt rounds them out! Chocolate turtles are transformed into grown-up Walnut Amaretto Turtles!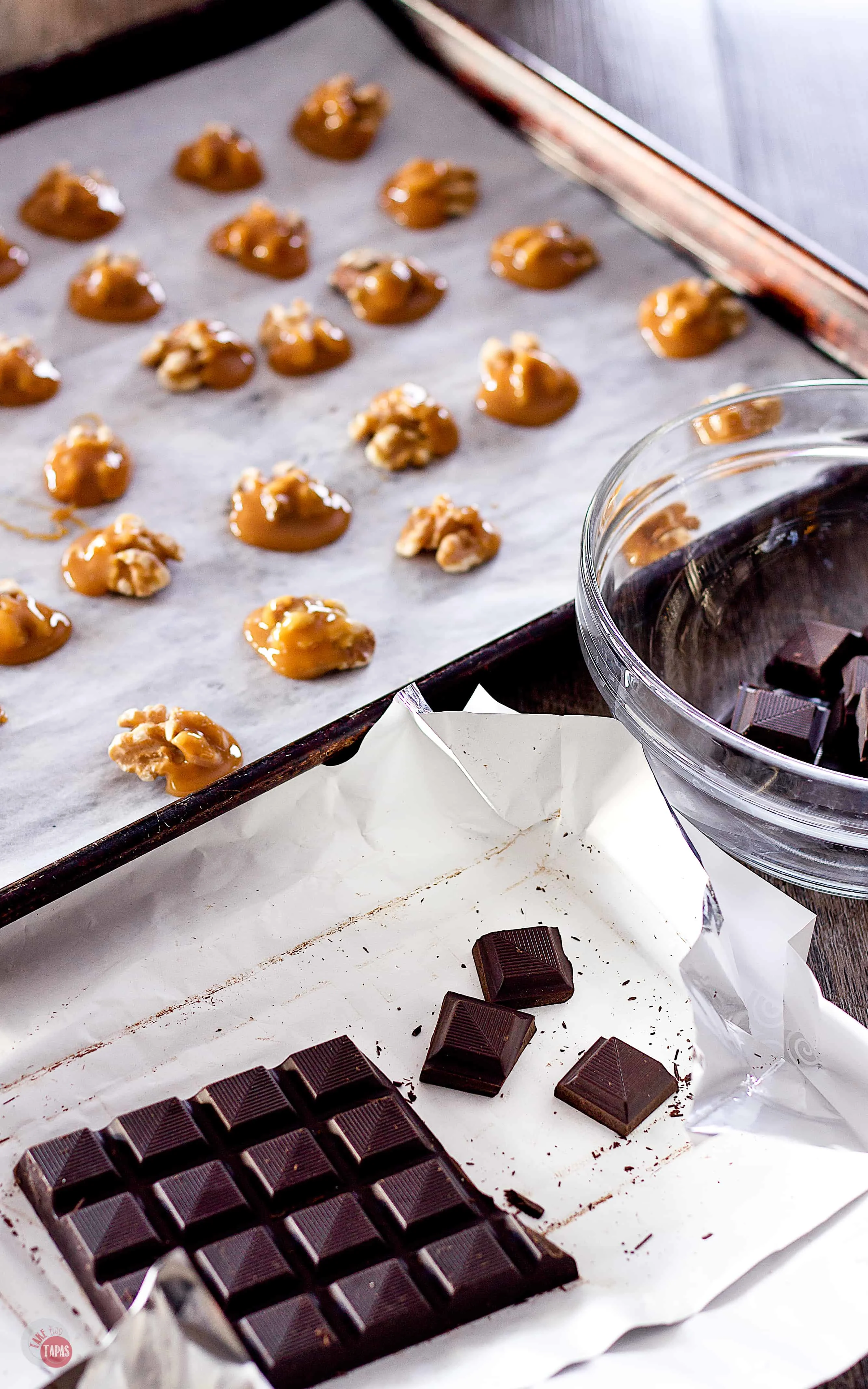 DARK CHOCOLATE TURTLES
You might think that the easy, microwave, Amaretto infused caramel is the star of these Walnut Amaretto Turtles, but it is really the dark chocolate.
I love a Divine Chocolate Bar for baking and melting because they have amazing flavor combinations and have a beautiful sheen to them when you coat or dip treats in it.
These turtles would be great dipped in a mint chocolate coating too!
For these particular turtles, I chose the 100% unsweetened chocolate bar. This way you get all chocolate, and no extra sugar!
A dusting of pink Himalayan sea salt rounds out the flavor profile. Savory walnuts, sweet caramel, bitter rich chocolate, and salt. These walnut amaretto turtles are all you need!
For more insider tips & tricks, and a candid behind the scenes look follow me on social media! Check use out on Pinterest, Facebook, Instagram, & Twitter (yes, people still use Twitter, LOL!)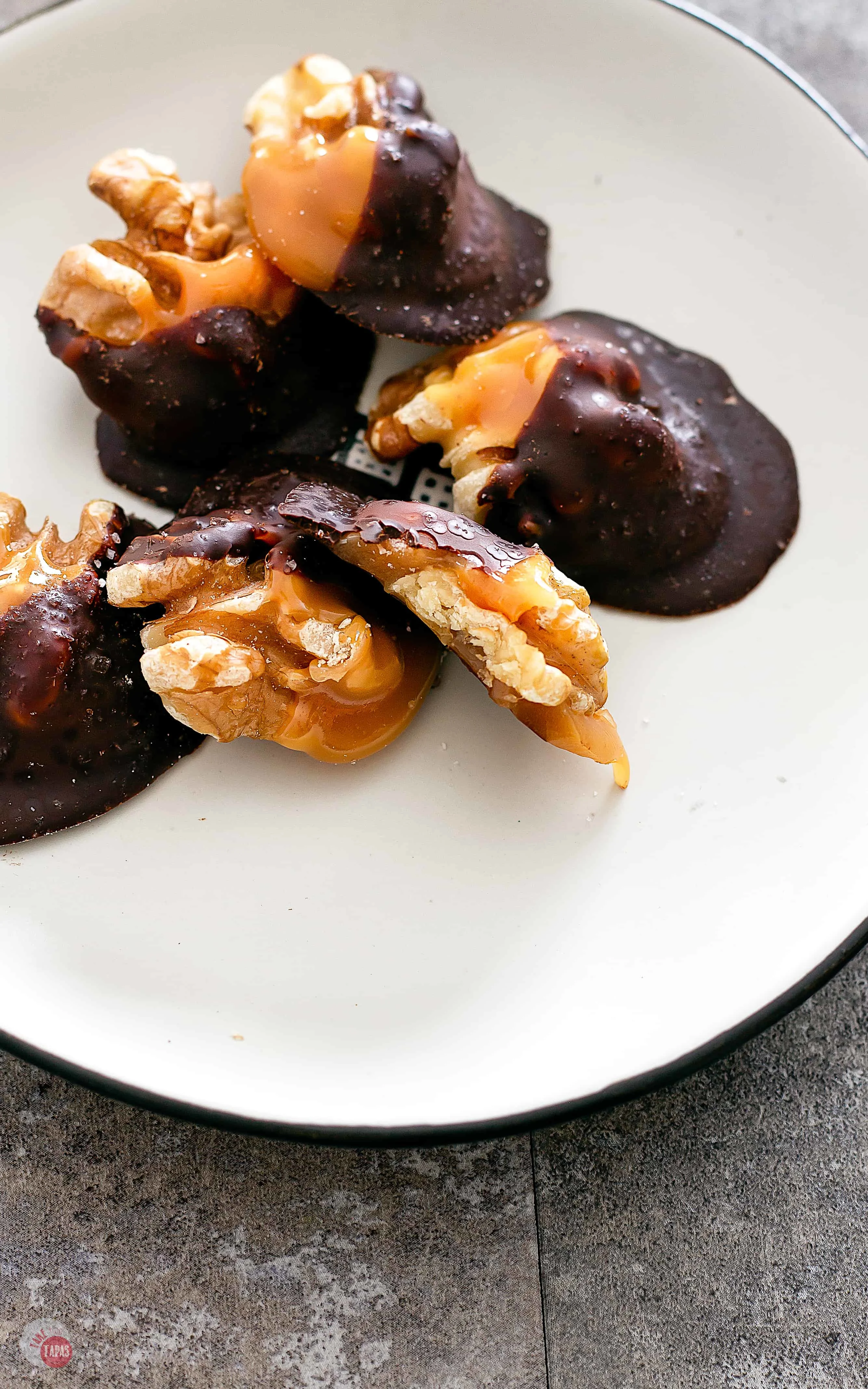 TAPAS TIPS & TRICKS
You can make these in three different steps so you won't spend all day making these.
Keep a parchment-lined baking sheet for the whole process.
Toast more walnuts than you need in case you eat a few before you get them dipped. Or in my case, more than a few. I also broke some along the way which I ate as well.
Have everything set up before you start the caramel as you will be busy with this process to arrange anything else.
Have a buttered dish set aside for any unused caramel. You can cut it into smaller pieces and eat it by itself another time.
Have some hot pads handy as microwave caramel is hot and can seriously burn you!
Have a fork handy for those walnuts that get stuck or dropped in the caramel. You don't want to fish those out with your fingers.
Depending on the temperature in your house, you might need to put the turtles that have been dipped in chocolate in the fridge to completely set.
Let the turtles cool completely before storing.
Looking for a small sweets recipe to take to a party you've been invited to? Check out all my small sweets, to fit your special occasion!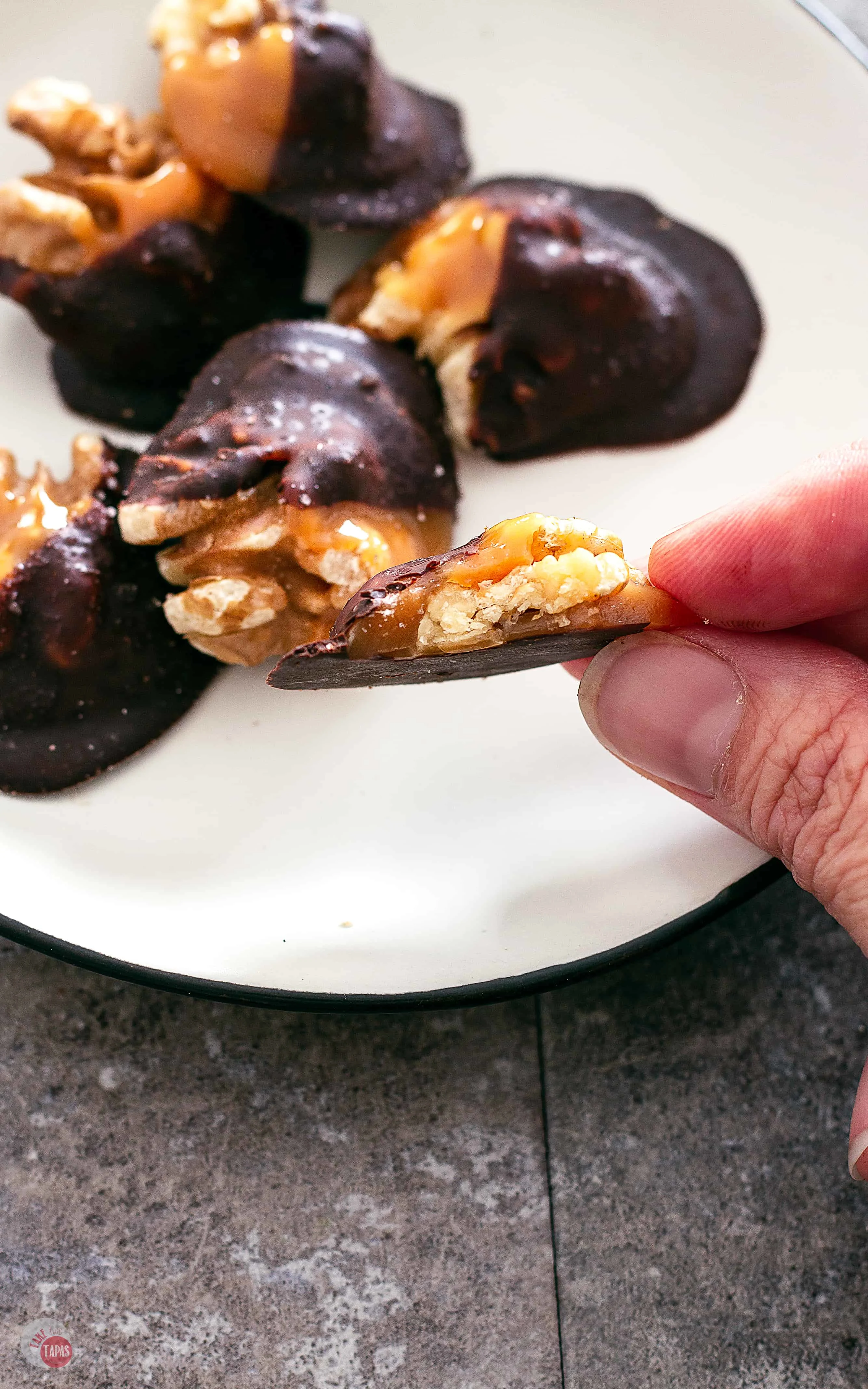 If you love this recipe as much as I do, please write a five-star review in the comment section below (or on Pinterest with the "tried it" button – you can now add pictures into reviews, too!), and be sure to help me share on facebook!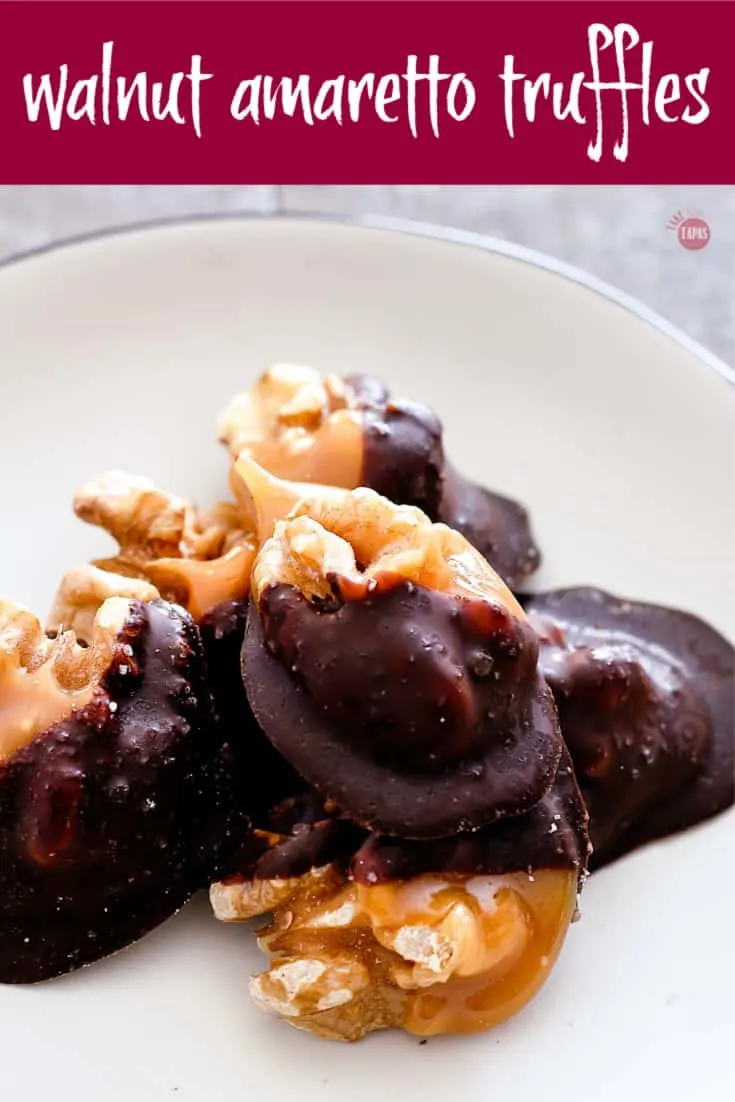 These Walnut Amaretto Turtles are a great new treat to take to a cookie exchange, add to a dessert cheese board, or give as holiday hostess gifts. The turtles can last up to 2 weeks if store-properly!
MORE EASY PARTY FOODS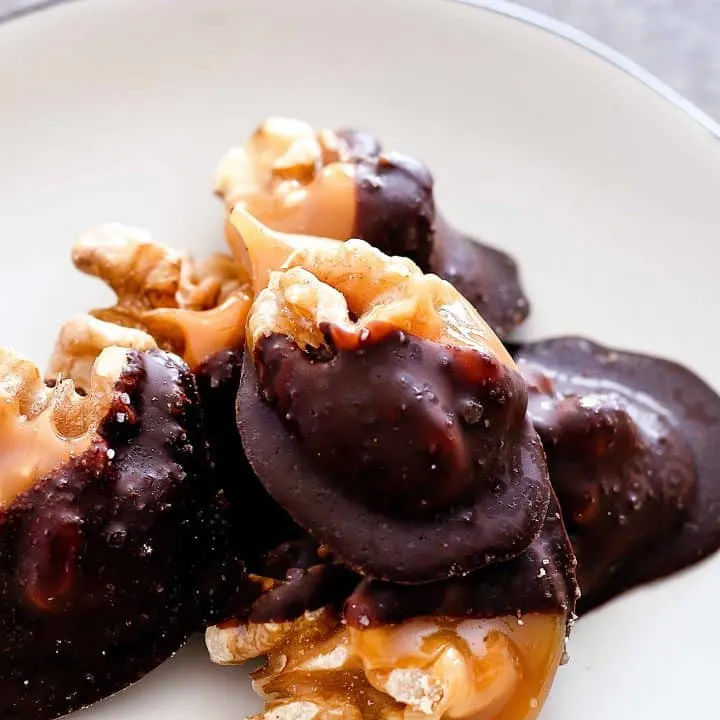 Dark Chocolate Amaretto Turtles - Individual Walnut Turtles
Individual Walnut Amaretto Turtles are the perfect sweet treat you don't have to share! Toasted walnuts, creamy amaretto caramel, and salted dark chocolate!
Ingredients
Walnuts
Caramel Coating
¼ cups butter (unsalted)
½ cups sugar (granulated)
½ cup light corn syrup
½ cup brown sugar (packed)
½ cups sweetened condensed milk
¼ teaspoons salt
2 tablespoons amaretto
Chocolate Coating
Instructions
Prepare the walnuts
Preheat oven to 250F. Line a baking sheet with parchment paper.Spread the walnut halves in a single layer on the baking sheet.Toast walnuts for 15 minutes or until toasted and fragrant.Remove from oven and cool completely.These can be stored in an airtight container until ready to dip in caramel and chocolate.Prepare the caramel
In a large, microwave-safe bowl, combine butter, corn syrup, brown sugar, white sugar, and sweetened condensed milk.
Stir to mix completely.
Microwave for 90 seconds at half power. (My microwave is 1600 watts- If your is 1000 watts you can microwave on full power)
Remove from the microwave (with hot pads as the bowl will be very hot) and stir making sure to scrape down the sides of the bowl.
Return to the microwave and cook for another 90 seconds at half power (depending on your wattage).
Remove from the microwave (with hot pads as the bowl will be very hot) and stir making sure to scrape down the sides of the bowl.
Continue this for two more cycles for a total cooking time of 6 minutes.
At the end of the 6 minute cook time, add the amaretto and stir to combine again. This part may bubble up so be careful!
Coat the walnut amaretto truffles
Line a baking sheet with parchment paper.
Dip a walnut halve into the caramel, coating it about 2/3 of the way.
Place on the parchment paper to cool.
Continue this until all the walnuts are dipped.
Pour remaining caramel in a buttered dish and cut up for candy later.
Once the caramel has set, prepare the chocolate coating.
Prepare to dip the walnuts
Melt the chocolate in a double boiler (a glass or metal bowl over a simmering pot of water or in the crockpot).
Stir to make sure the chocolate is completely melted and smooth.
Dip the caramel coated walnut halves in the chocolate. Feel free to dip half or all of it.
Place on a parchment-lined baking sheet.
Sprinkle with salt to your liking.
Cool in the refrigerator until the chocolate is set.
Store in an airtight container for up to 4 days.
Enjoy!
Notes
*If you like this recipe, please leave me a comment and rate it with some stars. Thank you!
Nutrition Information:
Yield:

40
Serving Size:

1
Amount Per Serving:
Calories:

78
Total Fat:

3g
Saturated Fat:

1g
Trans Fat:

0g
Unsaturated Fat:

2g
Cholesterol:

4mg
Sodium:

41mg
Carbohydrates:

12g
Fiber:

0g
Sugar:

11g
Protein:

1g
This nutrition information was generated via a third party, Nutritionix, and can not be held liable for any discrepancies in the information provided.
Divine Chocolate is the only Fairtrade chocolate company in the world that is owned by cocoa farmers" and all of their baking bars are vegan. Perfect for those with food allergies or dietary restrictions.
For all their amazing products follow Divine on their social media channels!
Divine Chocolate, Pinterest, Twitter, Instagram, and Facebook.
Check out all the other #Choctoberfest Recipes that bloggers are posting today!
Recipe adapted from this one and this one.
TakeTwoTapas.com. Content and photographs are copyright protected. Sharing of this recipe is both encouraged and appreciated. Copying and/or pasting full recipes to any social media is strictly prohibited.