Margarita Bars have a creamy and tart lime filling complete with a splash of tequila that sits atop a salty pretzel shortbread crust. A crispy top dusted with powdered sugar finishes off of this amazing dessert.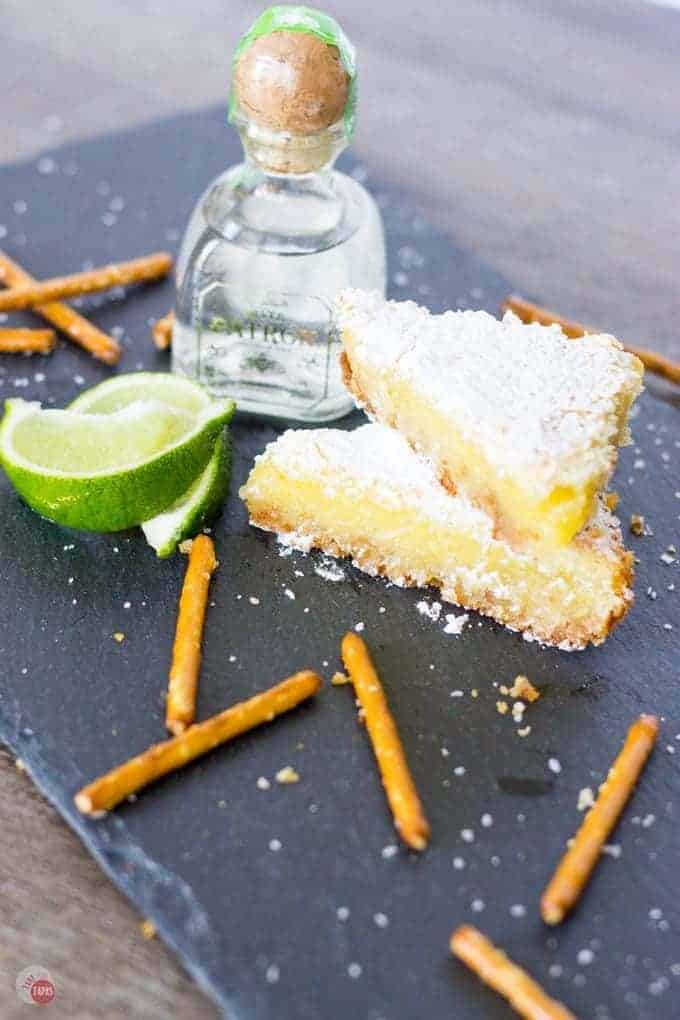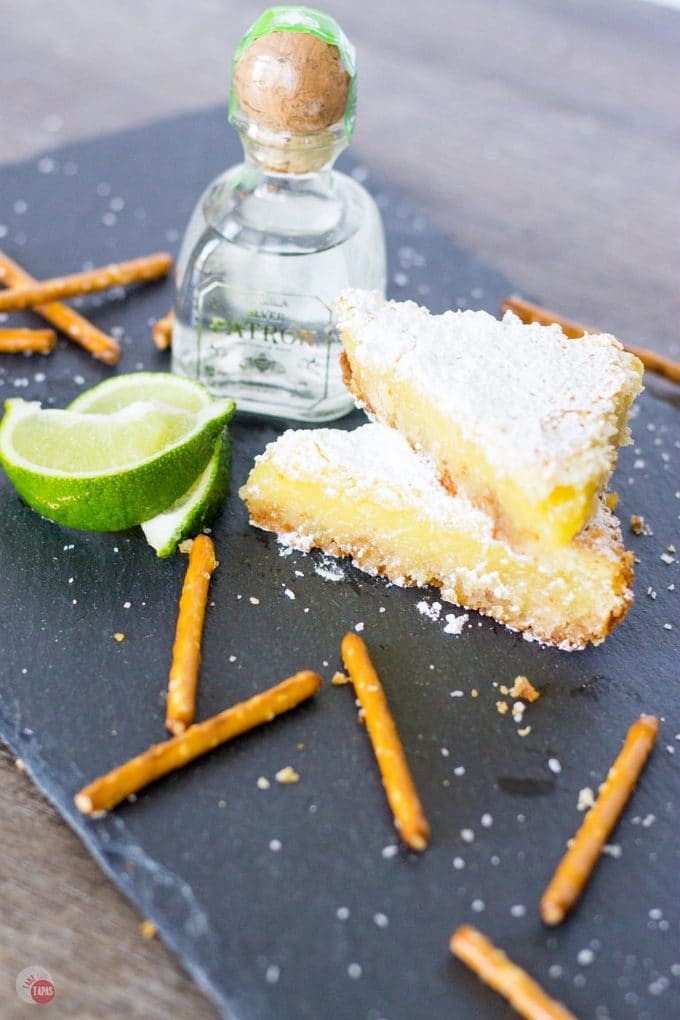 It is just over a month away from Cinco de Mayo and I am going to admit that I have been dreaming about these margarita bars since January 4th.
New Year's Day is a day to rest from the previous night's festivities and January 2nd is the day I start putting everything away. No, I don't keep my tree and decorations up for 12 days because I am ready to get things headed for Spring Cleaning.
This is only because the kids are out of school and I can make them pack and carry things for me. A little manual labor builds character. Plus I get to sleep late. Waking up after a great night's sleep and an empty schedule makes for happy and productive days.
Once I get everything put away I spend January 3rd planning and organizing my calendar (goals and such) for the next few months. I look first at Superbowl. Much like the Oscars awards ceremony, it is a culmination of tapas and appetizer season.
Once I have those recipe ideas written down I look at the rest of the year's holidays. The next big party day is Cinco de Mayo.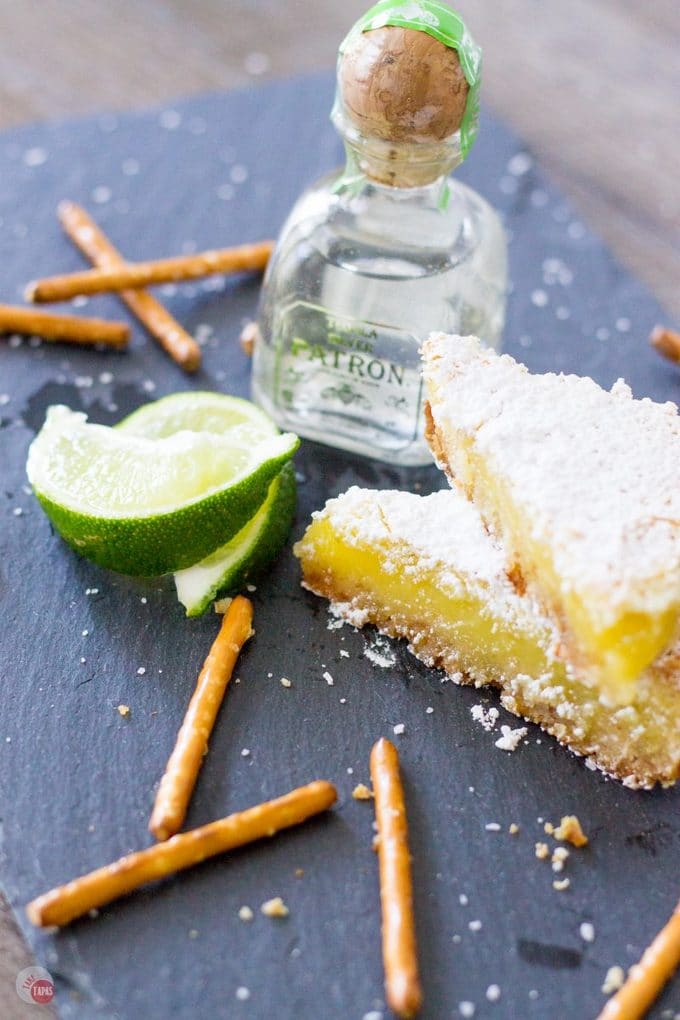 If you'd rather skip my essential cooking tips and tricks and get straight to this delicious recipe – simply scroll to the bottom of the page where you can find the printable recipe card.
I love tequila so I feel like I am in a perpetual Cinco de Mayo party mode. Nothing wrong with that! I love making drinks like my Blueberry Margarita and making tacos. Have you checked out my Asian twist on tacos?
This constant craving for tequila wasn't always present. Tequila and I didn't get along for a really long time. Mostly because I chose a cheap tequila and proceeded to cheat on it with another liqueur.
Amaretto to be exact. Almond liqueur can be beautiful and delicious when she's your main squeeze but she's a nasty bitch if she is the mistress. Vindictive and mean if she is not the center of attention.
Much like those girls in high school, pretty on the outside but give your attention to someone else for 5 minutes, and she will slash your tires and spray paint your car with nasty messages.
I cheated on my cheap tequila with amaretto and she didn't let me forget it.
For two years.
Upon meeting a more sophisticated tequila (more refined and a Reposado,) I decided to become monogamous. We consummated the marriage with wedding rings which are Himalayan Sea Salt shot glasses. Now we are tight like an old married couple.
I decided to celebrate our one year anniversary with a twist on one of my favorite desserts. One favorite meets another. Different species, same love.
This post may contain affiliate links. As an Amazon Associate, I earn from qualifying purchases. Read my disclosure policy here.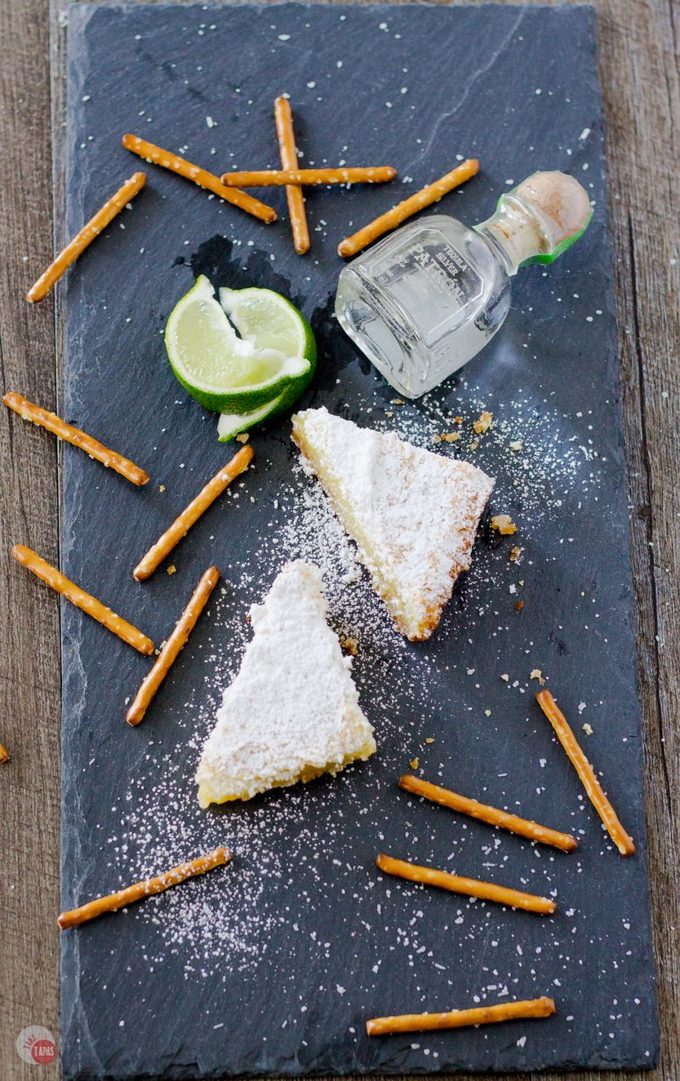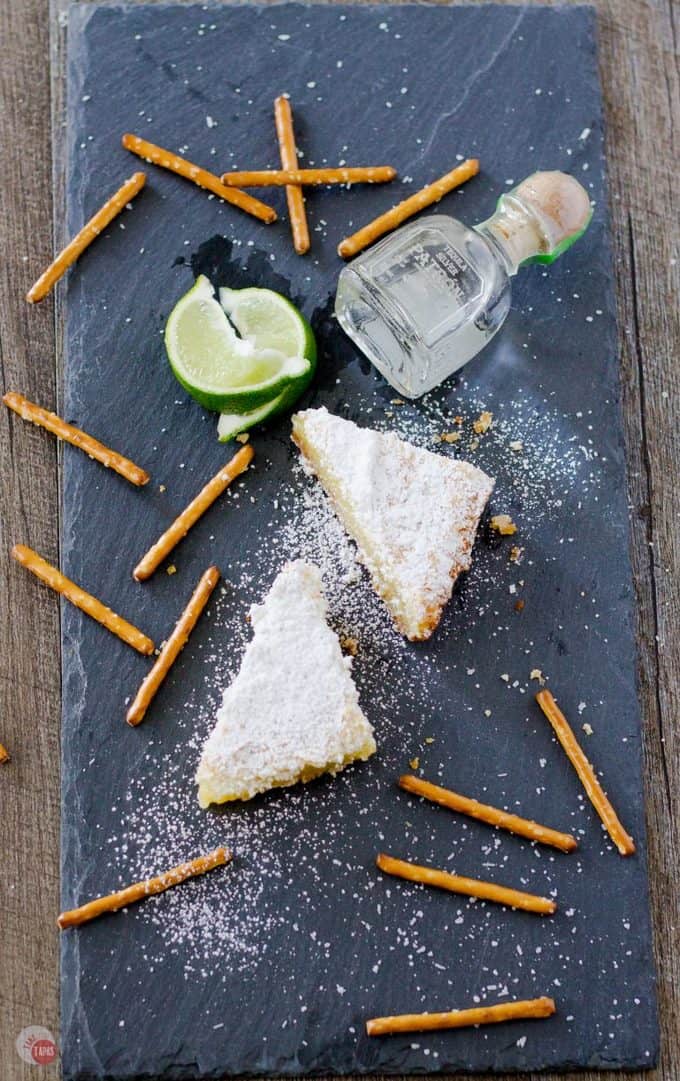 The lemon bar is a classic dessert and Ina Garten is the queen of classics while making everything seem easy and fuss-free. Her motto of using the best ingredients and no matter how simple it is it will be great are words to live by!
Ina's Lemon Bars are no exception. You can't go wrong with a shortbread crust, a creamy and tart lemon filling, and a crispy top dusted with powdered sugar. Or can you?
Challenge accepted!
For more insider tips & tricks, and a candid behind the scenes look follow me on social media! Check use out on Pinterest, Facebook, Instagram, & Twitter (yes, people still use Twitter, LOL!)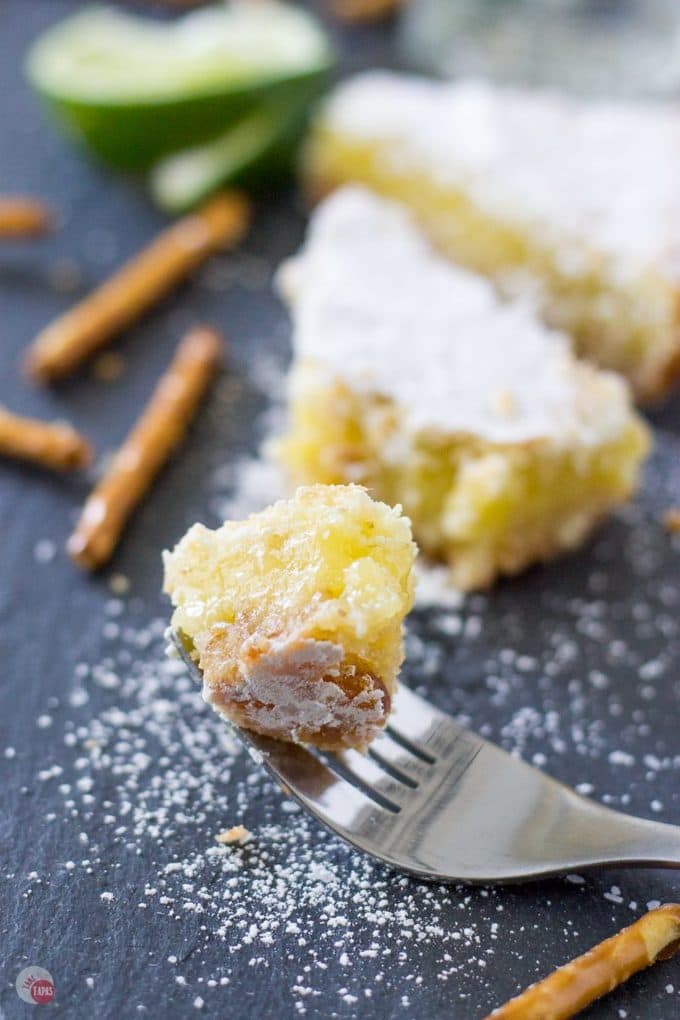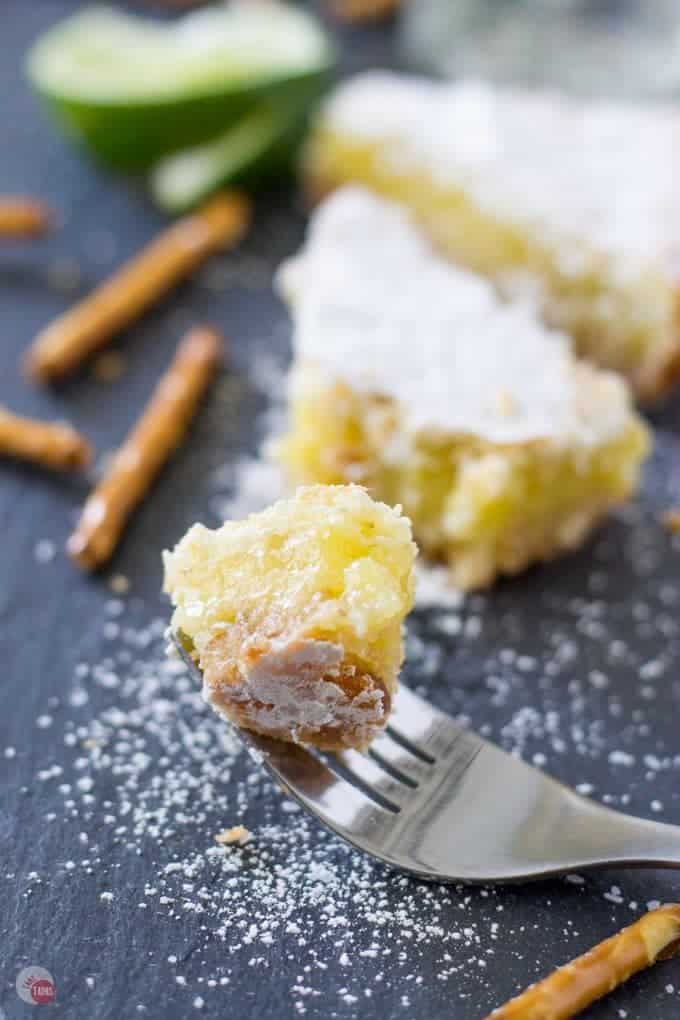 Bring on the lime and tequila because I am making margarita bars!
I have been dreaming of these margarita bars ever since I made my Margarita Dip. That recipe came about after I made my Key Lime Coconut Cheesecake Shooters.
After assembling quite a few shooters for a wedding reception, my hubby started eating the filling with pretzels. You know, grab the first thing you can find and dip it in a bowl of something. Men! But by doing that he created the margarita shooter which is available in my Dessert Shooter eBook. I hate it when he's right.
Because it is a whole new year, we need a new margarita dessert. I am making one to accompany the Margarita Dip from last year. It is in my top 5 most popular posts and I can understand why. Salty pretzels and a tequila-infused lime dip, what is not to like? I have a feeling these margarita bars will make the top 5 very soon!
These margarita bars are an elevation of classic lemon bars. Lime instead of lemon with pretzels in the crust and tequila in the filing!
I'm already in love!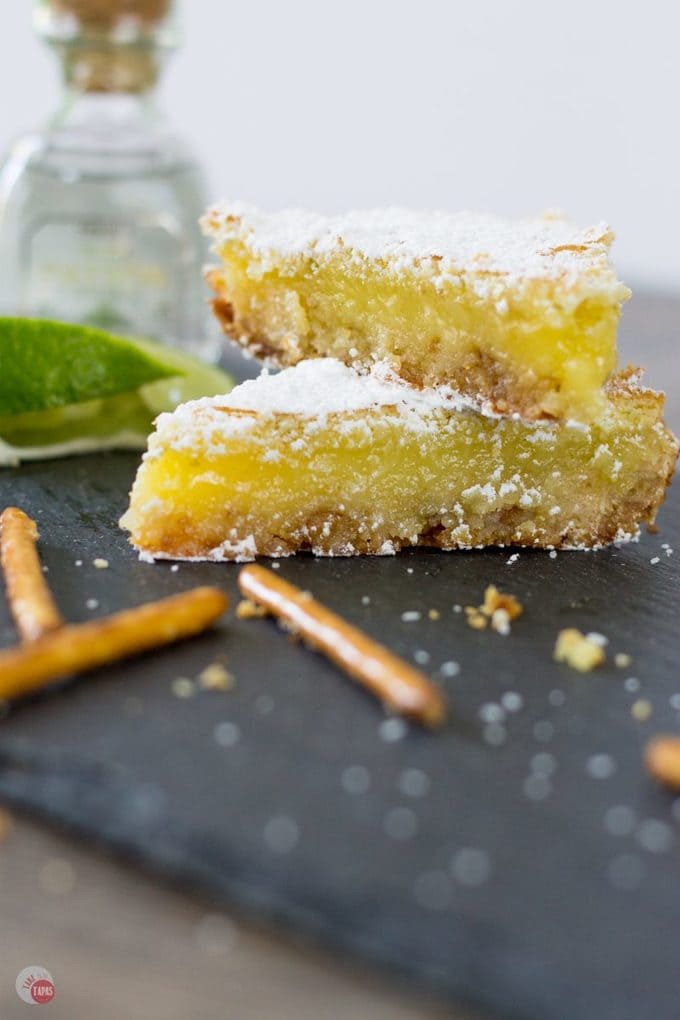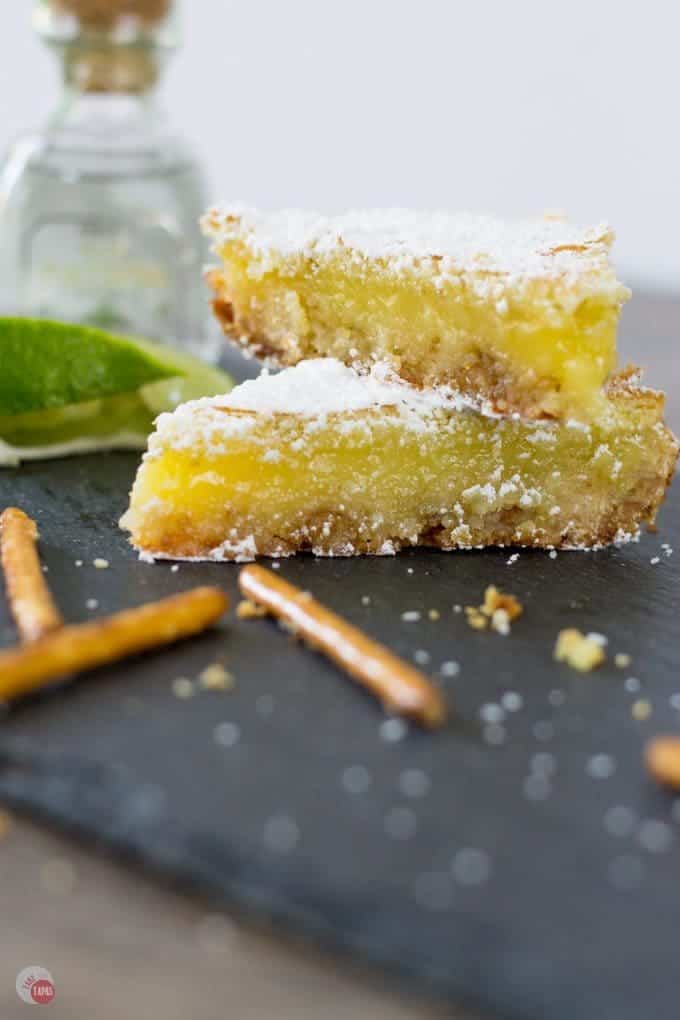 These margarita bars are just what you are looking for in a dessert, or breakfast because no one judges here. Creamy filling that is tart with lime juice and a hint of tequila all nestled on a crispy shortbread crust studded with salted pretzels.
I left the pretzels in pieces and didn't completely pulverize them so you would get some texture and those bits of salt that you get when you drink a margarita.
The salt flakes add that flavor contrast to the lime and the sweetness of the filling.
Can we talk about the top of these margarita bars for a second?
When the bars are baking, the sugar in the filling caramelize on the top forming a thin crispy crust. When you bite into the bars, it makes a snapping sound much like the burnt sugar on top of a creme brulee. It's to die for!!
These margarita bars are a definite must for your Cinco de Mayo celebration, any Taco Tuesday party, or just because you are human and need some love! Here is the recipe! If you are looking for other great recipe ideas for Cinco de Mayo check out this Cinco de Cilantro Cocktail and this Chili Relleno Dip for starters!
What is on your Cinco de Mayo party menu? I hope these Margarita Bars are!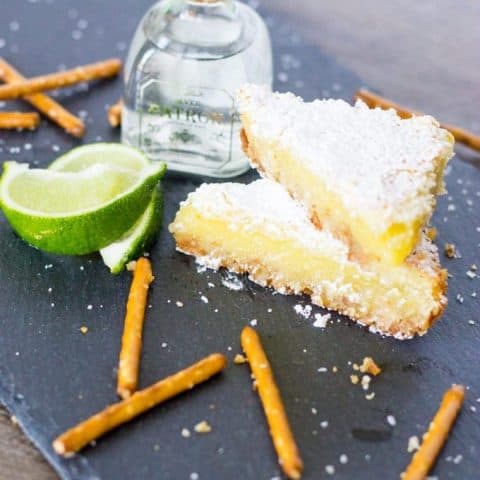 Margarita Bars
Margarita Bars have a creamy and tart lime filling complete with a splash of tequila that sits atop a shortbread salty pretzel crust with a sugared top!
Ingredients
Margarita Filling
6 extra large eggs (room temperature)
3 cups sugar
Zest of 2 limes (roughly 2 tablespoons)
Juice of 2 limes (roughly 1/2-2/3 cup) *Use the limes you zested so nothing is wasted
1/3-1/2 cup Tequila *notes below
1 cup flour
For the Pretzel Shortbread Crust
2 sticks butter
1/2 cup granulated sugar
1 cup All-Purpose Flour
1 cup crushed pretzels (leave some small pieces)
Powdered sugar and lime zest for garnish
Instructions
Bake the pretzel crust layer
Preheat oven to 350F.
Mix the ingredients for the crust and spread in the bottom of a 9x13 baking pan (glass or metal).
Make sure you get an even layer and bring up a little on the sides to hold the filling in.
If your hands get sticky from the butter, dust them in flour and then press down on the crust.
Bake the crust at 350F for 15 minutes or until it is a light golden brown.
Remove from the oven and let cool a bit while you make the filling. Leave the oven on.
Make the margarita bar filling
For the filling, zest, and juice your limes.
In a large bowl combine the eggs, sugar, lime zest, lime juice, tequila*, and flour.
Stir with a whisk to combine completely.
Pour onto the slightly cooled crust.
Put the pan back in the oven and bake for 30-35 minutes or until the center doesn't jiggle when you give it a gentle shake.
Remove from oven and let cool completely.
I let my margarita bars cool for about 15 minutes and then put them in the refrigerator to cool them quicker. I couldn't wait.
Garnish with a dusting of powdered sugar and lime zest!
Slice into 24 bars or triangles.
Enjoy with a margarita on Cinco de Mayo!
Notes
*The total amount of liquid is 1 cup so pour your fresh lime juice in a measuring cup. Make up the difference with tequila to use a total of 1 cup of lime juice and tequila combined. If you don't want to use tequila (just use 1 cup total lime juice.)
*If you like this recipe, please leave me a comment and rate it with some stars. Thank you!
Nutrition Information:
Yield:

24
Serving Size:

1
Amount Per Serving:
Calories:

269
Total Fat:

8g
Saturated Fat:

5g
Trans Fat:

0g
Unsaturated Fat:

2g
Cholesterol:

20mg
Sodium:

93mg
Carbohydrates:

47g
Fiber:

1g
Sugar:

36g
Protein:

1g
This nutrition information was generated via a third party, Nutritionix, and can not be held liable for any discrepancies in the information provided.
If you like reading my posts and seeing my recipes, follow me on your favorite social media channel for behind the scenes photos and much, much more: Pinterest, Facebook, Instagram, and Twitter!
©TakeTwoTapas.com. Content and photographs are copyright protected. Sharing of this recipe is both encouraged and appreciated. Copying and/or pasting full recipes to any social media is strictly prohibited.