This Sparkling Amaretto Sour recipe is a twist on a classic. Frothy, sweet, sour, but made lighter with sparkling water. Same delicious cocktail, less calories per serving!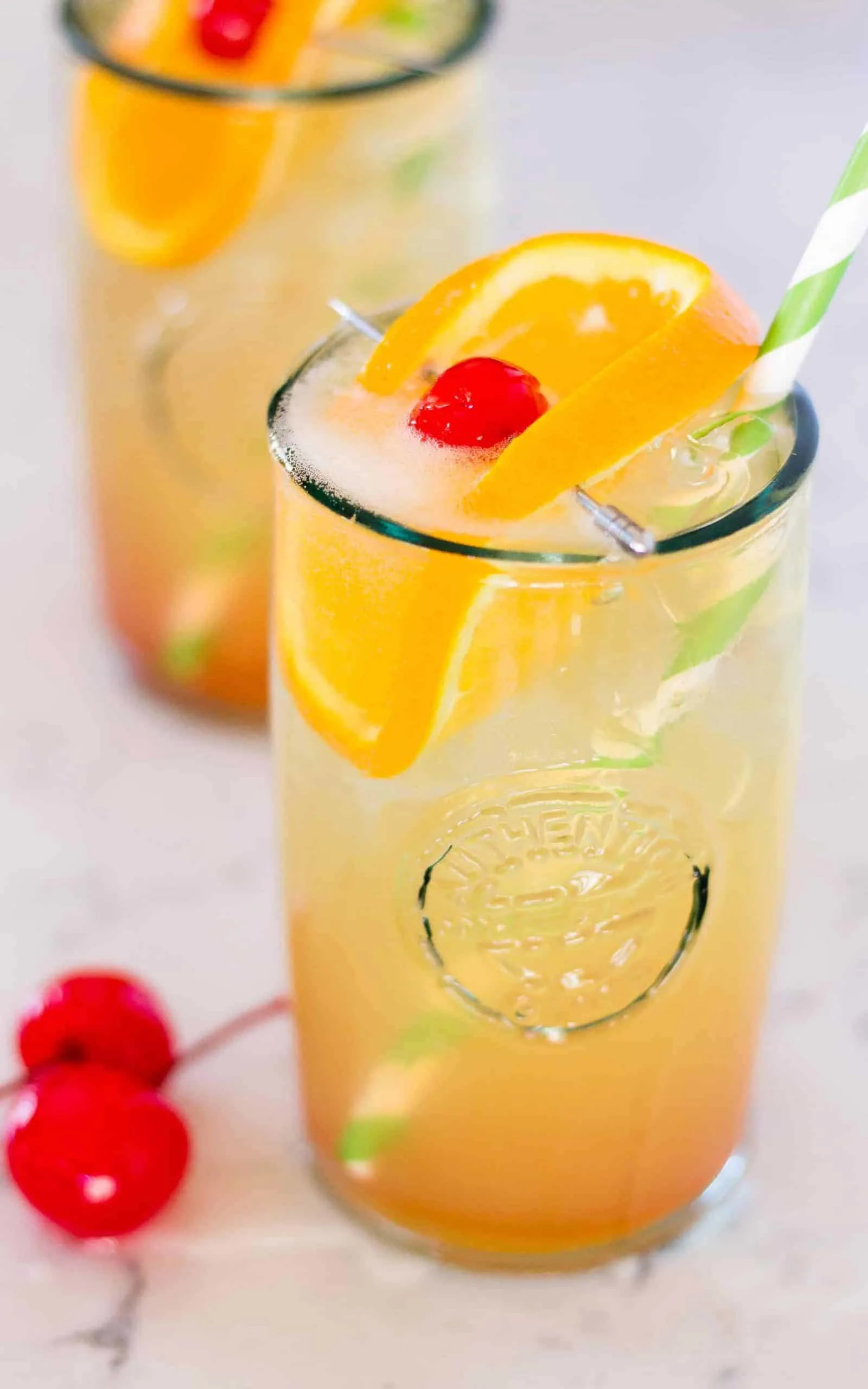 Classic cocktails are great when you're feeling nostalgic but when you need something lighter and brighter try my Sparkling Amaretto Sour.
Amaretto, homemade sour mix, and lemon sparkling water bring the same flavors and some bubbles. Don't forget the cherry garnish!!!
I hate to admit this but in college I drank all the classic girly cocktails when I finally turned 21. As someone who just started drinking adult beverages, I needed to have sweet sugary drinks.
Not that the taste of alcohol is bad, but it can be a little harsh when you are not used to drinking it. One of these classic "girly" cocktails is the Amaretto Sour.
The sour is not the only Disaronno drinks out there, but certainly my favorite. Besides drinking it straight on the rocks.
What is an Amaretto Soup?
The classic Amaretto Sour cocktail consists of
Amaretto
Simple Syrup
Lemon Juice
A simple garnish of an orange slice and a maraschino cherry and the recipe is complete. Easy, right?!? Girly? Of course it is! But if you are new to the cocktail scene, what exactly is amaretto?
This post may contain affiliate links. As an Amazon Associate, I earn from qualifying purchases. Read my disclosure policy here.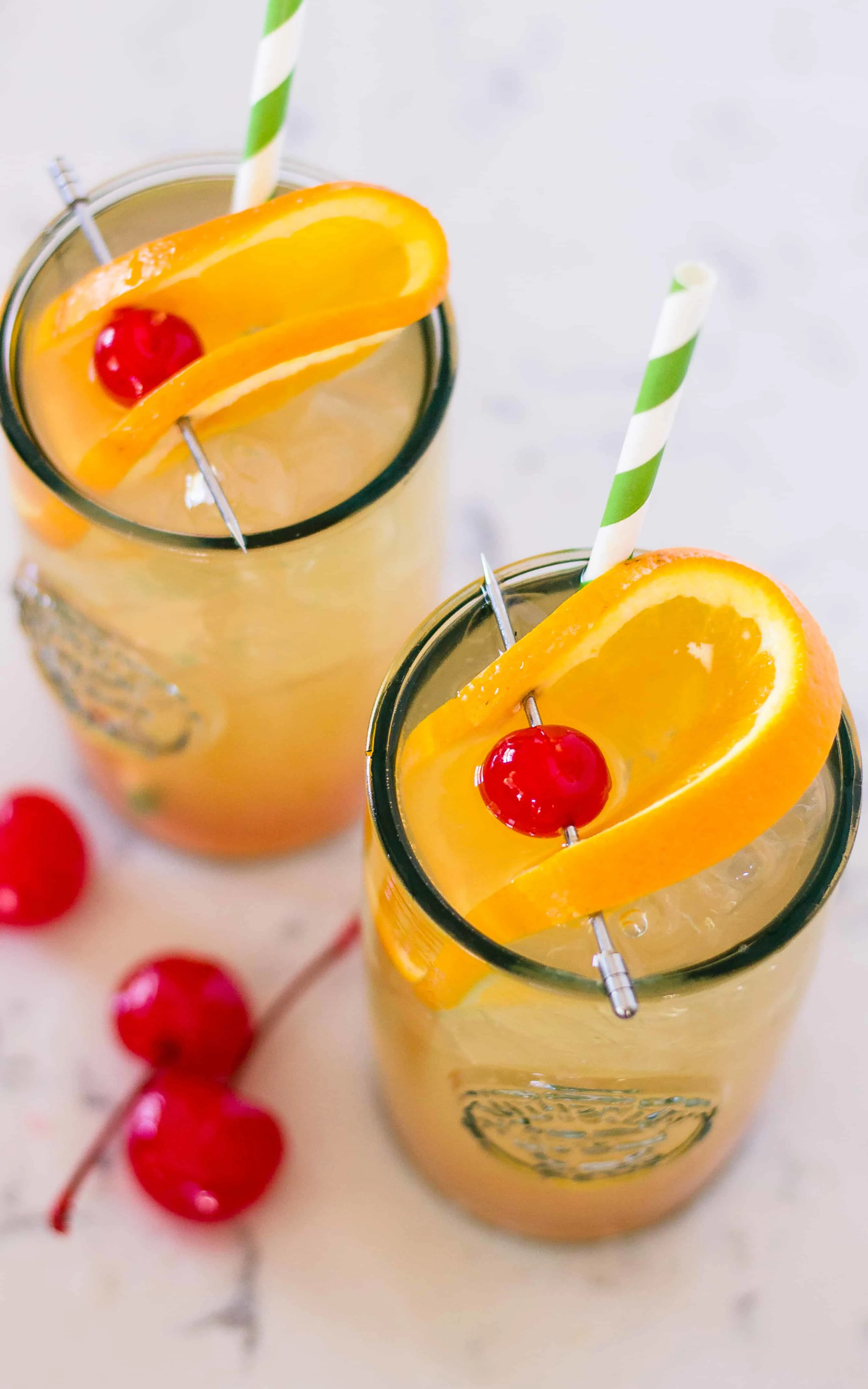 What is Amaretto?
Amaretto, the Disaronno® brand being my favorite, is an Italian liqueur (cordial) made from almonds, apricots, vanilla, and a little spice. Amaretto has a nutty almond flavor and can be a little on the sweet side.
Most of my other girlfriends drank cordial cocktails too, in between the wine coolers and cheap wine. It's no wonder we gained weight in college with all these sugary drinks.
I still really love the flavors of the Classic Amaretto Sour but I really don't need the calories now that I am in my 40s. How can I lighten it up a bit and still enjoy the classic cocktail?
Check out my secret ingredient!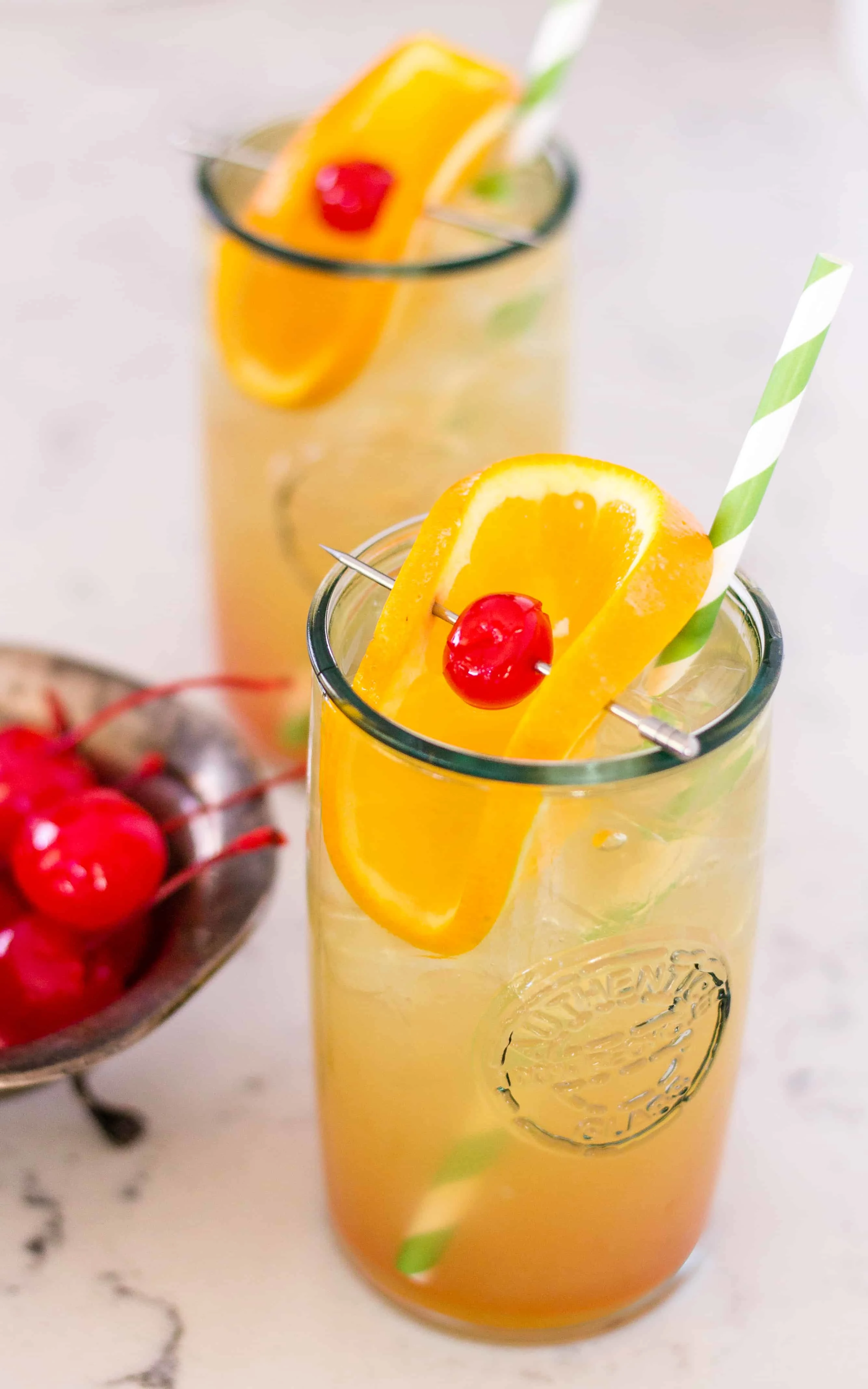 Skinny Amaretto Sour
Sparkling water to the rescue!
I'm not a big fan of club soda or tonic water so sparkling water just seems like the logical choice when looking spruce up my cocktail without adding additional calories.
The best thing about sparkling water is that it comes in a variety of fun flavors which can add another layer to your beverage.
An amaretto sour cocktail will run you about 200 calories for 2.6 ounces of drink. With the addition of the sparkling water, you can enjoy a full 9 ounces for the same amount of calories!
This version will give you the same amount of calories but in more than 3 times the amount of drink! I can certainly sip on a full 9 ounces of a drink a lot longer than 1/3 of a cup which also means I will drink less overall.
Plus the bubbles are so fun!!
Which sparkling water flavor pairs best with cocktails?
The amaretto sour consists of amaretto, lime juice, and simple syrup. My version uses amaretto, sour mix which provides the acidity of lemon juice and the sweetness of simple syrup, and a lemon sparkling water.
To keep it from looking like a diluted mess, I add a little bit of maraschino cherry juice.
Being that you garnish it with an orange slice and a cherry, I though it best to add a little of the juice to my recipe.
All the best classic cocktails can use a new twist on them! Sparkling water makes all the difference!
ENJOY RESPONSIBLY!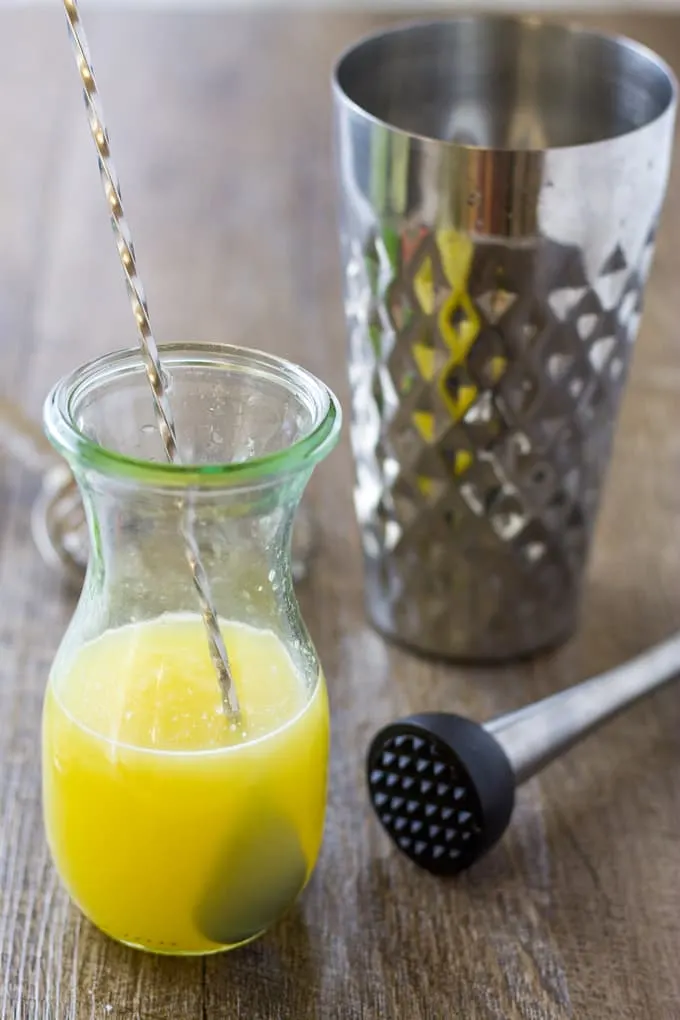 For more insider tips & tricks, and a candid behind the scenes look follow me on social media! Check use out on Pinterest, Facebook, Instagram, & Twitter (yes, people still use Twitter, LOL!)
Can I use any brand of Amaretto?
Feel free to use your favorite brand!
Can I use store bought sour mix?
I prefer homemade because I can make it as sweet or sour as I want but feel free to use your favorite one!
Is there are particular brand of sparkling water you prefer?
Again, it all depends on taste. Find the brand that you like or that has the best lemon flavor:)
Can I make this into a large batch punch?
Of course you can! You can put it all together but I would leave out the sparkling water until ready to serve or you will lost the bubbles:)
If you love this recipe as much as I do, please write a five-star review in the comment section below (or on Pinterest with the "tried it" button – you can now add pictures into reviews, too!), and be sure to help me share on facebook!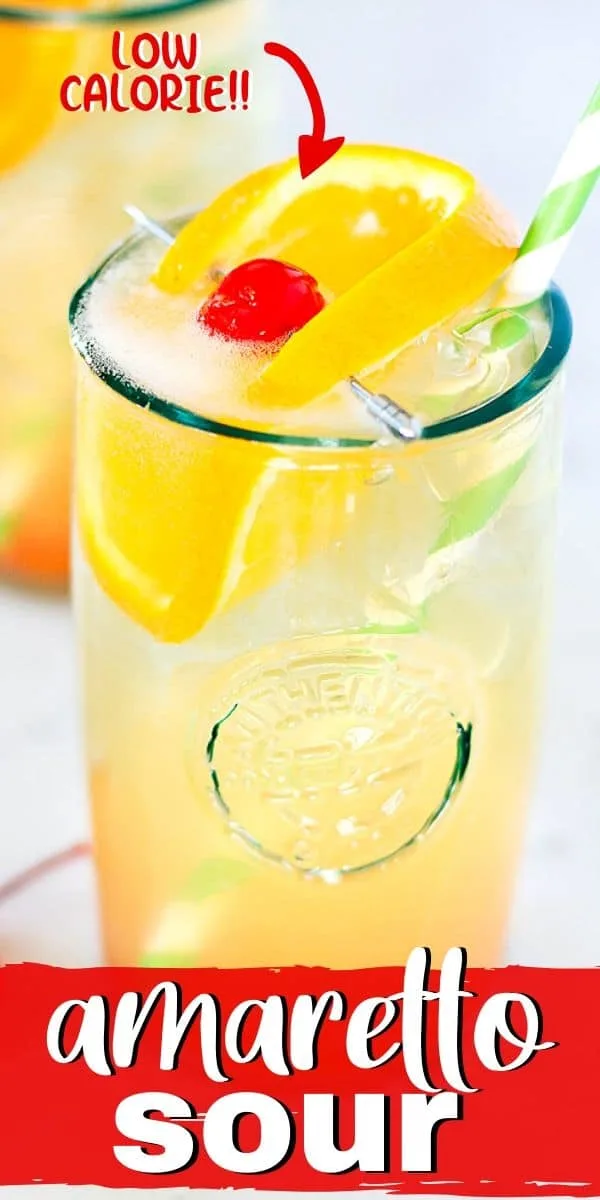 More Easy Party Foods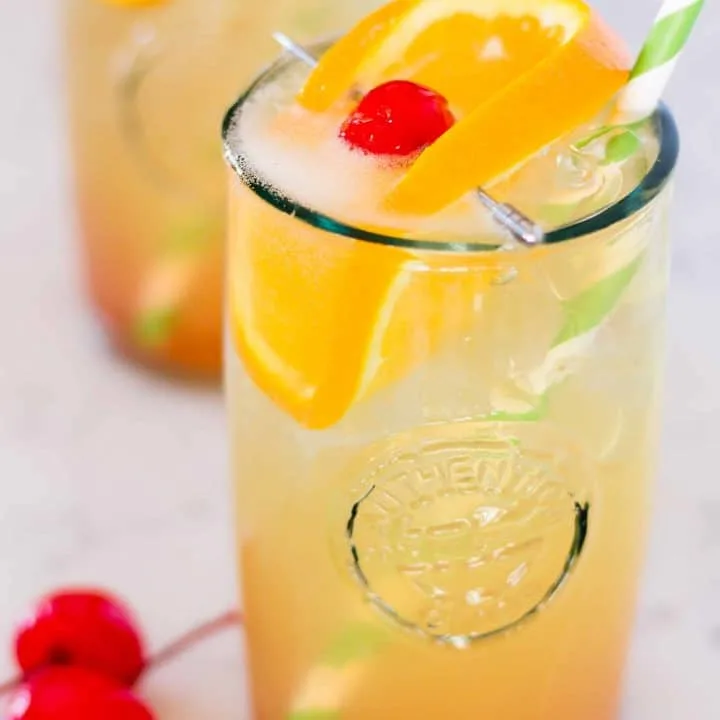 Low Calorie Amaretto Sour Recipe
This Classic Amaretto Sour recipe is made with a twist. Frothy, sweet, sour, but made lighter with sparkling water.
Ingredients
For the Sparkling Amaretto Sour Cocktail
3 ounces Amaretto
2 ounces Sour Mix
3/4 teaspoons Maraschino Cherry Juice (or grenadine)
3 ounces Lemon Sparkling Water
ice
For the Garnish
1 Orange Slice
1 Maraschino Cherry
Instructions
In a cocktail shaker, add the amaretto, sour mix, and the cherry juice.
Stir or shake to combine.
In a tall glass, fill with ice.
Pour the amaretto cocktail over the ice.
Add the lemon sparkling water.
Give it a quick stir.
Garnish with the orange slice and cherry.
Enjoy!
Notes
*If you like this recipe, please leave me a comment and rate it with some stars. Thank you!
Nutrition Information:
Yield:

1
Serving Size:

1 cocktail
Amount Per Serving:
Calories:

247
Total Fat:

0g
Saturated Fat:

0g
Trans Fat:

0g
Unsaturated Fat:

0g
Cholesterol:

0mg
Sodium:

79mg
Carbohydrates:

39g
Fiber:

2g
Sugar:

34g
Protein:

1g
This nutrition information was generated via a third party, Nutritionix, and can not be held liable for any discrepancies in the information provided.
TakeTwoTapas.com. Content and photographs are copyright protected. Sharing of this recipe is both encouraged and appreciated. Copying and/or pasting full recipes to any social media is strictly prohibited.