Last updated on July 9th, 2018 at 02:20 pm
Classic cocktails are great when you're feeling nostalgic but when you need something lighter and brighter try my Sparkling Amaretto Sour.  Amaretto, homemade sour mix, and lemon sparkling water bring the same flavors and some bubbles.  Don't forget the cherry garnish!!!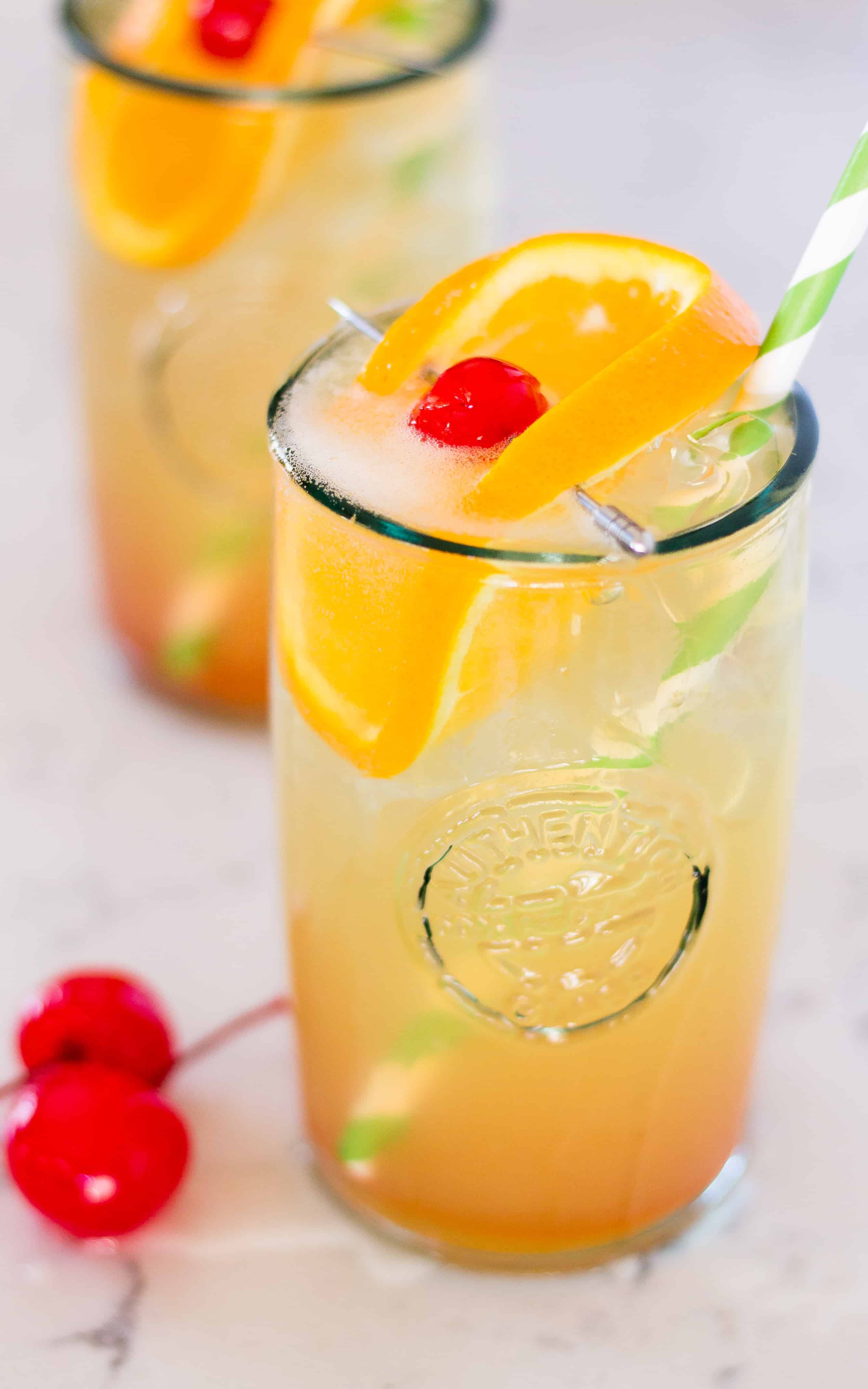 I hate to admit this but in college I drank all the classic girly cocktails when I finally turned 21.  As someone who just started drinking adult beverages, I needed to have sweet sugary drinks.  Not that the taste of alcohol is bad, but it can be a little harsh when you are not used to drinking it.  One of these classic "girly" cocktails is the Amaretto Sour.
What is in an Amaretto Sour?
The classic Amaretto Sour cocktail consists of
Amaretto
Simple Syrup
Lemon Juice
A simple garnish of an orange slice and a maraschino cherry and the recipe is complete.
What is Amaretto?
Amaretto, Disaronno is my favorite, is and Italian liqueur made from almonds, apricots, vanilla, and a little spice.  Amaretto can be a little on the sweet side so when I think of adding additional sugar with simple syrup makes me need some green beans to wash it down with. LOL!
Most of my other girlfriends drank Amaretto Sour cocktails too, in between the wine coolers, and cheap wine.  It's no wonder we gain weight in college with all these sugary drinks.  I still really love the flavors of the Amaretto Sour but I really don't need the calories now that I am in my 40s.  It's hard enough to keep the weight off without adding to it with liquid calories while I am  trying to relax.
How can I lighten it up a bit and still enjoy the classic cocktail?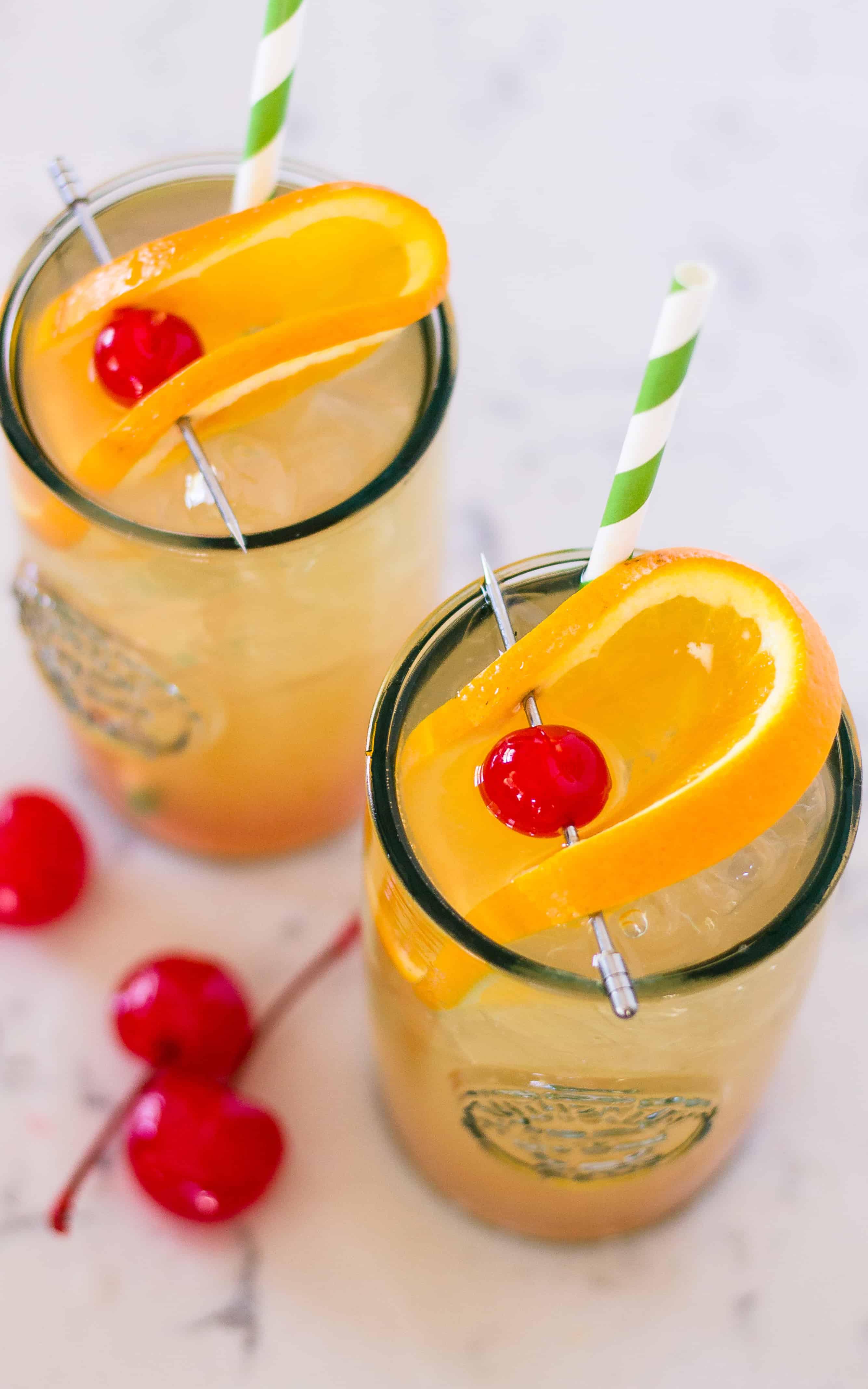 Sparkling water to the rescue again!
I have been skinni-fying lots of cocktails with sparkling water like my Blackberry Coconut Splash, my Cucumber Mint Gin Cooler, my Lime in the Coconut Cooler,
I'm not a big fan of club soda or tonic water so sparkling water just seems like the logical choice when looking to add to my cocktail without adding additional calories.  The best thing about sparkling water is that it comes in a variety of fun flavors which can add another layer to your beverage.
This post may contain affiliate links.
 

I earn a small commission for my endorsement, recommendation, testimonial, and/or link to any products or services from this website.

 

Your purchase helps support this blog at no additional cost to you and allows me to continue bringing you delicious recipes and funny stories.

 

For my entire disclosure policy click here.
Which sparkling water flavor pairs best with classic cocktails?
The amaretto sour consists of amaretto, lime juice, and simple syrup.  My version uses amaretto, sour mix which provides the acidity of lemon juice and the sweetness of simple syrup, and a lemon sparkling water.  To keep the Sparkling Amaretto Sour Cocktail from looking like a diluted mess, I add a little bit of maraschino cherry juice.
Being that you garnish the Amaretto Sour with an orange slice and a cherry, I though it best to add a little of the juice to my Sparkling Amaretto Sour Cocktail.
All the best classic cocktails can use a new twist on them and this Sparkling Amaretto Sour Cocktail is just that!  Sparkling water makes all the difference!
Print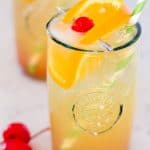 Sparkling Amaretto Sour Cocktail
---
Author:

Prep Time:

5 mins

Total Time:

5 mins

Yield:

1 cocktail
Description
Classic cocktails are great when you're feeling nostalgic but when you need something lighter and brighter try my Sparkling Amaretto Sour.
---
Ingredients
For the Sparkling Amaretto Sour Cocktail
3 ounces Amaretto
2 ounces Sour Mix
3/4 teaspoons Maraschino Cherry Juice (or grenadine)
3 ounces Lemon Sparkling Water (I prefer LaCroix)
ice
For the Garnish
1 Orange Slice
1 Maraschino Cherry
---
Instructions
In a cocktail shaker, add the amaretto, sour mix, and the cherry juice.
Stir or shake to combine.
In a tall glass, fill with ice.
Pour the amaretto cocktail over the ice.
Add the lemon sparkling water.
Give it a quick stir.
Garnish with the orange slice and cherry.
Enjoy!
Notes
*If you like this recipe, please leave me a comment and rate it with some stars.  Thank you!
Keywords: Amaretto Sour, Cocktails
Love Amaretto Sour cocktails?  Check out these other Amaretto Sour recipes!
If you like reading my posts and seeing my recipes, follow me on your favorite social media channel for behind the scenes photos and much, much more: Pinterest, Facebook, Instagram, and Twitter!