Adobo Seasoning is the Mexican version of seasoned salt or all purpose seasoning. Make this delicious seasoning for every possible meal with just 5 ingredients that you already have in your pantry! It is delicious, stores well, and finds purpose in plenty of recipes.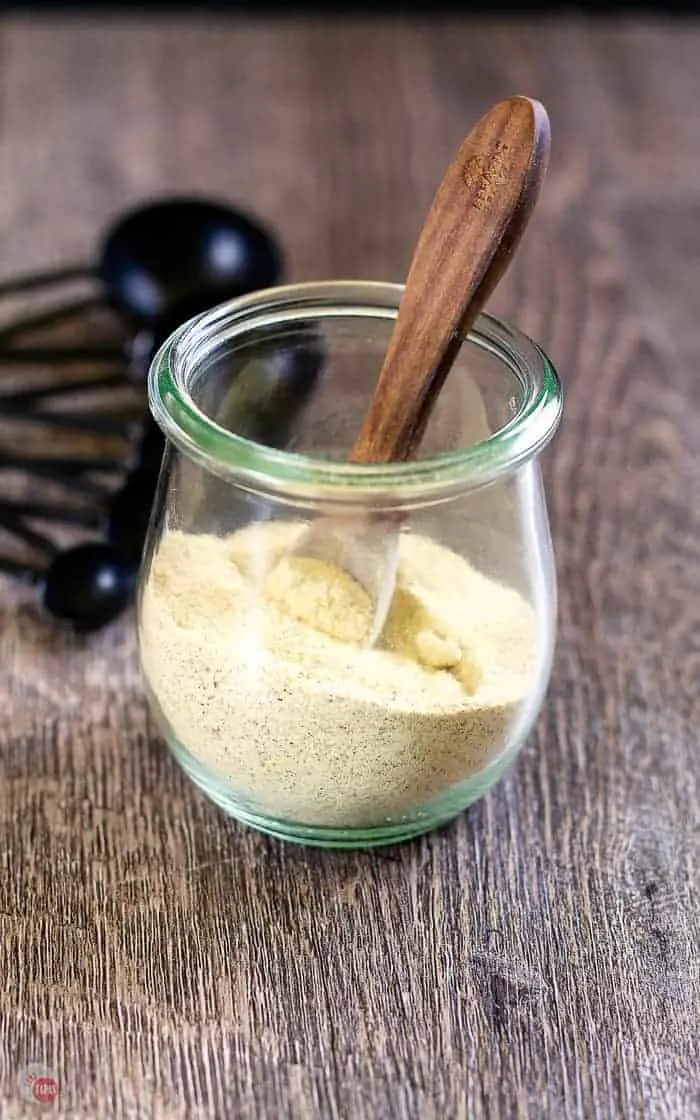 Adobo Seasoning
Adobo spice is the "all-purpose" seasoning mix or seasoned salt that is used in Mexican, Puerto Rican Filipino cuisines. It is becoming more common in American kitchens and with good reason, the dry seasoning mix can be used in so many different recipes.
Adobo Seasoning means one thing to Mexican cooking and another to Filipino and Puerto Rican dishes. Don't get confused or we will be forced to take away your international foods passport.
For this recipe, I will show you the Mexican-style adobo seasoning. But don't fret because I will also explain the differences and similarities too. The word adobo in Spanish refers to clay for most folks, but this seasoning actually hails from the base word adobar, which means to marinate.
It was often mixed with olive oil and fresh lime juice to marinate and season chicken, fish and beef.
You don't want to get yourself in a bind, especially when it comes to cooking great food!
For example, you could use it in recipes like my Celebration Sliders if you wanted to. Not going to force you… but wouldn't hurt to try.
Why This Adobo Seasoning is Awesome
Only five ingredients!
Ready in under five minutes.
Easy to make with pantry staples.
So versatile- it tastes great on almost anything!
Stays fresh in your spice cabinet for months in an airtight container or glass jar.
Homemade spice blends are just better than store-bought.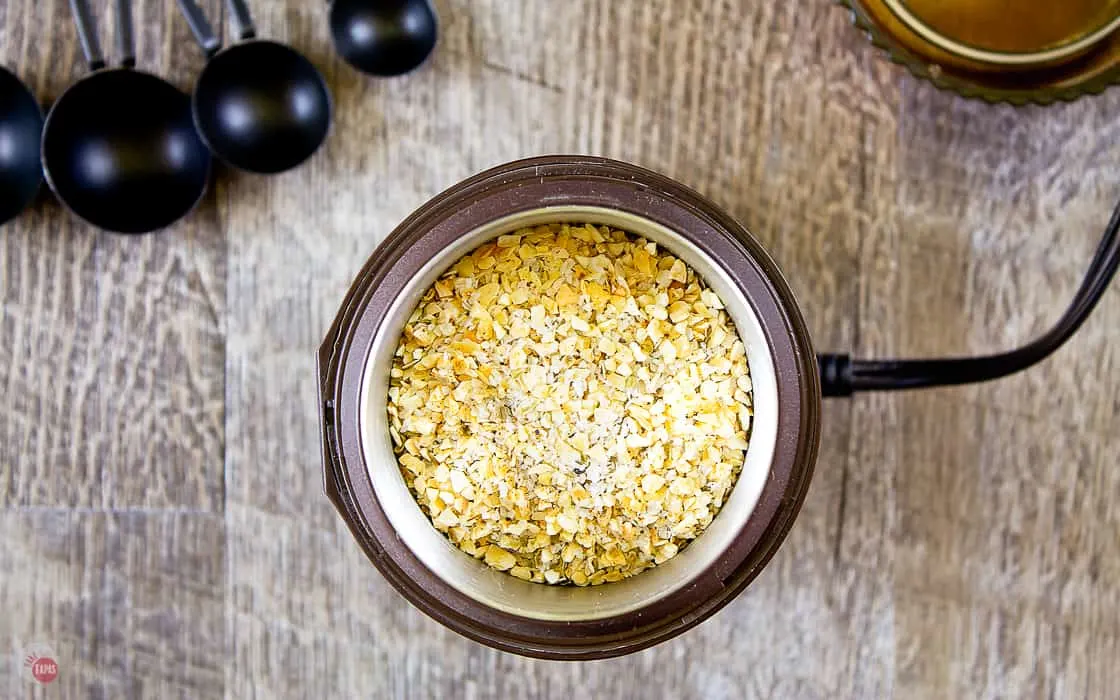 Ingredients Needed
salt
pepper
turmeric
granulated garlic
oregano
For my basic adobo seasoning blend, you need salt, pepper, turmeric, granulated garlic, and oregano.
Grind the heck out of the ingredients. You want the vigorous blender action to make a fine powder out of everything.
This makes the flavors come together as one. So you don't just taste any one flavor on its own.
In this sense, making your own adobo is akin to making your own gumbo file seasoning.
This post may contain affiliate links. As an Amazon Associate, I earn from qualifying purchases. Read my disclosure policy here.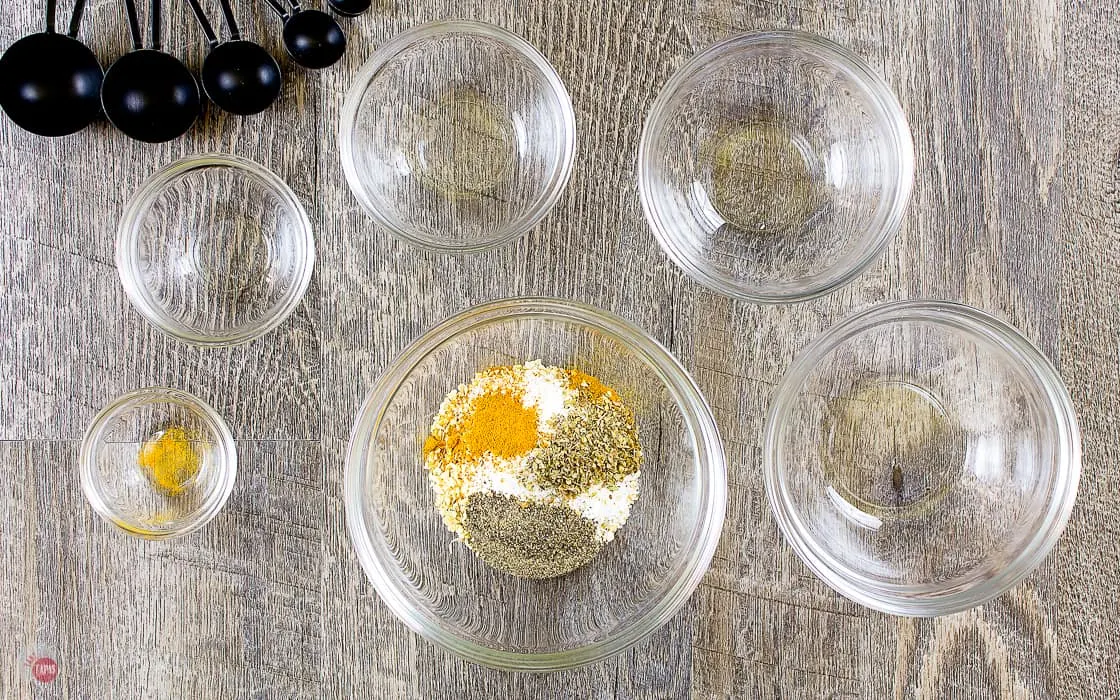 How to Make Adobo Seasoning
FIRST: Combine all the ingredients. Stir to make sure all of the ingredients are fully mixed.
SECOND: Grind in a mortar and pestle or a spice grinder. I have used a mortar and pestle, and came out with very sore arms so I would recommend an electric spice grinder.
A clean coffee grinder also does the trick, just make sure it is clean or you'll have coffee-flavored seasoning. The best way to clean grinders is by loading them up with dry rice and pulsing! Do this several times with a new batch of rice.
THIRD: Store in a cool, dry place. Once made, it can be stored for a few months. Just make sure to keep it in a dry place in a tightly sealed spice jar. Spices like this also do best in dark places. The sun makes them prematurely lose flavor. I like to keep it in a spice jar that has a sprinkle style top and then use it as an all-purpose blend.
Dry adobo can clump a little in humid areas, so it might need a stir now and again or store it a few grains of dry rice that will soak up humidity in the air.
For the full recipe and detailed instructions, please refer to the recipe card at the bottom of the post.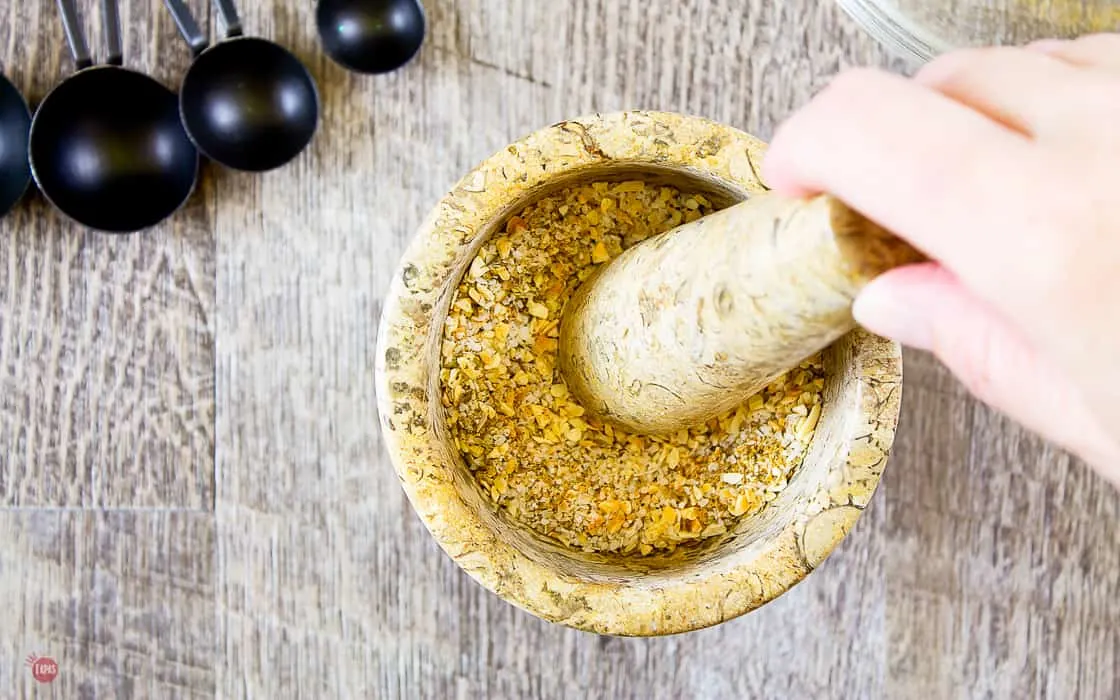 Mexican Style Adobo Seasoning
Mexican style fuses Spanish and Latin flavors to make a seasoning that can be used wet or dry.
Basically, it's a major seasoning foundation to a lot of dishes.
It's similar to Goya Sazonador Complete but the "complete seasoning" contains additional herbs and spices like parsley, cumin, and onion powder.
This recipe shows you how to make the dry seasoning which you can use for a rub on meats, add to stews, and even just sprinkle on most anything you want.
It is so good you will start eyeballing different things and wondering how it would taste with adobo seasoning on it… Like melon for example.
So, feel free to make extra.
Complete your Mexican Feast with this Mexican Cheese Ball, Easy Taco Pasta, Beer Cheese Skillet Dip, and One of These Margaritas!
Create your own Adobo Seasoning
So, while this seasoning can be either be Filipino or Mexican style, it can also be wet or dry. In fact, adobo can also be considered a sauce, not just a wet marinade.
If that wasn't confusing enough, the cultural heritage of both Filipino and Mexican style adobos share some history.
Specifically, the Spanish sailors that went around searching for pots of gold and fountains of youth, found flavors and food preservation techniques to appropriate as well.
In some ways, making your own adobo rub counts as finding a pot of gold.
Basically, Philippine adobo refers to a dish where the main seasonings are vinegar, soy sauce, and garlic. Whereas Mexican adobo can be a seasoning blend or a sauce.
The sauce includes the adobo spice mix, but then adds in vinegar, garlic, tomatoes, and chili peppers.
What is the flavor of Adobo?
The flavor profile of the Mexican seasoning tends to be like the Spanish version and lean toward spicy with an oregano herb flavor.
The Latin and Filipino version tends to be more salty and sour.
For more insider tips & tricks, and a candid behind the scenes look follow me on social media! Check use out on Pinterest, Facebook, Instagram, & Twitter (yes, people still use Twitter, LOL!)
Uses for it
chicken
steak
fish
pork
seafood
vegetables
sliders
stuffed breads
What is a good substitute for Adobo Seasoning?
A homemade Mexican adobo is the best substitute for the store bought Goya Adobo and Badia Sazon seasoning.
That way I can use it in just a small dusting over the top of a steak or pork tenderloin to season. Or I can open it up and dump it onto a piece of meat and use it generously as a dry rub.
Tapas Tips & Tricks
Adobo seasoning works great on meat or veggies. You can use it on chicken, beef, or pork. I personally like it best on pork and chicken, but try it on some baked squash too.
You can easily make adobo sauce with some tomato paste, vinegar, and ground chilis, then just add your adobo dry seasoning and simmer. Add more tomato if the chilis are too hot.
You can use garlic powder but I feel like starting with the granulated garlic has a better flavor.
Some people use ground annatto seeds because the powder is bright orange so it adds a light yellow color and a slightly nutty flavor.
Try adding chili powder for even dried chipotle peppers for some heat.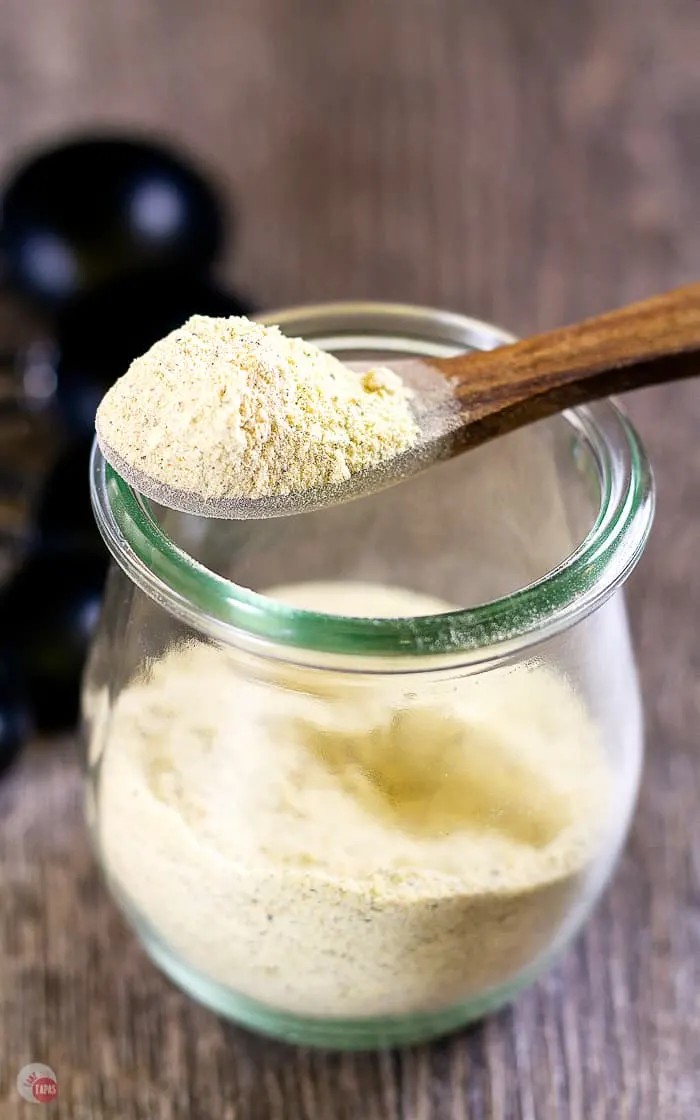 If you love this Abobo as much as I do, please write a five-star review in the comment section below (or on Pinterest with the "tried it" button – you can now add pictures into reviews, too!), and be sure to help me share on facebook!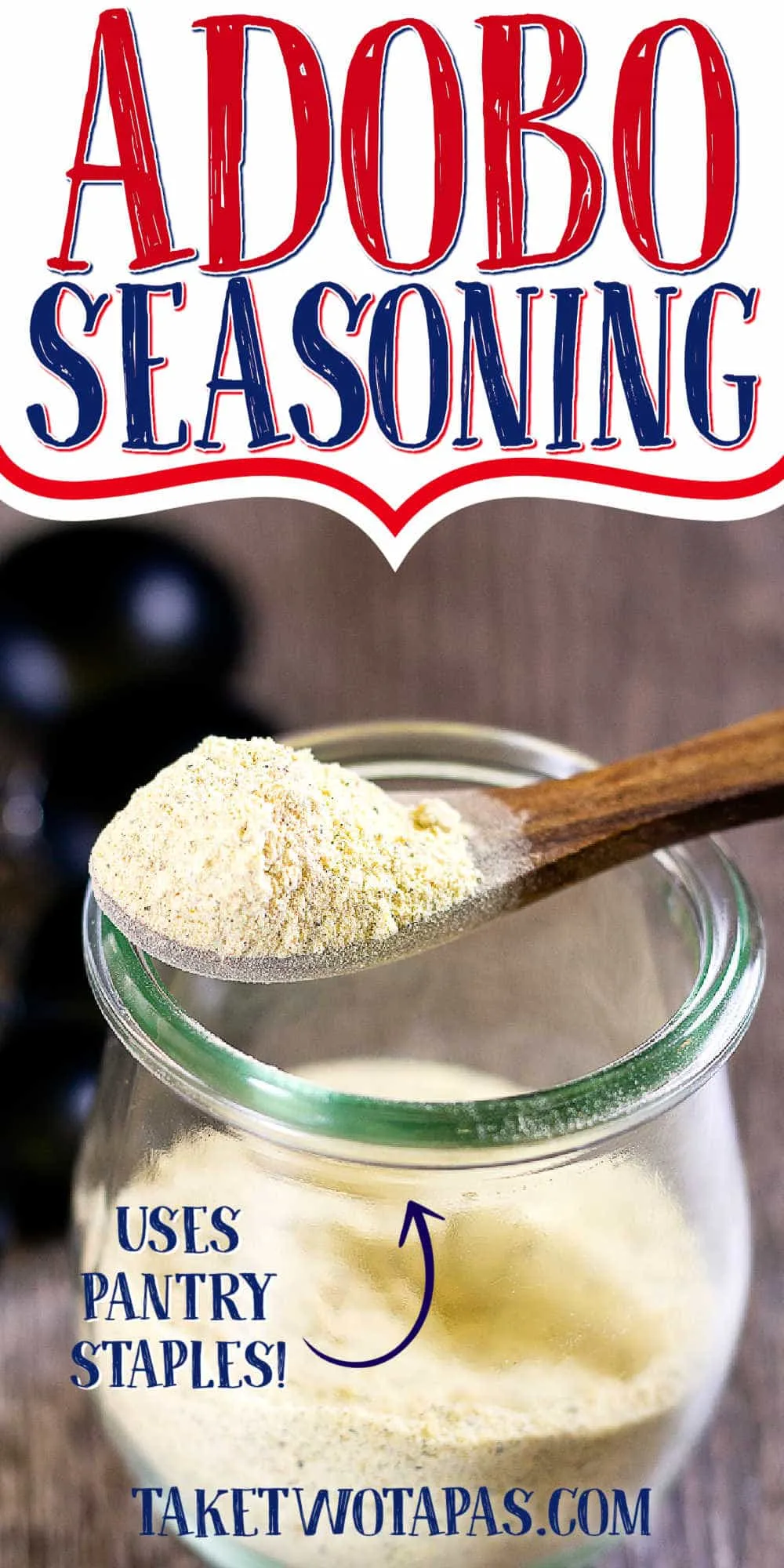 Don't be surprised if you start using your homemade adobo to season instead of just salt and pepper. It adds a great sprinkle of flavors and works on everything. Especially popcorn!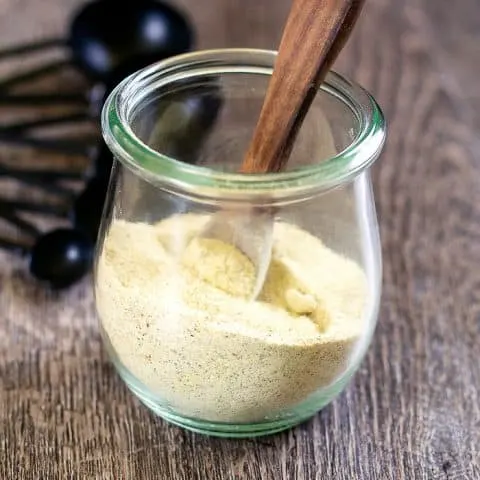 Adobo Seasoning
Adobo Seasoning is like the Mexican version of seasoned salt or all purpose seasoning. You can make this delicious seasoning with 5 ingredients!
Ingredients
6 tablespoons granulated garlic
4.5 tablespoons kosher salt
4 teaspoons black pepper
2 teaspoons oregano
3/4 teaspoon turmeric
Instructions
Combine all the ingredients.
Mix to combine.
Grind in a mortar and pestle or a spice grinder.
Store in a cool, dry place.
Notes
*If you like this recipe, please leave me a comment and rate it with some stars. Thank you!
Recommended Products
Nutrition Information:
Yield:

32
Serving Size:

1 teaspoon
Amount Per Serving:
Calories:

7
Total Fat:

0g
Saturated Fat:

0g
Trans Fat:

0g
Unsaturated Fat:

0g
Cholesterol:

0mg
Sodium:

893mg
Carbohydrates:

2g
Fiber:

0g
Sugar:

0g
Protein:

0g
This nutrition information was generated via a third party, Nutritionix, and can not be held liable for any discrepancies in the information provided.
More Party Foods
©TakeTwoTapas.com. Content and photographs are copyright protected. Sharing of this recipe is both encouraged and appreciated. Copying and/or pasting full recipes to any social media is strictly prohibited.