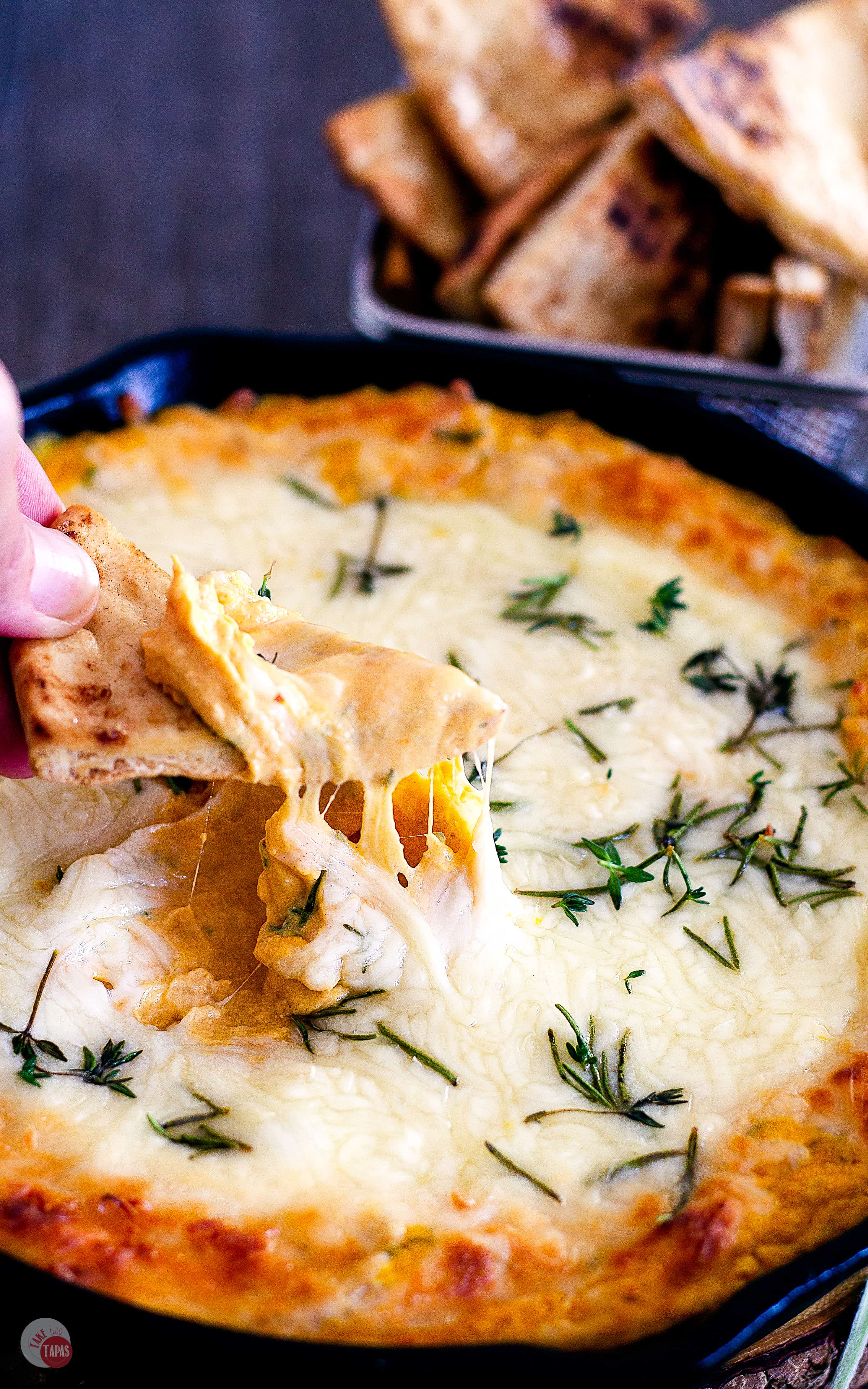 Celebrate Fall with a delicious, warm, and gooey, pumpkin goat cheese skillet dip. Decadent, earthy, and aromatic with fresh thyme, rosemary, and sage!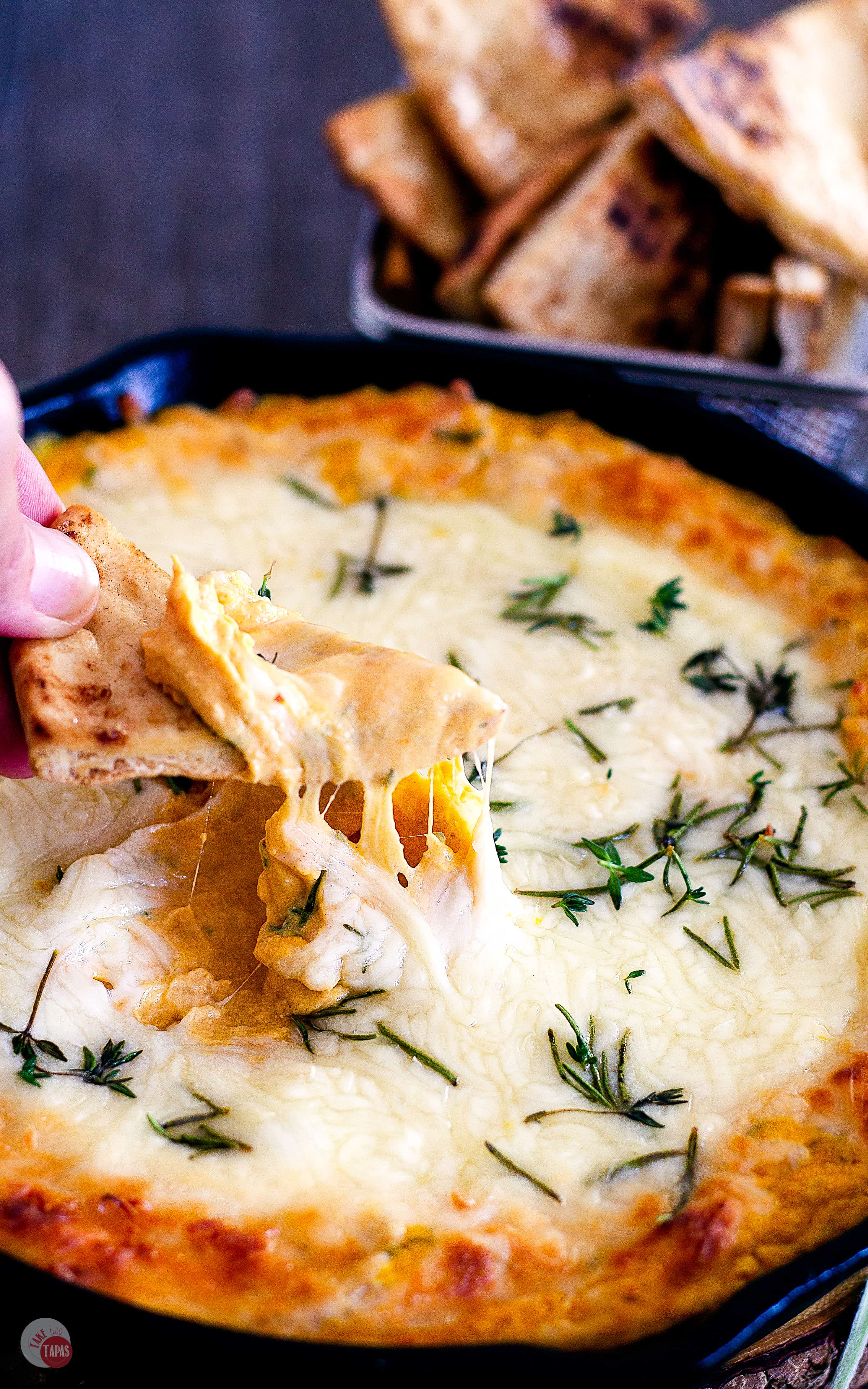 Pumpkin Dip
The first day of fall has officially passed and now all the stores are flooded with pumpkin flavored everything, including pumpkin spice notebook paper. Just kidding. I wrote that to see if you were ACTUALLY reading this post. But speaking of pumpkin, I want to share with you a savory pumpkin dip that is perfect for Halloween, Thanksgiving, Tailgating, and even all those holidays in December.
When I think about pumpkin, I think pie. Also, spiced lattes but that is a whole other thing. Pumpkin, as far as I am concerned, is usually placed in the sweet category or desserts. Really the pumpkin spice is driving the pumpkin to that side but I am determined to bring it back to the dark side.
The savory side!
This post may contain affiliate links. As an Amazon Associate, I earn from qualifying purchases. Read my disclosure policy here.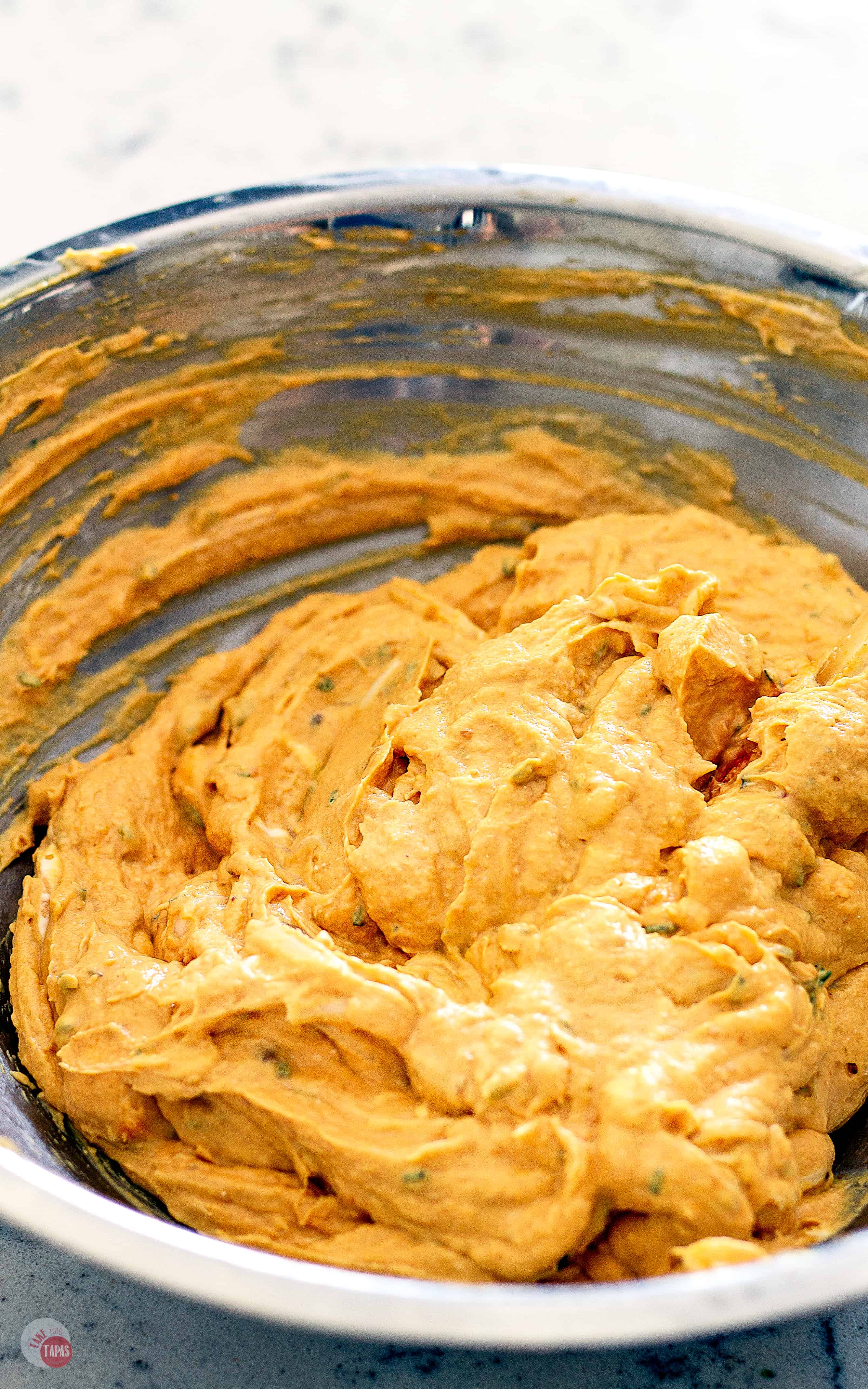 If you'd rather skip my (very helpful, I think) tips and tricks, essential cooking info, and similar recipe ideas – and get straight to this delicious recipe – simply scroll to the bottom of the page where you can find the printable recipe card.
Pumpkin Dip with Cream Cheese
As I said before, pumpkin or pumpkin spice = sweets. Cookies, coffees, cakes, pies, and dips. Pumpkin dip is what I want to talk about specifically. All the pumpkin dips I have seen involve cream cheese or whipped topping as a base.
Nothing wrong with pumpkin and cream cheese, in my opinion, it makes a very creamy and delicious dip.
But I am thinking pumpkin with cheese, pumpkin with herbs, pumpkin to warm me up while I am shivering in a parking lot at a tailgate celebration. Skip the cream cheese, let's make a savory dip that brings out the earthy flavors of pumpkin and keeps me warm.
Bust out the cast iron skillet!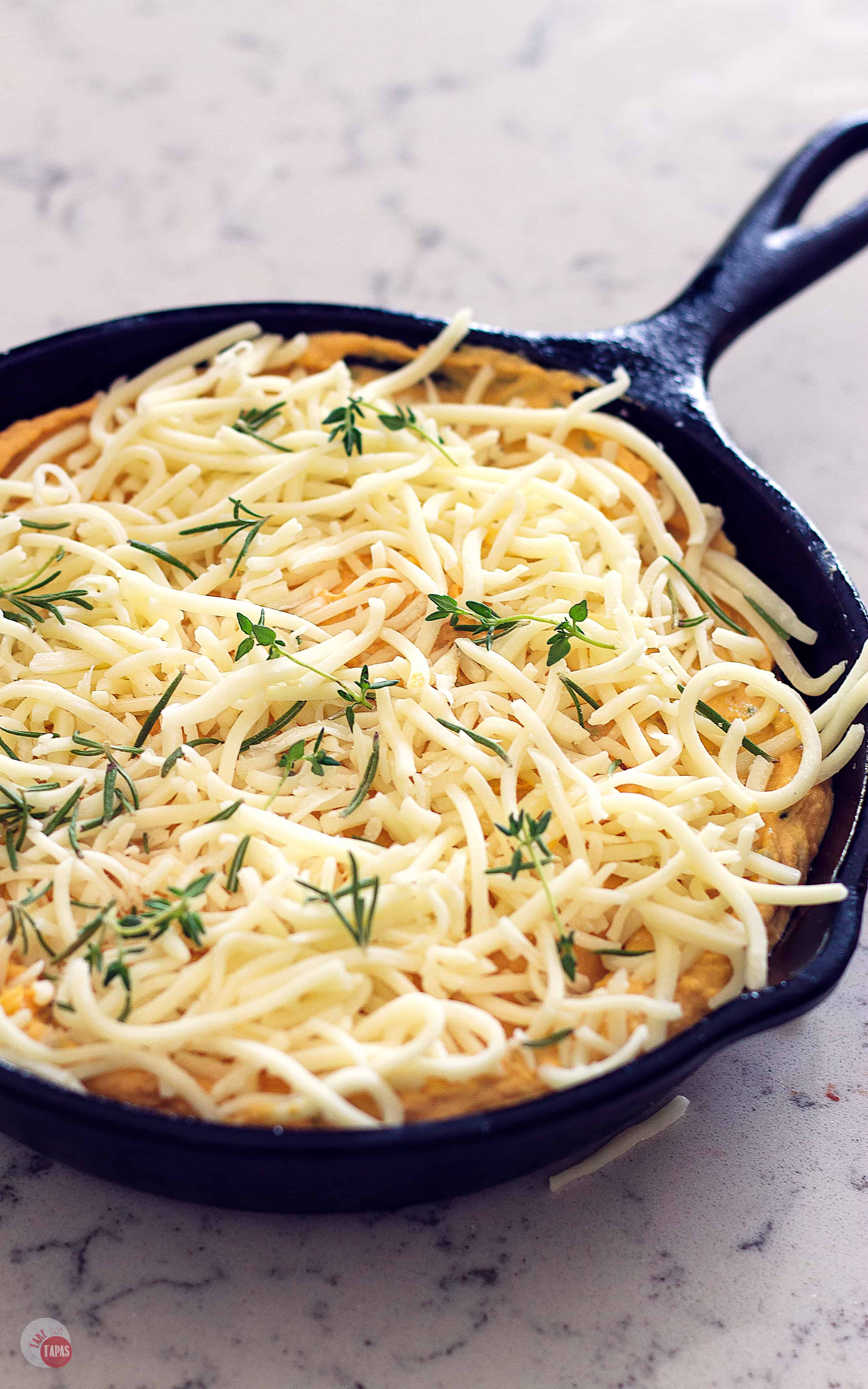 Pumpkin Recipes
As I said before, pumpkin recipes usually involve pumpkin, pumpkin pie spice, sugar, cream cheese, etc. This pumpkin goat cheese skillet dip is taking the road less traveled, the savory side if you will, and combines savory and herbal flavors with pumpkin to make a new dip. One that you can make in one pan, and cook it in the oven, on a grill, and even over a campfire!
My pumpkin goat cheese skillet dip will hopefully usher in a new generation of pumpkin recipes, with a leaning toward the savory side, and bringing us closer to our mother Earth! That sounded like a movie trailer, right?
Stop listening to my rambling, I just really wanted a pumpkin dip that wasn't so sweet it made my teeth hurt. There is already enough sweet stuff these last 3 months of the year, I needed something to balance out my blood sugar levels!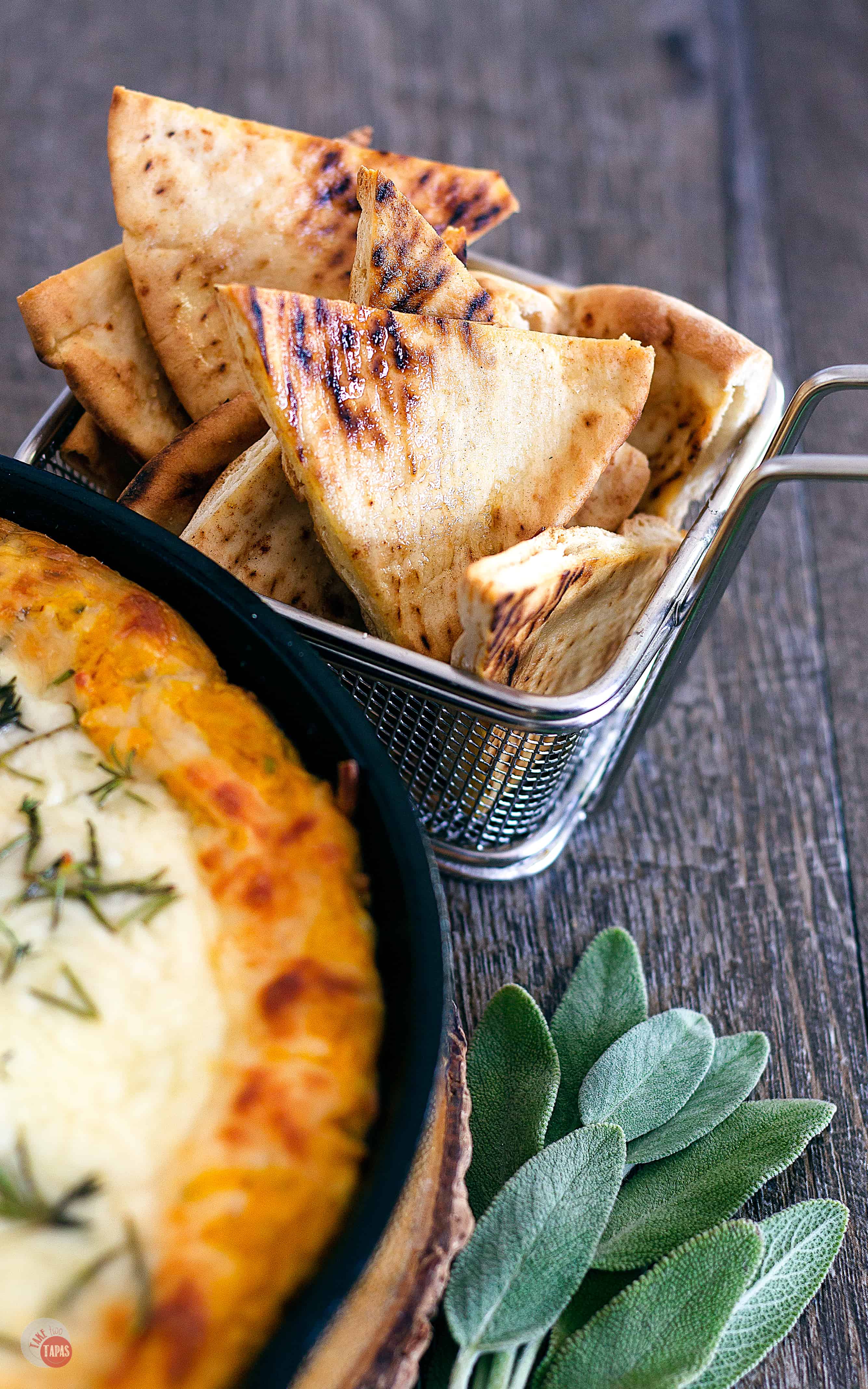 FAQs about Pumpkin Goat Cheese Skillet Dip
Q: Can I use Pumpkin Pie Filling instead of plain pumpkin?
A: Technically you can, but I think the pumpkin pie spices might conflict with the fresh herbs and the goat cheese.
Q: Can I make my own pumpkin purée?
A: You can! If you have that patience, go for it! I have a recipe link below for pumpkin purée for your convenience.
Q: Can I bake this in a baking dish or casserole dish?
A: Yes! If you do that you can just cover any leftovers you might have to another day.
Q: Can I substitute cream cheese for the goat cheese?
A: Yes you can. I would opt for a cream cheese made with Greek yogurt as the goat cheese has a tang to it and that is replicated with the Greek yogurt.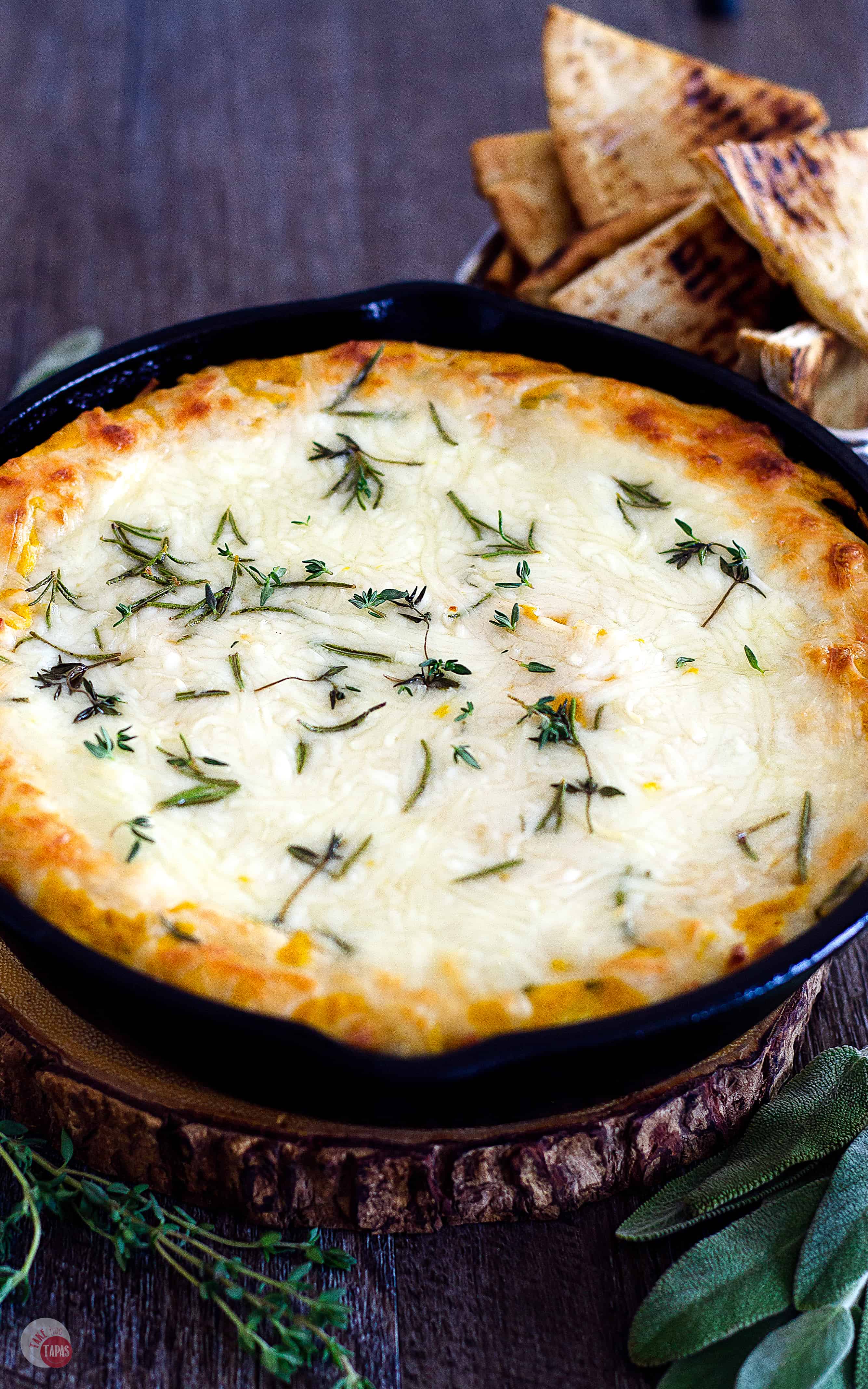 To get the pumpkin goat cheese skillet dip started and prepped for serving time, combine plain goat cheese, plain pumpkin, roasted garlic, and some shredded cheese. Add in some chopped fresh herbs, spread in your skillet of choice, and cover with more cheese. Store in the refrigerator until ready to cook. Easy right?
You can buy all these ingredients already made, including the roasted garlic. I make my own roasted garlic usually, but I am also known to pick some up from the deli in my grocery store at the olive bar. Do what works for you and your time schedule! I am all about easy and fuss-free.
When you are ready, bake at 375F until bubbly and the cheese is toasted and melty Serve with baked whole wheat pita chips!
Other Savory Pumpkin Recipes!
Looking for a skillet dip to take to a party you've been invited to? Check out all my skillet dip recipes to fit your special occasion!
If you love this recipe as much as I do, please write a five-star review in the comment section below (or on Pinterest with the "tried it" button – you can now add pictures into reviews, too!), and be sure to help me share on facebook!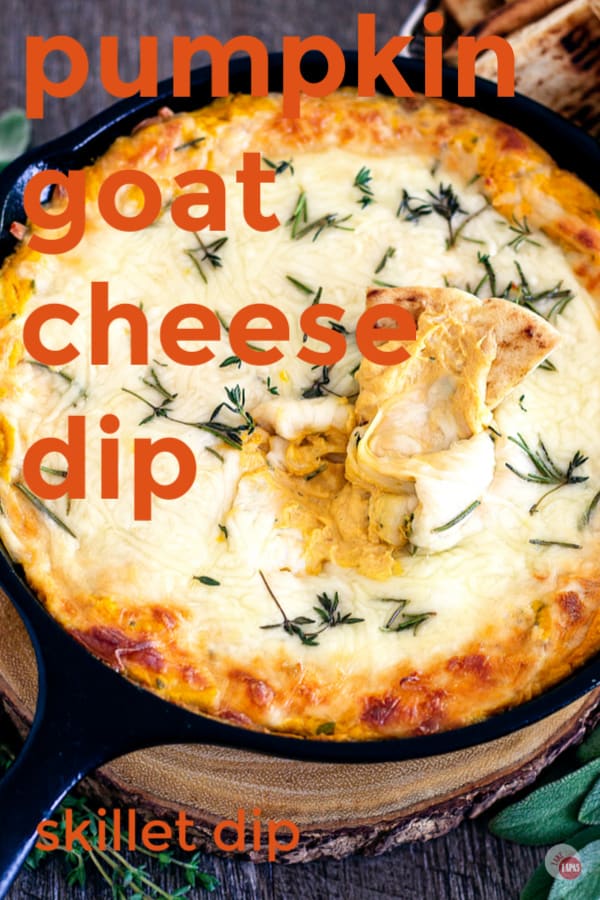 Easy PUMPKIN GOAT CHEESE SKILLET DIP Recipe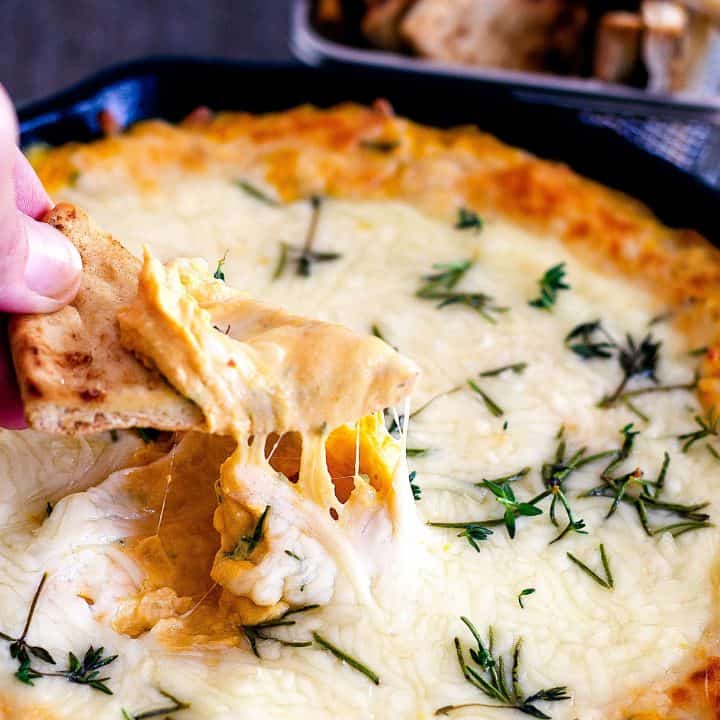 Pumpkin Goat Cheese Skillet Dip
Celebrate Fall with a delicious, warm, and gooey, pumpkin goat cheese skillet dip. Decadent, earthy, and aromatic with fresh thyme, rosemary, and sage!
Ingredients
Pumpkin Goat Cheese Skillet Dip
15 oz pumpkin purée
10.5 oz goat cheese
7 cloves roasted garlic
1 1/4 cup shredded mozzarella cheese (divided 1/2 + 3/4)
2 teaspoons fresh thyme (chopped)
2 teaspoons fresh rosemary (chopped)
1 tablespoon fresh sage (chopped)
Baked Pita Chips
3 whole wheat pita (cut in wedges)
1 tablespoon olive oil
Instructions
Prepare the pumpkin dip
In a medium-sized bowl, combine pumpkin, goat cheese, 1/2 cup mozzarella cheese, roasted garlic, and fresh herbs.
Spoon into your skillet and spread into an even layer.
Sprinkle remaining shredded cheese evenly over the dip.
Sprinkle with herbs for garnish.
Cover and refrigerate until ready to bake.
Prepare the baked pita chips
Preheat oven to 375F.
Cut the pita into wedges.
Spread out on a baking sheet.
Brush with olive oil.
Bake for 5 minutes or until crispy.
Remove from the oven and cool.
Store in an air-tight container for up to 4 days or until ready to eat.
Bake the pumpkin goat cheese skillet dip
Remove the dip from the refrigerator for 5 minutes before baking to knock the chill off the dip and let it bake evenly.
Bake at 372F for 25 minutes or until the cheese is brown and the dip is bubbly.
Remove from the oven/grill and serve warm with baked pita chips.
Enjoy!
Notes
*If you like this recipe, please leave me a comment and rate it with some stars. Thank you!
Nutrition Information:
Yield:

8
Serving Size:

1
Amount Per Serving:
Calories:

241
Total Fat:

13g
Saturated Fat:

7g
Trans Fat:

0g
Unsaturated Fat:

5g
Cholesterol:

26mg
Sodium:

397mg
Carbohydrates:

20g
Fiber:

4g
Sugar:

3g
Protein:

13g
This nutrition information was generated via a third party, Nutritionix, and can not be held liable for any discrepancies in the information provided.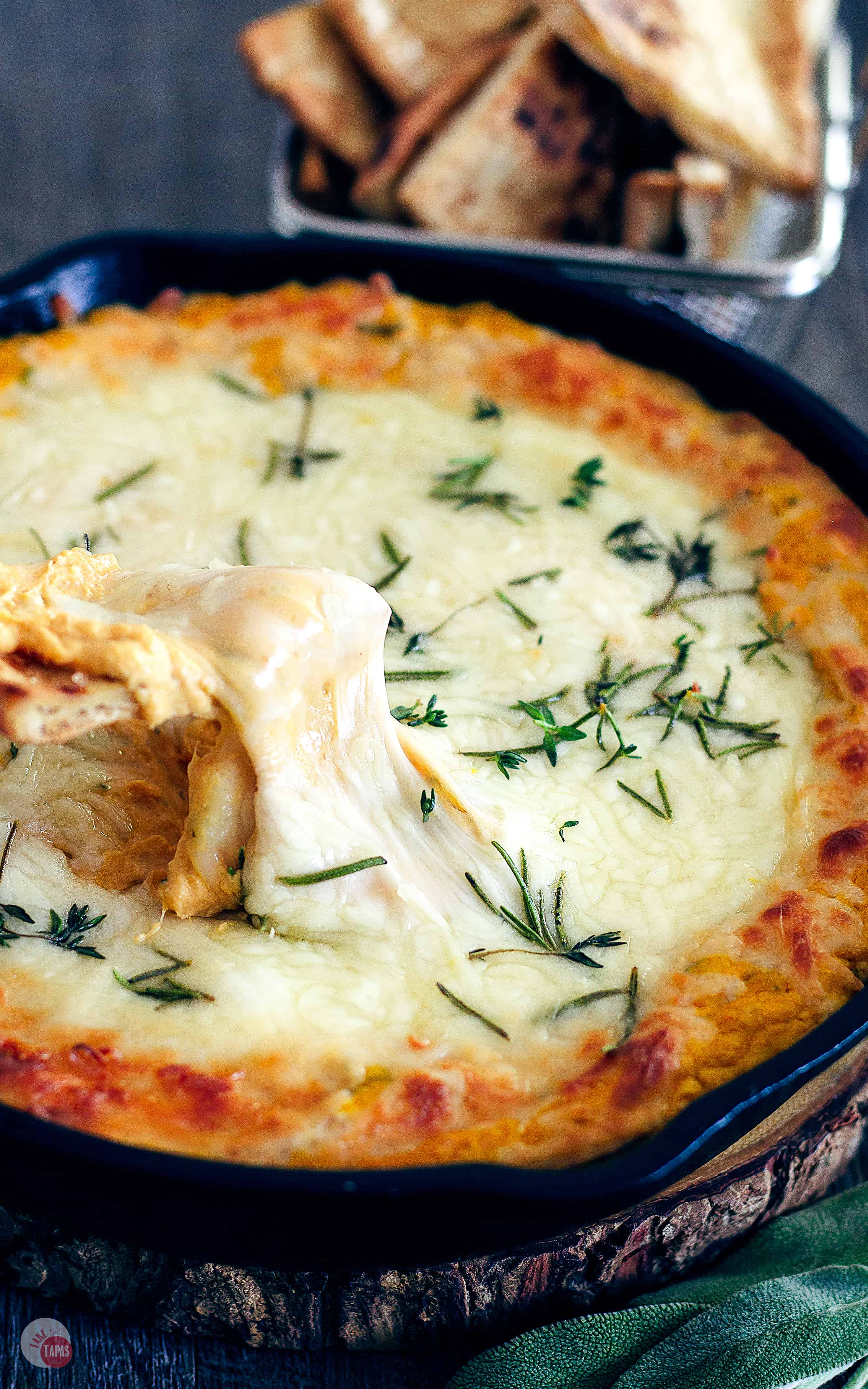 @TakeTwoTapas.com. Content and photographs are copyright protected. Sharing of this recipe is both encouraged and appreciated. Copying and/or pasting full recipes to any social media is strictly prohibited.