Last updated on October 8th, 2019 at 06:46 pm
These French onion meatballs take the time tested classic french onion soup and rethinks it as a sauce for meatballs. Perfect for your next fancy-type party or a quick and easy dinner!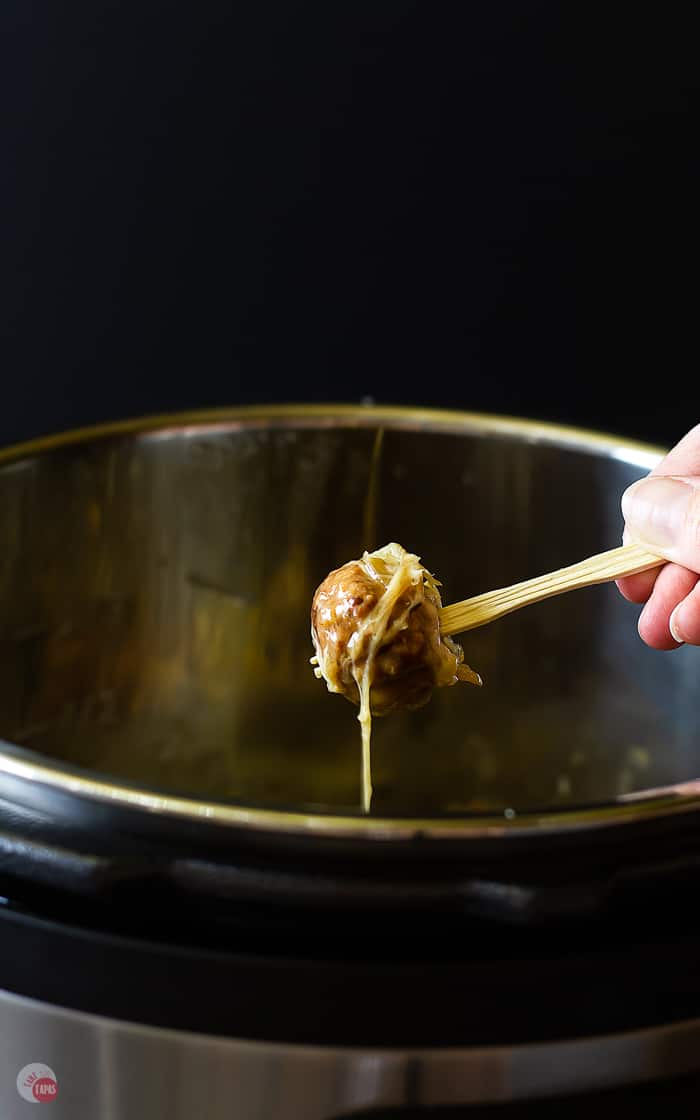 You can make the meatballs french onion sauce in an instant pot or you can make them in a not so instant pot (otherwise known as a crock pot).
I prefer the instant pot. Not only because you get to eat sooner, which is awesome. But a quick pot can fool the palate into thinking that you have been cooking for days. That is awesome times two.
Instant Pot French Meatballs
In essence, the meatball is like the airport in Atlanta. Tons of flavors can fly in, make connections, then fly out to a completely unique destination. With french onion meatballs, you charter all the great flavors of french onion soup. Then, you travel across a world of great flavors.
One taste and you never want plain meatballs again!
Actually, I am pretty nuts about meatballs and I have a ton of great meatball recipes to check out. Hold on. That sounds a bit saucy. But of course a great sauce makes the meatball.
So if you are a meatball fan, then check out some of my other ways to see the world through the meatball. Like sweet and sour meatballs or honey mustard meatballs, or my steakhouse meatballs!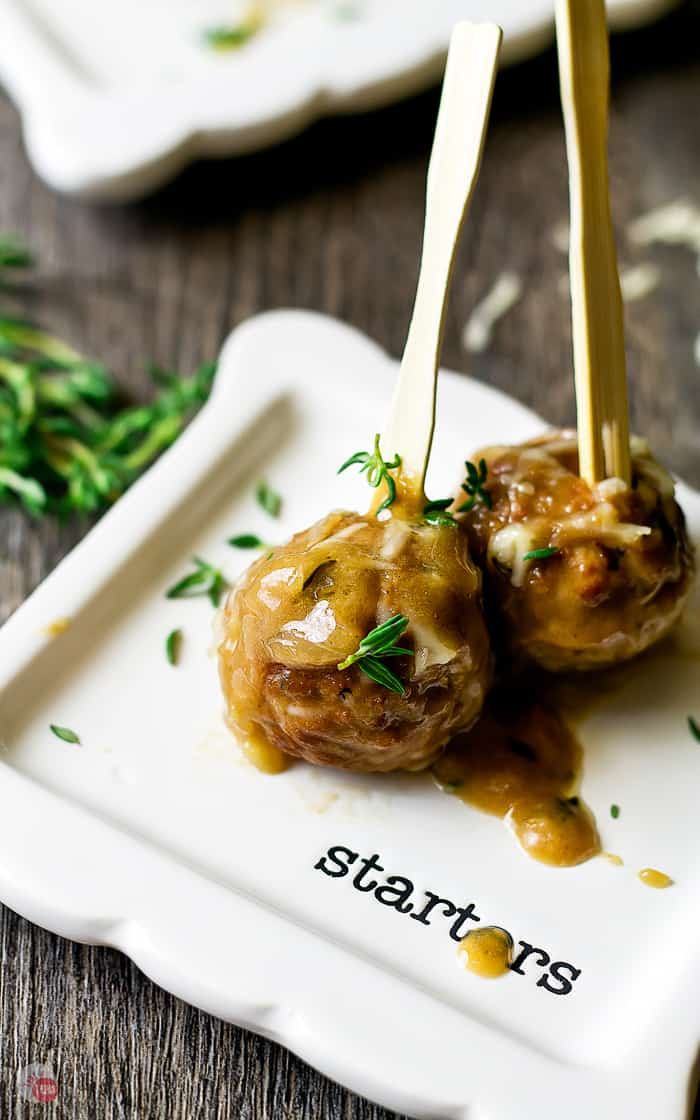 Just take me to the French Onion Meatballs!
If you'd rather skip my (very helpful, I think) tips and tricks, essential cooking info, and similar recipe ideas – and get straight to this delicious easy Instant Pot French Onion Meatballs recipe – simply scroll to the bottom of the page where you can find the printable recipe card.
This post may contain affiliate links.
I earn a small commission for my endorsement, recommendation, testimonial, and/or link to any products or services from this website.

Your purchase helps support this blog at no additional cost to you and allows me to continue bringing you delicious recipes and funny stories.

For my entire disclosure policy

click here

.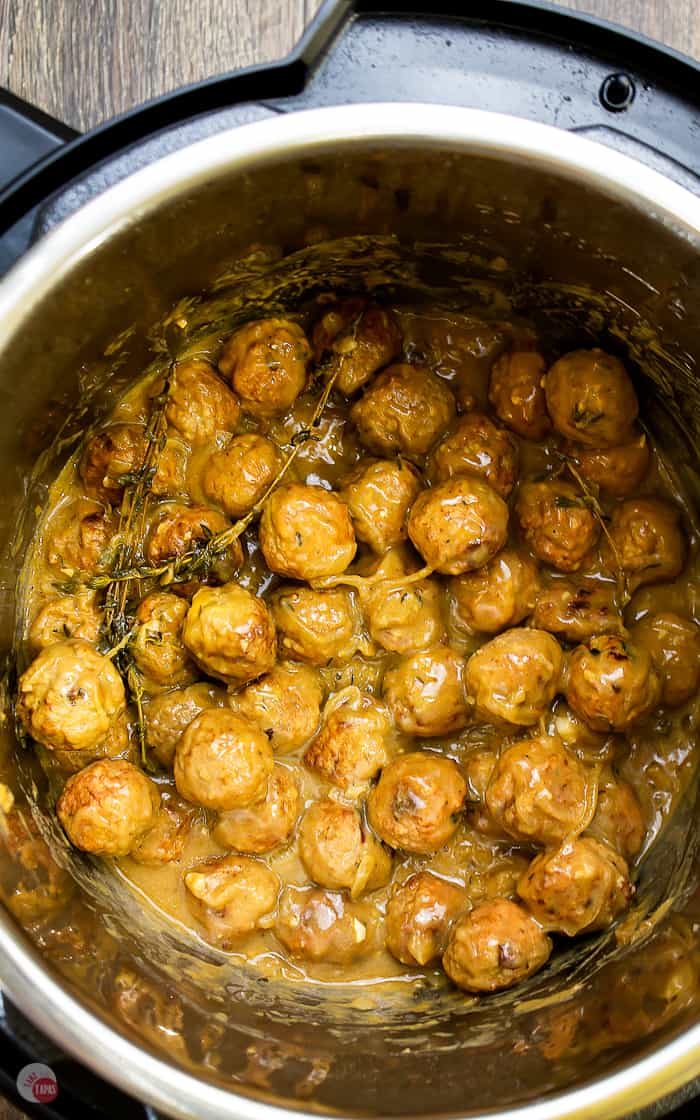 What makes a French Onion Meatball French?
French onion soup is actually traditionally made with Gruyère cheese. Truth be told, Gruyère is actually a Swiss cheese, but don't let that stop the French from laying claim to it. French onion soup sounds a lot tastier than Swiss onion soup.
That being said, french onion soup doesn't necessarily require french onions either. You can do just fine with your basic yellow or white onion. If you can get some of the Walla Walla sweet onions from Washington then those are great too.
Really any onion will do. The important thing is that the onion needs to be cooked fully until it is nice and brown, caramelized through and through. Use a bit of stock to simmer the onion in after you brown them by using the sauté setting on your quick pot.
If you are not using an instant pot, then I suggest browning the onions first in a cast iron pan before you add them to the crock pot with some stock.
sauté the butter

cook the onions

add the flour to make roux

cook the roux

make the sauce

combine the sauce

add meatballs

cook for 6 mins

melt cheese on top
Time to put the French on the Party Meatballs
While the onions simmer away in the stock, build your meatballs. By adding some seasoned breadcrumbs into the ground meat you turn these meatballs into a hearty French appetizer and bring in some ooh la la, which is French for seriously delicious.
I think, but I may need a refresher course in French.
In terms of additional seasoning, you can just do some salt and pepper because the mustard, Worcestershire sauce, balsamic vinegar, and fresh garlic and thyme season the sauce pretty spectacularly already.
You also want to brown the meatballs if you are using a freshly made homemade meatball recipe. You don't necessarily have to cook them all the way. When adding them into the onion soup sauce then they can finish cooking in the instant pot. By browning the meatballs, you create the "Maillard reaction." This is a French Cooking term that refers to the flavor created by the singed meat. It is essentially the meat version of caramelization.
More importantly, it helps add more french to the flavor profile and that is a good thing. If you are using frozen meatballs they are almost always already browned and cooked through.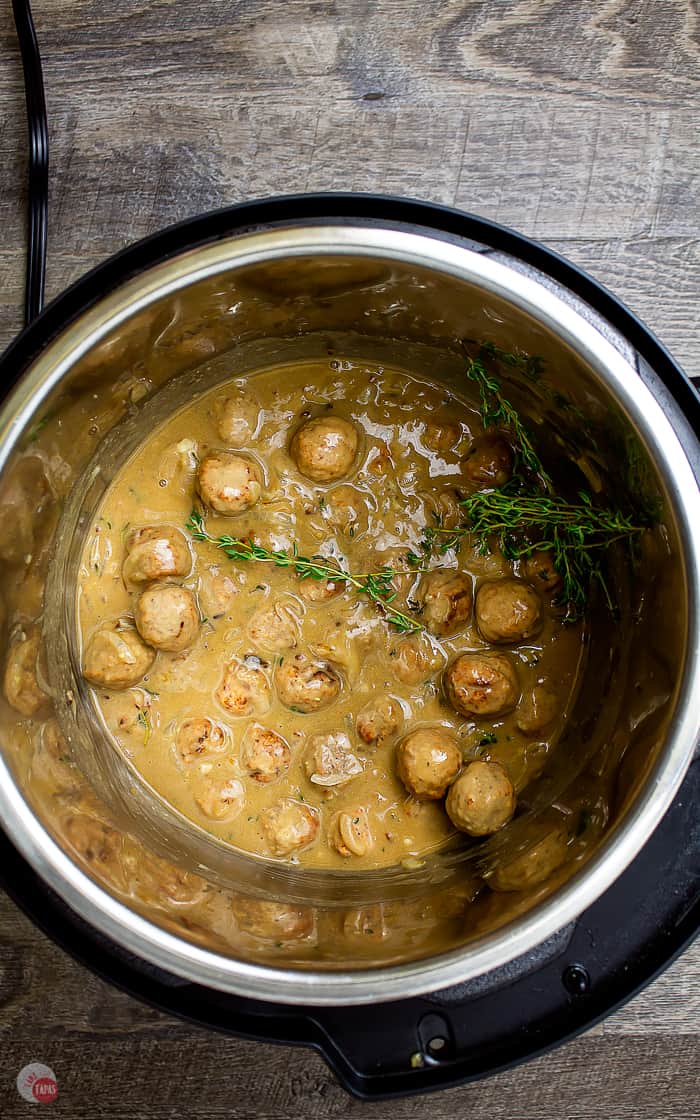 Making the French Onion Meatball Sauce
If you are starting with freshly made meatballs that you just browned and drained, set them aside and return your attention to the simmering onions. They should be nice and brown, soft, and a bit translucent. If you are using frozen meatballs like me, because I love a great shortcut, then the onions have been your main focus this whole time.
Next, you can either use the pan drippings of the meatballs, or use some butter, or even some oil, and make a roux with flour. Cook the roux until it is nice and brown and smooth.
Roux of course is another great French cooking term. In this recipe, you cannot get enough French into the dish.
Once the flour and spices coat the onions and start to thicken, add half the stock or broth, scrape down the sides of the instant pot and the caramelized bits on the bottom of the pot. Stir the sauce to make sure the it thickens without lumps. Finally, add the remainder of the broth/stock and the rest of the sauce ingredients and stir to complete the sauce.
Balls time!!! Add in your meatballs and toss them in the sauce to coat. Turn the instant pot to pressure cook and cook at high pressure for 6 minutes.
When they are finished, slowly vent the pressure, turn the instant pot to "keep warm" if it isn't already there, open the lid carefully, and add the shredded Gruyère cheese. Cover with the lid for 5 minutes and let the cheese melt.
Voila! French Onion Meatballs as an appetizer.
You are going to want to serve them as an appetizer at every party from now on! Still craving them but need to serve an actual dinner, you are also welcome to serve them as an entrée.
If you go the entrée route, then you might want to serve them over pasta. In terms of pasta, I would suggest using an egg noodle or other wide, fat noodle. However, if you want to use spaghetti then feel free! No noodle judgement here.
Bon appétit! (more french flavor for you!)
You might have to put up with people wondering why it isn't a tomato based sauce. But just tell them to "French Off" and find another party. Problem solved.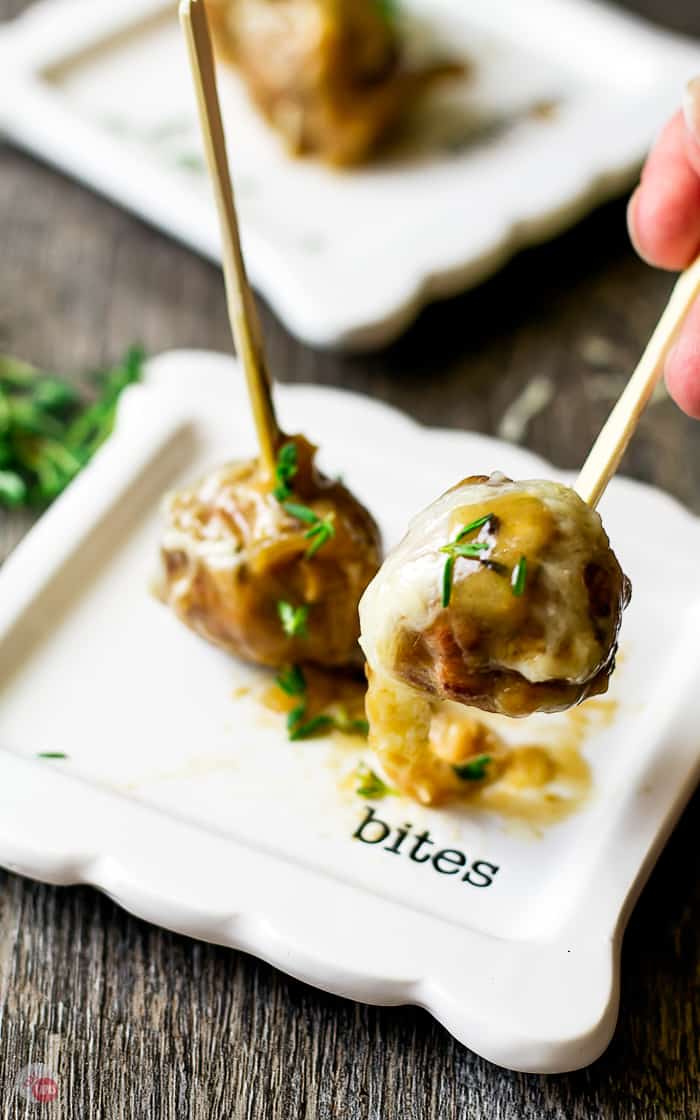 Tips for making French Onion Meatballs:
You don't need long slices of onion since these are party meatballs so cut your onions in half before slicing so they are shorter.
If your instant pot gets too hot after making the French Onion sauce, pour out the sauce and let the pot cool off or even better prepare the sauce ahead of time and just pull it out of the fridge when you are ready to make the meatballs.
The melted Gruyère cheese is one of the best parts of this dish but it doesn't take long to melt so you can sprinkle.
Other great French Onion recipes to try!
If you like reading my posts and seeing my recipes, connect with me on your favorite social media channel for behind the scenes photos and much, much more:
Sign up to receive a free email in your inbox with each new recipe:
If you love this French Onion Meatball Recipe as much as I do, please write a five-star review in the comment section below (or on Pinterest with the "tried it" button – you can now add pictures into reviews, too!), and be sure to help me share on facebook!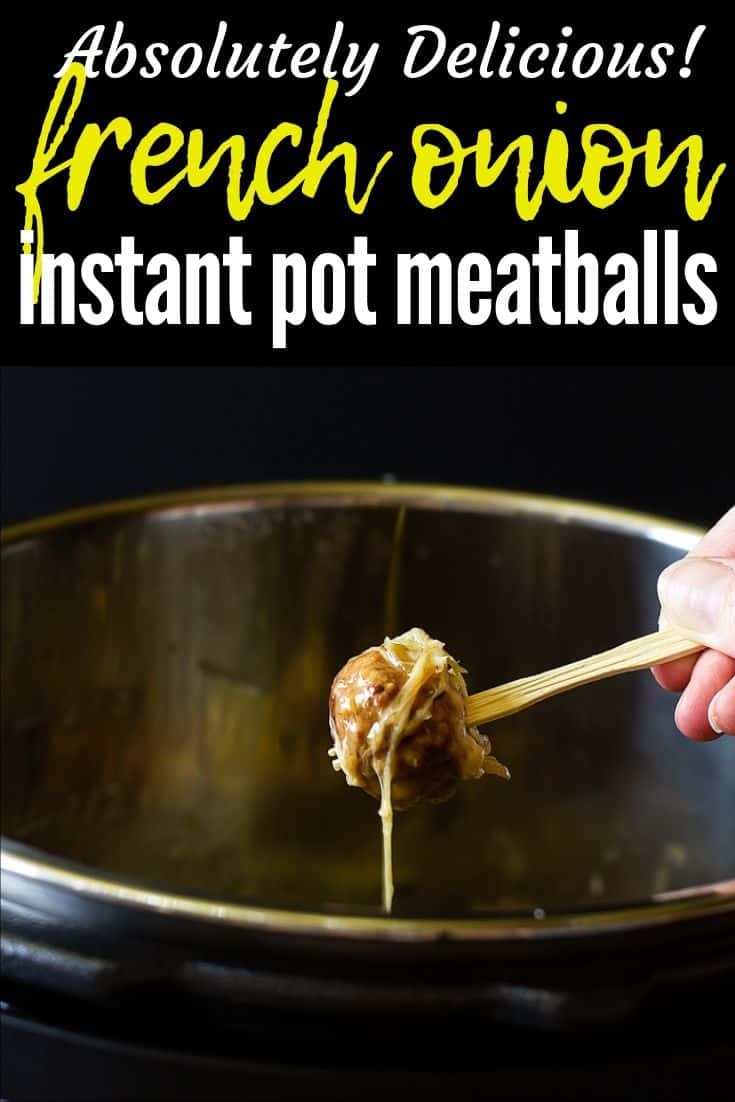 Easy Instant Pot French Onion Meatballs Recipe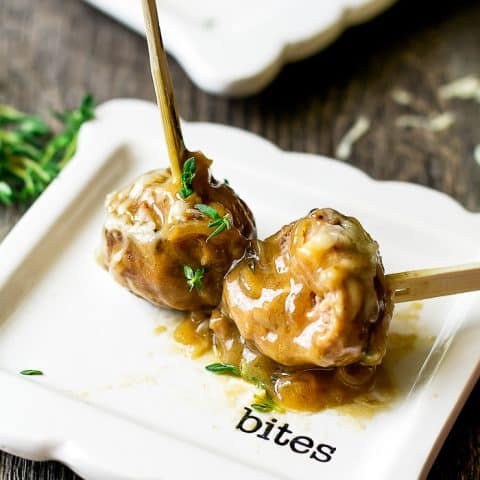 French Onion Meatballs
Additional Time:
5 minutes
French onion meatballs takes the classic french onion soup in a whole new direction. By adding meatballs to french onion soup, you create essentially french onion meatball stew. Instead of an appetizer soup, voila! Serve as a light entree instead!
Ingredients
26 ounces frozen meatballs
French Onion sauce
4 tablespoons butter
2 medium onions, sliced thin
1/3 cup white wine
2 cups beef broth
2 tablespoons Dijon mustard
1 teaspoon Worcestershire sauce
1 tablespoon fresh thyme
3 cloves garlic, minced
1 tablespoon balsamic vinegar
3 tablespoons flour
4 ounces Gruyere cheese, grated
Instructions
Make the French Onion Soup Sauce
Gather all the ingredients
Turn your instant pot to sauté.
Add butter and melt.
Add onions and cook for 5-8 minutes or until onions are tender and starting to brown.
Add the fresh thyme, garlic, and flour to make a roux.
Stir to coat.
Cook for 2-3 minutes, stirring frequently.
Add 1 cup of broth and stir, scraping the brown bits off the bottom of the pot.
Add in 1 cup broth, mustard, vinegar, and Worcestershire sauce.
Stir to combine.
Make the French Onion Meatballs
Add in the meatballs.
Stir to coat the meatballs.
Turn the Instant Pot to pressure cook, cover, and cook on high pressure for 6 minutes.
When finished, vent slowly and turn the IP to keep warm.
Sprinkle with the shredded cheese.
Serve and enjoy!
Notes
*If you like this recipe, leave me a comment and rate it with some stars. Thank you!
Recommended Products
THIS POST MAY CONTAIN AFFILIATE LINKS. I EARN A SMALL COMMISSION FOR MY ENDORSEMENT, RECOMMENDATION, TESTIMONIAL, AND/OR LINK TO ANY PRODUCTS OR SERVICES FROM THIS WEBSITE. YOUR PURCHASE HELPS SUPPORT THIS BLOG AT NO ADDITIONAL COST TO YOU AND ALLOWS ME TO CONTINUE BRINGING YOU DELICIOUS RECIPES AND FUNNY STORIES. FOR MY ENTIRE DISCLOSURE POLICY CLICK HERE.
Nutrition Information:
Yield:

15
Serving Size:

1
Amount Per Serving:
Calories:

220
Total Fat:

17g
Saturated Fat:

7g
Trans Fat:

0g
Unsaturated Fat:

8g
Cholesterol:

49mg
Sodium:

583mg
Carbohydrates:

7g
Net Carbohydrates:

0g
Fiber:

1g
Sugar:

3g
Sugar Alcohols:

0g
Protein:

10g
This nutrition information was generated via a third party, Nutritionix, and can not be held liable for any discrepancies in the information provided.
©TakeTwoTapas.com. Content and photographs are copyright protected. Sharing of this recipe is both encouraged and appreciated. Copying and/or pasting full recipes to any social media is strictly prohibited.