When looking for a quick and easy recipes for party food, that will feed a crowd with minimal effort, I always choose meatball appetizers. They are hearty, filling, and when made in the slow cooker, they are the easiest party food around. Pick out one of these delicious recipes for your next party!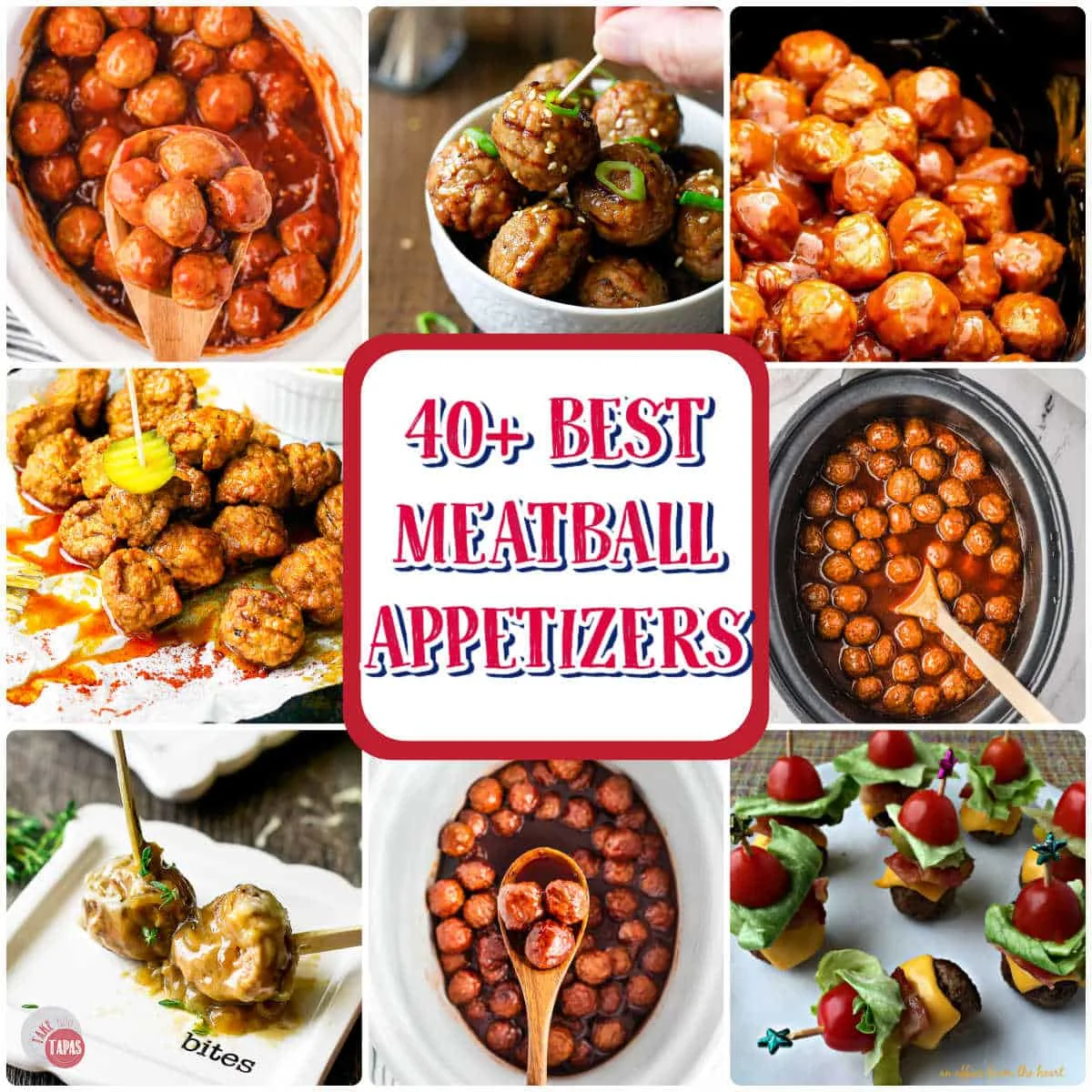 When looking for a quick and easy recipes for party food, that will feed a crowd with minimal effort, I always choose meatball appetizers.
They are hearty, filling, and when made in the slow cooker, they are the easiest party food around. Pick out one of these delicious recipes for your next party!
Crockpot Meatballs make the perfect appetizers. They are a great option when you are struggling to find something to serve and most only require minimal prep. Just toss in the cooked meatballs, add the sauce and you are good to go.
Cut the prep with precooked frozen meatballs you find at the market.
Check out these meatball appetizer recipes for the best ways to bring frozen meatballs to the next level. Perfect for parties, tailgating, or any occasion where you are getting together with friends and family.
This post may contain affiliate links. As an Amazon Associate, I earn from qualifying purchases. Read my disclosure policy here.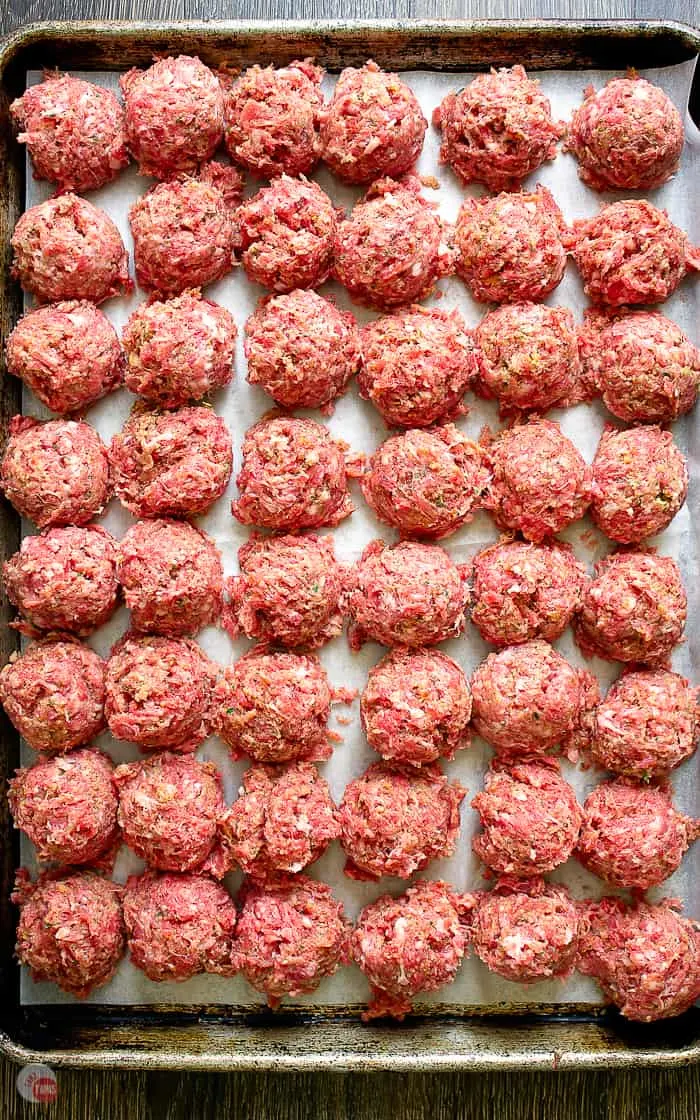 Tips for Meatball Appetizers
Planning on serving meatballs at your next get together? Here are some tips for making your recipe perfect!
How to make homemade meatballs for appetizers
Use ground beef or pork for meatballs as they will make the juiciest ones. If you are using ground turkey or chicken, be sure to add some fat to the mixture or they will be dry. Combine the ingredients, place meatballs on a baking sheet in a single layer.
If you start with lean ground beef or meat you will need to add moisture to them by adding milk, bread crumbs, or another meat with more fat in it. Like sausage.
When baking the meatballs, be sure to leave a little space between each one so they can sear on all sides and keep in their juices. Cool and freeze until ready to use. Bake until the internal temperature reaches 145F. If making them from poultry, be sure they reach 165F.
Here are some recipes for homemade frozen meatballs and a gluten free option too.
Do I need to thaw the meatballs before adding to my slow cooker?
The beauty of a crock pot recipe is that you can add frozen meatballs directly to it. Simply add in the sauce ingredients and give them a stir.
Do I need to cook the meatballs first?
Most of the meatballs you find in the frozen foods section of the grocery store are precooked. If they are not, or if you are making them homemade, be sure to cook them before adding to the slow cooker.
How to keep cocktail meatballs warm during a party
If you are making slow cooker meatball appetizers, simply turn the temperature to either low or the warm setting on your crockpot.
Cooking them a different way? You can add the meatballs and sauce to a chafing dish or place in a pot on the stove top. If you are hosting an outdoor party, place them in a disposable aluminum pan and place on indirect heat on your grill or smoker.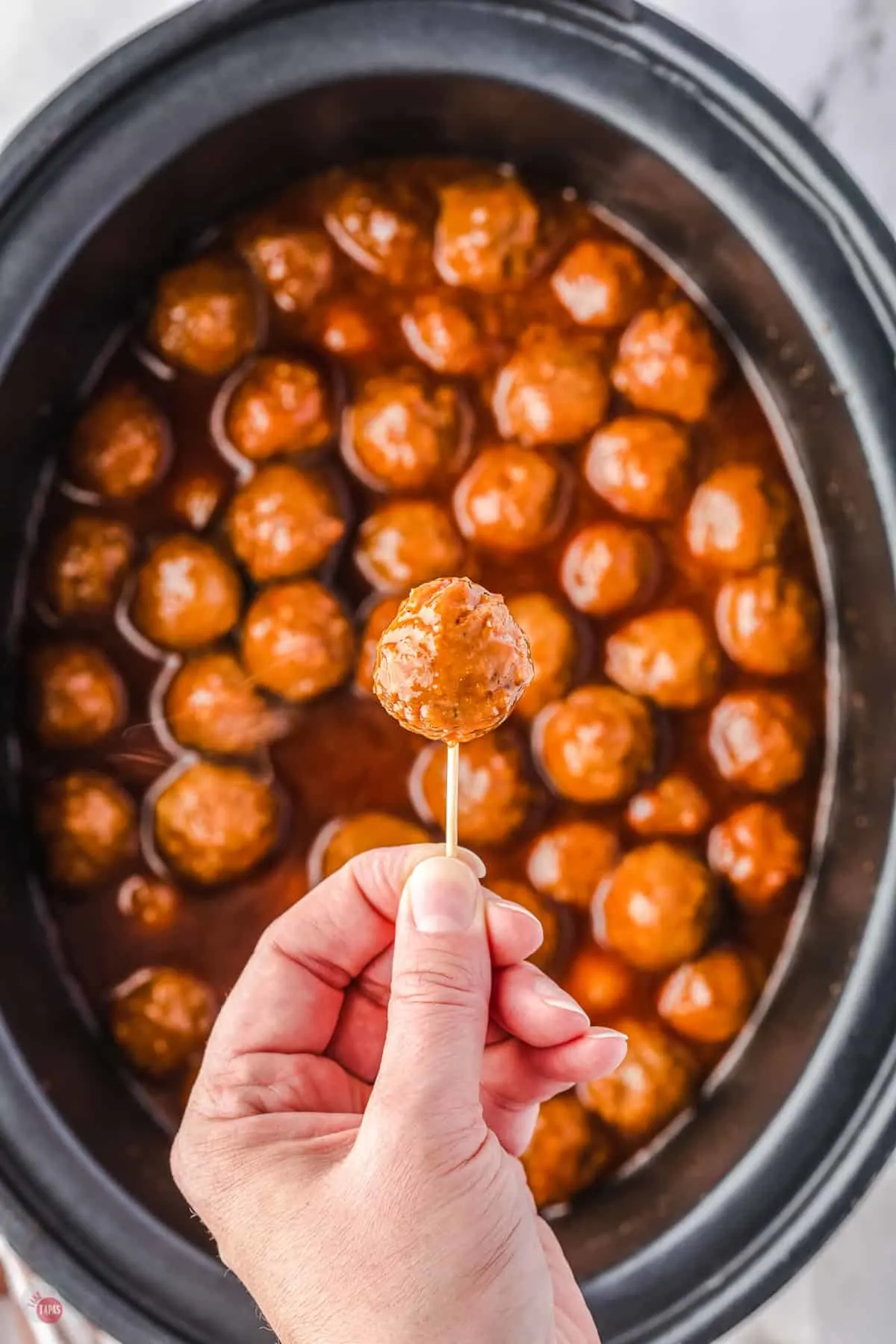 Beef Meatball Appetizers
Not your traditional recipe with Russian dressing and apricot preserves but you must try it! Perfectly sweet and sour with a dash of Worcestershire sauce to balance it all out.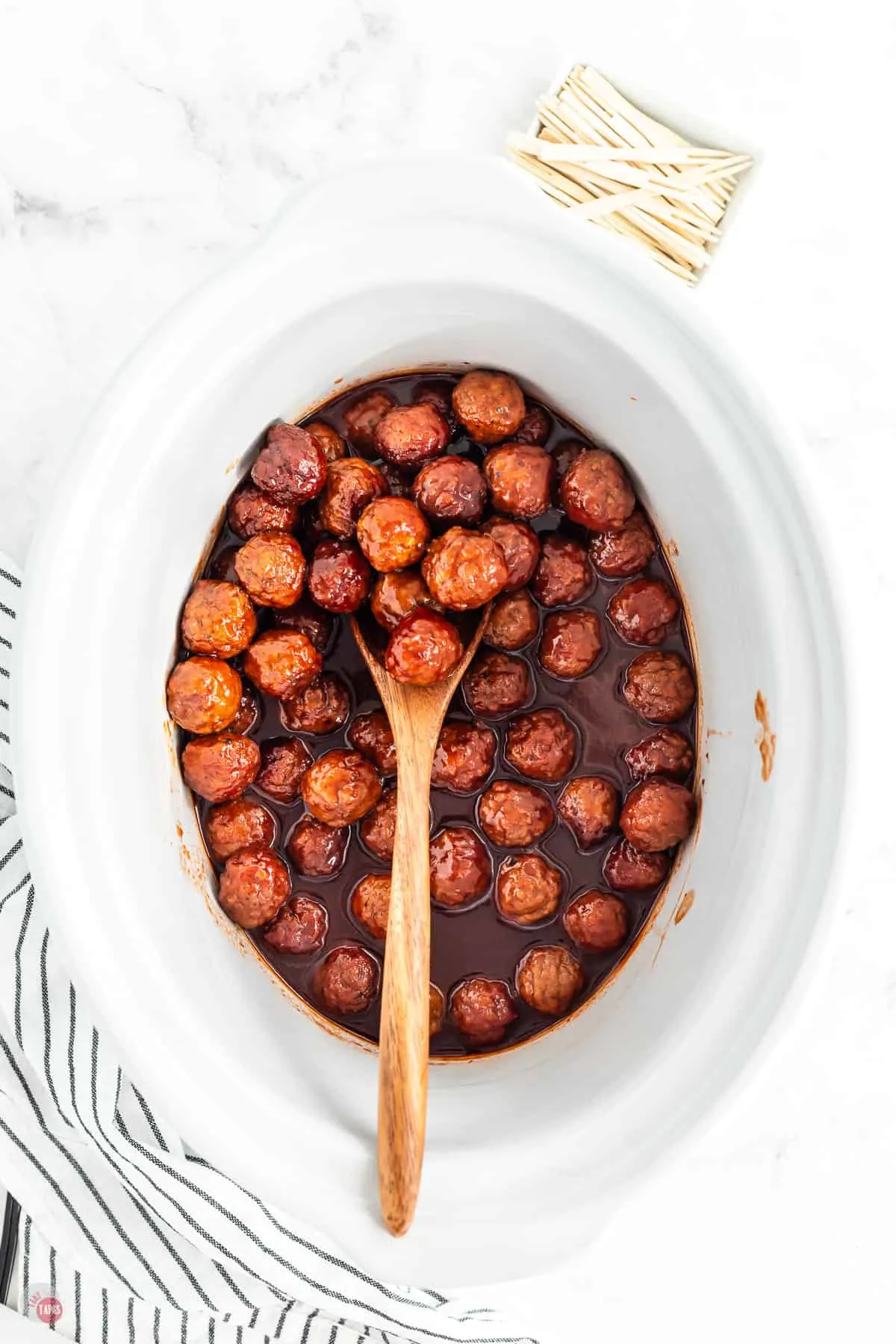 A great recipe because it has just 3 ingredients. It's one of the easiest appetizers around. Grab some frozen meatballs from the grocery store.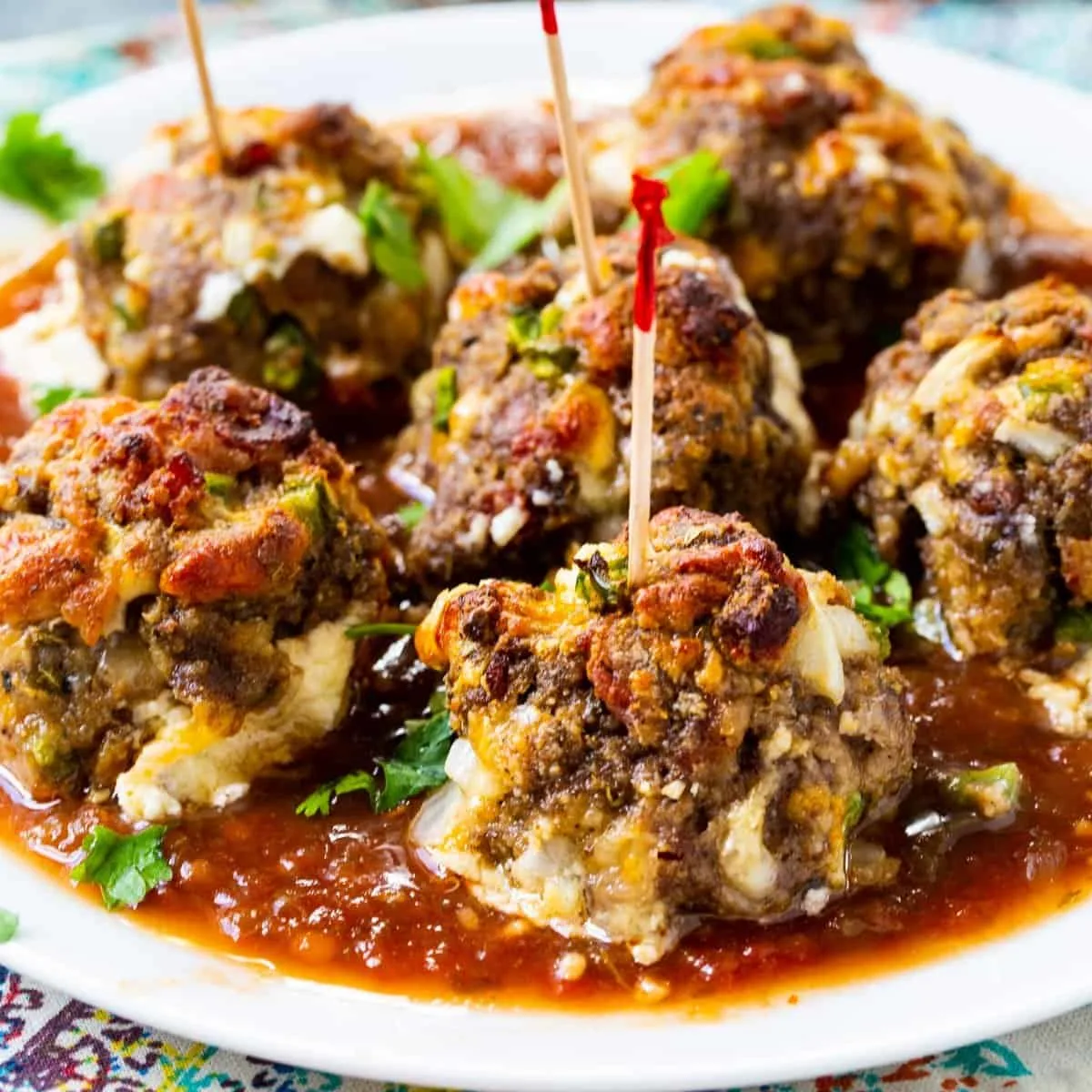 If you love a jalapeno popper with its creamy cheese, spicy jalapeno peppers, and bacon, you will love these meatballs.
Baked in the oven and served with salsa and guacamole, these will turn your Fiesta Friday on it's head!
Made with bbq sauce and a homemade steak seasoning, these are rich and delicious!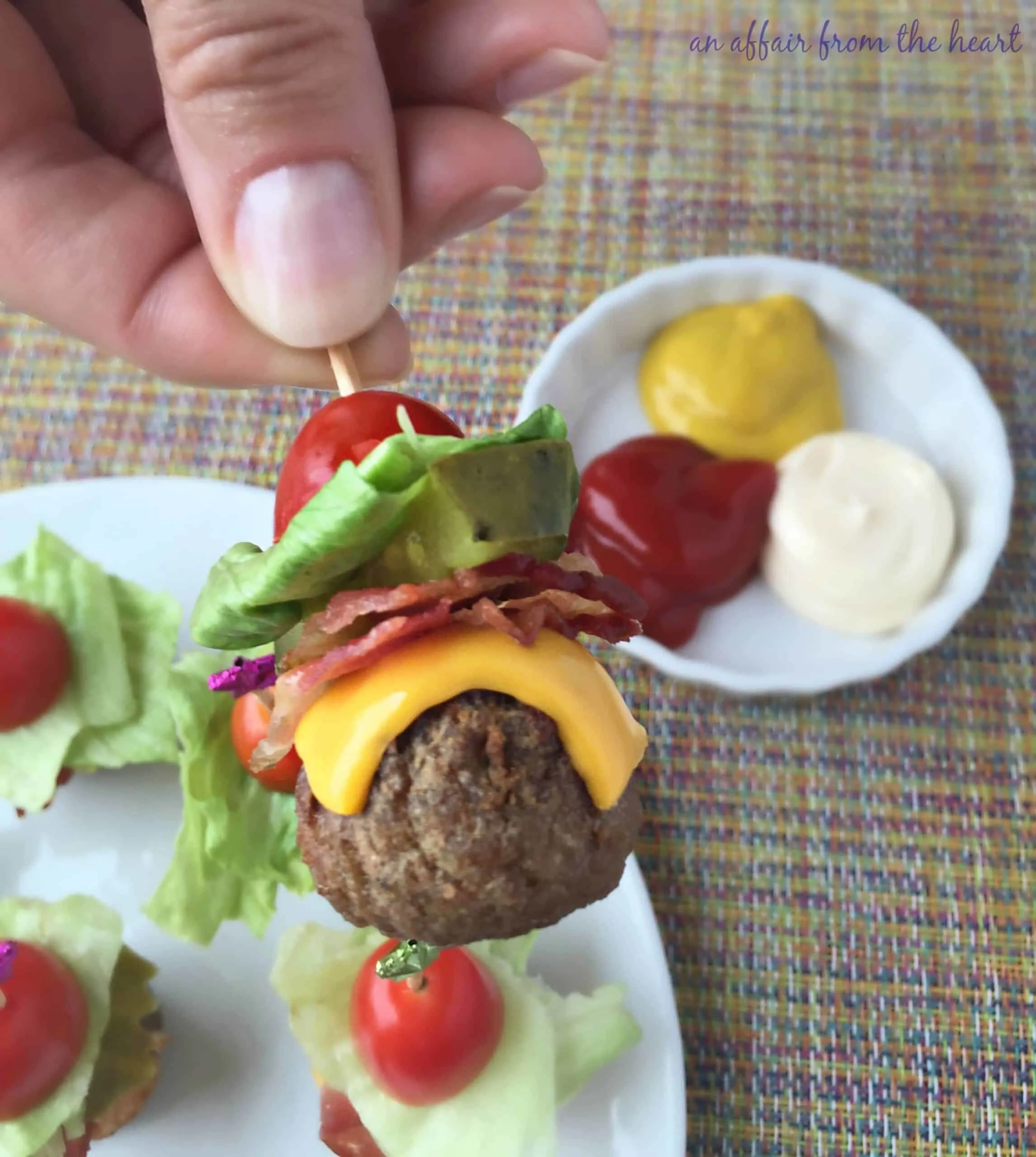 Smaller than sliders these mini bacon cheeseburger meatballs are super cute and fun for a kid's party or backyard gathering.
Don't they just scream summer?!?
Meatloaf is a classic dish made with ground beef just like meatballs, so it only goes that we need min meatloaf meatballs. This dish usually served as a large slice on top of mashed potatoes, you will love these bite sized portions that are a great party appetizer.
The perfect blend of smoky bbq sauce, sweet honey, and tangy Dijon mustard. Topped with pickled mustard seeds, these are a unique party meatball!
A zest mixture of ground beef, ranch seasoning, and breadcrumbs make tender and juicy meatballs. Perfect for dipping in Buffalo sauce for game day or serve with a side of rice and a green salad for an easy meal the whole family will love.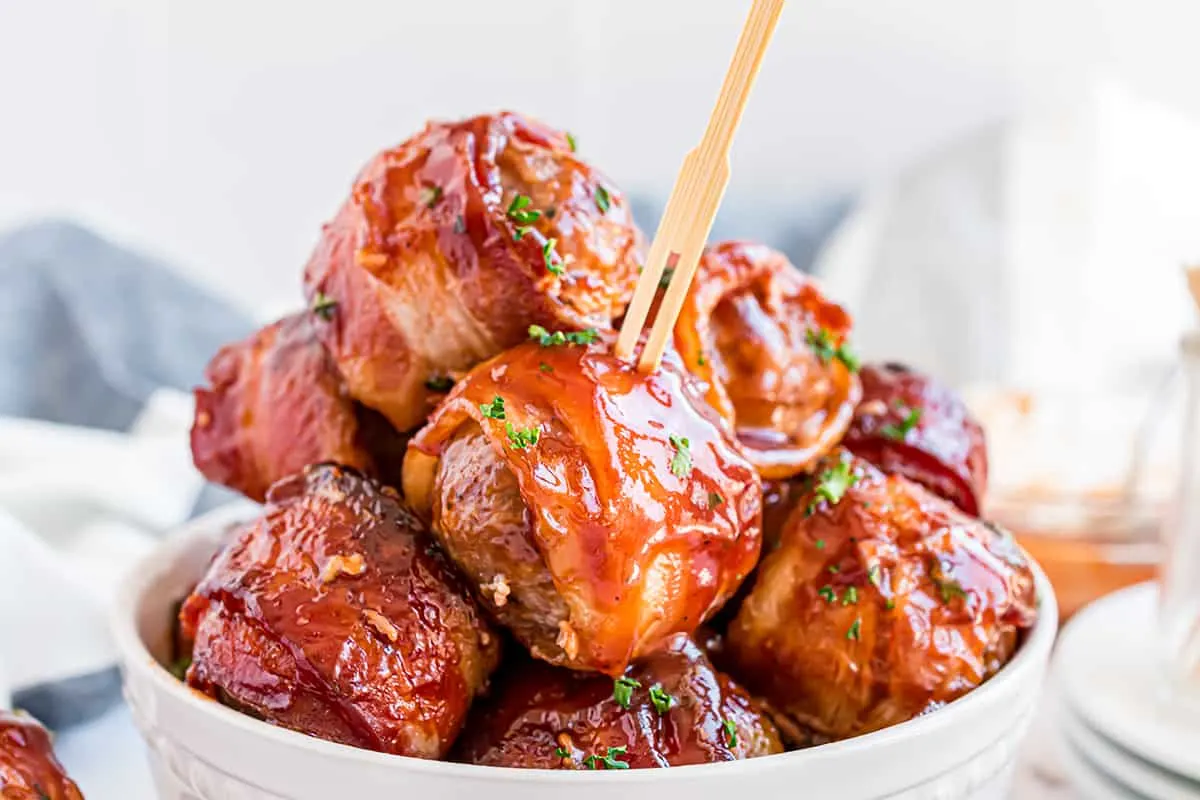 If you like meatballs just the way are, you haven't tried them wrapped in bacon! Juicy to begin with, once they are wrapped in the smoky bacon, and brushed with tangy barbecue sauce, you will do a happy dance.
Serve with coleslaw or corn on the cob for a fun meal.
A budget friendly appetizer or dinner, these meatballs that are studded with rice, are slow simmered in a right tomato sauce.
I love them as a meal but they are super easy as a party appetizer too.
The mixture of bbq sauce, honey, molasses, and a dash of bourbon is one of tastiest sauces I have ever tried. Not only is it delicious on these slow cooker meatballs, I use it on chicken and pork too!
Juicy meatballs slow cooked in a sweet and tangy sauce made with ketchup, soy sauce, and honey. The zesty garlic is perfectly balanced with rich brown sugar making a delicious appetizer.
Serve them over steamed rice for an easy meal!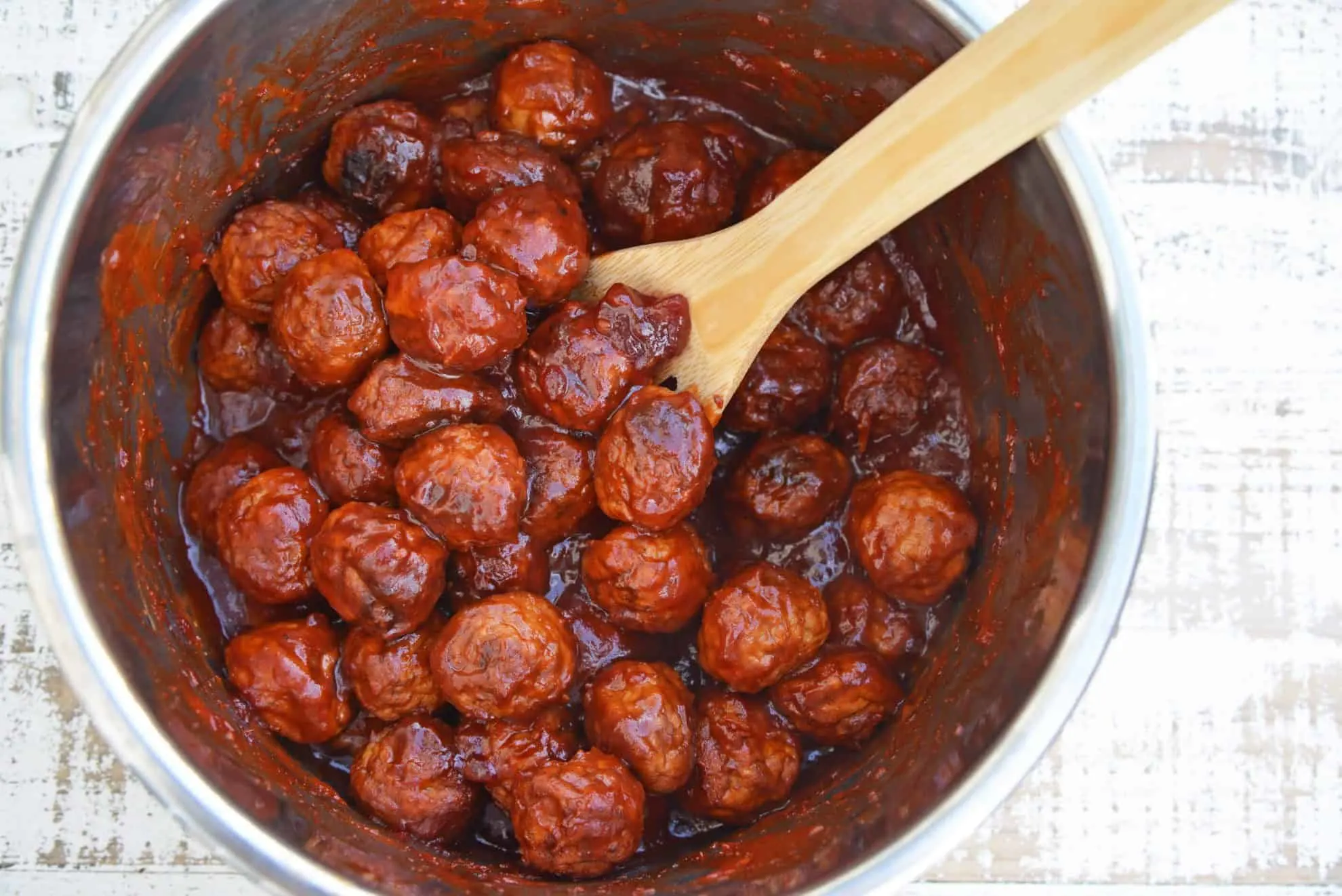 Made in the instant pot, these holiday meatballs are the perfect appetizer for your gathering. Tangy cranberry sauce, mixed with a sweet and spicy chili sauce, hit all the tastebuds in just the right way.
Like your mom's stuffed peppers but in a fun appetizer portion!
Just like the Saturday Night Skit Show made famous, these juicy meatballs are slow cooked in a tangy sweet sauce.
These meatballs give new meaning to sweet and tangy!
You've heard of Dr. Pepper Ribs, try these Coca Cola Meatballs. The perfect balance of sweet and salty and oh so filling!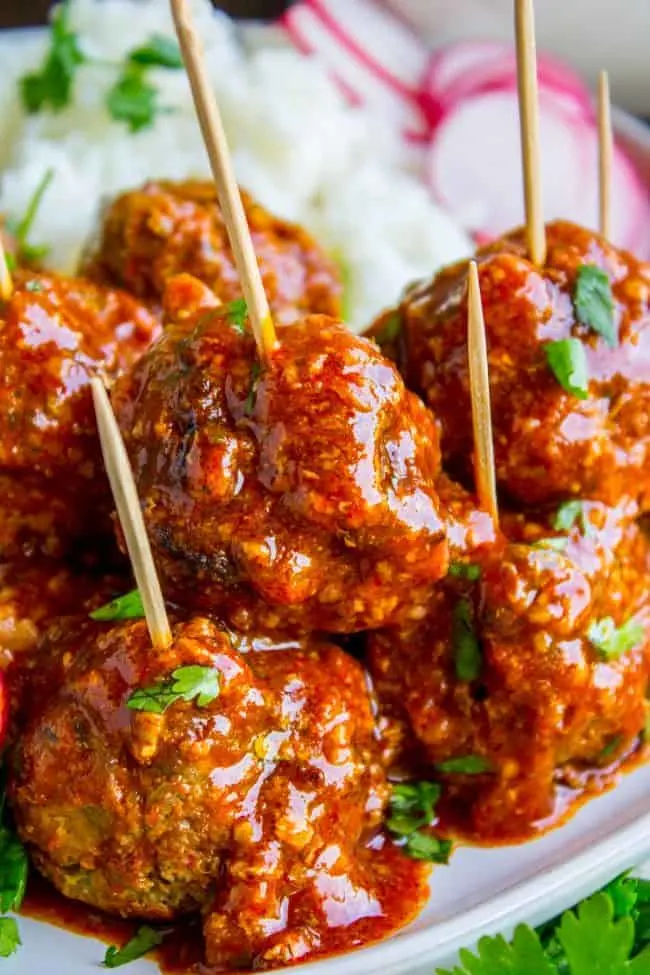 Full of smoky roasted poblanos and slow simmered in red enchilada sauce, these tender meatballs are a great way to celebrate "Taco Tuesday" in a whole new way!
Rich and decadent with a little spice from the red curry paste. They are perfectly balanced with coconut milk to cool the fire.
Made with juice ground beef and Italian seasoning, simmered in marinara sauce, and topped with parmesan cheese. Serve in slider buns for mini meatball subs or over spaghetti for dinner!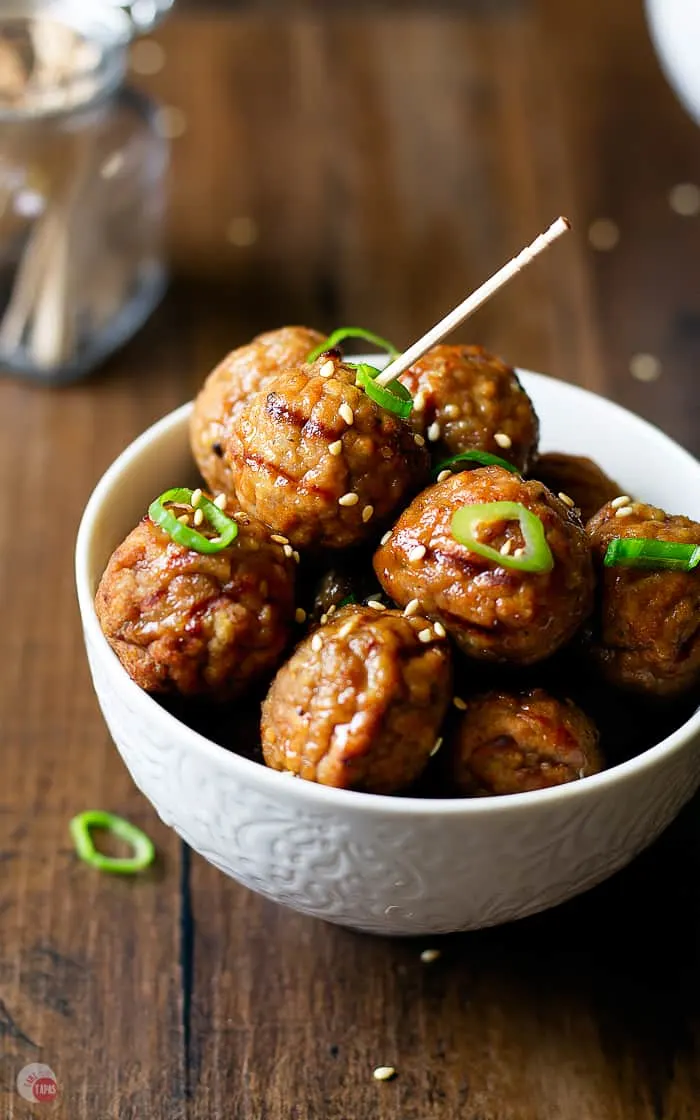 Pork Meatball Appetizers
Also known as Waikiki meatballs, the sweet pineapple and fragrant ginger make the perfect sauce for meatballs. Serve with some steamed rice and sliced green onions.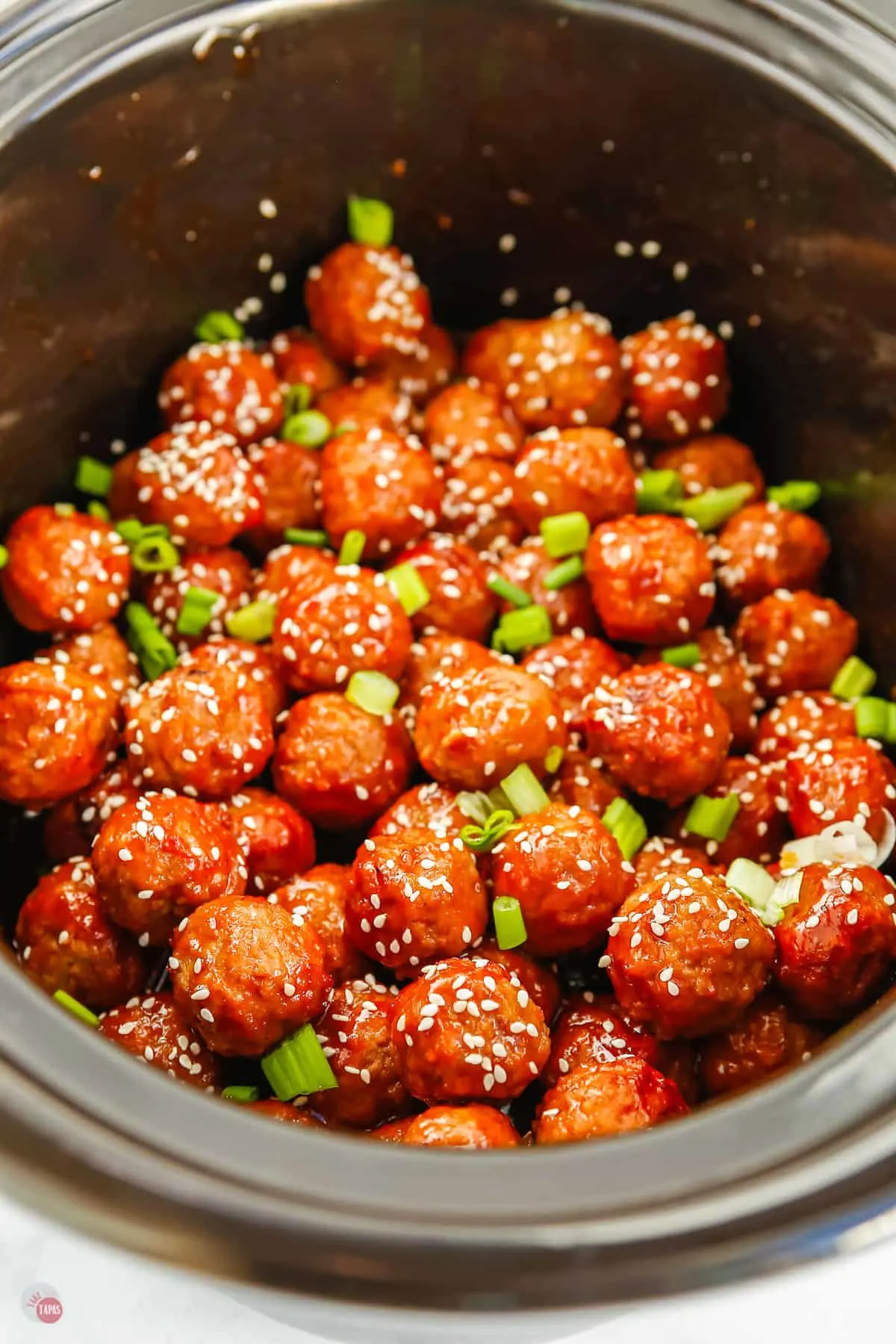 Sweet and tangy with a sticky glaze that will have you licking your fingers. Top with sliced green onions and toasted sesame seeds for even more flavor and texture.
If you love shopping at IKEA like I do, then you are familiar with their famous Swedish Meatballs. Save your money by skipping the shopping trip and make them at home.
The mixture of ground beef and ground pork, cooked into juicy meatballs. Not only are the delicious, but when simmered in a creamy sauce that can't be beat.
I love serving these over egg noodles but also enjoy eating them right out of the pan.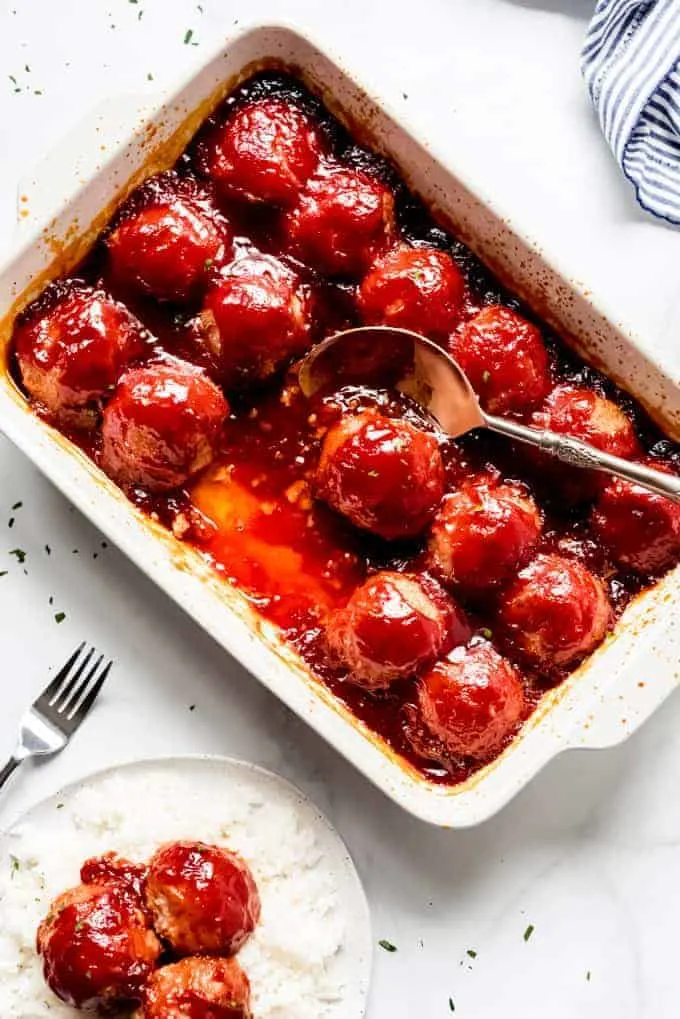 Got leftover ham from that giant spiral ham you made for the holidays? Chop the ham fine and mix it with ground pork to make meatballs.
Bake them in this sweet and sticky sauce made from ketchup, brown sugar, and mustard. If you are not a fan of ham, these will change your mind!
Sweet, spicy, salty, and charred on the outside, like traditional Char Siew style pork that is roasted over an open flame.
The meatballs are delicious but the sauce will have you coming back for second and thirds!
The unique flavors of the Italian sausage mixed with crushed gingersnaps create fun and tasty appetizer. Simmered in spicy chipotle sauce, they will be the hit of your next party.
For more insider tips & tricks, and a candid behind the scenes look follow me on social media! Check use out on Pinterest, Facebook, Instagram, & Twitter (yes, people still use Twitter, LOL!)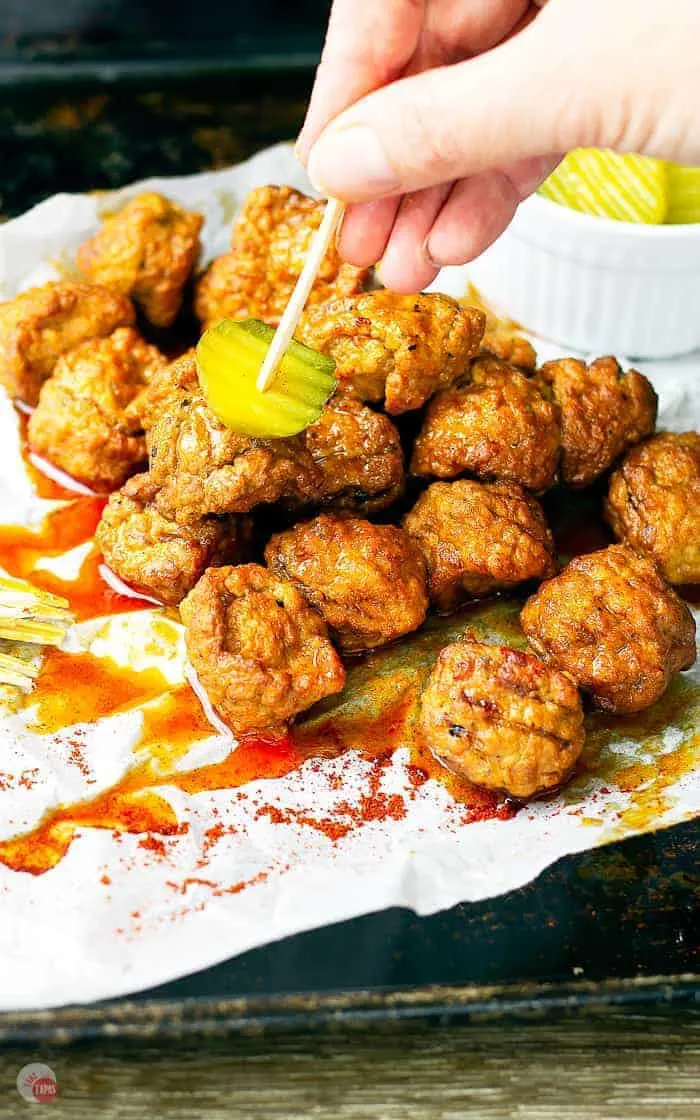 Chicken Meatball Appetizers
Easier to make than fried chicken, these meatballs are slow simmered in hot and spicy butter sauce. Serve with pickle slices to keep the heat to a minimum.
The next time you're looking for delicious dinners, try this recipe for low carb spicy meatballs that everyone will love.
Tender Chicken Meatballs seared and then simmered in a spicy and rich Cajun cream sauce. Great over dirty rice for a Fat Tuesday or Mardi Gras Party.
Taking the flavors from a classic party appetizer, these chicken meatballs are a fool proof, crowd pleasing appetizer.
Baked and tossed in spicy buffalo wing sauce, they are topped with creamy blue cheese crumbles.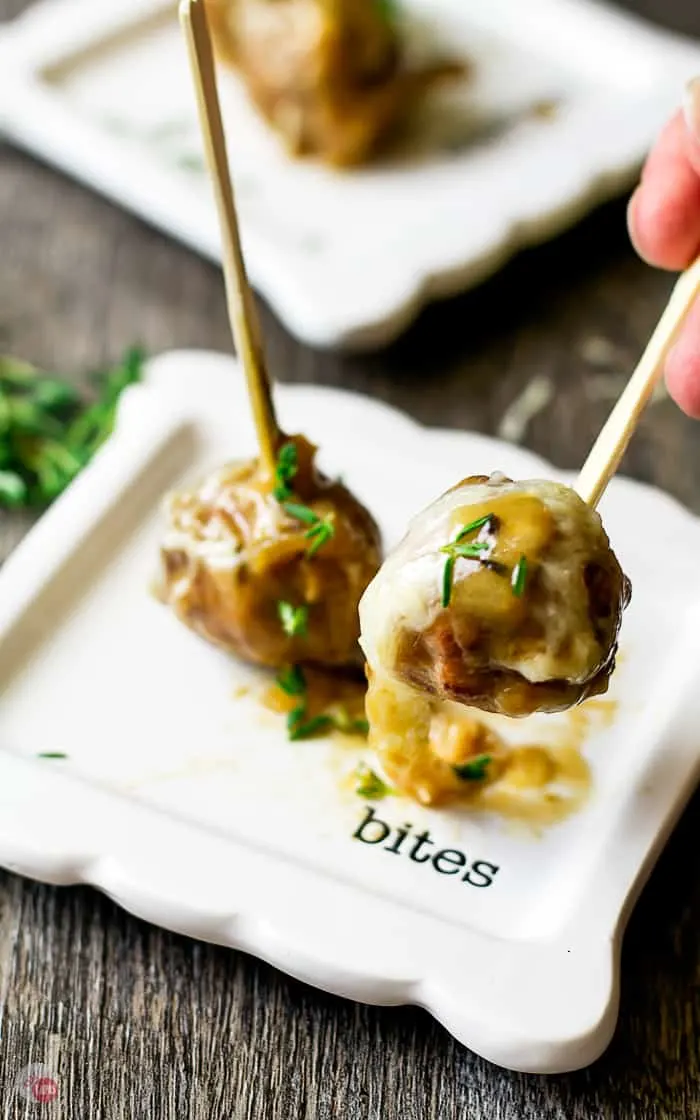 The instant pot is the king when making these. The caramelized onions only add to the richness of the dish. Topped with cheese and they only get better.
You don't have to serve meatballs on tiny forks anymore. These tender chicken meatballs, nestled in between onions, bell peppers, and pineapple, are perfect for the grill. Brush on the sticky teriyaki glaze and serve.
Perfect for that backyard get together.
These sticky Thai meatballs are made with ground turkey, chicken, and lots of veggies. Served in a rich umami sauce they can't be beat!
Skip the tedious skillet meat and whip up this classic Italian dish but with meatballs instead!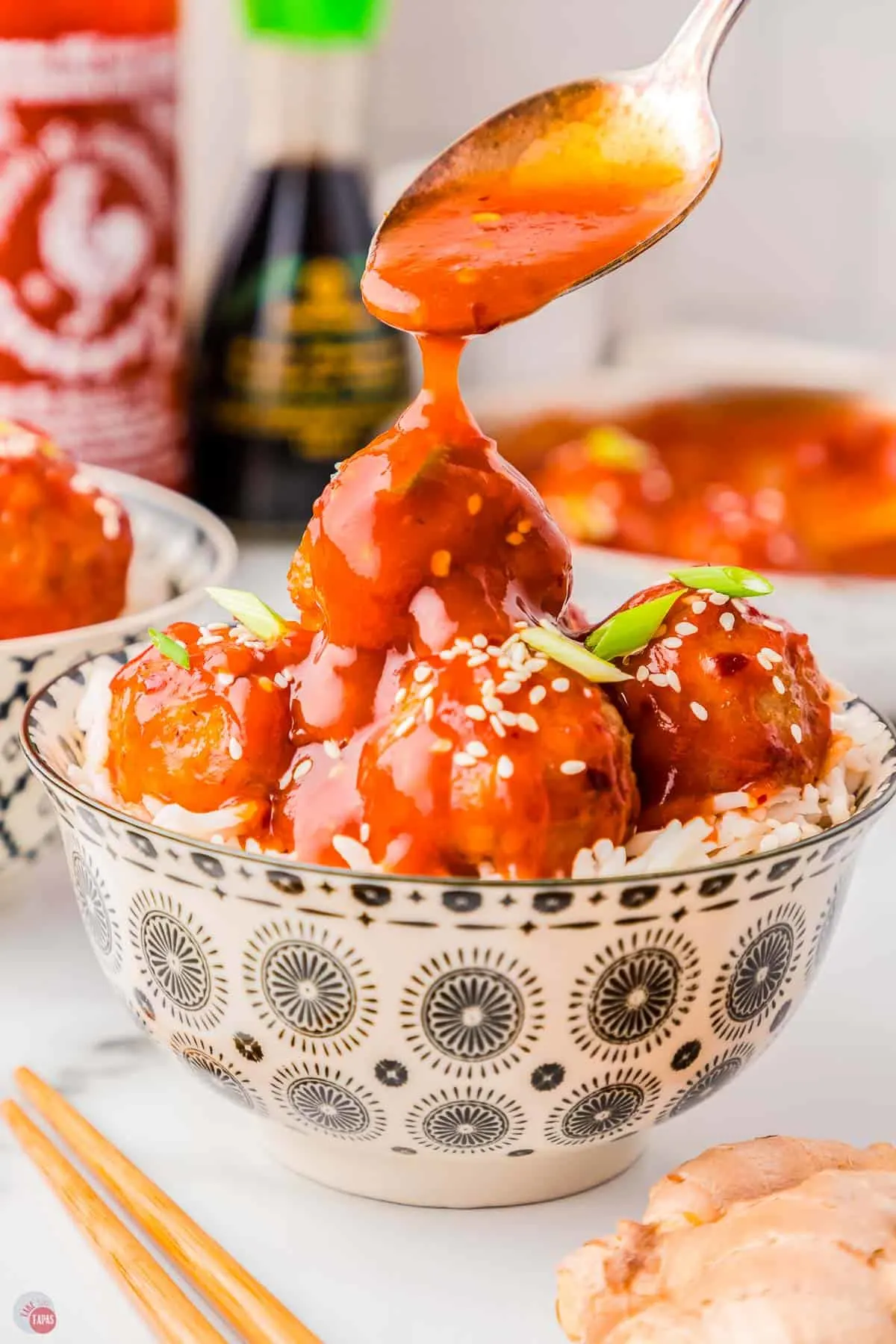 My second favorite take out dish, I love the ease of this appetizer. The only thing missing is the fortune cookie!
Sweet, spicy, and nutty, these curry meatballs have a rich sauce with a nutty ingredient. Almond butter makes them decadent. Serve with cauliflower rice for a Whole3o meal!
I can picture my Pa in his Hawaiian shirt, standing over the grill, making his famous bbq chicken every time I make these. Food makes the best the memories!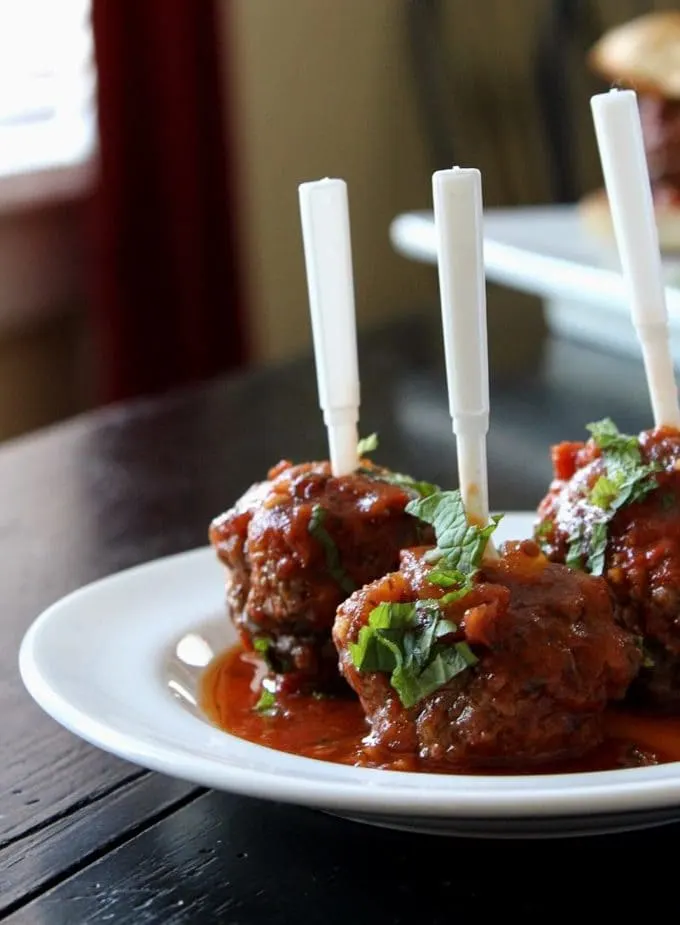 Other Meatball Appetizers
Take a trip to the Mediterranean with these easy lamb meatballs. The sauce alone is worth the trip!
These are perfect for a St. Patrick's day get together! Serve on rye toasts for even more flavor.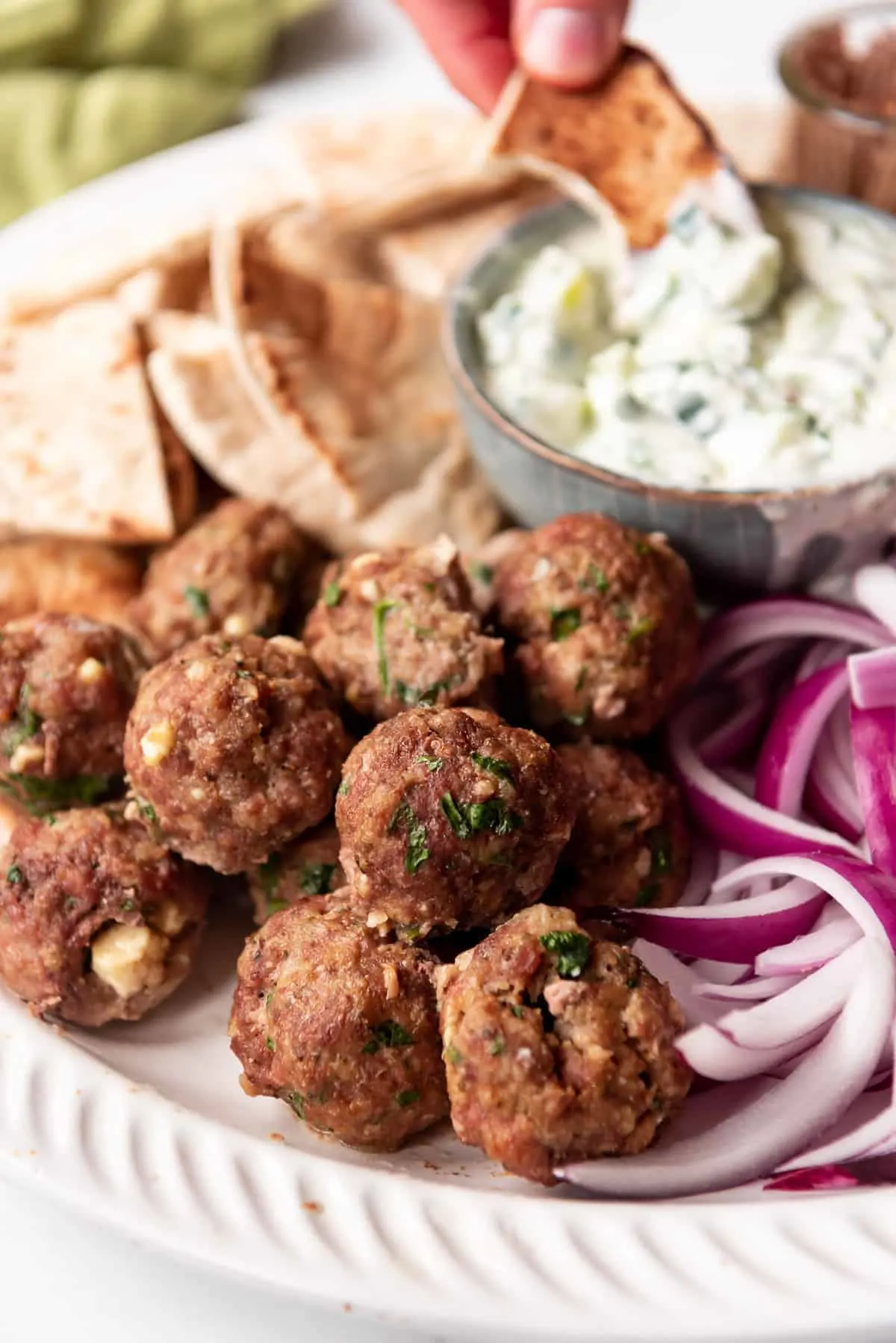 Made with a mixture of beef, pork, and lamb, these Greek Meatballs are perfect in a pita pocket and topped with Tzatziki sauce. Move over gyros, these will be your new favorite way to fill a sandwich.
A healthier version of meatballs, they are tossed with a sweet and spicy mango habanero salsa. Definitely a bite of the tropics.
You love the taste of grilled brats, cooked with beer, you are going to love this meatball recipe! The tender bell peppers add color and served over kraut, the pickle flavor just shines right through.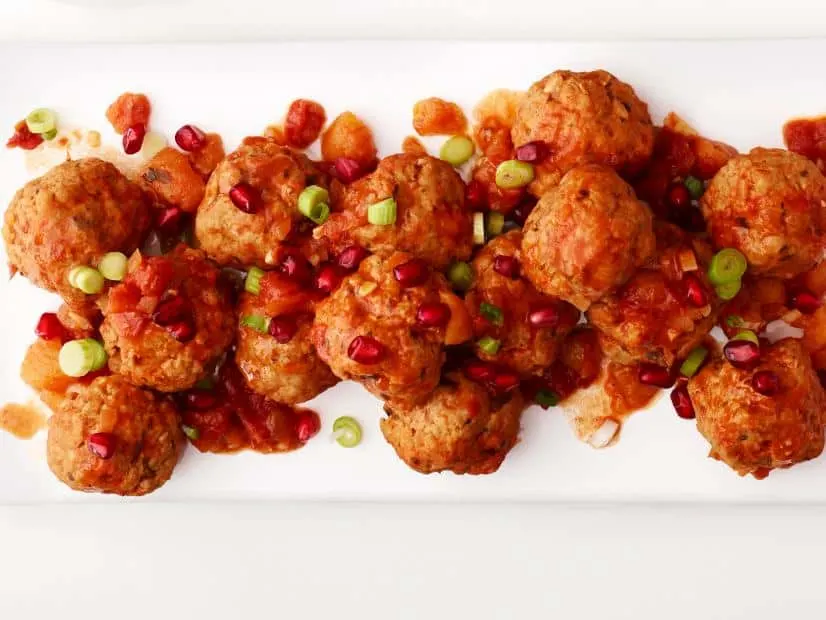 The combo of dried apricots, warm spices, and rich tomato sauce is perfectly balanced with the tart pop of pomegranate seeds.
Juicy pastrami, mixed with ground beef, make the most tender and moist meatballs. Served with a simple sauce, you will never look at pastrami the same way again.
Cozy up with these apple chili meatballs made with apple jelly and spices that will have your mouth watering in no time!
If you love this recipe as much as I do, please write a five-star review in the comment section below (or on Pinterest with the "tried it" button – you can now add pictures into reviews, too!), and be sure to help me share on facebook!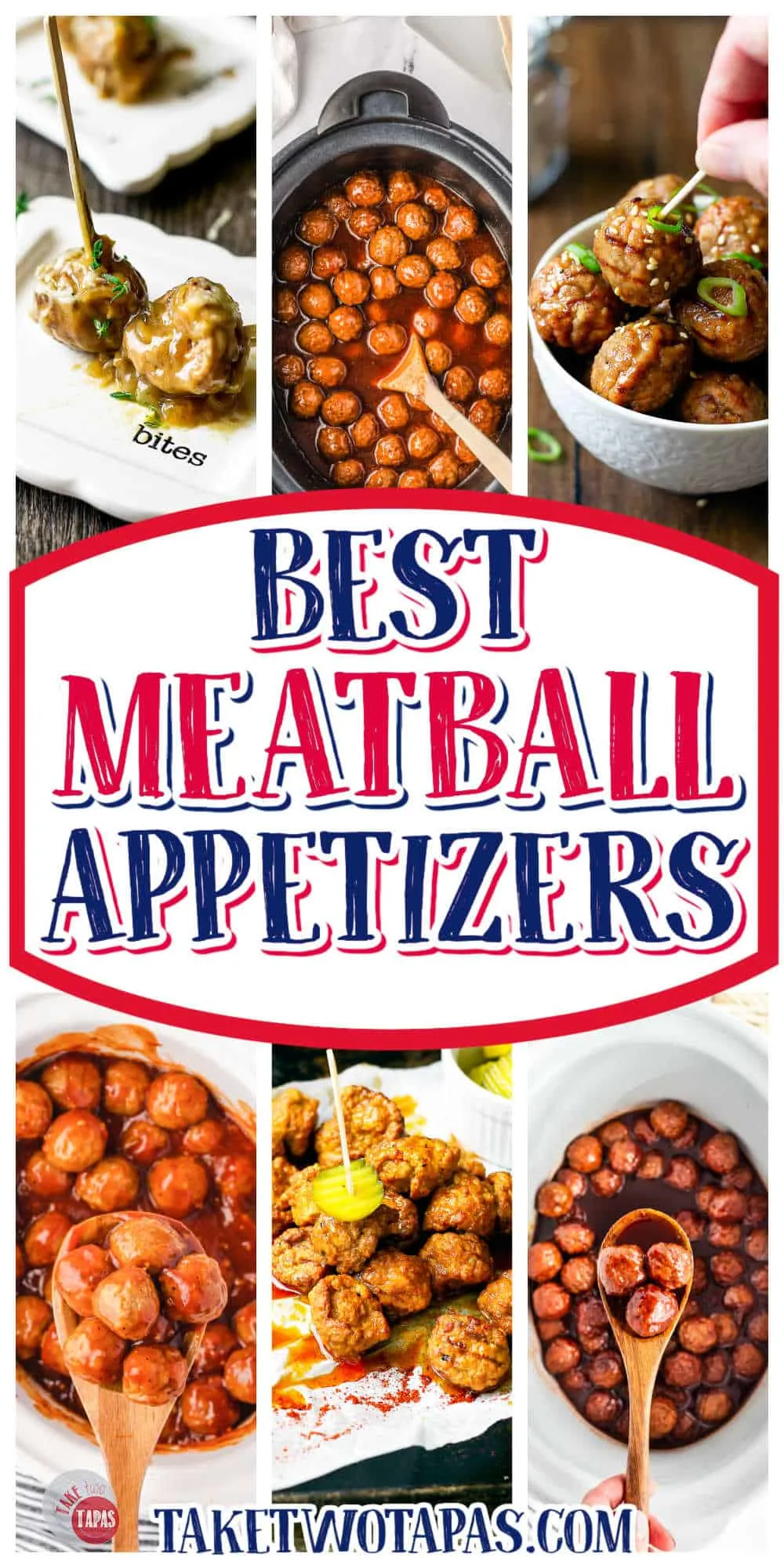 Each of the party meatballs make for easy appetizers or an easy main dish for am busy week night. Make them ahead of time, serve in a crockpot where they will stay warm throughout the entire get together. If they last that long.
More Party Foods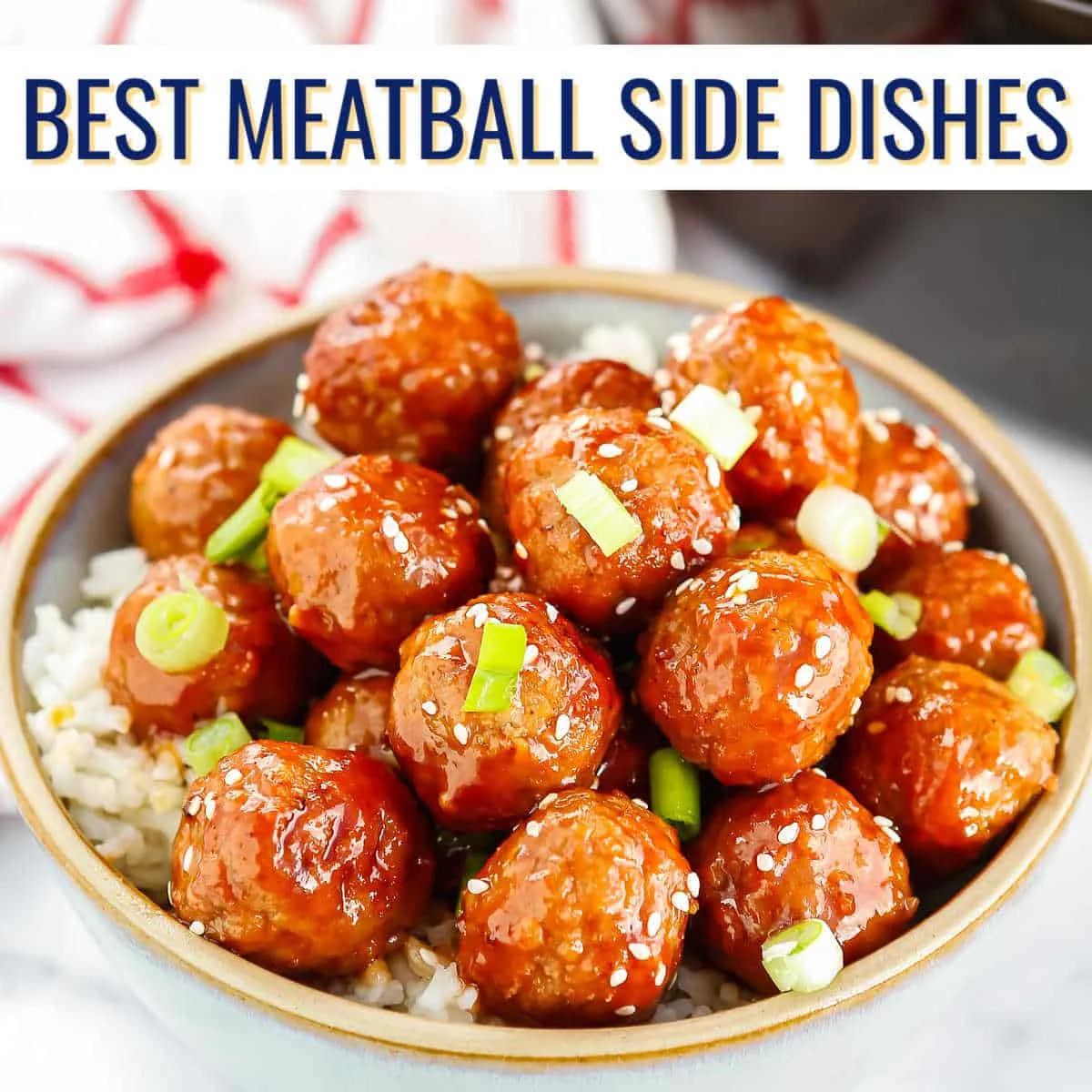 Looking to make any of these appetizer recipes into a full meal? Check out Side Dishes for Meatballs!
TakeTwoTapas.com. Content and photographs are copyright protected. Sharing of this recipe is both encouraged and appreciated. Copying and/or pasting full recipes to any social media is strictly prohibited.