Love the classic Manhattan cocktail? I've taken all the flavors and transformed them into a delicious punch for any occasion! Cherry, bourbon, and orange pair perfectly with bubbly sparkling water to make my Cherry Manhattan Punch!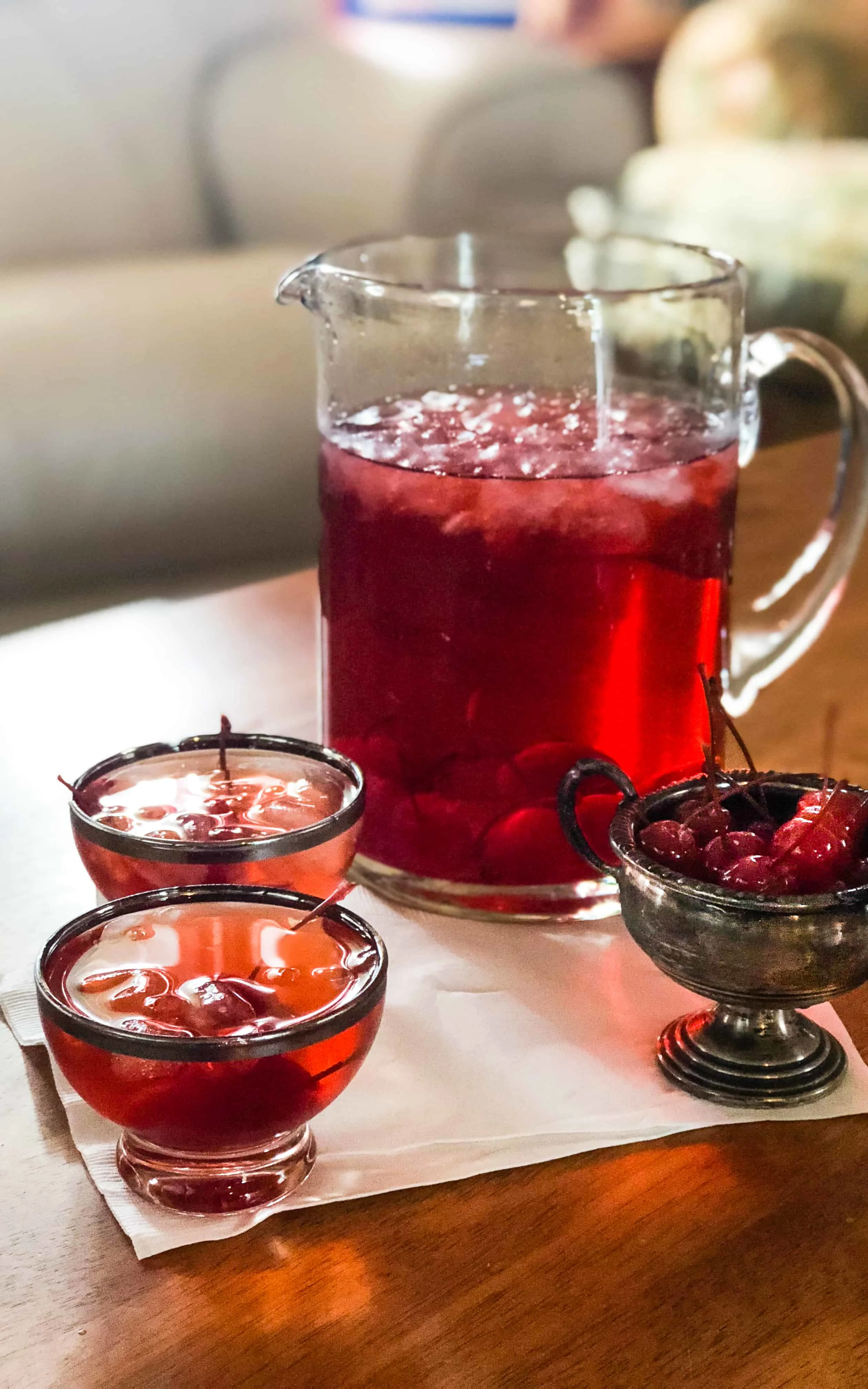 Are you a classic cocktail drinker? I wasn't until I binge-watched Mad Men but I am now. After watching their booze-induced meetings and the post-work happy hours I want to try each and every classic cocktail, no matter how silly the name sounds.
I mean, A Rob Roy? Really? Sounds like something from a spaghetti western and is actually a Manhattan made with Scotch Whiskey.
A Grasshopper? Who wants to drink an insect?
The Harvey Wallbanger? That sounds like something you only do in the bedroom…
These silly sounding ones are currently sitting at the bottom of my list while the ones at the top include the Manhattan, Old-Fashioned, and a Whiskey Sour.
Let's start with the Manhattan because I know Brooks will drink one, or four, with me!
Now we can get started with what is actually in a Manhattan?
MANHATTAN COCKTAIL INGREDIENTS
rye bourbon/whiskey
sweet vermouth
dry vermouth
orange bitters
Maraschino cherry garnish
Intrigued yet?
This post may contain affiliate links. As an Amazon Associate, I earn from qualifying purchases. Read my disclosure policy here.

Now that we know what's in a Manhattan, let's make one!
MANHATTAN COCKTAIL RECIPE
2 parts rye whiskey/bourbon
1 part vermouth (usually half sweet and half dry)
2 dashes of bitters
maraschino cherry garnish or slice of lemon peel
This and other recipes, call for a maraschino cherry garnish but not actually in the cocktail. I have found a few that say a dash of the maraschino cherry liquid helps to round out the cocktail and enhance the fruit flavors.
Other recipes call for muddling the cherries in the glass and then adding the bourbon and bitters. Stirred, not shaken!
The subject of maraschino cherries is a tricky one. Some prefer Luxardo or frozen/canned cherries but I prefer the good old-fashioned, neon red maraschino cherry for the Manhattan.
Now that I have the ingredients down, let's make it a large batch punch!
I tried making this Cherry Manhattan Punch with plain cherry juice and orange sparkling water to keep the calories and sugar down, but it just didn't turn out right. The sugar from the maraschino cherry did the trick.
Scrapping the "fancy-shmancy" stuff is exactly what you need to do when making a punch. Use a large jar of maraschino cherries when assembling the punch for two reasons:
You need all the cherries for garnishing the punch bowl/pitcher, and
You can use the juice instead of purchasing a separate bottle of grenadine.
All the flavors of the classic Manhattan cocktail, in a large-batch, beautiful red, punch full of plump cherries, caramel bourbon, and bright, orange sparkling water.
For more insider tips & tricks, and a candid behind the scenes look follow me on social media! Check use out on Pinterest, Facebook, Instagram, & Twitter (yes, people still use Twitter, LOL!)
It is so much better for your wallet if you serve punch instead of individual cocktails! Much like having a signature cocktail or only serving a few choices of wine or beer, people are going to drink what you have available.
That being said, if you are hosting a "Cocktail" cocktail party you need to have all the ingredients available for classic cocktails. If not, serve punch!
Here are a few of my faves that can easily be made into mocktail punches if you need to.
BUDGET FRIENDLY PUNCH RECIPES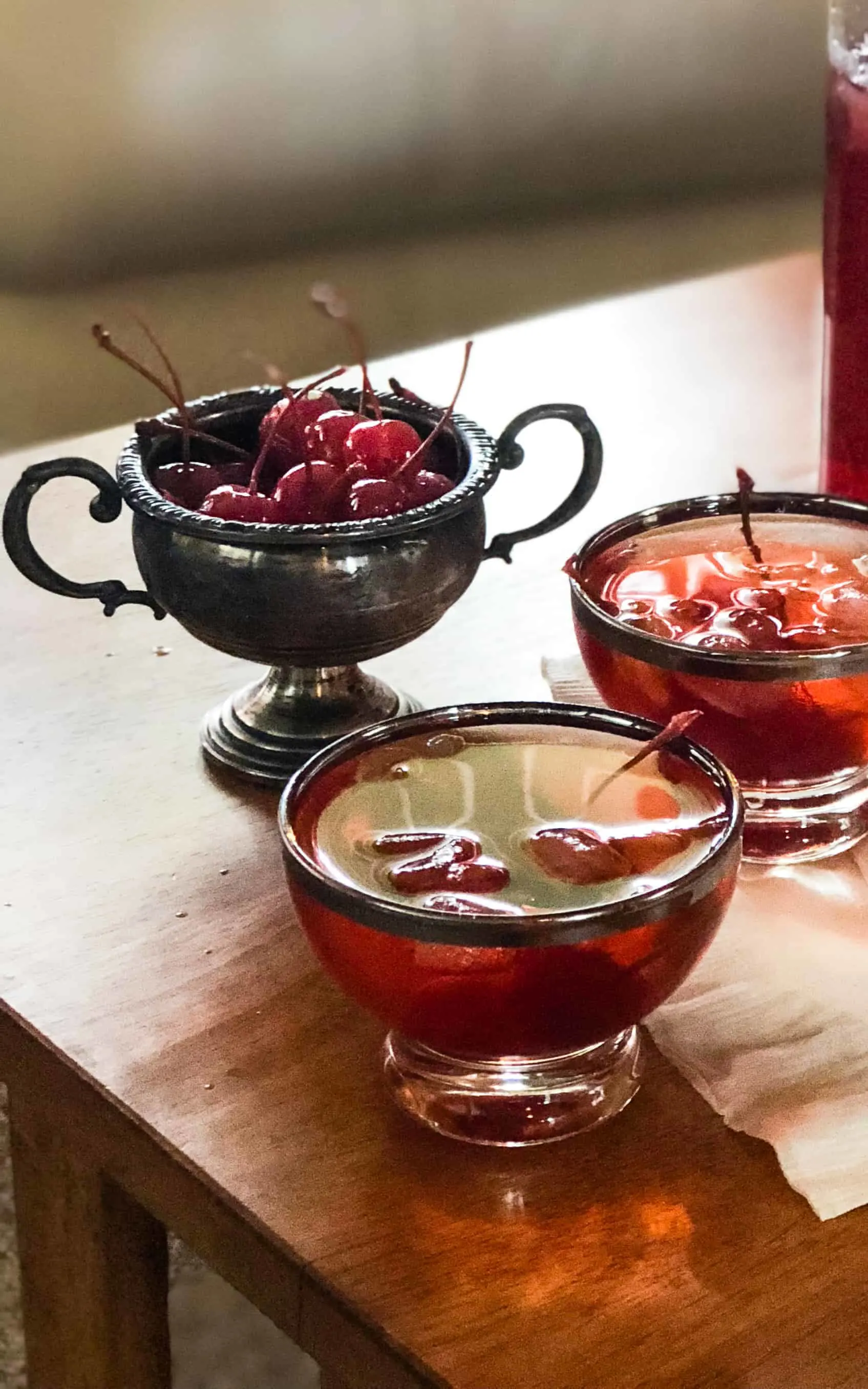 A cool Manhattan cocktail can be served as a party punch too. My Cherry Manhattan Punch is perfect for any party and is full of bright cherries and caramel notes from the bourbon!
MORE EASY PARTY FOODS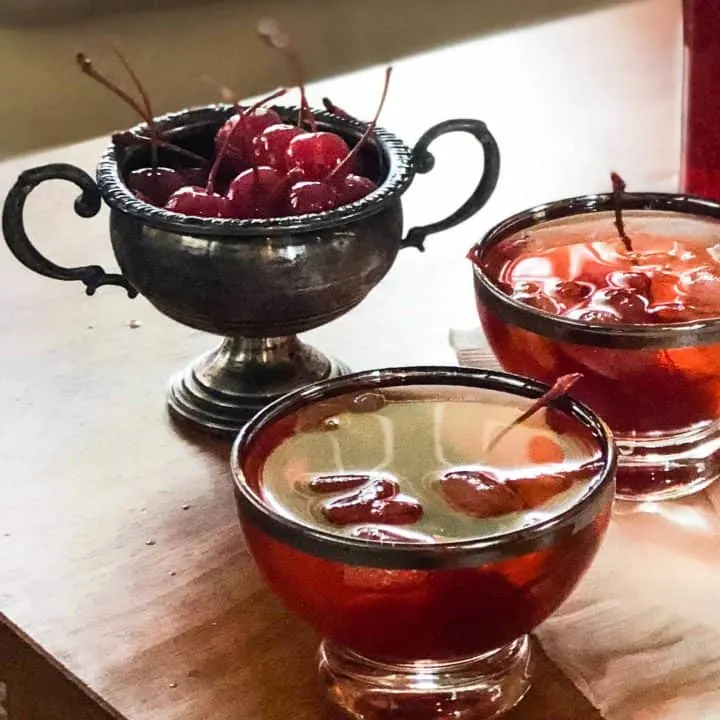 Cherry Manhattan Party Punch
Love the classic Manhattan cocktail? Cherry, bourbon, and orange pair perfectly with bubbly sparkling water to make my Cherry Manhattan Punch!
Ingredients
4 ounces Grenadine or Maraschino Cherry Juice
8 ounces Bourbon
32 ounces Orange Sparkling Water
Maraschino cherries for garnish
Crushed ice or Ice Ring*
Instructions
In a large pitcher, combine the grenadine and bourbon.
Chill until ready to serve.
When ready to serve
Add ice.
Add orange sparkling water.
Add maraschino cherries for garnish.
Enjoy with friends!
Notes
*If serving in a punch bowl, you can make an ice ring out of orange sparkling water and cherries to make a pretty display.
*For best results, chill the grenadine and sparkling water ahead of time.
*If you like this recipe, please leave me a comment and rate it with some stars. Thank you!
Nutrition Information:
Yield:

10
Serving Size:

1
Amount Per Serving:
Calories:

141
Total Fat:

0g
Saturated Fat:

0g
Trans Fat:

0g
Unsaturated Fat:

0g
Cholesterol:

0mg
Sodium:

19mg
Carbohydrates:

23g
Fiber:

2g
Sugar:

16g
Protein:

1g
This nutrition information was generated via a third party, Nutritionix, and can not be held liable for any discrepancies in the information provided.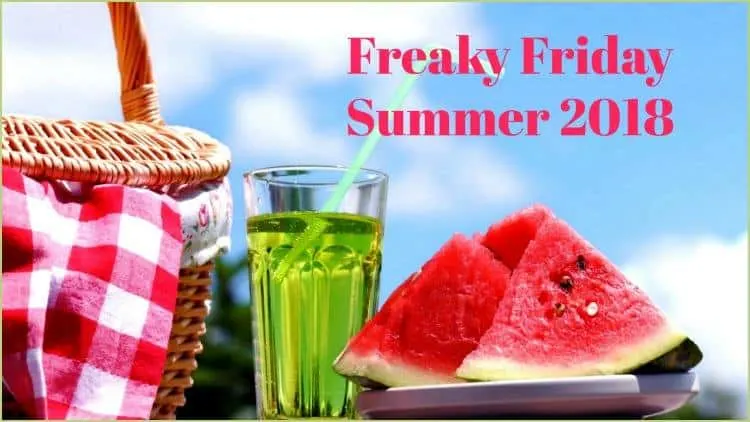 Freaky Friday Summer Edition
Freaky Friday was started in 2015 by Michaela over at An Affair From The Heart who is known for her Award Winning Crack Dip and so many sauerkraut recipes I can't even count them all!
If you haven't heard of Freaky Friday before, it's a blog swap where we are secretly assigned another person's blog and we pick a recipe to make. Then on the specific Friday, we all post and see what each other made.
This round I was assigned to the blog Who Needs A Cape? which is run by Lori and Heather. They don't wear superhero capes or try to be super moms. I love that they share real mom life struggles all while making great food!
When trying to choose what to make from their blog, I started by looking at their appetizers of course. Once I started scrolling through them I couldn't decide between their Spicy Green Olive and Feta Tapenade, Pineapple Cheesecake Dip with Toffee Pretzels, or the Loaded Cheeseburger Dip in the slow cooker! I decided on a different approach: Cocktails.
This wasn't easy either but when I saw their Sweet Manhattan Fizz Cocktail I knew I had to make it into this Cherry Manhattan Punch. Brooks will drink it too! Check out their extensive list of Christmas drinks for kids of all ages!
Check out their site and all the other Freaky Friday Participants: