Let me introduce you to the Slick Rick Cocktail! The adult version of my Lime Rickey Soda childhood favorite is made with lime juice, lime sparkling water, vodka, and grape juice ice cubes which make it grown up AND fun at the same time!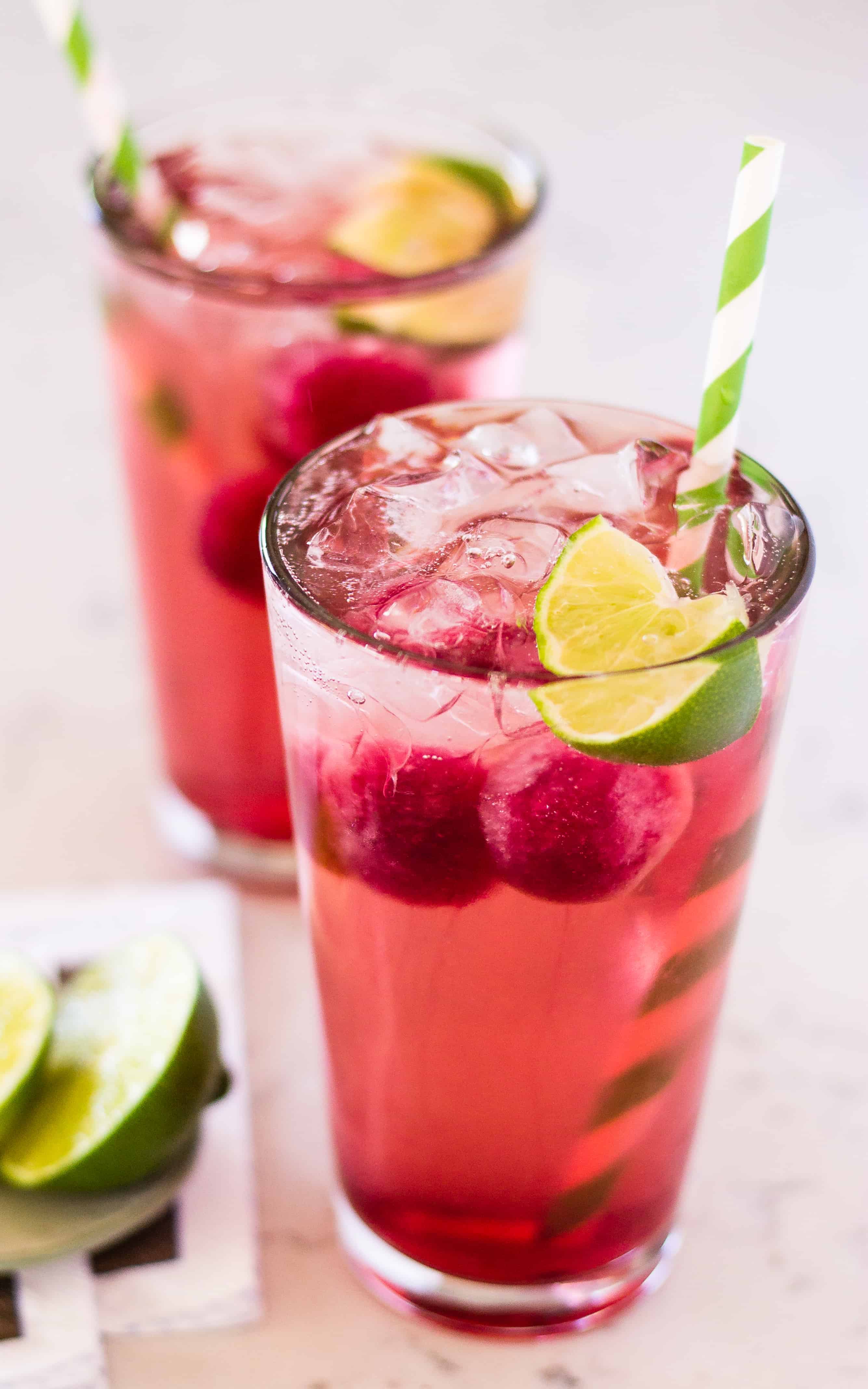 Before we can talk about my Slick Rick cocktail, we need to talk about its inspiration, the Lime Rickey cocktail.
Rickey Cocktail
A traditional Rickey Cocktail is made up of 3 simple ingredients. Like all my other 3 ingredient cocktails, I love a Rickey Cocktail too! These 3 simple ingredients are:
gin/bourbon
1/2 lime, juiced
carbonated water/club soda
A Rickey Cocktail is considered "Highball" cocktail which means that it's typically served in a tall glass and consists of an alcohol spirit and a mixer with more mixer than spirit.
Think Gin and Tonic, Rum and Coke, Scotch and Soda. I prefer a little more spirit than mixer most of the time, but if I do this more than once I tend to go nighty-night much quicker. Time to get to my Slick Rick!
This post may contain affiliate links. As an Amazon Associate, I earn from qualifying purchases. Read my disclosure policy here.

If you'd rather skip my (very helpful, I think) tips and tricks, essential cooking info, and similar recipe ideas – and get straight to this delicious recipe – simply scroll to the bottom of the page where you can find the printable recipe card.
Lime Rickey Ingredients
What is in a Lime Rickey? A Lime Rickey is the most famously known of the Rickey Cocktails and is made with gin, fresh lime juice, and ice. The rest of the highball glass is filled with club soda.
A clean simple cocktail with the flavors of gin and lime. Although, when I ordered it in soda shops as a kid, mine always had grape in it!
I'm also pretty sure that they added some lime hinted simple syrup or Rose's Lime Juice to make it even more appealing to kids.
My Slick Rick Cocktail is appealing to kids of all ages!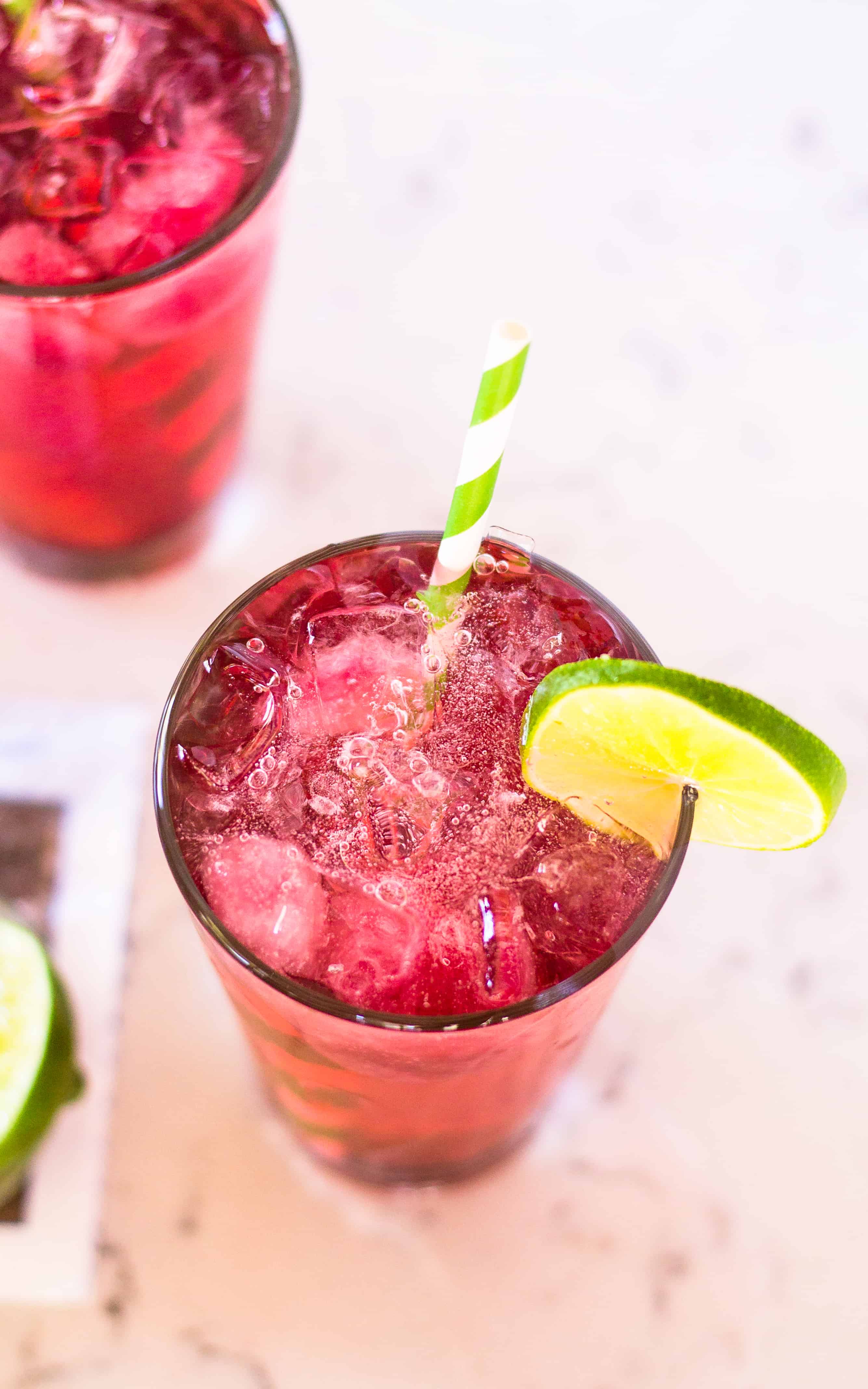 For more insider tips & tricks, and a candid behind the scenes look follow me on social media! Check use out on Pinterest, Facebook, Instagram, & Twitter (yes, people still use Twitter, LOL!)
Lime Rickey Soda
There are a ton of variations on the Rickey Soda that you can find at drive-thru burger restaurants. Some of the most popular are the:
Sonic Grape Limeade
Arctic Circle Lime Rickey
Firehouse Subs Cherry Limeade
Vodka Rickey
Now, even though I like gin, I prefer vodka or tequila with my lime.
Gin is such an herbal spirit because of all the botanicals used to make it, that I like to serve Gin with other mixers like cucumber, elderflower liqueur, rosemary, and vermouth like in a martini.
So when making my adult version of the Lime Rickey Soda that I enjoyed as a child, I didn't want to use Gin, but vodka.
With vodka in the Slick Rick, I can really let the flavors of the grape and lime shine.
One of the other great ways to let certain flavors shine is to accentuate them more. When making the Slick Rick Cocktail, I really wanted the lime to be the star but also for the grape to come through because grape is the flavor I remember most when I drank them.
Cherry is my favorite but grape is what I think of when I think of Lime Rickey sodas.
To accentuate the grape flavor, I started with muddling a few fresh grapes in the bottom of the glass. And it worked but you guys know that fresh grapes do not have the same flavor as grape "flavoring."
Sounds ridiculous but it's true. Grape soda doesn't taste like eating fresh grapes. I abandoned the idea of the fresh grapes and went with grape juice instead.
Adding a small amount to the cocktail itself but also making grape juice ice cubes like I did with my Space Pop Cocktail. As the grape ice cubes slowly melt, they keep the cocktail cool, add a hint of grape color, slowly add grape flavor, all while not diluting your drink!
This Slick Rick cocktail is my adult version of a Lime Rickey Soda but with vodka and fun grape juice ice cubes. Because it is so child-like feel free to leave out the vodka and make a mocktail version too!
Slick Rick Cocktail - Grape Lime Rickey with Vodka
Let me introduce you to the Slick Rick Cocktail! The adult version of my Lime Rickey Soda childhood favorite is made with lime juice, lime sparkling water, vodka, and grape juice ice cubes which make it grown up AND fun at the same time!
Ingredients
Slick Rick Cocktail
2 ounces vodka
0.5 ounces grape juice
1 lime (cut in half, juiced)
4 ounces lime sparkling water (I prefer Key Lime LaCroix for this one)
3 grape juice ice cubes
1/2 cup fresh grapes (optional)
Grape Juice Ice Cubes
8 ounces grape juice
silicone ice cube tray
Instructions
Prepare the Grape Juice Ice Cubes
Pour the grape juice into the ice cube tray and freeze at least 4 hours.
Keep frozen until ready to use.
Make the Slick Rick Cocktail
Cut the lime in half and juice into the highball glass.
Add one of the lime halves to the glass.
Pour in the vodka and grape juice.
Add a few grape juice ice cubes to the glass.
Pour the sparkling water on top.
Serve with a cocktail spoon or stir and enjoy!
Notes
*If you like this recipe, please leave me a comment and rate it with some stars. Thank you!
Nutrition Information:
Yield:

1
Serving Size:

1
Amount Per Serving:
Calories:

818
Total Fat:

2g
Saturated Fat:

0g
Trans Fat:

0g
Unsaturated Fat:

0g
Cholesterol:

0mg
Sodium:

57mg
Carbohydrates:

173g
Fiber:

5g
Sugar:

159g
Protein:

5g
This nutrition information was generated via a third party, Nutritionix, and can not be held liable for any discrepancies in the information provided.