Enjoy all the delicious flavors of a Caprese salad in a portable, flaky Caprese Empanadas. Creamy mozzarella, fresh basil, rich sun-dried tomatoes, and spicy arrabbiata all rolled into a buttery crust!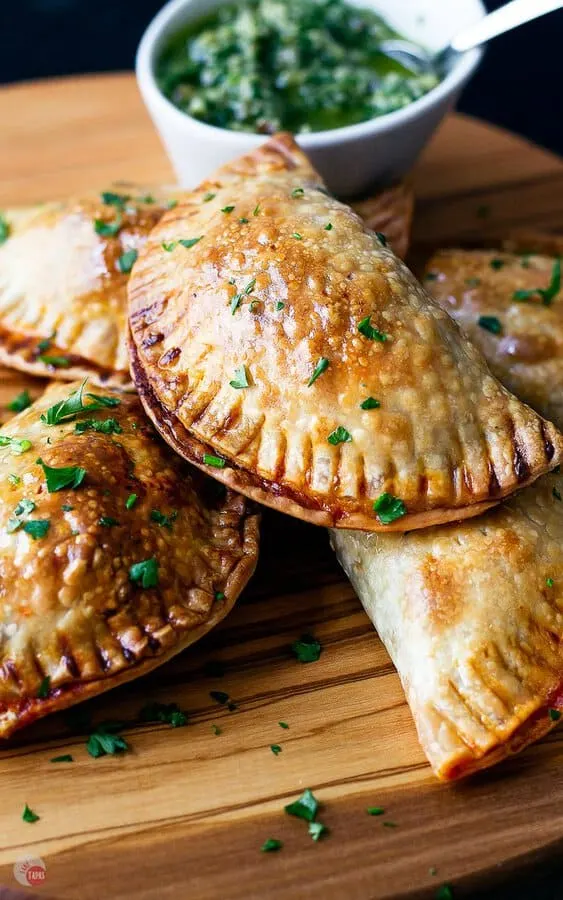 Italian Empanadas
Do you love a portable lunch? With my crazy days, I love something that I can eat while walking around, moving laundry from the washer to the dryer, and trying to photograph all the awesome recipes that I have in my head, I need something I can eat on the run.
What's better than an empanada? A savory hand pie, full of gooey cheese, that will satisfy all your hunger needs!
What is an empanada? A baked or fried pastry filled with meat, cheese, or any other ingredients, originating in Latin and Filipino regions.
The Spanish word empanada comes from the verb "empanar" which translates as "enbreaded" or wrapped and coated in bread.
The bread in this case is the buttery and flaky pastry which holds all the yummy fillings inside the empanada.
This post may contain affiliate links. As an Amazon Associate, I earn from qualifying purchases. Read my disclosure policy here.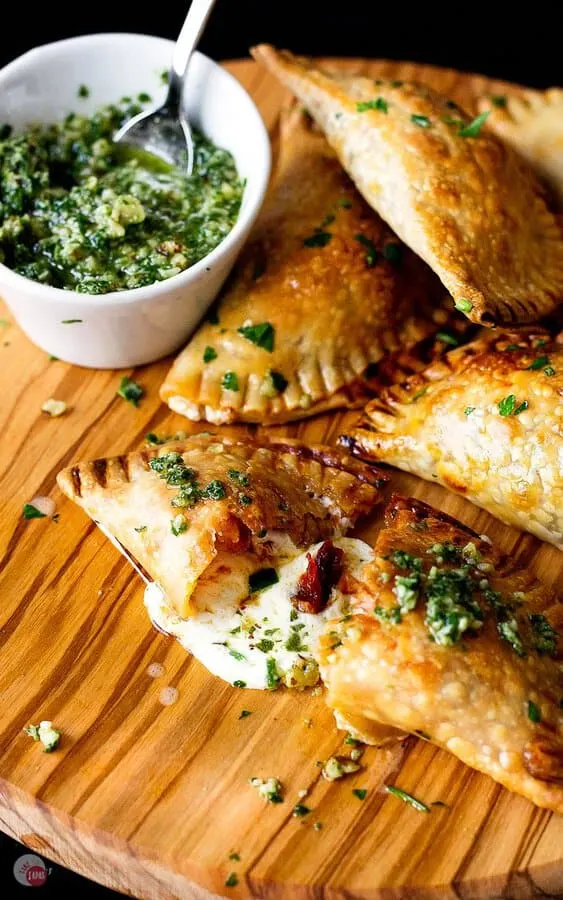 How to make Caprese empanadas
Empanadas are easy to make. It's easy! Pastry and filling! You can choose meat, veggies, just cheese, as long as it's yummy. Whether it's spicy or not, the pastry just holds all you crave.
You can make the dough from scratch, if you are so inclined. A great recipe for empanada dough is this one from the Flavor Bender.
Dini so generously guest posted a spicy empanada recipe here when I was having a hard time and I have made it so many times since then.
If you can't or don't have time to make the sough from scratch, no judgement as I love a shortcut, I use these empanada dough discs from Goya. I haven't come across them in the freezer section until we moved to Atlanta. I saw them while looking for Pizza Rolls for Connor and I grabbed all 17 packs of them.
You can use them for sweet or savory empanadas! I love a great shortcut so if I can find dough already made, it has to be good mind you, I will use it. Making things from scratch and with love is great, but let's be honest…
I am busy, I have kids, I want to write recipes for you instead of kneading dough, and I need extra time to drink tequila so pre-made dough is my jam right now.
For the full recipe and detailed instructions, please refer to the recipe card at the bottom of the post.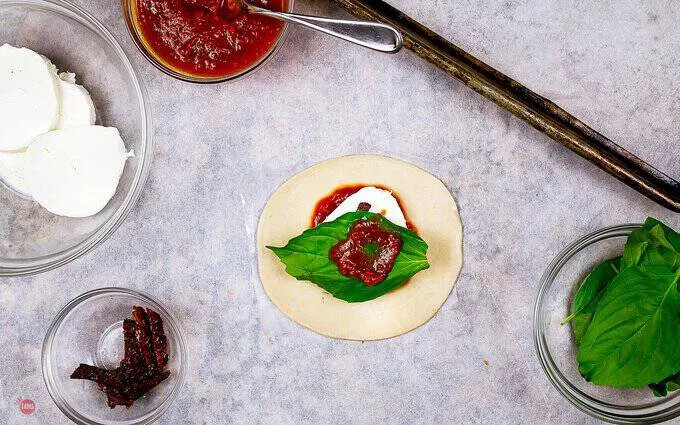 The most fun things about these empanadas is the Caprese part! I mean, who can deny fresh mozzarella, spicy tomato sauce, and a fresh basil leaf? All the best flavors all rolled up in a flaky and buttery crust.
Pack these for lunch or serve them for brunch! Along with this Caprese Pasta Salad. This Caprese Empanadas recipe is inspired by Julie's Cheese and Mushroom Empanada.
Can these be made ahead of time and frozen?
I would not recommend freezing the cooked or uncooked empanadas as the mozzarella cheese will get a funky texture in the process.
Can you use pie crust instead of empanada dough?
Yes, you can. You can use pie crust or even puff pastry. Julie used puff pastry so feel free to use whatever is handy!
For more insider tips & tricks, and a candid behind the scenes look follow me on social media! Check use out on Pinterest, Facebook, Instagram, & Twitter (yes, people still use Twitter, LOL!)
Can I use fresh tomatoes?
I wouldn't recommend it. Fresh tomato is full of water so when it cooks, it will release a ton of water which will not allow the pastry to stay flaky.
Can I use my favorite tomato sauce?
Feel free to use whatever sauce you prefer!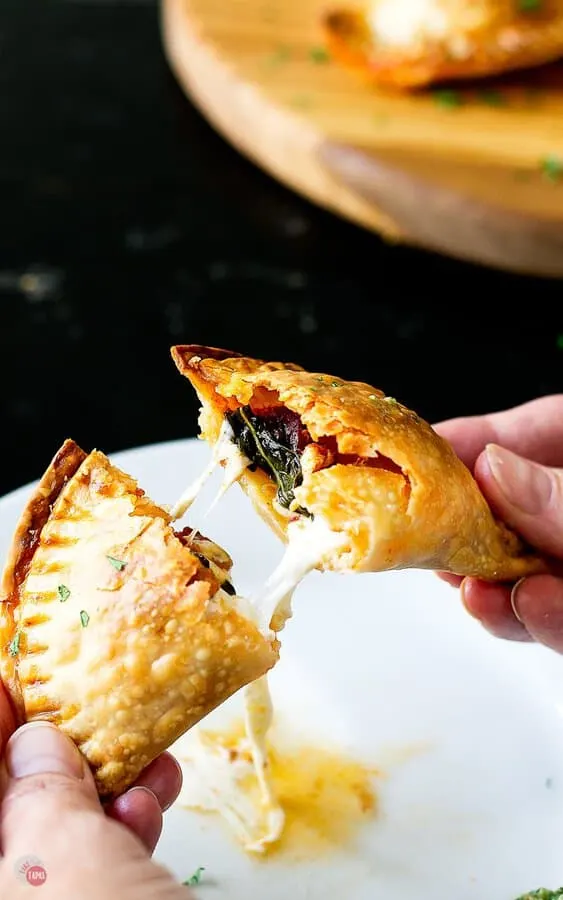 More Empanada Recipes!
If you love this recipe as much as I do, please write a five-star review in the comment section below (or on Pinterest with the "tried it" button – you can now add pictures into reviews, too!), and be sure to help me share on facebook!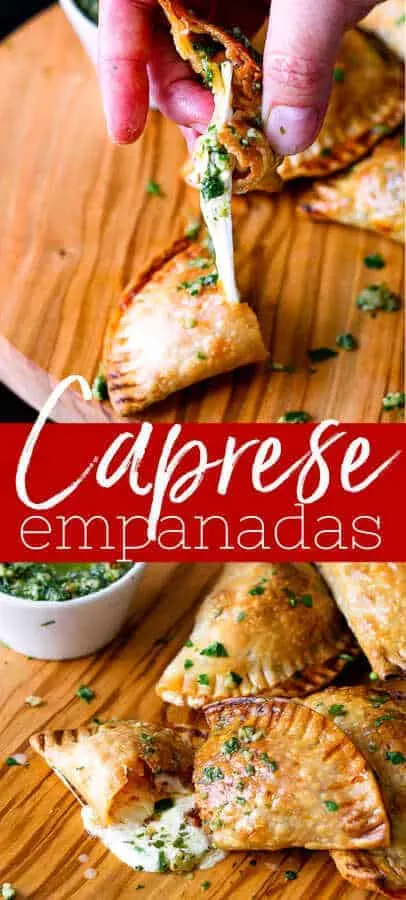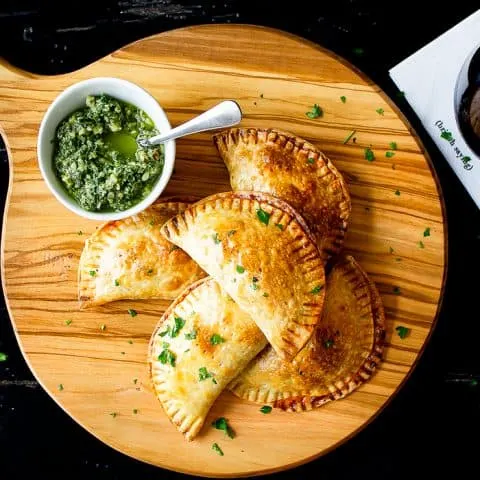 Caprese Empanadas
Enjoy all the delicious flavors of a Caprese salad in a portable, flaky Caprese empanadas. Creamy mozzarella, fresh basil, rich sun-dried tomatoes, and spicy arrabbiata all rolled into a buttery crust!
Ingredients
Caprese Empanadas
6 ounces fresh mozzarella
10 fresh basil leaves
1/2 cup tomato sauce
4 sun-dried tomatoes, sliced thin
Walnut Parsley Pesto
1 cup parsley, chopped
1/4 cup olive oil
1/4 cup red wine vinegar
Instructions
Make the Walnut Pesto Sauce
Combine the parsley, toasted walnuts, olive oil, and vinegar in a food processor.
Pulse until chopped fine.
Remove and store in a container until ready to use.
Make the Caprese Empanadas
In the center of an empanada dough disc, add 1 tablespoon of tomato sauce, 1 slice of mozzarella cheese, 2 slices of sun-dried tomato, and a fresh basil leaf.
Fold the disc in half, press out the air, and seal the edges.
Fold the edges over and crimp closed or press a fork into the dough to seal the edges closed.
Poke a few holes in the top to let the steam escape.
Spray with non-stick spray.
Place in the air fryer basket, being careful not to overcrowd or let them empanadas touch.
Air fry at 325F for 20 minutes or until golden brown.
Remove and let cool for a few minutes.
Serve with Walnut Pesto sauce.
Enjoy!
Notes
*If you like this recipe, please let me a comment and rate it with 5 stars. Thank you!
Nutrition Information:
Yield:

10
Serving Size:

2 empanadas
Amount Per Serving:
Calories:

396
Total Fat:

118g
Saturated Fat:

33g
Trans Fat:

4g
Unsaturated Fat:

74g
Cholesterol:

137mg
Sodium:

2440mg
Carbohydrates:

167g
Fiber:

12g
Sugar:

10g
Protein:

62g
This nutrition information was generated via a third party, Nutritionix, and can not be held liable for any discrepancies in the information provided.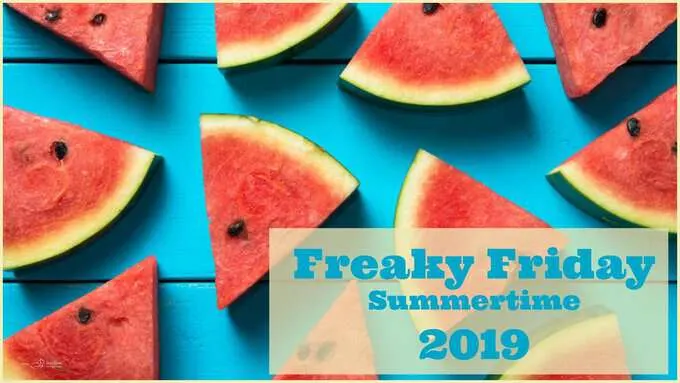 Other Freaky Friday Recipes that I have made include, marinate olives, corn dip, and pepperoni pizza packets, but I have never had the pleasure of making one from Julie's blog, Hostess at Heart.
I was so excited because I have known Julie for many years, almost all the years I have been blogging, and I get to meet her in person next month. But, I have made her recipes for years.
Some of my favorite ones are Pizza Knots, Quick Fajita Pizza, and these Meat Pies. She had so many dips that I want to try but she is known for her bread making.
Julie can knead dough better than any one I know! Check out her Almost No-Knead Bread, Garlic Batard, Cuban Medianoche, and this Caramelized Onion Gouda Casatiello!
Definitely check out all of Julie's recipes, you won't be disappointed!
Take a look at all of our Summer 2019 Freaky Friday Recipes:
TakeTwoTapas.com. Content and photographs are copyright protected. Sharing of this recipe is both encouraged and appreciated. Copying and/or pasting full recipes to any social media is strictly prohibited.