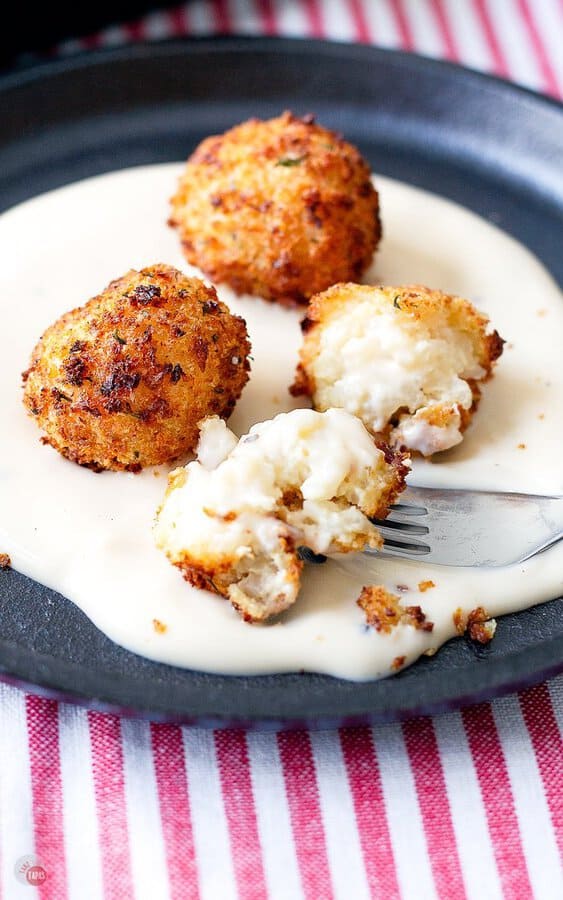 Hearty, and crispy Cheesy Alfredo Arancini are a great way to start off a Sunday Supper meal or as an appetizer for any party! Leftover risotto is combined with Alfredo sauce made with cauliflower and cooked in the air fryer for less calories and fat than regular risotto balls!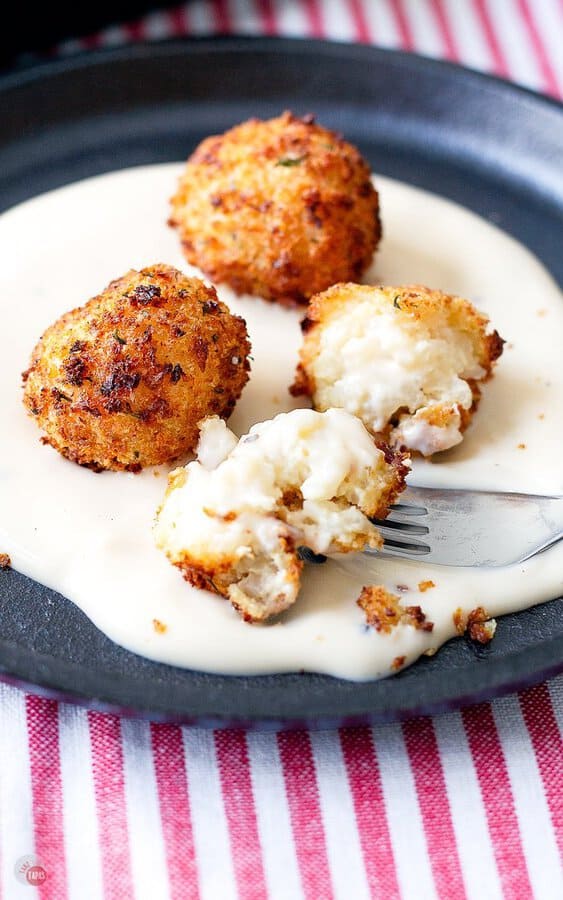 This post is sponsored by BabbleBoxx.com on behalf of Bertolli®
It is so easy to make the most of Sunday by having friends and family over for a delicious meal, especially with Bertolli! If you would like a reminder for #BertolliSundaySupper and some inspiration for recipes, crafts, and cooking tips & tricks, to make it even easier, sign up here! How awesome is that?!?!
What is Arancini?
How hard is it to get your family and friends together over the summer? Everyone is either traveling, involved in camps and activities, or planning quiet family time after a busy week at work! With all of these things going on, Sunday seems like the best time of the week to even attempt it.
Sunday is a day to recharge after the week, catch up on all the wonderful things going on, and is the best day to gather those that travel before they head off again. Sunday Supper has been and will continue to be the best family meal!
When people think of sauce, pasta is usually what comes to mind. I know it does for me as my parent's owned an Italian restaurant where they cooked and the rest of the family worked as well. I have a soft spot for Italian foods, particularly pasta.
But another Italian dish that I love is risotto. And using the leftovers to make rice balls. Italian rice balls, or arancini, can be made with regular long grain rice, but I prefer the short grain Arborio rice, to make them.
Arancini, or rice balls, are a great way to change up a meal, use small amounts of leftover meat and cheese that are in the fridge, and are fun for kids to try too!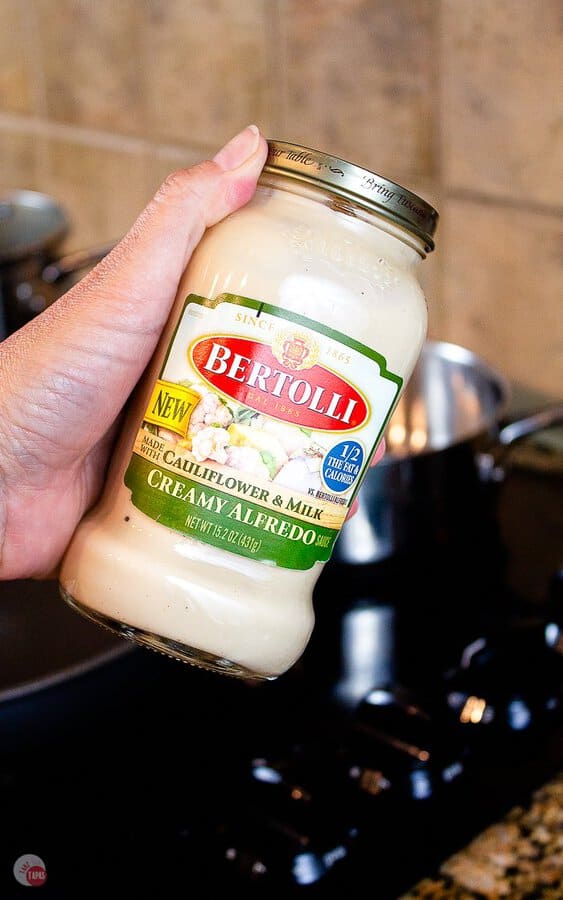 If you'd rather skip my (very helpful, I think) tips and tricks, essential cooking info, and similar recipe ideas – and get straight to this delicious recipe – simply scroll to the bottom of the page where you can find the printable recipe card.
What is it about cheese and rice?
If you have had rice balls before, you know that they are crispy on the outside and cheesy and gooey in the center. You know what would be better? If you could cut down the calories and fat and still enjoy all the goodness of the original deep fried version.
I found a way to do just that in these Cheesy Alfredo Arancini!
New Bertolli® Creamy Alfredo with Cauliflower & Milk is the way I do it. Alfredo sauce is delicious in itself but Bertolli is using cauliflower to keep the calories and fat down and the flavor level up! They are the only sauce from Tuscany, which is why it tastes so great!!
Adding the sauce to the risotto toward the end of the cooking process, keeps the creamy texture and adds a rich and cheesy flavor to the rice. Cheesy sauce in the risotto means you don't need to add any extra to the arancini!
This post may contain affiliate links. As an Amazon Associate, I earn from qualifying purchases. Read my disclosure policy here.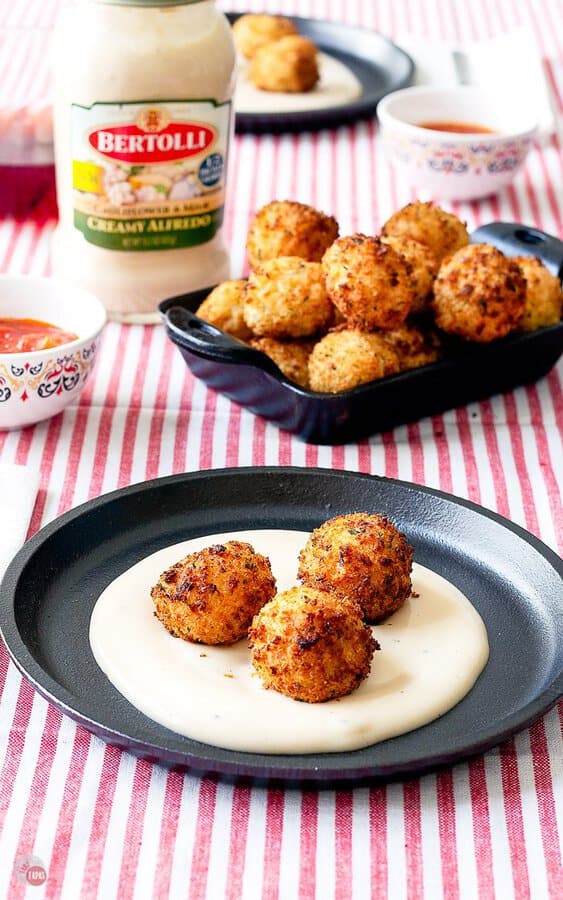 How do you Make Arancini Balls
So how do you make rice balls? The recipe for arancini is easy. You can start with using leftover rice and adding an egg along with any other meats and veggies to form a thick "batter."
I use leftover risotto that has been chilled for a while. This recipe shows you how to make the cheesy risotto potion, which you can eat right away by all means, or you can chill it down and make these delicious Cheesy Alfredo Arancini!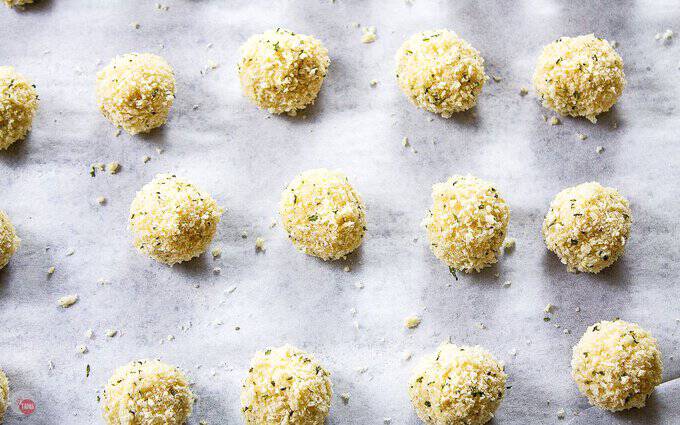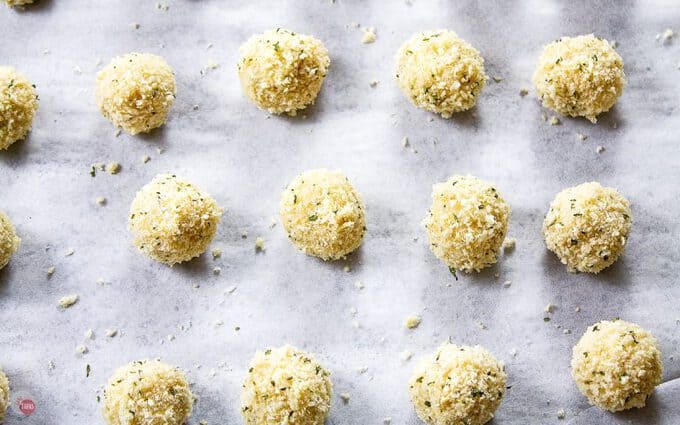 Once the rice is chilled, adding an egg is all that is required. Mix until combined and then scoop into 1 inch balls. I love to use an ice scooper to keep my hands from getting all messy!
Roll the rice balls in Panko breadcrumbs to lightly coat them and then you can choose to either deep fry, bake in the oven, or use your new air fryer. That's what I did here to keep them healthy!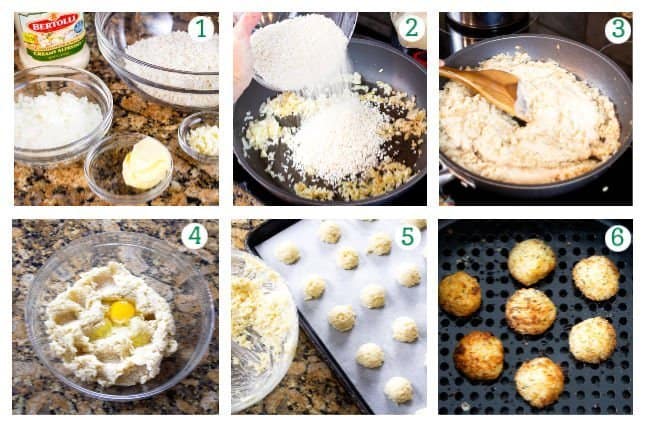 Uses for Leftover Rice and Risotto
Once the arancini is coated, they are ready to pop in the air fryer! I heat the airfryer to 400F and when ready I add a few arancini to the basket. A quick spray with a non-stick spray (I prefer coconut oil) helps the Panko to get that golden brown color.
After 5 minutes, open the basket and roll them around. Another quick spray and 5 more minutes in the air fryer and you are good to go. Now on to the eating! You can pop these in your mouth to your heart's content or you can serve them atop a nice layer of your Best Alfredo Sauce!
Serve as an appetizer or make these Cheesy Alfredo Arancini your whole meal!
For more insider tips & tricks, and a candid behind the scenes look follow me on social media! Check use out on Pinterest, Facebook, Instagram, & Twitter (yes, people still use Twitter, LOL!)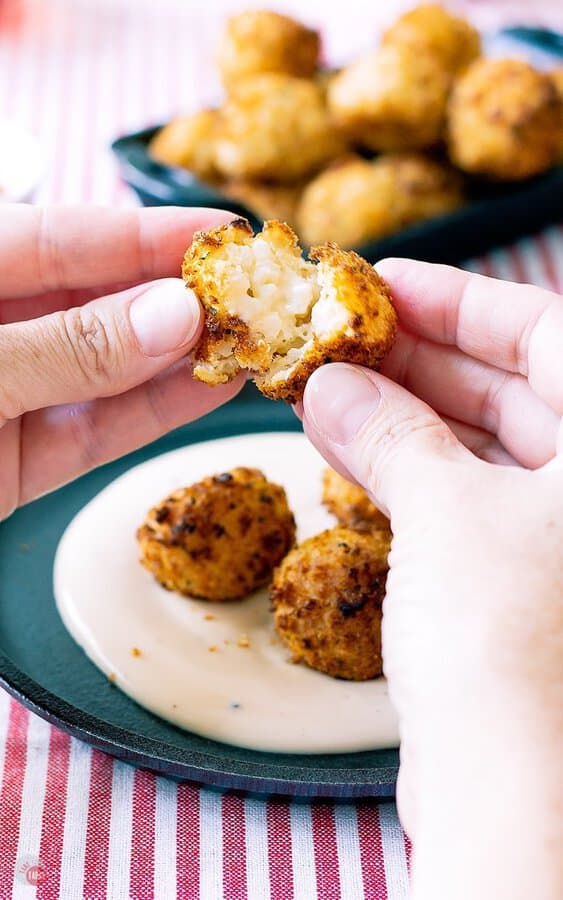 FAQs about Cheesy Alfredo Rice Balls:
Q: Can I make them ahead of time and freeze them?
A: Yes, you can! Just freeze them either before or after you coat them in Panko. Store in the freezer for up to 3 months.
Q: How do you cook frozen arancini?
A: You can cook them in the oven at 400F for 40 minutes or until hot all the way through.
Q: Can I add meat or other ingredients after I have made the risotto?
A: Sure! If you prefer to keep them just cheesy that's great, but you can add vegetables or small pieces of meat before frying.
Q: Are these healthier than regular arancini?
A: The New Bertolli Creamy Alfredo Sauce with Cauliflower & Milk is half the calories and fat of regular Alfredo sauce. And because of the cheesy nature of Alfredo, you don't need to add any additional cheese! The air frying method doesn't use oil so it is much healthier than deep frying!
Sign up to early access to recipes, tips & tricks, and behind the scenes info in our newsletter! It's FREE and we promise not to SPAM you. Click here to join us!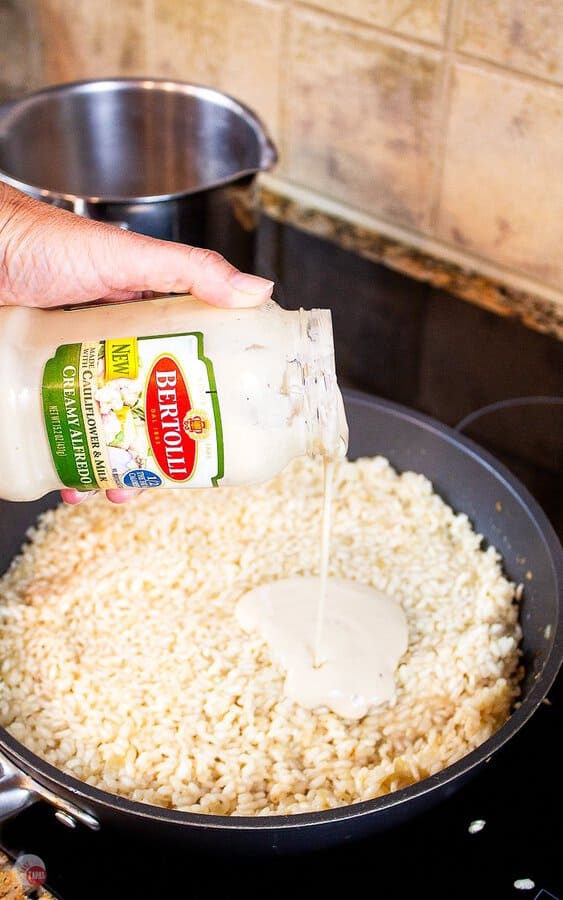 Summer is the time when everyone is traveling, or participating in camps and other various activities, so I know that it is hard to gather friends and family together. Sunday Supper is a great way to recharge after a busy week and reconnect with your loved ones!
It is so easy to make the most of Sunday by having friends and family over for a delicious meal, especially with Bertolli! If you would like a reminder for #BertolliSundaySupper and some inspiration for recipes, crafts, and cooking tips & tricks, to make it even easier, sign up here! How awesome is that?!?!
Other delicious cheesy recipes!
If you love this recipe as much as I do, please write a five-star review in the comment section below (or on Pinterest with the "tried it" button – you can now add pictures into reviews, too!), and be sure to help me share on facebook!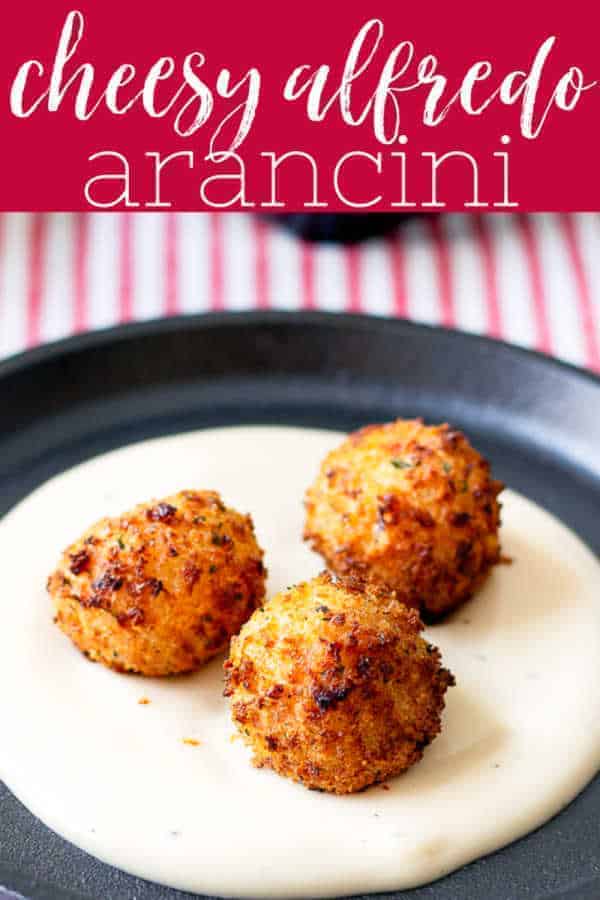 Easy Cheesy Alfredo Arancini Recipe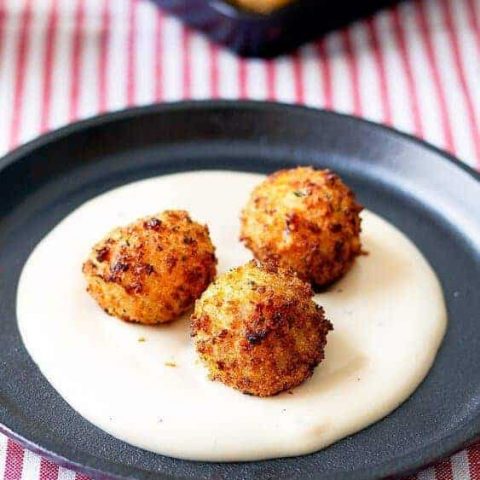 Cheesy Alfredo Arancini
Additional Time:
20 minutes
Leftover risotto is combined with Alfredo sauce made with cauliflower and cooked in the air fryer for less calories and fat than regular risotto balls!
Ingredients
Cauliflower Alfredo Risotto
1 tablespoon olive oil
1 tablespoon butter
2 cloves garlic, minced fine
1/2 cup white onion, chopped fine
1 cup Arborio rice (Italian Rice)
2 cups chicken stock (or veggie)
Arancini
2 cups cold Cauliflower Alfredo Risotto
1 egg
1 cup Italian Seasoned Panko breadcrumbs
Non-stick cooking spray
Instructions
Start by making the Cauliflower Alfredo Risotto
Pour the chicken stock into a small saucepan and bring to a simmer.
In a large skillet, add the olive oil over medium-high heat and heat until shimmering.
Add the minced onion and cook for a few minutes until onion starts to get soft.
Add the garlic and cook for another minute or two.
Add the butter and the Arborio rice and stir to coat the rice in butter and oil.
Cook for a few minutes to toast the rice grains and get them a nice and toasty light brown.
Add the chicken stock 1/2 cup at a time.
Each time you add the stock, stir to combine and let the rice absorb the stock slowly.
After the last addition of the stock, wait till the stock is absorbed, and then add 1/2 the jar of New Bertolli Creamy Alfredo with Cauliflower and Milk Sauce.
Stir to combine.
At this point the risotto should be creamy, tender, and with a little bit of bite. It should not be mushy.
Remove the risotto from the heat, spread on a baking sheet, and place in the fridge to cool completely.
Store for up to 5 days before making the Cheesy Alfredo Arancini.
When ready to cook the arancini, add the leftover risotto to a bowl.
Add in the egg and mix to combine.
Scoop into 1-inch balls.
Roll in the panko breadcrumbs.
Place on baking sheet or plate until ready to cook.
These arancini can be deep fried at 350F for 3 minutes, baked in the oven at 350F for 10 minutes or until golden brown, or you can air fry them like I did here.
To air fry the arancini, place a small batch of the panko crusted in the air fryer basket, and spray with a non-stick cooking spray (to help brown the coating).
Air fry at 400F for 5 minutes.
Turn over and spray the risotto balls again.
Cook for another 5 minutes.
Remove and repeat with remaining rice balls.
Serve on a plate with the remaining New Bertolli Creamy Alfredo with Cauliflower and Milk Sauce as a base.
Enjoy warm!
Notes
*If you like this recipe, please leave me a comment and rate it with 5 stars. Thank you!
Nutrition Information:
Yield:

6
Serving Size:

5 arancini
Amount Per Serving:
Calories:

361
Total Fat:

16g
Saturated Fat:

8g
Trans Fat:

0g
Unsaturated Fat:

7g
Cholesterol:

65mg
Sodium:

1148mg
Carbohydrates:

40g
Fiber:

5g
Sugar:

9g
Protein:

14g
This nutrition information was generated via a third party, Nutritionix, and can not be held liable for any discrepancies in the information provided.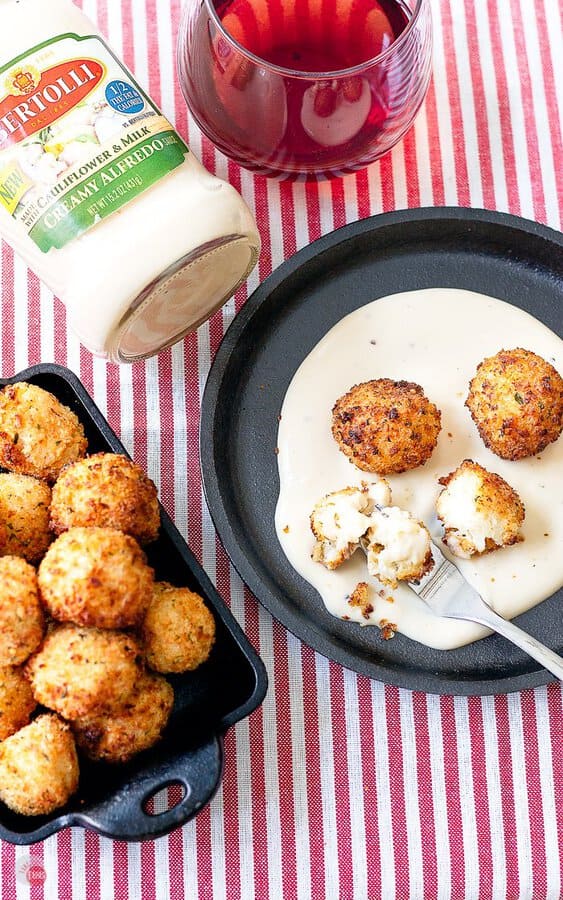 ©TakeTwoTapas.com. Content and photographs are copyright protected. Sharing of this recipe is both encouraged and appreciated. Copying and/or pasting full recipes to any social media is strictly prohibited.