Freezer-friendly and easy Spicy Sausage Empanadas! These hand pies are spicy, creamy, cheesy, and sure to be a hit at your game day spread!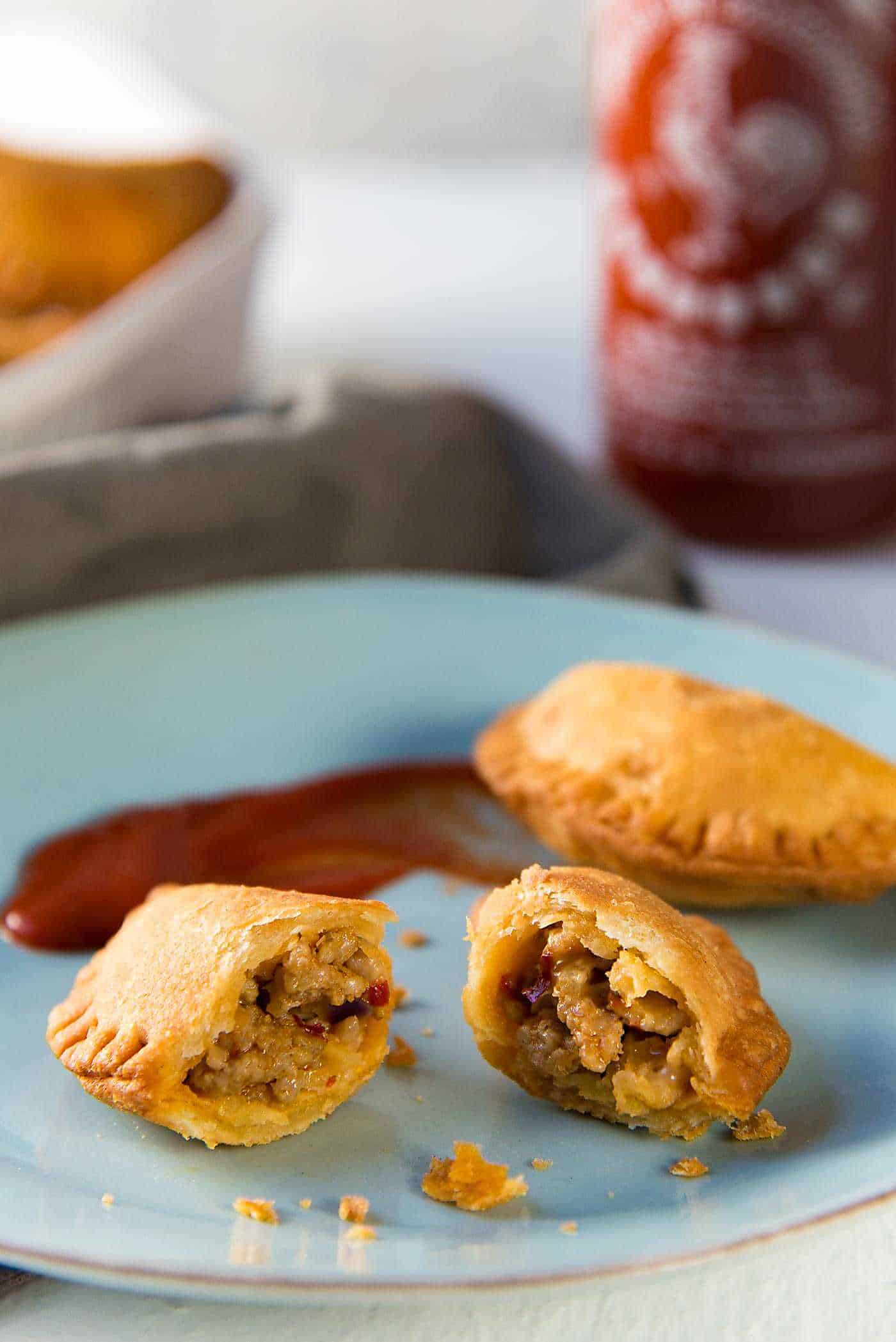 If you'd rather skip my essential cooking tips and tricks and get straight to this delicious recipe – simply scroll to the bottom of the page where you can find the printable recipe card.
Hello, Take-Two Tapas Readers!
This is Dini from The Flavor Bender, back with another fantastic recipe to share with you!
Game day is all about the snacks and drinks for me. 🙂 I'm not really into the actual game, but I'm all for making a party out of it! And these Spicy Sausage Empanadas are the PERFECT snack for any kind of party!
This post may contain affiliate links. As an Amazon Associate, I earn from qualifying purchases. Read my disclosure policy here.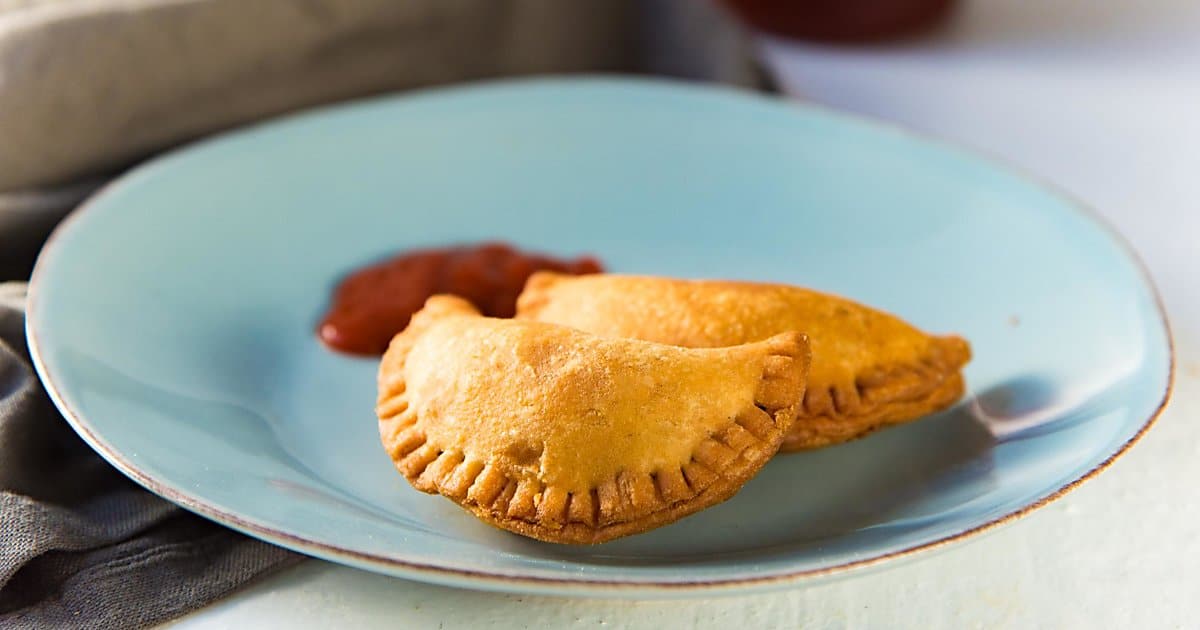 These from scratch empanadas are filled with a spicy sausage and cheese filling, and they are really easy to make. I used a from scratch empanada dough that comes together easily.
If you don't want to make the dough yourself, you can substitute with a store-bought pie crust in a pinch too. I made my empanada dough with butter here, but you can use lard as well if you like. There will be a difference in taste, but regardless of how you make the dough, the star in this recipe is definitely the spicy sausage filling!
I cooked some spicy ground sausage meat (I removed the casings from the sausages), added some extra seasoning, cream and mixed it all up with a generous amount of cheese.
The result? A glorious, spicy, creamy, cheesy, meat filling! This filling is so good, I made extra and made grilled cheese sandwiches with the leftovers! 🙂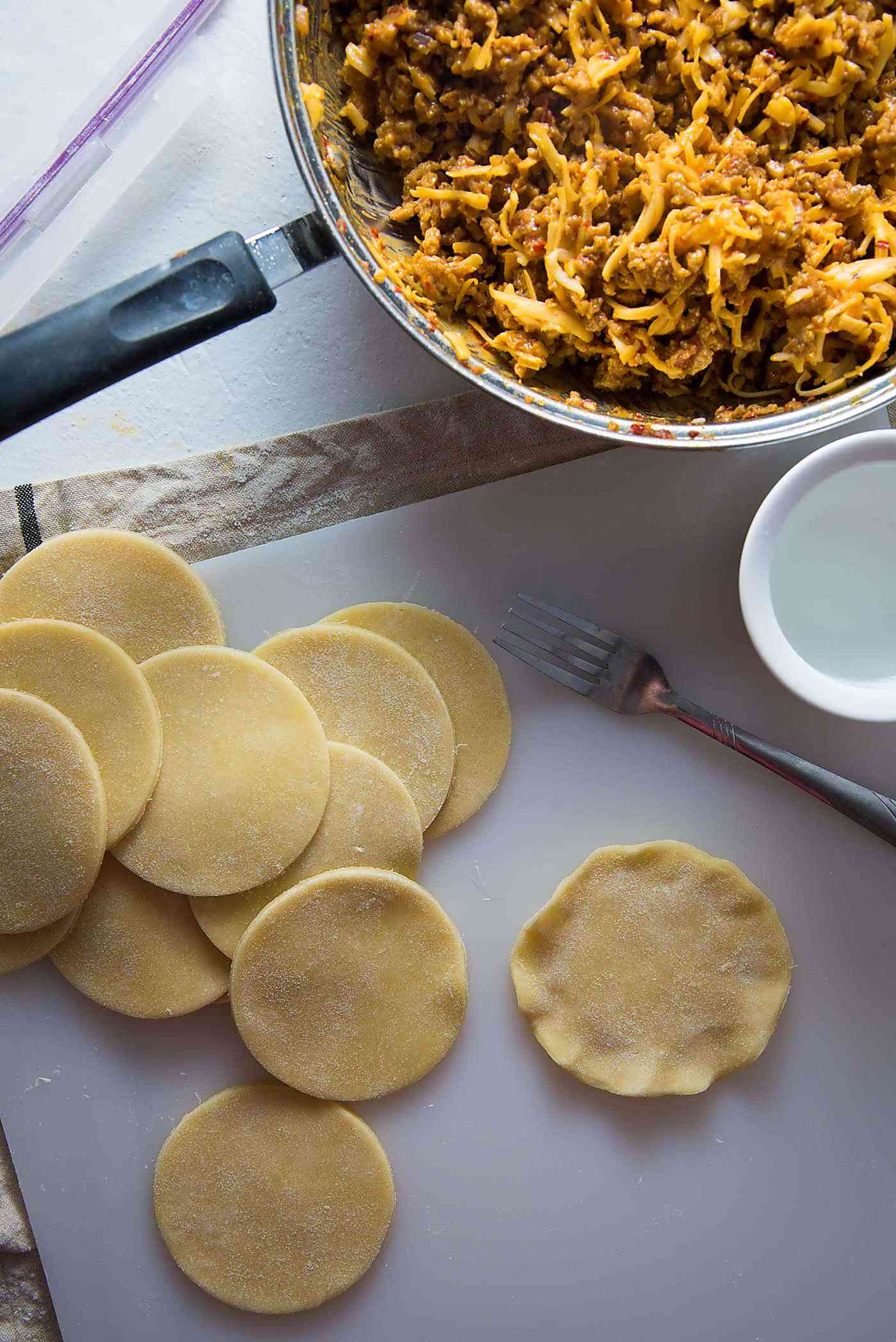 For more insider tips & tricks, and a candid behind the scenes look follow me on social media! Check use out on Pinterest, Facebook, Instagram, & Twitter (yes, people still use Twitter, LOL!)
These spicy sausage empanadas are freezer-friendly too. So you can make them ahead of time and freeze for up to a whole month. Plus, you can fry them directly from frozen.
As long as you freeze them properly (lay out the empanadas in a single layer, with some space between each so that they don't stick together), you've got a delicious snack on hand, ready to go, whenever you fancy!
And since we love spicy food, we pair these spicy sausage empanadas with sriracha sauce or spicy chili sauce. A creamy ranch dipping sauce, or a sweet chili sauce, or a cheesy dipping sauce would also be perfect for these spicy sausage empanadas.
If you're looking for more great options for game day snacking, check out Jennifer's Honey Mustard Beer Cheese Ball, her Pepperoni Pizza Packets, or you can use the Ranch dip from her Steakhouse Tater Tots with Jalapeño Ranch Dip (imagine these spicy sausage empanadas in that jalapeno ranch dip? Yum!)
OTHER APPETIZERS TO ENJOY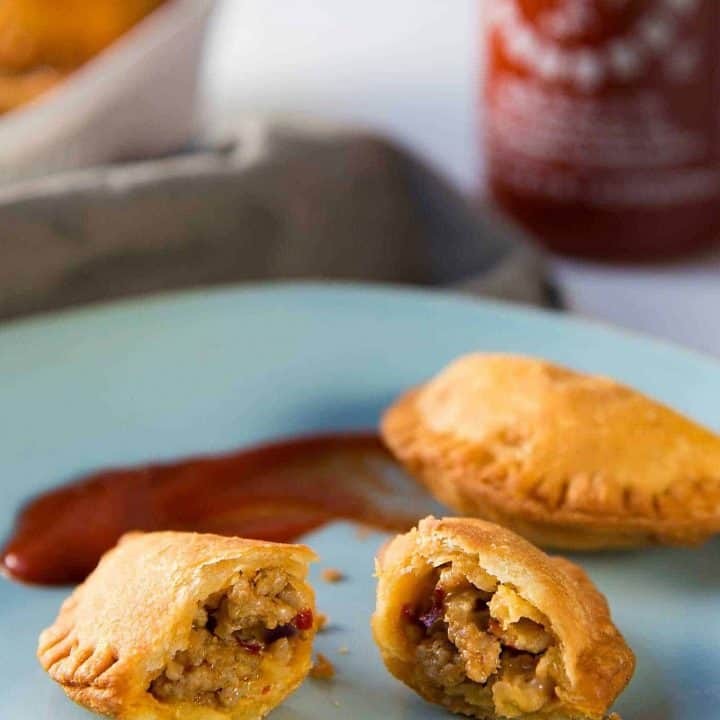 Spicy Sausage Empanadas
Freezer-friendly and easy Spicy Sausage Empanadas! These hand pies are spicy, creamy, cheesy, and sure to be a hit at your game day spread!
Ingredients
Sausage filling:
½ small red onion, chopped finely
¾ lb spicy sausages, casings removed
½ tbsp chili pepper flakes (or less)
¼ cup cream
1 ½ cups shredded cheese (I used Monterey Jack)
For the empanadas:
Instructions
Sausage filling
Heat 2 tbsp oil in a skillet.
When the oil is heated, add the onions and saute until they are softened.
Add the sausage meat and pepper flakes and cook making sure to break the sausage into pieces while stirring so that it isn't one big clump of meat.
Once the sausage is cooked, taste and season with extra salt if necessary.
Add the cream, and stir to combine.
Remove the cooked sausage from the heat and let it cool down to room temperature.
Stir the cheese into the cooled down sausage filling. Set aside until ready to make empanadas.
Empanadas
Roll out the chilled empanada dough until it's about 2 - 3 mm thick.
Cut 3.5 inch circles from the rolled out dough.
Fill the middle of each circle with a little sausage filling.
Dab the edges of the empanada dough circle with water and fold over the pastry to seal in the filling.
Press down the edges to seal, and use a fork to crimp the edges.
Place the empanadas in one layer, on a baking tray.
Keep it covered with plastic wrap and keep it in the fridge until you are ready to fry, IF you will be frying these within 24 hours.
To fry from fresh
Heat remaining oil to deep fry the empanadas to 350°F / 180°C.
Fry the empanadas in the hot oil, 2 minutes per side, until the pastry turns a golden brown.
Drain excess oil by placing the fried empanadas on paper towels or newspaper.
To fry from frozen
Heat remaining oil to deep fry the empanadas to 350°F / 180°C.
Fry the frozen empanadas for about 4 minutes per side, until the pastry turns golden brown (maybe slightly darker).
Drain excess oil by placing the fried empanadas on paper towels or newspaper.
Enjoy while hot with dipping sauce!
Notes
TO FREEZE - cover the tray of empanadas with plastic wrap and keep the baking tray in the freezer until the empanadas are frozen (a few hours). Place the frozen empanadas in a container (freezer friendly), until needed.
*If you like this recipe, leave a comment and rate it with some stars!!!
Nutrition Information:
Yield:

16
Serving Size:

1
Amount Per Serving:
Calories:

409
Total Fat:

41g
Saturated Fat:

8g
Trans Fat:

0g
Unsaturated Fat:

31g
Cholesterol:

31mg
Sodium:

307mg
Carbohydrates:

5g
Fiber:

0g
Sugar:

1g
Protein:

7g
This nutrition information was generated via a third party, Nutritionix, and can not be held liable for any discrepancies in the information provided.
@TakeTwoTapas.com. Content and photographs are copyright protected. Sharing of this recipe is both encouraged and appreciated. Copying and/or pasting full recipes to any social media is strictly prohibited.