Air Fryer Bang Bang Shrimp is one of my favorite ways to make crispy breaded shrimp, then drizzled with a homemade bang bang sauce. This makes for a fantastic appetizer or weeknight dinner to serve up the family.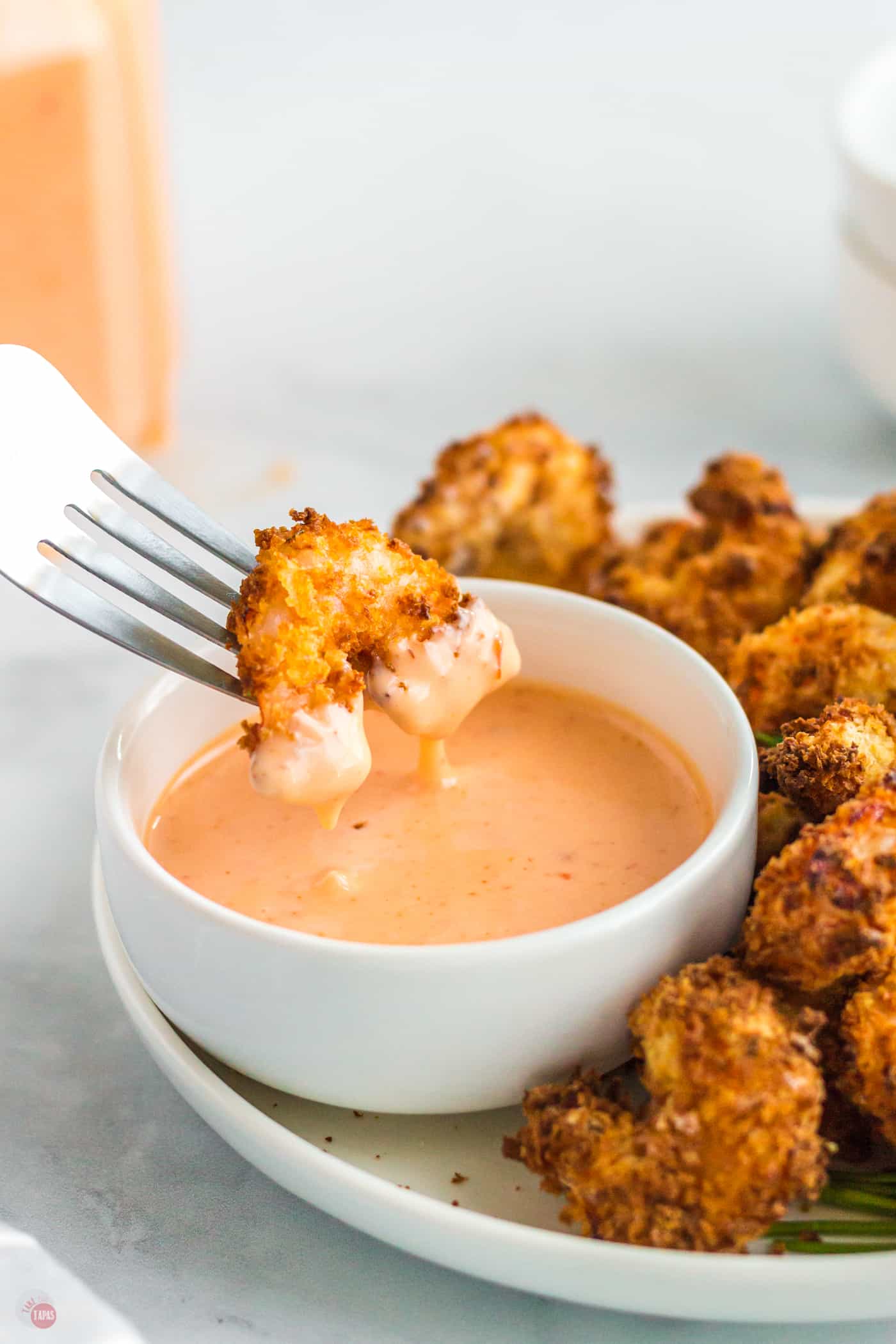 Air Fryer Bang Bang Shrimp
Making bang bang shrimp in the air fryer is a healthier alternative to deep-frying shrimp. I love the panko breading on this crispy air fried shrimp.
This recipe is similar to Bonefish Grill's bang bang shrimp!
Some might call this a boom boom shrimp. But, for me boom boom sauce is slightly different than a bang bang sauce because it has mustard in it giving it a more tangy taste.
This post may contain affiliate links. As an Amazon Associate, I earn from qualifying purchases. Read my disclosure policy here.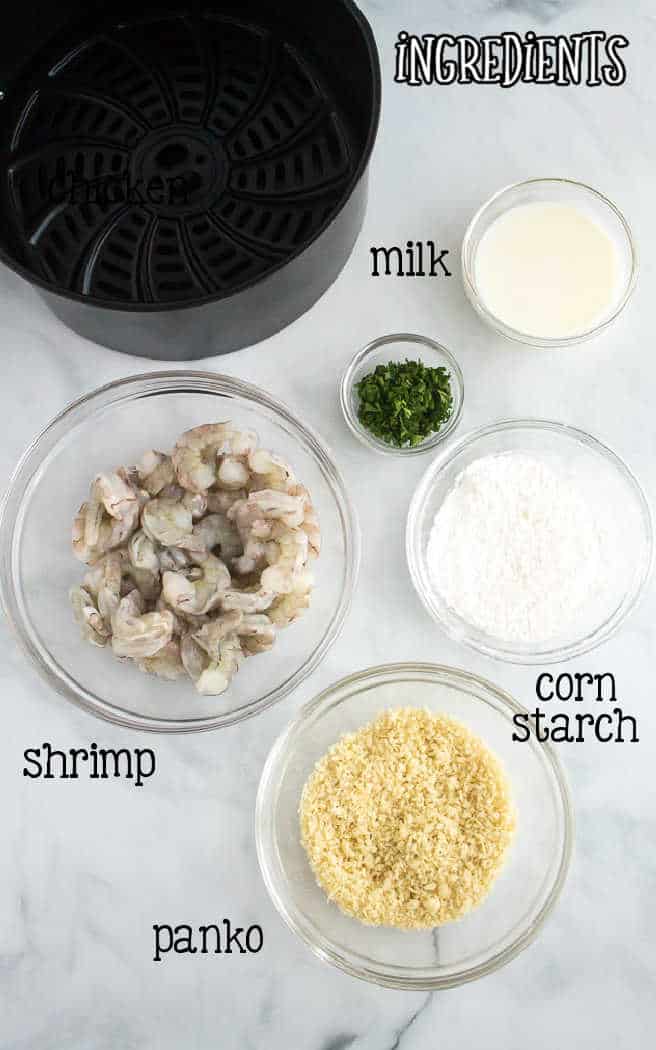 Ingredients Needed
shrimp
cornstarch
milk
panko
What size Shrimp to use
How many shrimp you will get with this recipe depends on the size of the shrimp you use.
Shrimp come labeled with some numbers (16-20, 21-25, etc). This is how many shrimp (average) that are in a pound.
So 21-25 shrimp (which is what I use for this recipe) means that there are 21-25 shrimp per pound.
You can use larger or smaller shrimp but it will affect your cooking times.
For this bang bang shrimp recipe, I recommend using shrimp that has been peeled and deveined.
If you want, you can leave the tails on which I like for dipping.
If you are planning on tossing the shrimp in the bang bang sauce, I recommend taking the tails off so people won't eat them on accident.
This can post a choking hazard.
For more insider tips & tricks, and a candid behind the scenes look follow me on social media! Check use out on Pinterest, Facebook, Instagram, & Twitter (yes, people still use Twitter, LOL!)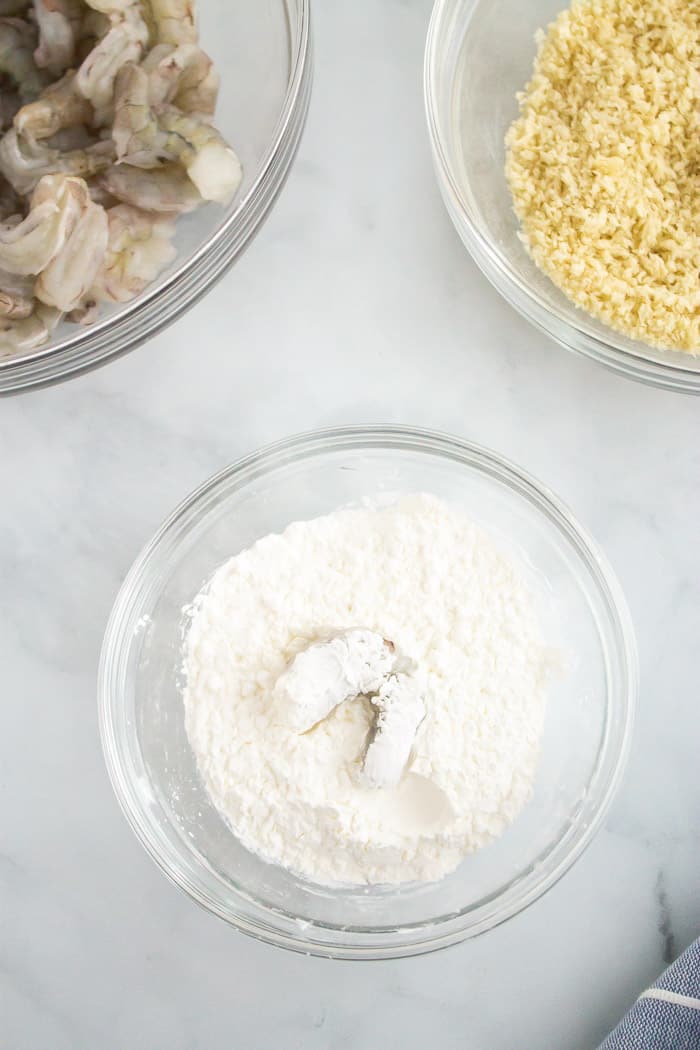 How to make Bang Bang Shrimp
ONE: Start by removing the tails and devein the shrimp. In separate bowls add your cornstarch, milk, and panko crumbs.
TWO: One shrimp at a time, coat the shrimp in cornstarch, then milk, then roll in panko.
THREE: Air fry for 5 minutes, flip, and continue to cook until the shrimp is done. Once done remove and serve with bang bang sauce.
For the full recipe and detailed instructions, please refer to the recipe card at the bottom of the post.
How long do you cook shrimp in the air fryer?
You will cook your shrimp for around 8-10 minutes, depending on the size of your shrimp.
If you use smaller shrimp the cook time might be shorter. And it will be longer for larger pieces of shrimp.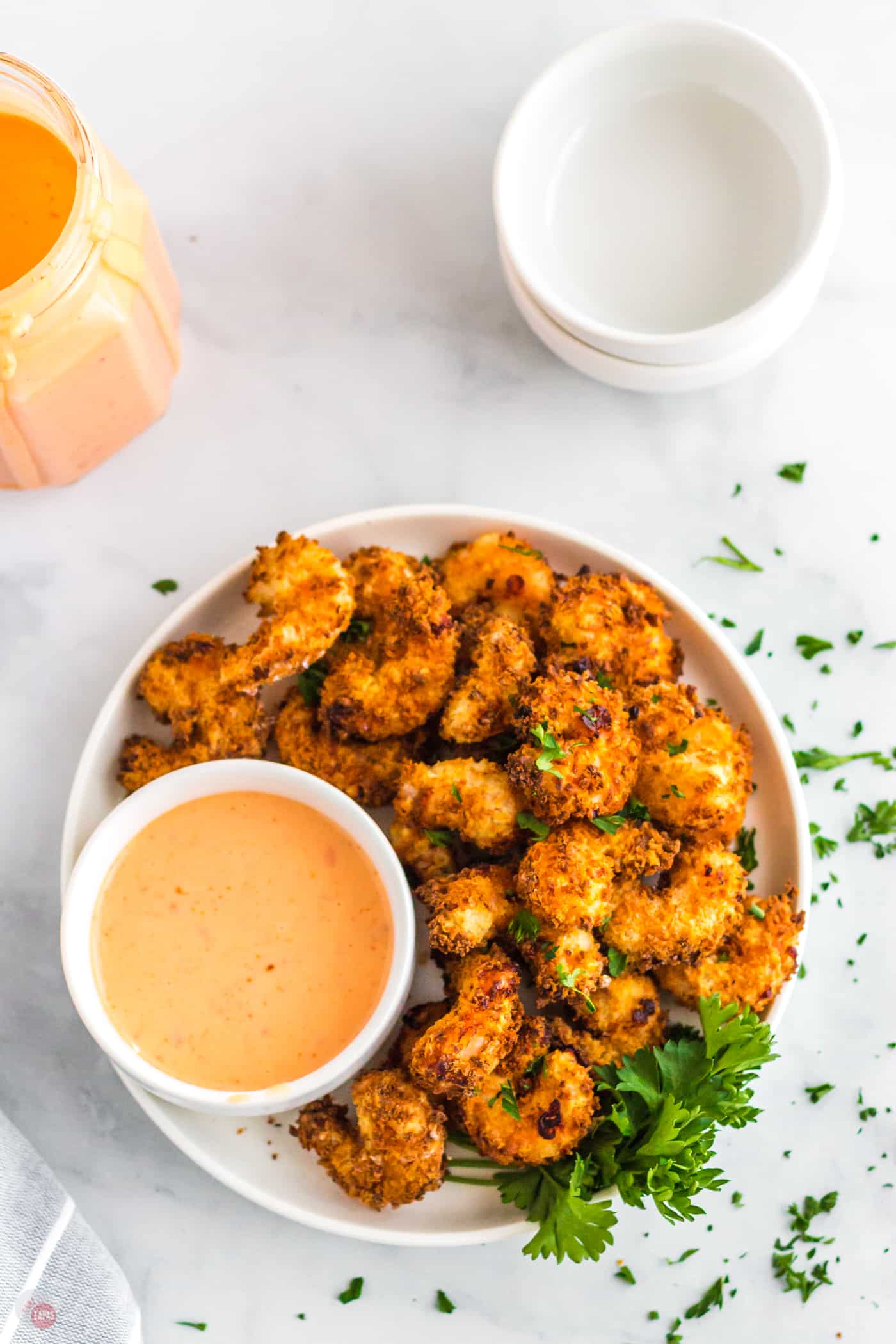 What to serve with Bang Bang Shrimp
Not sure how to serve bang bang shrimp? Drizzle with your sauce and serve up as an appetizer or serve on a bed of white rice.
This battered and air fried shrimp is full of flavor and can be paired so many ways.
How to store and reheat
This shrimp is best served warm, as with any battered shrimp it will soften up a bit and not keep the same texture. If you have leftovers just store in the refrigerator for a couple of days.
To reheat you can toss in the microwave for a quick reheat. Or toss in the air fryer for a crispier texture to just reheat and then pair with your dipping sauce and enjoy.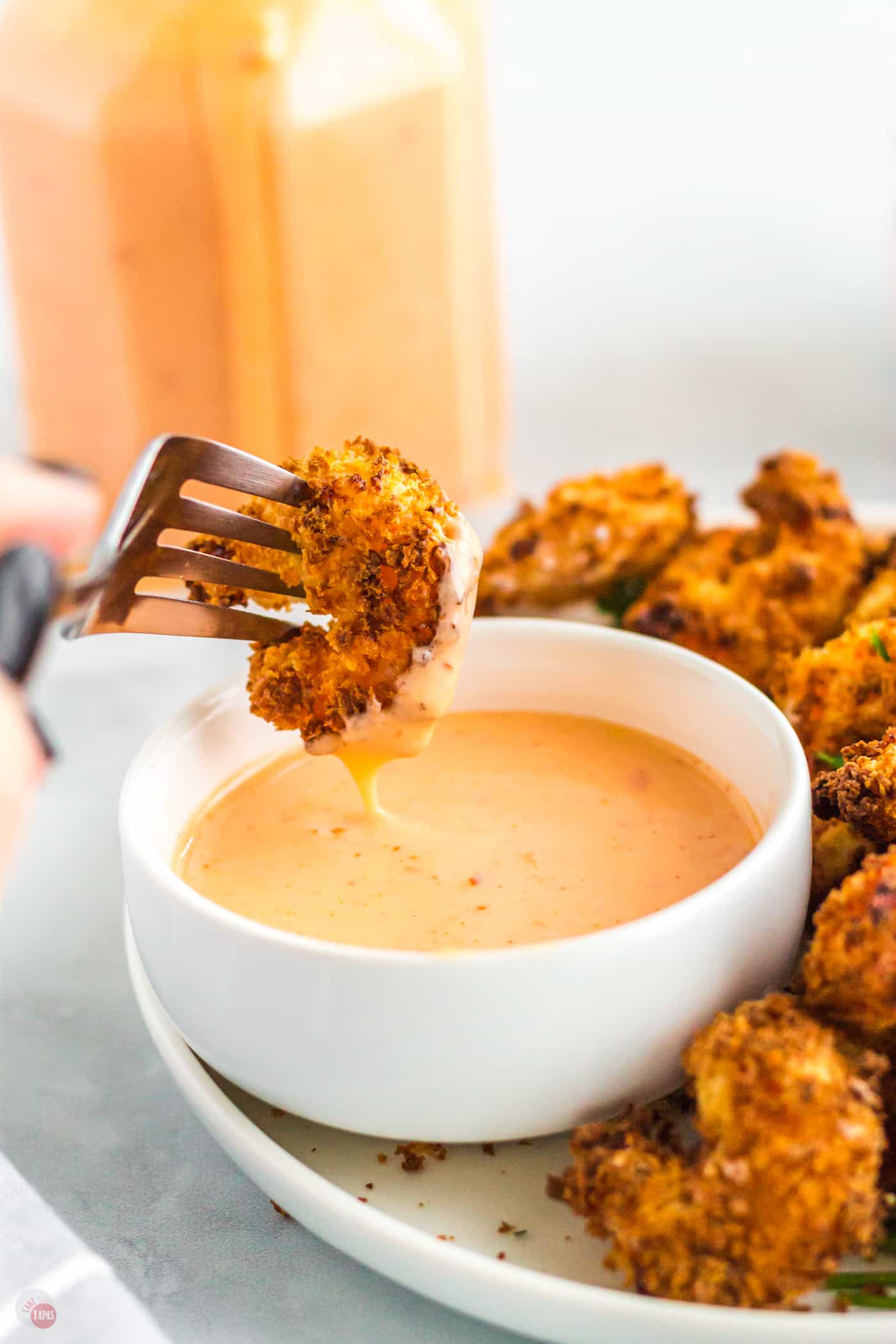 What if I don't have panko for breading?
If you don't have panko you can reach for a classic plain breadcrumb to replace the panko.
It won't create as crispy of a crust but it will still give this air fryer shrimp incredible texture.
Just make sure to not use Italian breadcrumbs, as you do not want the seasoning in the breadcrumbs.
You can also use gluten free panko. It's made with rice flour and it makes them just as crispy.
I did find that the crumbs were larger than traditional panko so I just crushed them a little smaller before breading the shrimp.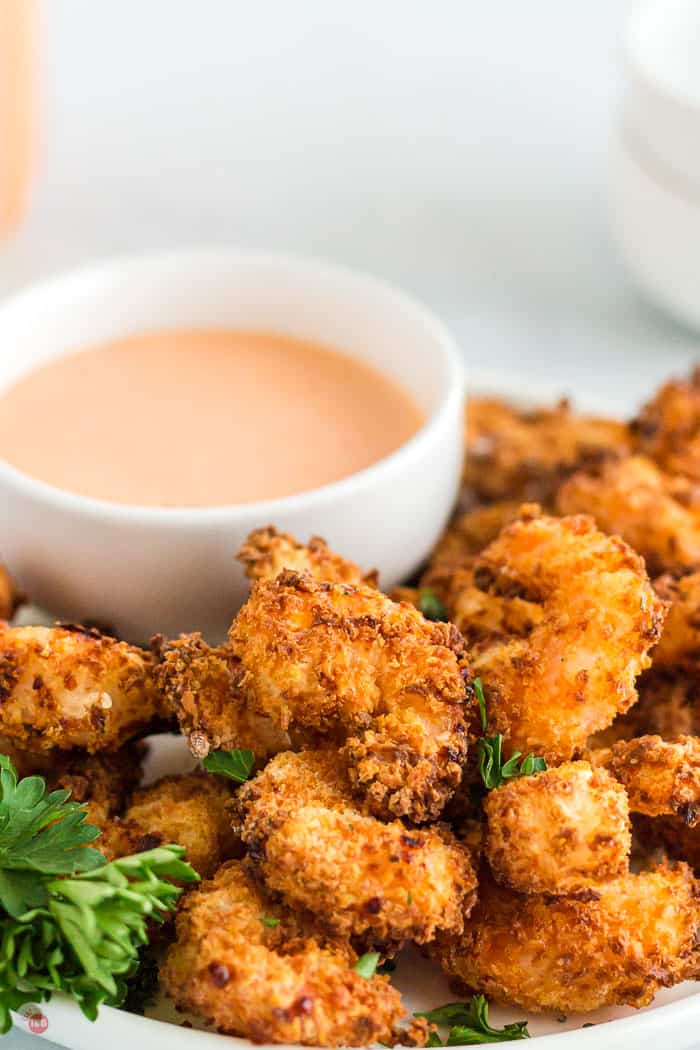 Tapas Tips & Tricks
Make sure to leave room between each piece of shrimp to allow an even cook on all the shrimp. If it touches it will not get a crispy texture like you want.
Pat the shrimp dry before rolling in the cornstarch, to help allow the cornstarch to stick.
Spray with cooking spray to make the color a deep golden brown.
Letting the shrimp set for a few minutes after breading will help the breading stick to the shrimp better.
Preheat your air fryer to 400 degrees before starting. Some will have a preheat time if you just start it and then start the cooking time so make sure you preheat BEFORE you put the shrimp in or you will have overcooked shrimp.
When air frying in batches, place the cooked shrimp on paper towels while air frying the rest of the shrimp. This will help them stay crunchy!
If you are wanting to season with salt and pepper, do it right after they come out of the air fryer. The seasoning will stick better.
If you love this recipe as much as I do, please write a five-star review in the comment section below (or on Pinterest with the "tried it" button – you can now add pictures into reviews, too!), and be sure to help me share on facebook!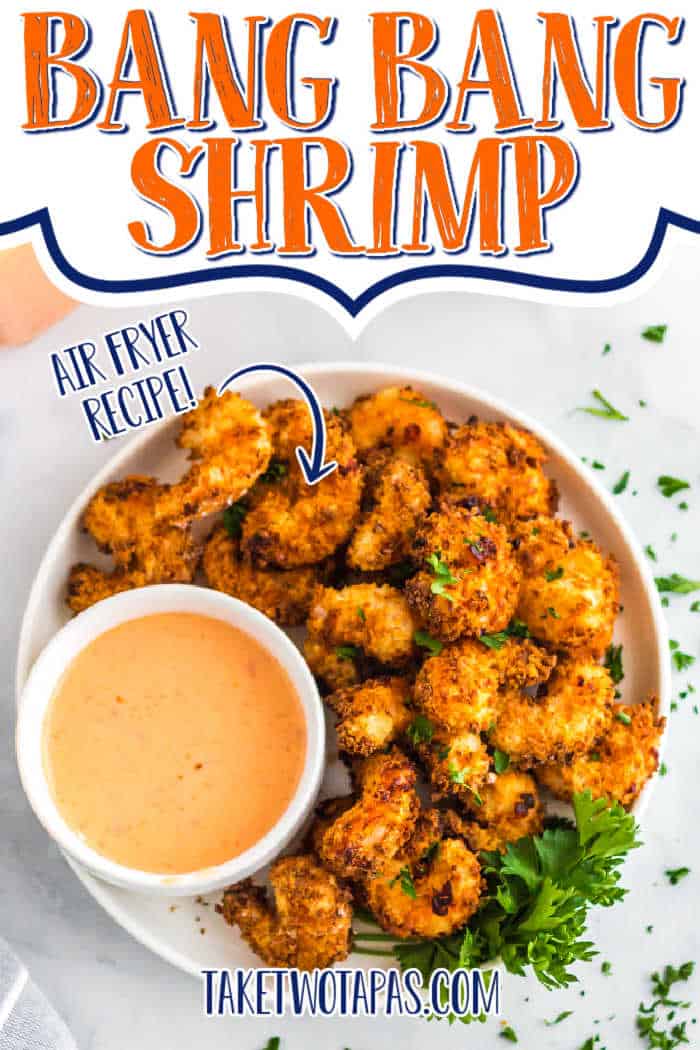 More Easy Appetizers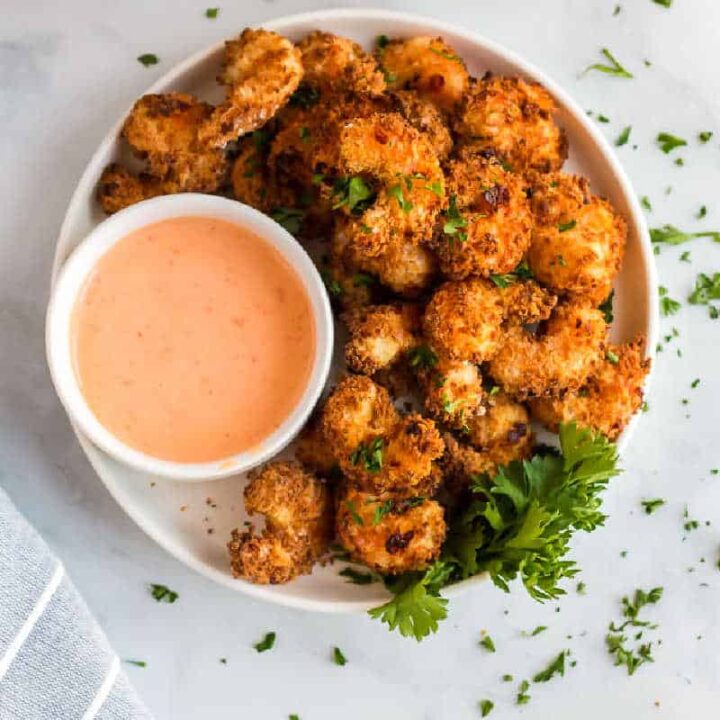 Air Fryer Bang Bang Shrimp
Air Fryer Bang Bang Shrimp is one of my favorite ways to make CRISPY breaded shrimp, then drizzled with a HOMEMADE bang bang sauce.
Ingredients
2 pounds shrimp (I used 21-25 size)
¾ cup cornstarch
½ cup milk
1 cup panko breadcrumbs
cooking oil spray (for spraying in air fryer)
Parsley for garnish (optional)
Instructions
Make sure shrimp are peeled, deveined, and tails removed.
Place the cornstarch, milk, and panko in separate bowls for the breading process.
One at a time, coat the shrimp in cornstarch, then dip in milk, then roll in panko to coat.
Place on a baking sheet or large plate while you continue coating the shrimp.
When all the shrimp are coated, preheat your air fryer to 400F.
Place the shrimp in a single layer (do not crowd the basket so cook in multiple batches if you need to).
Spray lightly with oil.
Air fry for 5 minutes.
Flip the shrimp over and respray with oil. Air fry for another 2-3 minutes until the shrimp is crispy and golden brown.
Remove from the basket and continue cooking until all the shrimp are air fried.
Serve with bang bang sauce.
Notes
*If you love this recipe as much as I do, please leave me a comment and rate it 5 stars. Thank you!
Recommended Products
Nutrition Information:
Yield:

6
Serving Size:

1
Amount Per Serving:
Calories:

365
Total Fat:

7g
Saturated Fat:

2g
Trans Fat:

0g
Unsaturated Fat:

5g
Cholesterol:

322mg
Sodium:

1768mg
Carbohydrates:

34g
Fiber:

2g
Sugar:

3g
Protein:

38g
This nutrition information was generated via a third party. I can not be held liable for any discrepancies in the information provided.
TakeTwoTapas.com. Content and photographs are copyright protected. Sharing of this recipe is both encouraged and appreciated. Copying and/or pasting full recipes to any social media is strictly prohibited.