Last updated on July 22nd, 2019 at 04:17 pm
Take the sandwich favorite from your childhood and mix it with your deviled eggs to make a complete meal out of two eggs! These Tuna Salad Deviled Eggs will do just that!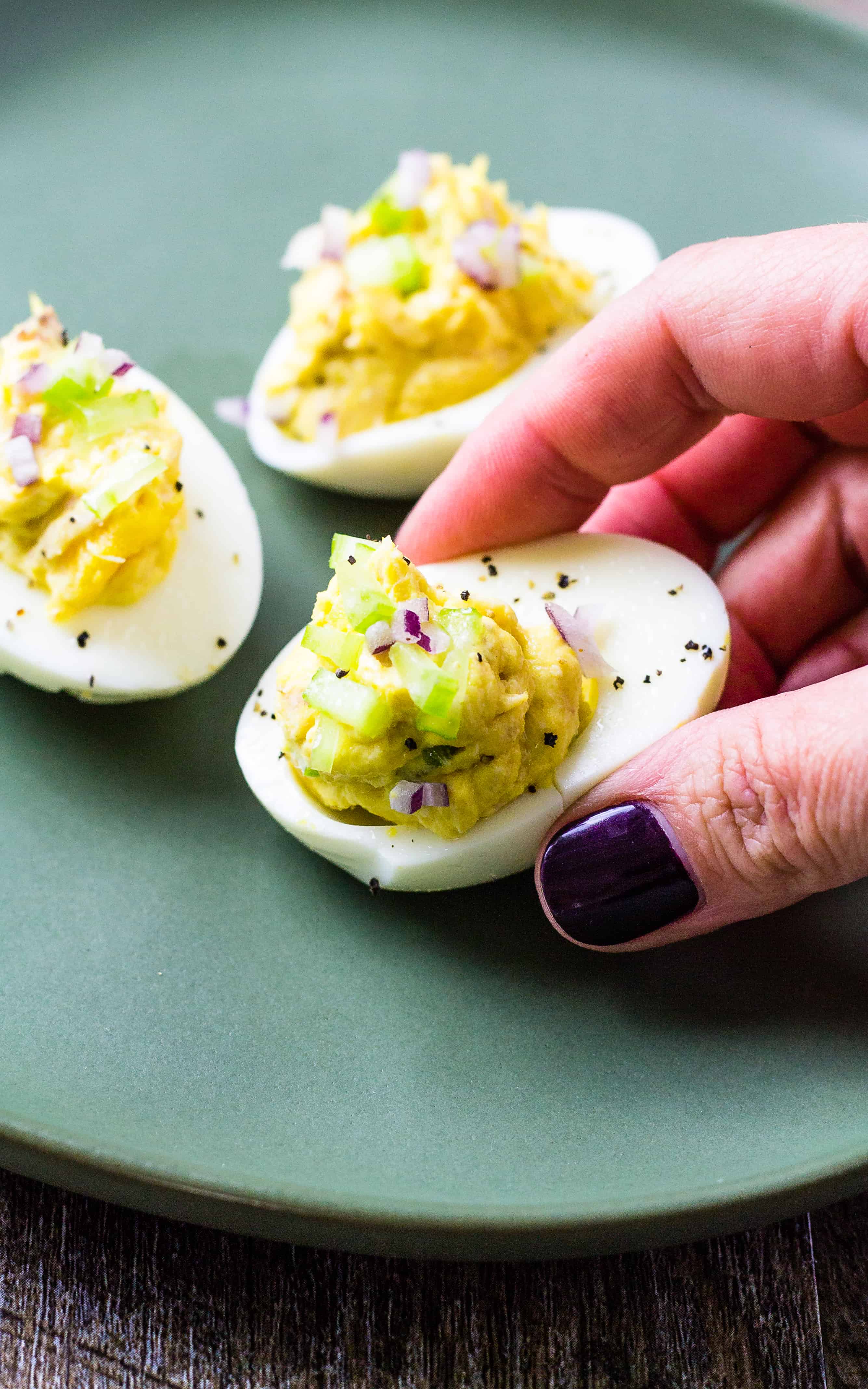 What makes Classic Tuna Salad?
tuna
mayo
celery
onion
relish
salt and pepper
I can never do anything with just a classic recipe and these tuna salad deviled eggs are no exception. I like the classic ingredients but let's talk about how I upgrade the traditional tuna salad.
oil-packed tuna vs water-packed tuna
you can substitute the mayo with avocado or add mustard to the mayo in varying ratios.
celery adds crunch so try adding other things like nuts, seeds, raw onion, pickle chunks, olives, and dried fruit
onion is always a bone of contention but some prefer small or grated onion, onion powder instead of pieces, white, green, or red.
this is the hottest controversy in my house. Dill vs sweet, sliced vs relish.
basic seasonings like salt and pepper can be revamped with lemon pepper, wasabi, curry, hot sauce, cilantro, and citrus zest.
Tuna salad is a great blank slate to try many different combinations!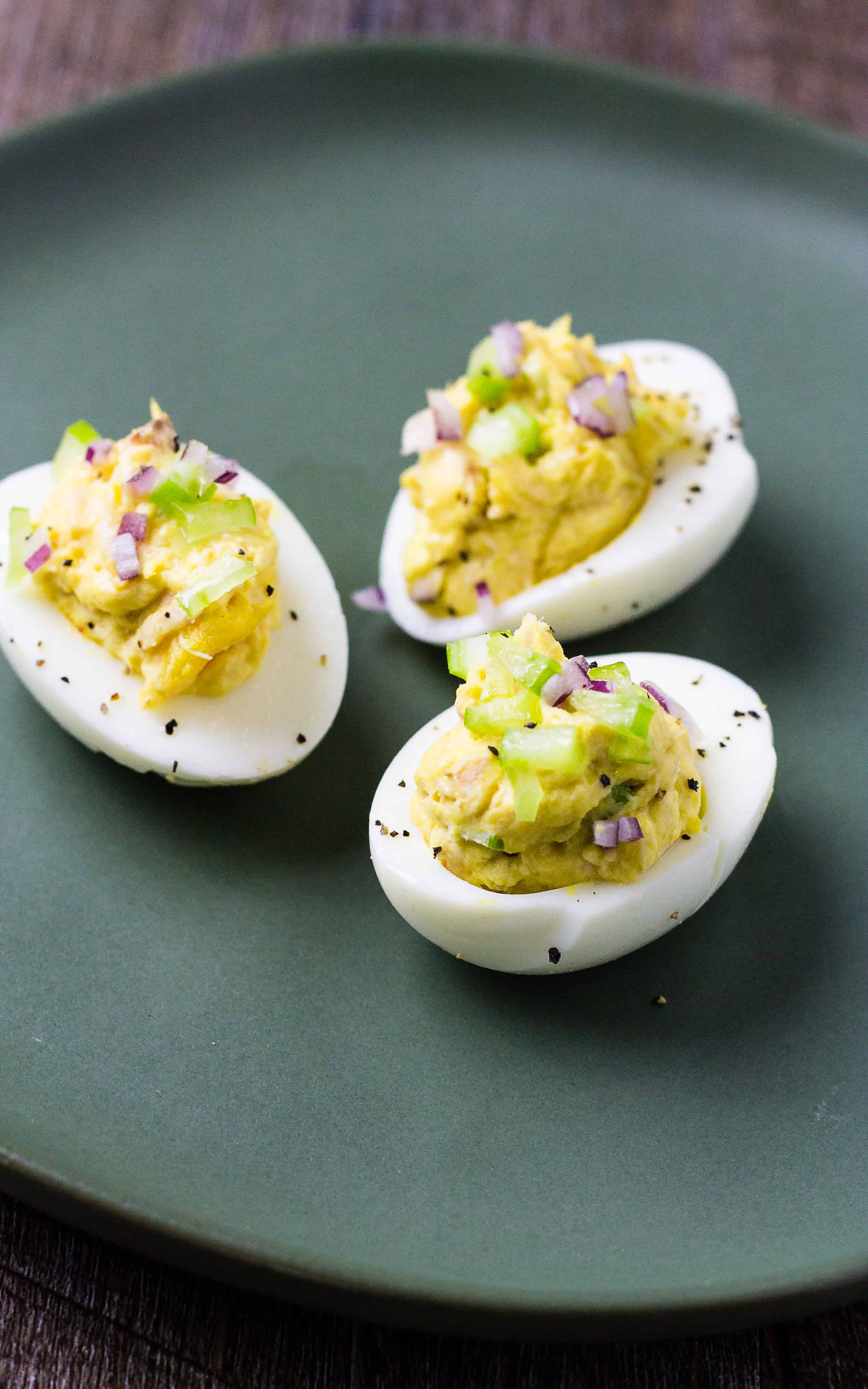 Tuna salad deviled eggs
Another hotly debated addition to tuna salad is hard-boiled eggs. Do you add eggs to your tuna salad? If I were to do a poll, I believe that the ratio would fall 50/50 on whether or not you like eggs in your tuna salad. I personally am 100% on the side of hard-boiled eggs in my tuna salad. If you fall on the side of absolutely, positively, no eggs in your tuna salad, how do you feel about deviled eggs?
If you are on TEAM YES for deviled eggs and on TEAM NO for eggs in your tuna salad, how would you feel about my recipe for tuna salad deviled eggs?
These tuna salad deviled eggs are a great way to serve the classic tuna salad recipe along with deviled eggs! If you are looking for other ways to breathe new life into tuna salad, try this Caprese Tuna Salad, and this Tuna Pasta Salad.
This post may contain affiliate links.
I earn a small commission for my endorsement, recommendation, testimonial, and/or link to any products or services from this website.

Your purchase helps support this blog at no additional cost to you and allows me to continue bringing you delicious recipes and funny stories.

For my entire disclosure policy click here.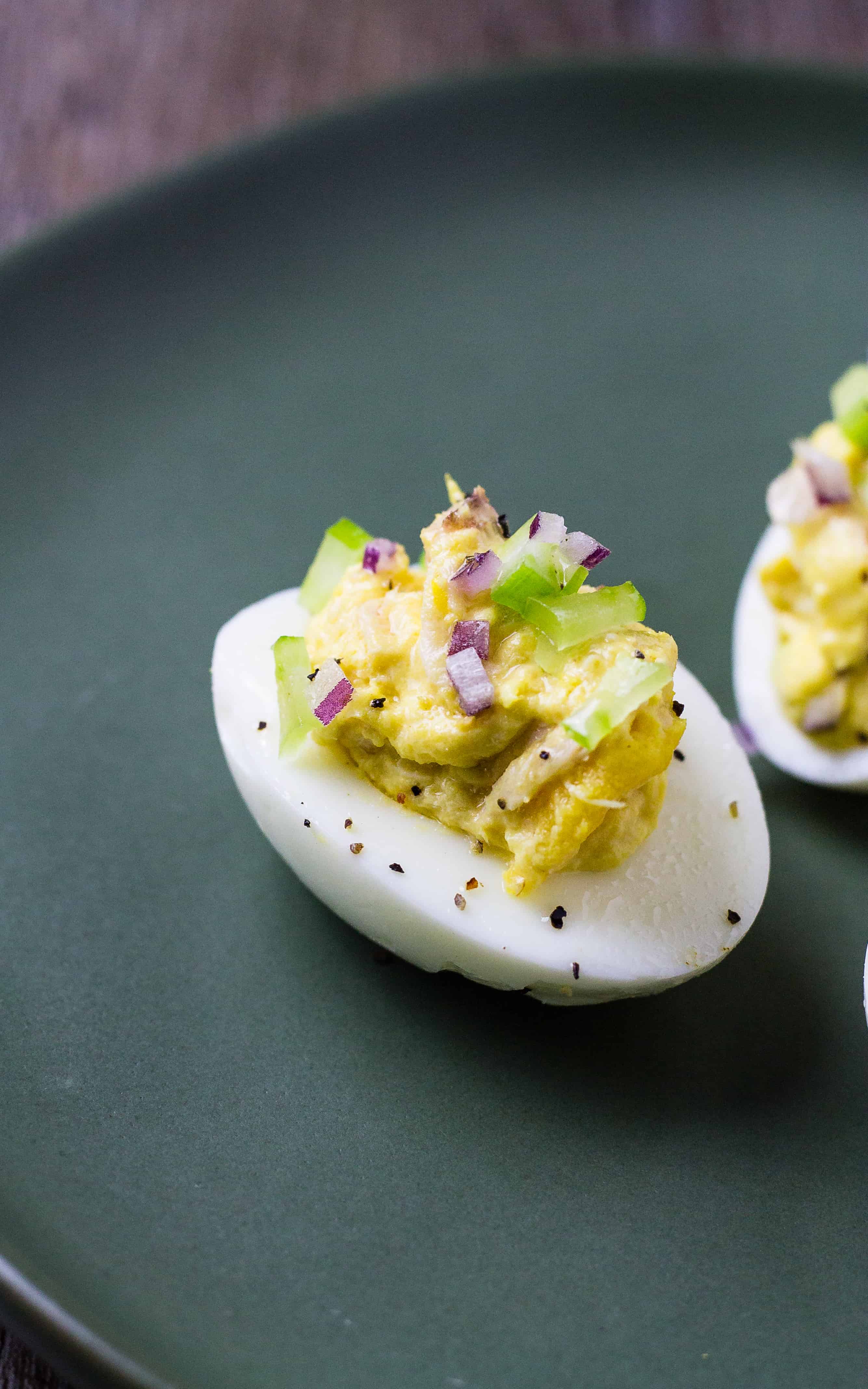 How to make Stuffed Tuna Salad Deviled Eggs
First things, first. You have to hard boil your eggs and peel them. If you need some tips on hard-boiling eggs, you can read my post on Avocado Deviled Eggs and see about my trial and error before finding the right way. Or you can use specialty egg cookers like this one, or this one if you are ok with extra appliances.
This recipe uses a full dozen eggs which is plenty for making a batch of tuna salad deviled eggs or using half for the tuna salad deviled eggs and the other half for classic tuna salad with eggs to be used on a salad or a sandwich. Or even a tuna melt if you are so inclined.
Once the eggs are hard-boiled, whip up the classic tuna salad. Stick to the basics with your add-ins or switch it up with a few of my suggestions earlier in the post. My go-to recipe always has Dijon mustard because I love the tang, extra onion because I want stinky breath, dill and not sweet pickles because again, tang, and extra celery.
When I add the yolks of the hard-boiled eggs to the tuna salad, I rough chop them instead of mashing them. Keeping them in larger pieces adds bulk to the tuna salad but also an opportunity to taste the egg yolk individually instead of the yolk melting into the mayo in the tuna salad. I went to all the trouble of boiling the eggs I should get to actually taste them.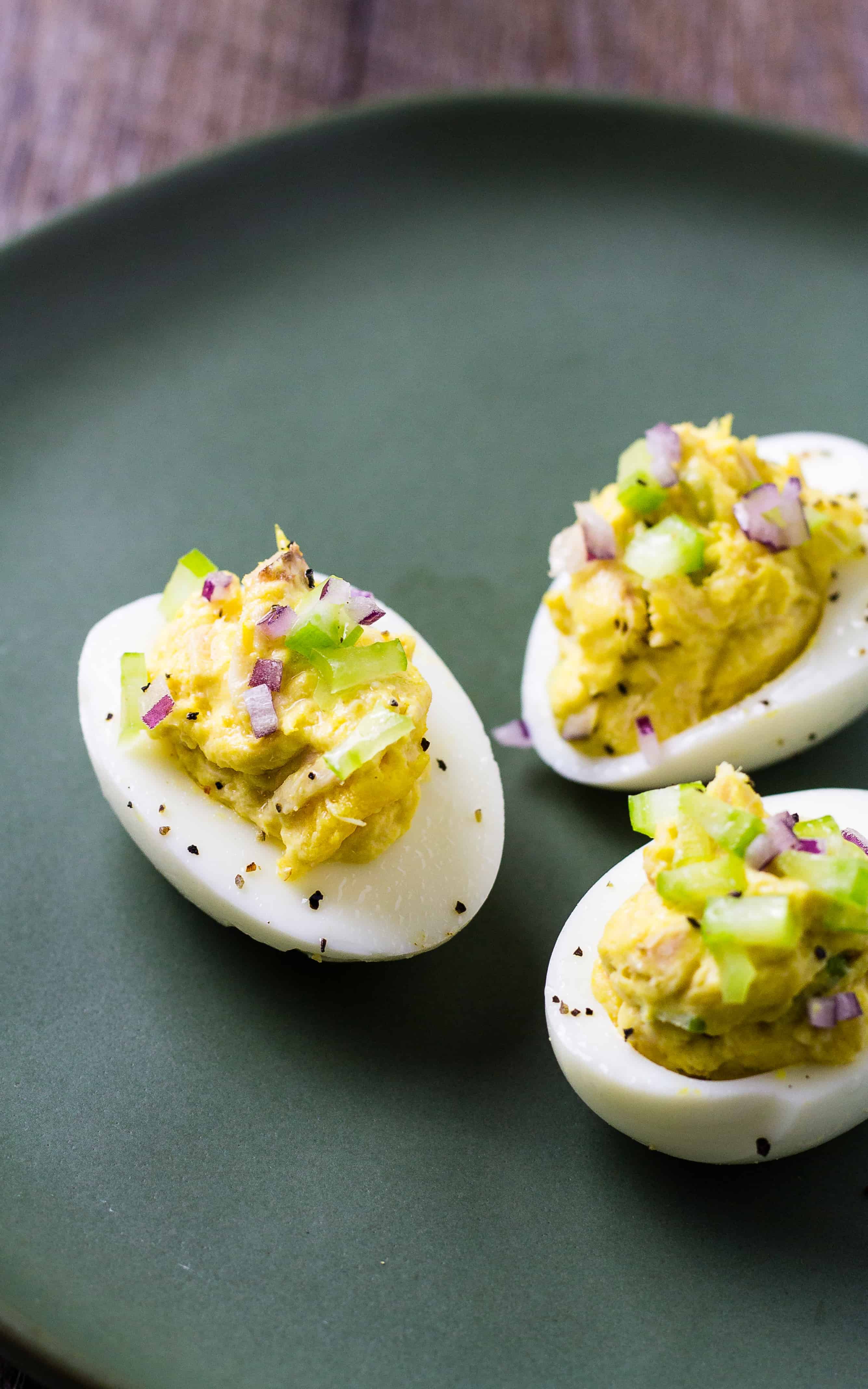 Stuffed Deviled Eggs
Deviled eggs are technically stuffed eggs by definition but I like to describe my deviled eggs as stuffed because I am stuffing them with lots of extra goodies and not just mayo. If you haven't checked out my Ginger Wasabi, Reuben, Mediterranean, or my Smoky Honey Mustard variations of deviled eggs you have to do so pronto!
Not only does tuna salad taste great on its own but stuffed into deviled eggs, it's even better. And you don't have to continue the egg yes/no debate.
Classic tuna salad tastes great on a sandwich or a salad but it is even better in my Tuna Salad Deviled Eggs! Perfect for a party appetizer or a complete meal!
Print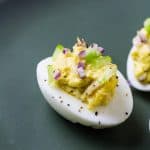 Classic Tuna Salad Deviled Eggs
---
Author:

Prep Time:

5 mins

Cook Time:

15 mins

Total Time:

20 mins

Yield:

24

egg halves

1

x
Scale
Ingredients
12 eggs (hard-boiled, peeled, halved, yolks reserved)
2 cans tuna (5 oz, drained)
3/4 cup mayonnaise
3 dashes hot sauce (I prefer Tabasco)
3 teaspoons onion (chopped fine)
3 tablespoons celery (diced small)
3 tablespoons dill pickles (diced small)
3 tablespoons mustard (I prefer Dijon but plain yellow is fine too)
salt and pepper to taste
---
Category:

Appetizers, Tapas, Party Foods
Keywords: deviled eggs, tuna salad, tuna, eggs
If you like reading my posts and seeing my recipes, follow me on your favorite social media channel for behind the scenes photos and much, much more: Pinterest, Facebook, Instagram, and Twitter!